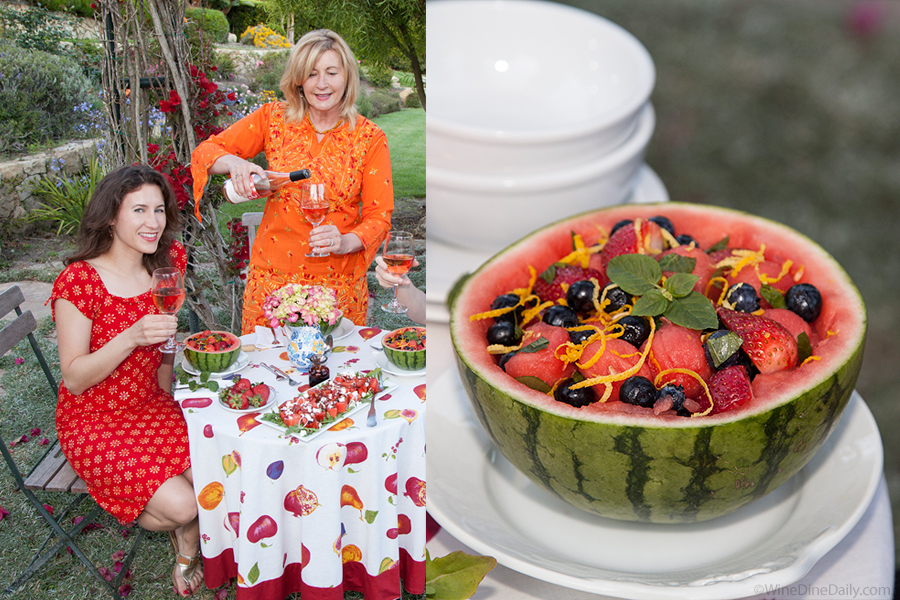 We have been on a little watermelon obsession lately, especially since it pairs so deliciously with our other summer addiction of French style dry Rosé wine. You can find many wonderful Rosé wines with refreshing fruit aromas like strawberry, raspberry, cherry, watermelon, honey and citrus to name a few. It is equally beautiful to sip these summery wines along with a sweeter fruit salad made of watermelon, fresh berries and citrus or a savory salad with watermelon, arugula or spinach and topped with salty feta. We just loved how fabulous a Curtis Heritage Rosé tasted with both of these dishes.
Last Monday morning started out like this: we each went on our separate errands to the market and to the grocery store in search of ingredients for light summery salads and ended up with 5 gorgeous vibrant green globes of watermelons! We always look forward to the watermelon season and when Judit was a little girl she was known as the "Görögdinnye Királynő" (which means Watermelon Queen) at the Budapest grand market because she would not rest until she found the sweetest melon to take home. One can't have too many watermelons since there are so many sweet and savory recipes to be made. We decided to make a savory salad with Arugula, Feta, and Balsamic wine reduction and then we discovered some juicy blueberries in the fridge and thought to make a fruit salad for dessert as well.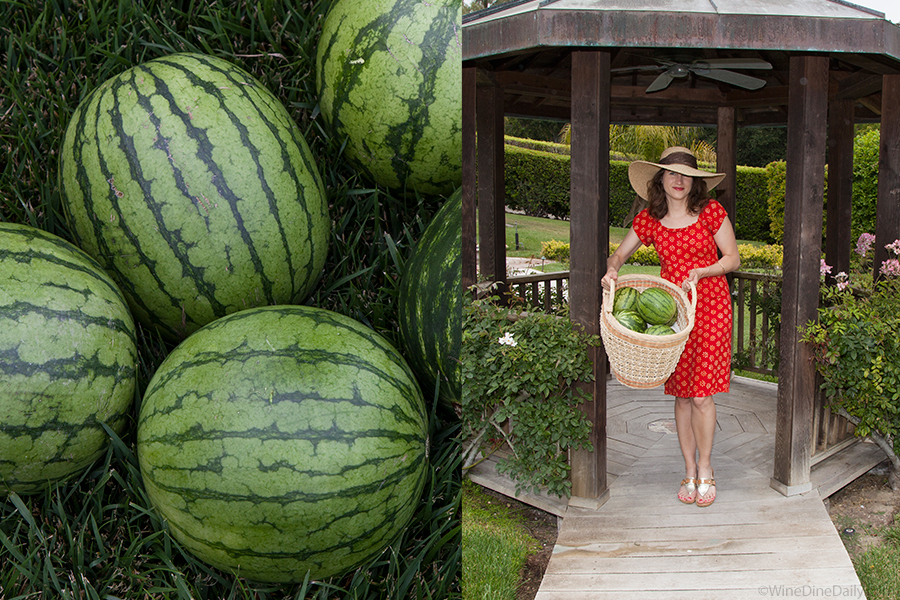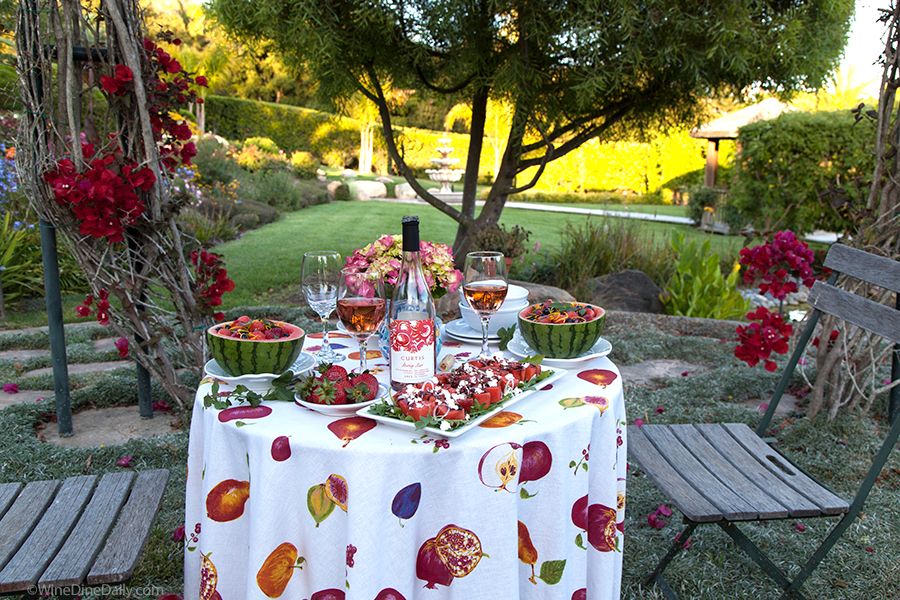 The weather was getting warmer by the minute as the California "June Gloom" fog dissipated and a light sea breeze gently ruffled the bougainvillea in the garden arbor. To truly enjoy the enchanting afternoon we set the table in the garden arbor to the sound of waterfalls and chirping birds. Since we had so many watermelons we decided to call for help in eating them. Corina called her friend Charlotte and she came bringing ripe organic strawberries that ended up in the salad. She is always happy to oblige us with trying our creations since she loves to learn about new wine pairings for her restaurant.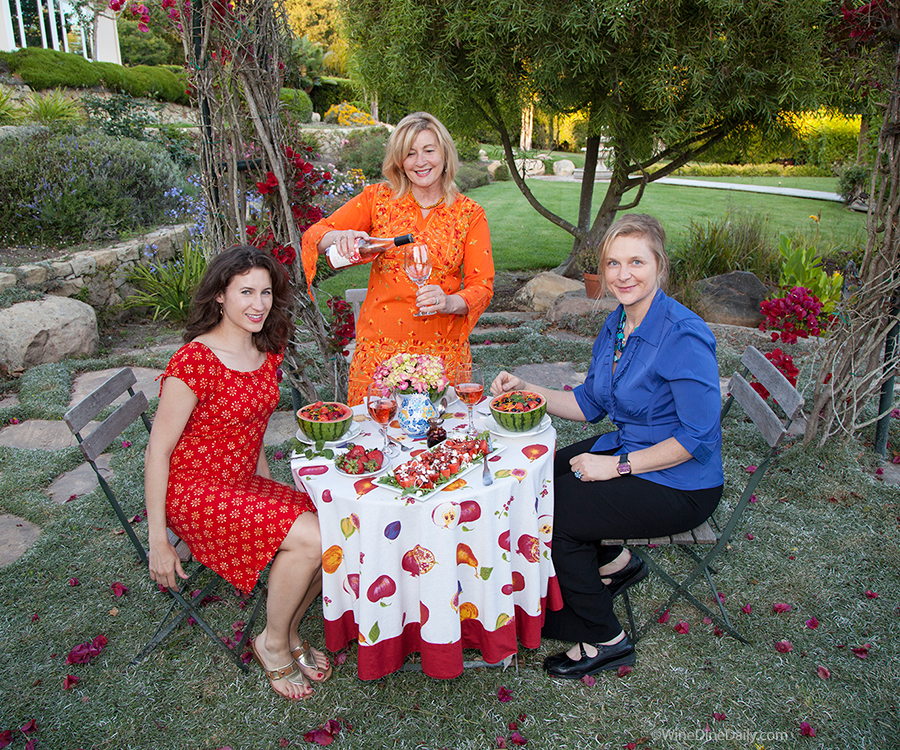 In the world there are about 500 types of watermelon so there are quite a few to choose from and you feel good eating them since they have vitamin A and C which is great for your skin. When we are shopping for melons at the market we love to buy California grown ones from the Dulcinea Farm, specifically the Pureheart Mini-Seedles melons for their extra sweet aromas and nice firm flesh. Also they are easier to slice because of the smaller size and the rind is nice and thin so  you can hold it better in your dainty little hands (and no we are not representing Dulcinea Farms, we just really like their melons and you can find their products all over in the US).
Opposites attract when you combine sweet melon with salty feta and fresh peppery bites of the arugula. It is like a flavor party in your mouth! You can have this for lunch or as a side dish for a perfect summer meal with grilled spicy chicken or lamb. This recipe is very simple to make and the best part is that the house smelled intoxicatingly potent from the simmering wine and balsamic dressing. For something a little sweeter the Watermelon Berry Salad with Rosé Syrup is ideal for a refreshing dessert.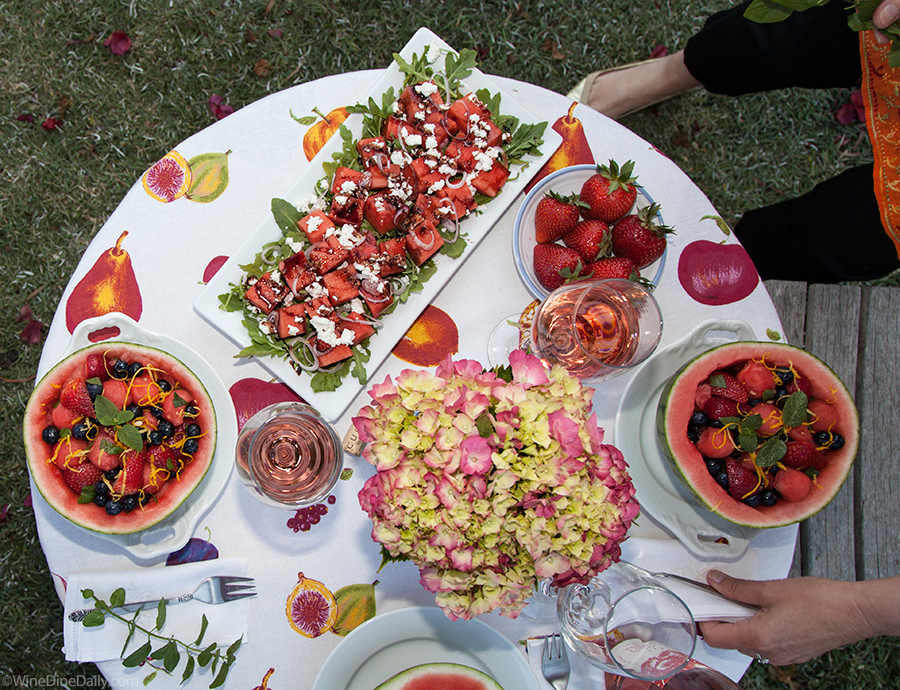 Watermelon Feta Salad with Syrah Balsamic Dressing
Dressing:
1/2 cup Syrah
1/2 cup Balsamic Vinegar
1 to 2 Tbsp Honey
In a saucepan combine the wine, balsamic vinegar, honey and stir it well. Over medium-high heat simmer it for about 15 minutes or until becomes nice syrupy consistency. You should get about 1/3 cup dressing. Let it cool. You can also double this recipe and store the leftover dressing in a glass jar for 2 to 3 weeks in the refrigerator. Just remember it will take you a few minutes longer to reduce a larger amount of liquid.
Watermelon, Feta and Arugula Salad
2 cups Baby Arugula Leaves – washed and
5 Basil Leaves – torn into pieces
4 cups Watermelon cubed into 1 inch pieces
1/2 small Shallot – thinly sliced
5 oz Feat cheese – crumbled
2 Tbsp Wine Balsamic Dressing
Wash the watermelon first and pat it dry. Place the melon on a cutting board and with a large sharp knife carefully cut down the center. Turn one of halves flesh site up and cut down the middle. Take one of the smaller piece and slice into 1 inch pieces. Remove the rinds and cut each slice into 1 inch cubes.
On a large platter spread out arugula leaves evenly then sprinkle basil leaves over. Using the handle of a spoon, drizzle about a spoon full of dressing
Place watermelon cubes on arugula bed and evenly distribute the shallot slices. And to finish it off crumble the feta on top and drizzle with more Syrah Balsamic Dressing.
Serve immediately because the dressing will become watery from the melon.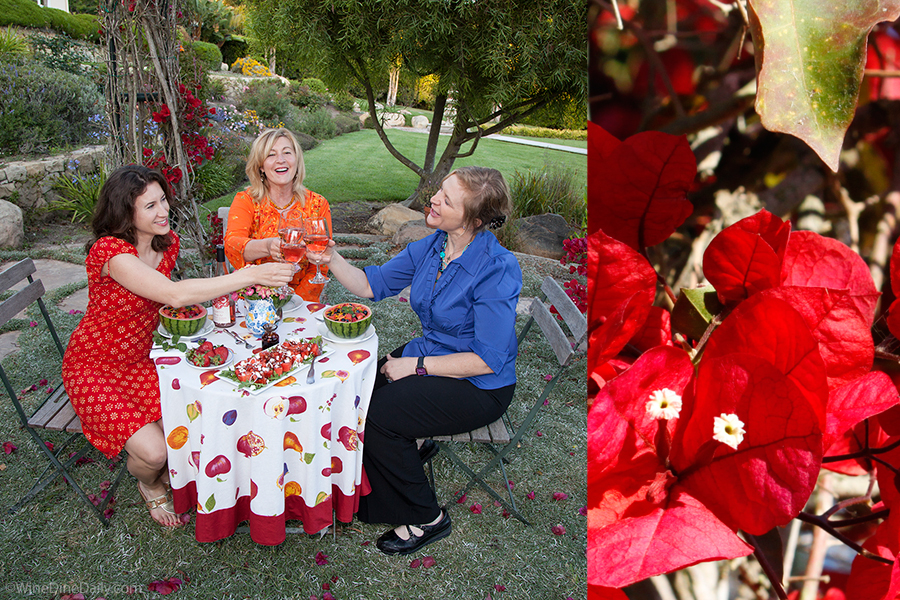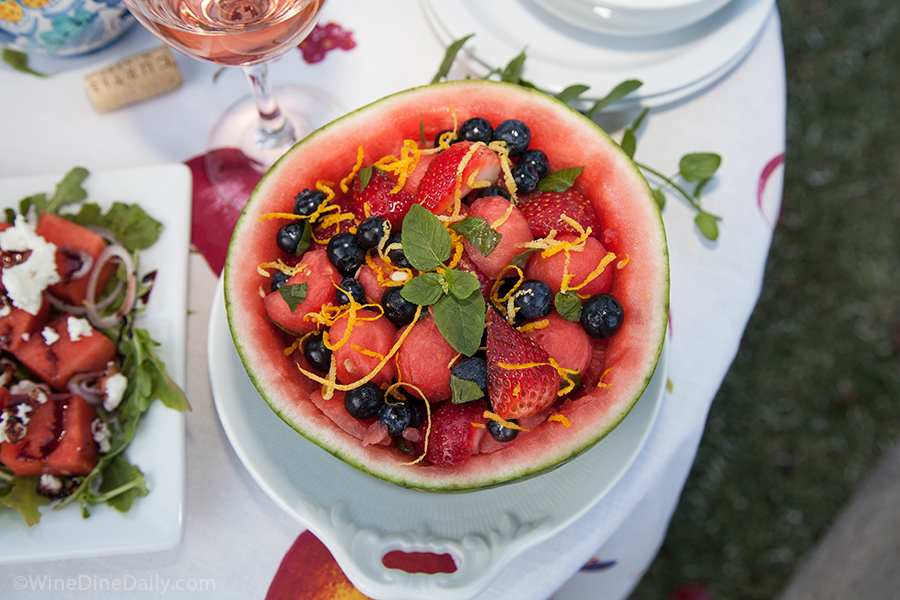 Watermelon Berry Mint Salad with Rosé Syrup
Rosé Syrup
1/2 cup Rosé Wine
1/4 cup Orangen Juice
2 Tbsp Honey
1 Sprig of Fresh Mint
1 Tbsp Lemon Juice
Combine Rosé, orange juice and honey in a sauce pan.  Simmer over medium high for about 10 minutes or until reduced to about 1/2 cup.  Add the mint sprig, set aside and when cooled down add the lemon juice. Lemon taste zippier wen added to cols liquid.
Watermelon Berry Salad
4 cups Watermelon – cut into 3/4 inch cubes or use a melon baller
2 cups Blueberries
2 cups Strawberries – cut into half
Zest of 1 Navel Orange
6 Mint Leaves – tear into pieces
In a large bowl combine watermelon, blueberries and strawberries. Add the Rosé syrup and gently mix together.
Spoon into individual serving bowls and decorate with orange zest and mint leaves. To make it fancier you can make a watermelon serving bowl. With a share knife cut the watermelon in half and scoop out the flesh with a melon baller
Wine pairing notes:
2012 Curtis Heritage Rosé – In the glass it is a light pink salmon color and on the nose a sweet berry and honey bouquet.
Plush aromatic notes of summery berries, watermelon, peach, and a touch of citrus on the palate. It has a good medium body and you will love the zesty and mineral finish.
It is a Rhône-style blend of 38% Grenache, 32% Mourvèdre, 27% Syrah, and 3% Cinsault.