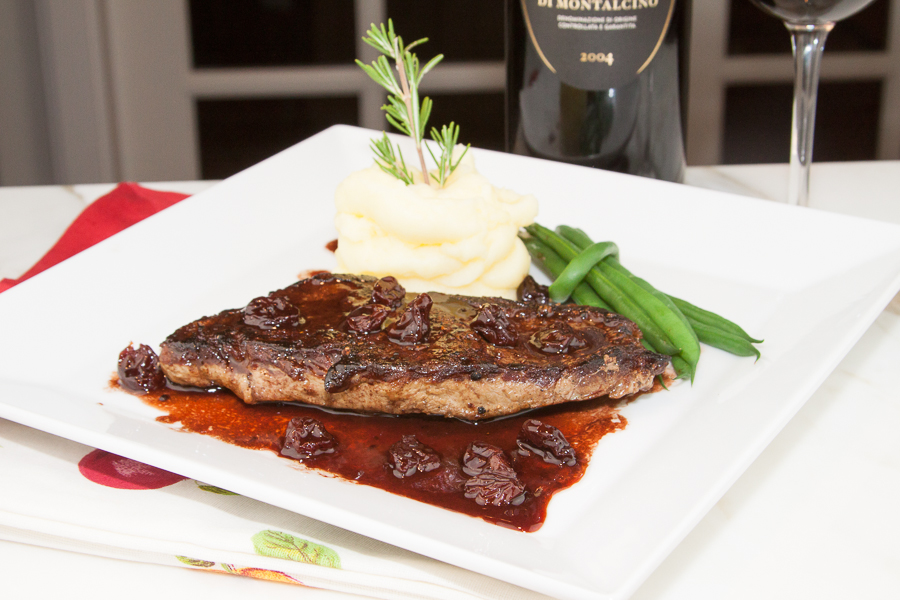 When it is cold outside you just want to bundle up indoors and cook something to warm you up from the inside. In the last few weeks we have been busy with the launch of our new website and since it was a stormy weekend we decided to make a satisfying but simple New York Steak recipe. We first made this recipe a few years back, to pair with Castiglion del Bosco Brunello di Montalcino from the Italian fashion house of Ferragamo. Sorting our photos we found these of the steak and also took a few from the video to share with you so you don't have to watch the whole video for the recipe.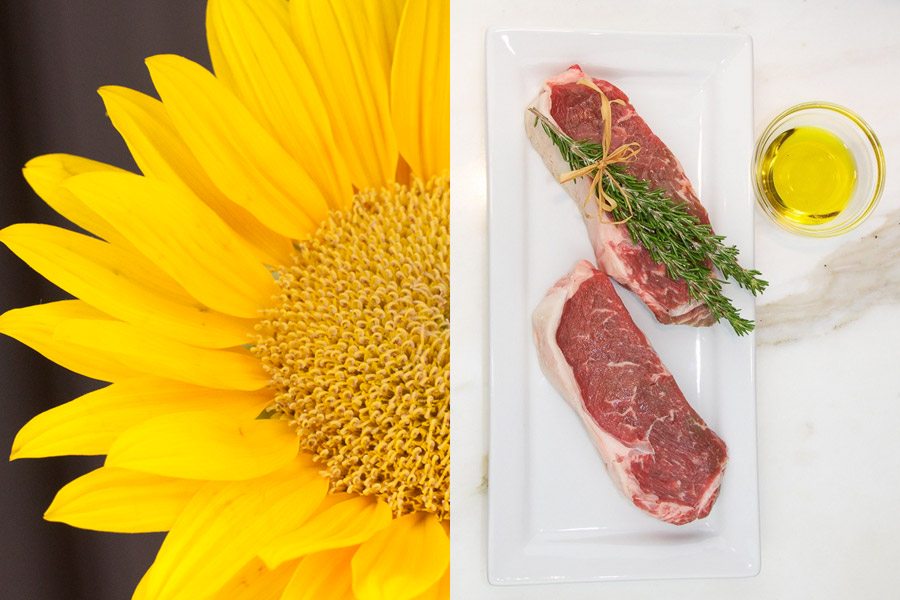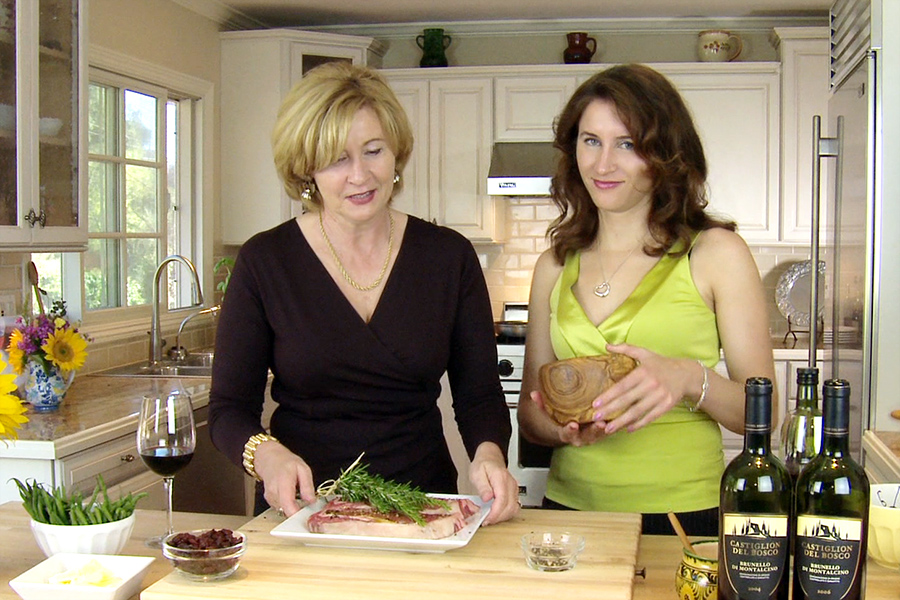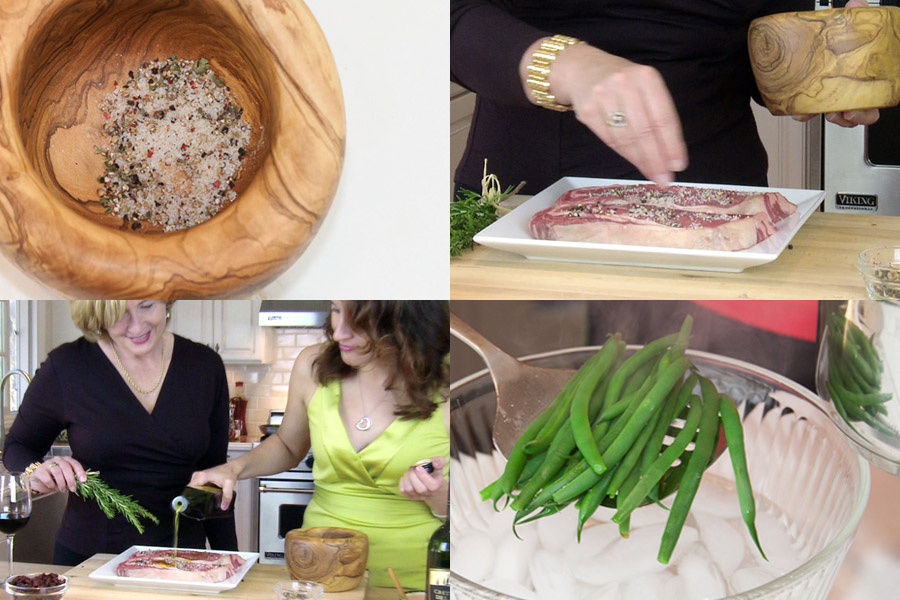 There are many special occasions when we like to express ourselves with a beautiful meal. A well planed and prepared dish, like a New York Steak, helps us to enjoy the process as well and it does not have to be really complicated to be impressive. This steak recipe is like a miracle in our recipe repertoire, something you can prepare in less than 45 minutes. If you want to make an ordinary steak recipe into an extra ordinary dinner then make this cherry wine reduction sauce with its intoxicating effect (especially if you add a little more cherry liquor to it).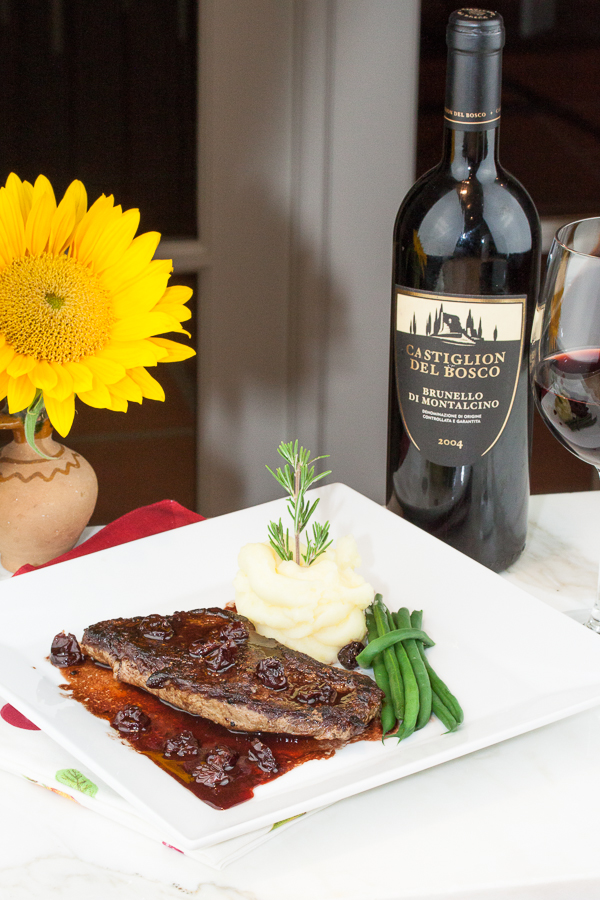 The "New York Steak" is one of the juiciest and tenderest pieces of beef, and you may know it as Ambassador, Hotel or even Kansas steak depending on where you live. Ever since we moved to the US we always appreciated a delicious steak dinner and we were both eager to master this culinary marvel. We had several memorable steak dinners in the Big Apple but never visited the famous Delmonaco's. The history of "New York Steak" goes way way back to 1837 when Delmonico's Restaurant in Manhattan became America's first fine dining establishment. Charles Ranhofer the resident French chef delighted his customers with his unique dishes, one of them the Steak Delmonico a tender cut of richly marbled steak which he then sautéed in very hot skillets. Because this city is the hometown of this steak, it is referred to s a New York Strip Steak and there you have it in case you ever wanted to know this juicy tidbit of steak history.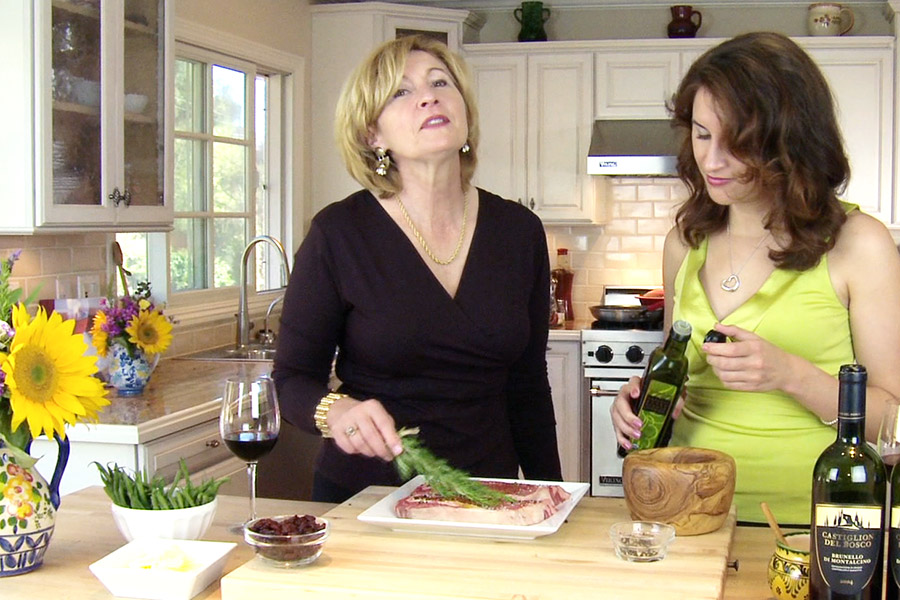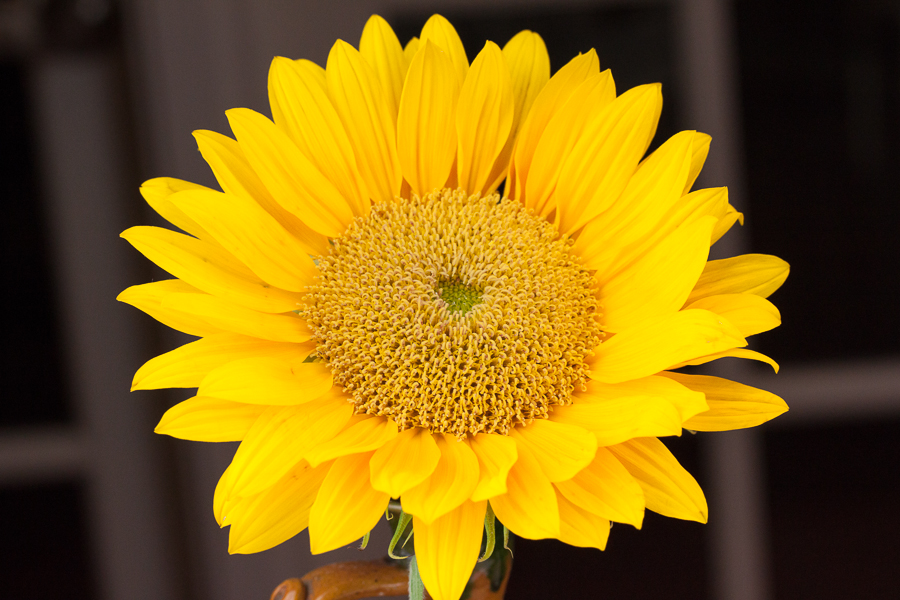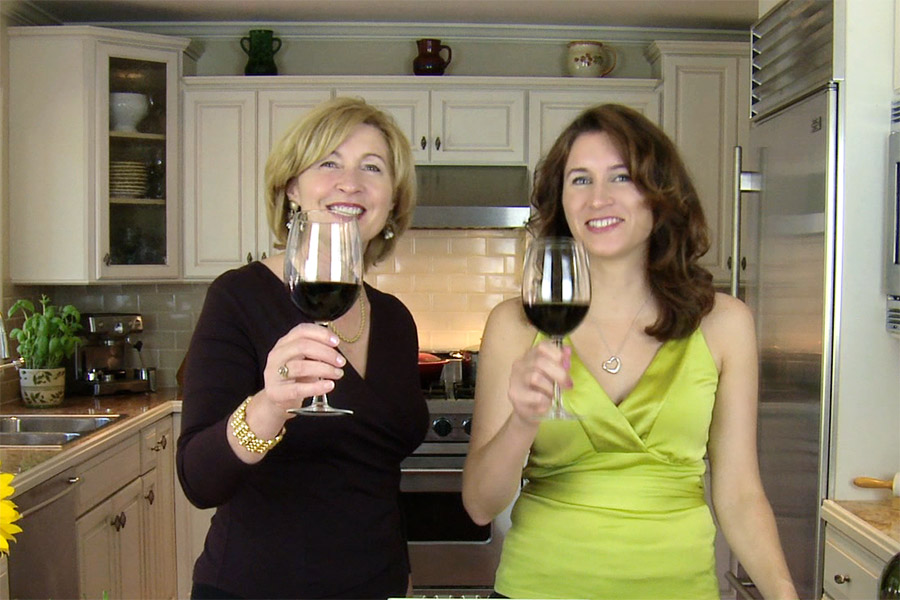 When you are choosing a steak from your butcher or from the meat section at your grocery store, look for tiny white flecks and lines throughout because this glorious marbling will give you the best flavor. The secret to good steak is to start with hot pan. You can prepare the mashed potatoes in advance and just reheat it by stirring with a little added milk before serving. This step will give you plenty of time put on a smashing dress and freshen up your make-up (we all need this after slaving over the hot stove..)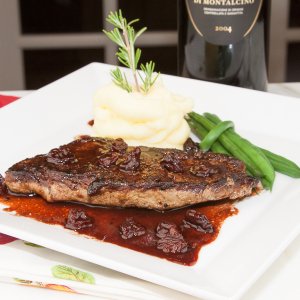 New York Steak with Cherry Wine Sauce
Ingredients
2

New York Beef Loin Steak

Salt and freshly crushed Pepper Corns

1

Tbsp

Olive Oil

2-3

Sprigs of Rosemary

1

cup

Red Wine like Sangiovese or Chianti

½

cup

Dried Cherries

2

Tbsp

Unsalted Butter
Instructions
Season the steaks with salt and crushed pepper and massage in the olive oil. Let the meat rest for at least 30 minutes.

Heat a heavy iron pan over medium-high heat and add the marinated steaks to the pan. Do not touch it for 3-4 minutes. If you steak is over ¾ inch thick then leave to sear for 5 minutes.

With a thong turn the steaks and season with more salt and pepper. Let it cook for another 3 to 4 minutes.

Remove the steaks to a plate and cover with Aluminum Foil and let it rest for 10 minutes.

Carefully pour the red wine into steak pan and with a wooden spoon scrape all off the goodness from the bottom of the pan. Add the dried cherries and cook for 5 minute over high heat until the wine is reduced and the sauce is getting thicker. With your rosemary wand gently stir the butter into the sauce. Now if you like you can add a shot of Cherry Liquor and with the rosemary wand continue to stir for a few more minutes so the flavor of the rosemary can infuse this divine sauce.

Serve over mashed potatoes or polenta.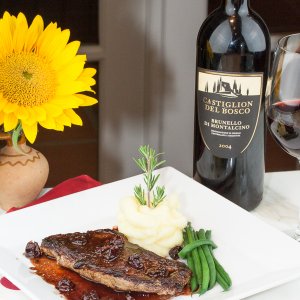 Creamy Mashed Potatoes
Ingredients
2

Lb

Potatoes – peeled and cut into small cubes

Sea Salt

½

cup

Milk 2%

½

cup

Half & Half

4

Tbsp

Butter

Freshly ground Black Pepper
Instructions
Cook the potato cubes in generously salted water for 20 minutes or until potatoes become tender. Just poke with a fork and if the fork comes out easily then the potatoes are done.

Turn off heat and with a potato masher mash the potatoes.

Add the milk and butter and continue to punch down until potatoes become creamy.

Add freshly ground black pepper and more salt if needed.
If you would like to know how to make a really romantic steak dinner with a smooth and sexy wine reduction sauce then feel free to pour a glass of red wine, sit back and click on the video button down below. We all need one special steak recipe and this elegant New York steak, smothered with a Cherry Wine Reduction sauce, is as divine as it sounds. And on the side there is nothing more delicious then creamy mashed potatoes and gently blanched green beans. We keept the side dishes simple so you can fully taste the steak and sauce.
Wine Pairing: If you can find a Brunello that would be heavily, otherwise a Sangiovese, like the Stolpman Estate Sangiovese, would do or an Italian Chinati with cherry and plum flavors to really harmonize with your steak and sauce. We paired our steak with a Castiglion del Bosco Brunello di Montalcino from Italy.