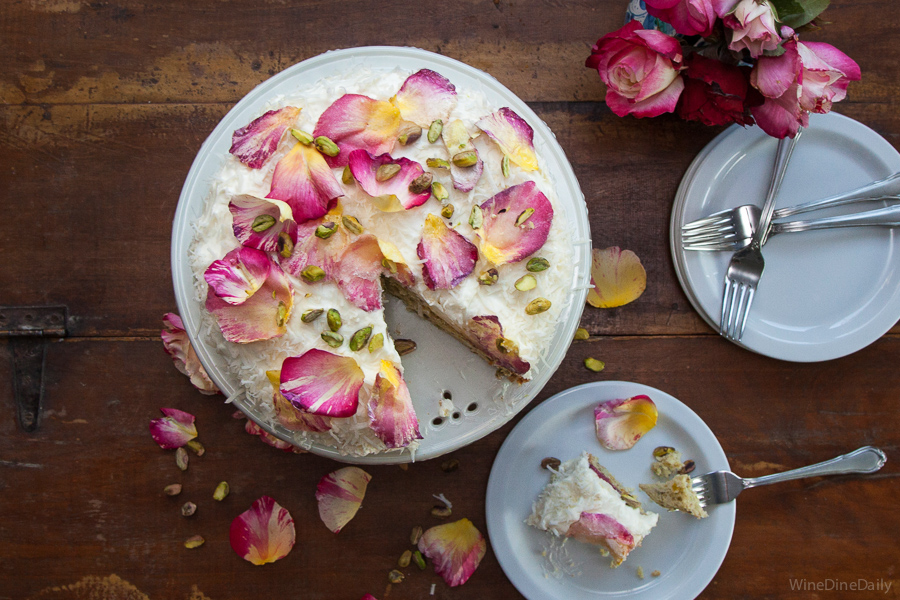 It is so true that we all should stop and smell the roses sometime. We did and all those fragrant roses also inspired this Coconut Cake with Rose Petals which we enjoyed for dessert after a lovely dinner on Easter Sunday. We hope you had all a beautiful holiday weekend too. It is all started when last week the garden had so many beautiful flowers in bloom that we thought to decorate the whole house for a festive Easter weekend. We ended up with so many roses and gorgeous rose petals that we just had to make something with them.
Maybe it was the heady perfumed aroma that permeated our senses and made us do really silly things like eating rose petals (mmm… they were really flavorful) and craving something sweet. We had recently watched the movie Marie Antoinette and all those indulgent desserts decorated with rose petals had us wanting more. You can find many pretty edible flowers in our local organic grocery store and we did use them in salads but never made a cake before where the flowers become the delicious topping.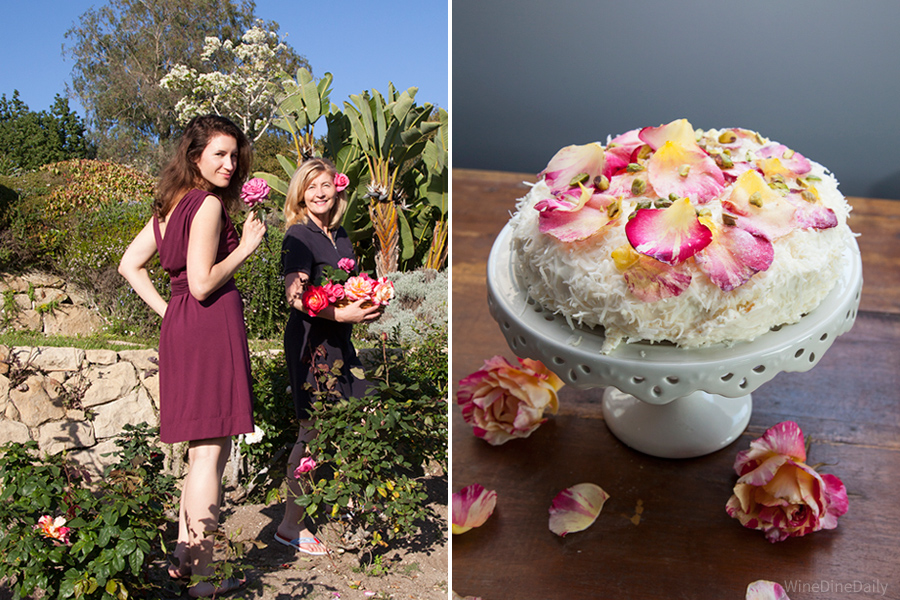 After the fun in the rose garden we eagerly looked online and found a gorgeous rose petal cake from Epicurious, which we fell in love with. After visiting the pantry we decided to make more of a Spring cake with coconut and a cream cheese frosting instead of the authentic whipped cream and saffron. We did save the recipe so Corina can make a love cake and enchant somebody soon….
This cake was so lovely it would be perfect for a Mother's Day dessert or just for a Sunday afternoon coffee and cake break. Springtime evokes the need to be outdoors in the warming days and the longing for sweets and it is the perfect time for fresh creamy desserts and especially for coconut.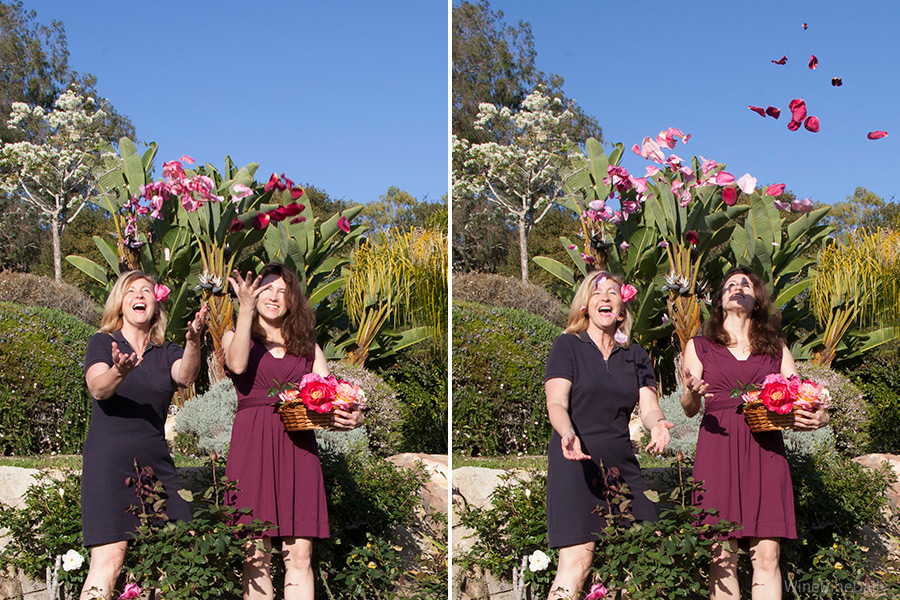 We have always loved the sweet smell of roses so it was delicious experience to taste the lovely sugar coated pink and yellow multi-colored petals. As we learned the They are like little tempting bites of delicate candy, which can make you quiet confused because you don't know if you should smell it or eat it. The best part is that this beautiful Coconut Cake with Rose Petals and pistachios is very simple to make, so take a little time to set the table with a vase filled of fresh roses, open a bottle of sweet bubbly and let the magic begin.
The bottle we opened was a Riverbench Cork Jumper Demi Sec Sparkling wine with a touch of sweetness and floral and citrus notes. The wine flavors interacted playfully with the rose water coconut flavors and it was a party of flavors all very harmonious in our mouth. We can envision any nice chilled bottle of sweeter sparkling wine to sip along with this elegant concoction.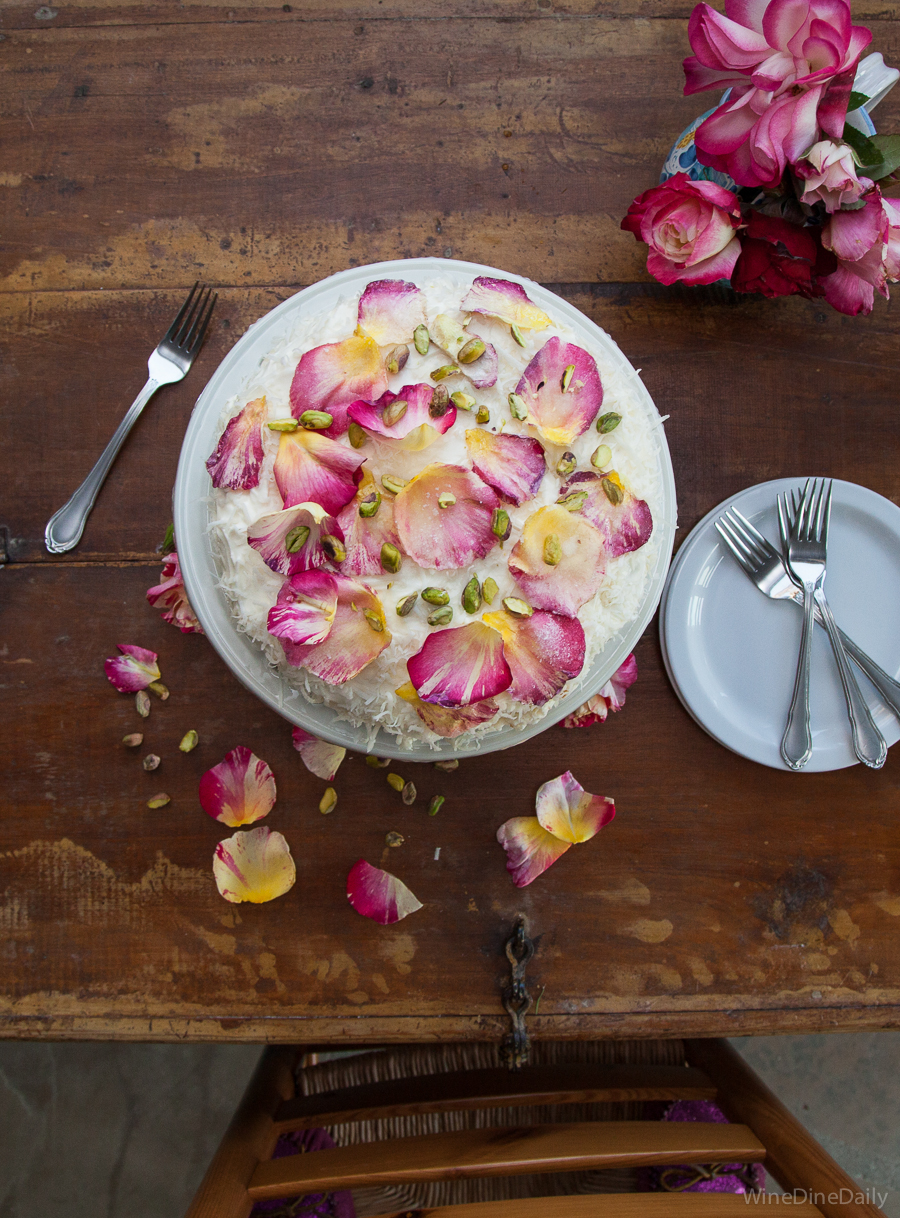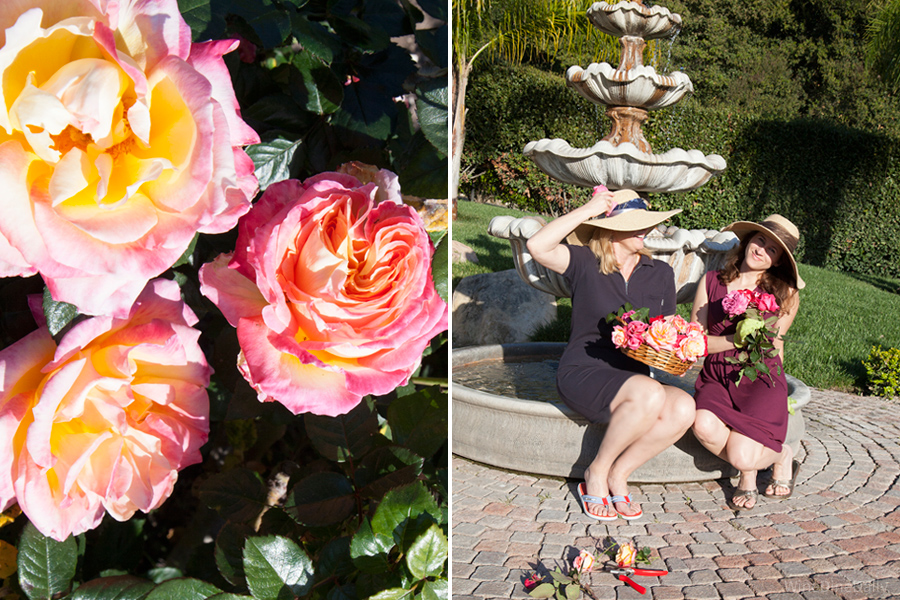 You can't talk about roses without memories, so here are ours:
Judit: I adore the smell of roses, and it takes me back to my childhood in Europe when my grandmother came with her rose scented lace hanker shift to wipe my tears or smudges from my face. It made me feel so content and cherished. Right now I have a nice Rosewater Triple Milled soap from Crabtree & Evelyn that gives a little floral note to the closet. And yes I do have a few hanker shifts with this intoxicating aroma. Miss you very much grandma.
Corina: I recall finding a vial of rose water oil in my grandmothers linen drawer when I was little and pouring all of it on my darling porcelain doll. It smelled good for a couple years until my aunt took the doll from me for her daughter and they never gave it back. Rose water gives a soft sweet scent and I have tried the Rose L`Occitane en Provence Rose perfume, which was nice and subtle. You can make your own version of a fragrant perfume. Take a few drops of rose water oil and mix it with purified water to make a rose water mist to spray your linens, refresh yourself or a room.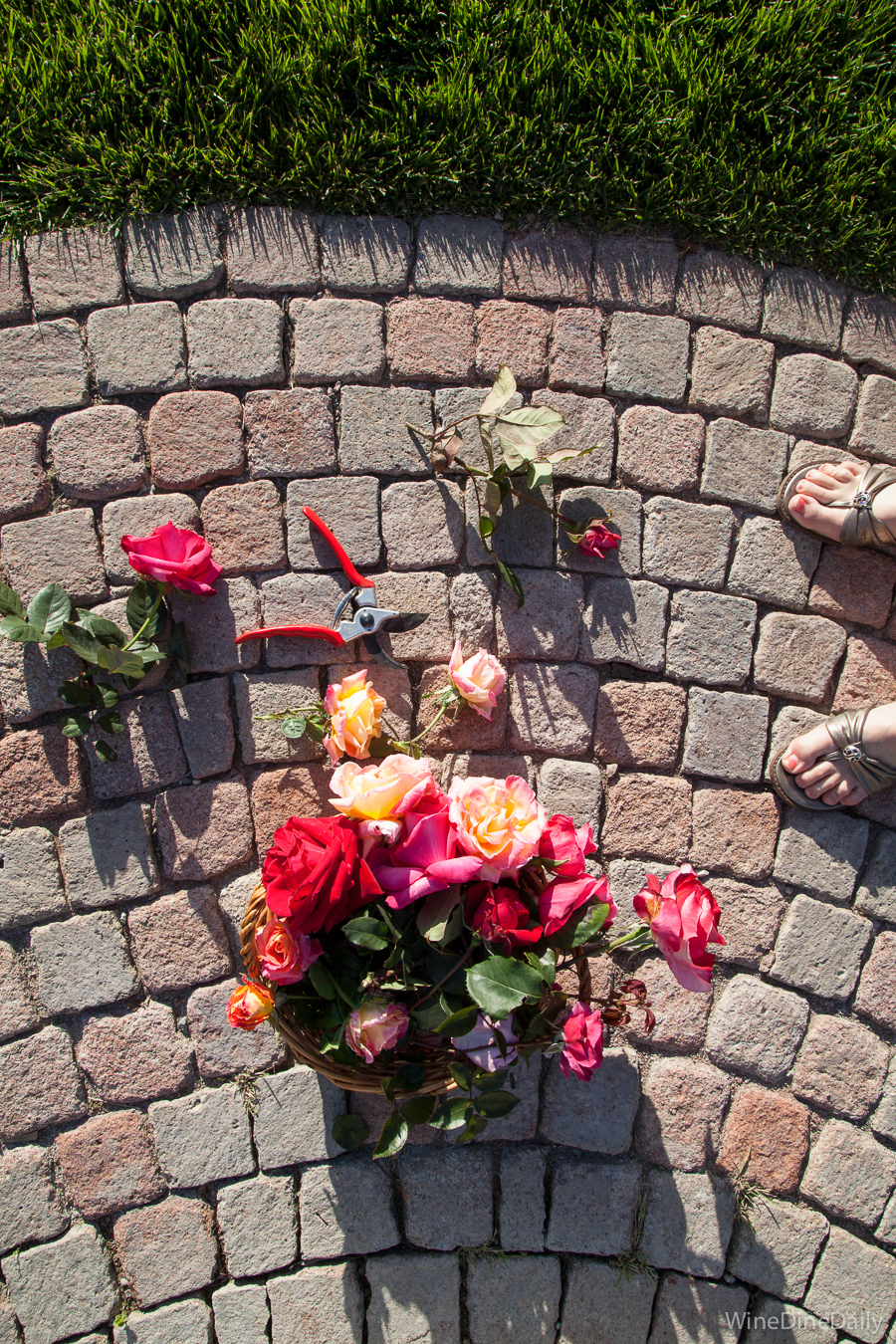 "What's in a name? that which we call a rose
By any other name would smell as sweet;" – William Shakespeare
There are over 100 species of roses and we have about 15 or so varieties here in the garden.
Santa Barbara is filled with this noble bloom almost year around and right now due to a water shortage everybody has to be cautious and preserve water. Who would have thought the roses flourish in the drier ground. This year the flowers seem to be larger and the colors more incredibly vibrant like nature used a magic brush to brighten them to ultimate levels.
This creamy confection made us think of Marie Antoinette and her infamous line "Let them eat cake." If you have seen Sofia Coppola's movie Marie Antoinette, you may remember all the decadent sweets and even cakes garnished with rose petals in many scenes, which inspired our dessert decor as well. The elegant presentation of food made the film so enthralling.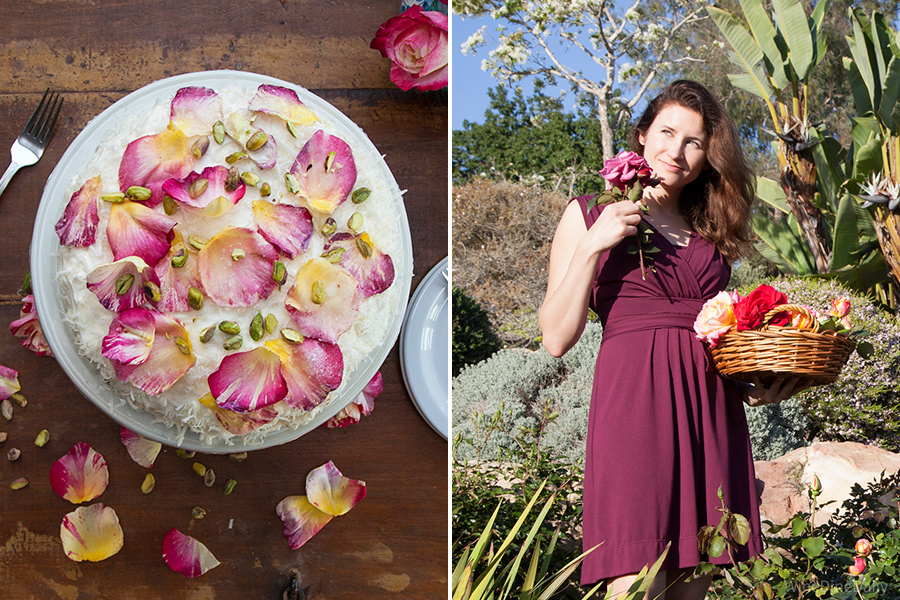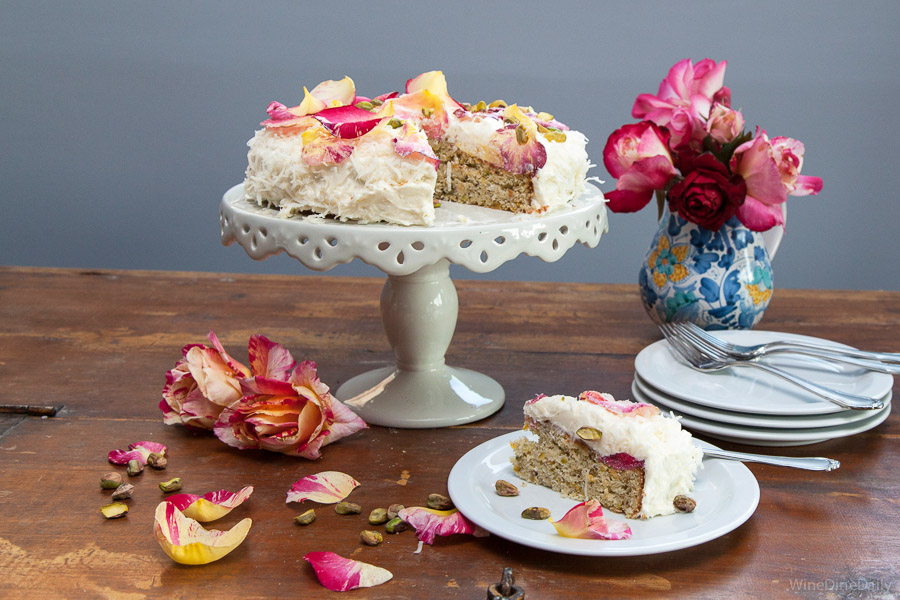 Roses are wonderful for decoration, but there are also some medicinal qualities to them. Take for instance Rose Hips, they are the cherry red furies that are left after the roses bloom out and often used for tea or jelly. When you are sipping that rose hip tea it's nice to know they have a considerable amount of Vitamin C so they are quite good for you. Rose water may have been first created in the 10th Century by Persian author and philosopher Ibn Sīnā. It is used in Middle Eastern cuisine and even in the delectable chewy dessert known as Turkish delight.
"Beauty is an ecstasy; it is as simple as hunger. There is really nothing to be said about it. It is like the perfume of a rose: you can smell it and that is all." – W. Somerset Maugham
No, no, no W. Somerset Maugham, the smell is not just all for us, you can eat it too!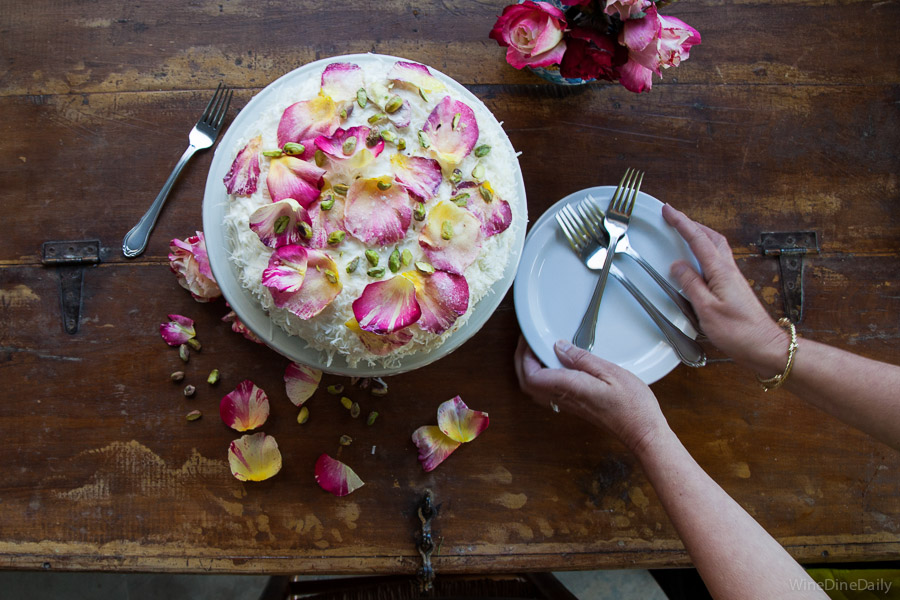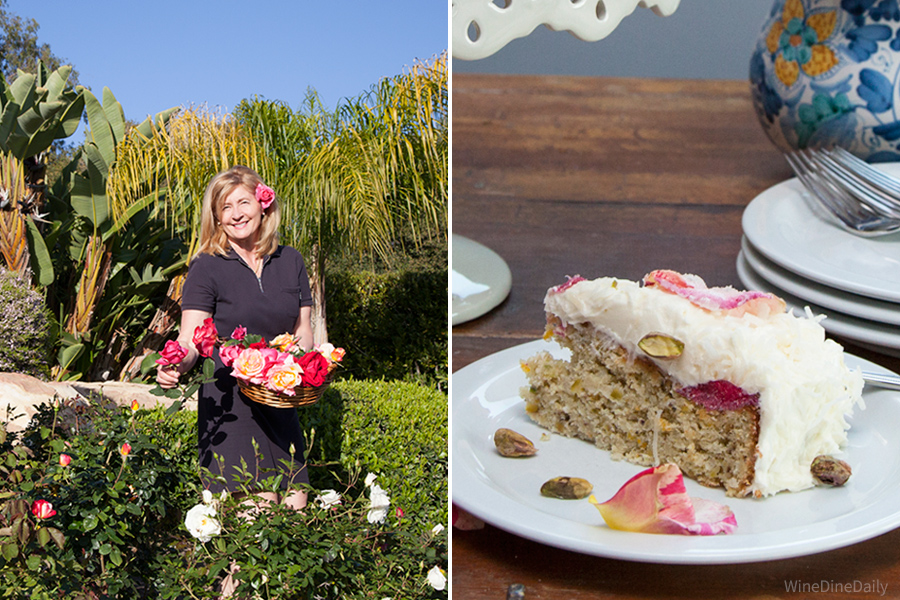 If you go and buy roses to decorate this Coconut Cake with Rose Petals, make sure the roses are organic and have no pesticides. Also please make sure that you have no allergies to them. You can make this cake without rose petals or with other edible flowers or even fruits if you prefer. You can even make it as a bundt cake or cupcakes, but the batter is more dense so is ideal for a round pan. We wanted the batter to be sweet but not overly and so we added a cup of tangy Greek yogurt, which turned out to be a delicious decision.
Orange zest and rose water are made for each other, just make sure you fold the zest in with a spatula or wooden spoon to avoid having them stick to the beater attachment. Because the rose petals were brushed with raw egg whites it is safer to consume the cake within 2 days. If you make this cake without the rose petals, this coconut cake with the frosting alone will be fine in the refrigerator for up to 3 days, not that we had any left after 2 days
Here are the steps to make the Sugared Rose Petals to top the Coconut Cake with Rose Petals.
14 Organic Rose Petals – washed, patted dry
1 Egg White – slightly beaten
1/4 cup Swerve Sweetener
With a small pastry or watercolor brush lightly brush the beaten egg white on both sides of the petal.
Sprinkle with sugar. Let it dry in single layer on parchment paper.
Best if made ahead by at least two hours so they can dry, or you can even make them a day ahead.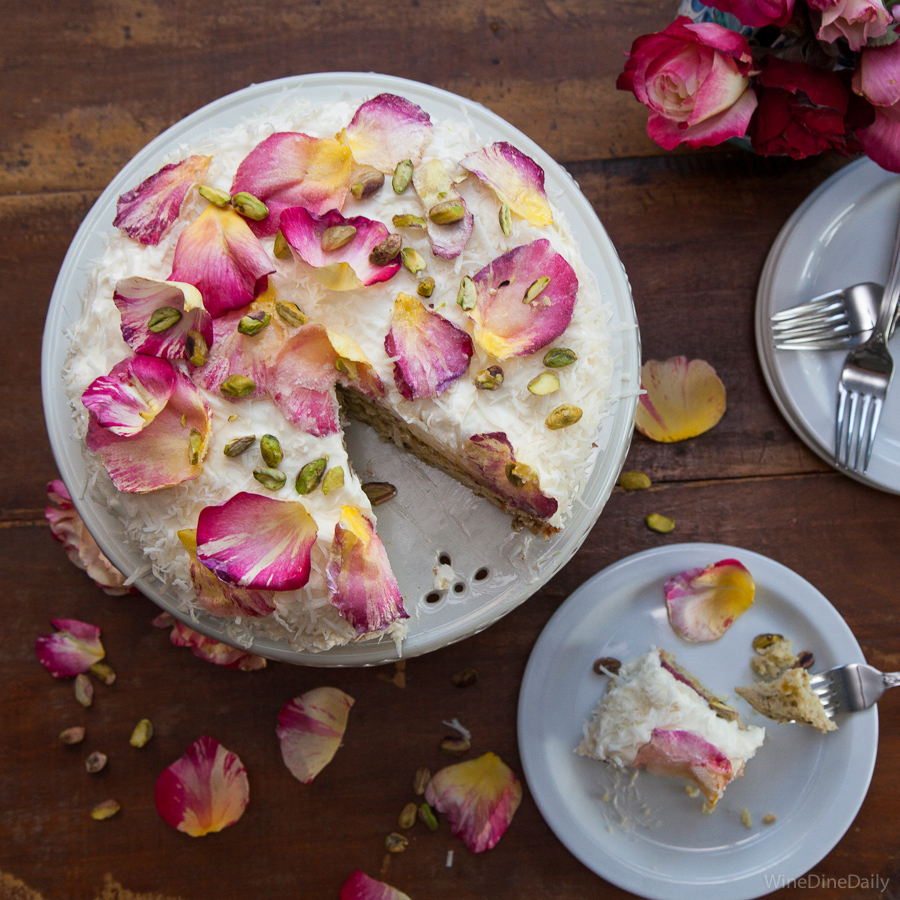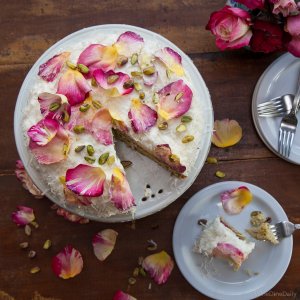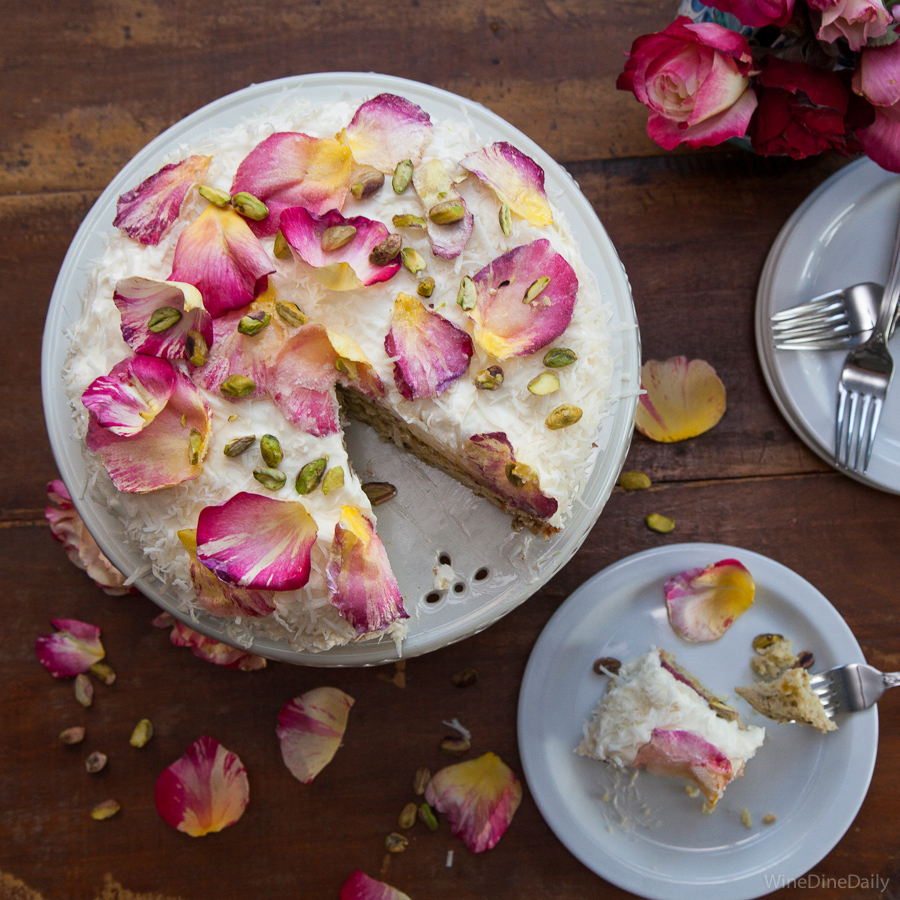 Coconut Cake with Rose Petals
Ingredients
For the Coconut Cake
8

oz

2 sticks Unsalted Butter - at room temperature

1

cup

Coconut Sugar

4

Large Eggs - at room temperature

1

Tsp

Pure Vanilla Extract

1

Tbsp

Rose Water

1 1/2

cups

Flour

3/4

cup

Pistachio - ground

plus 16 halve Pistachios for decoration

1 1/2

Tsp

Baking powder

Pinch

of Salt

1

cup

Yogurt

Zest of 1 Orange

1

cup

Coconut - sweetened and shredded
For the frosting:
8

oz

Whipped Cream Cheese - at room temperature

4

oz

1 stick Unsalted Butter - at room temperature

2 1/2

cups

Swerve Sweetener

1/2

Tsp

Pure Vanilla Extract

1

Tsp

Rose Water

1 1/2

cups

Coconut - shredded
Instructions
For the Coconut Cake
Preheat oven to 350 degree Fahrenheit.

Grease with butter a 9 inch round baking pan with removable bottom. Fit a piece of round parchment paper on bottom of the pan and grease again and dust the whole pan with flour.

In a large mixing bowl beat together butter and coconut sugar until becomes nice creamy. Add the eggs one by one and continue to beat on medium high.

Add vanilla extract and rose water.

Add the yogurt and continue to beat on low until well combined.

In a medium bowl sift in the flour with the baking powder and salt. Stir in the ground pistachio and slowly add to the sugar mixture.

With a spatula stir in the orange zest and the coconut.

Bake 35 to 40 minutes or until toothpick tester comes out clean. Set aside to cool.
For the frosting:
In a large mixer blend together the cream cheese, butter and sweetener. Slowly add the vanilla and rose water.

Spread the frosting evenly over the cake. Sprinkle the shredded coconut over the cake.

Decorate with the sugared rose petals by lightly pressing them on the cake. Additionally, we added a few more ala natural petals and the pistachio halves to the top.
Food & Wine Pairing: Riverbench Cork Jumper Demi Sec 2011, Santa Barbara County, California. This sparkling wine has a touch of sweetness that makes it ideal for enjoying with desserts, like a light cake or with cheeses. Aromas of freshly baking brioche and citrus on the nose. Floral flavors like a field of wild flowers in summer. It is the Kristen Dunst of wines with its effervescent personality and indulgent flavors.
You can also enjoy this dessert with a Sofia Blanc de Blanc from the Francis Ford Coppola Winery with flavors of summer citrus and sweet honeysuckle. This wine is named after Coppola's daughter, who directed the movie Marie Antoinette.