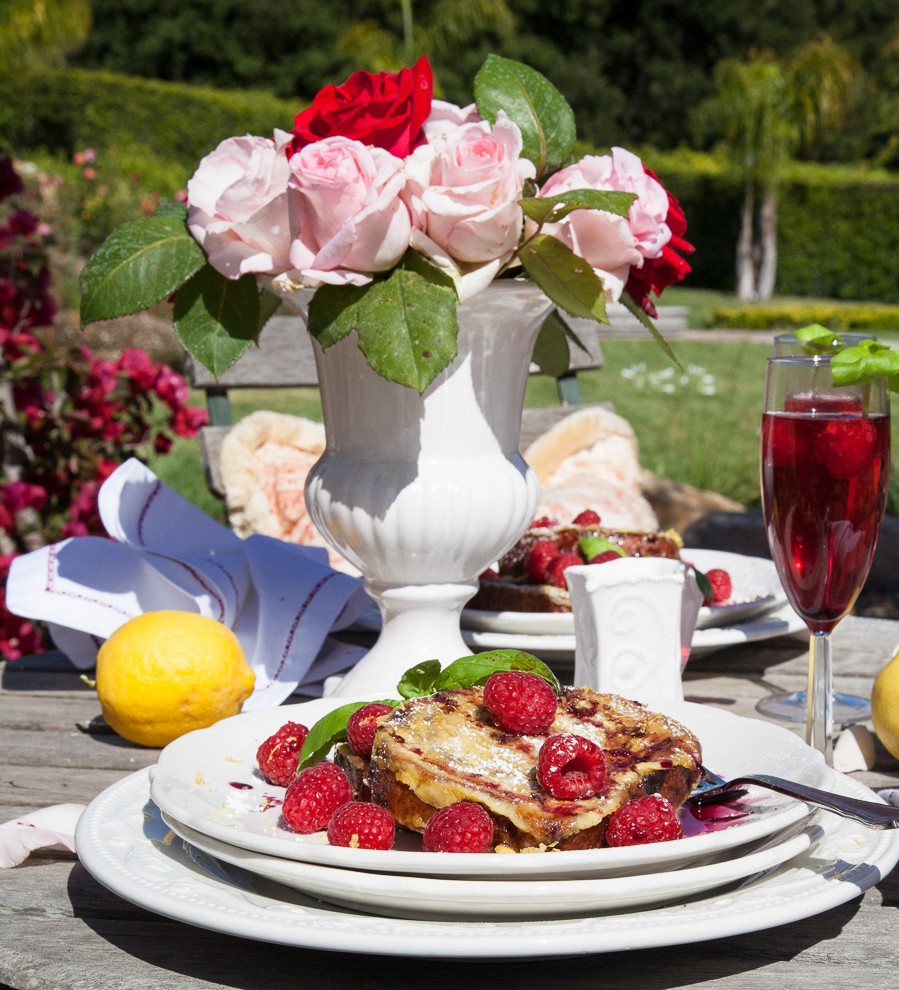 May oh May how we love you! Yesterday we were enjoying a sweet pre Mother's Day brunch in the garden. The warm balmy air was suffused with the scent of roses and various lovely spring blooms. The slightly salty breeze from the ocean ruffled our hair and kept our brows cooled. May is the most fragrant month of the year and holds a promise of sweet summer to come. This month, Mother Nature generously fills our tables with fresh fruits and tender vegetables, so nurturing just like our mothers. Perhaps that is why Mother's Day is celebrated in May.

Mother's Day comes once a year, but we think that you should celebrate the ladies in your life more often (not just because of the Champagne) and here in America the official holiday is on the second Sunday of May. In Europe this special day is the first Sunday of May so we decided to celebrate on the spur of the moment after calling Judit's mom (Corina's grandmother), who lives on the other side of the globe, to tell her how much we love her and wish that she could be here with us.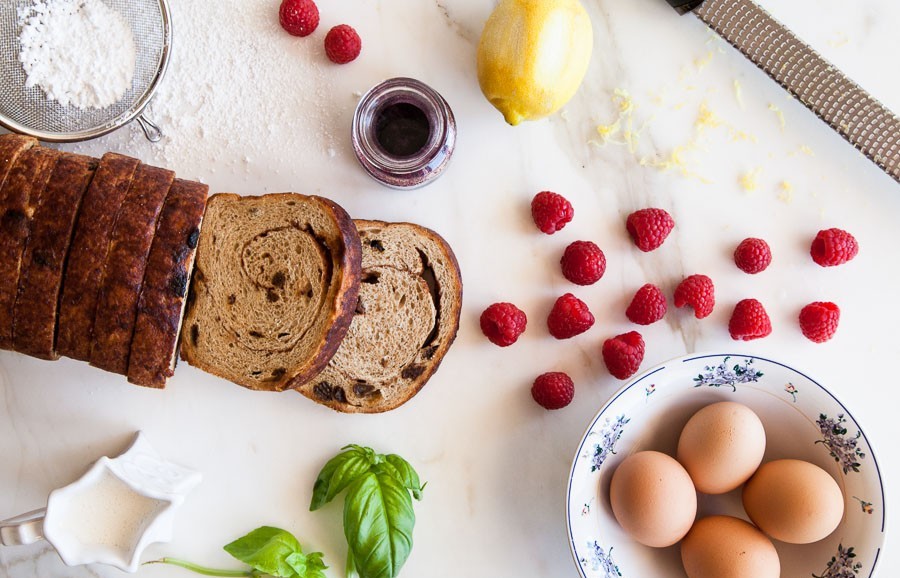 There are so few ingredients for this wonderful French Toast and you can use any fruit you like, we are sure it will be delicious either way. We used a whole wheat cinnamon raisin toast, organic eggs, milk, raspberries, lemon zest and basil. The full recipe and instructions are below.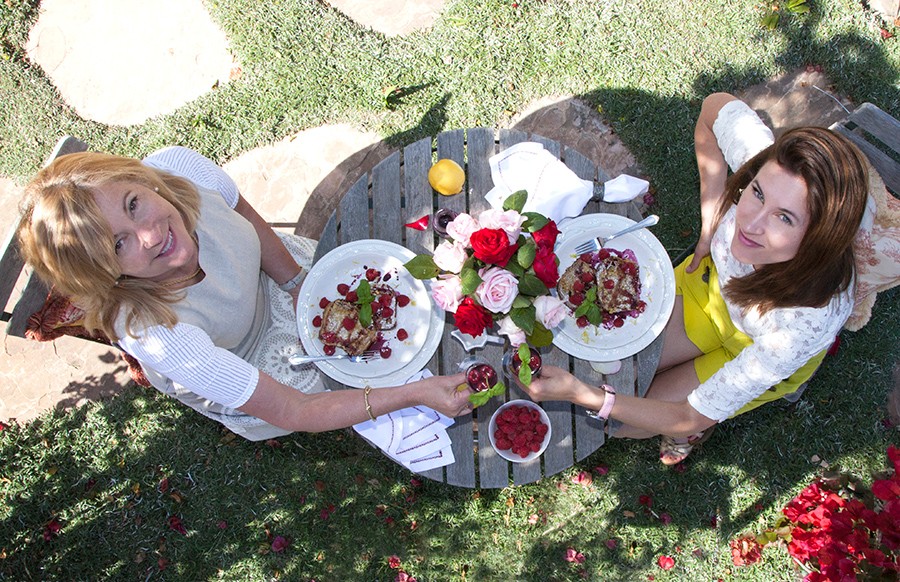 Corina wanted to make a Chocolate Soufflé, but because Judit is the mom, she won with her choice of French Toast. Judit has been craving french toast ever since she picked up a loaf of whole wheat cinnamon raisin toast bread from the store, which was disappearing rather quickly. So now was the perfect time and what could be more fun than setting up a table under the arbor and devouring a small mountain of sweet fluffy cinnamon French Toast? You guessed right, enjoying the brunch with Champagne or a cocktail!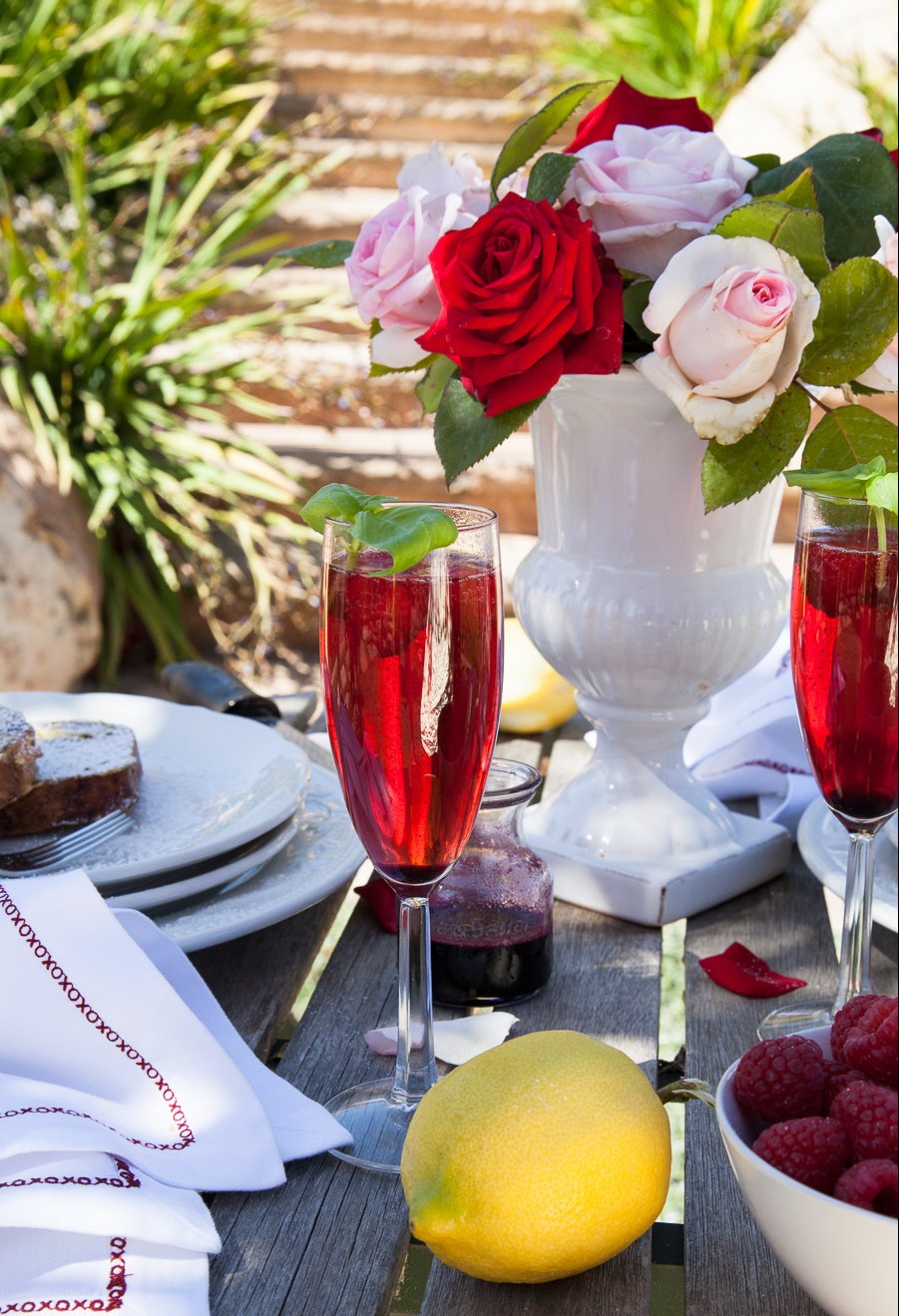 Raise your right hand if you like Champagne, raise your left hand if you like wine. Now keep them both up because you will be invited to taste both with us in a deliciously blended Pinot Royal Champagne Cocktail. What do you think, should we patent the name? It makes us think of James Bond in the film "Casino Royal" and the only thing missing at this Mother's Day table is the lead actor Daniel Craig. As we were pouring the delightful Pinot Noir Syrup over the french toast, we added a splash to the Champagne and voilà, we created a new cocktail for you. Most good things happen unplanned.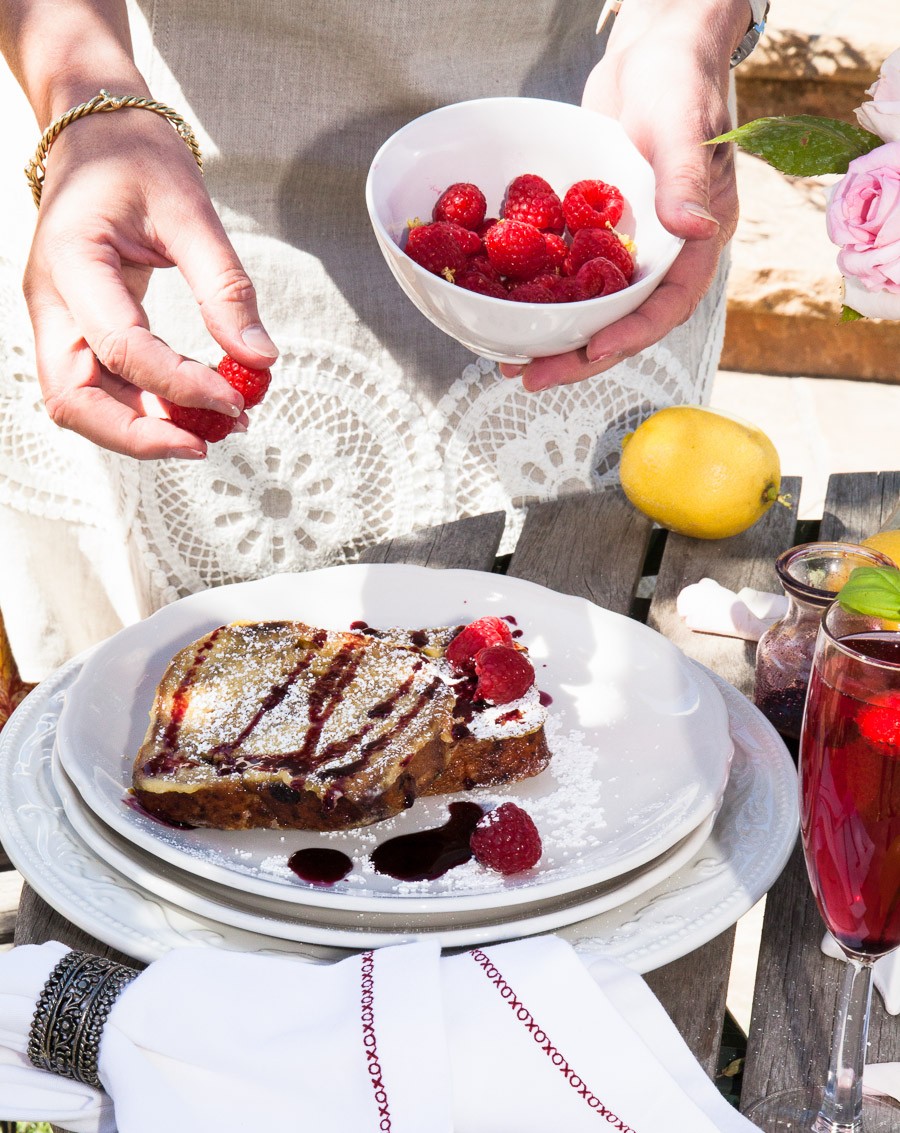 We were so excited about this Pinot Royal, because the little addition of Pinot Syrup brought a major impact in this little cocktail. Pinot Noir has a lot of raspberry flavors and adding a few raspberries to swim in the Champagne made this a fizzy delight. For this cocktail you can use any Champagne or Sparkling Wine that is not too sweet, because the syrup will sweeten it up. Click here for the recipe.
The few hours in the arbor were so precious and as we chatted about our memories we realized that we are so blessed to be able to add this lovely brunch to the other ones. We felt like were in a scene from the romantic comedy "Because I Said So" with Diane Keaton and Mandy Moore as a mother-daughter who made their passion for cooking into a business. If you haven't seen the movie you must rent it to watch for a girls night in since it is cute and funny. We can relate because it has Judit's favorite line "Because I Said So"! The red and pink roses picked from the garden looked splendid for our brunch table and were still lively even with the overly hot temperatures. Mother's Day is really not about gifts, even though Judit loved her shinny new Brighton ballerina shoes. "Thank you Corina, you are really sweet and know what your mother likes!"
The ducks come to visit every year, and last summer the mommy duck had her baby ducklings in the garden and took them for a splash in the pool. It was so sweet to see the fuzzy little darlings sunbathing and learning to swim.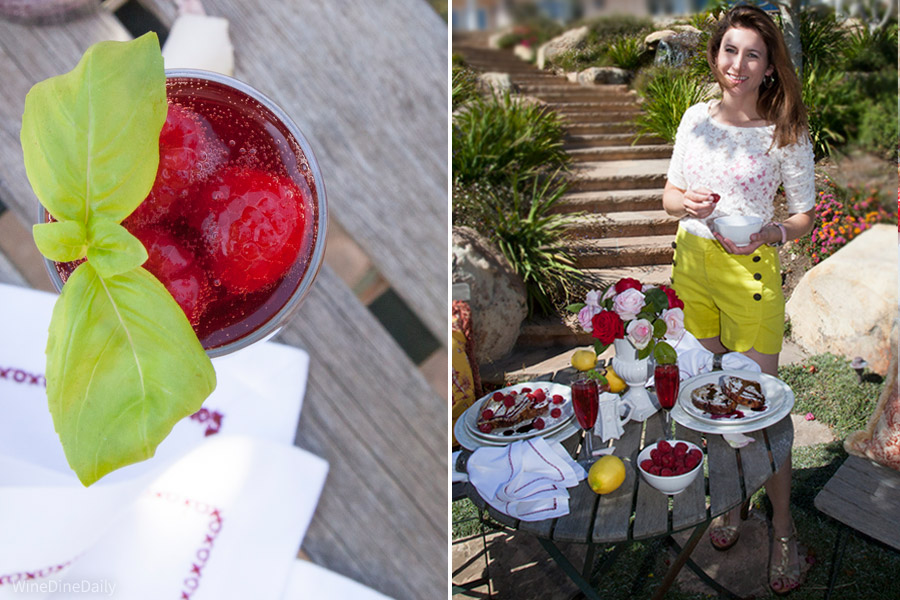 There are many methods to make french toast and we like to soak the slices of bread for just a few minutes in the egg and milk bath. Then we fry them individually instead of baking them in the oven for a crisper texture. We like to use older toast bread because it holds the shape better and doesn't fall apart as quickly. For an extra boost of flavor we grated fresh lemon zest over the top. This is a brilliant recipe for any breakfast, brunch, or even dessert.
We just loved the precocious moments and the joy that we were able to share this lovely feast and as we savored each bite of the fluffy French Toast by mopping up the utterly delicious tangy but sweet Pinot syrup we chatted about childhood memories. To have more time to enjoy this holiday, you can make the Pinot syrup a few days ahead or simply use your favorite syrup instead. The Pinot syrup is a favorite at our table and we love to dip, drizzle over as many of dishes as possible.
A Mother's Day Poem
Flowers, poems, and chocolates
Are just small tokens to say
Happy Mother's Day.
We may not always appreciate the advice
That moms give because they care
And it takes a while to realize
That they do try to be fair.
So let's make sure not to forget
To celebrate moms for more than just a day,
Or we may come to regret
That we did not share words of love today.
And make it a habit that is not rare,
To bring flowers and chocolates more than once a year.
by ~ Corina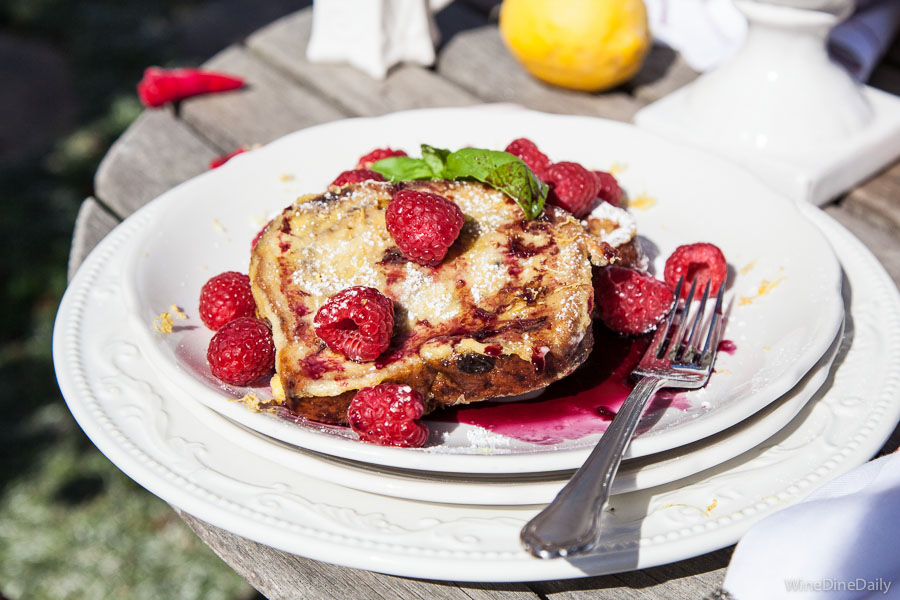 Perhaps we inundated you a little with all the photos from our simple but oh so delicious French Toast and Champagne filled table…maybe we dare to hope that you don't mind at all because by now your lips up curled up from the joy of your happy Mothers Day memories as a child or as a mother yourself.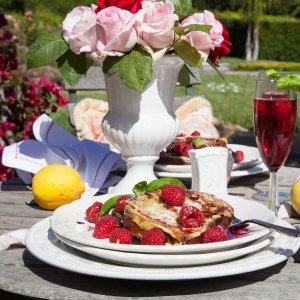 French Toast with Pinot Syrup
Ingredients
For French Toast:
8

Slices

of Whole Wheat Cinnamon Raisin Toast Bread - about 1" thick each

4

Large Eggs - room temperature

1/2

cup

Organic Whole Milk

1

Tbsp

Raw Honey

Pinch

of Himalayan Salt

3

Tbsp

Unsalted Butter or more if needed
For Topping:
1

Tbsp

Stevia or Confectioners Sugar

1/3

cup

Pinot Syrup

8

oz

Raspberries

Zest of 1 Organic Lemon

4

Fresh Basil Sprig
Instructions
Preheat oven 250 degree Fahrenheit.

In large shallow bowl or baking dish whisk together eggs, milk, honey and salt until well blended. In single layer arrange the toast slices, and let the bread absorb some of the egg and milk mixture. After 2 minutes gently turn each slice over and let it rest for 2 more minutes. Or soak the toast in two batches if you have smaller baking dish.

In the meantime in a large skillet or griddle, melt one tablespoon of butter until foamy hot.

Using a spatula arrange the toast slices without crowding the girdle and cook for about 3 minutes on each side or until light golden in color.

Transfer the golden slices to a fireproof serving dish and keep it warm until all the toast is cooked.

To serve, arrange two slices on a large plate and dust with Stevia and drizzle with the Pinot Syrup. Decorate with fresh raspberries and a few basil leaves. Bon appetite!
Nutrition
For a quick Pinot Noir Syrup
Ingredients
1 cup Pinot Noir Wine
2 Tbsp Local Raw Honey
1 Sprig of Fresh Basil
Directions
Combine wine and honey in a small sauce pan. Simmer over medium high heat for about 20 minutes or until reduced to about 1/3 cup. Add the basil sprig, set aside to cool down. Drizzle over the French Toast.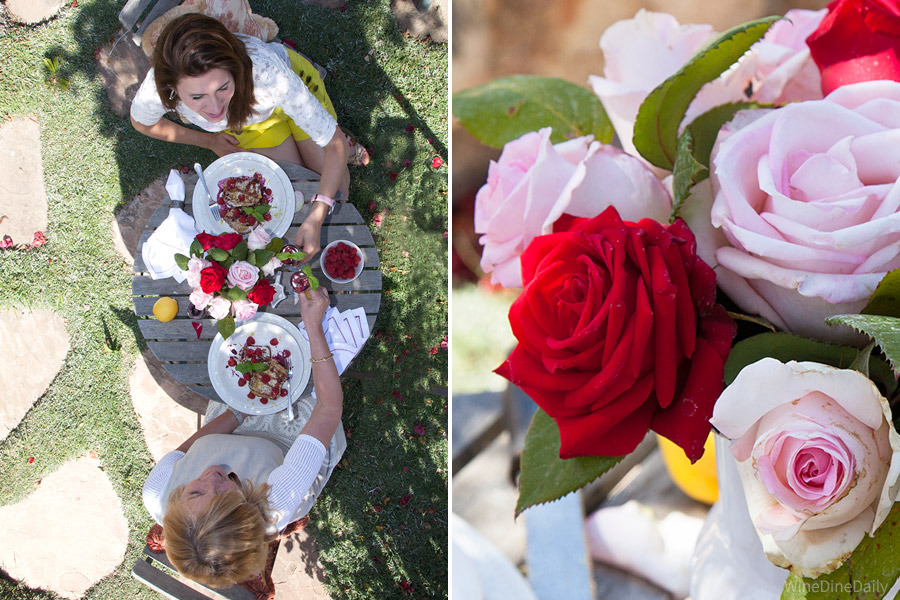 Food & Wine Pairing: A Santa Barbara County Margerum Riviera Rosé with notes of warm juicy strawberry, ripe summer raspberry and fragrant rose petals or a little glass of our effervescent Pinot Royal Champagne Cocktail.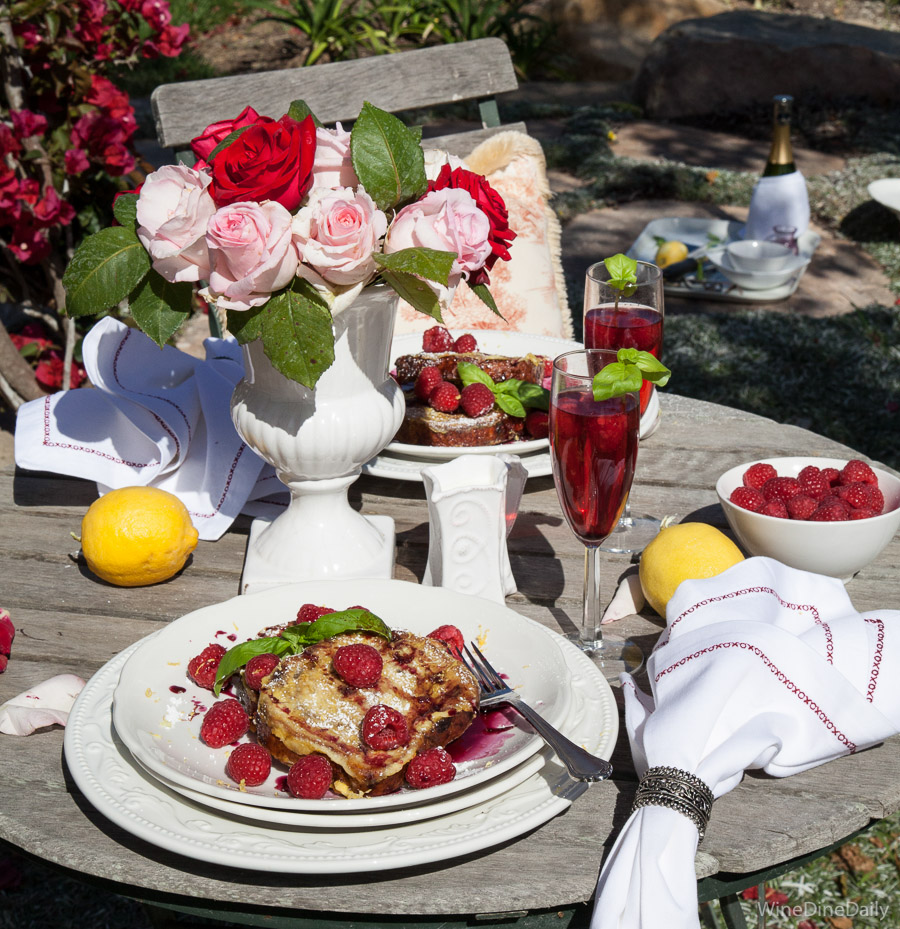 Hope your Mother's Day will be filled with love and laughter and of course let's not forget some fabulous pearly bubbly so you can add more delicious memories! What is your favorite brunch menu?