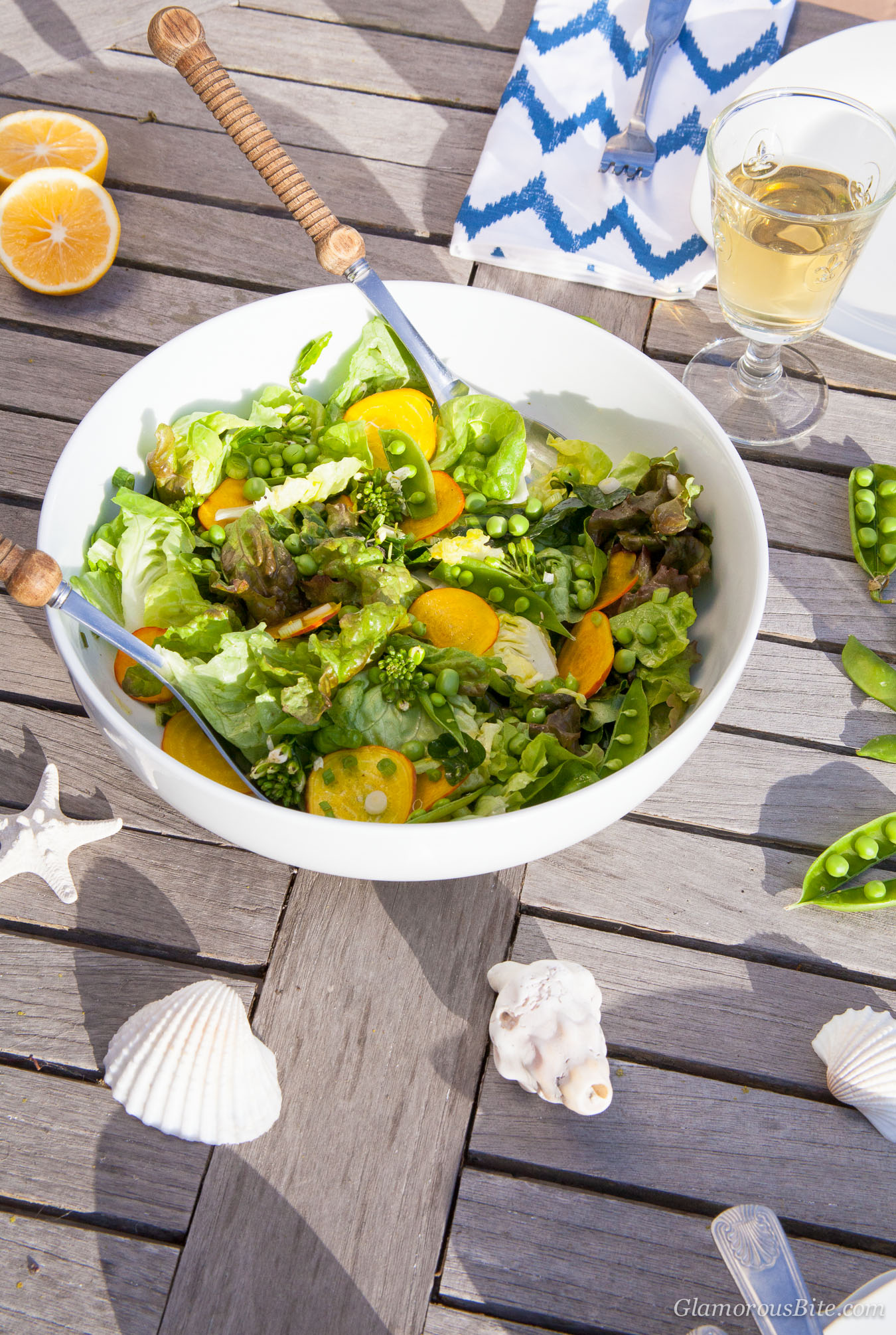 Spring is always a delicious celebration with the arrival of tender vibrant leafy greens, sugar snap peas and aromatic herbs. Salads are not just healthy, they are also very pretty and we can't wait to make a Farmers Market Spring Salad with Lemon Vinaigrette with our fresh greens.
Even though you can see most of the greens all year around at the California Farmers Markets, in the Spring everything seems to be more tender and beautiful. Could it be that our natural spirit is attuned with Spring and we see everything through floral lenses? Perhaps the little vegetables know that it is indeed Spring and try to be a little harder to be more green to honor of this blissful season.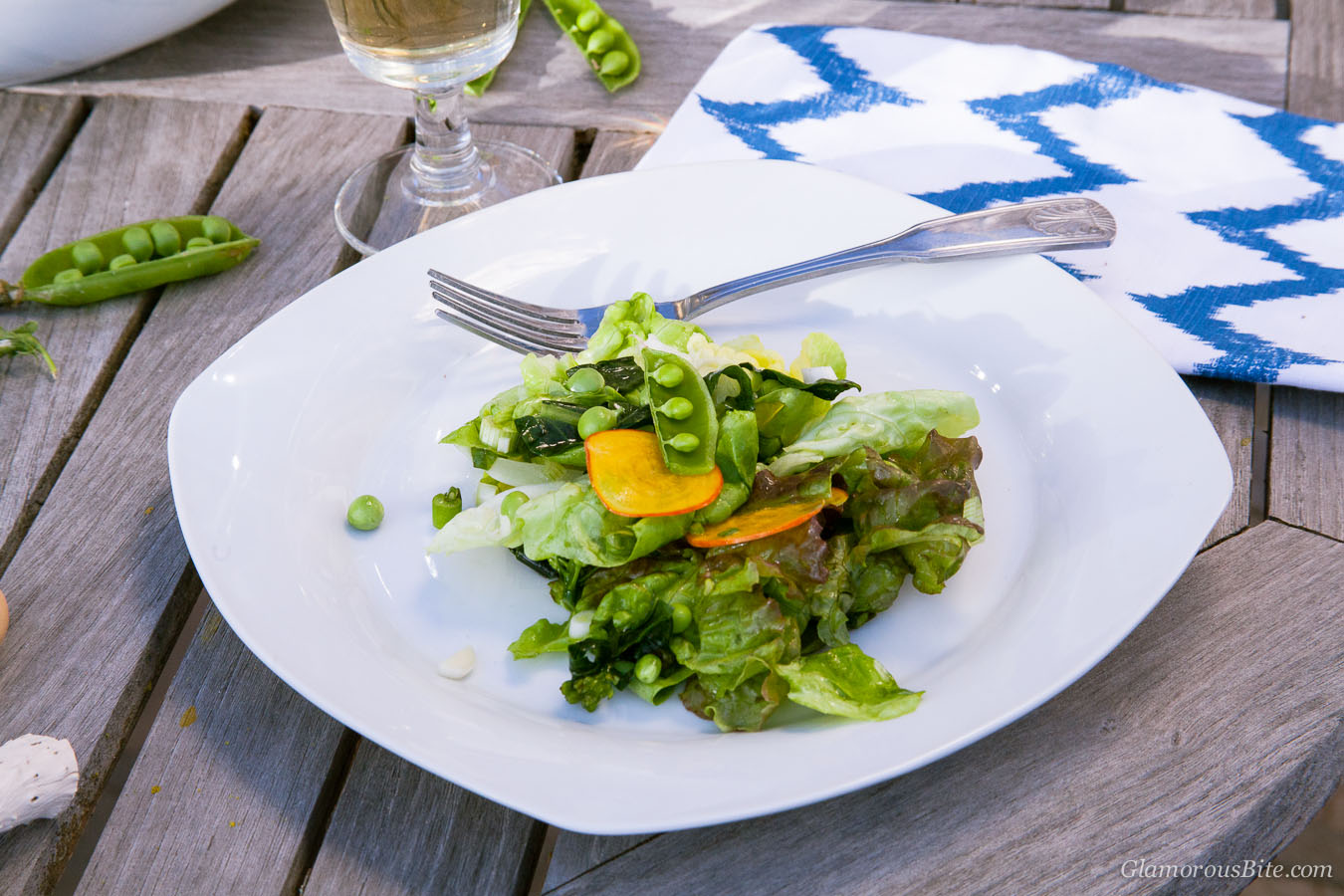 Every week on Tuesday afternoon farmers and vendors come from various regions of California with their goods and set up their tables and tents on the already busy State Street, the busiest street in Santa Barbara. This is the Santa Barbara Certified Farmers Market and you can get everything from oranges to eggplant, milk to honey, bread to butter, nuts and herbs. Let's not get distracted though, we have a specific mission today and that is to find the perfect ingredients for a Farmers Market Spring Salad with Lemon Vinaigrette. Of course we got distracted by the lavender and had to get some essential oil just because it smelled like the season.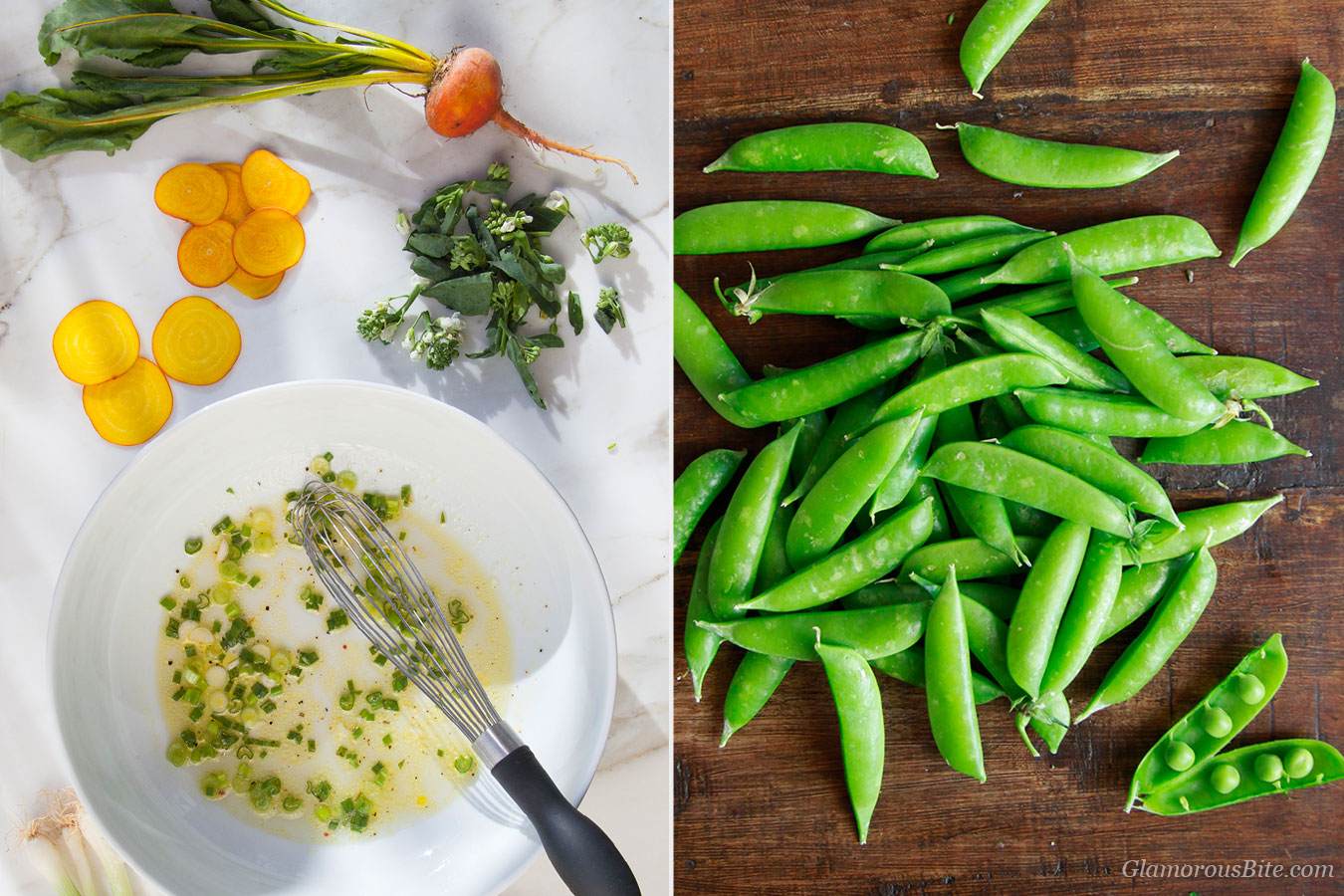 After we filled up our baskets (like there is no tomorrow) with several aromatic herbs, salads, sugar snap peas, beets and other delights we were ready to start our salad. A fresh crunchy salad deserves to be dressed in deliciousness. We opted to keep it simple and pure without too much complexity. In this case less is more and it lets the salad sing in harmony with the dressing. Green salads are not only good for your (and our) waistline they are also filled with vitamins, nutrients and cancer fighting compounds.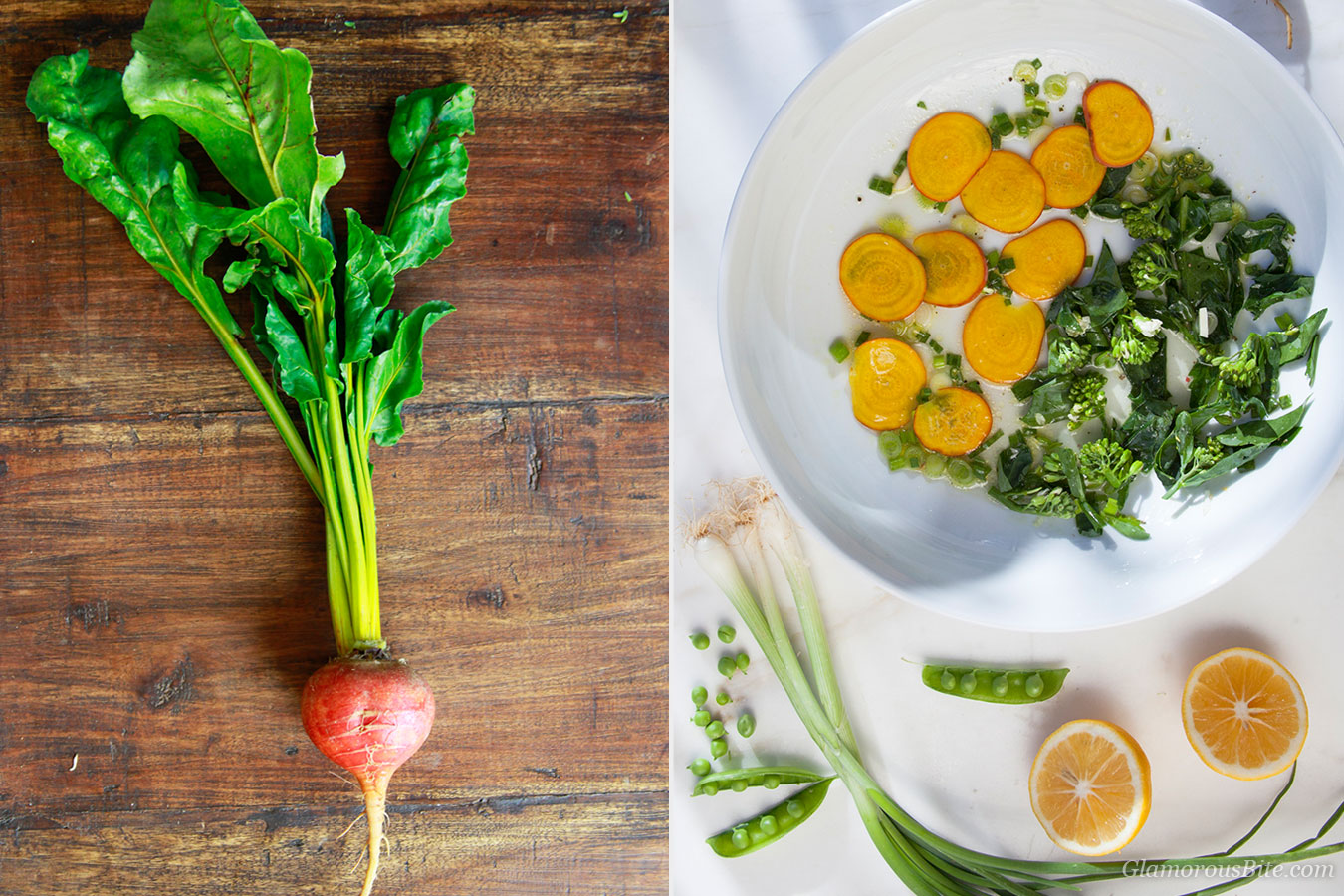 This Farmers Market Spring Salad with Lemon Vinaigrette is brimming with vitamins, the lovely butter lettuce gives you valuable minerals, vitamins A + K and dietary fiber, and the raw golden beets contain antioxidants which are beneficial to the "cardiovascular health". Broccoli rabe is a good source of potassium, vitamin A and C, cancer fighting glucosinolates, and dietary fiber. Green onions contain vitamin B6 and K, folate, and potassium. They are beneficial for bone and heart health. We added the lemons to the dressing for a healthy does of vitamin C, which we all need to keep our energies up in the Spring time.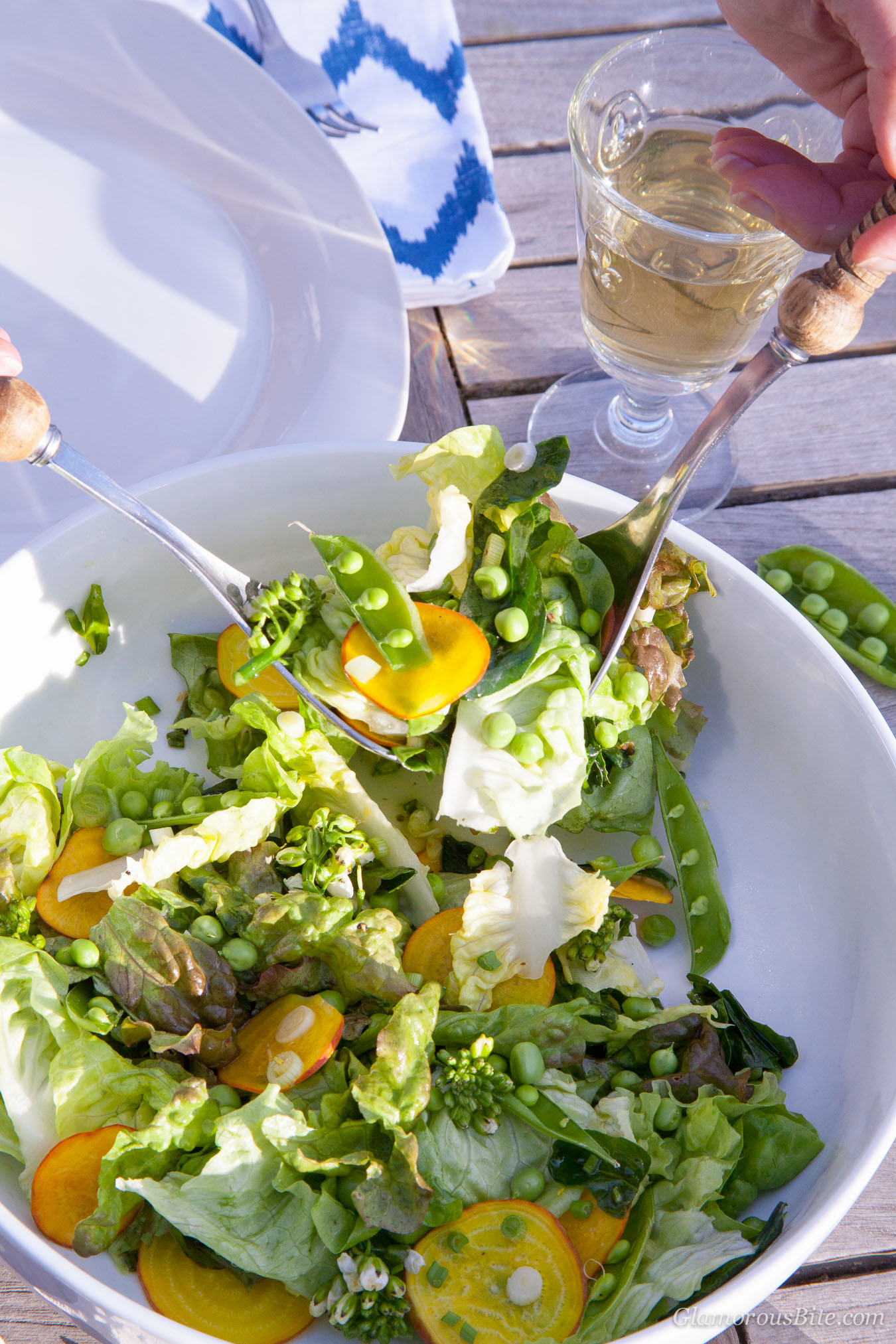 We were trilled to find beautiful sugar snap peas with sweet and tender pods, they are more substantial than snow peas. Every darling little kernel is filled with vital nutrients like fiber, iron, magnesium and with low glycemic load it is pretty good for a Diabetes friendly diet. Sugar snap peas have a short harvest time so we are planing to enjoy them in many different ways while they are in season.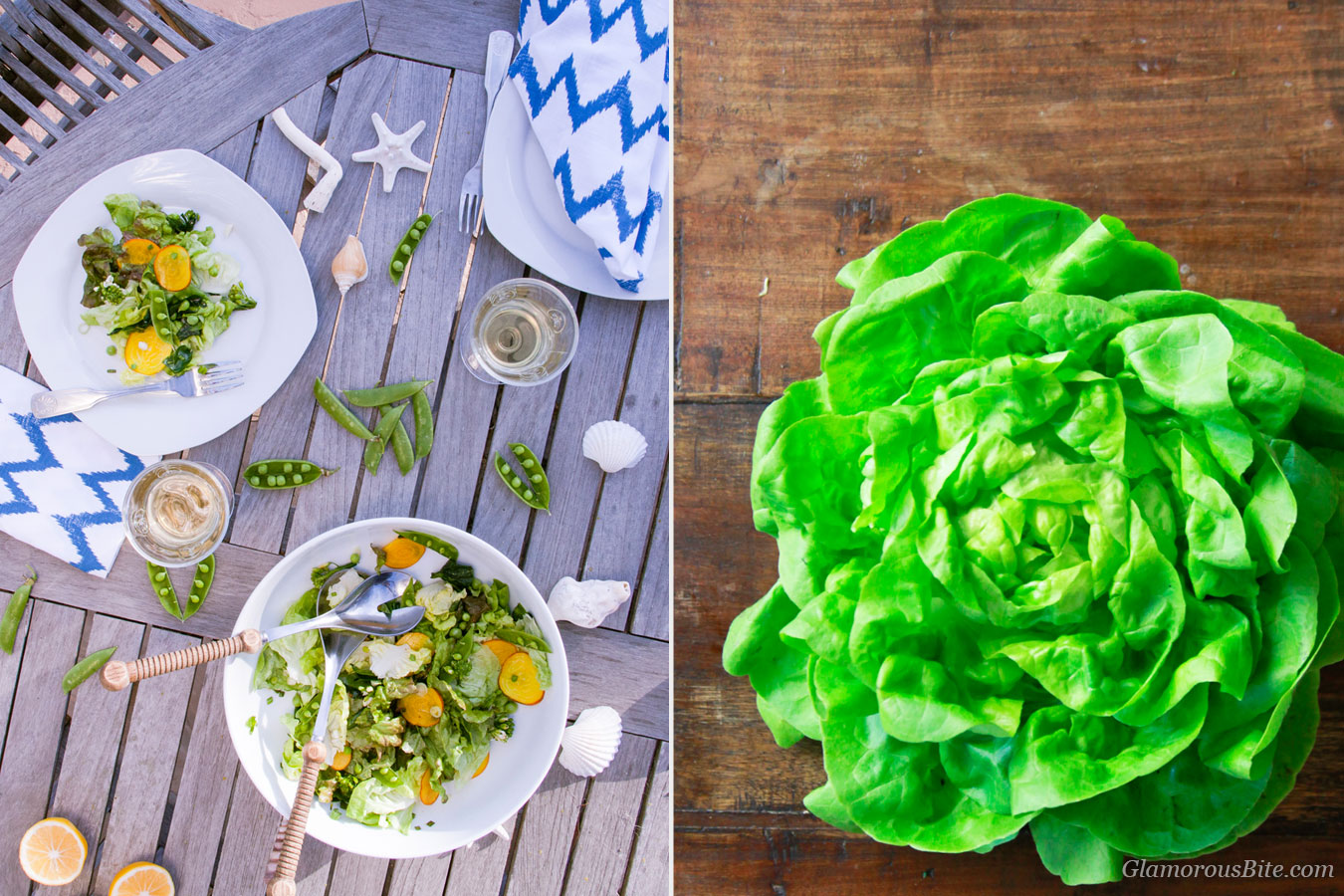 To start the salad we whisked together olive oil, lemon juice, and agave syrup in a large bowl then sprinkled in the Himalayan salt and pepper. Wash the vegetables, but make sure they are patted dry or use a salad spinner for the leaves.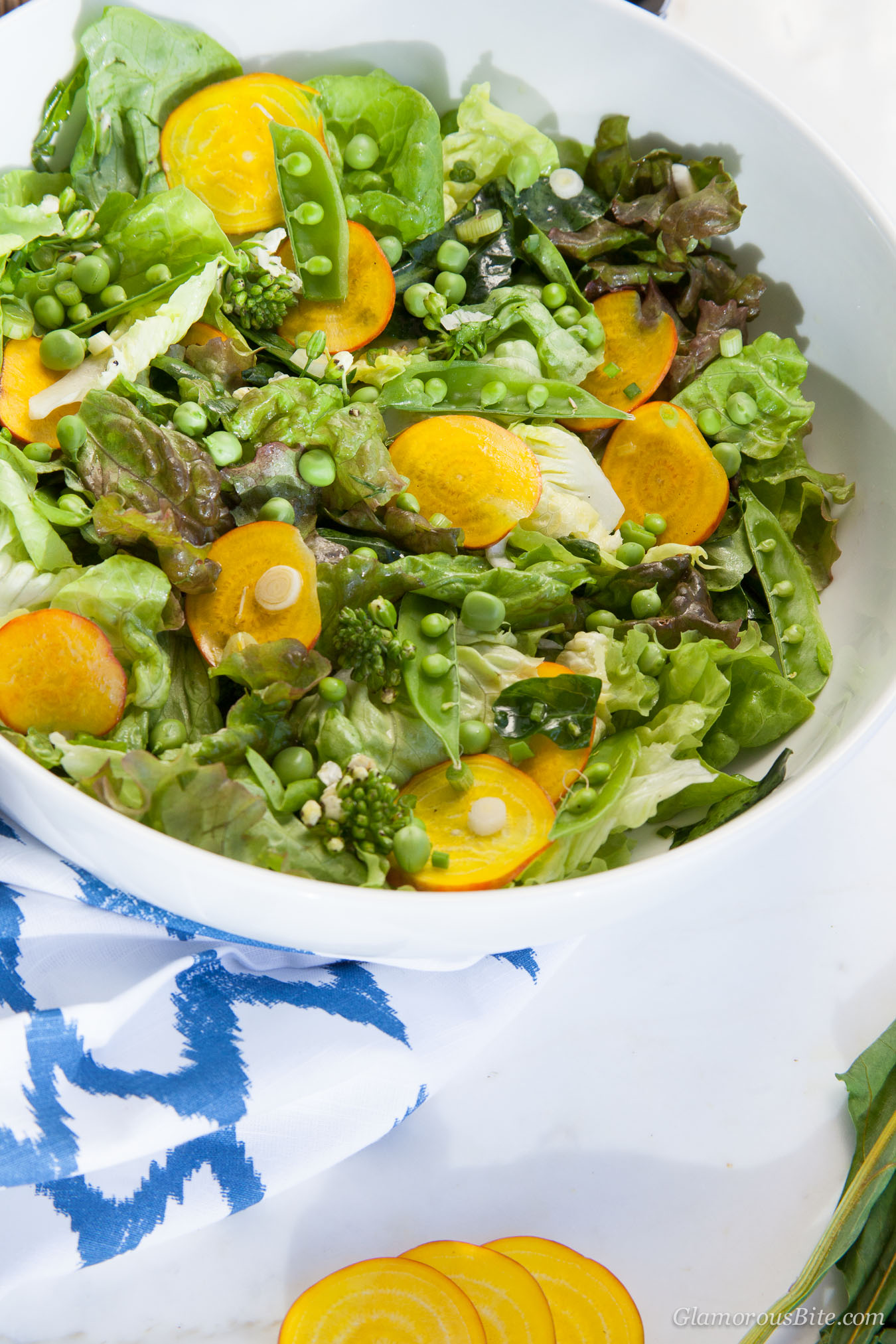 Finely slice green onions and chop up the tops and leaves of the broccoli rabe. Thinly shave the baby golden beets with a Mandolin slicer. Add the green onions, broccoli rabe and beets to the dressing and toss.
Judit: My old Mandolin vegetable slicer would be more suited to play music on than to thinly slice vegetables, and I had a hard time slicing the beets paper thin because thin slices just taste better. So I ended up testing my knife skills and cutting the baby beets with my large chef's knife. Don't worry no baby beets (or fingers) were harmed during this tedious process. Well I learned one thing, I do need a new Mandolin! Any recommendations?
Let the dressing sit for 5 to 10 minutes while you tear up the butter lettuce leaves and shell the snap peas. Add these to the dressing and carefully mix. Enjoy!
Corina: Aren't you glad that Judit kept a sharp eye on me because I adore sugar peas and could have devoured all of them by myself. As it happens I did eat a good amount while I was shelling them for the salad and of course just justified it by claiming they were too big or too small for the dish. The peas are the sweetest when you pick them up from the market and shelling them right away.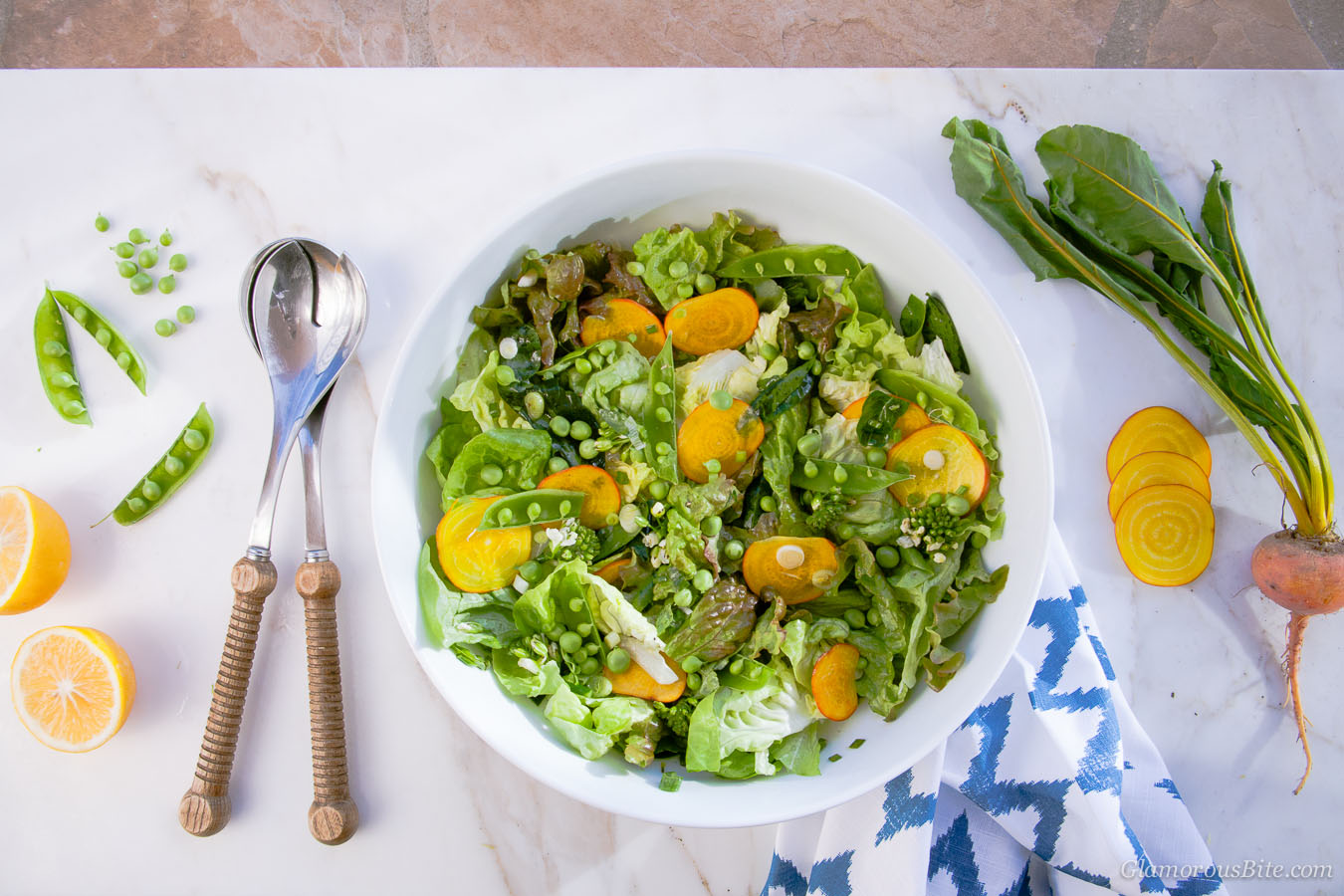 This Farmers Market Spring Salad with Lemon Vinaigrette is fabulous side to any roasted or grilled lamb, chicken or pork.
Farmers Market Spring Salad with Lemon Vinaigrette
Ingredients
Lemon Vinaigrette
3

Tbsp

Organic Olive Oil

2

Tbsp

Fresh Lemon Juice

1

Tsp

Agave Syrup

Himalayan Salt and Black Pepper to taste
Salad
2

Green Onions - Finely sliced

1/2

bunch of Broccoli Rabe - discard stem and chop the leaves and tops

1

or 2 Baby Golden Beets - thinly shaved

1

Butter Lettuce - leaves washed and torn into large chunks

1

cup

Sugar Snap Peas - shell the larger pods
Instructions
In a large salad bowl whisk together olive oil, lemon juice and agave. Season with Himalayan salt and black pepper.

Add the sliced green onions, broccoli rabe tops and chopped leaves and the thinly sliced raw beets to the salad bowl and toss well with the dressing. Let it sit for 5 to 10 minutes.

Add butter lettuce leaves and the sugar snap peas and loose peas just before serving and toss all well together.
Diet: Vegan, Raw, Gluten-free, low-carb, Diabetic Friendly, Vegetarian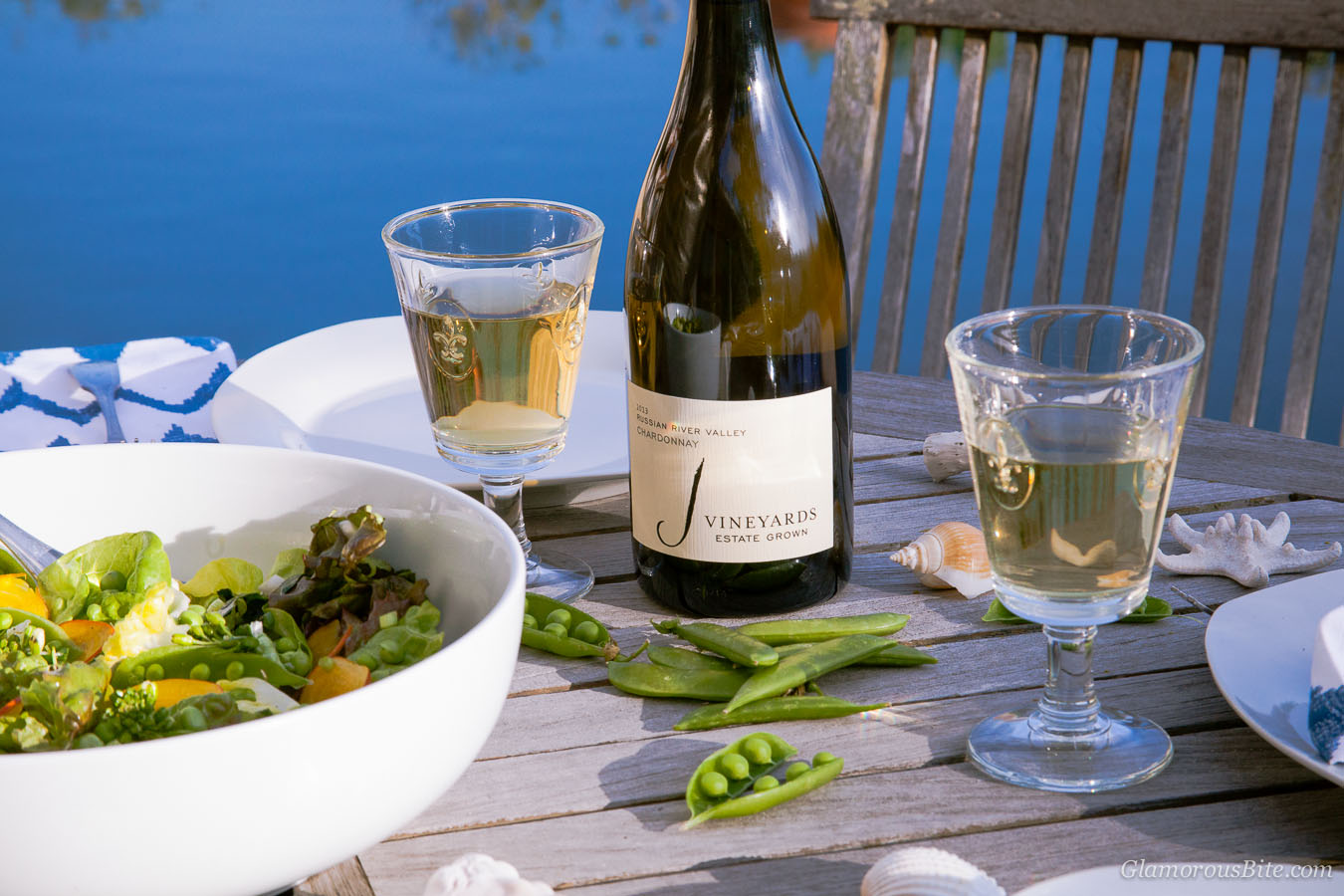 Glamorous Food & Wine Pairing: J Chardonnay Russian River Valley from California with tropical fruit aromas, creamy texture and citrus flavors.
Hope you have a wonderful Spring and Easter weekend!