How to Make Limoncello
We will show you how easy it is to make our delicious Limoncello recipe made with California Meyer Lemons.  Inspired by a trip to Italy where we enjoyed daily after dinner or just before dessert.
Judit: If life gives you lemons make lemonade, that's how the saying goes!
Corina: In our family we have a little twist to it "If life gives you lemon, make Limoncello!" so we are going to show you how to make Limoncello (also known Limoncino).
J:  We are so fortunate to live in California because we have lemons almost the whole year around. And these are special lemons, they are Meyer lemons. They are a little sweeter and juicier then regular lemons.
C:  For our Limoncello you will need about 14 to 16 large Meyer lemons.
J:  Also we will need a large glass container with a lid.
C:  High proof alcohol like Everclear alcohol, which is 190 proof, but you can use Vodka if the others are not available in your State. Then we will make simple syrup, and that is just sugar and water.
J:  Let's wash the lemons.
C:  We do not have to wash ours too much because we have organic lemons. If you purchase them in a grocery store then use a vegetable brush to clean them. With a kitchen towel dry the lemons. With a vegetable peeler peel all the lemons.
J:  Put the peels right into the glass jar. Oh how I love the lemon aroma!
C:  Make sure that your Jar has a secure lid because if your lid is not secure, after 2 weeks the alcohol will evaporate and you will have lemonade instead of Limoncello.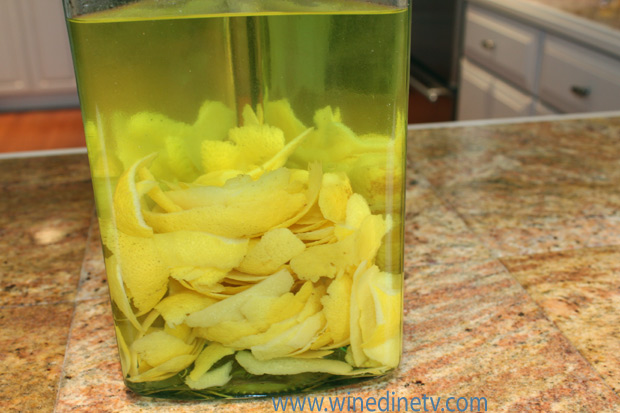 J:  Now pour the alcohol over the lemon peels and close the jar. This is quite potent. No wonder the Italian families are always so Happy. We are too because we often make it.
C:  Make sure that you store the jar in a cool dark place for 2 to 4 weeks. Also the color will turn darker yellow. Every few days gently shake the jar to mix evenly the peels with the alcohol
J:  You do not want to let it get too dark.
J: we like too squeeze the peeled lemons, and freeze them in the ice cube tray.
C:  After 2 to 4 weeks when the color turned darker we are ready to make the simple syrup.
C:  In a sauce pan bring to boil 2 ½ cups water. Remove it from the stove and gently stir in 3 ½ cups of sugar and continue to stir until sugar is dissolved.
J:  If you like it sweeter then add 4 cups or more sugar, and it will also make the consistency thicker for your Limoncello.
C:  Set aside until the syrup cools completely.
J:  Now we need to strain the alcohol into a large pot. Do not dispose of the peels, we like to use the alcohol soaked peels in baking and cooking.
C:  Pour in the simple syrup and with a large spoon stir it together.
J:  Now we have 2 choices…
C:  we can drink it now or we can drink it later!
J:  Ladle into glass bottles. Seal with cork or screw cap.
C:  Now you can store the bottles in the freezer and if you have enough alcohol content it will not freeze. After 4 days you are ready to enjoy your homemade Limoncello!
This versatile drink became our family favorite and a lovely gift during the Holidays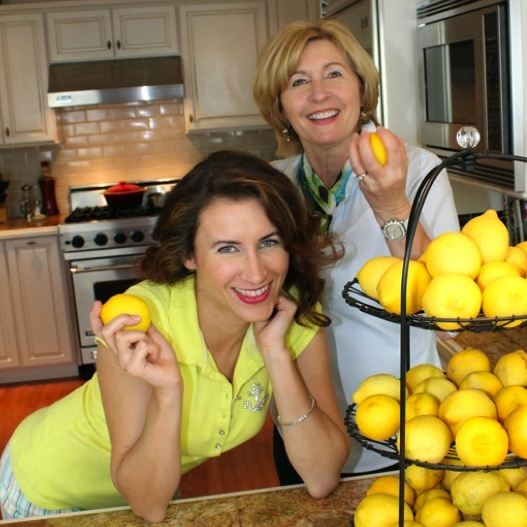 CHEERS!