Is there anything more divine than chocolate? Perhaps chocolate covered strawberries with rose petals are another step closer to bliss.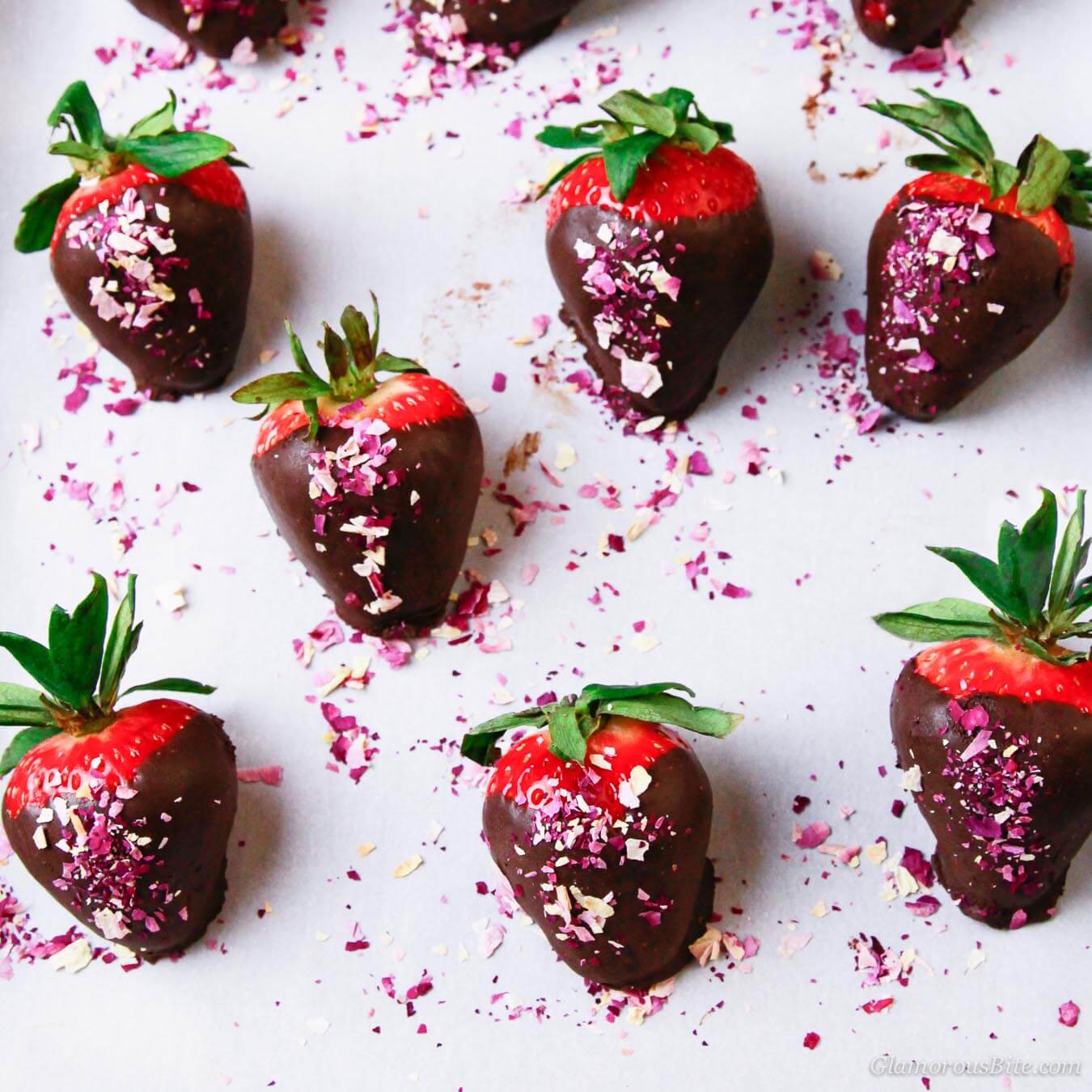 May is in full bloom with beautiful flowers and roses glorifying the landscape in a profuse burst of vibrance. Of course we could not resist making use of those roses in a more edible way and to sprinkle them on something sweet. California is the land of strawberries and we are always on the lookout for the best and juiciest strawberries at the Santa Barbara Farmer's Market or at the fruit stands by local farms. We were so delighted when we found the sweetest red jewels that the California sun could offer and of course we all know that finding the just right berries is the perfect excuse to make Chocolate Covered Strawberries with Rose Petals. The extra loving touch of rose petals makes these glamorous bites even more festive and celebratory.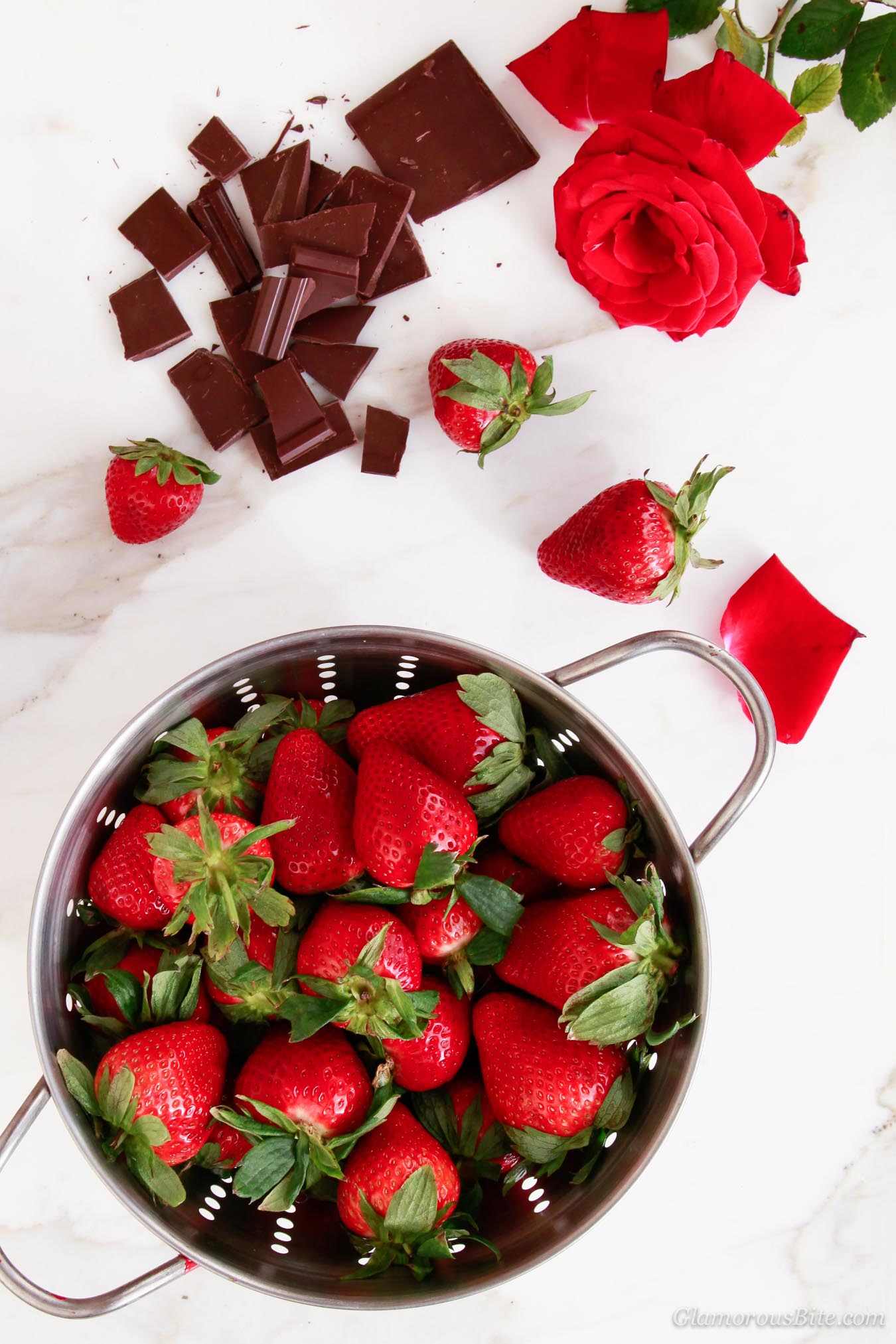 Perhaps you need a delectable treat to celebrate a someone special, like your mom for Mother's Day, or just wish to indulge in a sweet, yet healthy dessert. They are so simple to make that you may be tempted to make them more often and with only a few ingredients there is still time for you to prepare these Chocolate Covered Strawberries with Rose Petals for Mother's day or for a weekend delight! We love to make chocolate desserts and this one is so simple we could not wait to make it this weekend and to share it with you.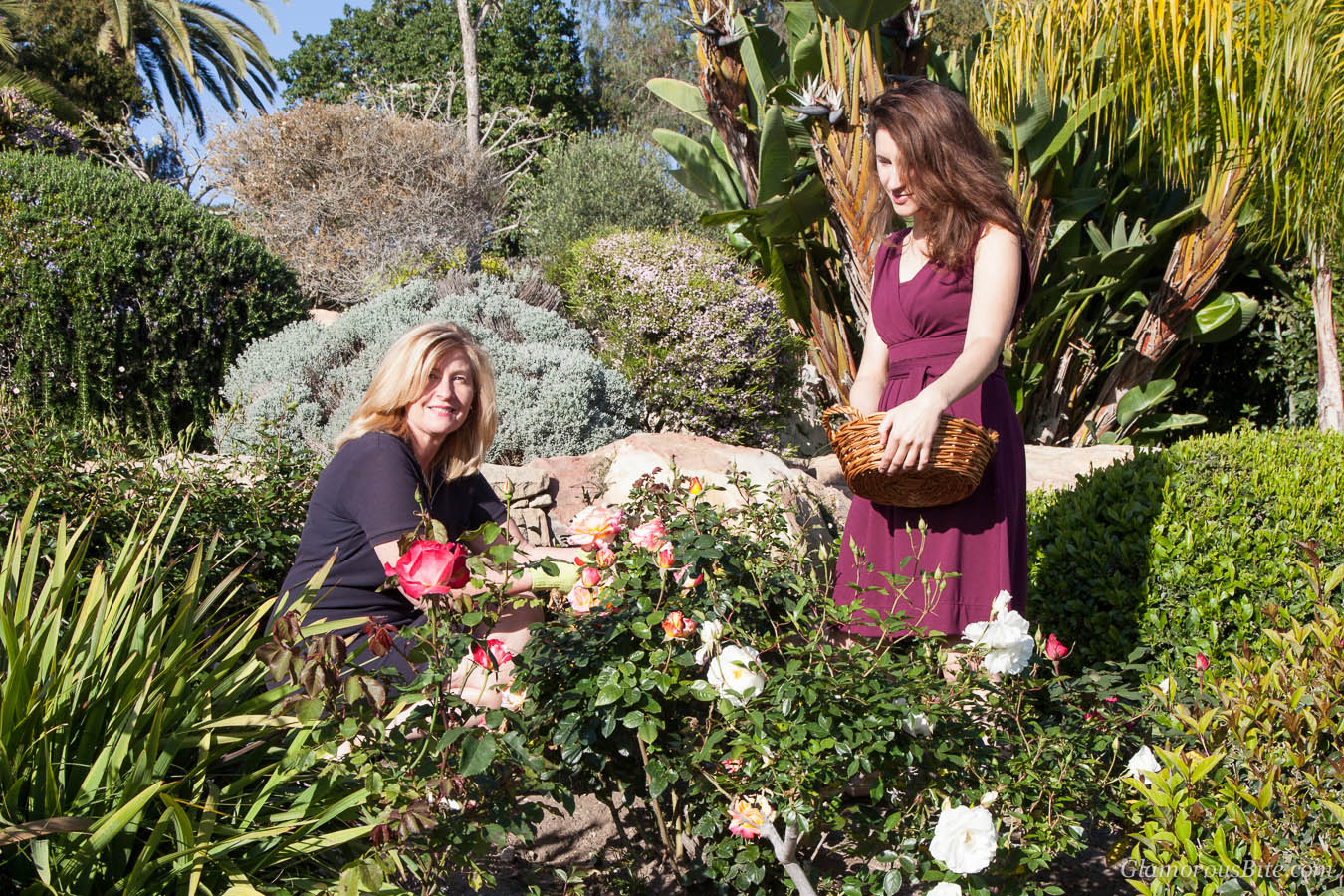 These pretty little gems would make a wonderful Mother's Day gift. Place them in a fancy box and bring them to your mom on this special day, just don't peek into the box on the way since you may end up with a few empty spots in the box (even if your name is not Corina). Or you can bring the ingredients to mom, or that special person in your life, and you can easily make homemade Chocolate Covered Strawberries together. The dusting of dried rose petals makes these Chocolate Covered Strawberries even more glamorous (oh please don't worry if you don't have rose petals handy, just make them without and they will still taste sublime). If you do have organic rose petals, it is a must try, since those dried rose petals are like a little dusting of confetti and dress the strawberries up festively.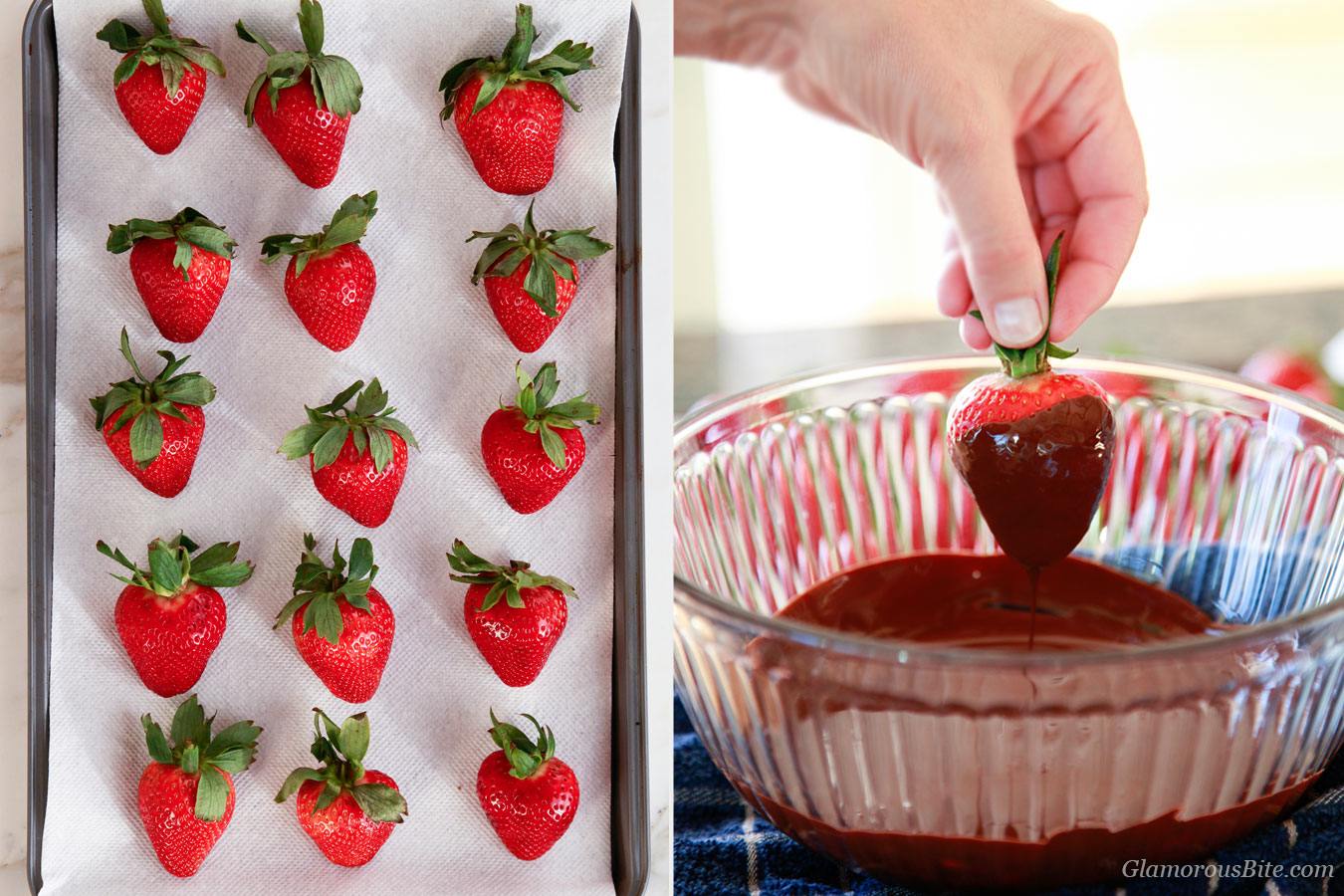 We love dark chocolate and are glad to know it is better for you than milk chocolate (so we don't feel guilty at all!) and in this recipe we use a 70% dark chocolate. Guess what – dark chocolate is a Superfood! Dark chocolate is ideal for tempering, just don't go to a much higher than 72% since there wont be enough cocoa butter and it will not melt as smoothly. Also look for Tempered Chocolate in the store to make this recipe much faster and easier. In our pantry we had regular dark chocolate and needed to temper it ourselves. We always have to check if there is any chocolate left for a recipe because Corina tends to eat it quietly when it is left all alone. There are so many different ways to temper chocolate and after several tries we found a simple way that worked the best.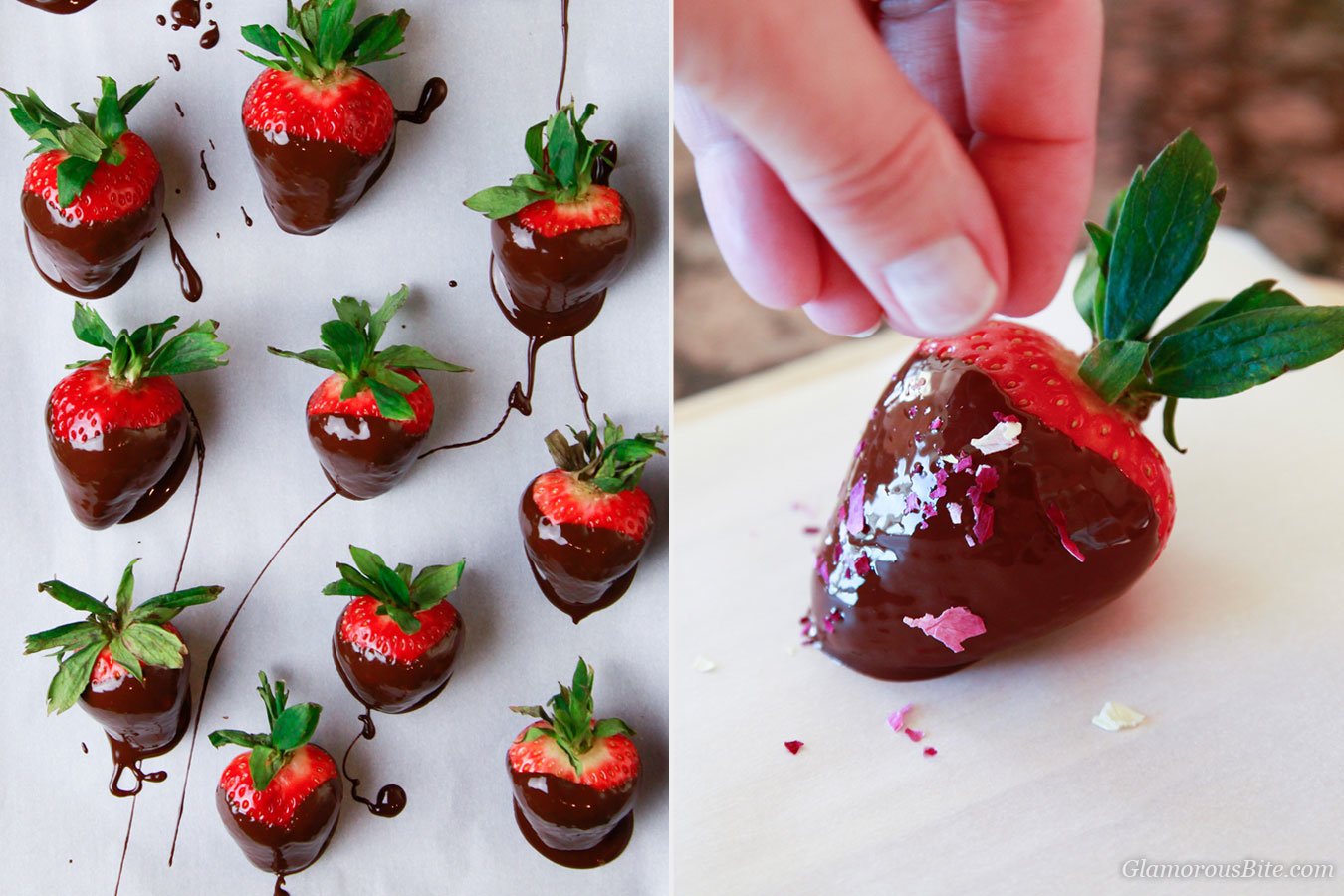 How to Temper Chocolate
Take about 16 oz of dark chocolate and place 12 oz of it in a heatproof bowl over a pot of simmering water. If you have a double boiler you can use that instead.
Melt the chocolate while stirring and bring temperature to 115 to 120 degrees Fahrenheit (46 to 49 degrees Celsius) for dark chocolate. Check the temperature with a candy thermometer.
We didn't find ours so we used the Chef's method of touching a spoon with a little chocolate to the bottom lip and seeing if it felt a warmer. Don't burn yourself.
Add the reserved 4 oz of chocolate and stir. The added chocolate will cool down the temperature of the chocolate and make sure it gets to around 88 to 90 Fahrenheit (31 to 32 degrees Celsius). Keep the chocolate at this temperature, heating or cooling as needed.
Spread a small amount on parchment paper to test it and see if it sets in about 5 minutes at room temperature.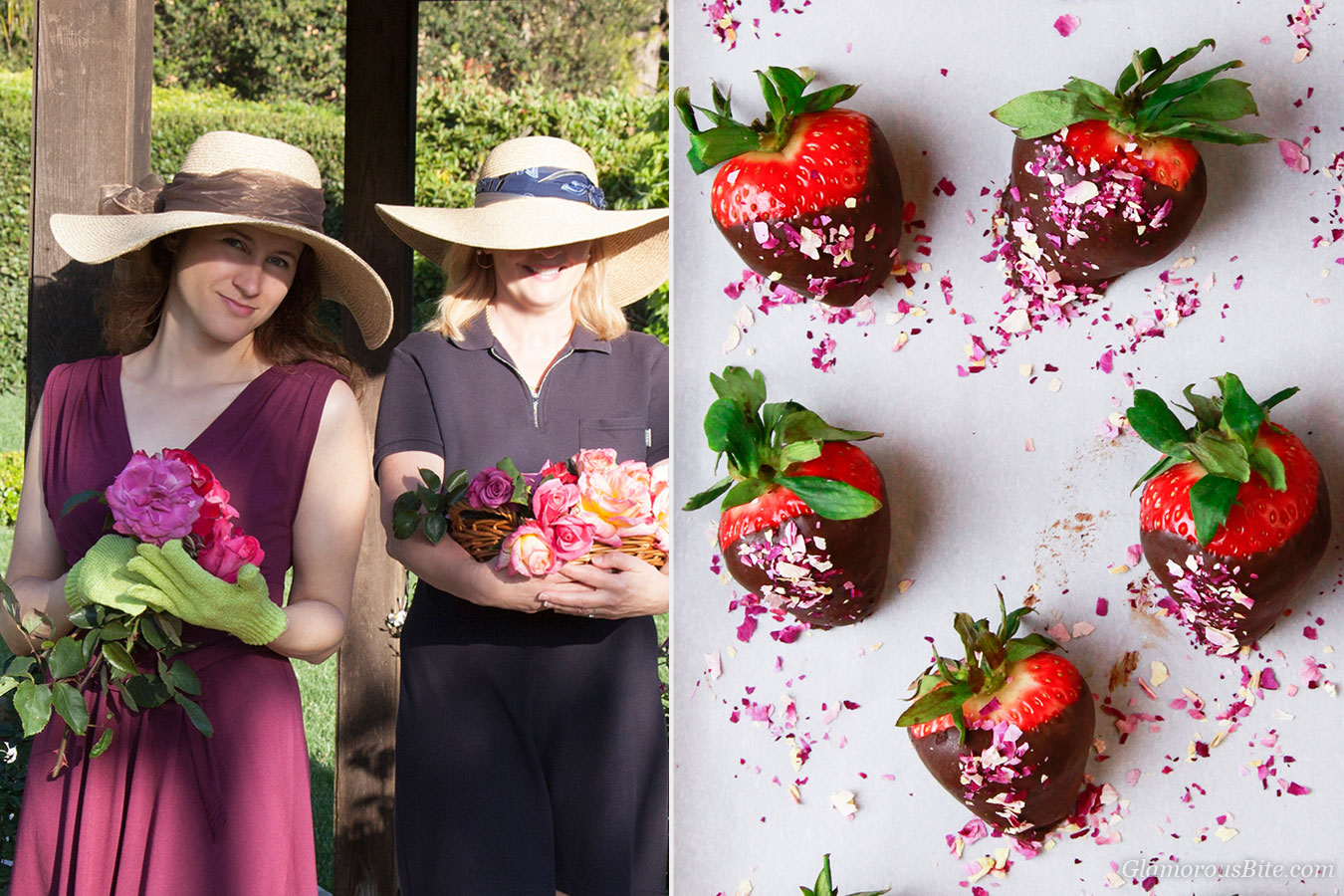 Corina: I like a piece of dark chocolate in the afternoons and enjoy tasting chocolates from all over the world. It is amazing how from one region you can taste berry notes and from another there will be green notes. When I was in the office world I brought European chocolates to work and that morphed into a chocolate club.
Judit: My favorite has always been dark chocolate, especially when melted, and when I was a young girl my mom in Hungary would dip raspberries, apricots and strawberries into chocolate for a quick dessert. Don't you just love sweet memories.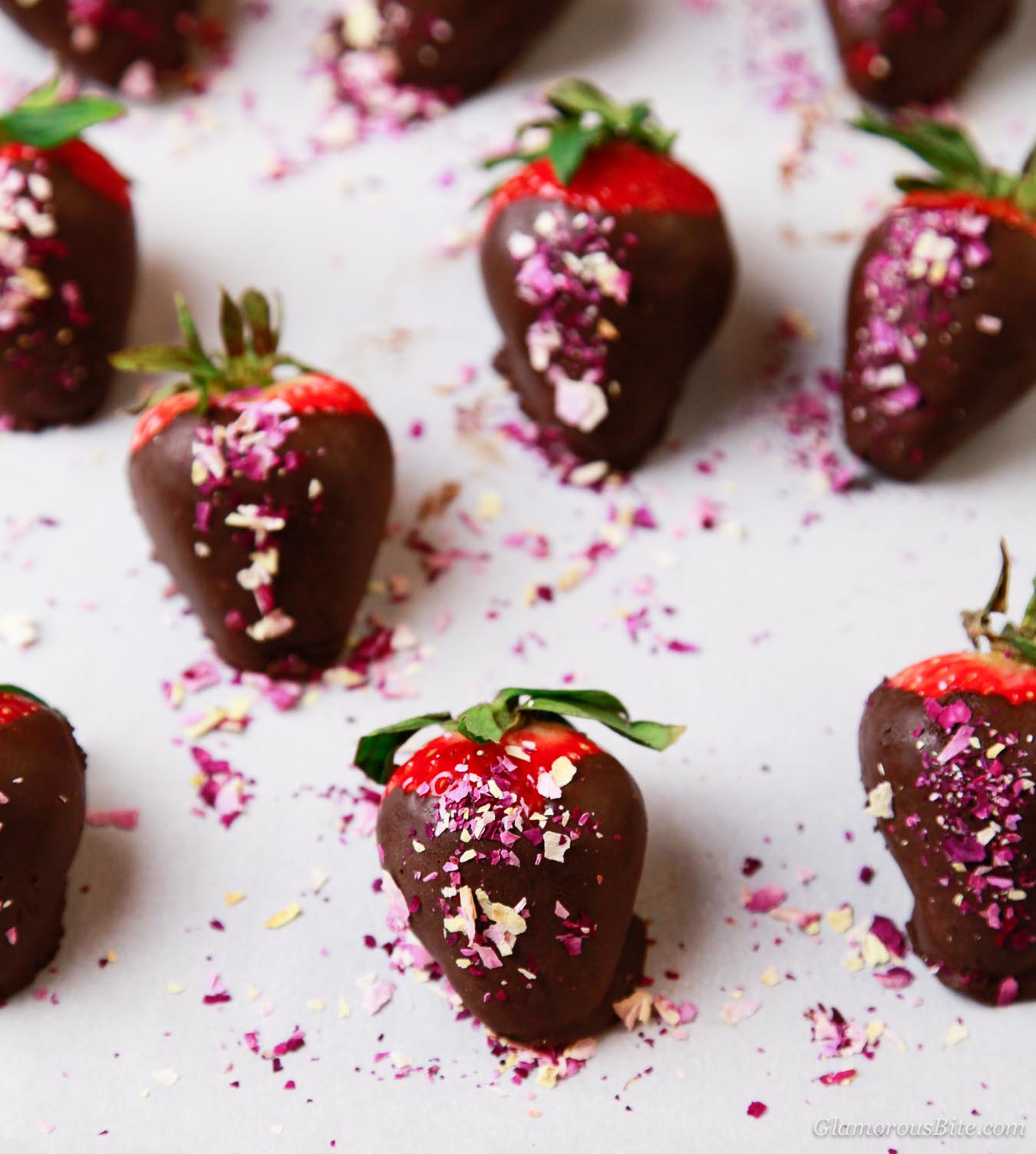 And just because it is Mother's Day this lovely weekend we thought to share one of our favorite poems with you.
Because I feel that in the heavens above
The angels, whispering one to another,
Can find among their burning tears of love,
None so devotional as that of "Mother,"

Therefore, by that dear name I have long called you,
You who are more than mother unto me.
~ Edgar Allan Poe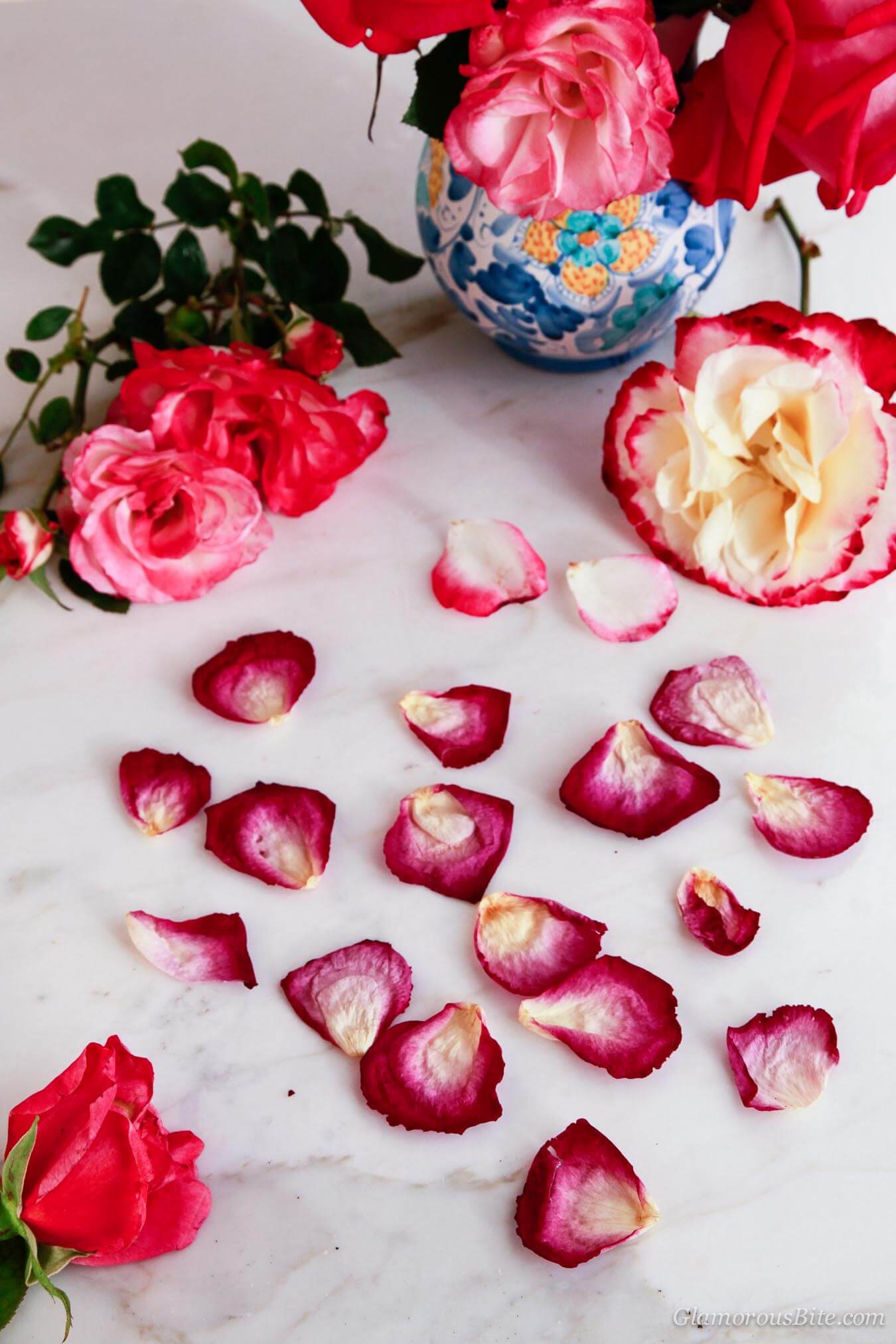 Homemade Chocolate Covered Strawberries have benefits!
Benefits of Strawberries
Rich in antioxidants such as polyphenols
Strawberries are low-calorie
Increase good cholesterol
Manganese and potassium
More Vitamin C than an Orange.
Benefits of Dark Chocolate
Dark chocolate reduces cravings for fats and sweets
May reduce cholesterol levels and prevent stroke
Contains antioxidants called flavonoids which help protect against cell damage
Keeps your memory sharp and cocoa extract is said to help prevent Alzheimer's
Chocolate contains flavonoids which can protect against type 2 diabetes.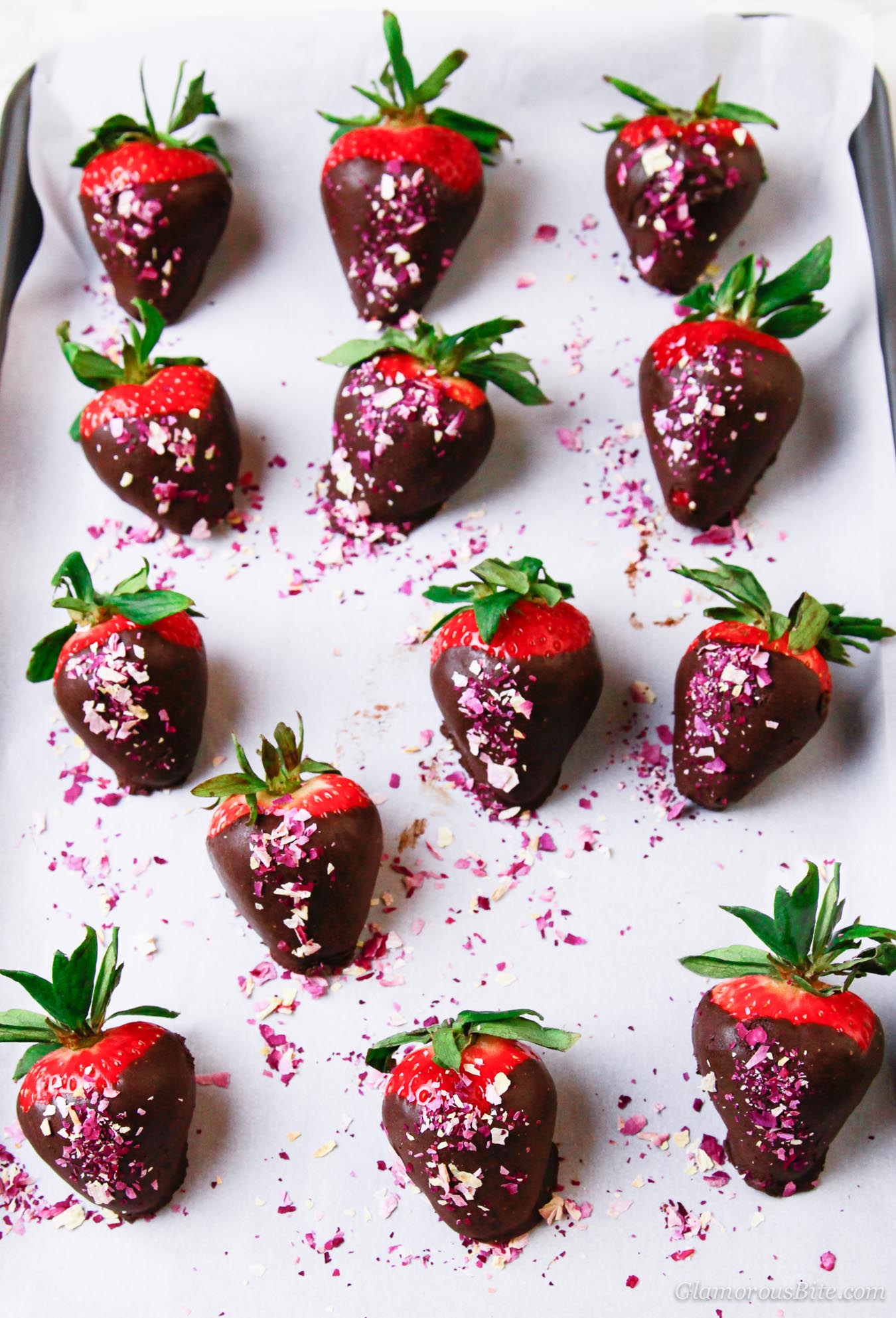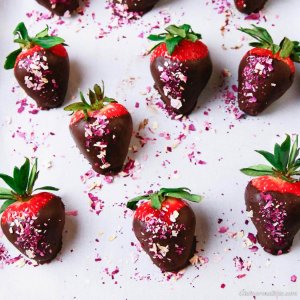 Chocolate Covered Strawberries with Rose Petals
Ingredients
15 to 18

Large Strawberries

16

oz

Dark Chocolate 70% Cacao

Tempered if available

1

Tsp

Coconut Oil

2

Tbsp

Organic Dried Rose Petals
Instructions
Pick your own rose petals from a pesticide-free garden or purchase edible flower petals from the grocery store or farmer's market. 

Air dry the rose petals a few days before or if you don't have time place rose petals in single layer between paper towels and microwave oven for 30 - 45 seconds. Once dry, crush the rose petals into confetti sized pieces.

Wash the strawberries and pat them dry.

In a double boiler melt the chocolate and stir in the coconut oil.

Dip the strawberries into the chocolate.

Sprinkle the crushed rose petals over the top.

Set aside to allow the chocolate to harden.
Diet: Vegan, Vegetarian, Gluten-Free, Superfood
Tip: You can omit the dried rose petals if you like and it still makes a sublime dessert.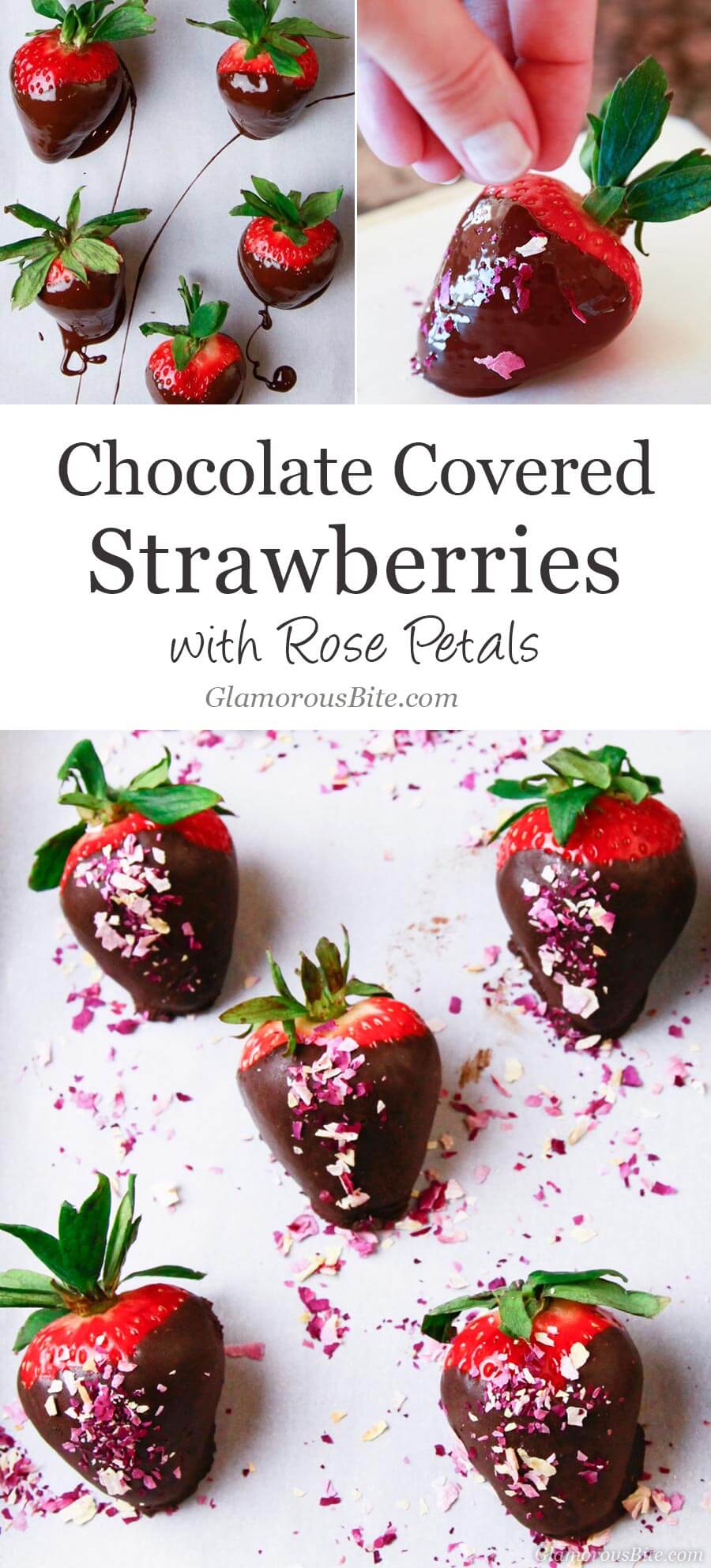 Glamorous Food & Wine Pairing: Champagne or sparkling wine would pair beautifully with Chocolate Covered Strawberries with Rose Petals, especially a Sparkling Rosé or Brut Rosé with strawberry notes and creamy texture. You could even enjoy these with our Pinot Royal Champagne Cocktail for an ultra decadent pairing.