Higher in fiber and lower in carbs than regular pasta, this simple Whole-Wheat Pasta with Tomatoes and Spinach is full of flavors and nutrients.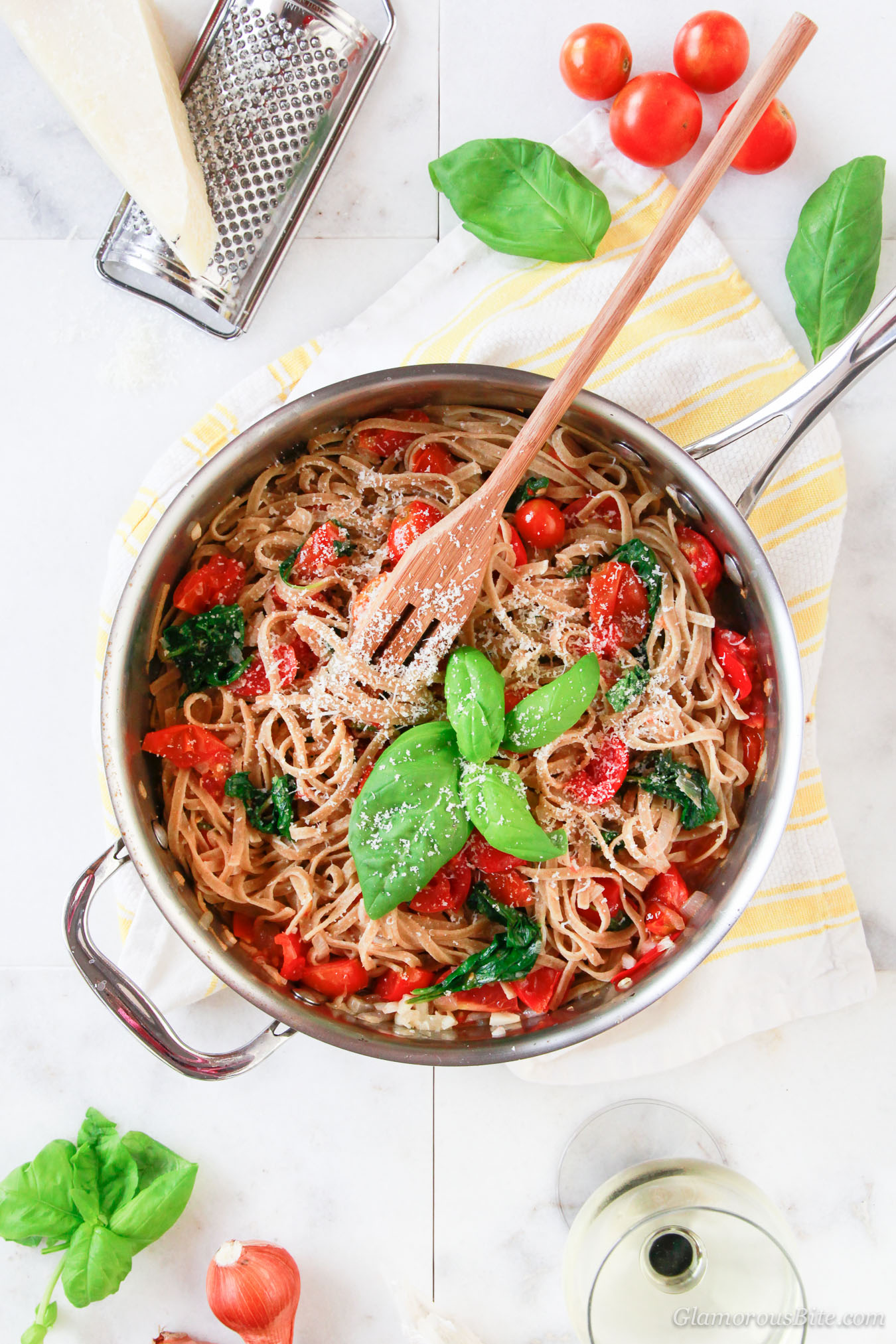 It's hard to imagine any kitchen without pasta no matter where you live. Many simple and budget friendly recipes includes this comforting and very popular ingredient. However not all pastas are made equally, and there is a world of difference between the commonly used dry pasta or the home made fresh kind. As we adore many pasta dishes and we don't have always the time to make it ourselves so on the top of our pasta list is this incredible tender whole-wheat linguini made by the Solvang Pie Company from the Creekside Apple Ranch in Solvang. Our go-to recipe is a quick and simple vegetarian Whole-Wheat Pasta with Tomatoes and Spinach that we can dress up with various cheeses.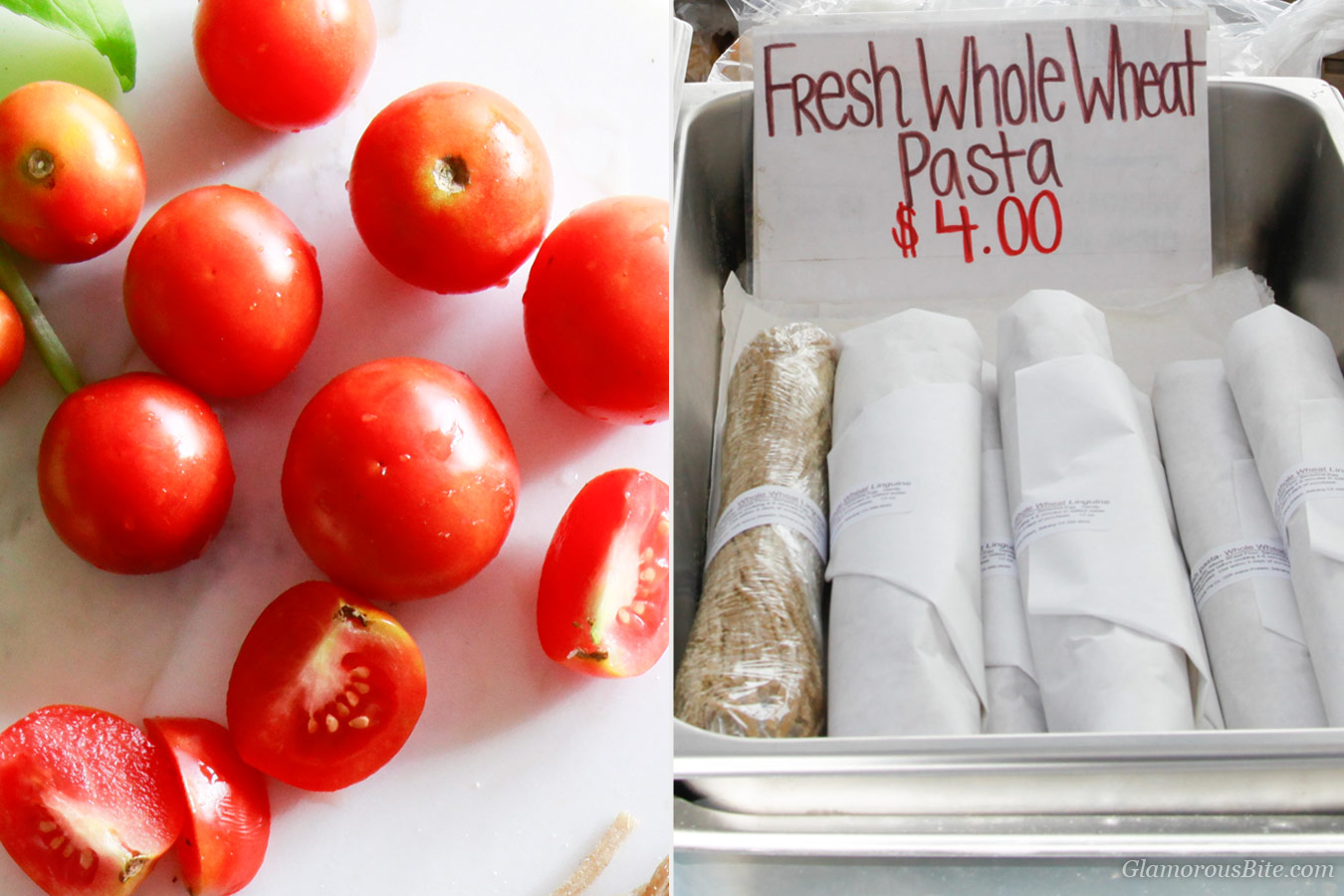 This dish is so easy to make and we love adding fragrant vine ripe tomatoes, shallots, garlic, and baby spinach. We have made it so many times we can do this recipe in our sleep! You can even make this dish vegan by omitting the cheese and making sure the pasta you use is egg-free.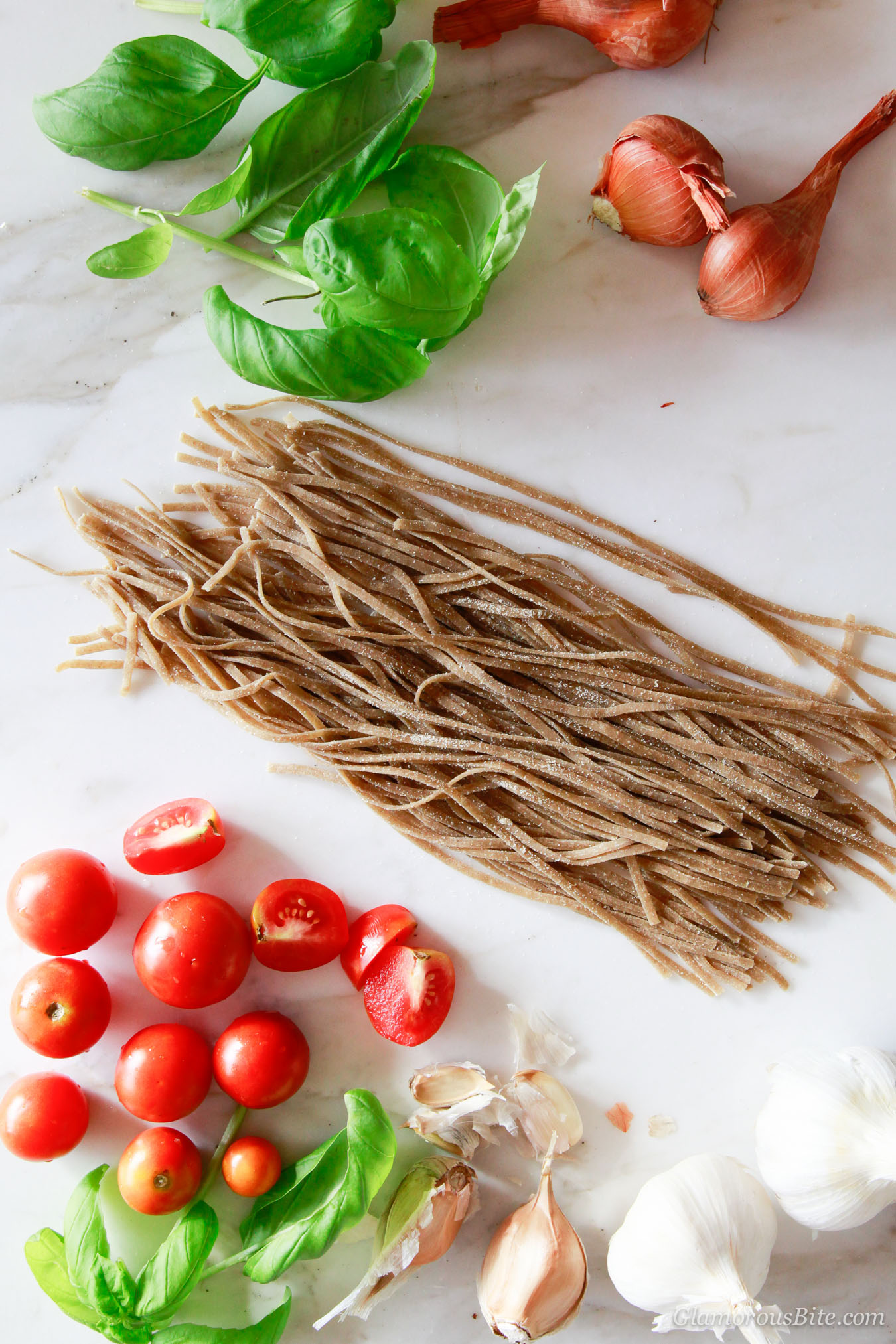 Our grandmothers in Europe often made their own pastas and we would watch in awe at the patience and precision of the process. There would be extremely thin noodles for soups, thicker noodles for casseroles and each was made with such skill that it you were hard pressed to find an imperfection in the with or texture of the noodles. For us fresh whole-wheat pasta is a much better option these days since Paul can eat this pasta too with its lower glycemic index. If you have to watch your carbohydrates for health reasons, the robust nutty taste and comforting texture of whole grain pasta lends for a more fulfilling experience.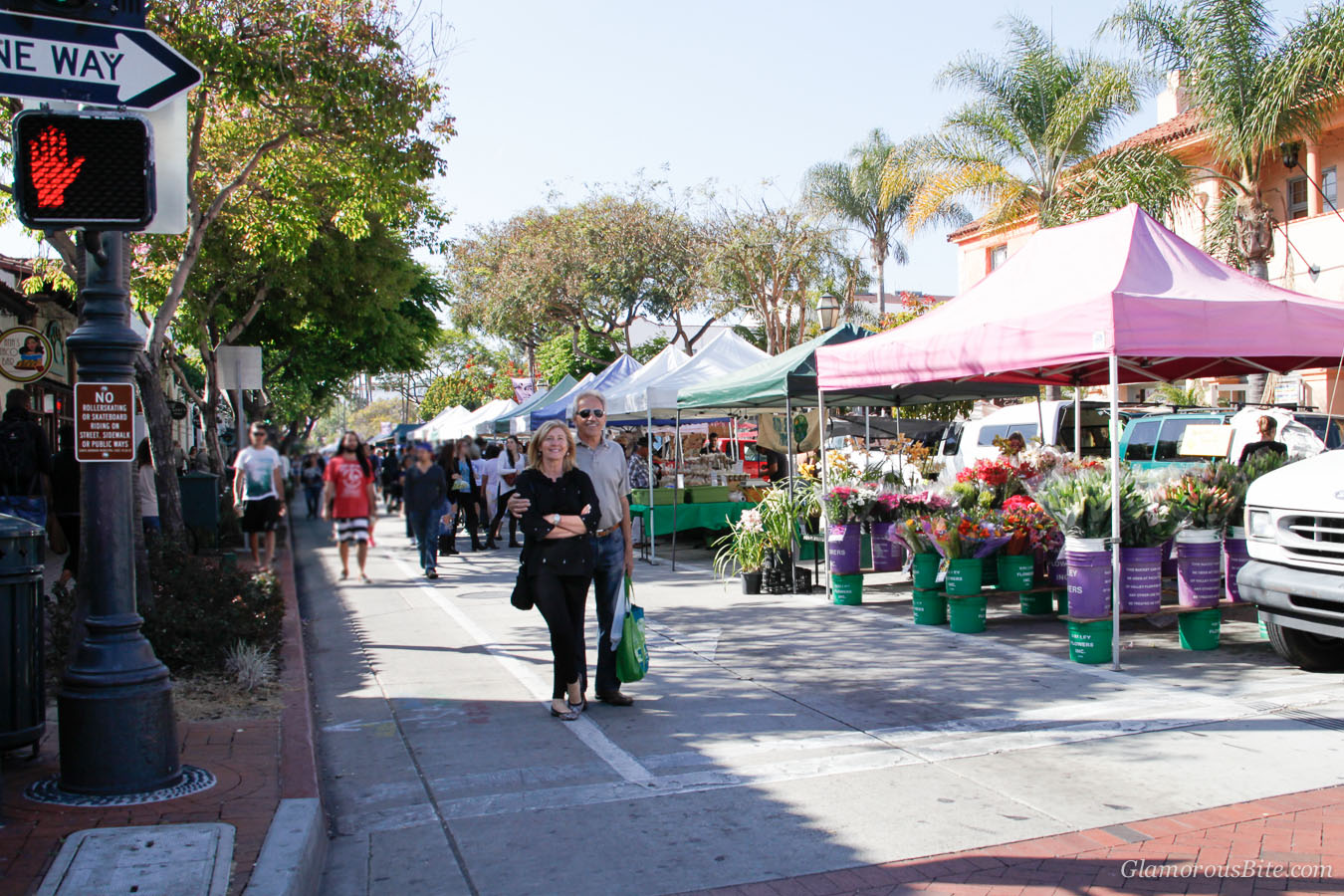 Judit: The first time I enjoyed whole wheat pasta was in Milan, Italy for all places, in a small Trattoria. I ordered Shrimp Scampi with creamy lemon sauce, and surprise it was served over whole wheat Linguini, it was love at first bite. It was unforgettable and thought about often. Santa Barbara is a little slice of Europe with charming red rooftops and the atmosphere makes you think of Dolce Vita so as you would guess it has many Italian restaurants.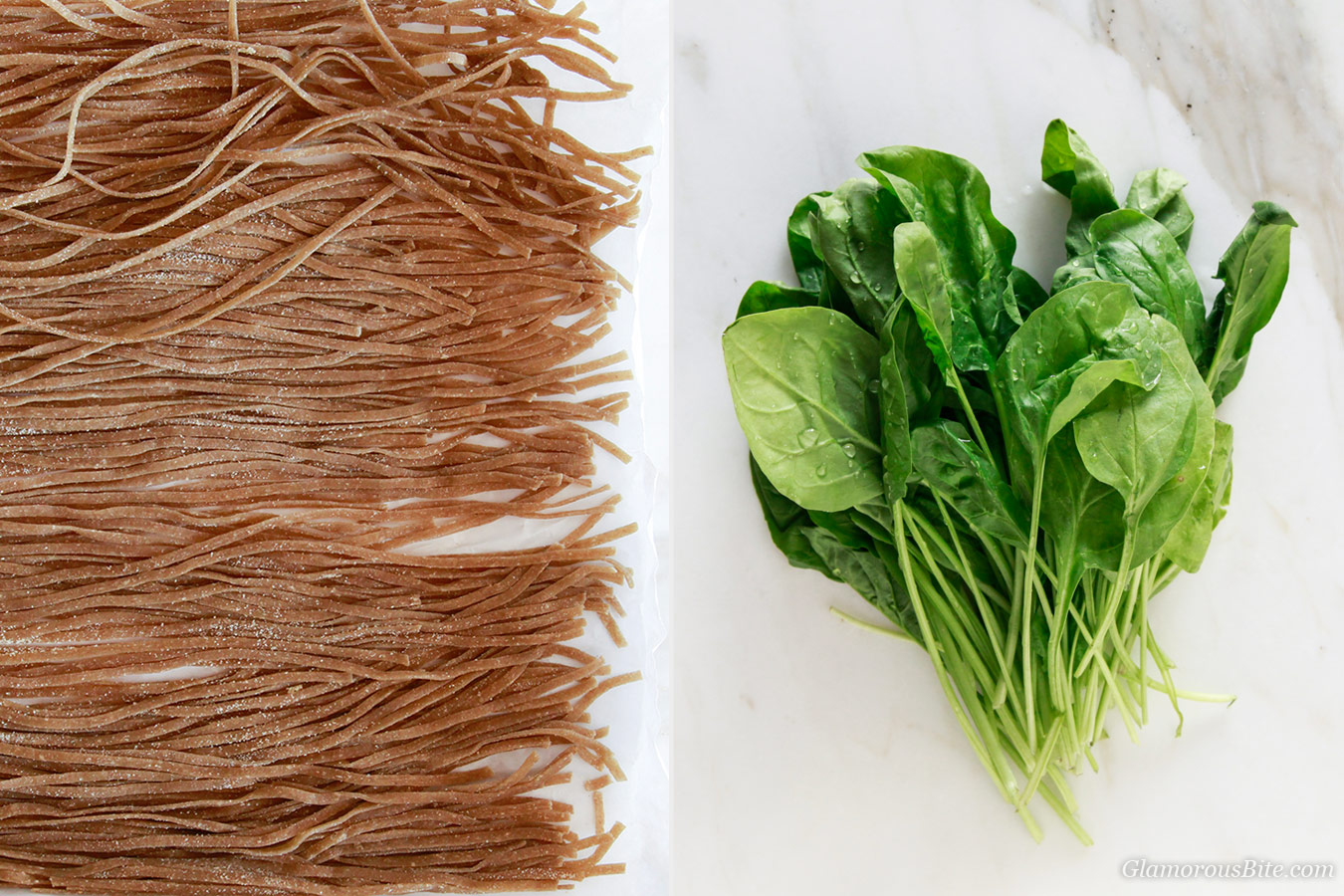 Corina: Whenever we make pasta I have to think of Chef Mollie from Trattoria Mollie's in Montecito. We had such a fun time filming in her kitchen while she demonstrated her famous Pasta Alla Checca. You can watch the video here above for the steps to make her signature fresh pasta dish. It inspired our whole-wheat version that we are sharing with you today.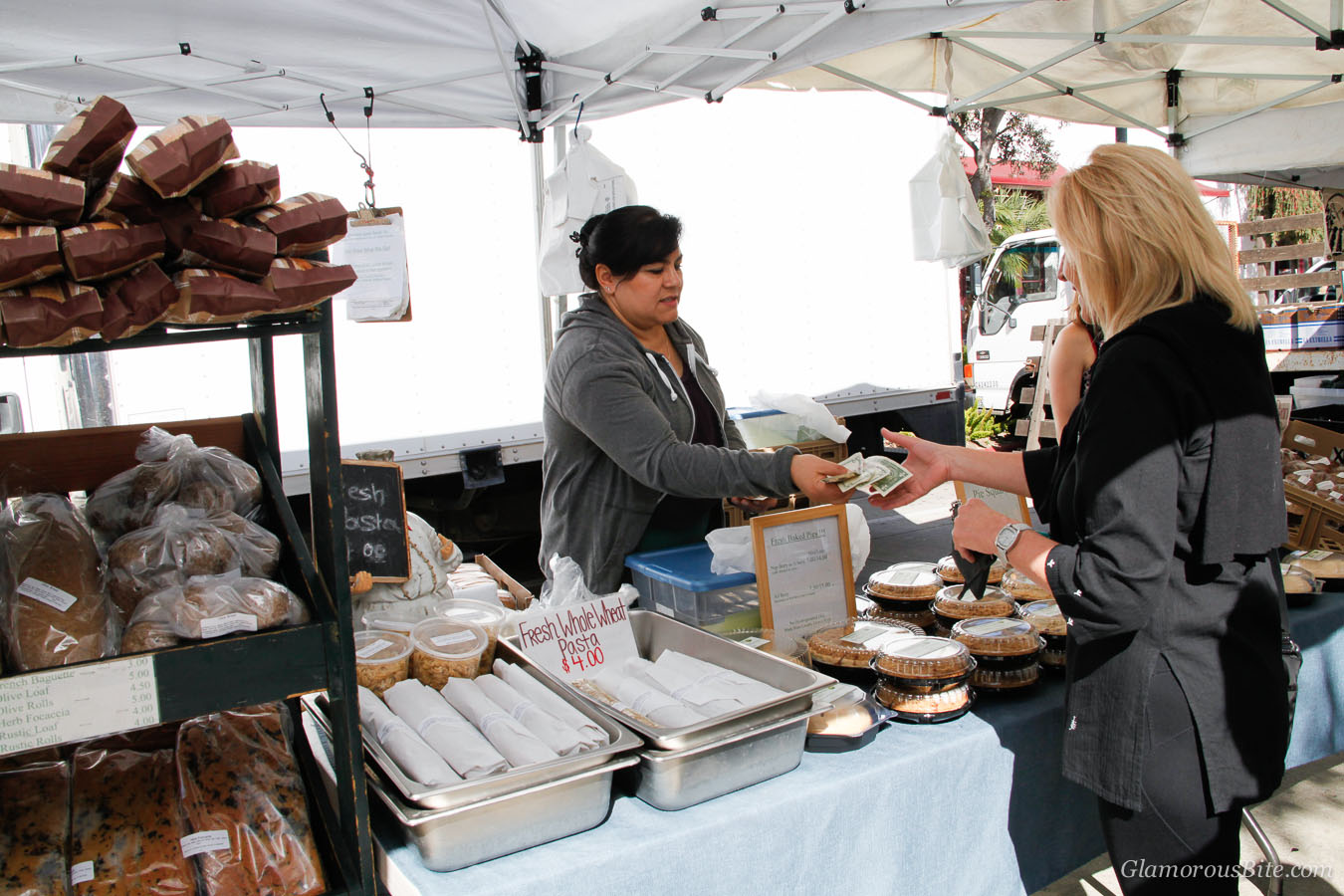 There is only one small company who makes home made fresh pasta nearby and it sells quick! Yesterday we went to the Tuesday Farmer's Market in downtown Santa Barbara and headed right to the Creekside Apple Ranch table. The ladies at this stand have to be our first stop when we are in need of linguini for our Whole-Wheat Pasta with Tomatoes and Spinach recipe since the trays filled with tantalizing packages of pasta can empty quickly. They also have a selection of freshly baked breads and pies, but our eyes were lazer focused on the pastas and if we are not swift enough they will be all snatched up quickly. We did get a perfect package of whole wheat Linguini to make this simple Whole-Wheat Pasta with Tomatoes and Spinach.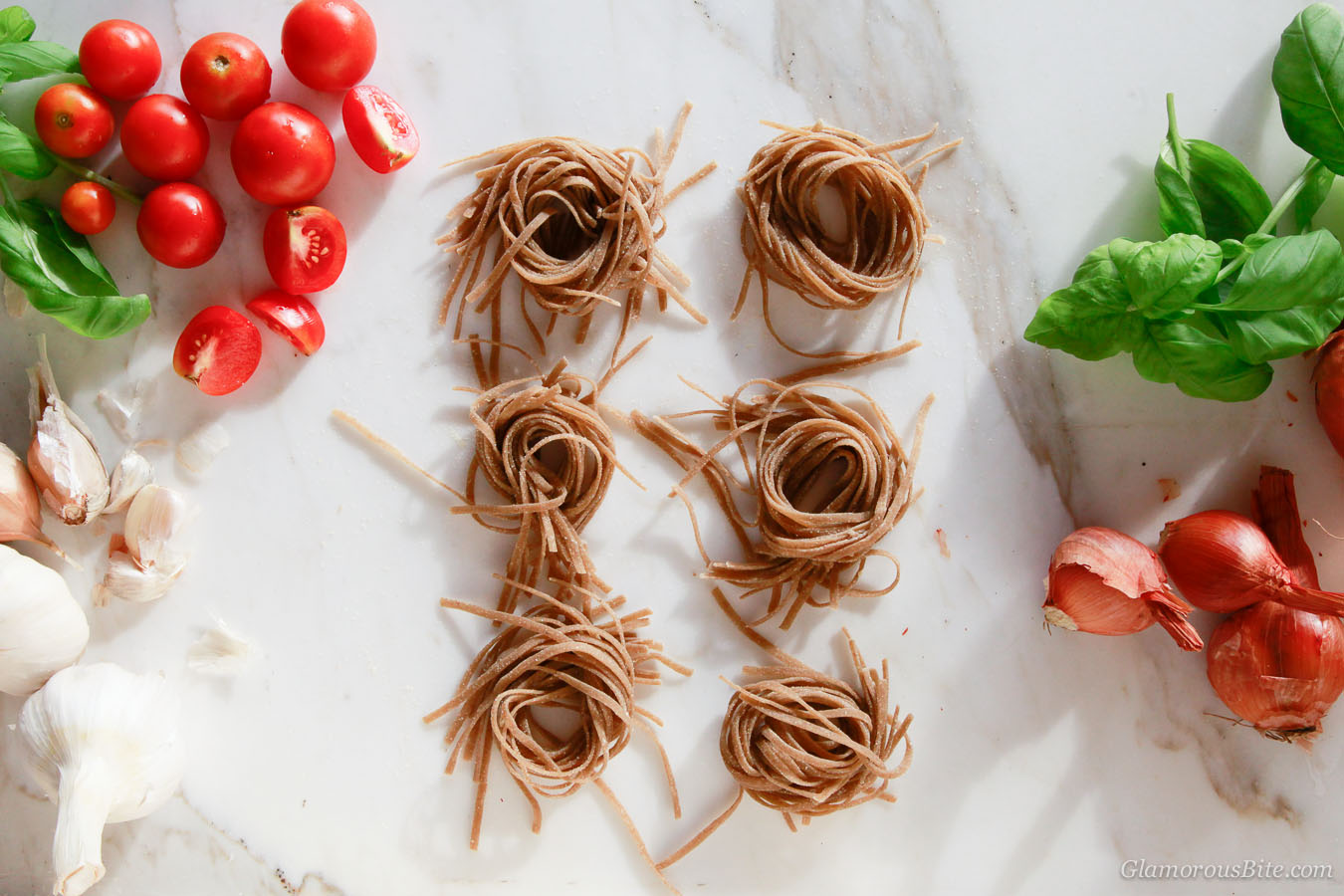 This pasta is fresh and they keep it cooled at the market so if you are not using it right away keep it in the refrigerator or dry it out. Regular refined pasta last much longer and is lower in price, but is lacking the nutrient rich parts of the grain. Whole-wheat or whole grain pasta is made of the the entire grain kernel, including the bran, germ, and endosperm of the grain. Remember fresh pasta can spoil in a couple of days, especially here with all the humidity close to the beach, so make sure to cook it soon or or store it properly.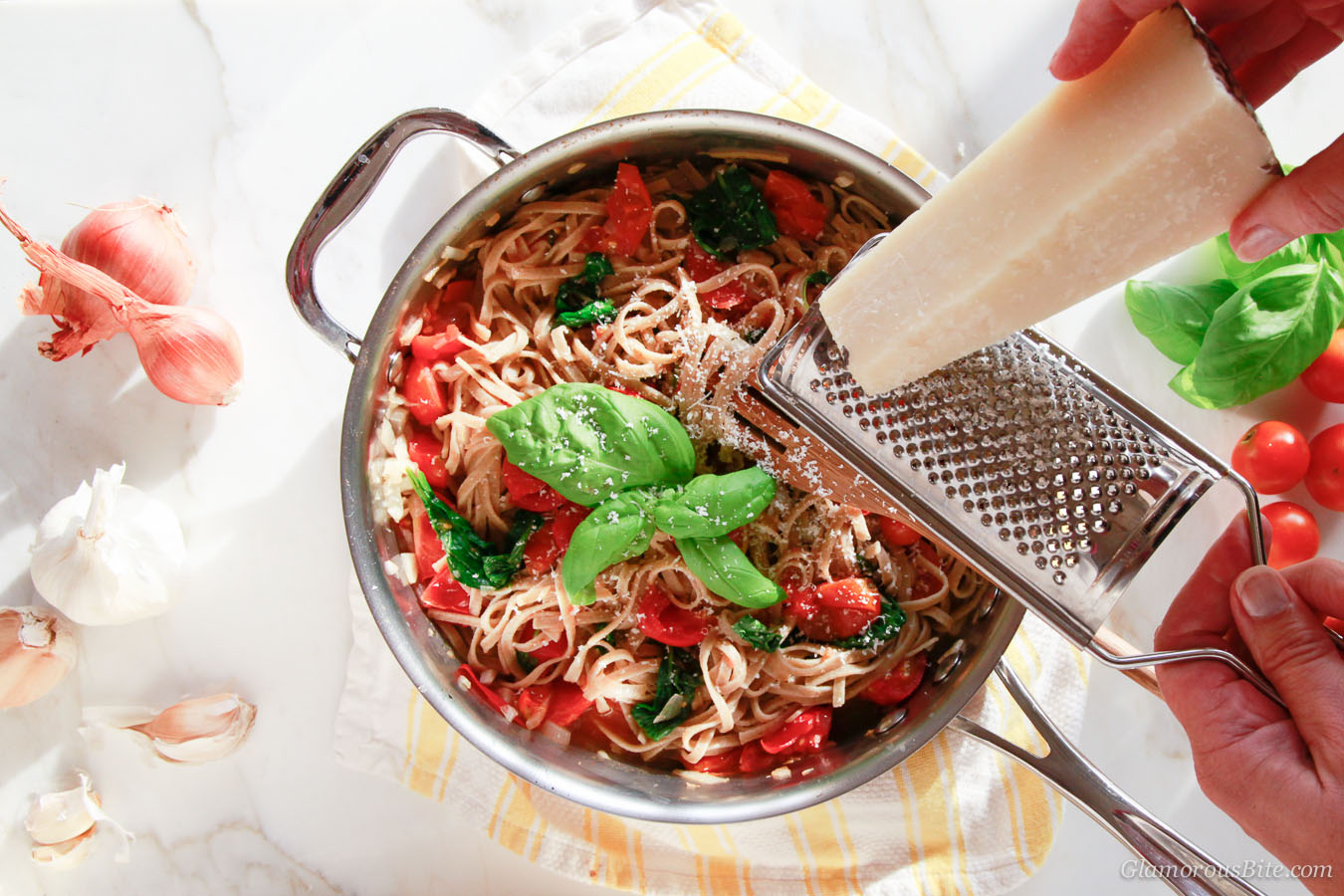 Benefits of Whole-Wheat Pasta
Contains two to three times the amount of fiber that regular pasta does and is more filling.
Recommended for a diabetic diet as long as the amount is monitored since it does have a significant amount of carbohydrates.
Whole grain pasta can be helpful to prevent cancer and lower cholesterol.
MAde of the the entire grain kernel, including the bran, germ, and endosperm of the grain.
Loaded with Vitamin B, Magnesium, and Selenium.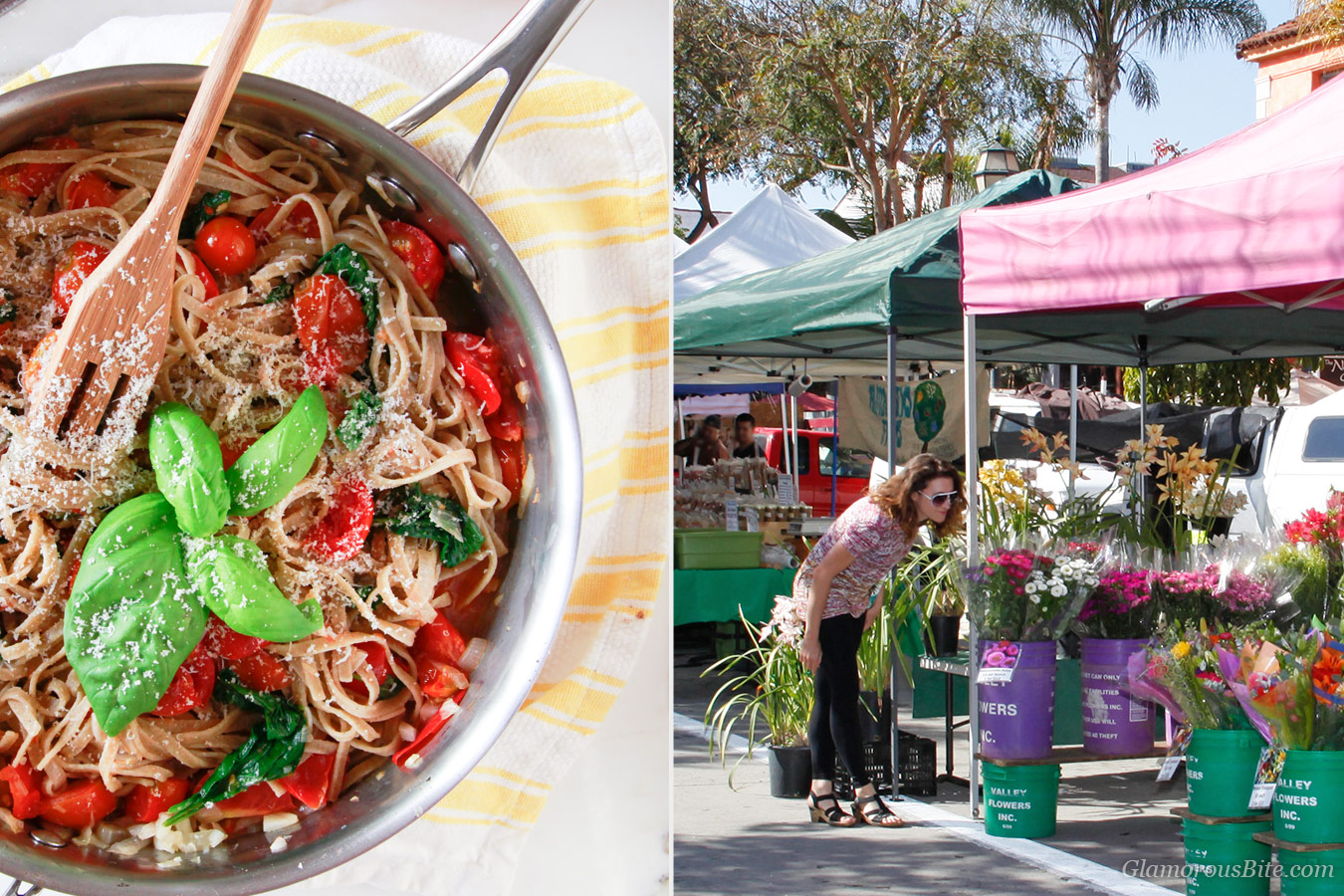 Health Benefits of Garlic
Boosts the immune system to fight the common cold.
Garlic is rich in Manganese, Vitamin C and B6.
Is a treatment for hair loss and skin blemishes.
Can help lower cholesterol levels and reduce blood pressure.
May prevent certain types of cancer.
Contains antioxidants that protect against Alzheimer's.
Reduces tiredness and gives you more energy.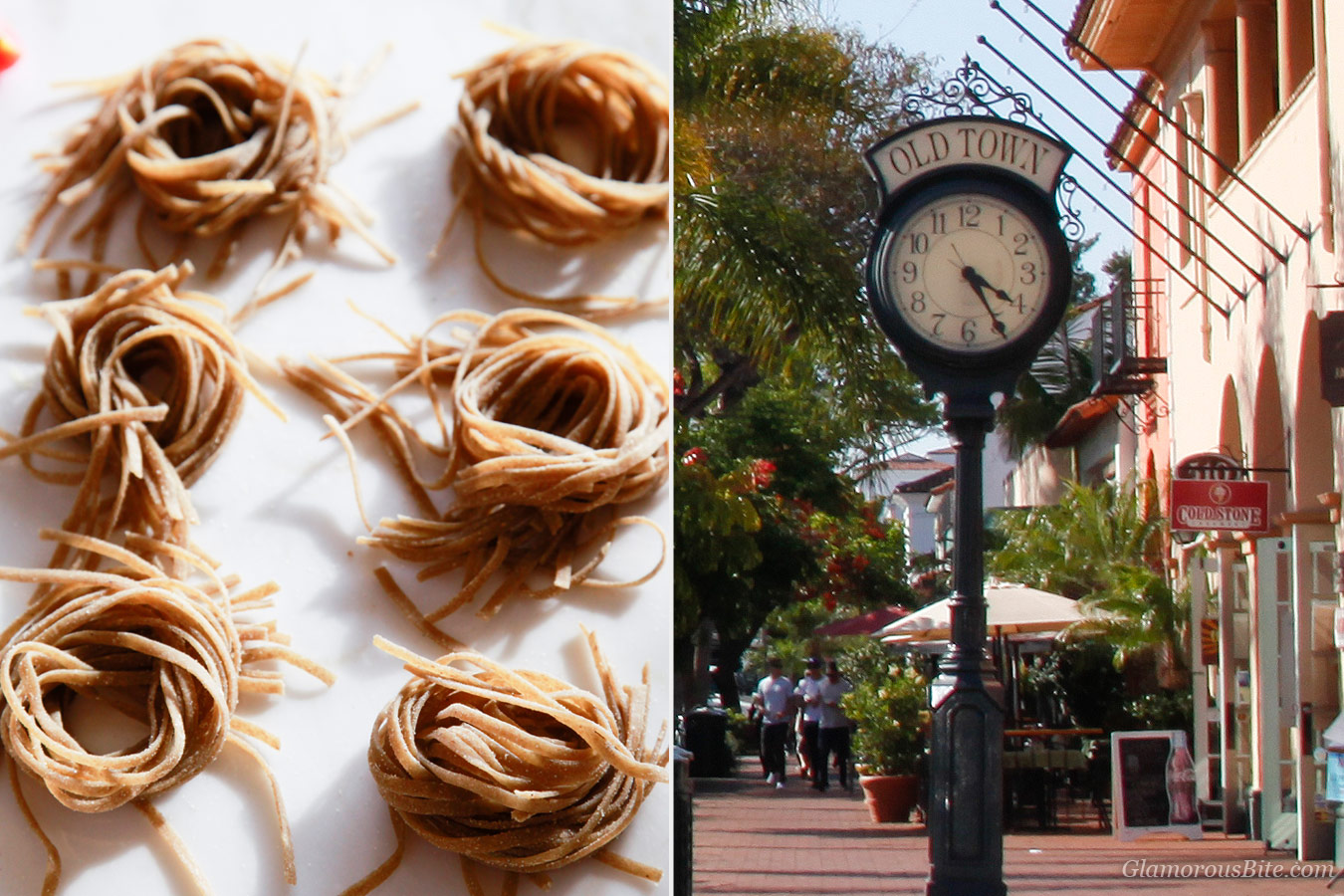 Health Benefits of Tomatoes
Tomatoes contain many nutrients and antioxidants.
Good source of Vitamin A and C, choline, alpha-lipoic acid, and folic acid.
The alpha-lipoic acid can converts sugar into energy.
Linked to improving blood sugar in diabetics
Tomatoes protect agains certain types of cancer.
They assist in lowering the risk of heart disease.
And lowering blood pressure.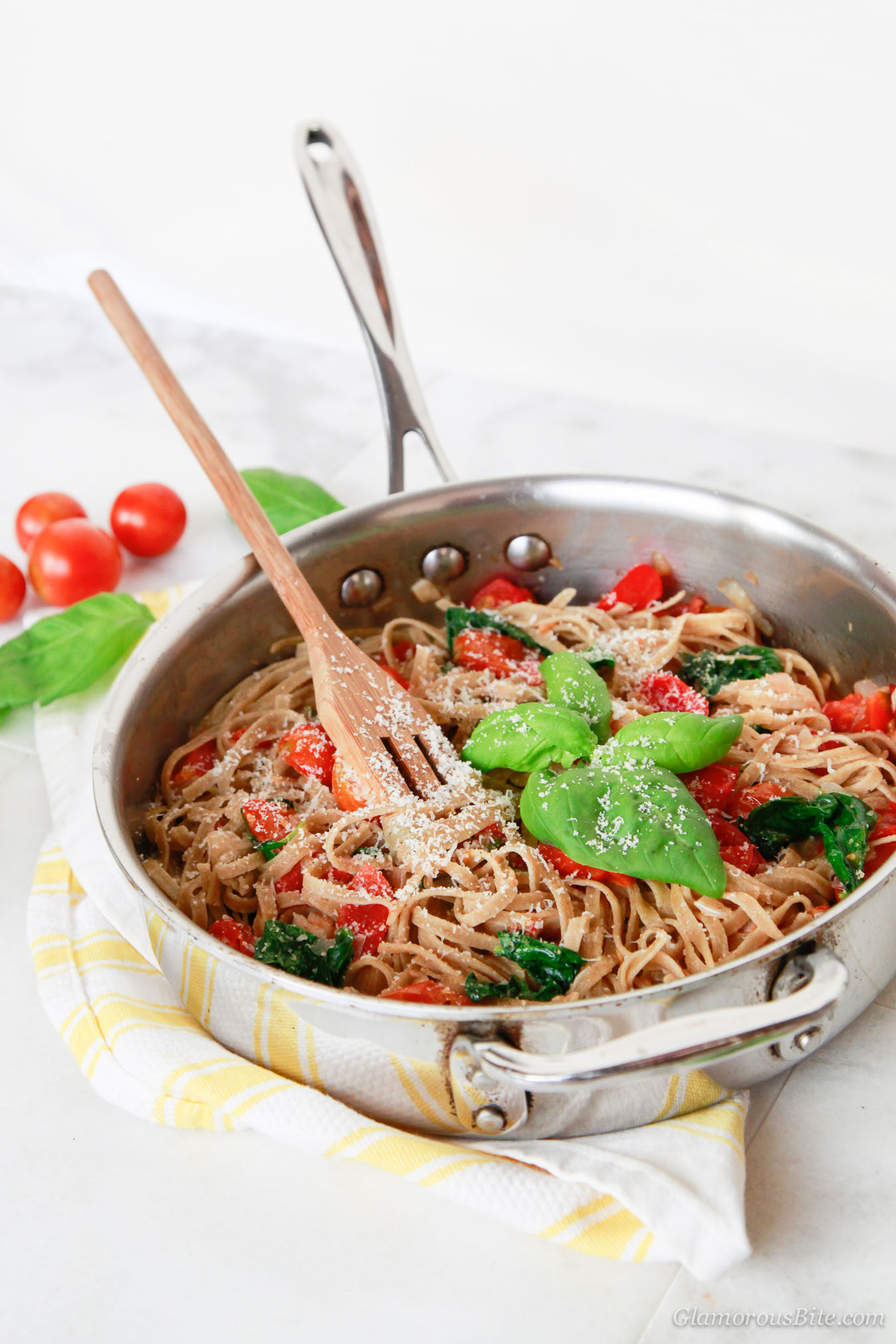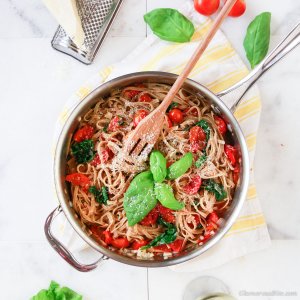 Whole-Wheat Pasta with Tomatoes and Spinach
Ingredients
8

oz

Whole Wheat Linguini

2

Tbsp

Sea Salt

2

Tbsp

Extra Virgin Olive Oil

2

Shallots - finely chopped

3

Garlic Cloves - finely minced

8

oz

Vine Ripe Tomatoes - cut into quarters

Himalayan Salt and Black Pepper to taste

4

oz

Baby Spinach

½

cup

fresh Basil Leaves

1/4

cup

Parmesan Cheese - freshly grated

2

Sprigs of Fresh Basil for garnish
Instructions
Bring water to boil in a large pot. Add the salt and gently put in the pasta strands.

Cook the Linguini al dente, according to package directions.

In a large skillet heat over medium-high heat one tablespoon of the olive oil. Add the shallots and cook for a few minutes until becomes translucent. Add the minced garlic, stir well and saute until the garlic turns light golden.

Add the sliced tomatoes, season with Himalayan salt and pepper.

Stir and cook only for a few minutes to keep the tomatoes from falling apart. Turn the heat low and stir in baby spinach and tear the basil leaves over the top.

When pasta is al dente, transfer with a tong to the vegetable skillet. Add two to three spoonful of pasta water and toss to combine all ingredients.

Serve with grated or shaved Parmesan cheese and a few basil leaves on top. Finally drizzle with a little extra virgin Olive Oil.
Diet: Vegetarian, Diabetic Friendly, Light
Tip: To make this pasta Vegan increase the amount of vegetables, omit the parmesan cheese and make sure to use egg-free pasta.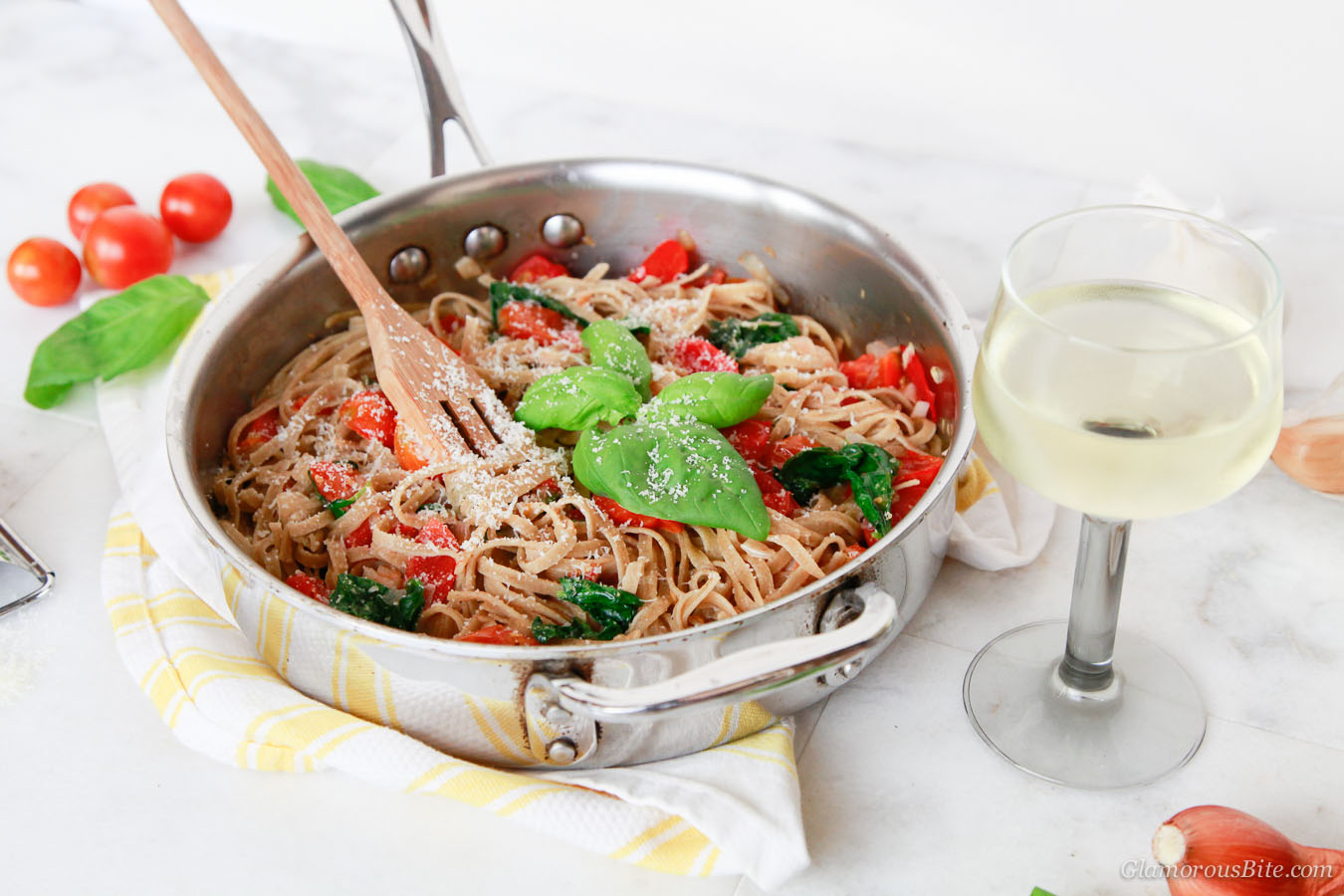 Glamorous Food & Wine Pairing: A Pinot Grigio or light to medium white wine would pair splendidly with this Whole-Wheat Pasta with Tomatoes and Spinach. We recommend a Mosby Pinot Grigio Santa Barbara County, California with crisp apple and pear notes and hints of lemon. You could also pair it with a Ferrari-Carano Fumé Blanc Sonoma County with subtle citrus and honey notes.
With all of these good-for-you ingredients this Whole-Wheat Pasta with Tomatoes and Spinach recipe is a joy to make! What is your favorite quick and simple pasta dish?