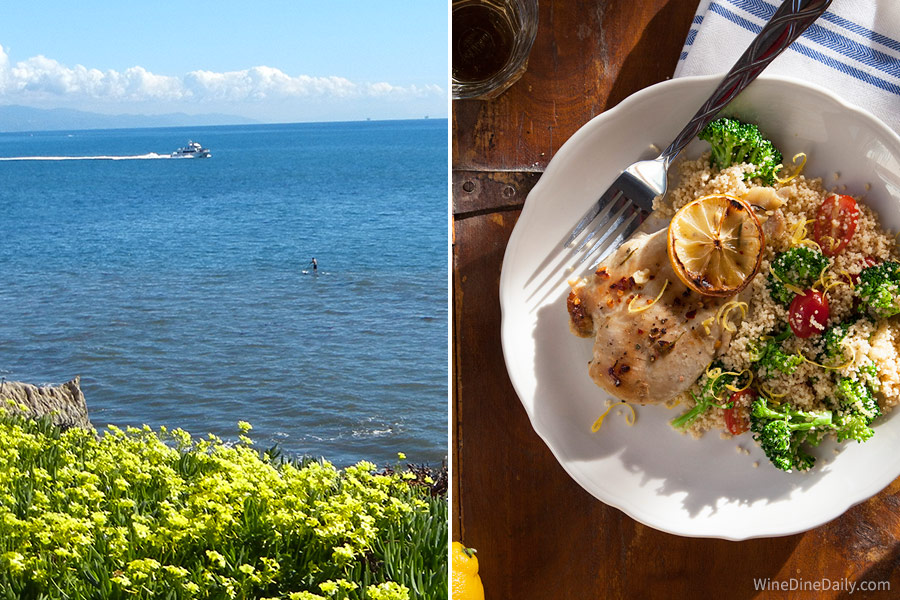 The last weeks brought us an early taste of summer with the arrival of an unusual heat wave, which lasted for almost 10 days with a little break in between when the chilled salty breeze was able to caress your sun kissed face. When we woke up on Saturday morning and smelled the fresh ocean air, we both decided not go after our individual errands.
Corina had wanted to head to the Sephora beauty store to look for new makeup and Judit planned to visit Sur La Table for more pretty kitchen props, which we need more of for our cookbook and blog. Instead the sweet smelling balmy air immediately prompted us to go for a brisk walk and not waste it indoors.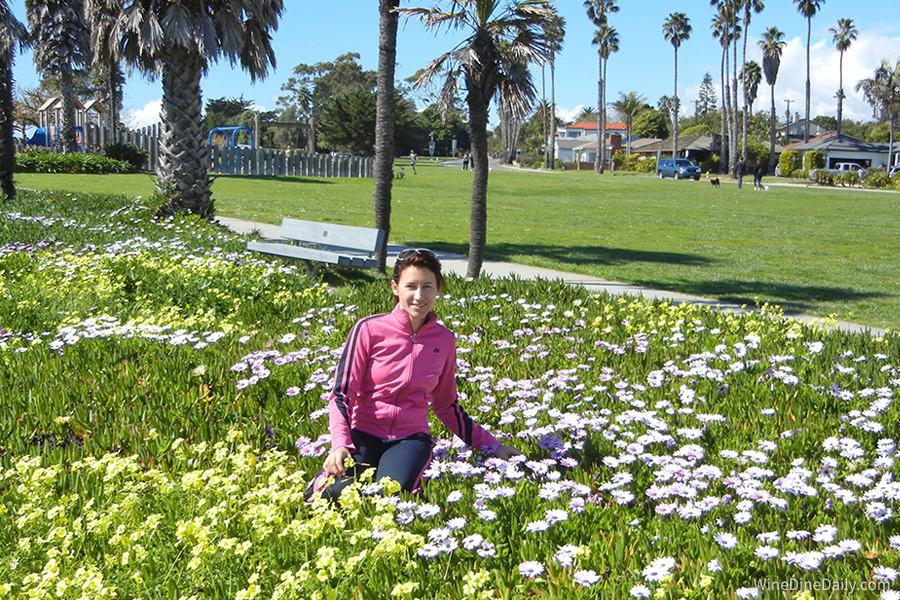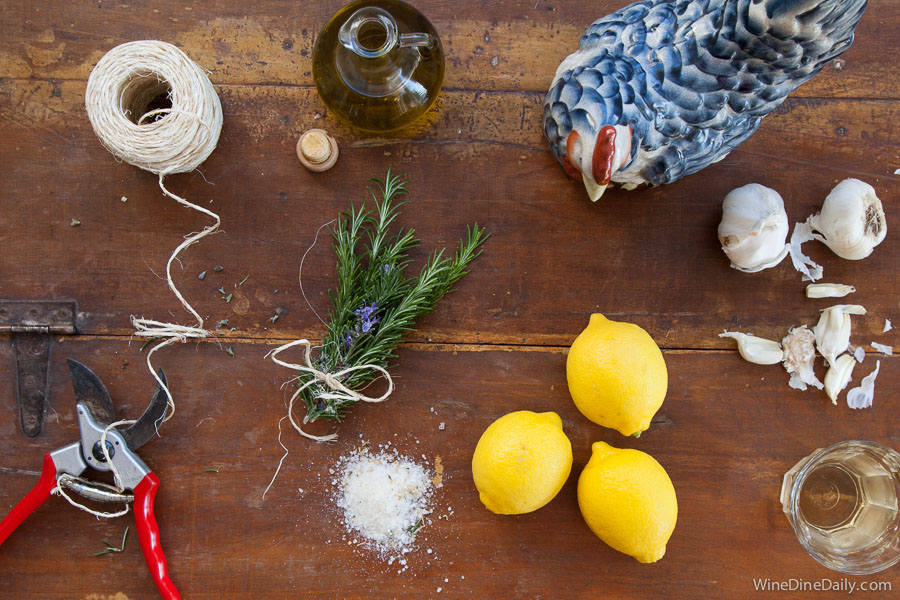 So of course we had to go for a nice long California beach walk, starting in the park and ending by the breakwater wall at the harbor. The swells were good and so we watched the surfers skimoboarding on the waves for a while, but then we remembered we will not get trimmer just by watching the cute California surfer boys…(perhaps Corina disagrees with that).
Once we got to the harbor the smells of the restaurants foods wafted in the air, but since it was a lovely summer day the wait was quite long to get a seat so we decided to stop at the store on the way home and pick up organic chicken breast, some fresh vegetables and other ingredients. We craved something light and healthy that would not take too long to make since we were quite hungry from the salty ocean breeze so the idea of a Lemon Rosemary Chicken accompanied by fluffy Couscous Salad with Cherry Tomatoes and Broccoli sounded so good.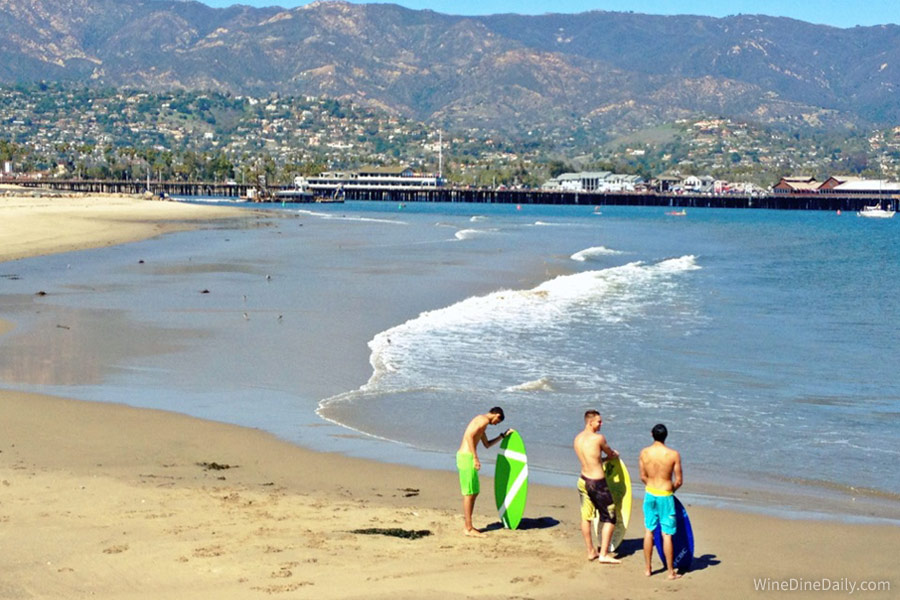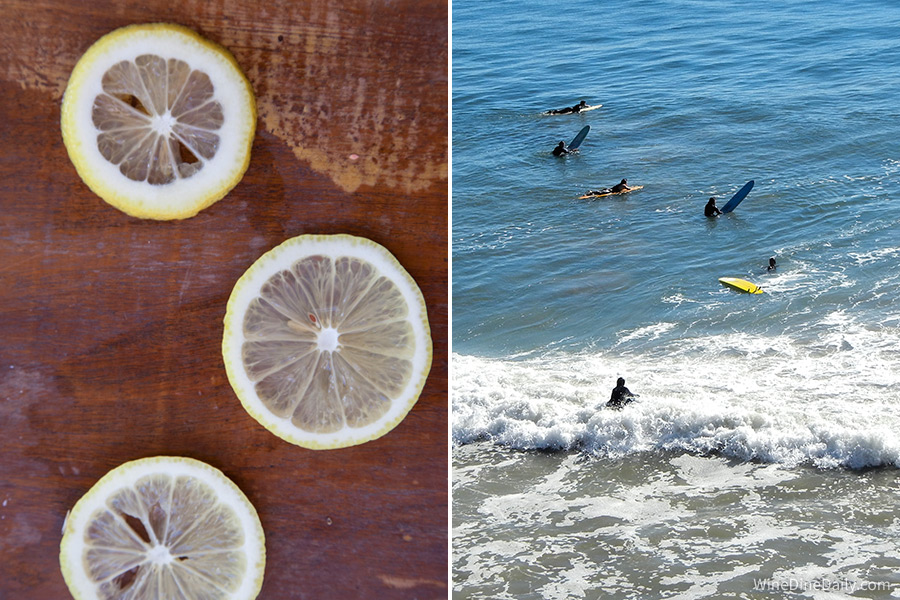 With our ingredients in hand we returned home and picked a few lemons from one of the darling little lemon trees then snippy sniped fresh rosemary from the garden hedges. The chicken got to rest for about half an hour in a lemony olive oil, herb and Sauvignon Blanc marinade. We almost forgot to add the lemon – rosemary sea salt, which is homemade too and we should share that recipe as well. This salt is so versatile and tasty that it has become a staple seasoning in our dishes. We used to buy flavored salts, which as you know can be quite pricey, so we experimented with making our own and even give it as gifts to friends. When the chicken cooked in the oven it infused the house with rosemary and lemon aromatics. To cook chicken in the oven in a little olive oil and wine it transforms the meat into tender succulent bites, just like in the Mediterranean, we are in the "American Riviera" after all.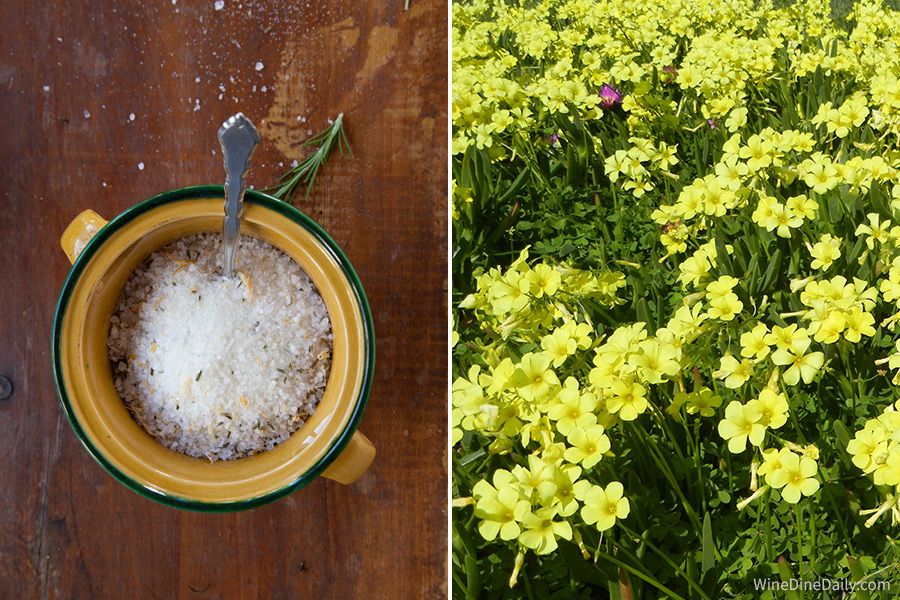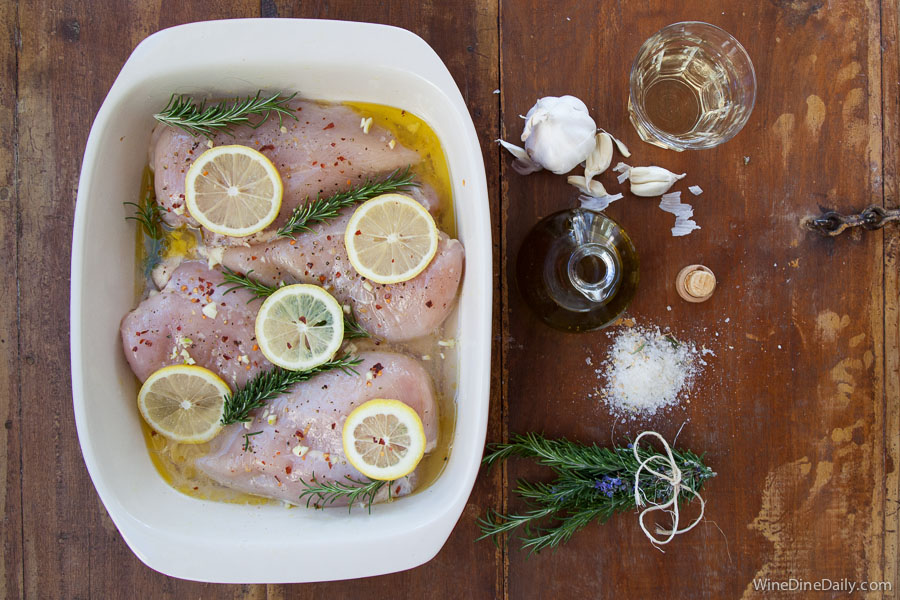 From the first bite to the last this chicken was juicy and satisfying, and could not wish for any other side dish on our palate then the airy couscous with broccoli and cherry tomatoes. Of course the lips smacking delicious Sauvignon Blanc was utterly charming companion to this whole meal.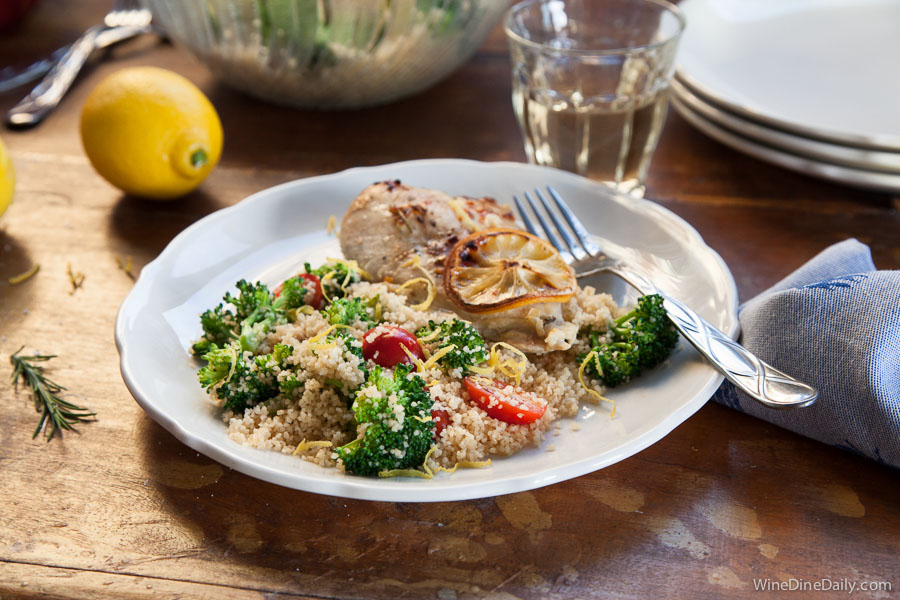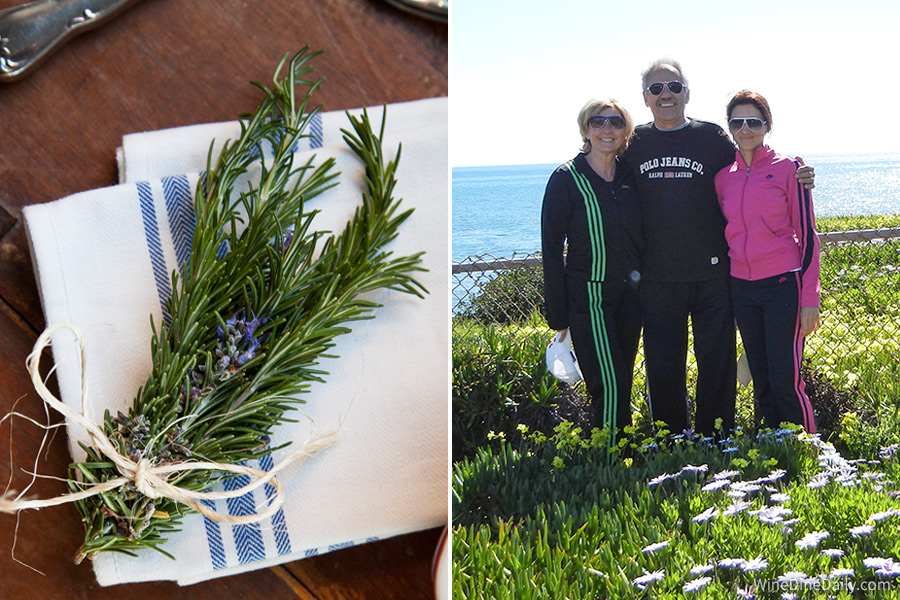 Judit: I love using fresh rosemary and lemons from the garden to give a little zippy flavor to my dishes. I'm in love with the fresh citrus and the invigorating piney smell of this two together and in Santa Barbara you can find rosemary around the town, and I can spot these fragrant brushes everywhere. If you eve wondered how does Santa Barbara smell like there you have it!
Corina: The lemon zest ads another level of complexity to this simple and light recipe. I have to say Lemon chicken "baby you're the best," to borrow the phrase from Lana Del Ray's "Summertime Sadness" lyrics. Her voice is so spectacular it can shift you to another sphere where time stands still, just like at the edge of a black hole in outer space, and you forget that some of the stars you see at night may not be there anymore. This chicken dish is also so tasty that you forget that time is passing when you take a savory bite.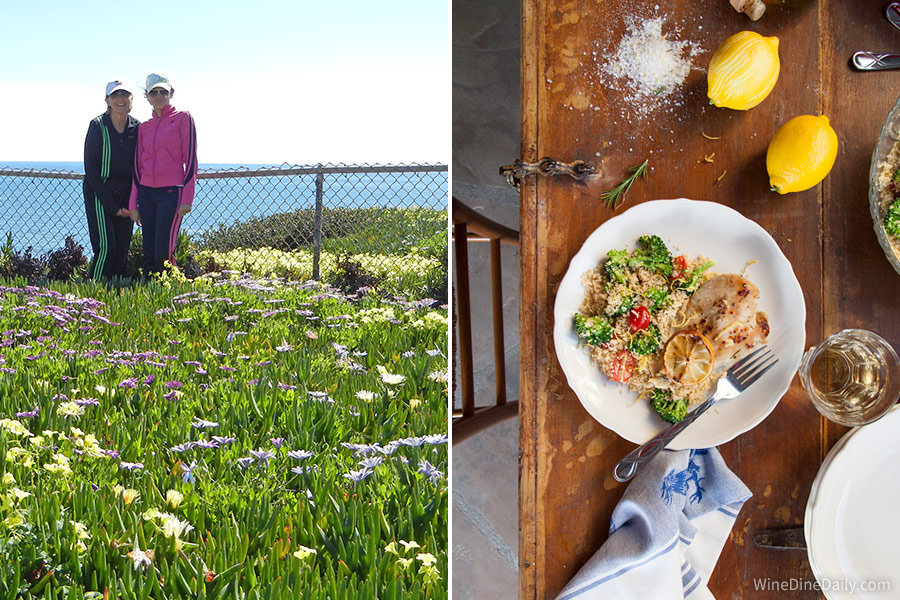 This light and healthy Lemon Rosemary Chicken Santa Barbara will give you the Summertime, summertime gladness (not sadness) as the deeply moving voice of chanteuse Lana Del Ray sings it and we will have it with a glass of "Summer Wine" We are definitely glad for the summer-like days we have recently had! They call you outdoors to walk on the sweltering beach sands, amble along State Street window shopping while basking in the sun, or lounge by the pool with an ice cream and good book while hiding under a giant straw hat.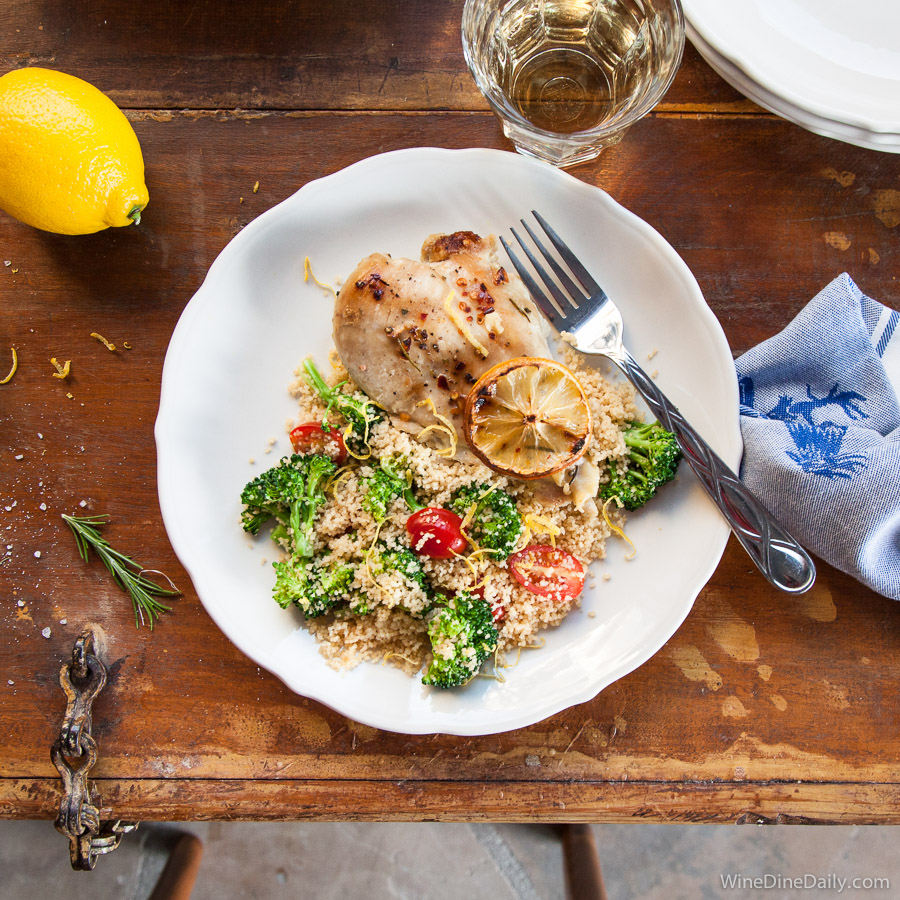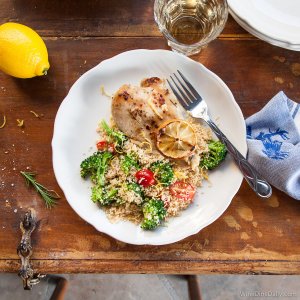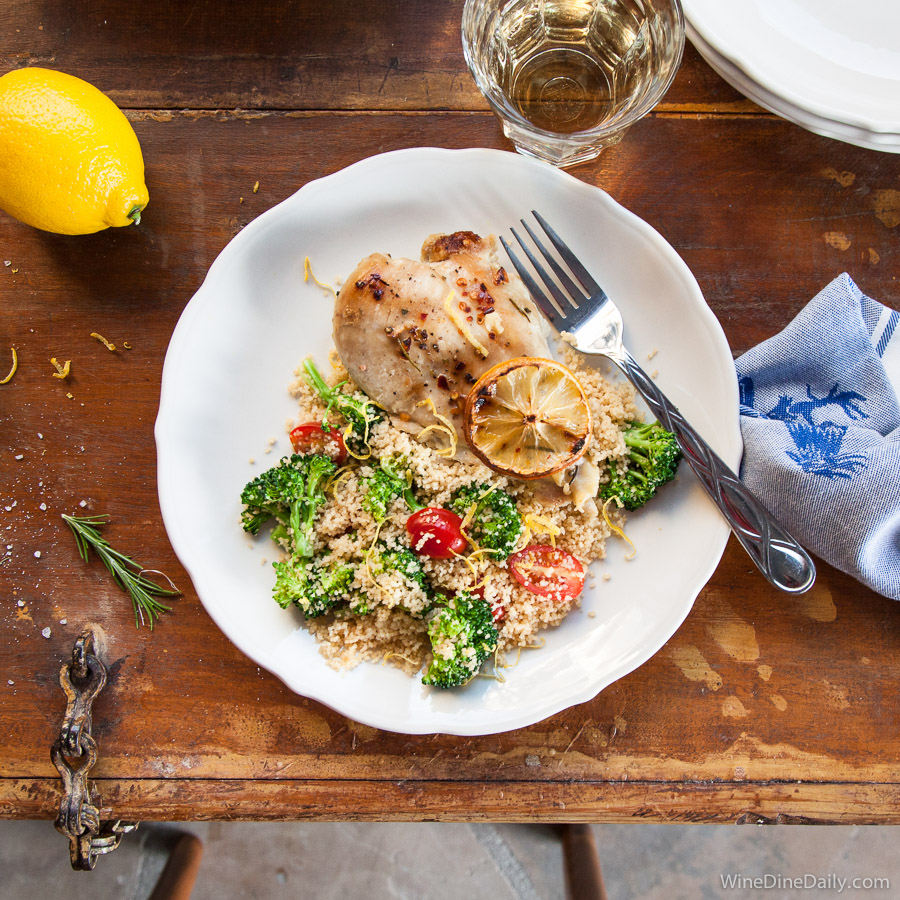 Lemon Rosemary Chicken Santa Barbara
Ingredients
4

Organic Chicken Breast

3

Tbsp

Olive Oil

1/4

cup

White Wine - we used Sauvignon Blanc

4

Garlic Cloves - minced

Lemon- Rosemary Sea Salt

Multi Colored Pepper freshly ground

Pinch

of Red Pepper Flakes

1

Lemon - sliced

4

Fresh Rosemary Sprigs
Instructions
Preheat the oven to 400 degrees F.

Wash chicken breast and pat it dry with a kitchen towel.

Pour the oil and wine into a large ovenproof casserole dish or baking pan and sprinkle in the minced garlic.

Season the bottom side of the chicken breast with salt, pepper and red pepper flakes.

Place the meat seasoned side down into the marinade and evenly season the top side as well.

Sprinkle the minced garlic over and place the lemon slices and rosemary sprigs on top. Let it rest for 30 minutes or up to 8 hours.

Bake for about 35 to 40 minutes or until the chicken breast is light golden brown. If you like the chicken to be more golden brown, then place for 2 minutes under the broiler. Please do watch closely it can burn very quickly and in addition the garlic will taste bitter.

Remove pan and cover with aluminum foil for at least 10 minutes. Serve with the delicious pan juices and a slice of lemon.
Nutrition
Wine Pairing: Pair the Lemon Rosemary Chicken with a Santa Barbara Winery Sauvignon Blanc or any white wine that is nicely balanced and not too acidic with crisp citrus notes. This Santa Barbara County Sauvignon Blanc has tropical fruit and citrus aromas with flavors of stone fruit and more tropical fruits on the palate. Refreshing with a clean minerality it makes an ideal warm weather wine and is food friendly enough to pair with light meats, couscous, salads and even fruity desserts. It also has a good price point for what you get. We give this wine a personality of the singer Lana Del Ray, hip with a nostalgic note and slightly edgy.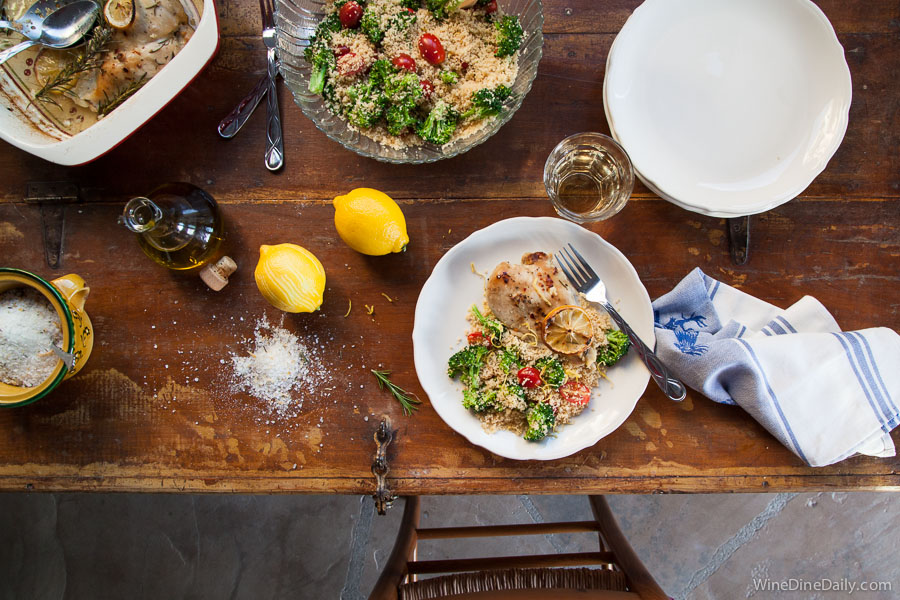 We posted the Couscous Salad with Cherry Tomatoes and Broccoli recipe here!