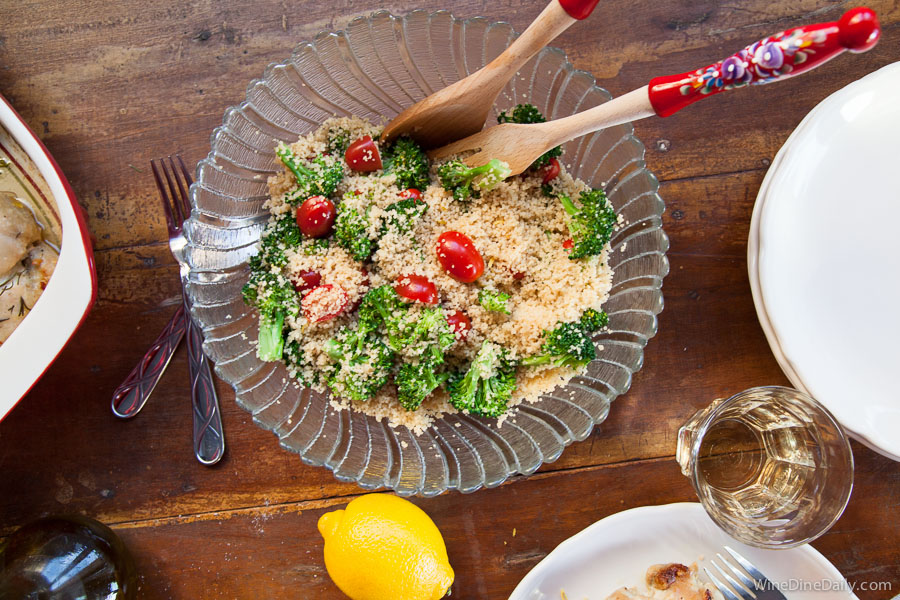 Whenever we need a fast side dish to accompany a weekday meal we make a little couscous. There are very few other sides that are easier to cook than couscous. The small kernels looks like grain, but actually it is related to pasta and we always have in our pantry. We love making a quick Couscous Salad with Cherry Tomatoes and Broccoli to go along with seafood or light meats, and it especially makes a perfect side dish for our Lemon Rosemary Chicken Santa Barbara.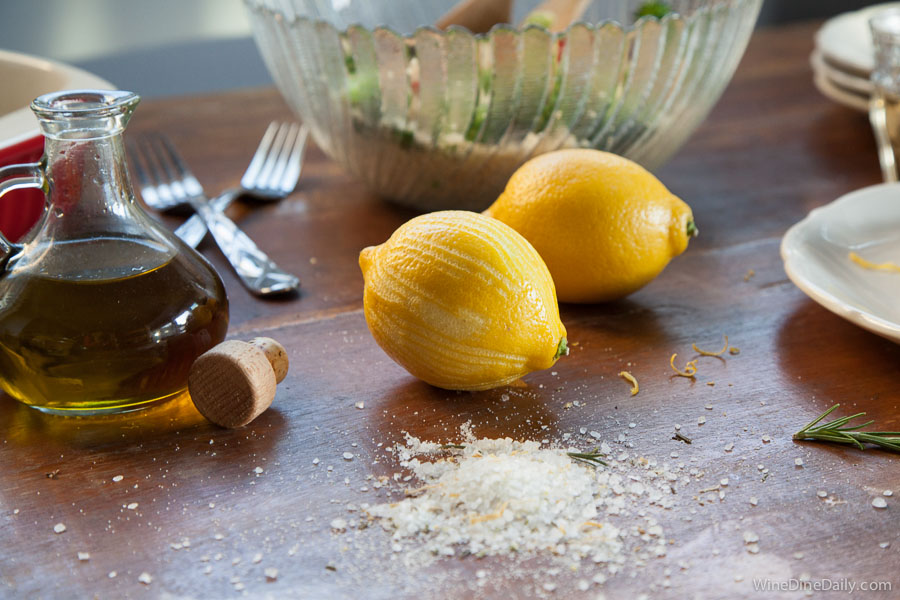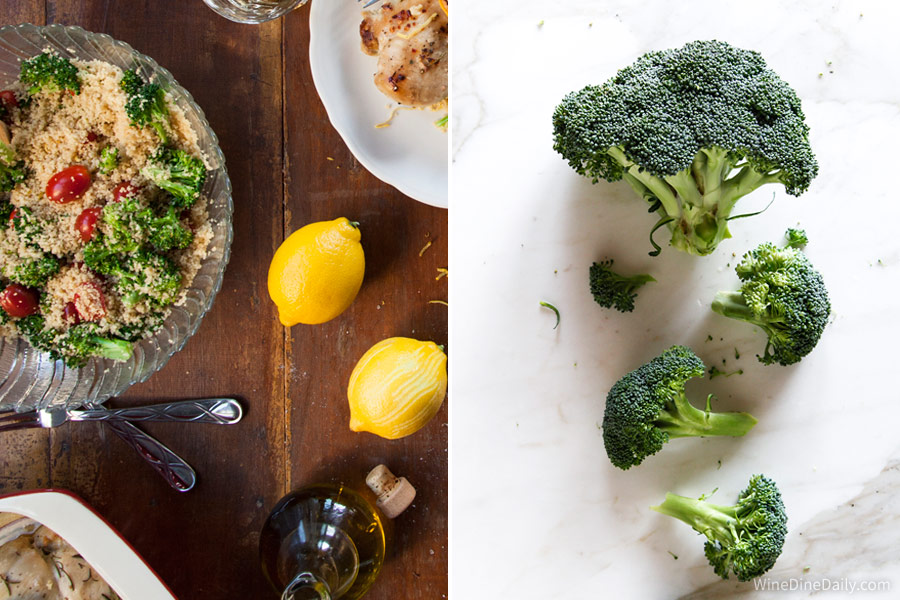 Couscous is made of a coarse wheat middlings derived from durum wheat. Traditionally it is from ground millet, yet in the U.S. it is from semolina. This grain (which is more like a pasta) can be traced back to the 13th Century and perhaps further and is Berber from the North African region. The idea that is is a pasta or grain is debatable and even Judit thinks of it as pasta while Corina calls it a grain. The original couscous took a long time to dry and prepare, but today you can get the instant variety in the super market where you just add hot water and it's done within 5 minutes. 1 cup of couscous has about 36g of carbs, but no sugar and is very low in fat. You can serve it with vegetables and meat or fish. It can also make a quick dessert with a sprinkling of cinnamon, nuts and honey.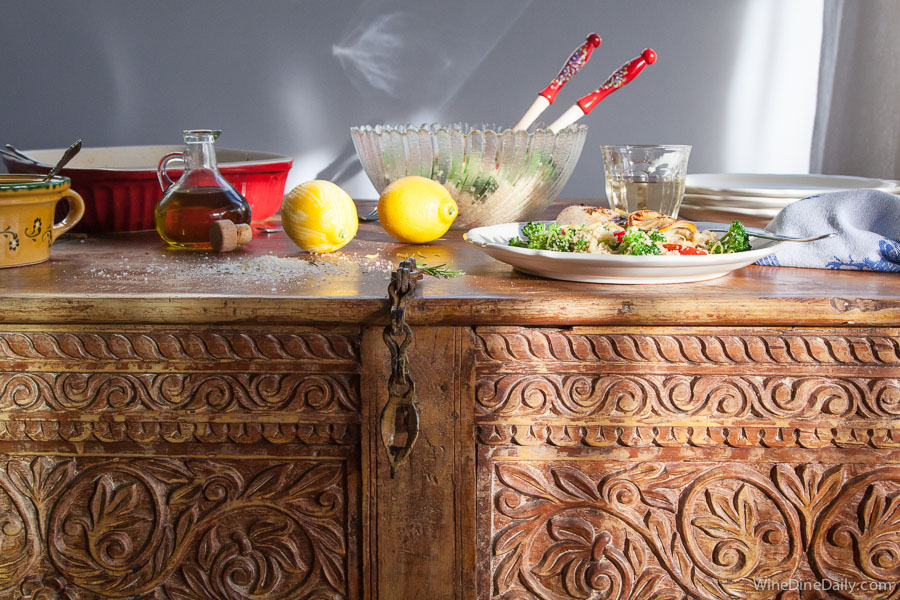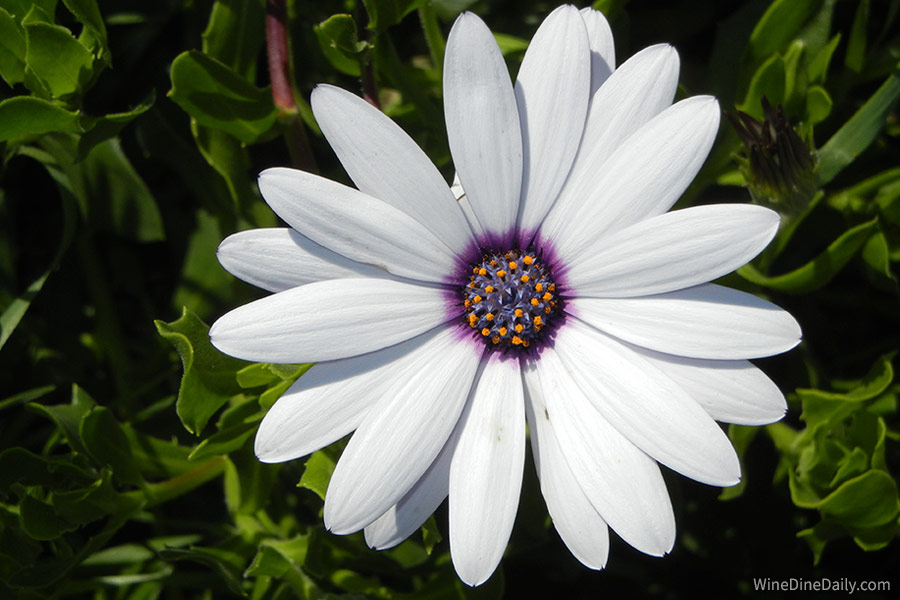 Since we try to eat more nutritiously rich and healthy we use whole wheat couscous and love the nuttier taste, but you can make this Couscous Salad with Cherry Tomatoes and Broccoli with the regular variety if that is what you have in you pantry. The whole wheat has more fiber than the regular. When cooking couscous we like to add a little olive oil for "good" fats and creamier texture and add vegetables for freshness. The cherry tomatoes bring a vibrant splash of fresh crunch to the dish. We like to use cherry tomatoes instead of the usual vine ripe tomatoes since they hold their shape better and don't soak into the couscous as much. For a little dash of healthy green, we added a simple blanched broccoli pieces.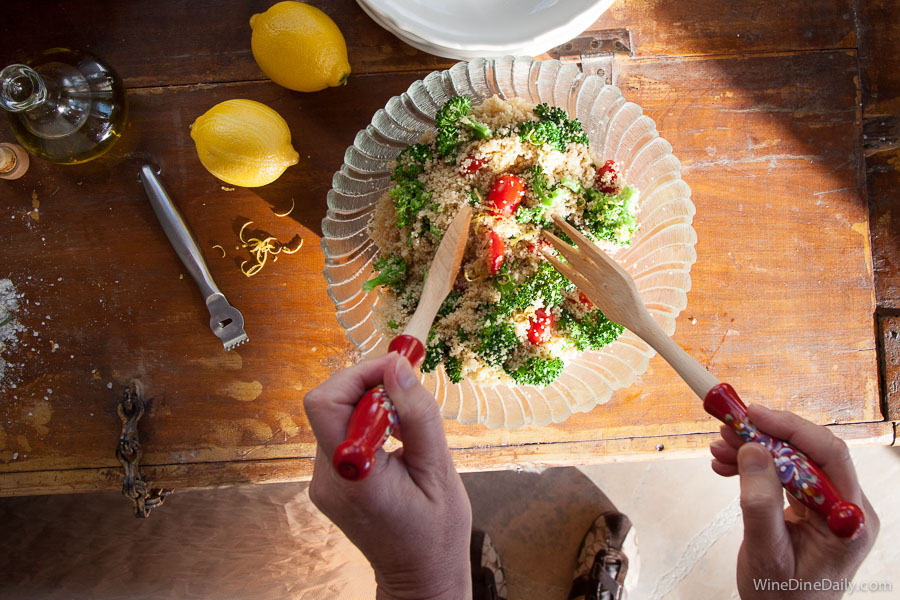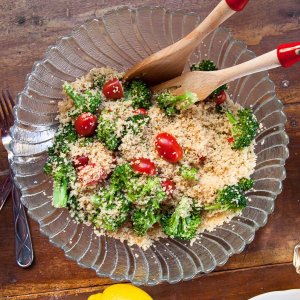 Couscous Salad with Cherry Tomatoes and Broccoli
Ingredients
2

cups

Vegetable Broth - you can use chicken broth or simply water

1 1/2

cup

Broccoli Florets

1 1/3

cups

Whole Wheat Couscous

1

Tbsp

Olive Oil

Zest of an Organic Lemon - save for later

2

Tbsp

Lemon Juice

Sea Salt - we used our Rosemary Lemon Sea Salt

6

oz

Sweet Cherry or Grape Tomatoes - halved
Instructions
In a medium sauce pan bring the broth to boil. Add the broccoli florets and cook for 2 minutes. With a slotted spoon transfer to a salad bowl.

Remove the pan from heat and with a fork gradually stir in the couscous, and cover. Let it rest for about 5 minutes, until all the liquid is absorbed. Gently fluff with a fork.

In the meantime the couscous is resting first zest, then juice the lemon. Add olive oil, lemon juice and the sea salt to the broccoli and combine well.

Stir in the couscous and the grape tomato halves.

Let the flavors mingle for a few minutes before serving.

Sprinkle each serving with a little lemon zest.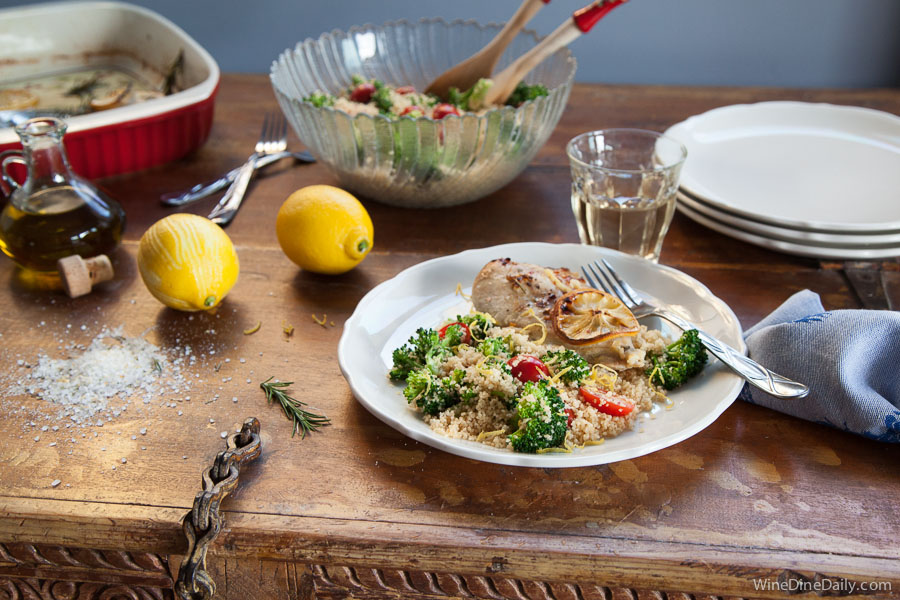 We love to serve this light and healthy Couscous Salad with Cherry Tomatoes and Broccoli with a deliciously fragrant Lemon Rosemary Chicken Santa Barbara.