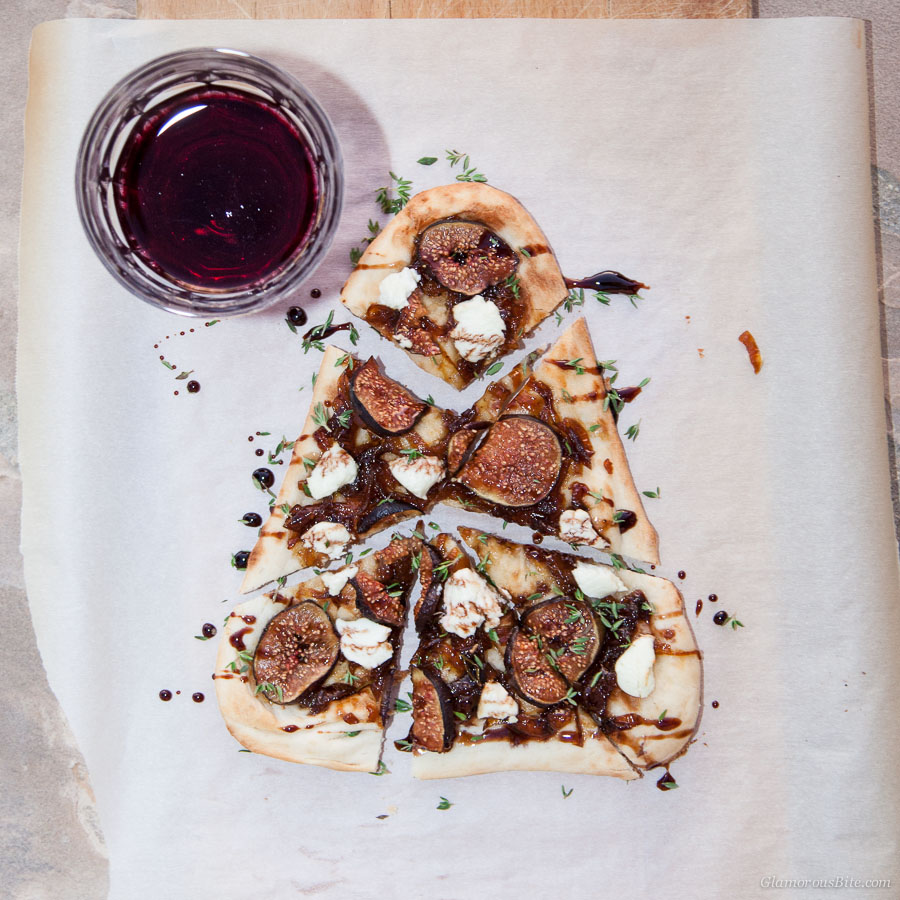 We almost let fig season escape without sharing one of our most fragrant and enticing appetizer recipes with you, Naan Pizza with Figs, Goat Cheese & Balsamic Pinot Reduction. With juicy organic figs from the Santa Barbara Farmers Market and fresh thyme, each savory bite reminds you of the lovely days of summer greeting the start of autumn.
It makes a wonderful hors d'oeuvre for large parties or just a quiet evening for two at home. They are best right out of the oven, when the onions are still warm and the figs perfume the air. In our kitchen they usually don't have time to even cool down before they are devoured by hungry guests. We have made this appetizer for many happy gatherings and it is always tremendously popular.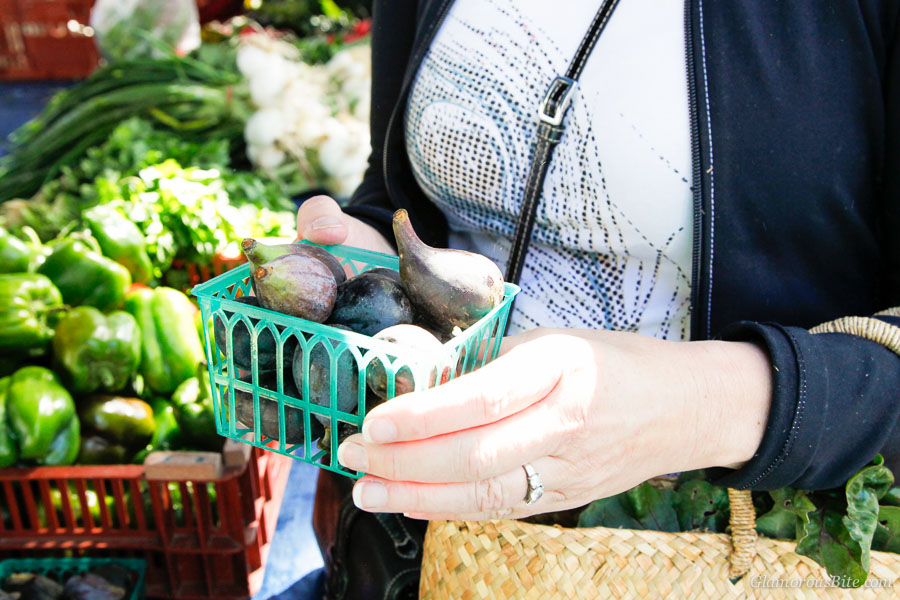 Before moving to the Central Coast of California we only munched on dried figs and had no idea about what culinary treasure we were missing! In the markets of Hungary, Germany and in Austria these darling purple globes made their appearance mostly around Christmas time, and quickly disappeared. The sweet fig season is in full bloom in Santa Barbara right now and the season typically lasts from late July through early October, but we have had some unusually short seasons over the years, like last year when we had to search all the Farmers Markets and stores to find figs at the end of August. Can you imagine our joy when we finally found a few baskets at the Farmers Market.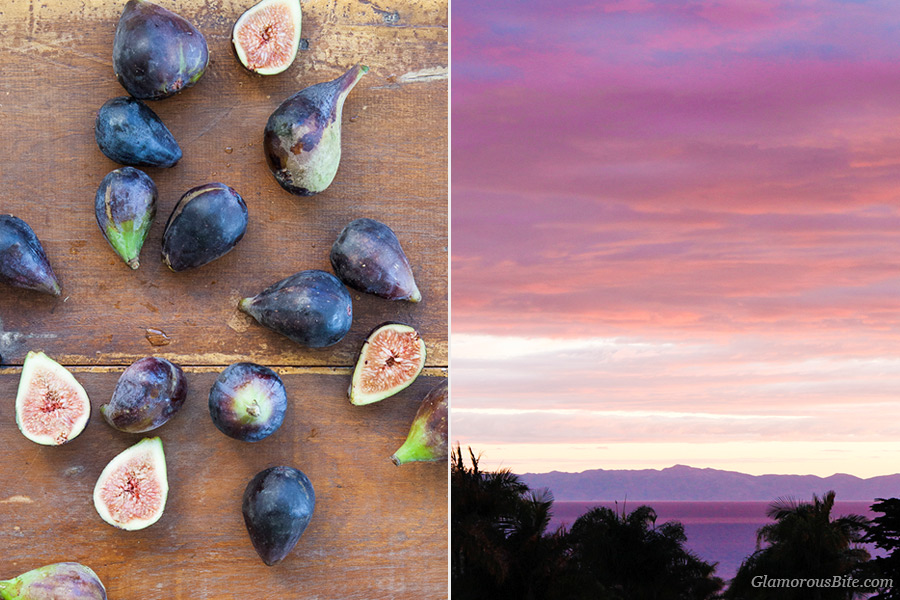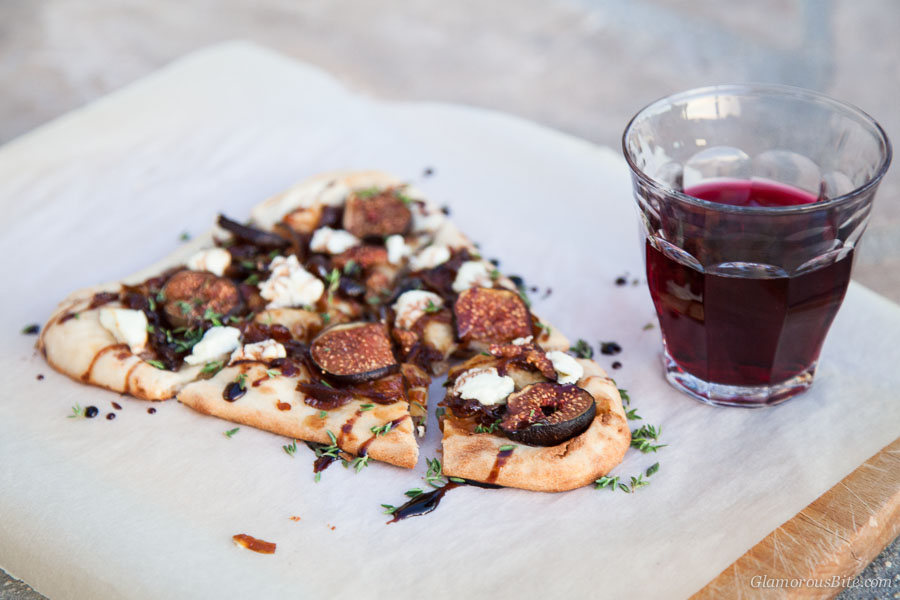 A fresh plump fig tastes like honeyed peaches and sweet strawberries with a soft texture and crunchy tiny seeds. This seductive fruit fascinated poets and culinary adventurers alike. We simply adore them too and are plotting many ways to enjoy this tantalizing fruit. Our thoughts are on jam, tart or on savory sauce, but mostly how could we get more…more…and more!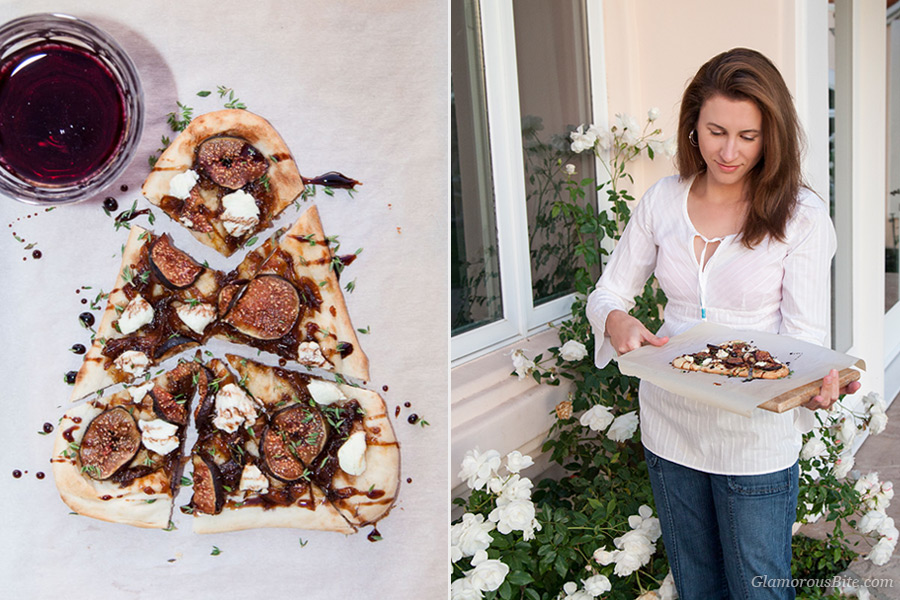 For this Naan Pizza with Figs, Goat Cheese & Balsamic Pinot Reduction recipe we used Mission figs, they have a dark purple skin with a peachy pink interior and are quite common in California and grow throughout the city. We encourage you to make this recipe with dry figs if you don't have fresh figs available. Figs were originally discovered thousands of years ago and Mission Figs were brought to San Diego around 1770 by Franciscan missionaries and were planted by the California Missions. Figs were eaten by the Olympic athletes of ancient Greece and at one point in Greek history it was illegal to export high quality figs out of the country.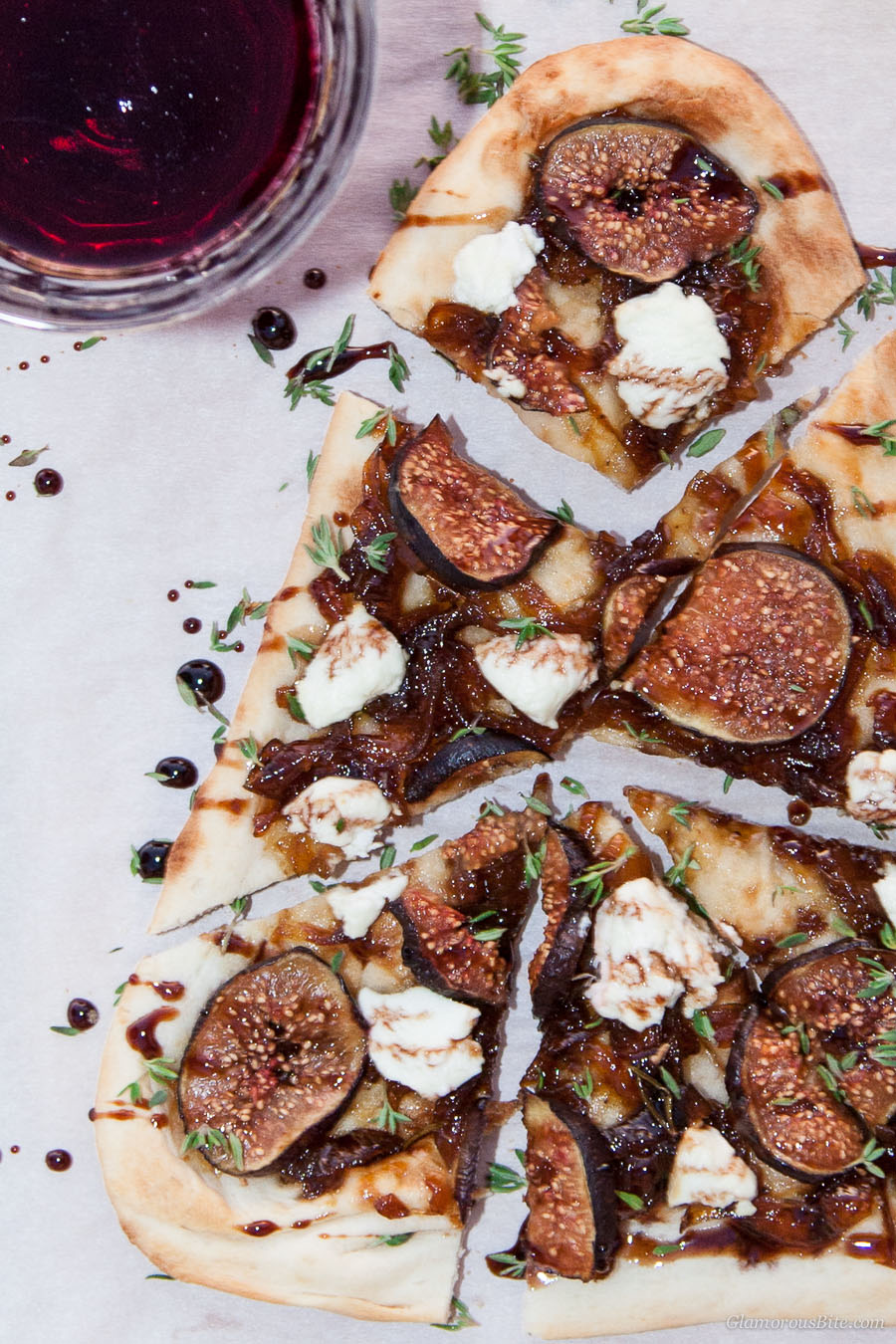 Figs are said to lower high blood pressure and are a good source of potassium, magnesium, and fiber. If you need to eat diabetic-friendly make sure to use fresh figs since the dried ones have a higher sugar content. Figs are one little powerful superfood and for it's small size is packed full of nutrition. They are extremely perishable so if you buy them fresh make sure to eat them within a few days.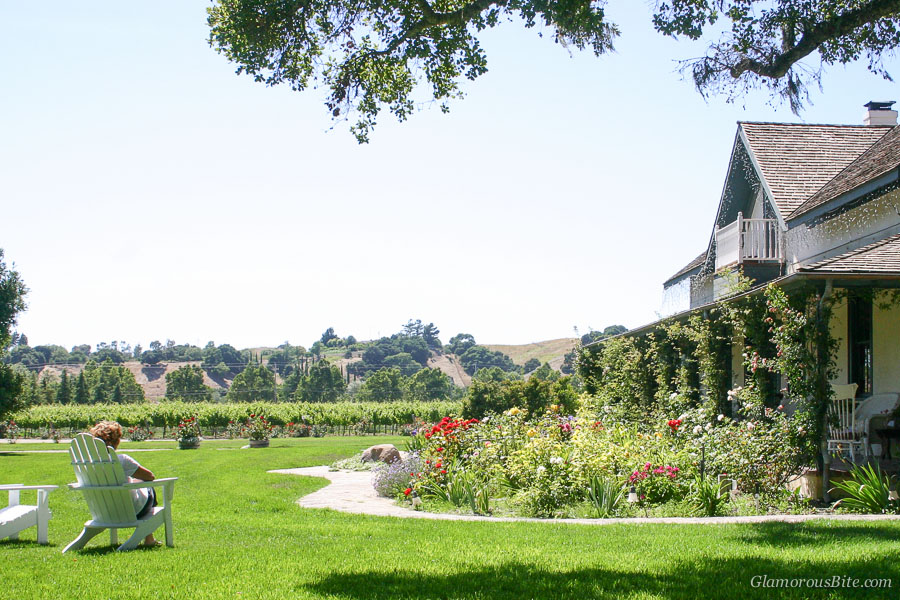 As to this luscious, sweet fig appetizer you will truly relish in the crunchy crust, juicy delicate fig slices and in the creamy softness of the goat cheese. The touch of minty notes from the thyme and the burst of jammy flavors of the Balsamic Pinot Reduction will bring a satisfying balance to every bite. To make this appetizer super easy we got organic naan that is already prebaked so it wont take very long and you can assemble it while the guests are there.
This recipe could also easily translate to a larger whole wheat pizza pie. If you are inclined to do this, make sure to prebake your crust, before adding all these delectable toppings.Most of you time will be spent making the caramelized onions and reduction, so if you are planing a party you may wish to make them ahead. We like to prepare this steps a day in advance and just focus on assembly during the party.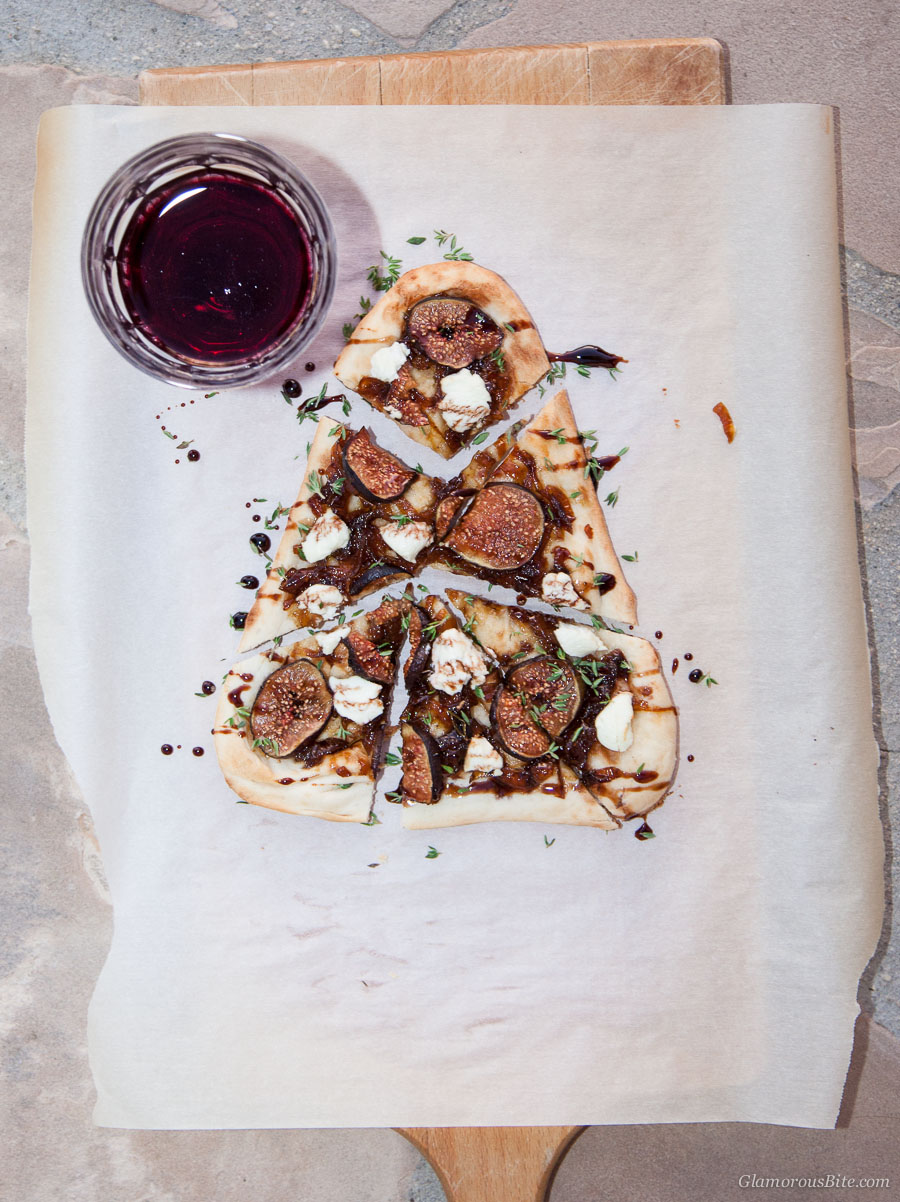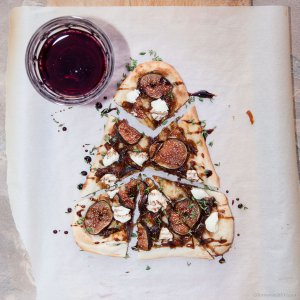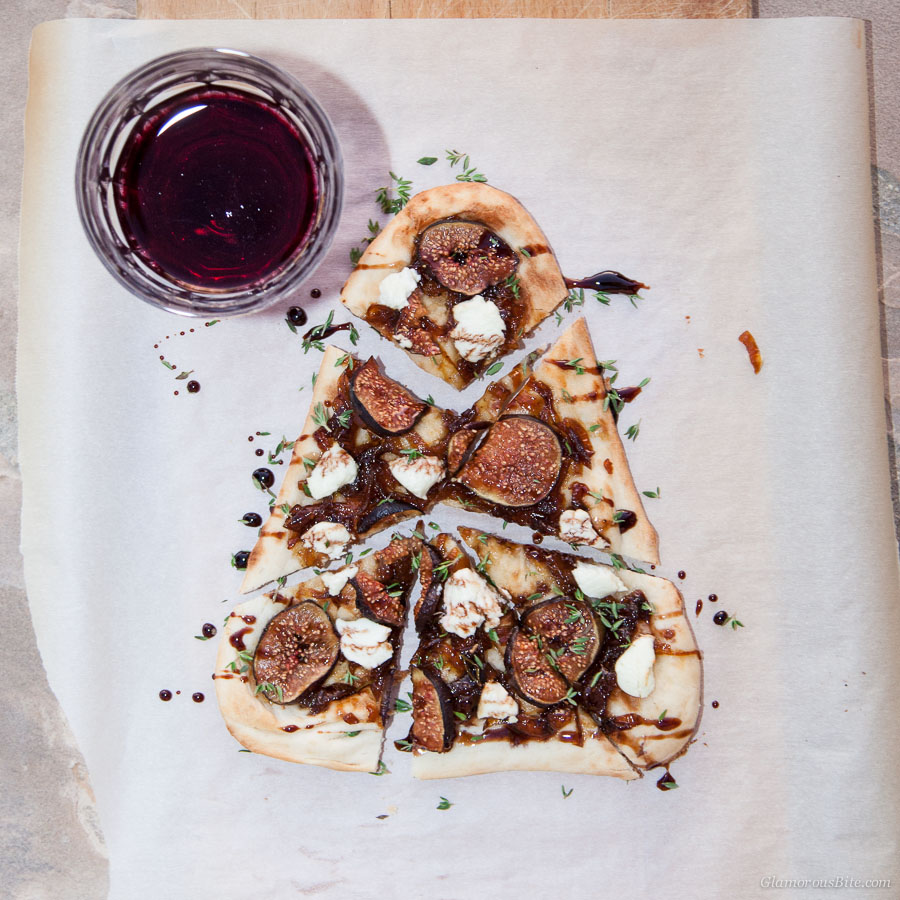 Naan Pizza with Figs, Goat Cheese & Balsamic Pinot Reduction
Ingredients
2

Organic Naan - store brought or home made

1/2

cup

Caramelized Onions - use about 1/2 of our recipe

4 - 6

Fresh Figs - sliced

1 - 2

oz

Chèvre

goat cheese - or more if you like
Instructions
Preheat oven to 375 degrees F.

To assemble the Naan Pizza: Place the prebaked naan on a baking sheet lined with parchment and spread the caramelized onions in a thin layer on the bread.

Lay the sliced figs on top and add little dollops of goat cheese.

Bake in the oven for about 3 to 4 minutes until the figs become glossy and the chèvre melts slightly.

Transfer the Naan pizza to a cutting board and sprinkle with thyme leaves and drizzle with the balsamic pinot reduction. To serve as an appetizer cut each naan pizza into 6 pieces. If you serve it as a meal you can transfer it to a dinner plate right from the oven.
Notes
You can find organic naan in Whole Foods Market or other Gourmet stores, we like to use whole wheat.
Nutrition
For the Caramelized Onions
Ingredients
1 Tbsp Olive Oil
1 Tbsp Butter
2 Onions – thinly sliced
1 Tsp Sea Salt
Black Pepper – freshly ground
1/2 Tbsp Coconut Sugar
Splash of White Wine like Sauvignon Blanc or Riesling
Directions
In a large saute pan heat the olive oil and butter over medium high heat.
Add the sliced onions, seal salt, coconut sugar, black pepper, and cook for about 5 to 8 minutes.
Add a splash of white wine we like to use Sauvignon Blanc and continue to cook for about 20 more minutes or until onions turn golden.
Set the pan aside. If you make it ahead, store in a glass jar with lid or in an air tide container in the refrigerator for up to 1 week!
Balsamic Pinot Reduction
Ingredients
1/4 cup Balsamic Vinegar
1/4 cup Pinot Noir or other fruity Red Wine
1 Tbsp Organic Raw Honey
Directions
In a small saucepan combine balsamic vinegar, red wine and raw honey.
Stir well and cook over medium high heat for about 10 minutes or until reduced to a syrupy consistency.
You can store it in an airtight glass container for 2-3 weeks to use on your favorite tomato salad or over steak or cheese. You can use an inexpensive balsamic vinegar for this recipe.
See the video here.
Diet: Low-carb, vegetarian, egg-free.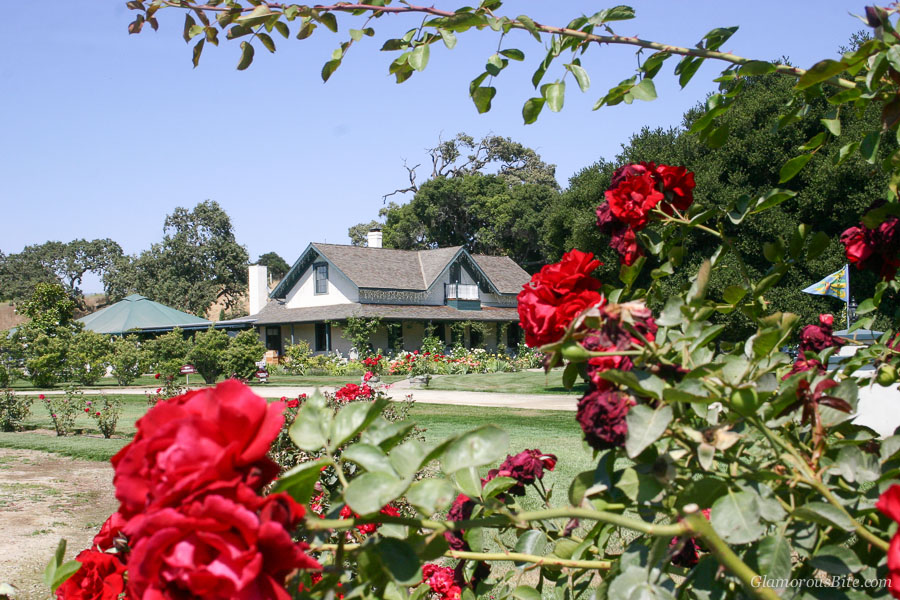 Perfect Glamorous Pairing: Rideau Vineyard Pinot Noir John Sebastiano Vineyard from the Santa Rita Hills in the Santa Barbara County, California. We usually pair this naan pizza with a Sauvignon Blanc, but we were so enticed with this fruity and earthy Pinot Noir from Rideau that we just had to give it a try. The rose petal notes and thyme went marvelously with the flavors of this pizza. A bottle is about $46. Rideau is such a lovely vineyard to visit with rows of vines leading to an old world French Victorian style tasting room.
This Naan Pizza with Figs Goat Cheese & Balsamic Pinot Reduction is a delicious beginning for an evening dinner with:
Herb Lamb in Fig Port Sauce
Chicken Pinot Noir
Let us know if you found any figs this season and what did you do with them!