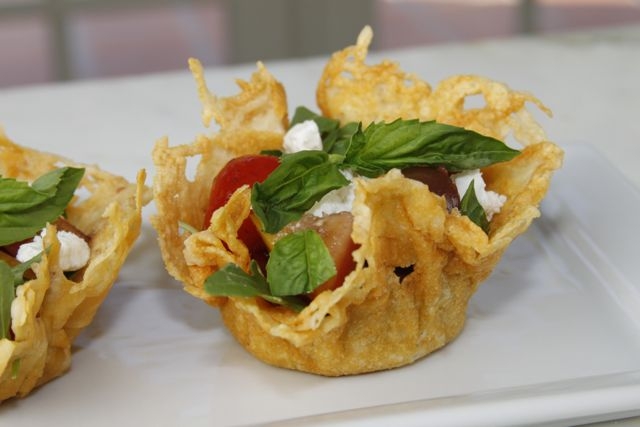 A few weeks ago we were tasting and pairing several rich and sophisticated wines from Tuscany's Montalcino region and needed a quick but elegant idea to serve the Heirloom Tomato salad with the Brunello Reduction that we made to accompany the wines so we came up with Parmesan Baskets! These darling little Parmesan Baskets (or you can call them Parmesan Bowls) are just the thing to impress your guests, in-laws, your significant other, or if you hope for an engagement proposal this might just do the trick. Ok, Corina keep making more baskets!
We love the baskets because they are crispy and crunchy! Judit thinks this is just the thing to make her dinner table more stylish and Corina loves it because there might be less dishes to do when you can eat the entire bowl 🙂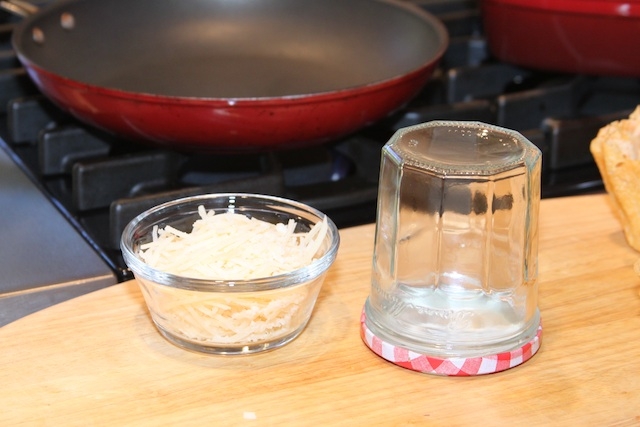 The really nice thing is about this recipe that you only need a few items for your artisitc endeavor: a medium non-stick frying pan, a rubber or very smooth wooden spatula and a water glass or a jelly jar or even a coffee cup would do.
Parmesan (Parmigiano-Reggiano) is the best cheese for this recipe since it melts just right, but feel free to use Montasio, or Asiago cheese if you prefer. We added a small amount of Pecorino cheese (which is a salty hard Italian cheese from ewe's milk) for a dash of robust and nutty flavor.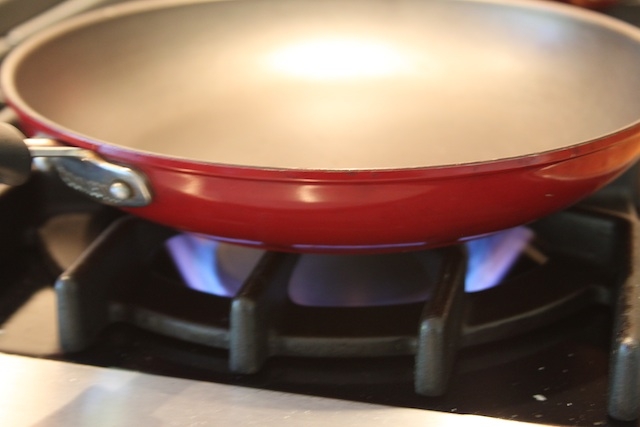 Heat a 10 or 12-inch non-stick frying pan over medium-high heat. Make sure it is hot before adding cheese.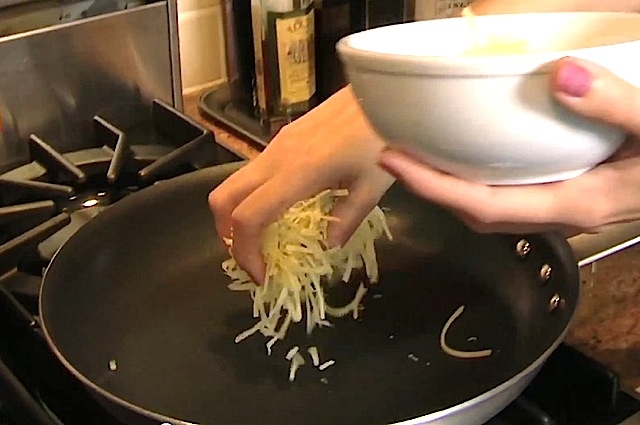 Take a handfull about 2-3oz of shreeded cheese.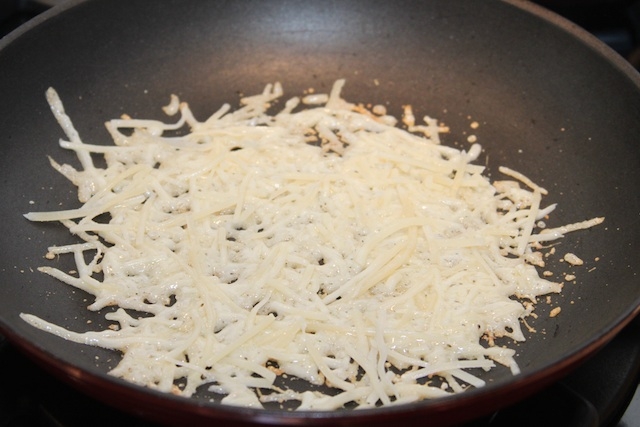 Sprinkle cheese into a thin, round (make the outer edge uneven, for a delicate edge)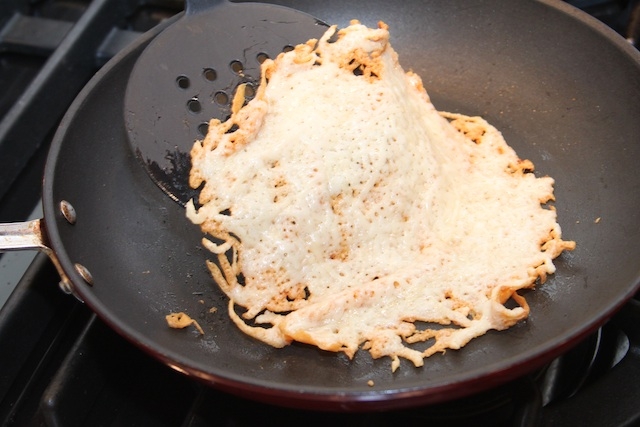 Cook 1 to 2 minutes, or until cheese begins to lightly brown around the edges.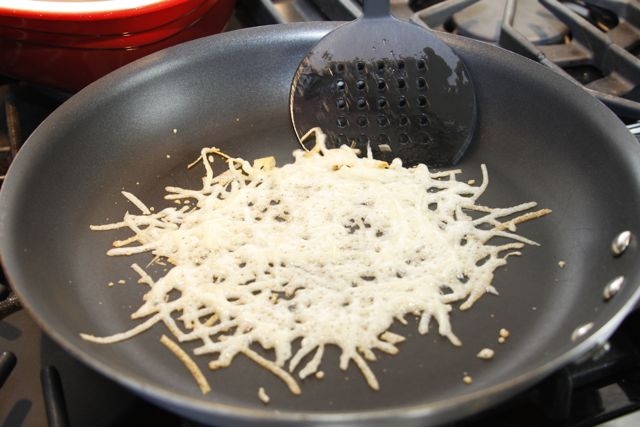 With the spatula gently loosen around the edges and flip the cheese over to crisp the other side.
We cooked both sides to keep the basket more crisp for the salad dressing. You don't have to – we won't tell.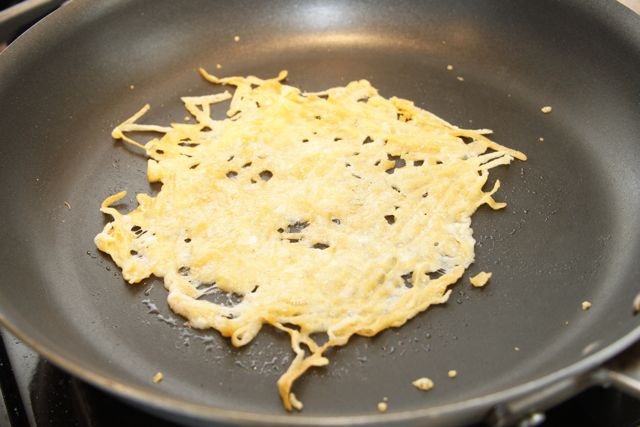 Now this is the other side cooking.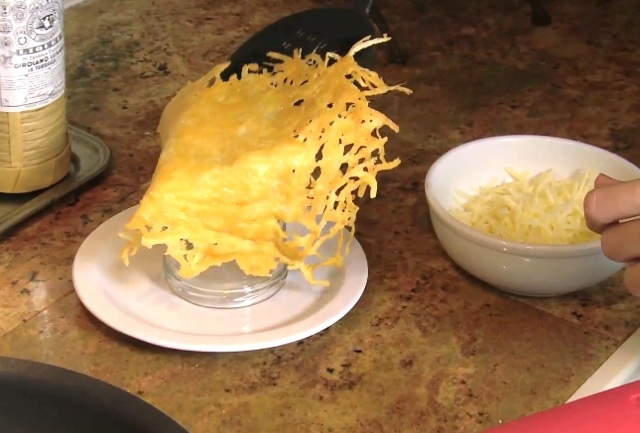 Drape over a jelly jar or water glass or bowl.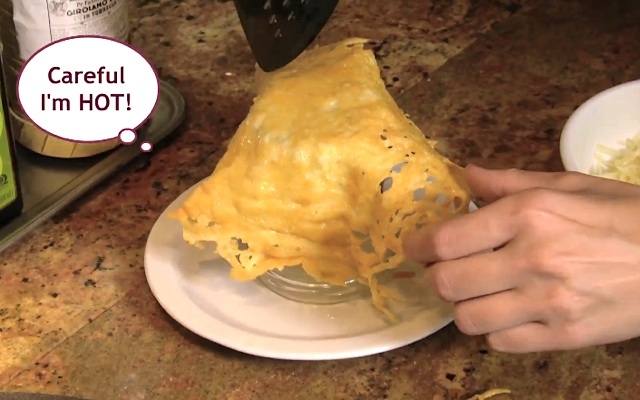 And shape into a cup form, being careful since it is very hot.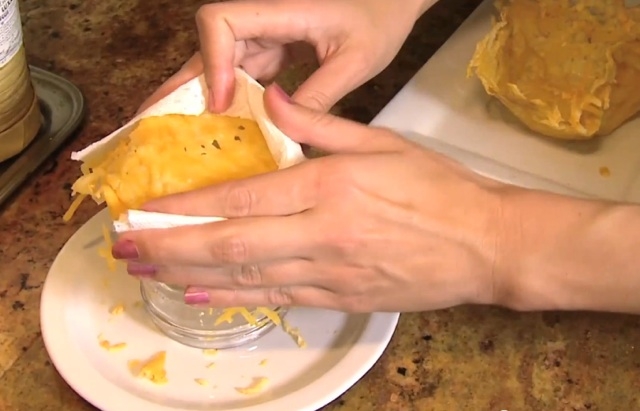 Use a paper towel to form the shape if the cheese is too hot for you!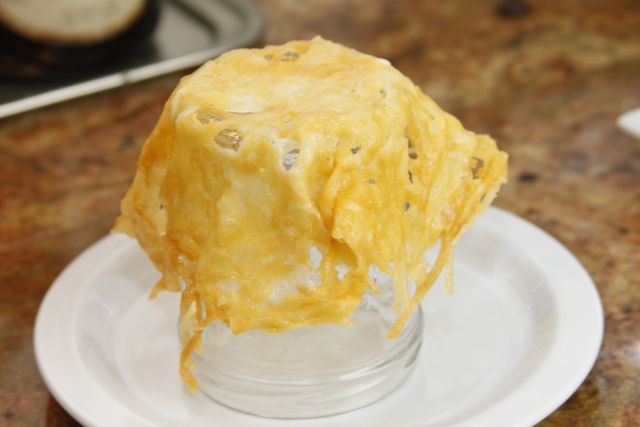 Let the cheese cool.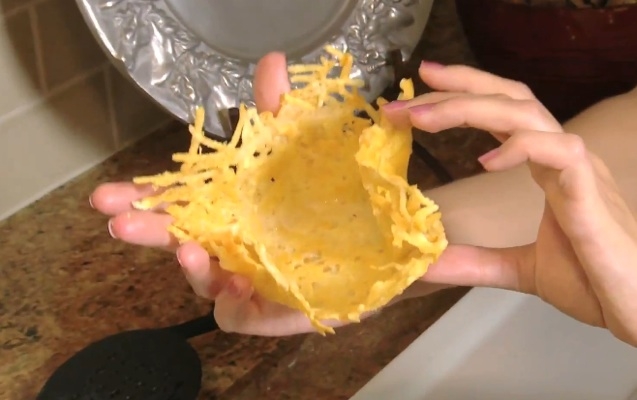 Once the cheese cools it will hold the shape and you can turn it over. Pretty lace edges make the basket more exciting.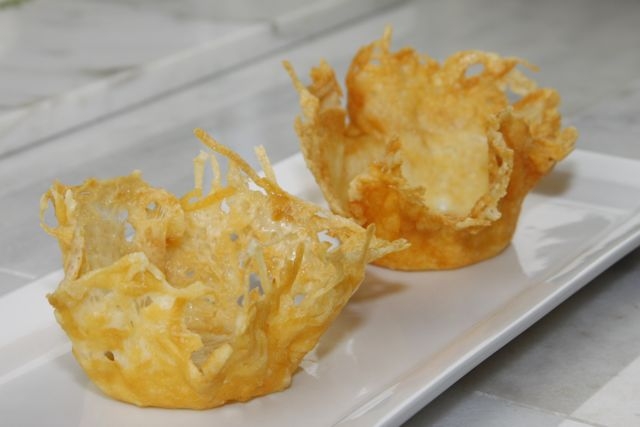 The baskets are done and ready to be filled!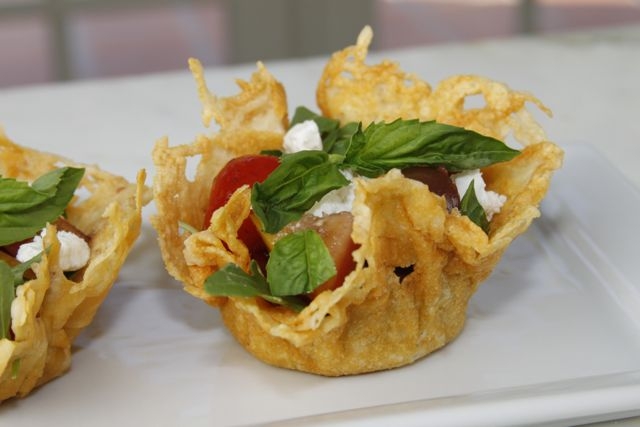 Place cheese basket on individual serving plates and fill with salad, vegetables, cheese mousse or what ever your heart desires. You can prepare them in a couple of hours ahead. We tried to refrigerate them over night but they do taste best when fresh.
Tomorrow we will give you the recipe for our "Heirloom Tomato Salad with Brunello Reduction"
Have fun making it and most of all eating it with some one special.
Bon Appetit & Cheers 🙂
And here our step-by-step video on how to make these Parmesan Baskets.
Hope you will enjoy making them as much as we do!