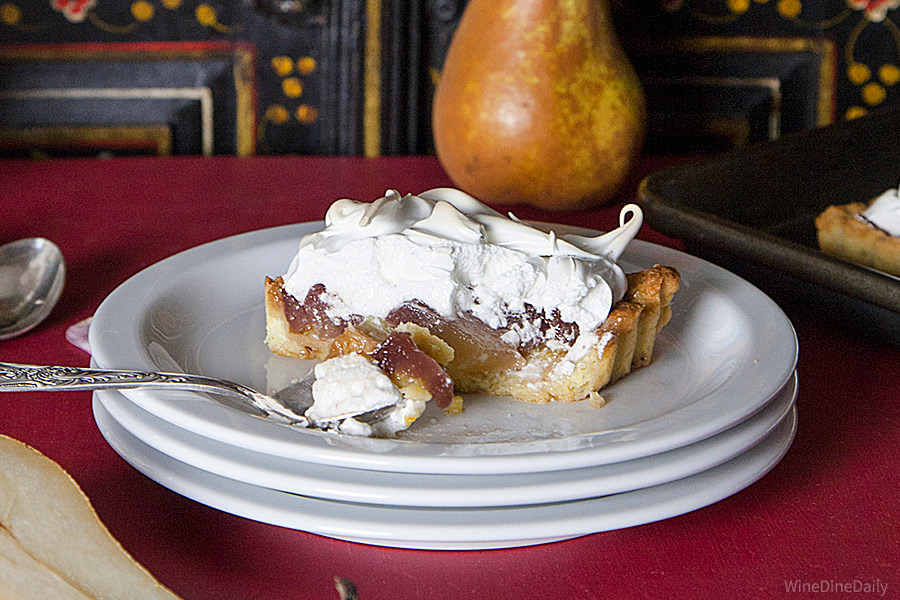 What do we do when there is cold stormy weather in paradise? We fill the house with the intoxicating aromas of spicy warm wine. The last weekend as the storm unleashed its fury for several days with torrential rain and high winds which ripped out several trees in our neighborhood and took the garden furniture for a spin so we decided to make something decadent like a cake or tart. Ever since we baked our first poached pear tart from a recipe found in our old Hungarian cookbook we have been yearning to make a tart with fragrant wine and fruit again. This storm gave us the perfect occasion for this and we added a little more delight with meringue to make it a red Wine Poached Pear Meringue Tart.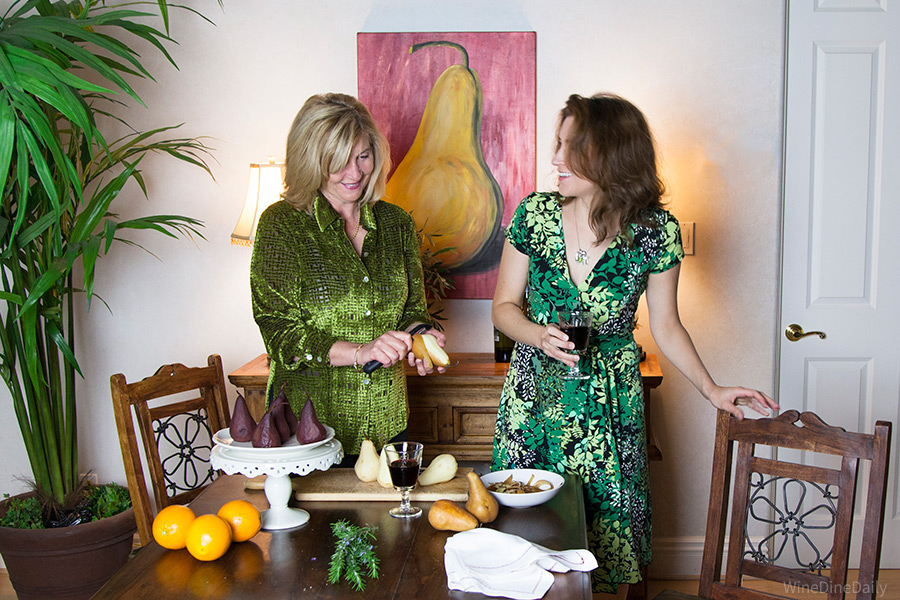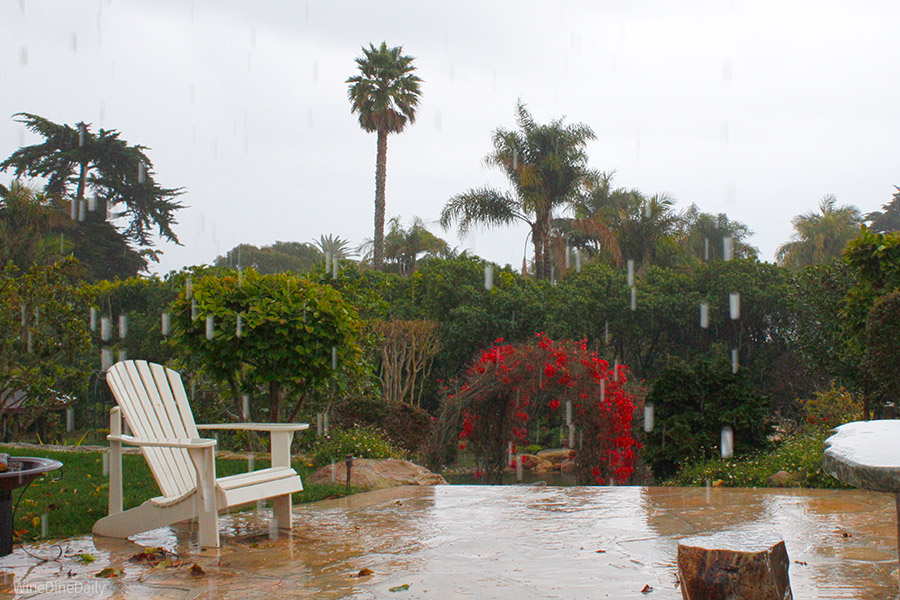 As the rain and wind played outside we turned on music (the Girls Aloud "Can't Speak French") and started to peel the few remanding juicy Bosc pears. Bosc pears are also know as Beurré Bosc and are a European type of pear that is grown in Europe, Australia, parts of Canada, and in the north west of the U.S., even in California. They have longer necks and a more solid consistency than other pears. We had made poached pears the day before, but had gluttonously eaten them so we had to make more for the tart. With the pears set out on the table in front of Corina's painting of a pear, we first opened a bottle of leftover Syrah and as the fruity wine notes whiffed to our nose we quickly poured the wine into a large pot and started cooking it over medium-high heat. A wine country chef once taught us that it is better to reduce the wine a little before submerging the fruit. It gives a deeper flavor to the fruit without cooking it too long.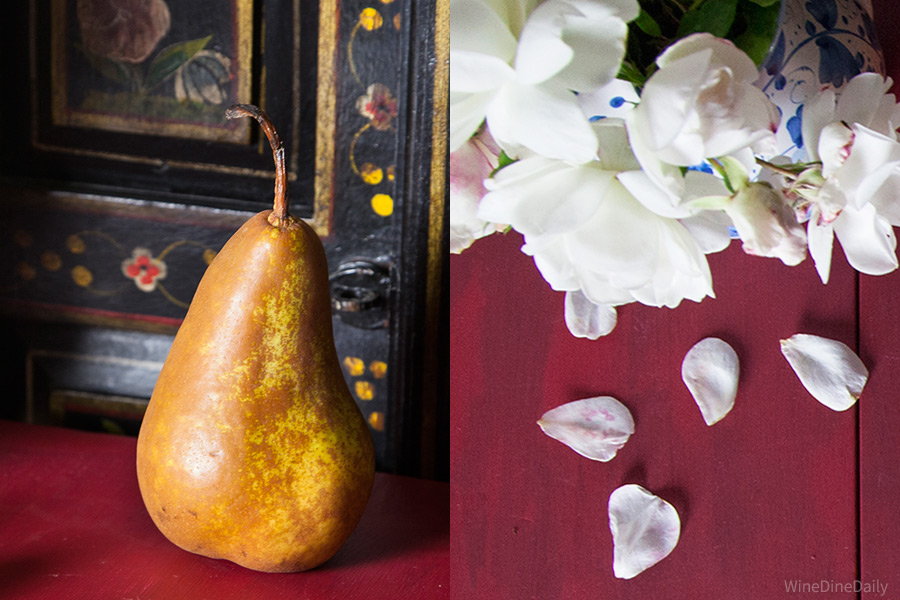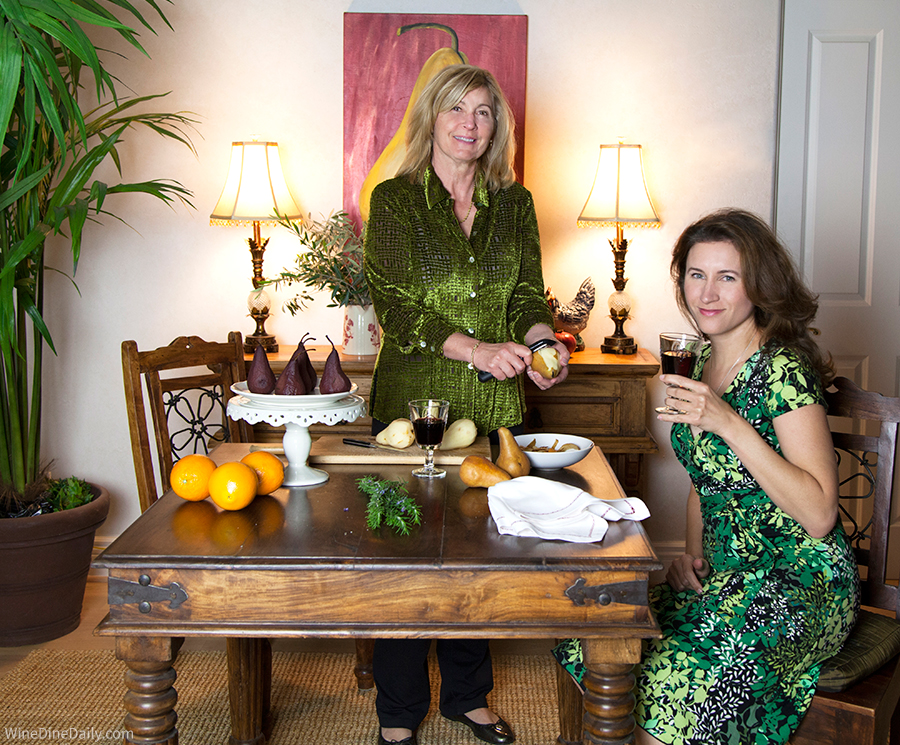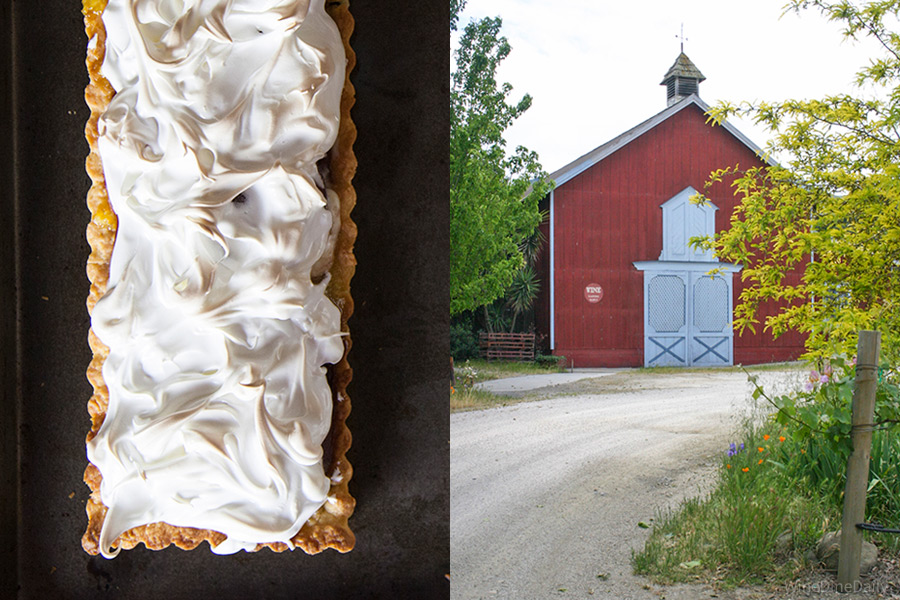 With the pears happily sitting in their wine bath we roasted the hazelnuts and assembled the dough for the tart so that it could rest for at least an hour in the fridge before baking. As soon as the tart shell was baked and cooled we were more than ready to add the wine poached pears and the fluffy gorgeous meringue. Judit's mom (Corina's grandmother) was the inspiration for the meringue since she would often make little meringue cookies for a simple dessert in the past and we had been missing her desserts. Whenever we would visit her there was always dessert waiting and a hearty meal in the making. The meringue gives a little sweetness to the pears and dresses it in pure elegance like a ballerinas frothy lace tutu.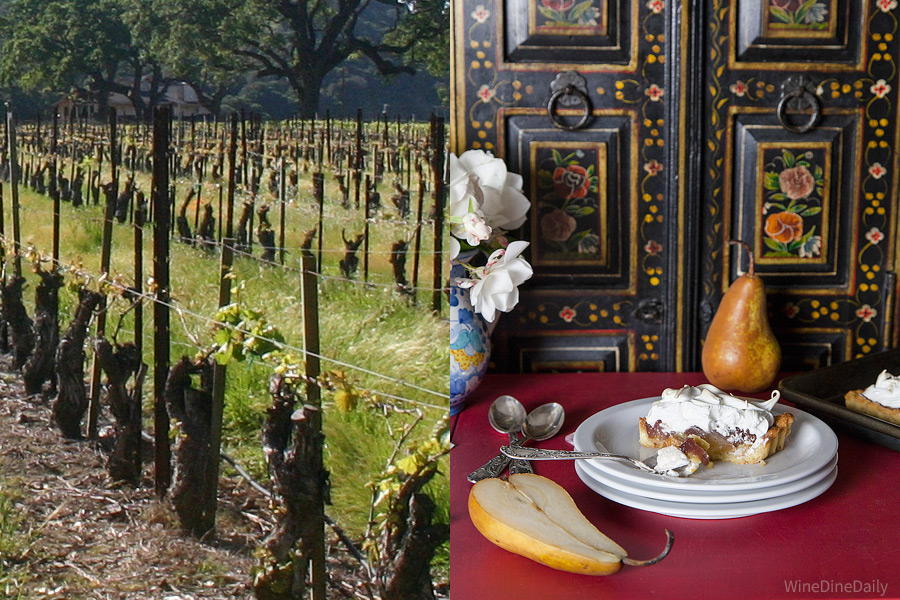 To pair with this tasty red wine poached pear meringue tart we had a lovely bottle of Mosby Dolcetto with dark red fruit, rosemary, and wood notes that remind you an afternoon stroll in a forest after the rain. This particular wine comes from the Mosby Winery & Vineyard located in the Santa Barbara County just south of Buellton and the tasting room is a rustic red barn nestled among beautiful vineyards. Whenever we go for a visit to Mosby, we find the views from the vineyards equally captivating, with gentle hills framing the vineyards and fluffy clouds dotting the sky like little meringues that you just want to reach out and take a bite of one.
In the spring bright bursts of orange flowers, that are known as the California Poppy, cluster about the tasting room. These poppies are the official state flower since 1903 and a symbol of the Golden State since early Spanish settlers called them "copa de oro", which means cup of gold. Mosby Winey is known for Italian varietals and owner and winemaker Bill Mosby was inspired by a trip to Italy to plant varietals such as Dolcetto and Sangiovese. Italy can be felt on the wine bottles as well with labels that are little works of art from an Italian artist. The Mosby Dolcetto brought out the deeper fruit and spice notes of the pears and magically made the tart disappear from our plates! It was such a treat that we look forward to making this red wine poached pear tart again very soon.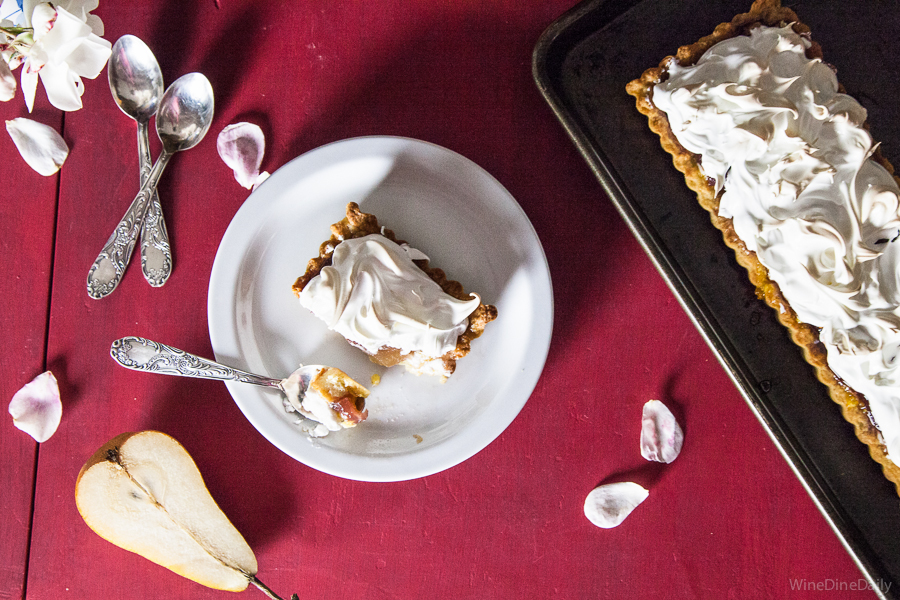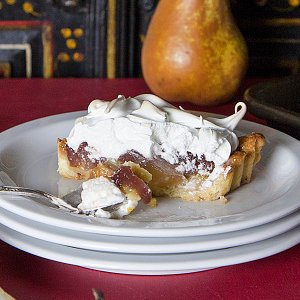 Wine Poached Pear Meringue Tart
Ingredients
For the Tart
½

cup

60g Hazelnuts - roasted, skin removed and finely ground

1

cup

125g Hazelnut Flour or Whole Wheat Flour

⅛

Tsp

Sea Salt

3

Tbsp

50g Coconut Sugar Sugar

8

113g Tbsp Unsalted Butter - cold and cut into small pieces

1

Egg Yolk - beaten

1

Tbsp

White Wine

For the Filling

3 - 4

Wine Poached Pears
For Meringue Topping:
3

Egg Whites

¾

cup

150g Swerve or Superfine Sugar

A pinch of Cream of Tartar

A pinch of fine Sea Salt
Instructions
Preheat oven to 400°F

Roast the hazelnuts on a parchment covered cookie sheet for 5 to 7 minutes. Let them cool for 2 - 3 minutes. Carefully place between paper towels and rub off the skin. Transfer the nuts to a food processor and pulse until finely ground.

Preheat oven to 375°F

In in a large bowl combine the finely ground hazelnuts, hazelnut flour, sea salt and coconut sugar. Add the cold butter cubes and working quickly with your hands knead the dough until large crumbs form.

In a a small bowl whisk egg yolk with wine.

Add egg yolk mixture to the dough and continue to mix for about 1 minute.

Turn the dough onto a large piece of plastic wrap and shape into a flat disc.

Refrigerate for at least 1 hour (you can leave it over night or freeze). Remove 30 minutes before rolling out on a slightly floured surface. Roll out the pastry dough about ¼ inch thick and 2 inch larger then your tart pan with removable bottom. Gently press the dough to the bottom and sides and cut off the excess around the edges. With a fork pierce all over.

Line the unbaked tart shell with thin aluminum foil and fill with pie weights or dry beans. Bake for 15 minutes or until edges turn light brown.

Remove the foil with the weights and bake for 10 minutes or until crust turns golden color. Let it cool before removing from tart pan. (you can make the crust a day ahead)
For the Filling
Slice the poached pears lengthwise and with a teaspoon scoop out cores. Lay cut side down, remove stem and cut into 4 -5 slices by leaving the stem-end intact. Arrange pears cut side down in the tart pan.

For Meringue Topping

Turn on broiler.

In a large bowl or stand mixer with the whisk attachment whisk the egg whites until frothy. Sprinkle in the sea salt and Creme of Tart. Slowly add Swerve or sugar and continue to whisk until meringue become glossy and forms stiff peaks.

Spoon the meringue over the tart and with a spatula making decorative swirling motion to cover the top. Place the tart on middle rack in ocean and broil about 2 minutes until meringue starts to brown on top. Make sure you keep checking frequently as the top can burn quickly.
For the Red Wine Poached Pear recipe click here.
Hope you enjoy this delcious treat and let us know what your favorite meringue dessert is.