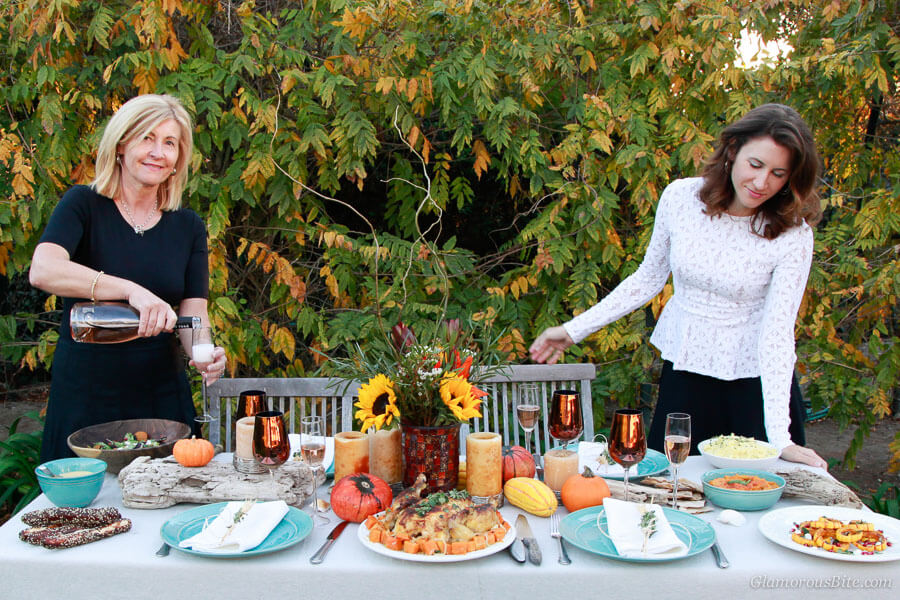 There are many special occasions in our life when we get together and celebrate with food for the sole reason of expressing our gratitude. Thanksgiving is one of those occasions when you gather your family and friends and really think about how grateful you are for the people who make you feel special throughout the year. We usually celebrate Thanksgiving together with friends since most of our family lives thousands of miles away.
This year we are going to our close Norwegian friends and can you believe it they will be experimenting with deep frying a turkey for the first time. We are excited to bring a few tasty sides, like our recent favorite Delicata Squash with Goat Cheese and Pomegranate Seeds and Pumpkin Hummus to start, or better say continue, the festivities.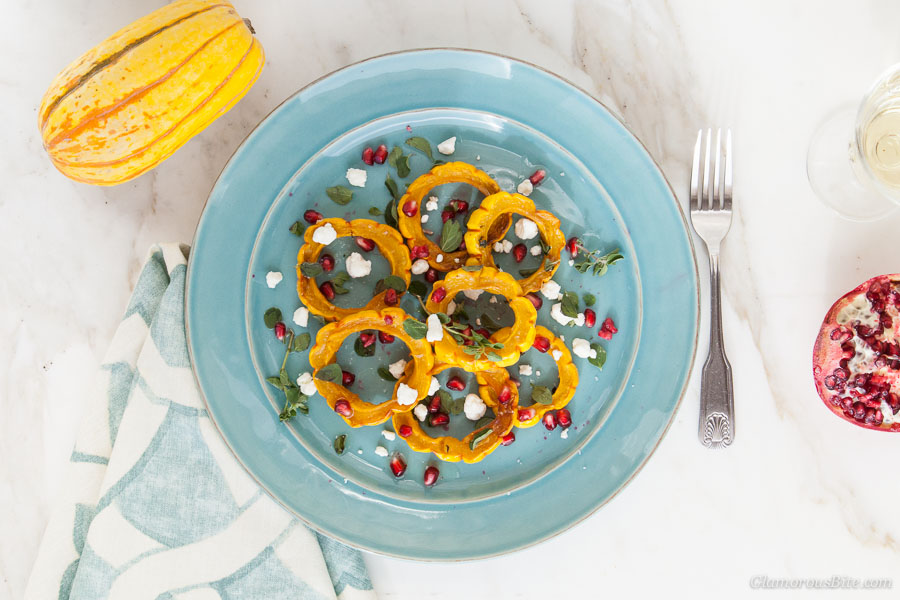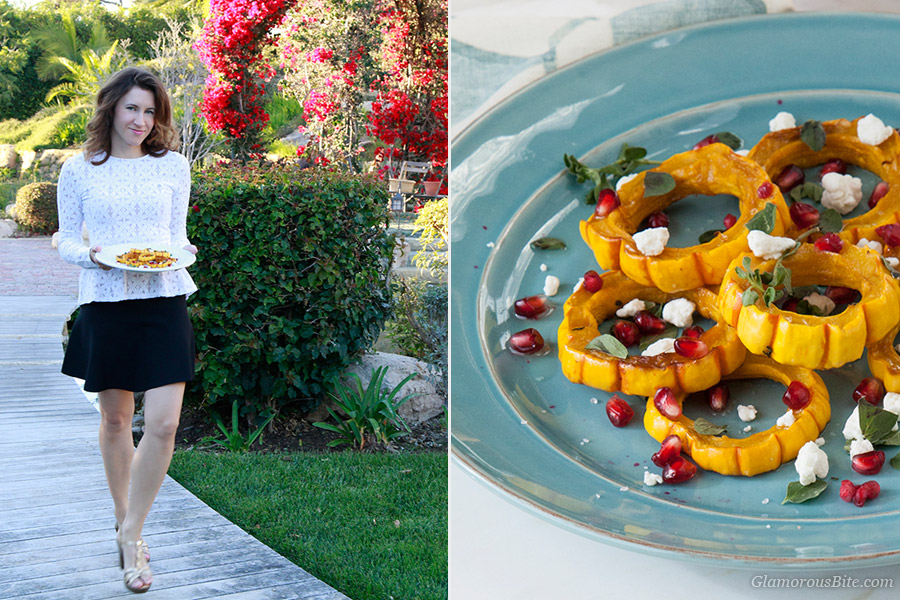 On Monday we planed a chicken dinner and as we looked around the kitchen and saw the pumpkin and squash filled basket we decided that it would be a perfect day for a little pre-Thanksgiving meal in the garden under the Santa Barbara sun. There wasn't anything fancy or expensive about this meal, yet the earthy palette of flavors and textures had the very comforting and cozy feelings what we call a little balm for your health and soul. To sit in November under the California sunshine and feast on juicy chicken meat laced with the aromatic spices of curry, cinnamon and Hungarian paprika made us brim with joy and we are filled with deep thankfulness for the amazing day.
The little feast started with a creamy smooth Pumpkin Hummus and whole wheat low-carb tortilla that we toasted and cut into triangles for dipping. Next we nibbled on fresh mixed green Salad with roasted Red Beets and Pomegranate seeds. The main attraction was the Curry Paprika Chicken with a creamy Squash Yogurt Sauce. The sides were mashed sweet potato and roasted Delicata Squash with Goat Cheese and Pomegranate Seeds. And for dessert we truly enjoyed a few spoonfuls of a quickly prepared healthy Pumpkin Parfait with Granola and Greek Yogurt. To celebrate the lovely day there had to be something bubbly and and there was! The J Vineyards & Winery J Cuvée and the J Sparkling Rosé from the Sonoma County in California were the perfect match.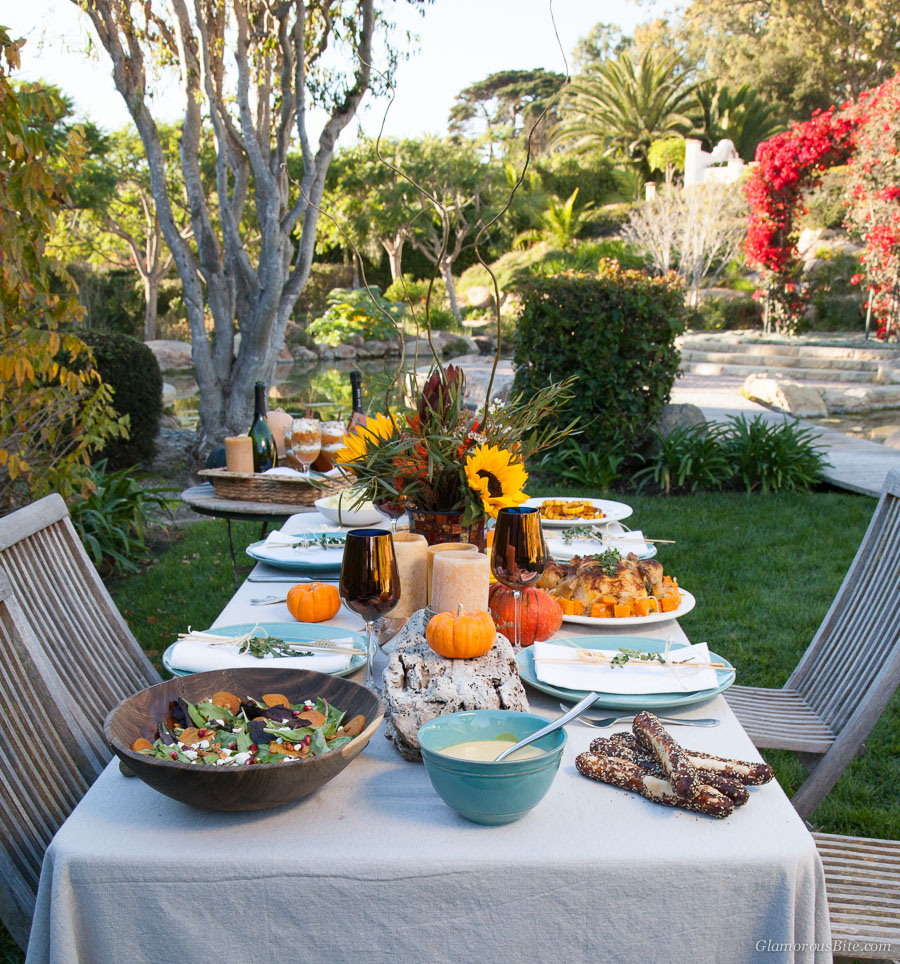 We have to tell you this Curry Paprika Chicken (and we will get you the recipe soon – promise!) is a feel good dish that Judit's mom (and Corina's grandmother) made on weekends. She generously massaged the whole bird with the finest of Hungarian Paprika and salt, then simply placed it on the top of a bed of sliced potatoes mixed with sliced onions and garlic. In our chicken dish we replaced the potatoes with butternut squash and added a good amount of fragrant curry. We so wished that she could have been with us and enjoyed our little feast.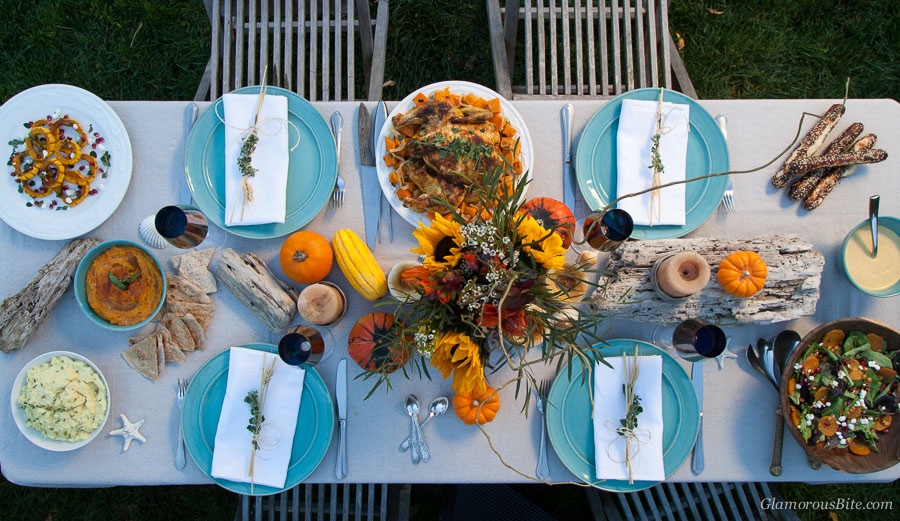 We thought nothing could improve the subtle flavors of a delicate squash until we moved to Santa Barbara where pomegranate seeds are added to almost everything. Yes, we too joyously succumbed to the pull of the pomegranate and keep tossing those vibrant little seeds on almost everything like here on our savory squash to make a glamorously simple side dish.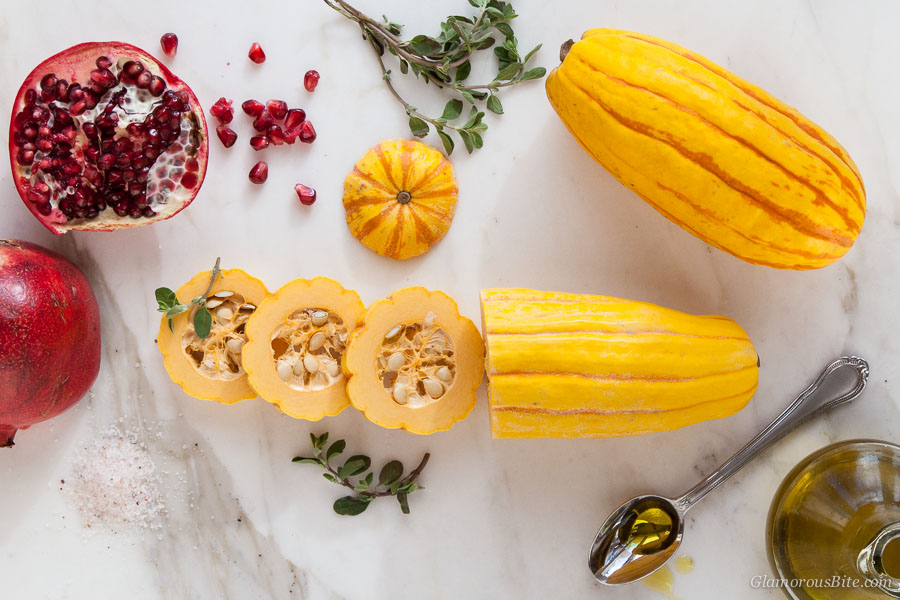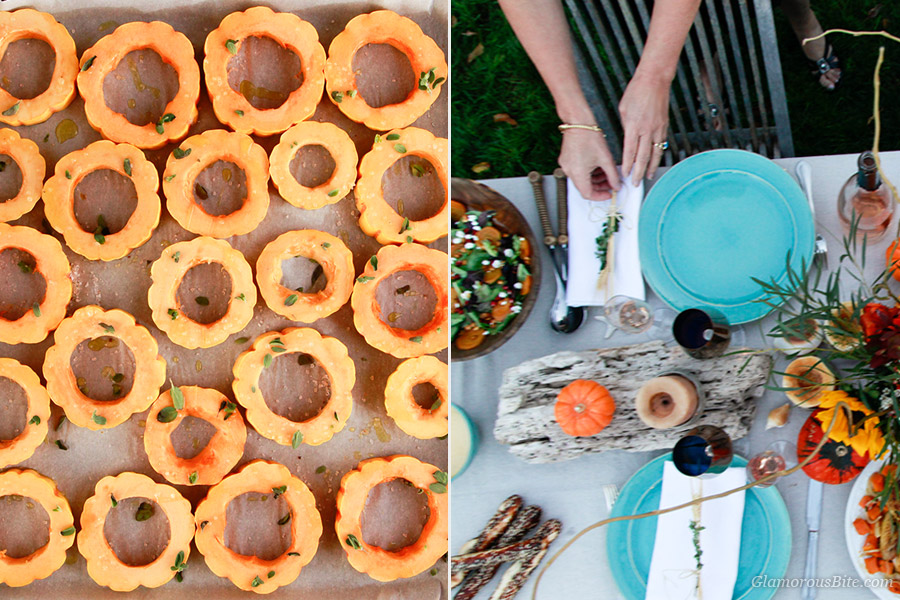 With sunny yellow color, rich creamy texture and sweet buttery taste delicata squash is definitely on top of our favorite squash list. Some people at the market called it sweet potato squash or Bohemian squash. Perhaps because of the long oblong shape that resembles a sweet potato and the pretty green stripes over the yellow skin looks very unconventional and free spirited. Besides being very decorative among the squash family, delicata squash is rich in Vitamin A, Vitamin C and minerals and also aids in weight loss, being high in fiber content and low in calories. One cup is only about 40 calories. Delicata, we love you for it!!! The delicious edible skin makes preparation pretty easy and what can be more glamorous than having valuable nutrition as a health bonus.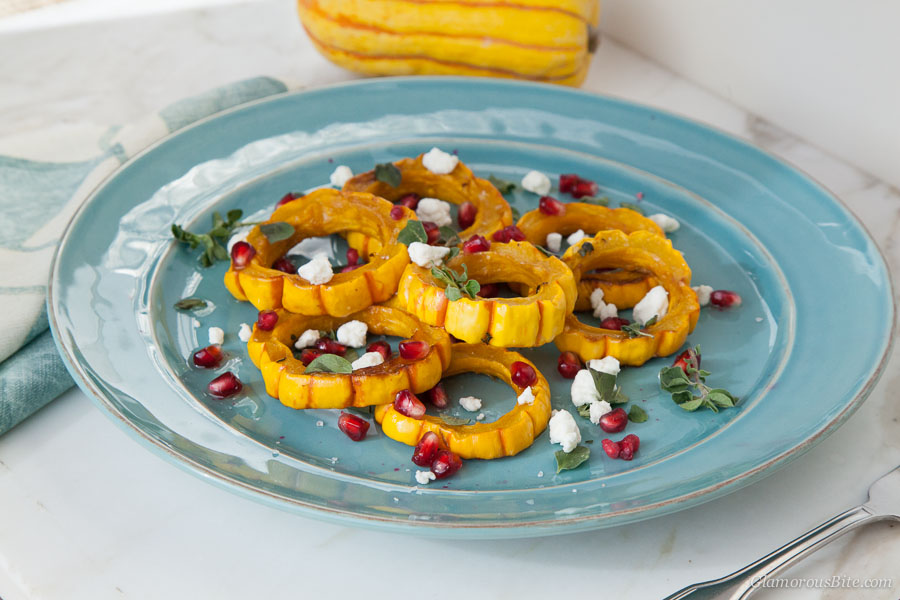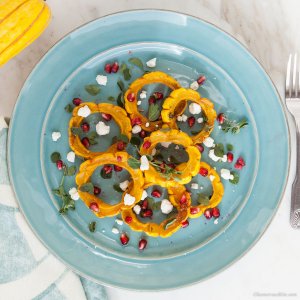 Delicata Squash with Goat Cheese and Pomegranate Seeds
Ingredients
Ingredients

2-3

Delicata Squash

1

Tbsp

Extra Virgin Olive Oil

1/2

Tsp

Himalayan Salt

2

Tbsp

Goat Cheese – crumbled

2

sprigs fresh Oregano Leaves

1

Tbsp

Pomegranate Seeds
Instructions
Preheat oven to 400F degrees.

Scrub each delicata squash because you will be eating the skin as well. Cut crosswise into 3/4 inch discs. With a spoon scrape along the inner edge and scoop out the seeds from each center. Clean and dry the seed to roast them later.

Lay the squash discs in a single layer on a roasting pan.

Drizzle the top with a little olive oil and sprinkle with Himalayan salt and half of the fresh oregano leaves.

Bake in the oven for about 15 minutes. Remove from oven and with tongs and gently turn over each squash and continue to roast for about 10 to 12 more minutes, or until becomes golden brown with a few darker caramelized spots.

Transfer to a serving plater and drizzle with the remainder of olive oil. Sprinkle evenly with goat cheese crumbs, pomegranate seeds, fresh oregano leaves and the Himalayan salt.
Diet: Low-Carb, Gluten-Free, Diabetic Friendly, Light.
Wine & Food Pairing: J Vineyards & Winery J Brut Rosé from Napa's Russian River Valley with vibrant berry flavors. A hint of raspberry tickles your nose of this effervescent bubbly and as you sip this creamy elixir you get flavors of wild strawberry, forest berries, and pomegranate. We paired it with our Santa Barbara Delicata Squash with Goat Cheese and Pomegranate Seeds and it went fabulously with the whole meal as well.
Have a wonderful Thanksgiving and may you create many happy new memories at your table!