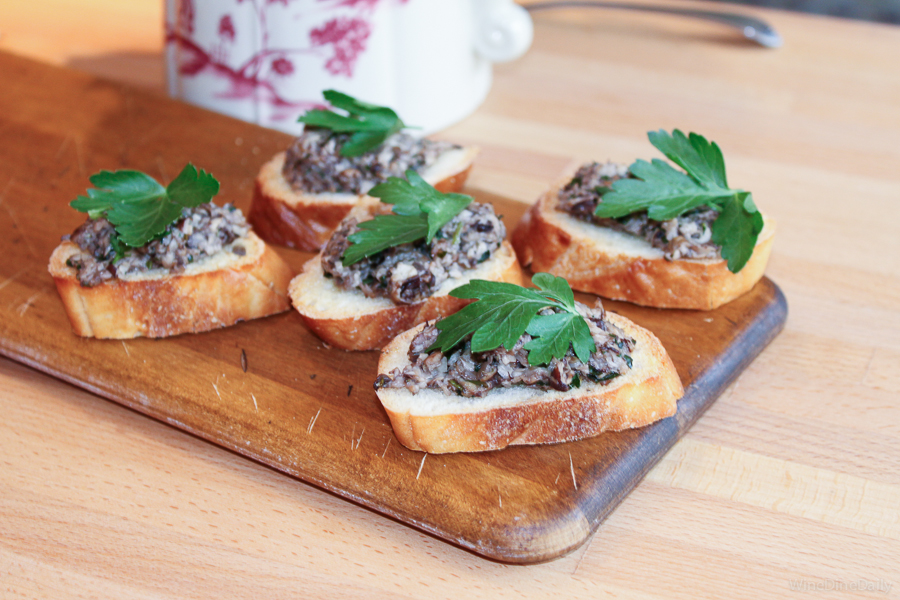 Ever since we filmed our Herb Mushroom Crostini Recipe video, and it was a few years back we countless times served this flavorful bites as appetizer or even for Brunch Buffet. We are partial to a good Pinot Noir for a long time. The earthy flavors of Pinot goes so well with the equally earthy and foresty flavors of this simple herb mushroom appetizer. You can say they just love each other, a match made in food and wine heaven… you get the picture. Santa Barbara and Napa have many excellent Pinot Noirs and when we talked to some of the experienced wine makers they all pretty much had the same answer "Pinot Noir loves mushrooms and lamb". Perhaps both have the earthy and organic forest aromas.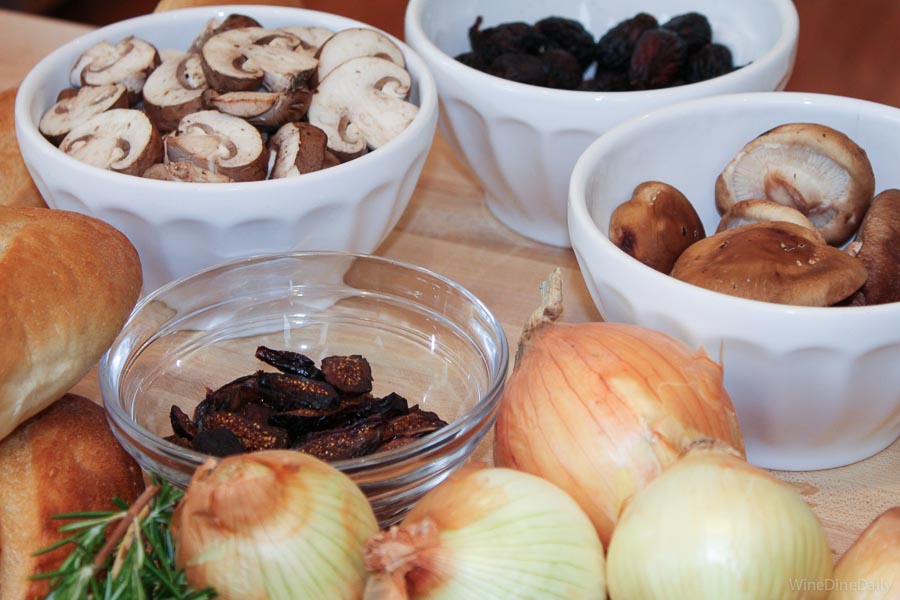 To make this simple appetizer, you can use Shitake and Gremini mushrooms and if you like even a little diced and fried bacon in the mixture. After slicing the french baguette or a very good crusty country bread, dab some olive oil on one side and bake the slices in the preheated oven until golden brown. Our grandma/great grandma used to rub a little garlic into a toasted bread for a special touch.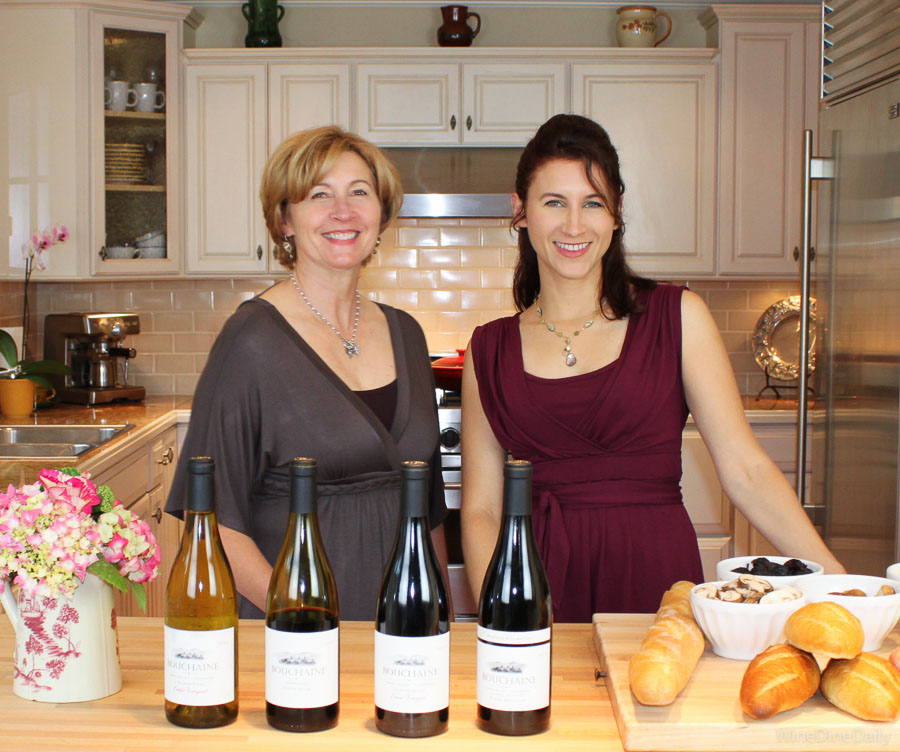 Heat the olive oil and butter in a large saute pan or skillet, add the sliced mushrooms and saute until golden caramelized color. Add the chopped herbs, garlic and continue to cook for a few more minutes. The aroma of this dish never fails to entice us. And now is the most important part of the recipe. To give an extra layer of flavor we pour in a few splash of wine, and immediately you will notice the transformation from a simple recipe to a more extraordinary level.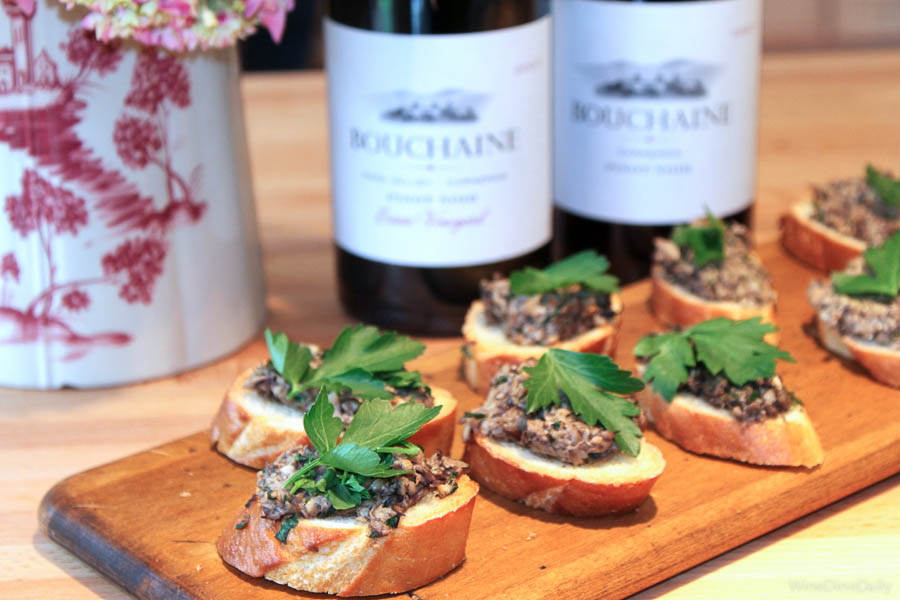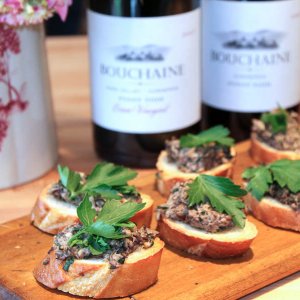 Herb Mushroom Crostini
Ingredients
CROSTINI:

1

French Baguette - sliced

1

Tbsp

Extra Virgin Olive Oil

1

Garlic Clove -peeled

MUSHROOM TOPPING:

1

Tbsp

Extra Virgin Olive Oil

2

Tbsp

Butter - unsalted

1/2

Pound

Shitaki Mushrooms - chopped

1/2

Pound

Crimini Mushrooms - chopped

1

large Clove Garlic - finely chopped

2

tbsp

flat leaf Parsley - chopped

1

sprig Rosemary - chopped

3

sprigs Thyme -

Salt & freshly ground Pepper to Taste
Instructions
Preheat oven to 375 - 400°F.

Slice baguette and brush with a little olive oil. Arrange the slices on a baking sheet and toast in oven until golden, about 7-10 minutes.

Set aside to cool.

You can prepared the crostini up to 3 days ahead.

In a medium nonstick skillet heat olive oil and butter over medium heat. Add the sliced mushrooms and saute for 5-7 minutes

Add the minced garlic, rosemary and thyme. Season with salt & pepper, add a splash of Pinot Noir and continue to cook for a few more minutes.

remove from heat and let it cool for 2-3 minutes.

Add the mushroom mixture to a food processor and pulse it for a few times.

Rub the crostini with the garlic clove and spoon the mixture on top. Decorate with parsley leaves.
Nutrition
Food & Wine Pairing: Bouchaine Estate Pinot Noir
You can use any other earthy Pinot Noir. Mushroom and Pinot Noir is one of the sexiest pairing in the wine & food world.