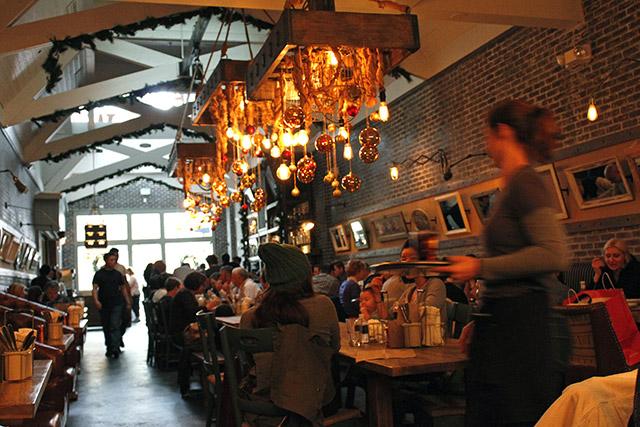 Last Thursday after a business meeting in Los Angeles we went for lunch and little shopping to one of our favorite LA destinations – The Grove. It was raining heavily so we ran inside our usual Grove lunch spot and did not notice until we were seated in the far right corner that we were no longer at The Farm (the previous restaurant), but in Chef Gordon Ramsay's brand new eatery The Fat Cow. There it was on the wall right above our table a large neon sign flashily illuminating the words FAT COW and in the next moment we assumed that the"Hell's kitchen" star devotion to the letter 'F' is continued here by naming  his new restaurant (later we found out that the credit goes to his children because they  love to eat all kinds of cow meat.) Well No matter of the unique name, Chef Ramsay's new down to earth restaurant is udderly brilliant and definitely worth to moo about. Conveniently located right next to the Pacific theater where you can take the entire family for a warm meal before braving the latest action thriller next door. Trust us, this sure beats popcorn and milk duds 🙂
The large farm house style, casual restaurant was designed by AK Design Network  with a genius layout and interior concept  from the  Shakes & Cookies counter (Moo Bar) to the classic wood and glass English Pub bar area and the  shabby chic style dining room with cozy tufted booths and large Euro style communal tables to please singles, romantic duos and families with children alike. The light fixtures with a touch of whimsy add surprise and a fun factor to the design. You will appreciate Gordon Ramsay's  passion and attention to detail which is reflected in the decor and in his seasonal farm to table menu   a California bistro style with an English accent with fresh chopped salads, a variety of comfort foods like Burgers, stone baked Pizzas, Shepherds Pie, Lobster Mac & Cheese, and a few sweet temptations.
Because it was a cold rainy day we opted for warm Coffee Mocha instead of wine or cocktails and continued to order The Fat Cow Cheese Burger (which is a combo of short rib and kobe beef) with French Fries and the very popular Spicy Sausage, Burrata and Fennel Pizza from our waiter Geoffrey who was refreshingly competent and friendly. The Mochas arrived shortly with inviting rich coffee aromas and tasted just perfect for such a wet California day.
The Cheese Burger had a cute little cow branded on the bun. You could taste the juicy meat, which was very good, and the other ingredients were secondary. The fries came stacked in a little tin container. The rustic Sausage Pizza was perfect for a cold day with crisp crust and soft Burrata cheese.
We had a good view of the open kitchen where the lunch rush took place. An authentic British import, Executive Chef Matthew Woolf by all means is no "bull in the china shop" as Gordon oh so kindly mentioned in a news TV interview. Chef Woolf  simply owns this kitchen with knowledge and grace. Before The Fat Cow he was creating his tantalizing dishes in many posh places like the West at the Angelo Hotel where he received rave reviews for his culinary expertise.
It is quiet brilliant from Chef Ramsay, whose lines of Global restaurants are in the fine dining category to open a down to earth, "friendly neighborhood gathering place… where you can relax and enjoy a terrific meal"
Chef Woolf surprised us with Ricotta Stuffed Tempura Squash Blossoms topped with sweet Corn. Absolutely divine! Crisp Tempura battered darling pillows filled with creamy melt in your mouth ricotta and corn filling were absolutely heavenly. Oh if only James Bond had these squash blossoms in his cabin in Skyfall the bad guys would have simply joined him for a peaceful dinner.
We also tried crisp Brussels Sprouts with a balsamic reduction and hazelnuts. This vegetarian dream, delivered by the welcoming general manager Nick Brown (who worked with Michael Mina in Las Vegas previously), and pairs nicely with a glass of Sauvignon Blanc. For other vegetarian dishes they have a Skinny Cow Chopped Salad made with Tuscan kale, cabbage, carrots, radish and pumpkin seeds.
Just when we thought there was no more room – Sticky Toffee Pudding arrived! Warm gooey toffee and light fluffy cake with an adorable jar of cream. Yes there was room for this pudding since it was not too heavy. It started out in the center of the table and quickly migrated over to Corina's side.
The Fat Cow serves lunch and dinner daily 11am to 11pm Sunday to Thursday, and 11am to 12am on Friday and Saturday. It also has a selection of cocktails that we will need to try next time. We had our eye on the good for you sounding HK Anti-Oxidant with veev ace liqueur, leon, blueberries, mint, miracle mile forbidden bitters and served with cucumber balls or The Fat Cow "Manhattan" with bullet rye, byre grand quinquina. Next time Judit plans to try Gordon's Shepherds Pie with a glass of Syrah and Corina looks forward to the Lobster Mac & Cheese with a cocktail.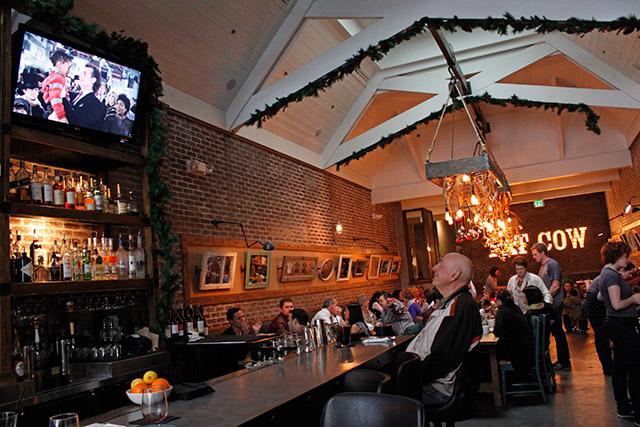 Inside Gordon Ramsay's The Fat Cow. You can take a break from shopping and sit at the bar to enjoy a cocktail.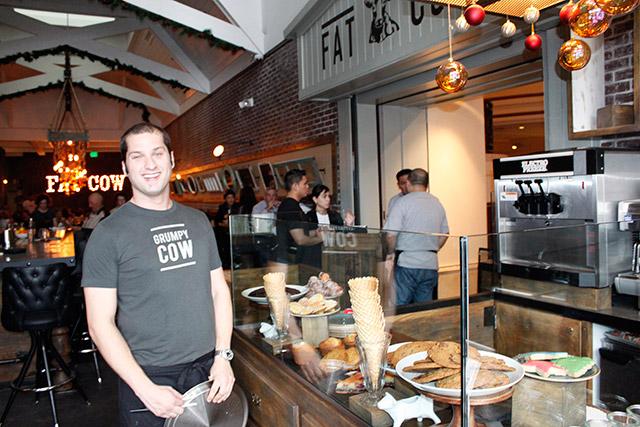 Our knowledgeable waiter Goeffrey.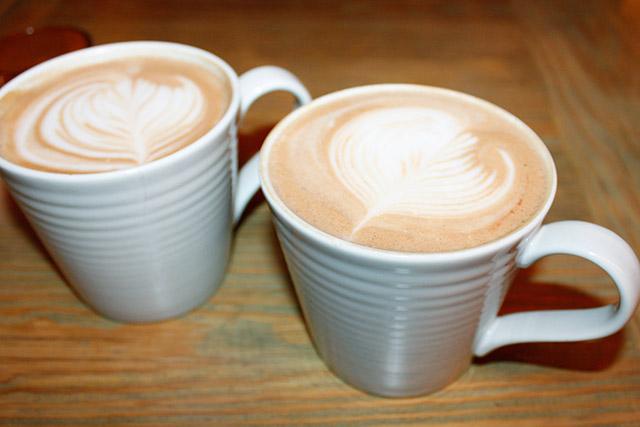 Coffee Mocha – Mmmmmmm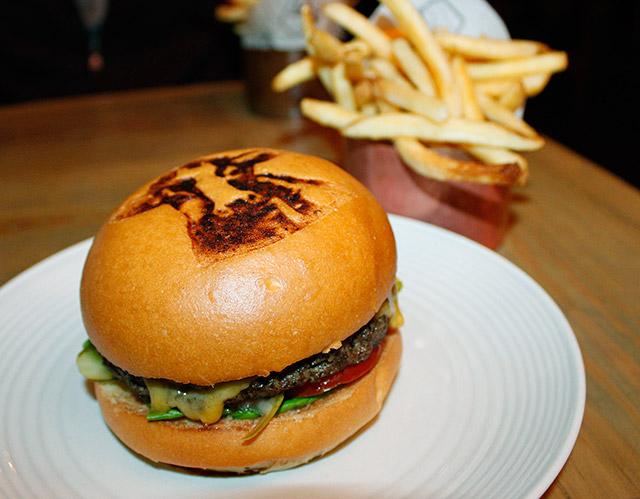 The Fat Cow Cheese burger with fries.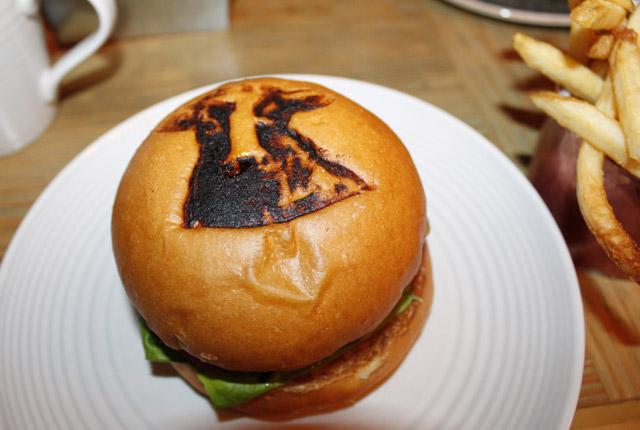 A cute little Mooo cow branded on the bun.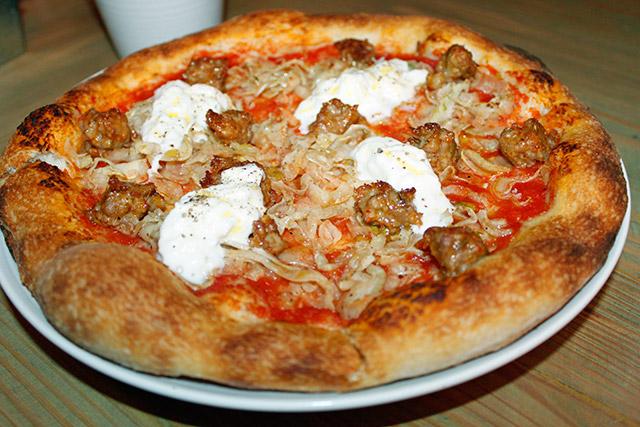 Spicy Sausage, Burrata Fennel Pizza.
Executive Chef Matthew Woolf.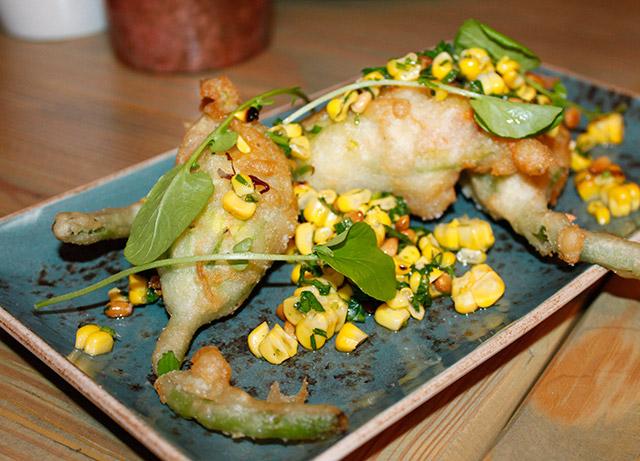 Ricotta Stuffed Tempura Squash Blossoms topped with sweet corn. Oh so delicious.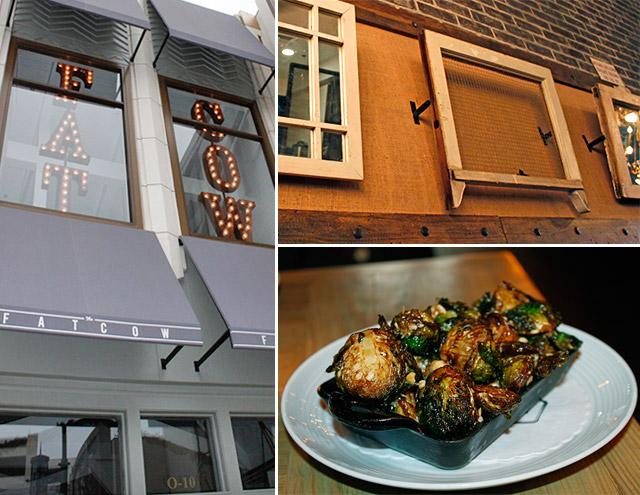 Brussels Sprouts with a balsamic reduction and hazelnuts.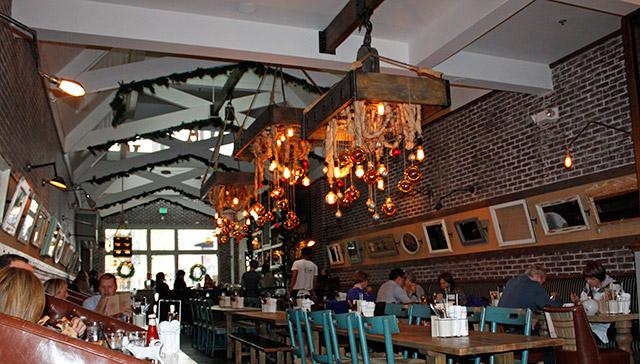 We got there at the start of lunch when it was still relatively empty.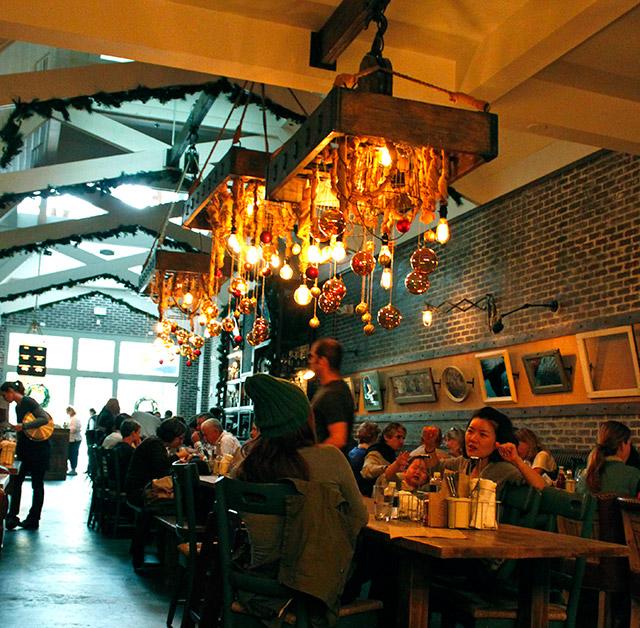 It soon filled up with many happy diners.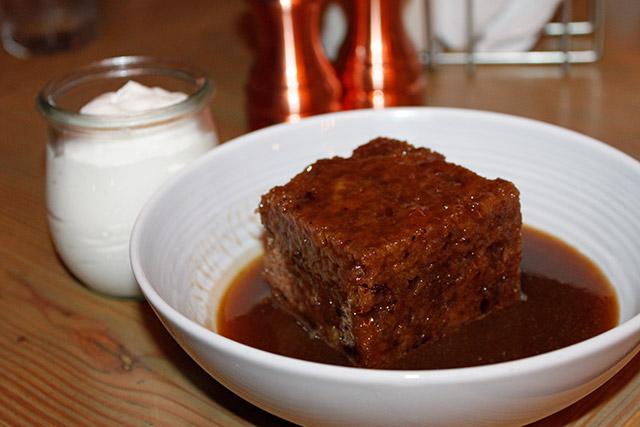 Sticky Toffee Pudding with cream. Pure addiction. Yummy!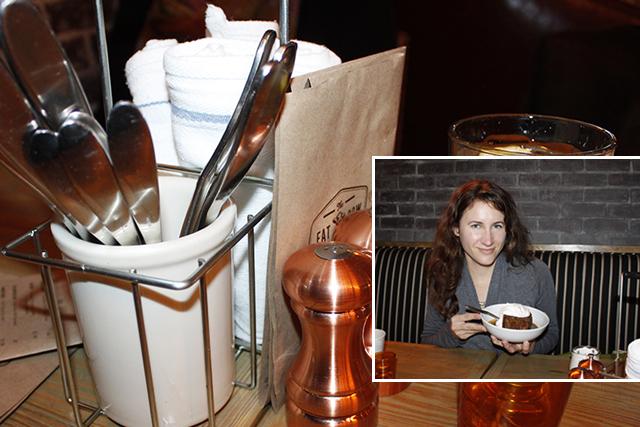 You want some Sticky Toffee Pudding? I'm not sharring…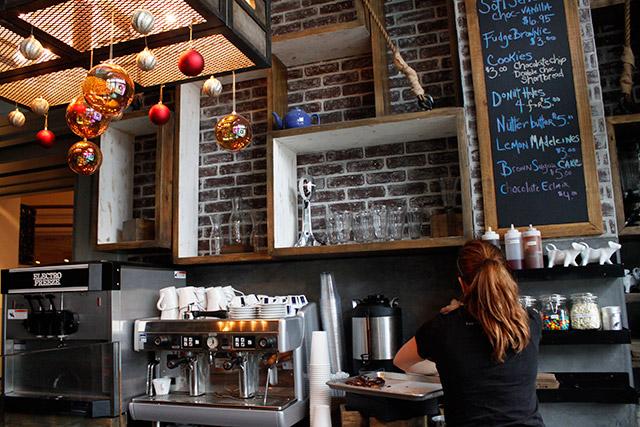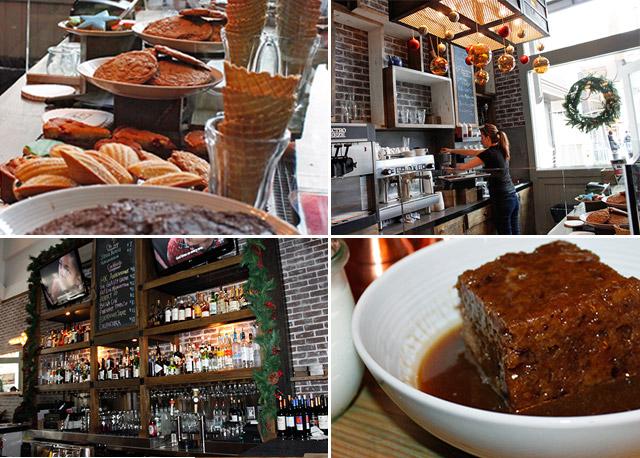 The Moo Bar has coffee, shakes, cookies, and other goodies.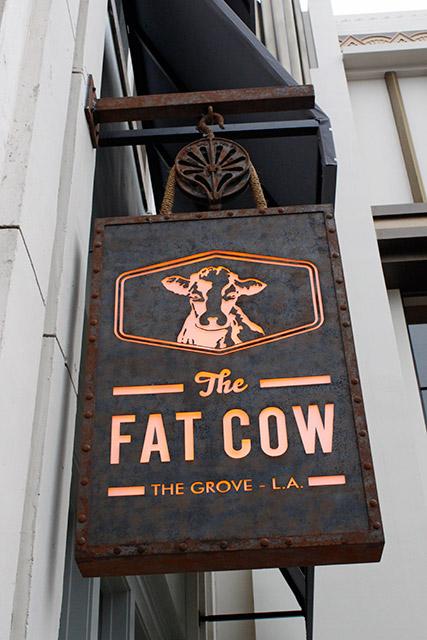 The Grove L.A.
189 The Grove Drive O-10, 
Los Angeles, CA 90036
info@thefatcowla.com
OPEN DAILY
Sunday – Thursday 11am to 11pm
Friday – Saturday 11am to 12am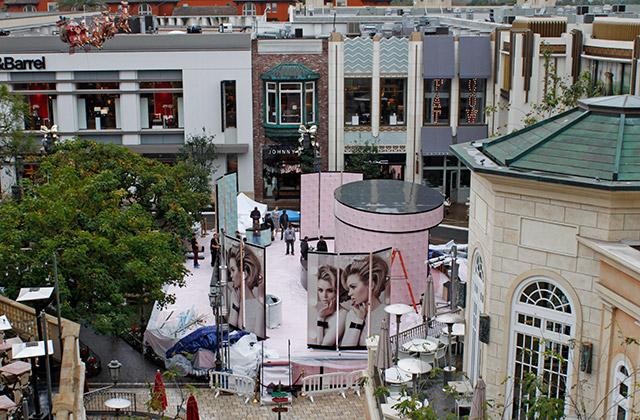 The Grove in Los Angeles.