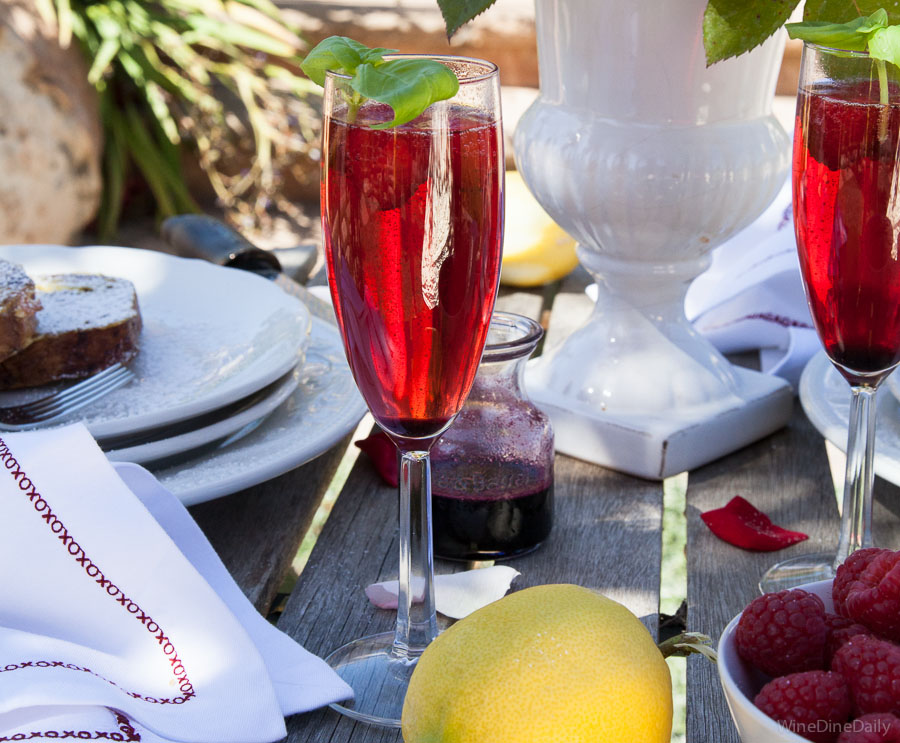 Have you ever tried a Pinot Royal Champagne Cocktail before? Well ever since we visited Paris many years ago we fell in love with the delightful Kir Royal champagne cocktail. Of course we had to recreate the Kir Royal at home too and adore this refreshing and elegant drink. This last week we couldn't find Crème de Cassis in our local grocery store, but we were craving the luscious taste of our beloved cocktail.

When we planned a Mother's Day brunch in Santa Barbara we knew we just had to have something special to go along with the decadent French Toast with raspberries and so impulsively poured a little of our Pinot Noir Syrup (that we had made to drizzle over the French Toast) into our Champagne glass. Wow what a delight! As we enjoyed sipping this tart and sweet bubbly drink we thought we have to name it something special. You see the French have Kir Royal, so we decided Santa Barbara needs a Pinot Royal Champagne Cocktail!
The fizzy sweetness and dark berry nuances of this Pinot Royal Champagne Cocktail are such a pleasant Apéritif and make a delightful start to any meal, be it a brunch or dinner.
Corina: The dark berry color evokes an elegance that made us immediately think of the James Bond film "Casino Royal" and we are just missing the lead actor Daniel Craig to bring us this vibrant little cocktail to enjoy.
Judit: This drink is the adult version of a childhood favorite of mine called Málna, which is the Hungarian word for Raspberry, and it was made of raspberry syrup and seltzer water. Of course now I'm spoiled and prefer the Champagne instead.
The traditional Kir Royal is a French cocktail made from adding Crème de Cassis to white Champagne or Sparkling Wine with a ratio of about 10 to 1 and Crème de Cassis is a sweet deep red liqueur produces from blackcurrants. Our version has a Pinot Noir syrup instead and we have a ratio of 8 to 1.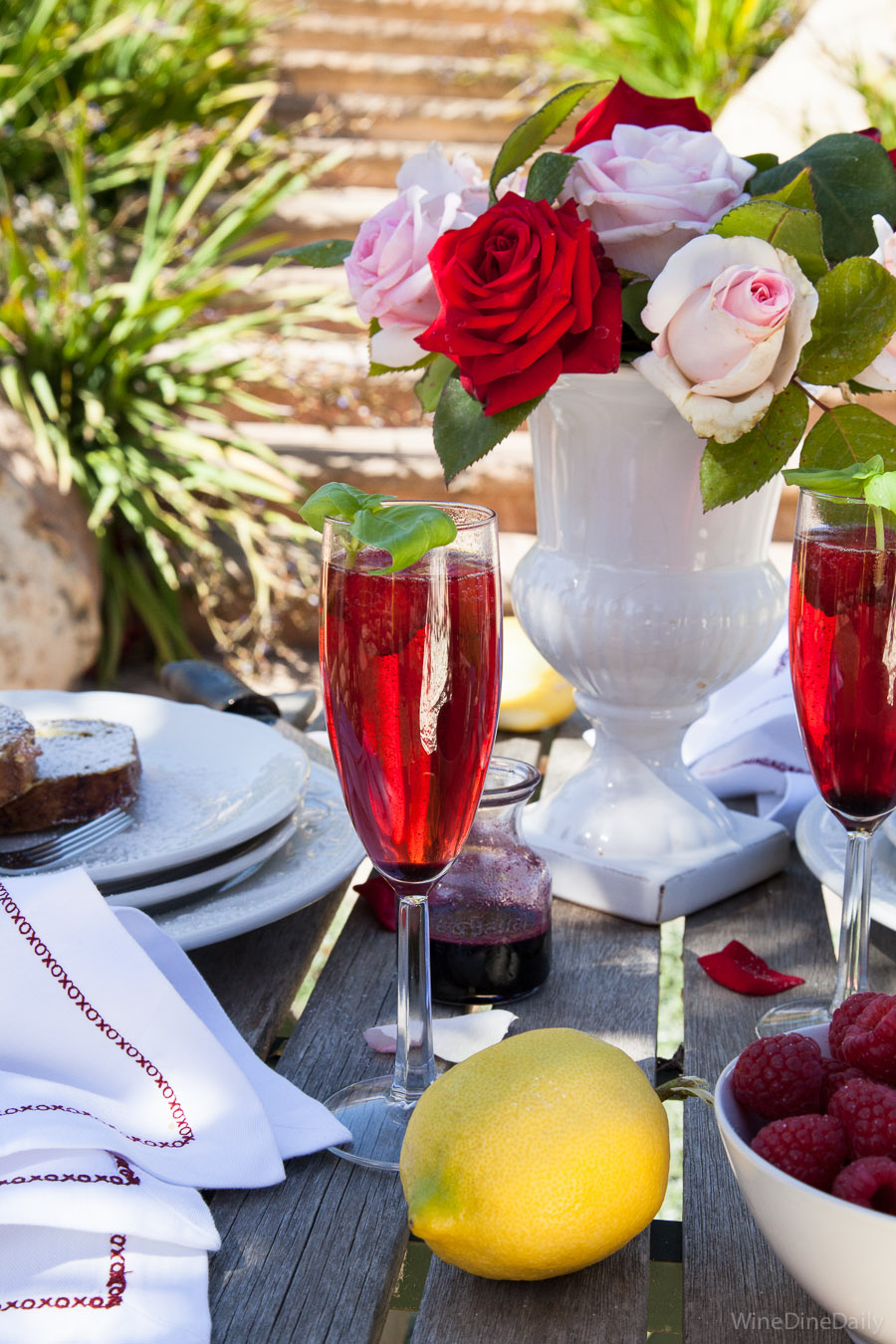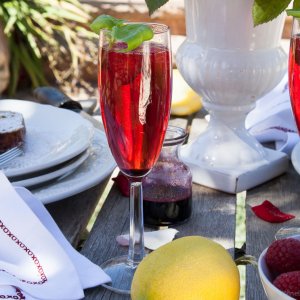 Pinot Royal Champagne Cocktail
Ingredients
1

TBsp

Pinot Noir Syrup

1/2

cup

white Champagne or Sparkling Wine

preferably Brut, chilled

3

Fresh Raspberries

1

Sprig Basil or Mint
Instructions
Cool the Pinot Noir Syrup and chill the Champagne for at least 2-3 hours. If you are in the hurry you can use a frozen Champagne Chiller Sleeve to speed up the process.

Add 1 Tbsp of the Pinot Noir Syrup to a Champagne flute.

Tilt the glass slightly and pour in the chilled Champagne.

Carefully drop in the Raspberries.

Decorate with a Basil or Mint Sprig. Enjoy!
For the Pinot Noir Syrup
Ingredients
1 cup Pinot Noir Wine
2 Tbsp Local Raw Honey
1 Sprig of Fresh Basil
Directions
Combine wine and honey in a small sauce pan. Simmer over medium high heat for about 20 minutes or until reduced to about 1/3 cup. Add the basil sprig, set aside to cool down.
Health Tips: Look for local raw honey since raw honey is not heated so is much more nutritious with beneficial antioxidants, phytonutrients, B Vitamins and enzymes. Local honey may help protect against allergies by providing pollen from the surrounding trees, which can build up immunity to the specific pollen.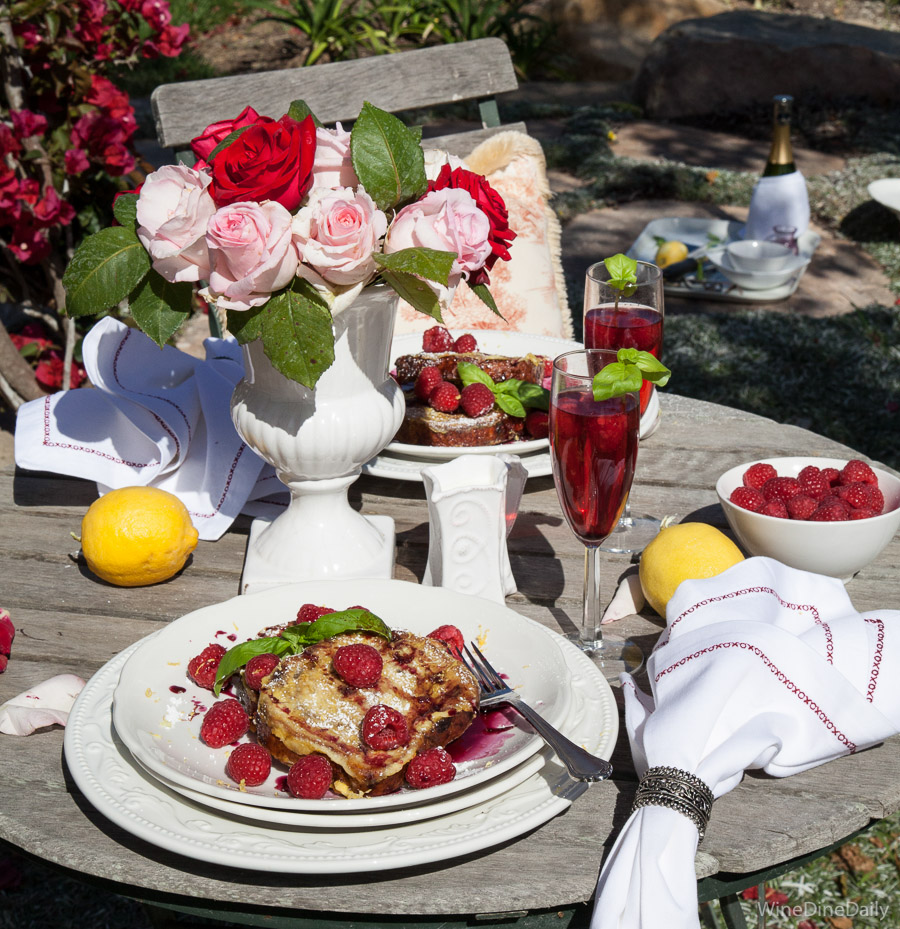 Our deliciously simple French Toast Recipe goes so well with this glorious Pinot Royal Champagne Cocktail cocktail.