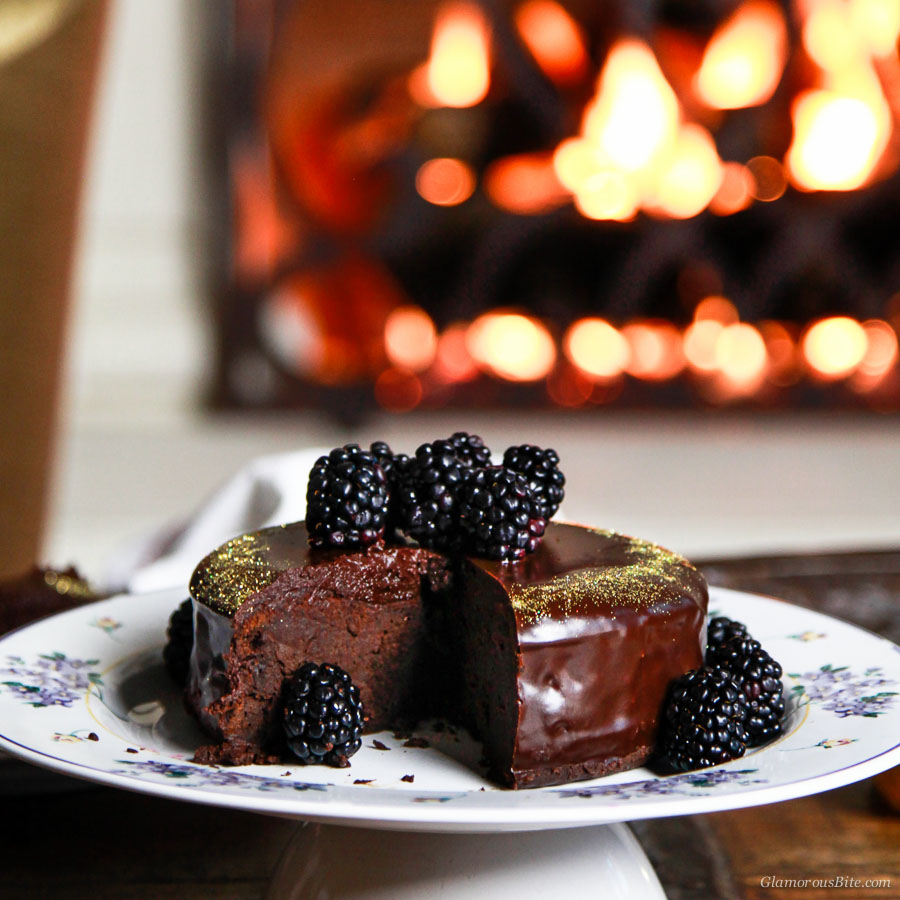 Around the holidays our thoughts turn to cooking and baking, not that we don't think about that the whole year around. This time of the year we do put a little more effort into making something special to share with family and friends. Our thoughts were on sublime wine and food pairings when we received an email asking us if we would review a red wine called "Fergalicious." Our first thought was "what on earth is Fergalicious wine?" We thought we knew most of the wineries in Santa Ynez, but have never heard about a Fergalicious red blend from Ferguson Crest in Solvang.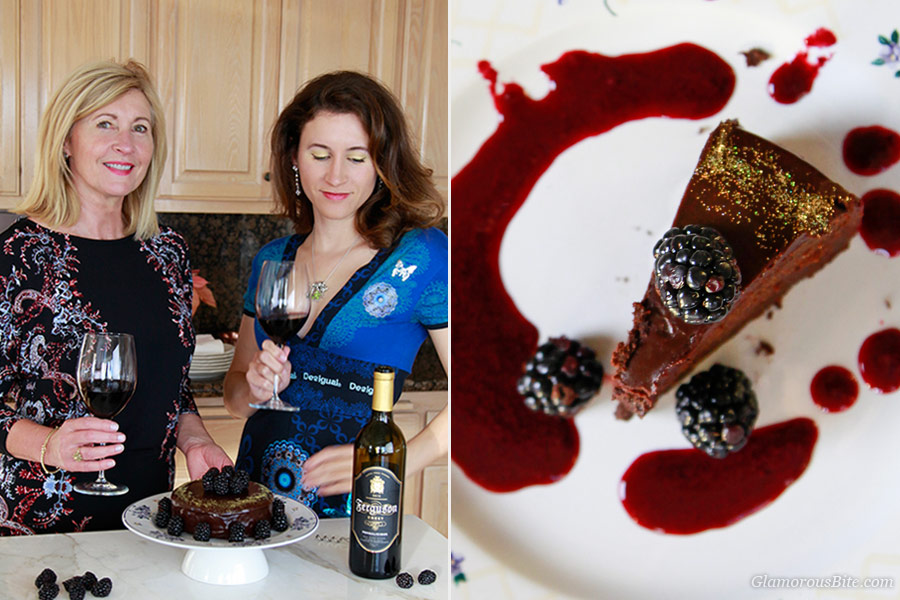 .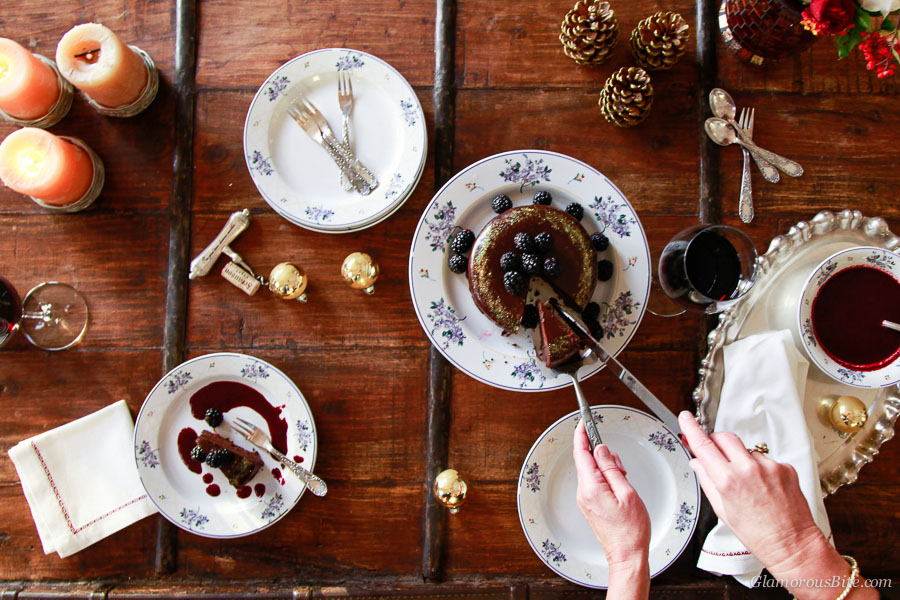 .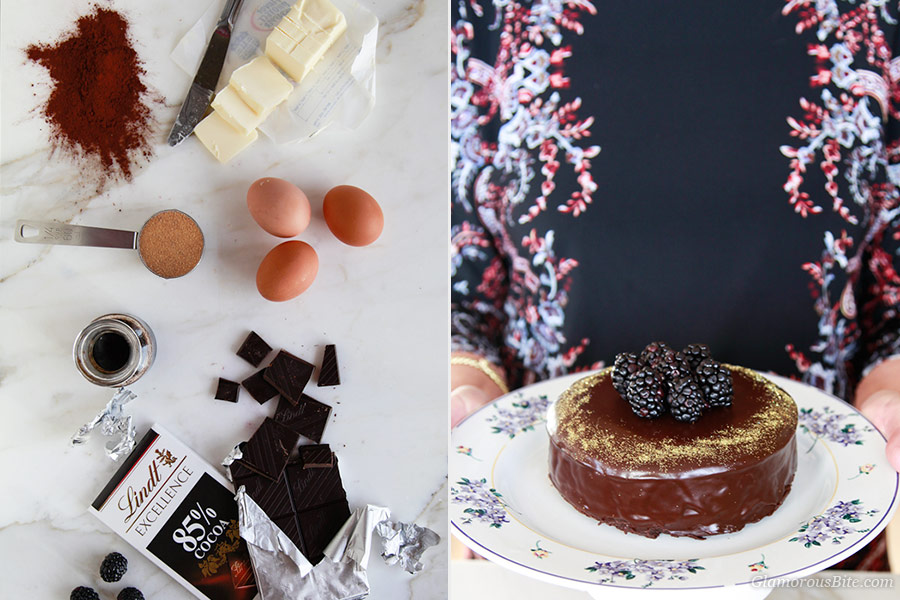 After a few days we checked it out online and to our surprise found out that the wine is made by rock singer Fergie Duhamel (you may know her as the lead singer of the Black Eyed Peas or from her solo career as Fergie) and her dad Pat Ferguson. At first we were a little skeptical about another celebrity wine, but we were familiar with the winemaker Joey Tensley and liked Fergie's music so we thought why not give it a try. After responding to the email, we were now eagerly awaiting the arrival of the bottle because the blend of Syrah, Merlot, Grenache, and Cabernet Sauvignon sounded so intriguing and all those varietals thrive really well in the Santa Ynez Valley of Santa Barbara County.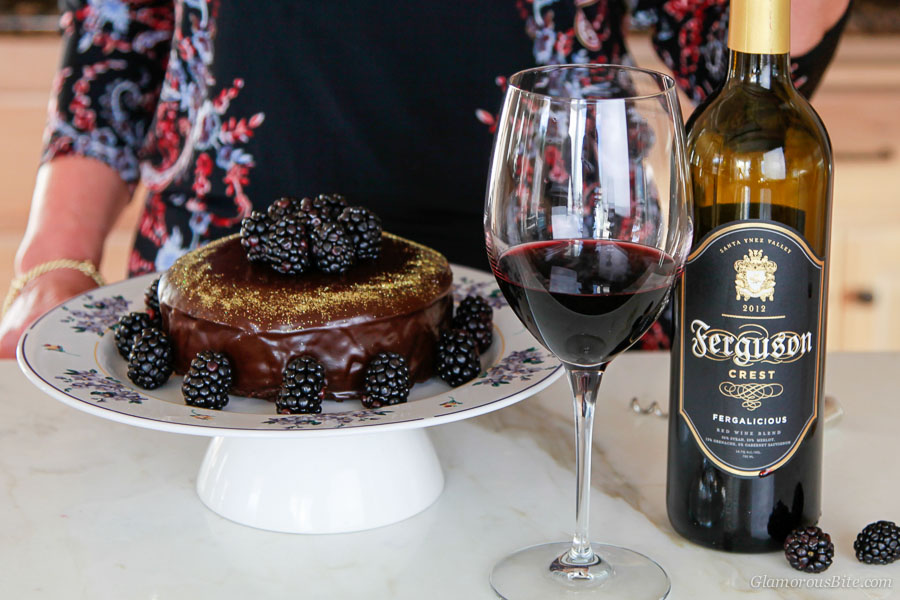 As soon as the bottle arrived we just had to try it. The initial sip was a little hot on alcohol, but after letting it breath for a few minutes oh boy we were pleasantly surprised! In minutes the bouquet evolved into rich dark wild berry and jammy notes laced with fragrant violets and a touch of earth, like a melodic Black Eyed Peas jam session middle of a wild berry patch in the woods.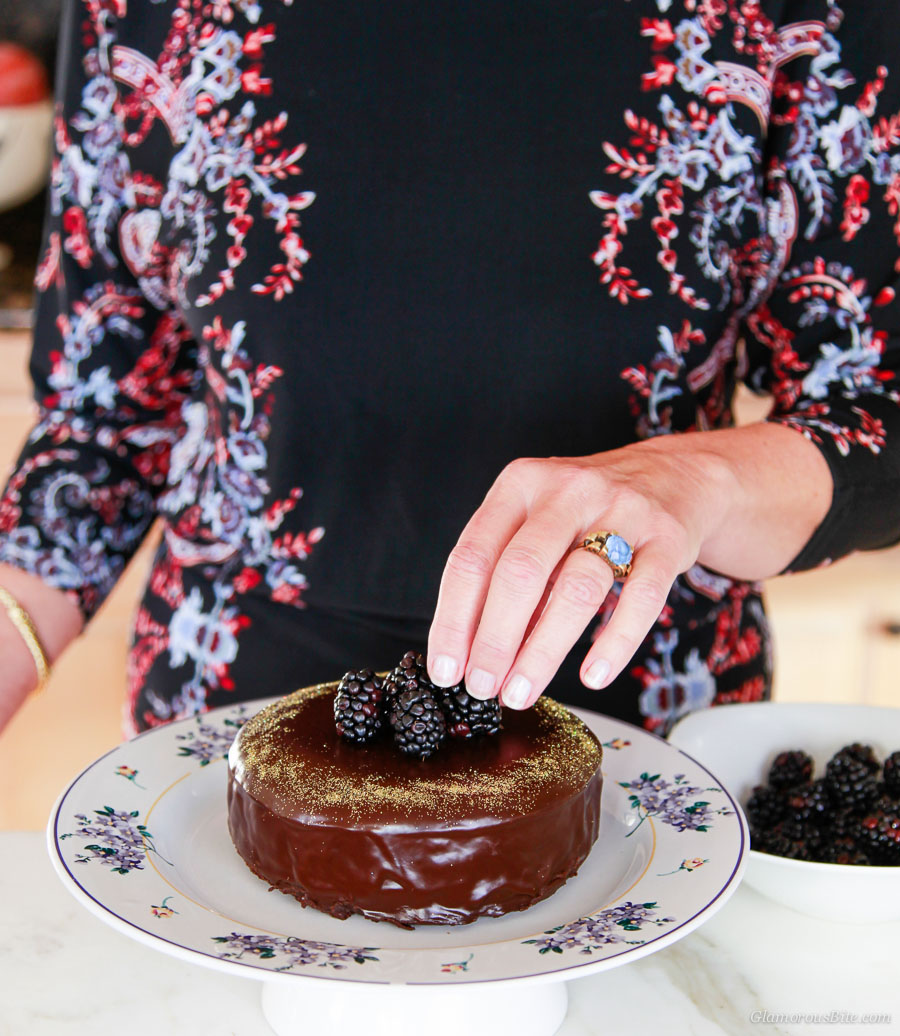 We are always thinking about chocolate and this wine seriously called for something decadent so we created a Fergalicious Chocolate Cake with Blackberry Coulis. Originally we planned to make a roast with this wine, but this playful nectar kept making us thick of desserts, more precisely chocolate desserts.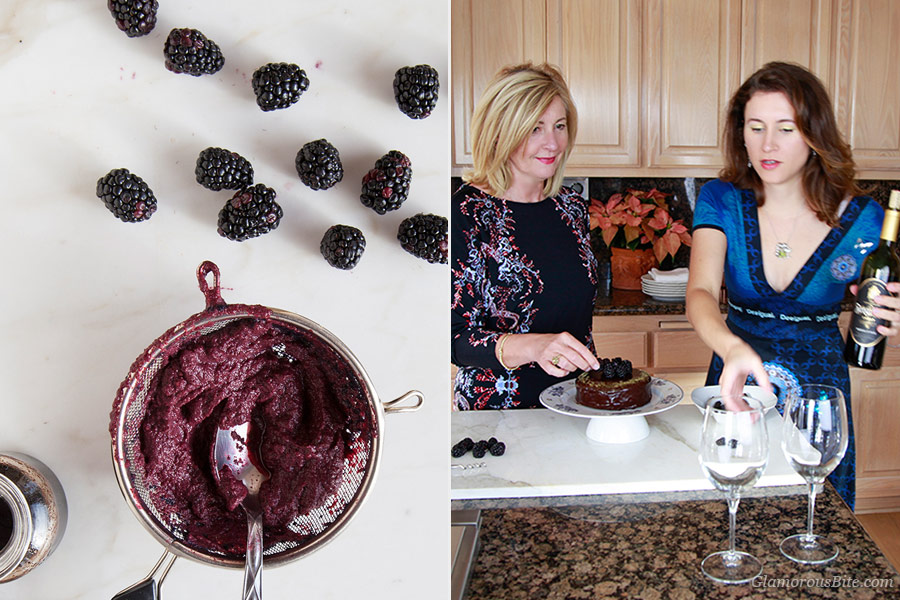 .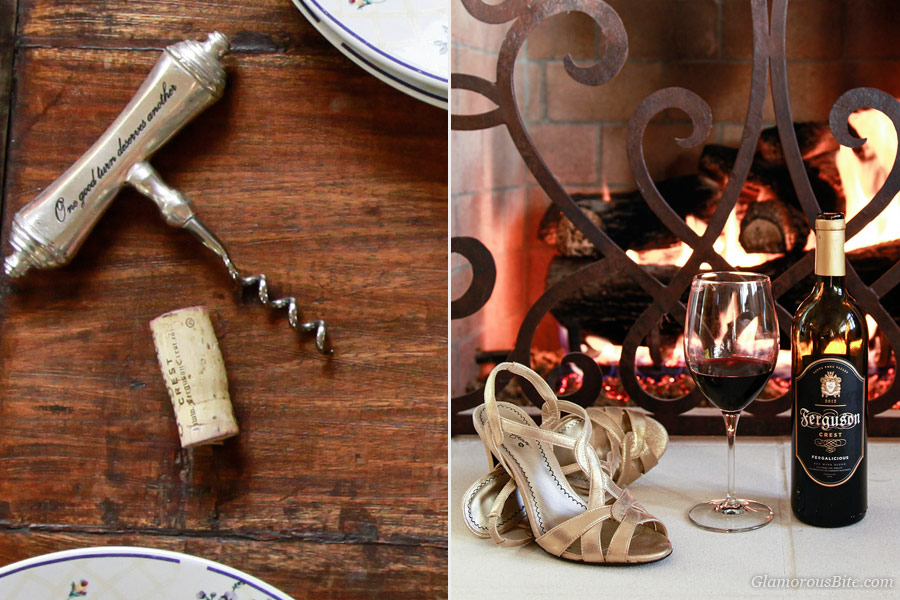 The wine is produced under the label Ferguson Crest and Pat Ferguson, who is a framer at heart, called it Fergalicious, after his daughters vibrant fun personality. On the nose it was aromas of blackberry, blueberry, and spicy peppers laced with rose petals. On the palate Ferguson Crest Fergalicious has flavors of wild berries and licorice followed by sweet cherry, blueberries, and a berry jam.
Also hints of violet, leather, dark cocoa, red currant, spice and pepper. This complex, multilayered smooth sexy wine had a long finish with great balance and structure with flavors of blueberry, raspberry and smoke. Sophisticated but playful and entertaining your palate from the first to the last sip. The complexity get stronger as it rest in the glass just like a good relation ship.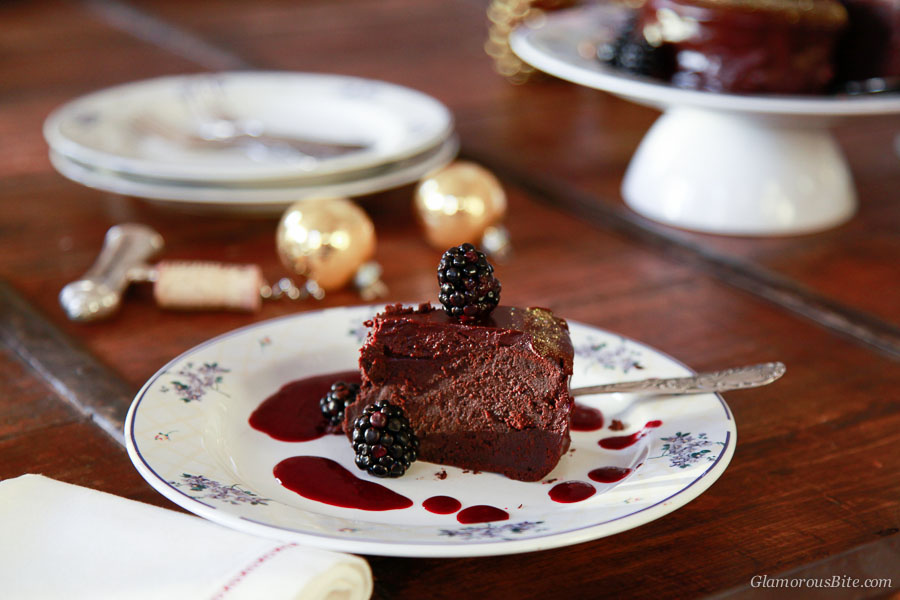 We got really fancy with this darling little cake and used a generous amount (for the petite size) of rich, dark chocolate and topped it with fresh blackberries from the Santa Barbara Farmer's Market. After looking closer at our creation we decided it was not "Glamorous" or "Fergalicious" enough and with the Holidays only a few days away we thought the cake and us are in the need of a glamorous touch.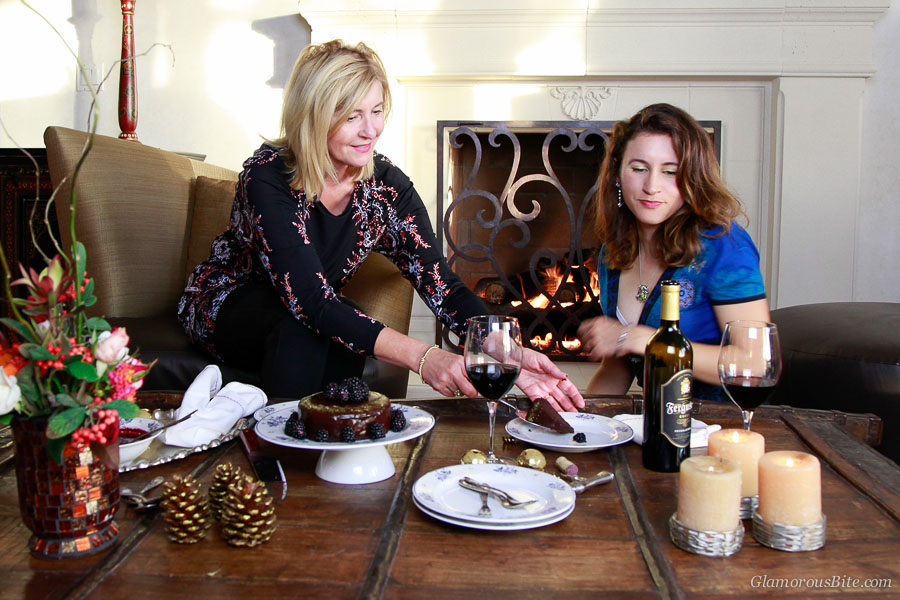 While we were sipping a little of Fergie's wine (to learn more about the lovely flavors and aromas of course) we had an 'ah ha' moment that the Holidays need more sparkles….and so we came up with the idea of gold flakes, which made us giddy with excitement. So off we sent Paul our food forager to find the perfect gold flakes that we had in mind, but he could not find them anywhere in town. Why should anybody find edible gold flakes in spur of the moment, right? Lucky for us he did find gold dust at Sur La Table and Corina gently sprinkled the cake (and herself) with those fairy dust sparkles.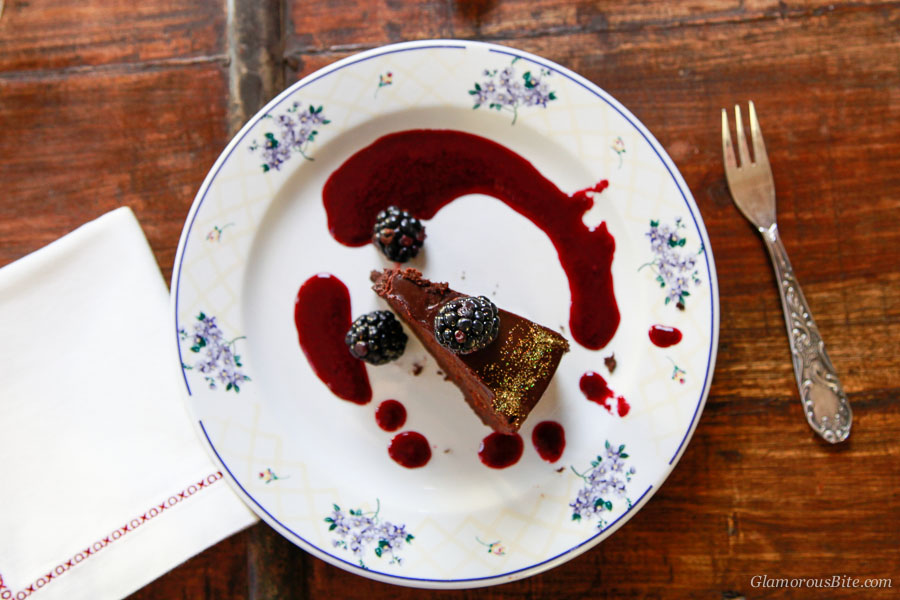 .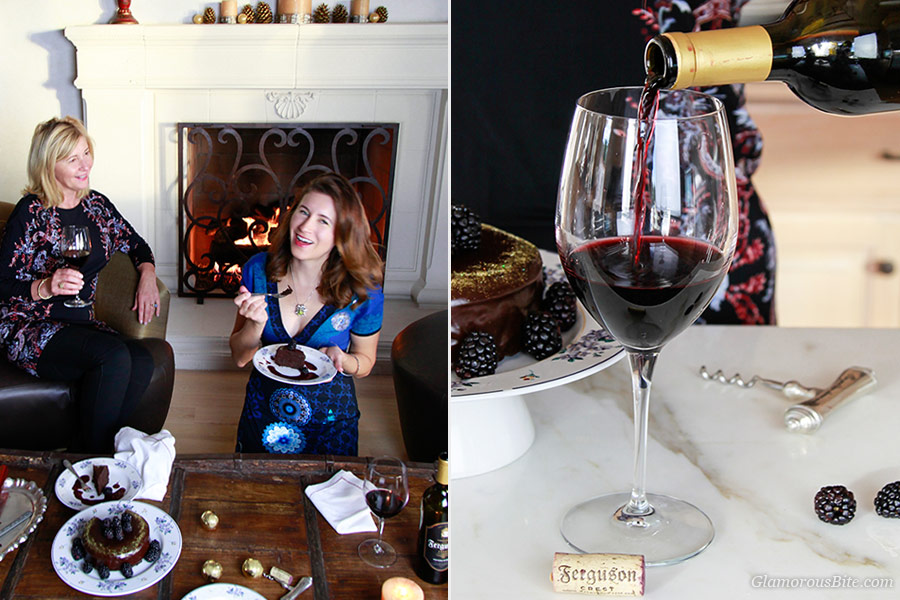 Because this dreamy cake is created from only a few ingredients and has no refined sugar or flour it is a perfect treat for a low-carb and gluten free diet. Manny people think that chocolate is bad for you but in truth it is the added refined sugar that makes chocolate unhealthy. So lets rejoice because chocolate has a lot of health benefits! As committed chocoholics we are so happy to know that cocoa boosts endorphins (which is antidepressant and lifts your mood) and has lots of antioxidants. The higher the cocoa content, the less carbohydrates it has. See all these are such superb reasons to eat more chocolate!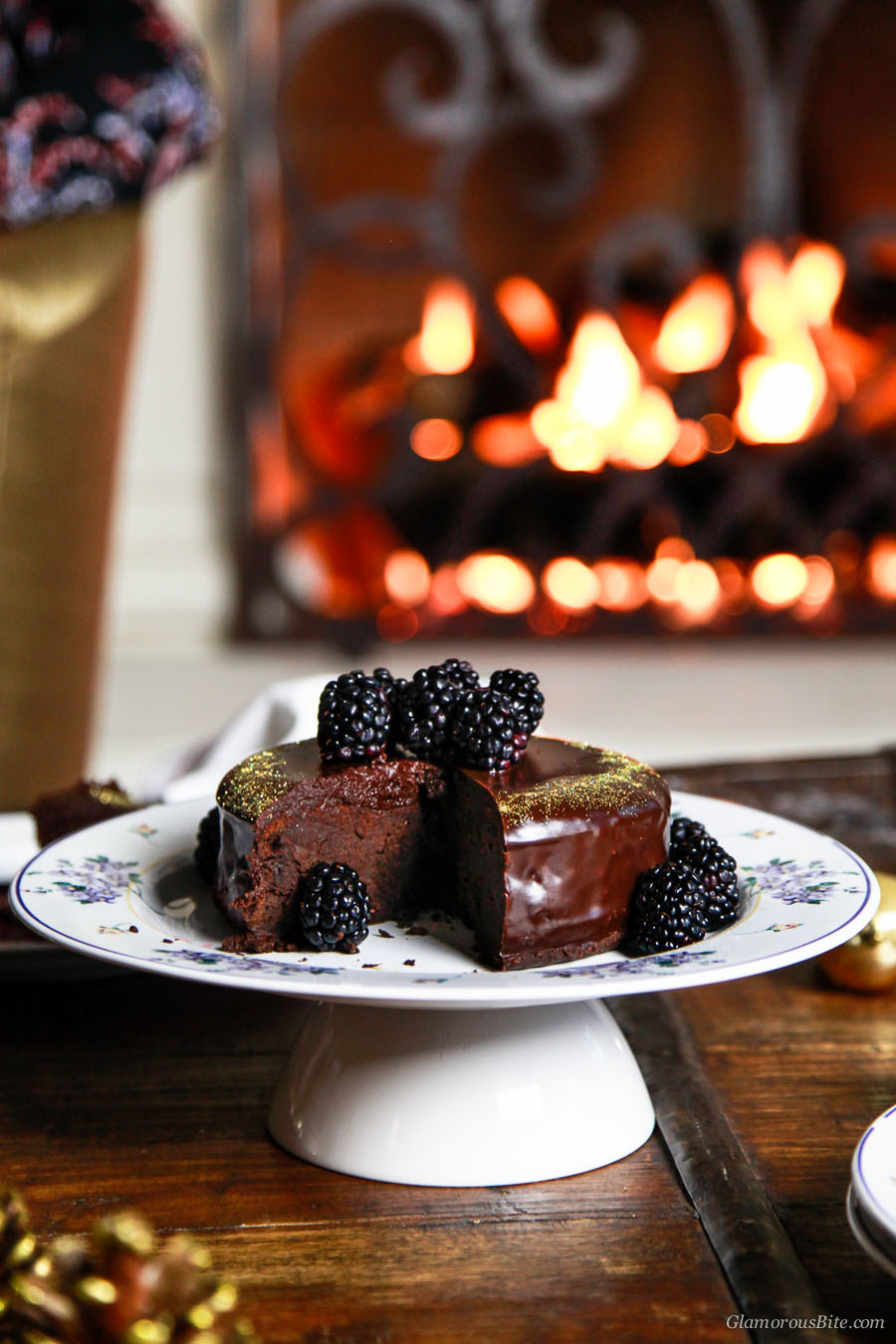 You can prepare the Fergalicious Chocolate Cake with Chocolate Ganache a day or two ahead and serve it at room temperature with a little warm Blackberry Coulis on the plate. It's the ideal dessert for any special date night or holiday get-together. Sorry, we don't have Fergie popping out of our cake like in the music video, but as she sings in her song it's "so delicious."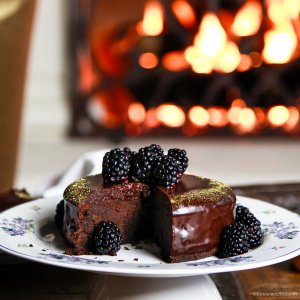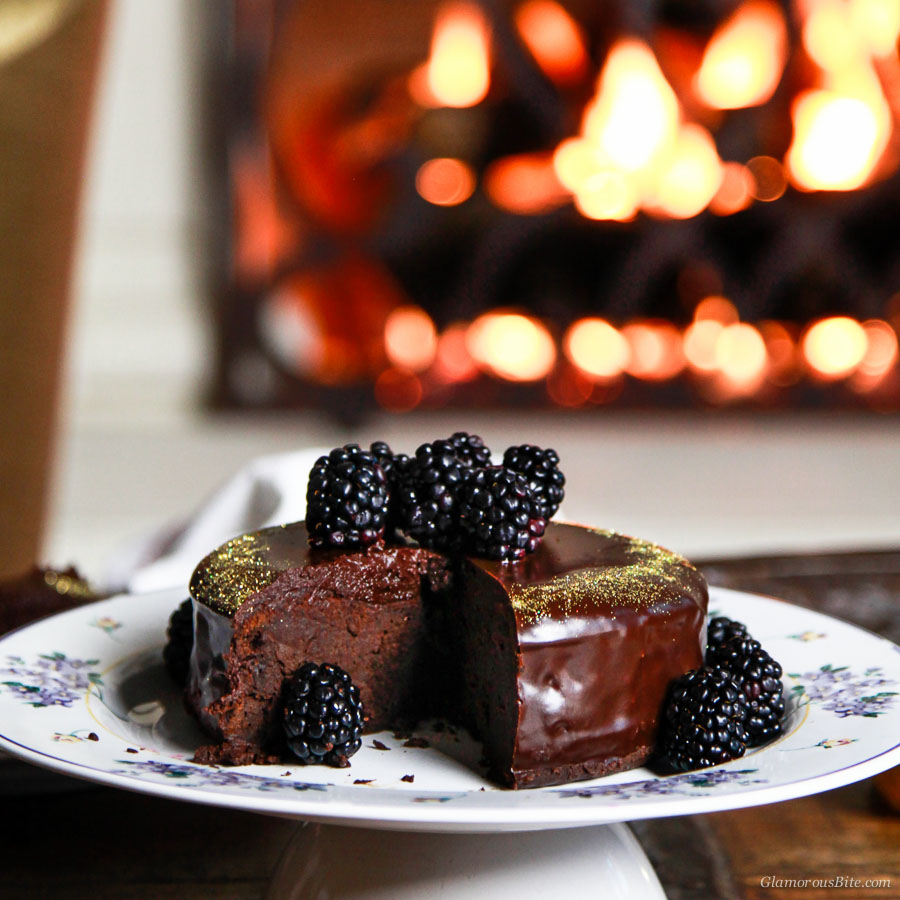 Fergalicious Chocolate Cake with Blackberry Coulis
Ingredients
Chocolate Cake
7

oz

200g Dark Chocolate 85% - we used Lindt

1/2

cup

110g Unsalted Butter

1/2

cup

Coconut Sugar

Pinch

of Sea Salt

2

Tbsp

Red Wine Reduction or you can use Berry Juice

3

Organic Eggs - room temperature

1/4

cup

Organic Unsweetened Cocoa Powder
Chocolate Ganache
3.5

oz

100g Dark Chocolate 85% - we used Lindt

3

Tbsp

Unsalted Butter

2

Tbsp

Red Wine Reduction or you can use Berry Juice

8

oz

Fresh Blackberries for decoration
Blackberry Coulis
8

oz

Blackberries fresh or frozen

1/2

cup

Red Wine - we used Fergalicious red blend

3

Tbsp

Coconut Sugar or Organic Raw Honey
Instructions
Preheat oven to 350°F.

Butter a 6-inch round baking pan with removable bottom. Fit a piece of round parchment paper on bottom of the pan and grease the paper too.

Heat up a double boiler or a saucepan filled with a little water. Set a glass bowl over the saucepan and melt chocolate with butter, stirring until silky. Carefully remove top of double boiler or glass bowl from heat and let it cool for 10 to 15 minutes, stirring occasionally.

Combine eggs, sugar and sea salt in a large mixing bowl and beat for 5 to 7 minutes, until batter becomes thick and foamy.

With a spatula or wooden spoon fold the chocolate mixture into the egg and sugar batter.

Slowly sift cocoa powder over the chocolate batter and gently stir until well combined.

Pour batter into the prepared pan and bake for 25 to 30 minutes, or until top has formed a thin crust and the the cake is firm looking. It will become more dense after cooling.

Let the cake cool in pan at least 20 minutes and invert onto a parchment paper prepared serving plate.

For the Chocolate Ganache glaze, melt chocolate with butter in your double boiler or glass bowl on top of a saucepan with simmering water. Stir until very smooth then add the wine sauce. Remove from heat and let it cool while gently stirring.

Pour the Chocolate Ganache over cake and let it cool for at least 30 minutes before decorating with edible gold dust and berries.

Serve it with 2 to 3 tablespoon of Blackberry Coulis.
For the Blackberry Coulis
Pour the wine into a blender and add the blackberries and coconut sugar. Pulse a few times until pureed. In a medium sauce pan bring the berry puree to a boil. Reduce heat and simmer for 10 minutes while stirring occasionally. The mixture will become thicker.

Place a sieve over a glass bowl and strain in the berry coulis. Whisk in more coconut sugar if you like it sweeter. Let it cool and keep refrigerated until ready to serve, or for up to a week.
Notes
Sometimes after baking the cake has a little dent in the middle, you can pour 2 to 3 tablespoon worth of Chocolate Ganache glaze into the dent. Then let it cool for a few minutes before pouring the rest of the chocolate glaze all over the top and sides.
Diet: Low-carb, Diabetic Friendly, Gluten-Free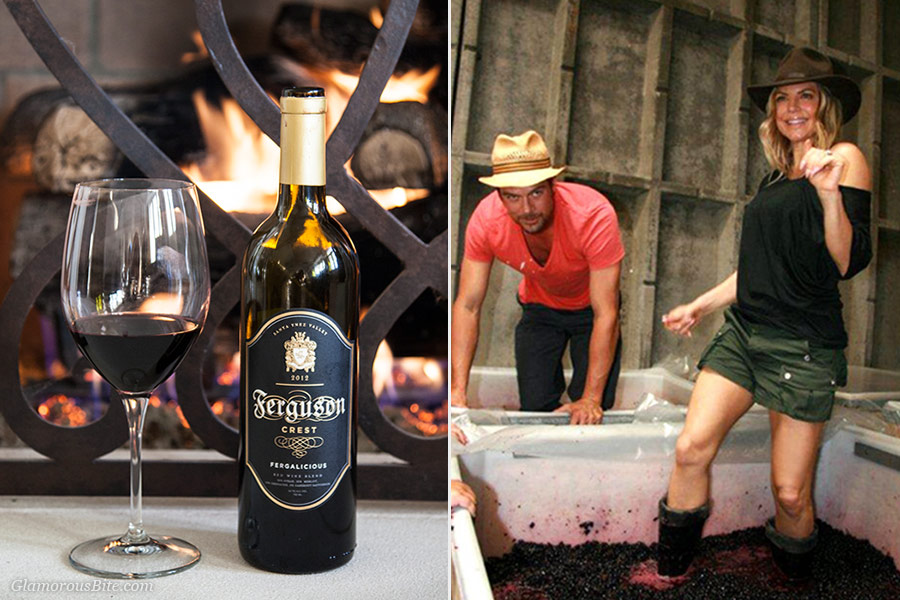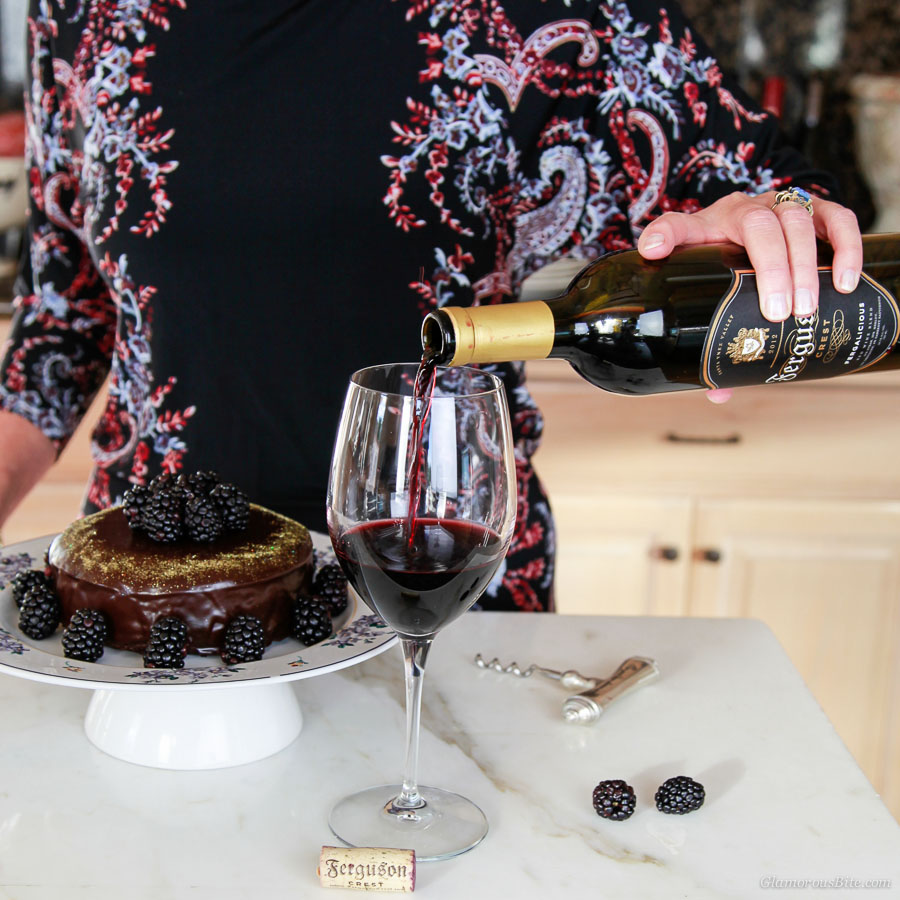 Wine: Ferguson Crest Fergalicious 2012
Region: Solvang, Santa Ynez Valley, Santa Barbara County, California
Winery: Ferguson Crest
Varietal: Red Blend 56% Syrah, 25% Merlot, 13% Grenache, 6% Cabernet Sauvignon
Color: Dark red with purple hues
Body: Medium
Nose: Blackberry, blueberry, peppers
Taste: Licorice, wild berries, violet, leather, sweet cherry, berry jam, dark cocoa, red currant, spice, pepper. Complex, multilayered smooth & sexy nectar. Long finish, great balance and structure, blueberry, raspberry and smoke. Sophisticated but playful, entertaining your palette from first to the last sip.
Where to buy: Fergusoncrest.com use the code FERGIEBLOG2014 to get 10% off.
Price: $40
Glamorous Pairings: Fergalicious Chocolate Cake with Blackberry Coulis
Lamb Roast, Bacon Burger
Slow Cooked Beef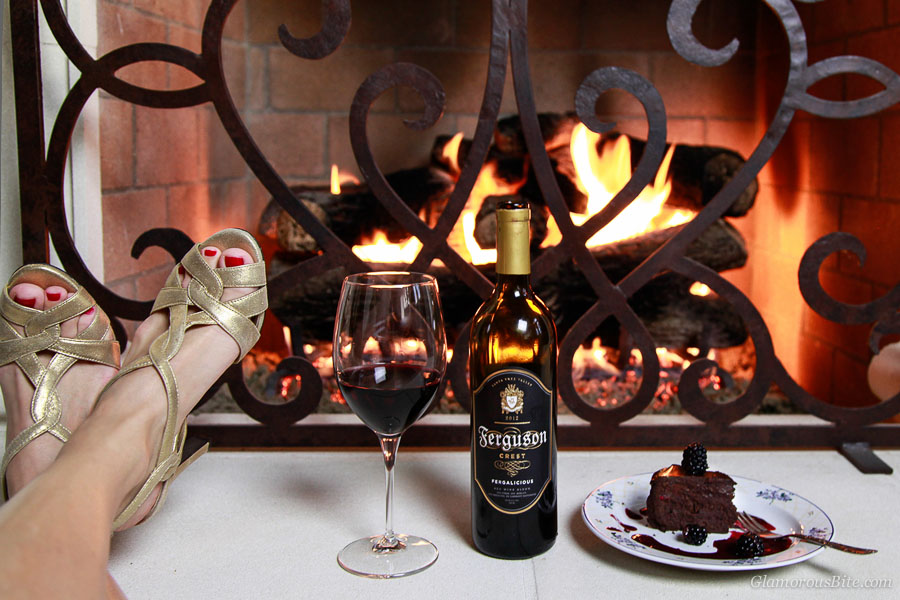 We think this decadent Fergalicous Chocolate cake with Blackberry Coulis is a perfect little dessert to share with friends while you sip a glass of smooth Fergalicious red blend. Since it is Corina's Birthday today she will be having two pieces of this decadent dessert!