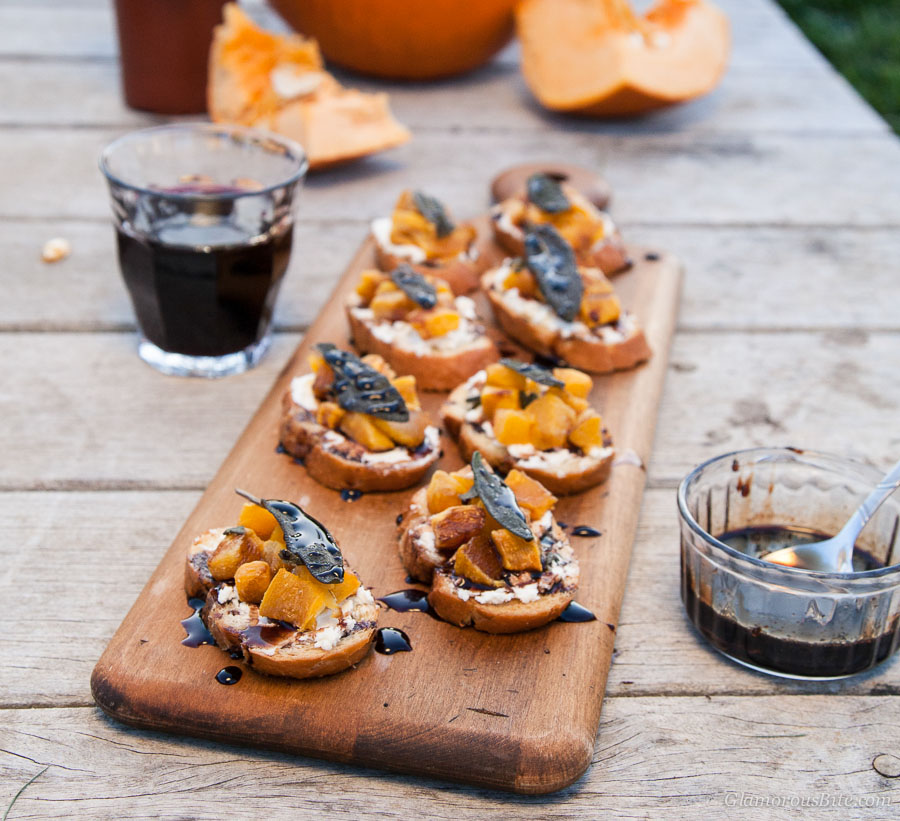 A delicious appetizer for your Thanksgiving table and for the whole season and beyond! Whenever we make these darling Pumpkin Crostini with Sage drizzled generously with plenty of sticky wine reduction sauce our guests are deliriously happy and vocal about  "oh how gorgeous they look…" or  "I could eat the whole plate for dinner".It makes us both smile and thank politely for the nice compliments and we answer the impatiently hungry ones with a "NO you can't eat it all, please leave some for your lovely dinner friends too".  And that is why  we are always looking for simple but fancy glamorous bites that also pair well with wine and besides that you will welcome that fact that it can be made ahead.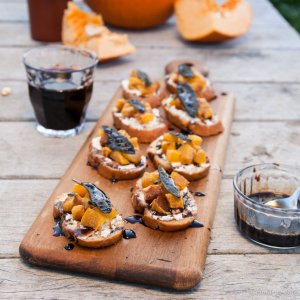 Pumpkin Crostini with Sage
Ingredients
24

Fresh Sage Leaves

1/3

cup

Extra Virgin Olive Oil

1

Whole Wheat Baguette - cut into 24 slices about 1/2 inch thick

tsp

Sea Salt

1

Small Pumpkin or Butternut Squash

2-3lbs (or purchase already cubed pumpkin)

1/3

cup

Red Wine - we used Merlot

3

tbsp

Balsamic Vinegar

1

tbsp

Organic Honey

1/3

cup

Goat Cheese - smash with fork
Instructions
Preheat oven to 375 degrees.
Fried Sage Leaves:
Heat olive oil in a medium sauce pan and fry sage leaves for a few minutes, divided into 2-3 batches, until they become crisp and dark green in color. With a slotted spoon gently transfer to a piece of parchment paper in a single layer and let them cool. Set aside the sage infused olive oil. The fried leaves are very delicate so handle them carefully.
Crostini:
Brush each baguette slice with the sage infused olive oil on both sides and sprinkle lightly with sea salt.  Arrange the slices in single layer on a baking sheet and toast in the preheated oven for about 8-10 minutes, or until golden in color. Set aside to cool. You can make the sage leaves and the crostini up to 3 days ahead and store them separately in an airtight container at room temperature.
Roasted Pumpkin Cubes:
Preheat the oven to 400°F. Cut pumpkin in half. With a metal spoon scoop out the pulp and seeds. You can save the seeds for roasting later. Slice into 1-inch thick moon shaped wedges and peel the skin off with a vegetable peeler. Cut pumpkin slices into 1-inch cubes. Spread out pumpkin cubes on a large baking sheet and drizzle with the remaining sage infused olive oil. Sprinkle with sea salt and toss to coat evenly. Roast in oven for about 30 minutes or until tender. Let them cool.
Red Wine-Balsamic Reduction:
In a small sauce pan combine wine, balsamic vinegar, honey and cook over medium heat uncovered until it reduces to about ¼ cup and becomes sirupy.
To Assemble:
Spread a thin layer of goat cheese on each crostini and spoon pumpkin cubes on top. Arrange the crostini on a serving platter and decorate each with a sage leaf. Just before serving, generously drizzle crostini with the red wine-balsamic syrup.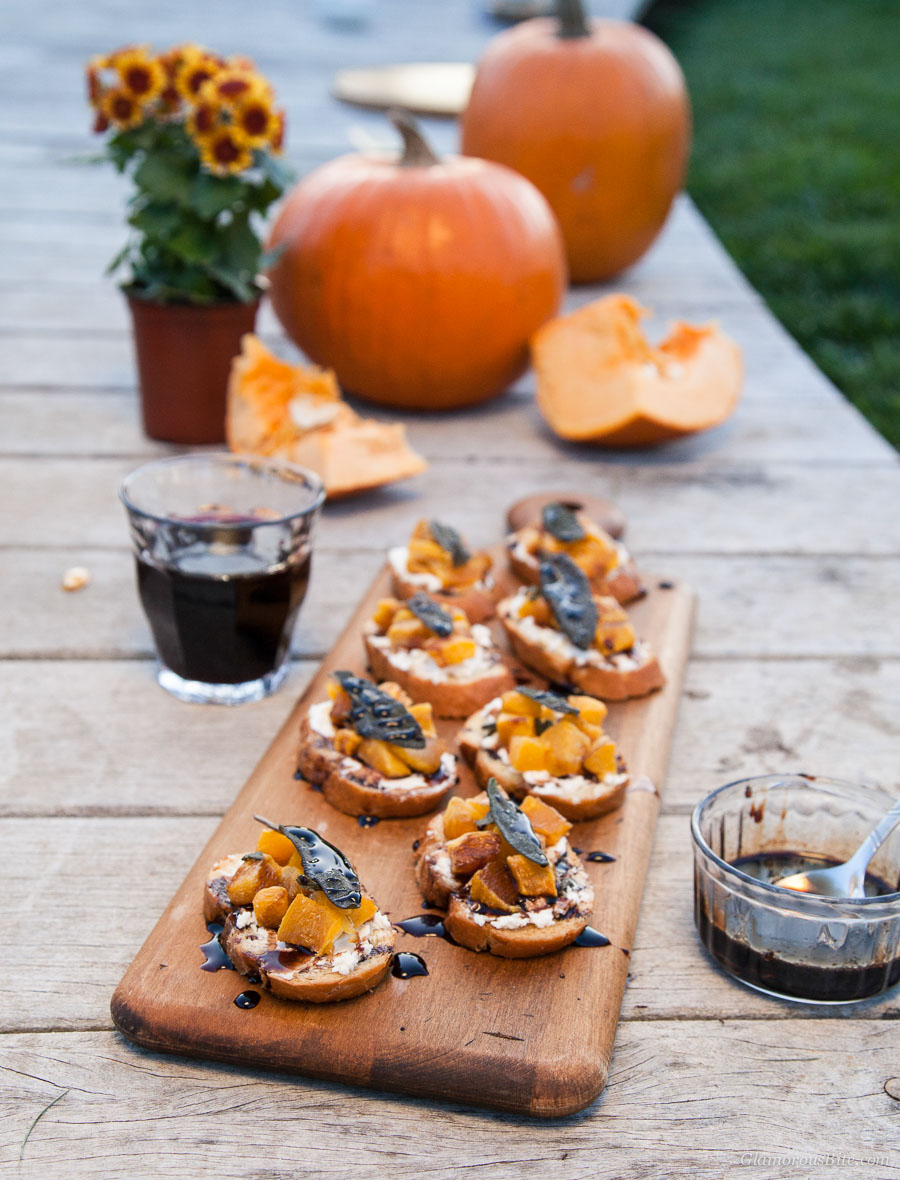 Most of the time we make more ( a whole lot more…) of this yummy wine reduction sauce with the Pumpkin Crostini to use it later as a salad dressing or even over roasted veggies.
Food & Wine Pairing: Gainey Winery Merlot with deep cherry notes and a hint of cocoa.