Bouchaine Estate Chardonnay
We can't talk about California Chardonnay and not mention Bouchaine Estate Chardonnay in our wine review. The wines are produced in the oldest continually operated winery in the Carneros wine region. The first time we tasted this elegant buttery, but youthful fresh Chardonnay we knew it was not our last bottle. Can you believe that year after year even as the vintages have changed the main characters of this Chardonnay remained the same. It is so nice to find a consistent wine, specially if you like to serve to guests with dinner or give it as a gift. You can enjoy this lovely food-friendly wine on its own, when you just need a glass to relax or with many of your favorite food.
A few of our Favorite Chardonnay Recipes:
Parsley Chardonnay Potatoes
Flatbread with Caramelized Onions – Tipsy Figs & Goat cheese
Best Macaroni & Cheese
Butternut Squash Risotto with Shrimp and Pancetta
Judit: Welcome everybody to Wine Dine Tv!
Corina: Come behind the label with us, as we sip, taste and travel the wine country and we are going to the Carneros Region, witch is in Nape Valley, California. Lets try the last of our Bouchaine wines and pair them with scrumptious Wine Country Cuisine.
J: We should perhaps start with the Chardonnay from 2007 a Carneros and Napa Valley vineyard. Look at this as an honor, Corina to open the bottle.
Michael Richman, the winemaker is coming from Texas and he went on an 18 month Bike Ride.
C: He then ended up in Northern California and fall in love with the place.
J: We are excited to try his wine, I heard he is also an accomplished Pilot and a massage therapist. I do not know how the two go together?
C: He massages the grapes?
J: Could be! Wow look at the Color, what a beautiful Color.
C: It's like sunshine, golden sunshine.
J: Well, Cheers, Corina!
Together: Cheers to You to!
C: Mmm honey and tropical.
J: On the nose, it's like a flower bouquet drizzled with honey, or honeysuckle among the roses.
C: On the tongue for me it's pear and honey.
J: It is a full bodied, smooth and at mid palate you feel the crisp acidity, witch keeps it grounded, so that the wine does not fly of like a too sweet and flowery wine.
C: A little bit of 'toastiness' too, and vanilla and also coffee.
J: Coffee? – I do… now that you mention, I'm getting it. The fun is about wine tasting, as you talk about flavors and you have not even imagined it in your glass before and suddenly you recall it. So that's the beauty about tasting with someone and I hope you get to enjoy tasting with your loved ones as well. So Corina how many points out of five would you give for this wonderful, elegant wine?
C: I am feeling, I will give 4.5.
J: 4.5? I'm close to you with 4.48, and to whom do we dedicate this elegant, but youthful fresh, flowery wine?
C: I'm getting Christen Davis, Charlotte from Sex in the City.
J: Awesome, its elegant, gorgeous, a great wine and it goes so well with food.
C: With this wine I envision flatbread with caramelized Onions and drunken Figs and a little bit of Goat Cheese sprinkled on top.
J: That's sounds divine, so let's go and prepare it.
C: I am hungry now.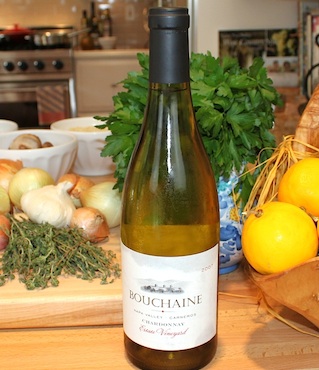 The Bouchaine Winery and Vineyards Story
Thank you for watching and hope you will try many great wines like this Bouchaine Estate Chardonnay.