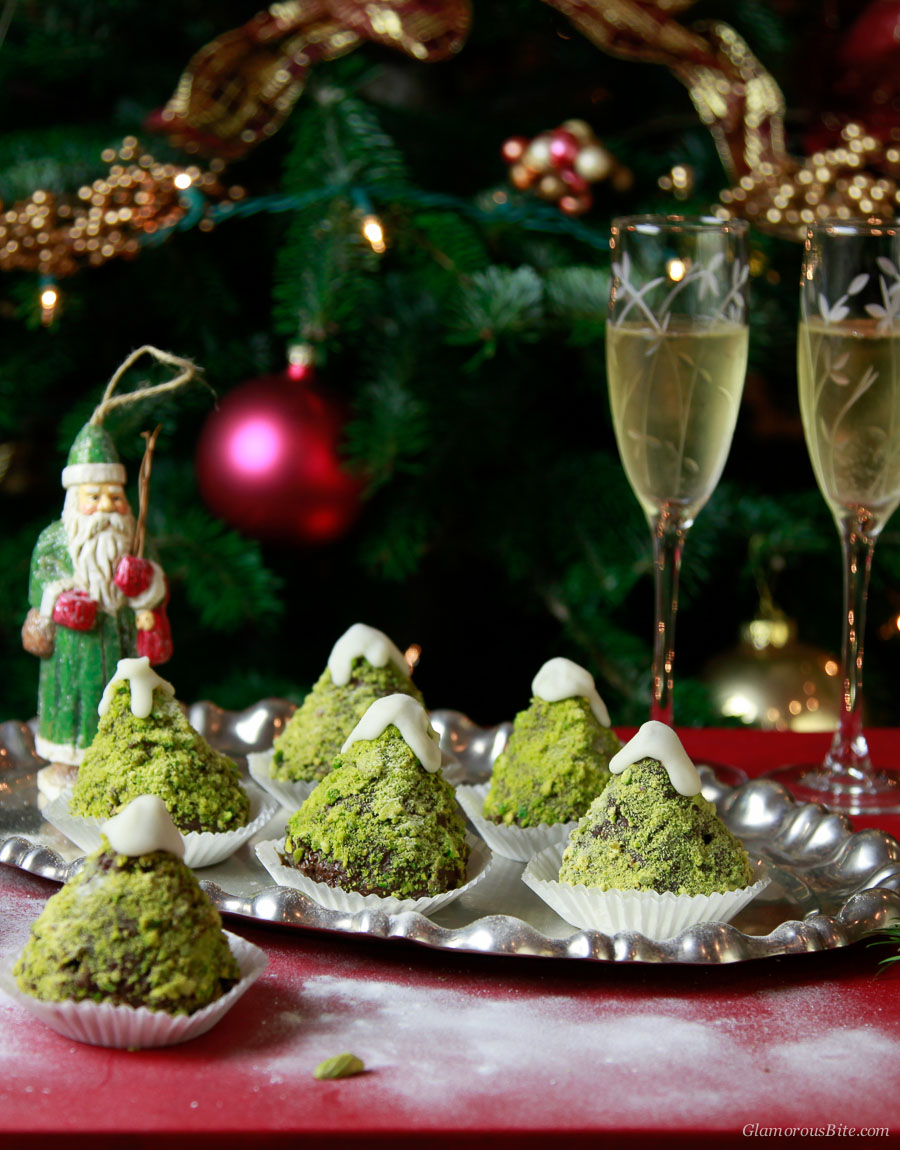 We can't believe today is Christmas Eve already and we wish we would have some fairy dust to stop time. As with most good intentions we planed to bake these darling Chocolate Christmas Tree Cupcakes last weekend and share the recipe with you all, yet simply life happened as with so many of us and we could not stop the sand of time. It was a pretty busy weekend with preparing for Corina's Birthday dinner and recreating a cake based on her grandmother's recipe so our traditional Christmas baking was delayed.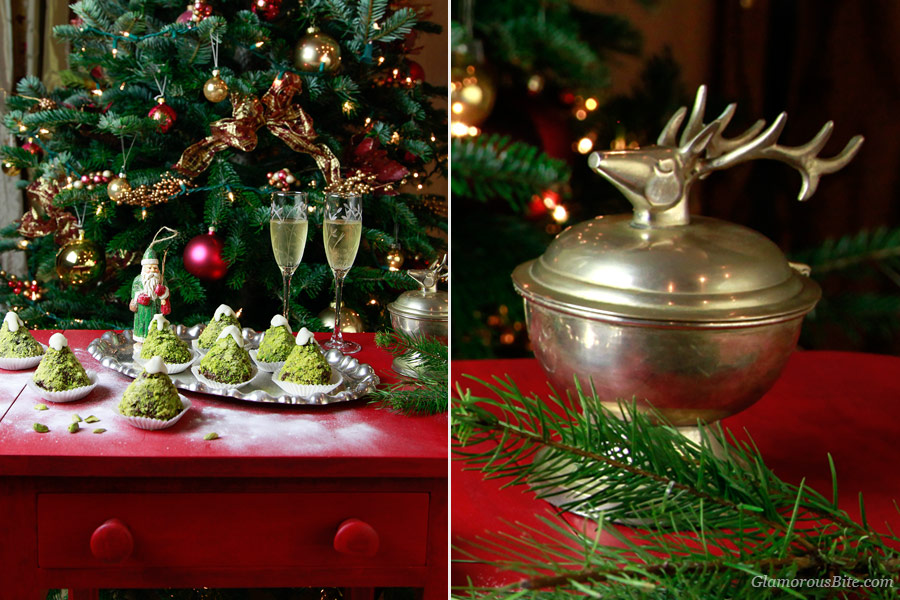 In Europe, it is a deep rooted tradition to serve Christmas dessert and cookies after dinner while the presents are being opened. Actually it is the most cherished time, when the dinner winds down and everybody sits around the Christmas tree passing around sweets and the festive ambiance reaches its peak.
With a good Champagne in hand and rosy cheeks we would share memories and laughter. The tradition is a little different in Germany with the Christmas Tree or "Tannenbaum" arriving secretly on the evening of the 24th, brought by the Christkind. Can you imagine what a feat it is to sneak a giant pine tree into the house and decorate it without the children seeing it! Here in California we get our tree a little earlier so that we can enjoy it for a longer time. We really prefer having live trees so we can replant them, however it has been summer weather these past years and it just gets too warm for the live trees to be happy.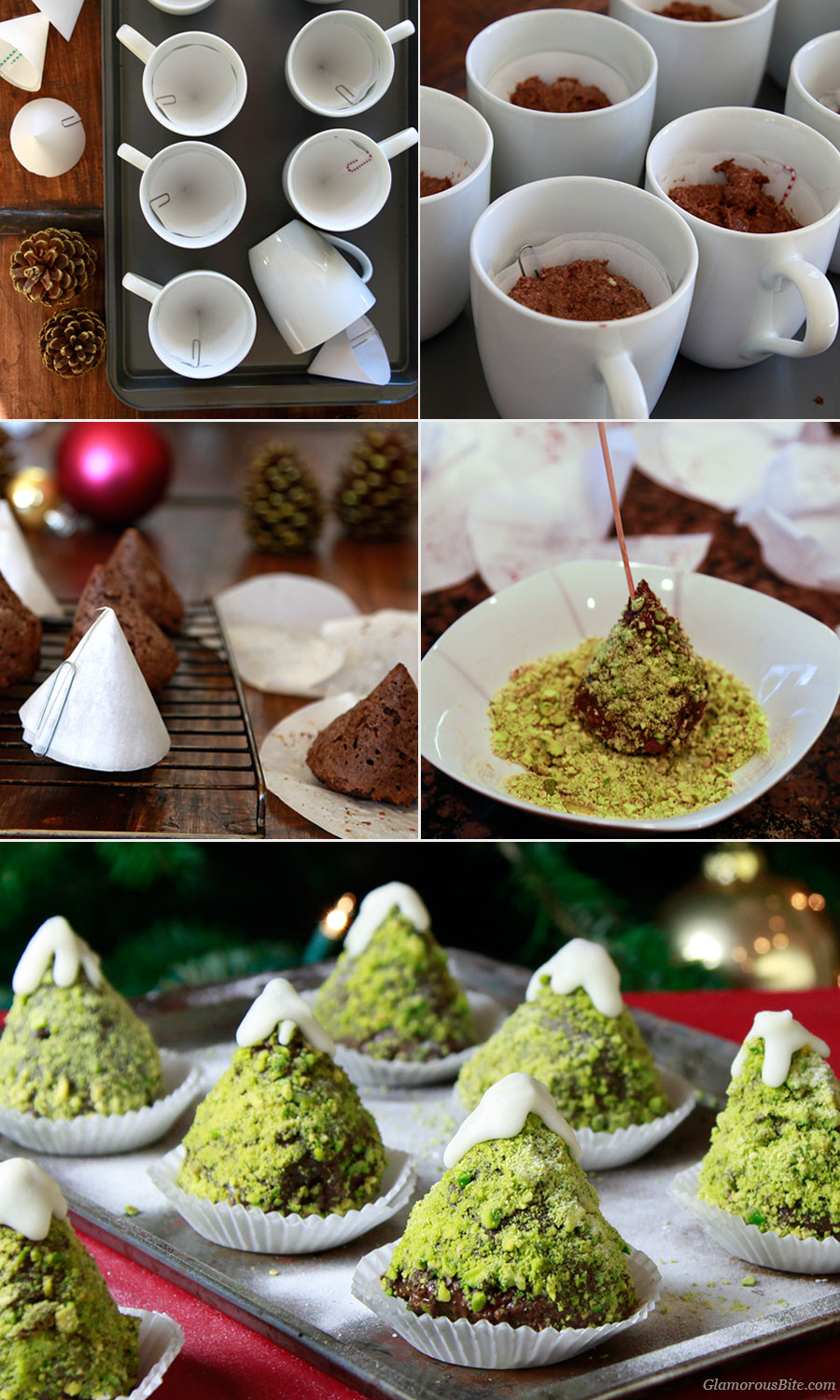 We have always baked something pretty for the holidays or "Weihnachten", but these Chocolate Christmas Tree Cupcakes were our all-time favorite treat. The recipe came from an old German Dr. Oetker baking book, but it was not very healthy so we made a new version that has no refined sugar and no white flour. It did take us several attempts to get the just right balance of ingredients since coconut sugar and almond flour react differently in baking and we wanted these chocolate trees to be deliciously moist and mouthwateringly flavorful, not just healthy. The recipe we share with you here is low-carb and made with an array of good-for-you ingredients.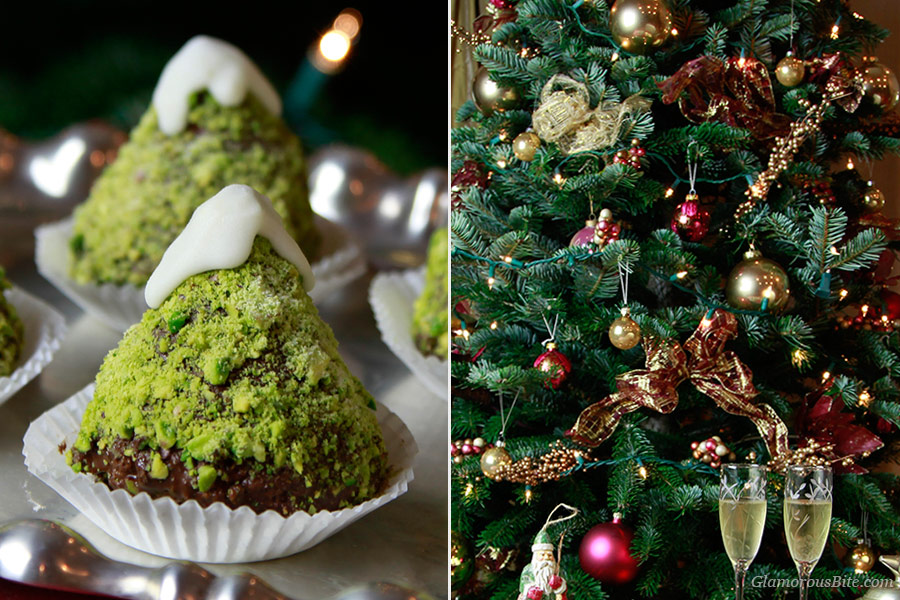 A little holiday song to play while you enjoy these little tree treats:
O Tannenbaum, o Tannenbaum,
 wie treu sind deine Blätter!
Du grünst nicht nur zur Sommerzeit,
nein, auch im Winter, wenn es schneit.
O Christmas tree, o Christmas tree
How loyal are your leaves/needles!
You're green not only in the summertime,
No, also in winter when it snows.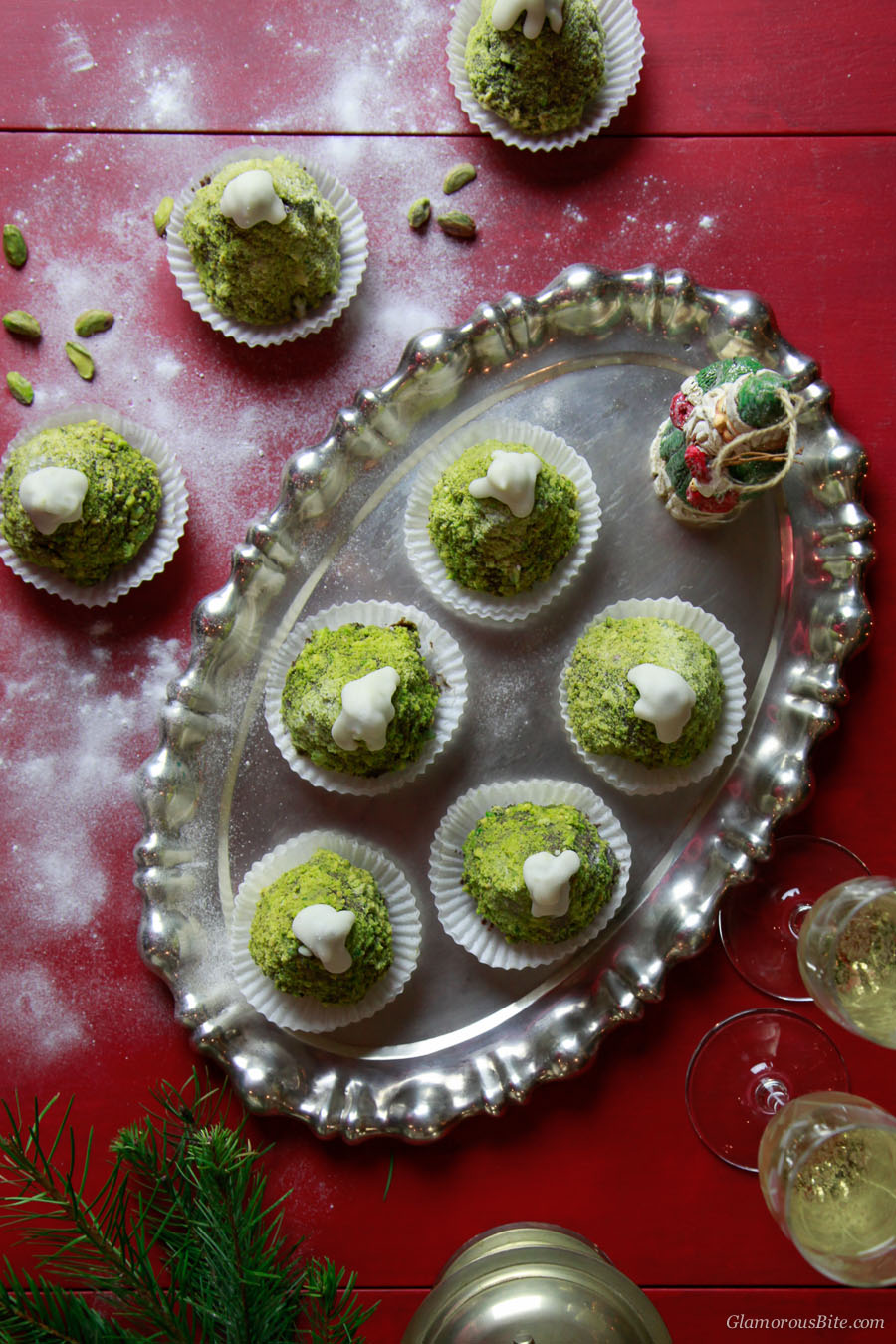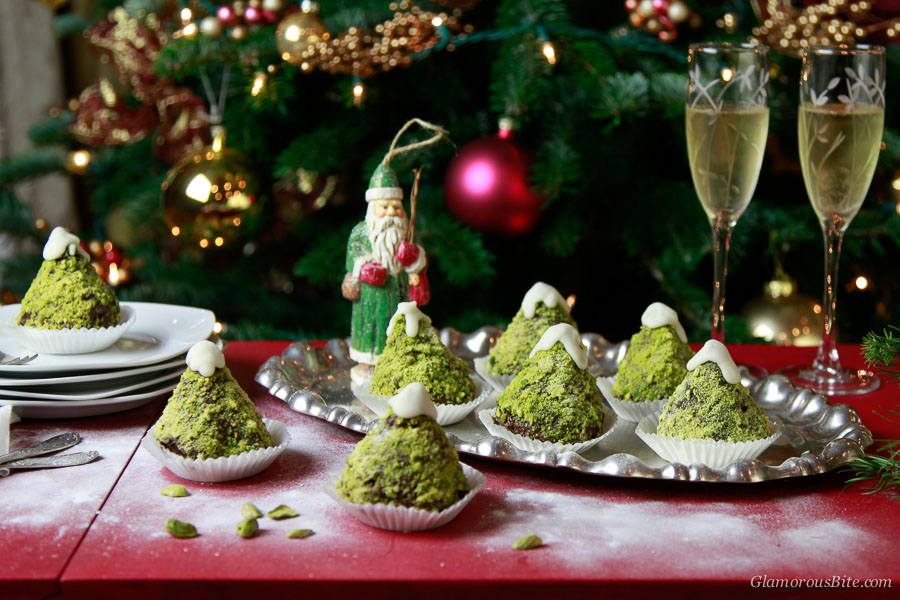 Now we really wish we would still have our German Oma among us, who was the queen of Christmas cookies and she baked the most scrumptious selections for the whole family. Her cookies had the most amazing shapes and fillings and if you went to visit during December you were bound to get a tin of delectable freshly baked cookies and perhaps even a piece of Käse Strudel (cheese pastry). Many years ago when she came to visit us in California she made almond cookies that were so light and crispy. As to who made the most spectacular Holiday Torte, well it was our Hungarian Nagyi (Judit's mom and Corina's grandma). Her specialty was an eight layered chocolate torte with a hard caramel top called Dobos Torta. It could have been served in the finest coffee houses of Budapest. If that wasn't enough, she also made Poppy Seed and Walnut Beigli (rolls) and a Puszta Torta (Chocolate Cake) for Corina's birthday. Don't you just love sweet memories!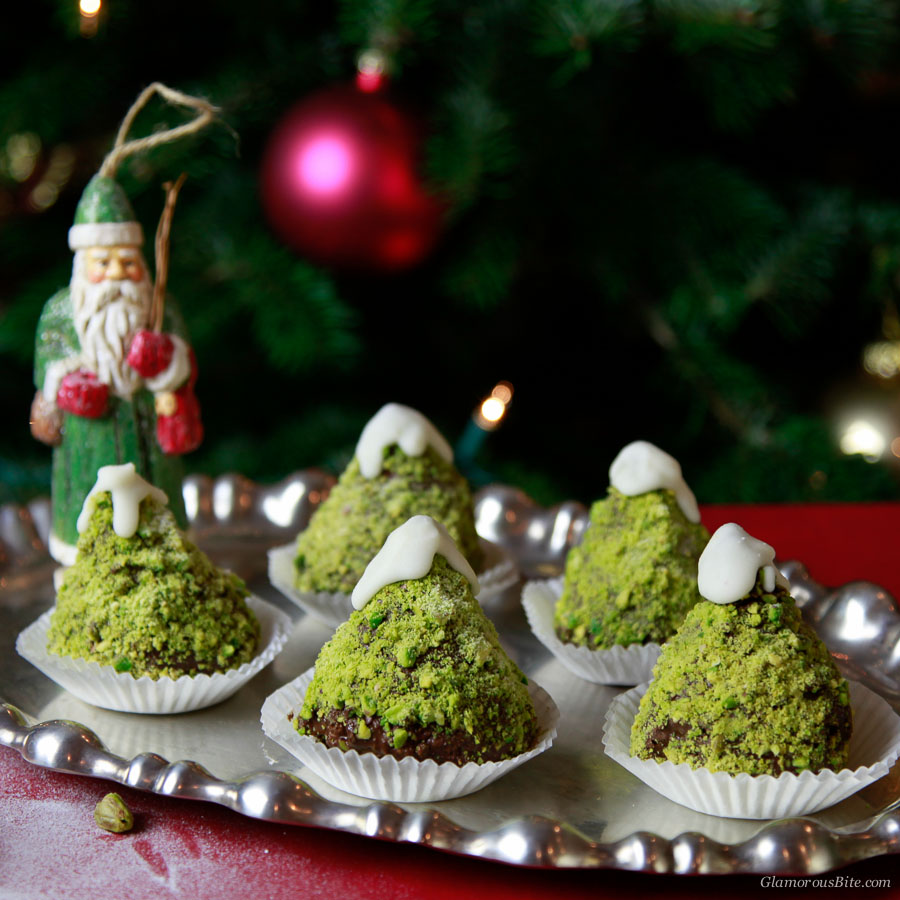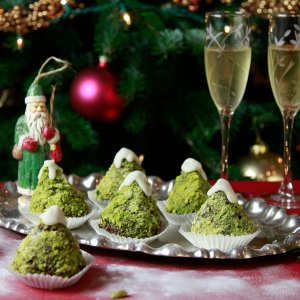 Chocolate Christmas Tree Cupcakes
Ingredients
5

oz

140 g Lindt Chocolate 70%

3

Eggs - separated

Pinch

of Salt

1/3

cup

65g Coconut Sugar or Swerve

1

TBsp

Agave

3/4

Tsp

Vanilla

1

cup

100 g Almond Flour

1/4

cup

Low Carb Baking Mix - Bob's Red Mill

Pinch

of Baking Powder

1

Tbsp

Organic Cocoa Powder

1/4

cup

Pistachos - finely chopped

1/4

cup

50 Powdered Swerve Sweetener or Stevia

1 to 2

Tbsp

Filtered Water

A little Powdered Swerve Sweetener or Stevia for dusting
Instructions
If you have a baking mold with small cone shapes, please use it, other wise you can make your own cone molds easy. Draw 8 to 10 separate 6" circles on parchment paper and cut them out. Mark the center from each and make a cut from the edge to the center.

Fold the cut edges over each other until you have a cone shape. Pin it with a paperclip and place upside down into an ovenproof cup.

Preheat oven to 350F

Use only 1/3 (1.75 oz) of the chocolate and rasp or chop into very small pieces. Set aside.

In a medium bowl mix the almond flour, low carb baking mix, salt, baking powder, rasped chocolate, and cocoa powder and set aside.

In a large bowl or stand mixer beat the egg whites on high speed until frothy. Slowly drizzle in the coconut sugar or Swerve sweetener. Reduce speed, add the egg yolks one by one.

Add the agave and vanilla. With a wooden spoon gently fold in the almond flour and cocoa mixture, until well combined.

Spoon the mixture into the prepared paper christmas tree forms and bake for 20 to 25 minutes. Turn them upright and let them cool a wire rack.

In the meantime melt the remaining 2/3 (2.75 oz) of the chocolate in a double boiler or water bath. Set aside but do not forget to stir occasionally.

Carefully remove the parchment from the baked trees. With a little brush paint the chocolate over the sides of your christmas tree or use a spoon to coat the trees.

Dip the trees into the chopped pistachio and place each into a cupcake liner or large candy paper cup.

In a small glass bowl stir together Swerve sweetener or Stevia and with a teaspoon drip a small amount of the mixture over the top of each tree. Sprinkle a little more sweetener over each tree so it looks like snow. Bon Appetit!
Diet: Low-carb, Diabetic Friendly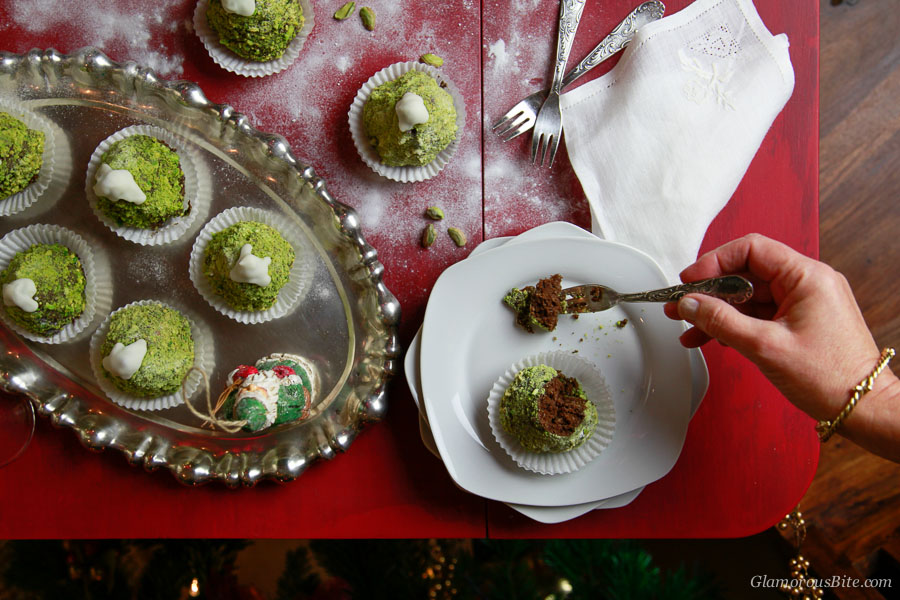 Glamorous Food & Wine Pairing: Since it is a holiday celebration it calls for a little bubbly! We paired these Chocolate Christmas Tree Cupcakes with a Toques et Clochers Cremant de Limoux sparkling wine made in the méthode traditionnelle. It is not too sweet and has aromas of pears and honeysuckle. The stone fruit flavors and crisp bubbles make this an easy sipping wine that goes well with many foods. Toques et Clochers Cremant de Limoux is from the Languedoc-Roussillon region of France and sells for about $20. Another festive pairing would be a Moët & Chandon Imperial Brut with citrus and brioche aromas and flavors of nutty almond. The Imperial Brut from Champagne France is around $40 and a little heavier and more serious than the Cremant de Limoux.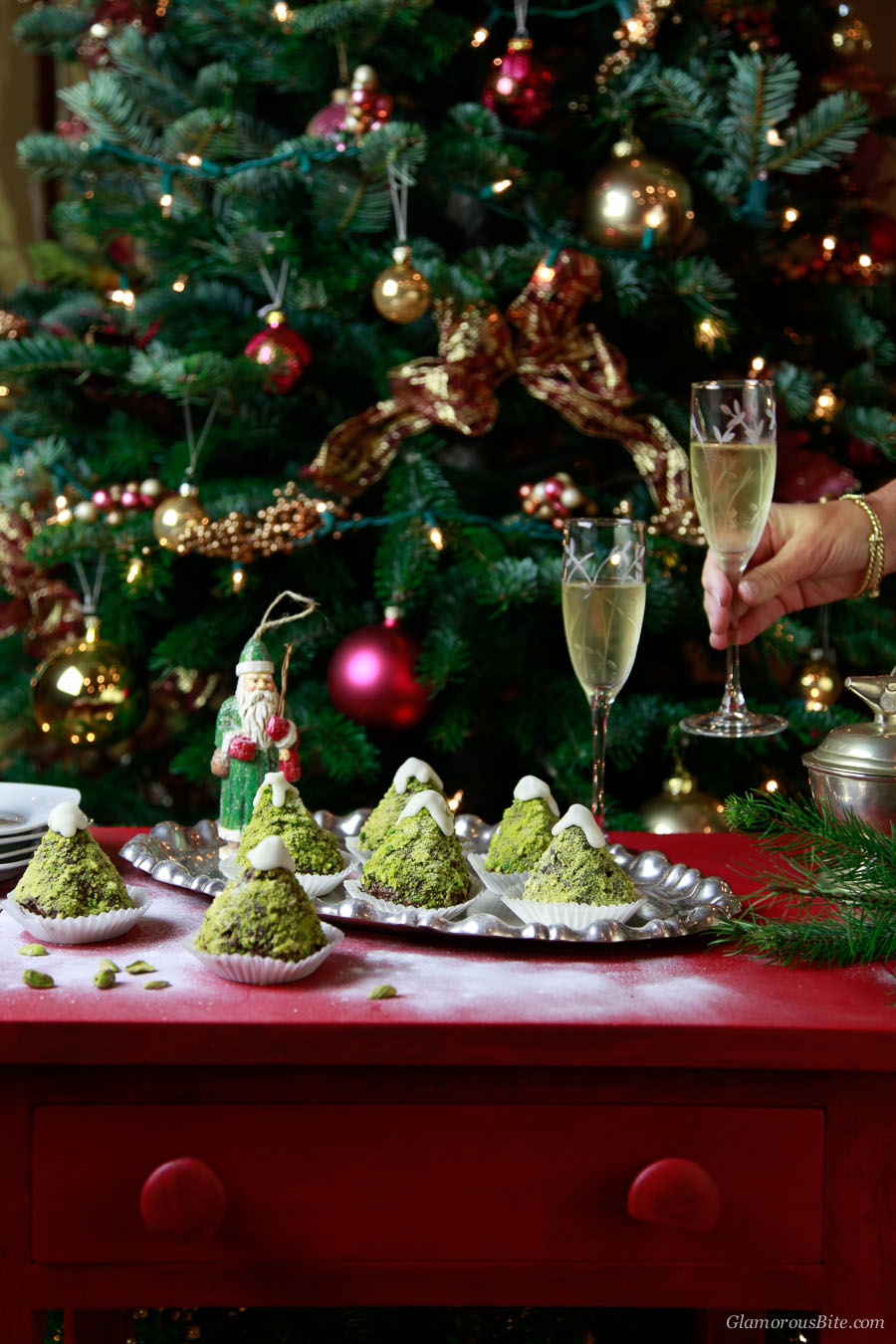 Wishing everyone a wonderful Happy Holiday filled with togetherness, laughter, peace, great wine, and delicious treats! And a Merry Christmas, Frohe Weihnachten, Joyeux Noël, Kellemes Karácsonyi Ünnepeket, Veselé Vánoce, Srećan Božić, Glædelig Jul, Śubh Krisamas, Buon Natale!