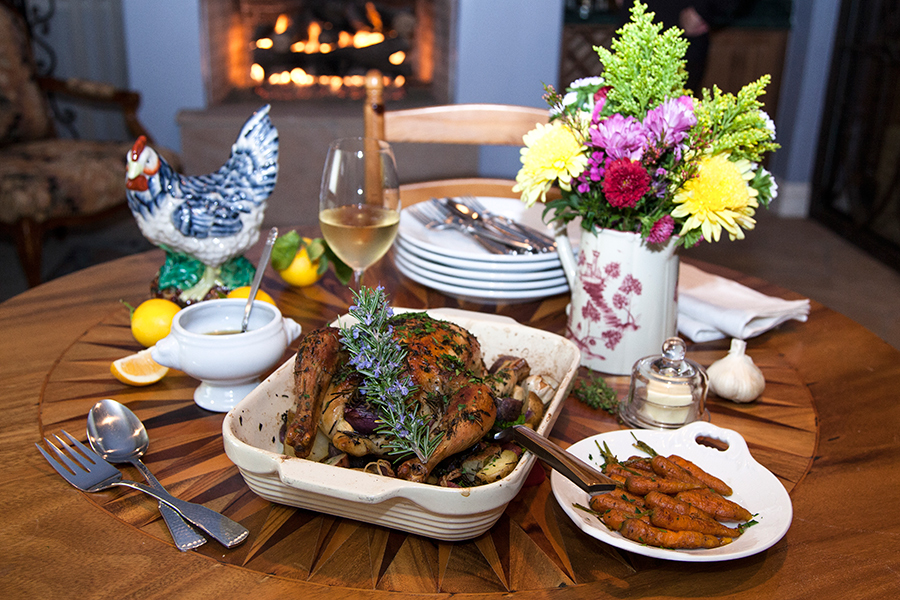 The beauty about living close to the the wine country in Santa Barbara is that we can walk on the beach in the morning and in the afternoon just drive over the hill in 40 minutes to enjoy the rolling hills dotted with majestic oak trees and neat rows of vineyards that reach as far as you can see. The tended rows made us feel like the world is still alright. Our trips up to the Santa Ynez Valley are a jaunt into nature with cows and horses grazing in endless green pastures and hawks flying overhead in the cerulean blue sky.
As the weather was gorgeous and warm, we decided to check out how the vineyards are blossoming on this lovely spring day. We drove up with friends, including sweet Paul who is our elected designated driver, and stopped at Brander Vineyard, which is known for a charming little pink Château and for Sauvignon Blanc. The wine is made by Fred Brander, who also owns the vineyard and was born in Argentina, and by Fabian Bravo the assistant winemaker, who was a former engineer.  We have been going by there for many years now and love to peek into the winery to see what is being pressed at the moment. Fabian as always greeted us warmly and let us try a couple of yet to be released wines, which were truly promising, especially the Merlot. Back in the tasting room we of course had to review our old favorites and one that really caught our attention this time was the Cuvée Nicolas with it's light citrus notes, hints of green, and silky texture. It is 100% Sauvignon Blanc and named after Fred's son Nicolas. It is an ideal wine to enjoy with fish, lobster, or chicken.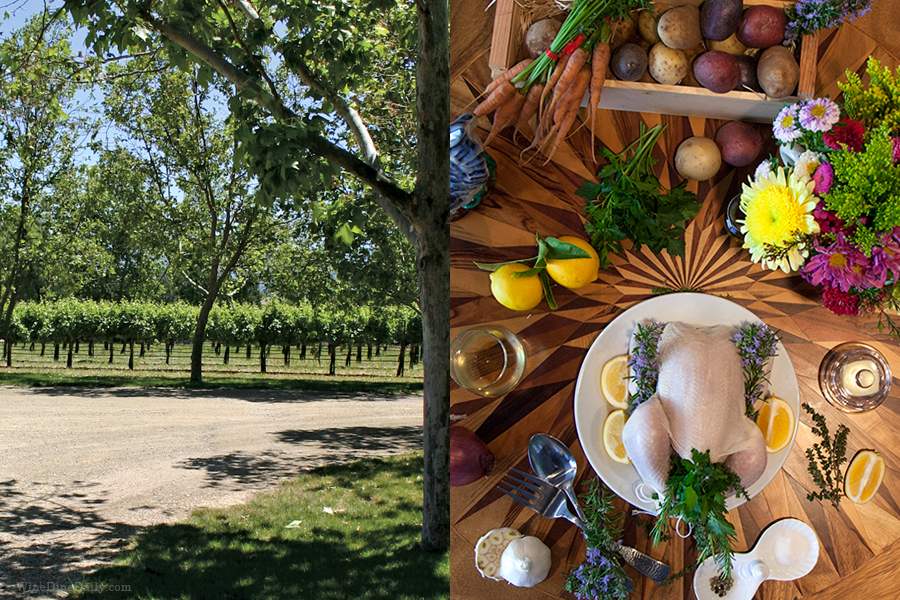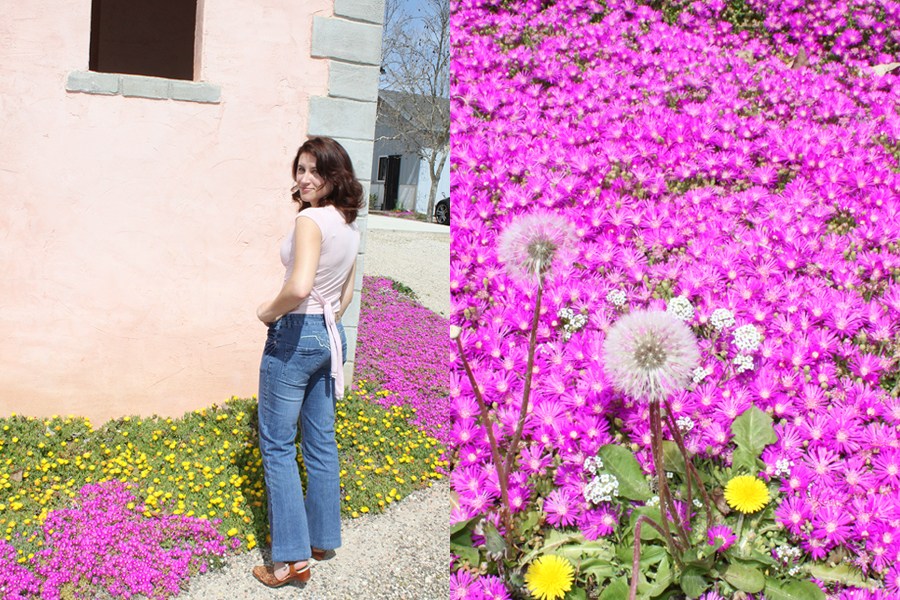 Winemakers always love to talk about food and wine pairings and it didn't take long until we were plotting new recipes with Fabian. Roast Garlic Chicken came to mind as we sipped the refreshing Sauvignon Blanc. Fabian liked the roast chicken idea, but cautioned us to not overpower the chicken with garlic, you still want to be able to taste the wine flavors. Over the years we have talked to many winemakers in Europe and in the States and all said the same about food & wine pairings – let the flavors compliment each other.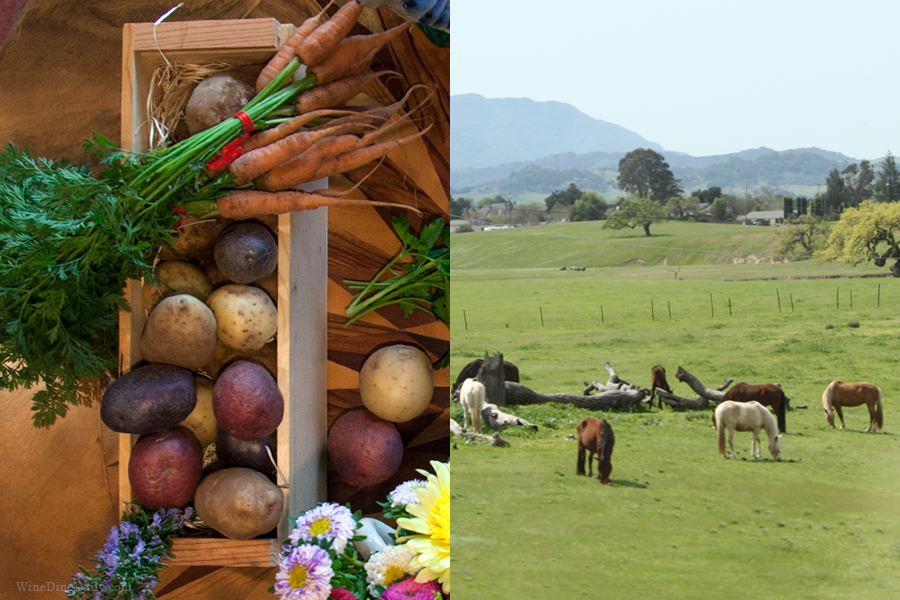 The dish that always evokes simple rustic elegance and herbal flavors of the wine country for us is a Roast Chicken with rosemary and garlic. We love making a Wine Country Roast Chicken after a day of touring wineries since it warms up the house with comforting smells and goes well with a lighter white wine like a Sauvignon Blanc that we just picked up from a winery. While touring and tasting you also get a little tired, so this recipe is fuss-free and it can all go into one pot, besides the carrots.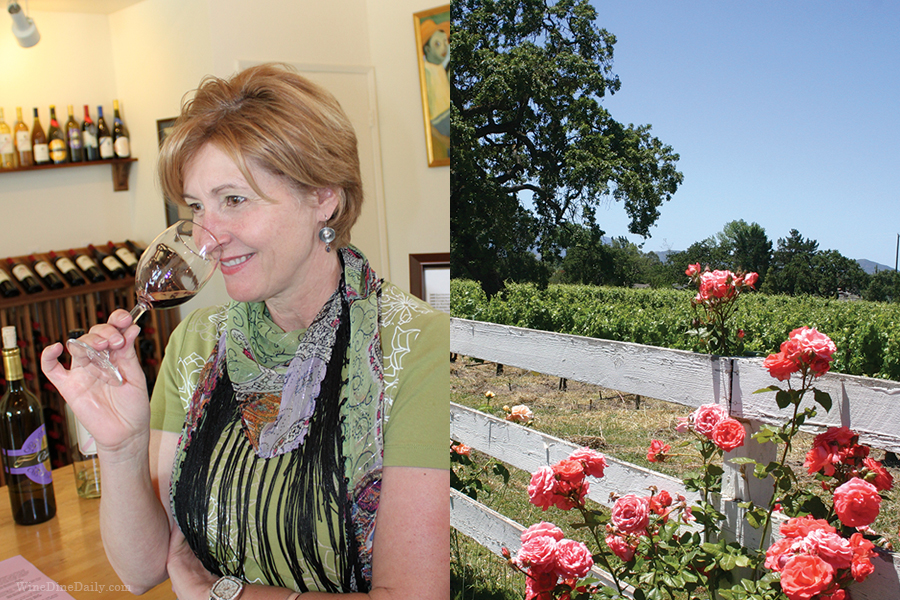 This scrumptious juicy chicken evolved in our Santa Barbara kitchen over the years, and what we both love and miraculously agree upon (without any argument) that this is a very simple and versatile recipe. If you don't have all these fresh herbs handy you can use just parsley or coriander, cilantro or even green onions.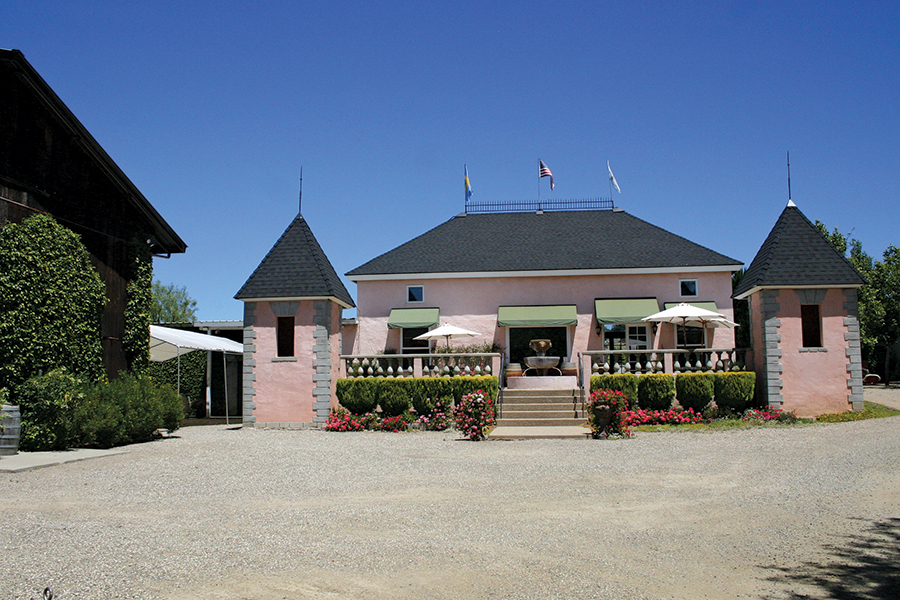 With the chicken happily roasting in the oven the aromas in the house got more and more enticing and Corina's next question was " what is for dessert"?  In the fridge there were 2 boxes of lovely fresh raspberries and a few free range organic eggs from our last visit to farmers market so we whipped up our quick raspberry mousse, which is almost the exact shade of Brander's pink Château! It takes only 10 minutes to make and the mixer is doing all the work. This recipe is from Hungary and our grandmother / great-grandmother god bless her she requested to be stirred for at least 30 minutes with a large wooden spoon in a brass bowl because the mousse would be only perfect that way. The recipe is explained here.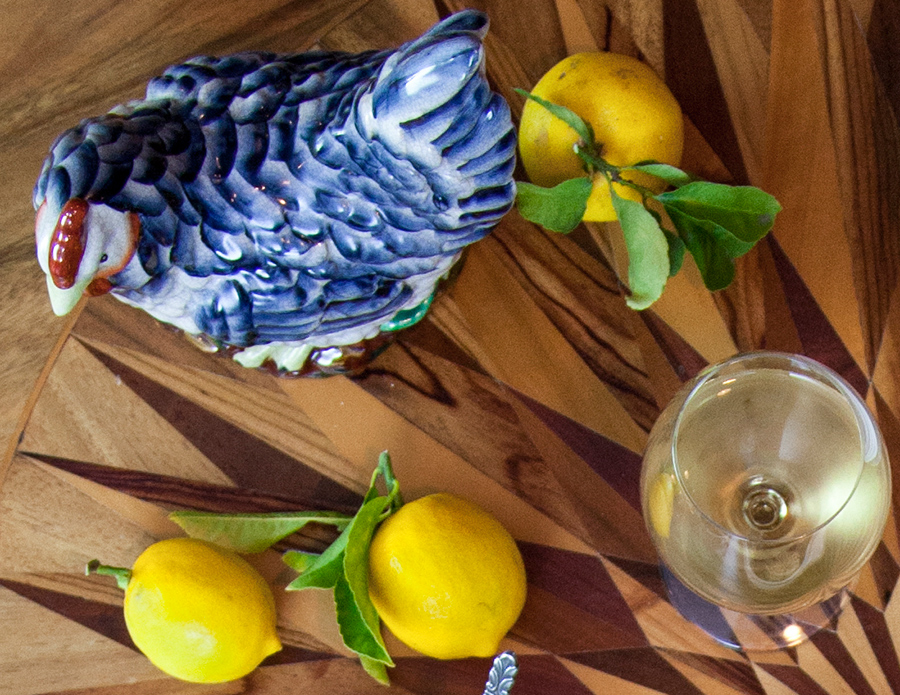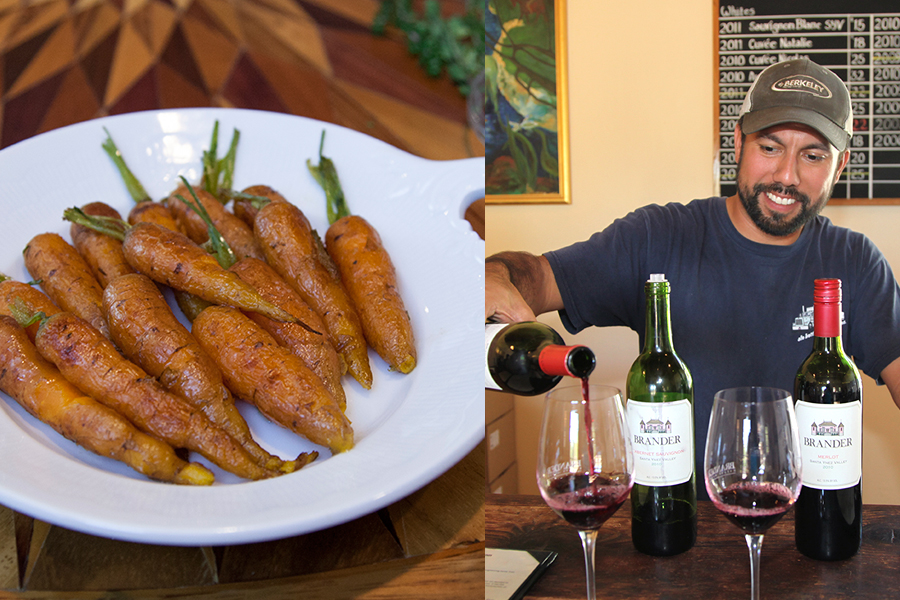 Fabian in the Brander tasting room pouring the Merlot, which we had a splash of in the Baby Carrots.
Brown Butter Baby Carrots recipe click here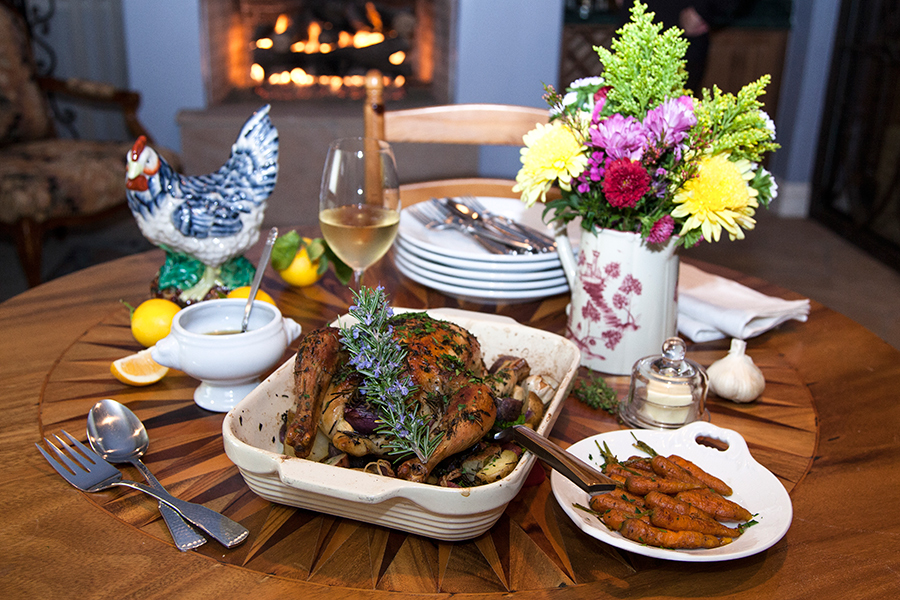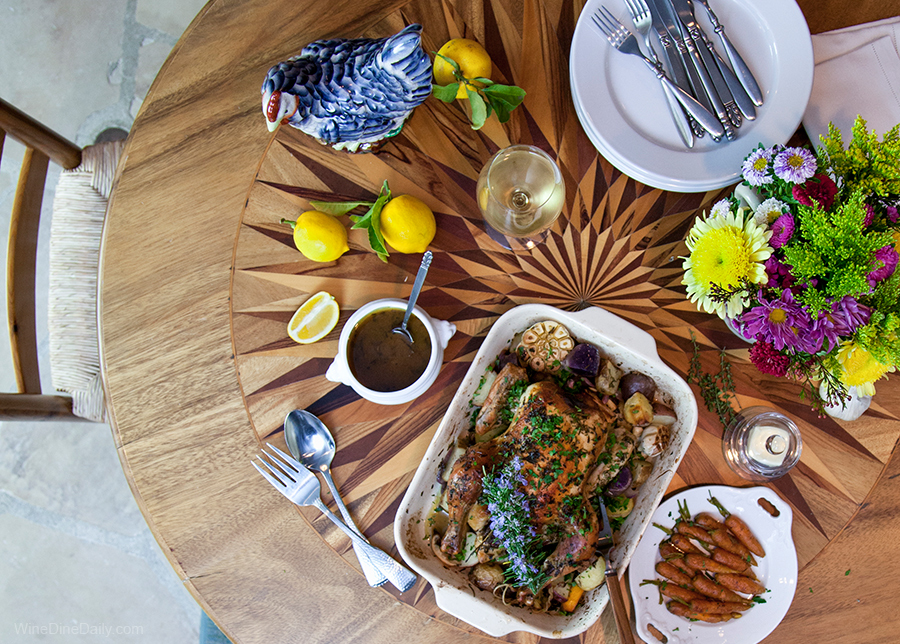 Wine Country Roast Chicken
1 (4 pound) Organic Chicken
3 Tbsp Butter – room temperature
Salt
Pepper
2 Meyer Lemons -cut into wedges
3 sprigs fresh Thyme
2 sprigs fresh Rosemary
1/2 bunch fresh Parsley
4 Cloves Garlic
2 Tbsp Grapeseed Oil
2 pounds Colored New Potatoes – cut in halves
1 Red Onions – peeled and thickly sliced
1 Head of Garlic – cut in half for the pan
1 cup White Wine – like Sauvignon Blanc or Chardonnay
Preheat oven to 400F
1) Make sure that the chicken cavity is empty ( sometimes you find the liver with other innards in there). Rinse the whole chicken, shake out the excess water and pat the skin dry with paper towel.
2) Salt and pepper the inside of the cavity and stuff with sliced lemons, herbs, and 4 cloves of garlic.  With a cotton or natural kitchen twine tie the chicken legs together and with your finger massage skin with soft butter. Just like you would apply suntan lotion. Season well with salt and pepper the whole chicken and let it rest for 30 minutes.
3) Drizzle some Grapeseed oil in a large baking pan, add the sliced potatoes, red onion slices and the sliced head of garlic, season with salt and pepper and mix it well until all well coated. Spread the potatoes in a single layer and  pour in the wine. Carefully place chicken, breast-side up atop potatoes.
4) Roast in the preheated oven for about 1 hour 15 to 30 min.
Every 20 – 30 minutes Baste the meat with pan juices gently toss the potatoes around  and rotate the pan.
Your chicken is done when an instant read thermometer reach 165F to 170F when checked in the thighs. Remove chicken from the oven and let it rest 15 minutes before carving, this will keep the meat beautifully moist.
If you like to make a pan juice or gravy then carefully remove one cup of the cooking liquid from the baking pan.
Pan Juice
1 cup Pan juice – use chicken stock if you don't have enough cooking liquid
1/2 cup Wine
You can make this lovely sauce until the chicken is resting.
1) In a small sauce pan combine cooking liquid and the wine.
2) Cook over medium-high heat for about 8 to 12 minutes or until the sauce is reduced by half.
When you stir it a few times during cooking you can see how the liquid is getting thicker.
Winemaker Notes:
2010 Cuvée Nicolas This wine is named after Fred's son Nicolas and is 100% Sauvignon Blanc from the Brander Vineyard Estate. It is a classic example of a white Bordeaux wine; aged sur-lie in 50% new French oak barrels to add richness in flavor and a silky texture, while still showcasing opulent fruit and firm-balanced acidity on the finish. A perfect pairing with Santa Barbara's richer seafood- we're thinking lobster with lemon butter or grilled salmon.