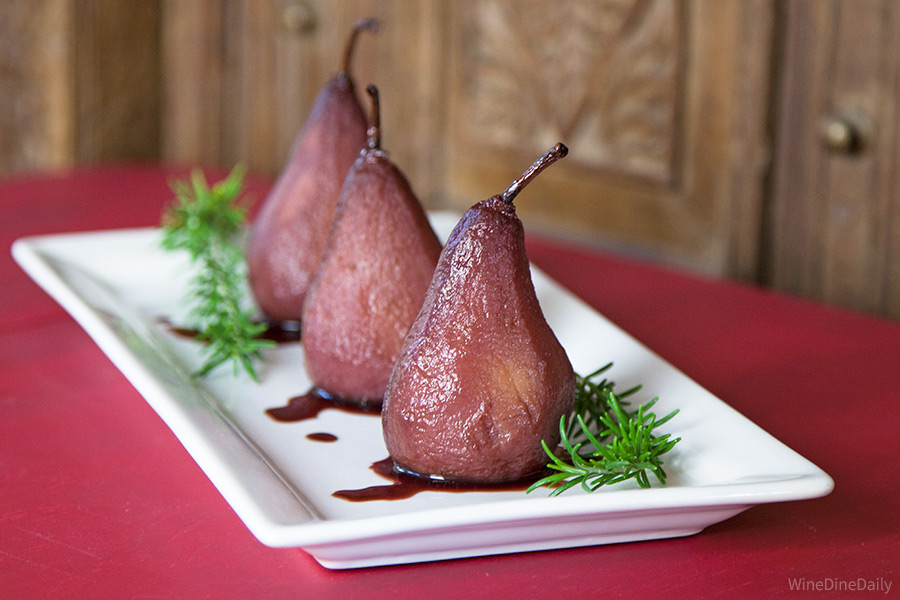 Have you tried wine poached pears before? You may have guessed by now, that we adore cooking with wine and not because of the deep rich flavors it gives to the dish but also the fragrant pleasure, which accompany this task. Wine is really versatile with all the rich and beautiful aromas and we use it as a "Liquid Spice" in our cooking and baking. Last week when the winter rainstorms announced their arrival instead of complaining about the weather we opened a bottle of wine and started to cook. Literary we cooked with a whole bottle of wine.

As we live near the Santa Barbara wine country with so many great Syrahs to choose from we could not imagine anything else for this recipe. Feel free to use any other fruity red wine you prefer like Zinfandel, Pinot Noir or even Chianti for these Red Wine Poached Pears. You don't have to use a very expensive wine since it will be cooked quite a bit, but make sure it is a wine you would not mind drinking. Poached pears are the ultimate wine country treat and served in many restaurants in Europe and this side of the Atlantic. We prefer to use Bosc pear for the slightly firmer flesh and elegant long neck and stem.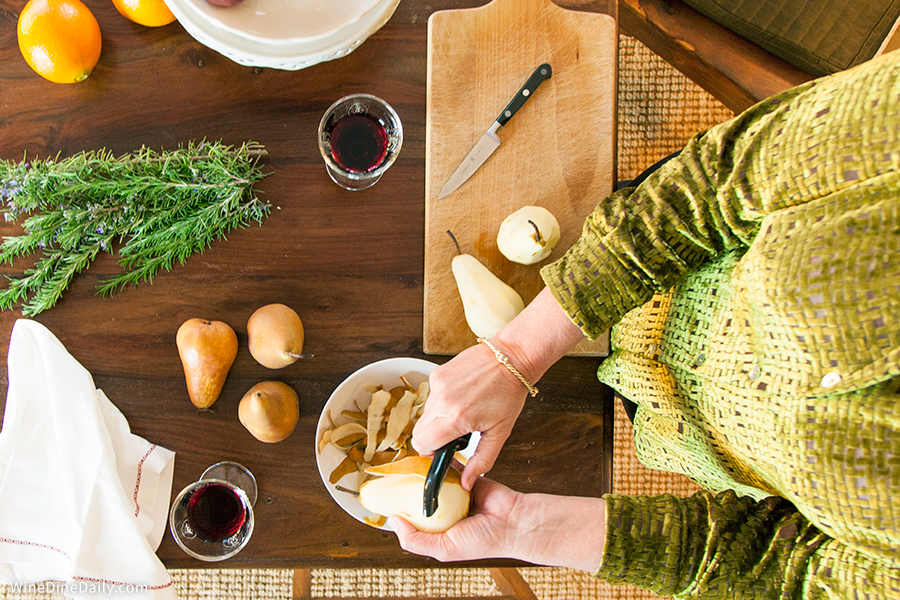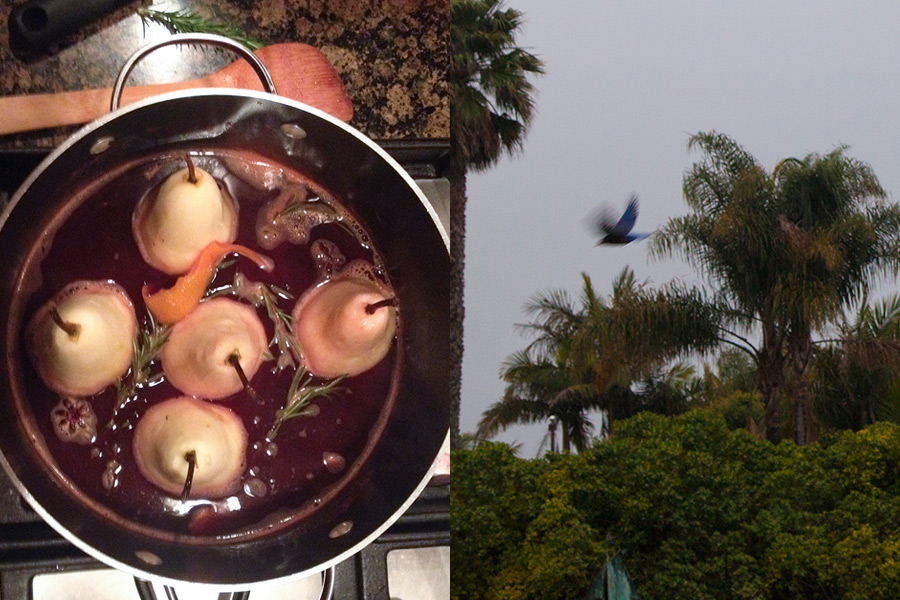 To poach pears in spicy red wine is always a delicious idea because of the inviting aromas you can enjoy when the wine evaporates during gentle cooking. During poaching the tender flesh of the pears absorb the spicy sweet flavors and the wine paints the globes into gorgeous jewel like hues.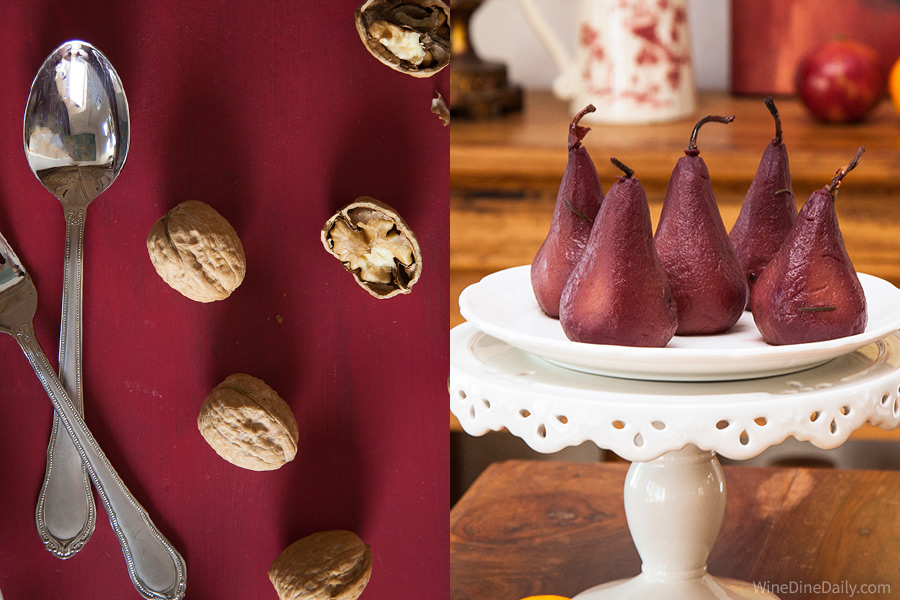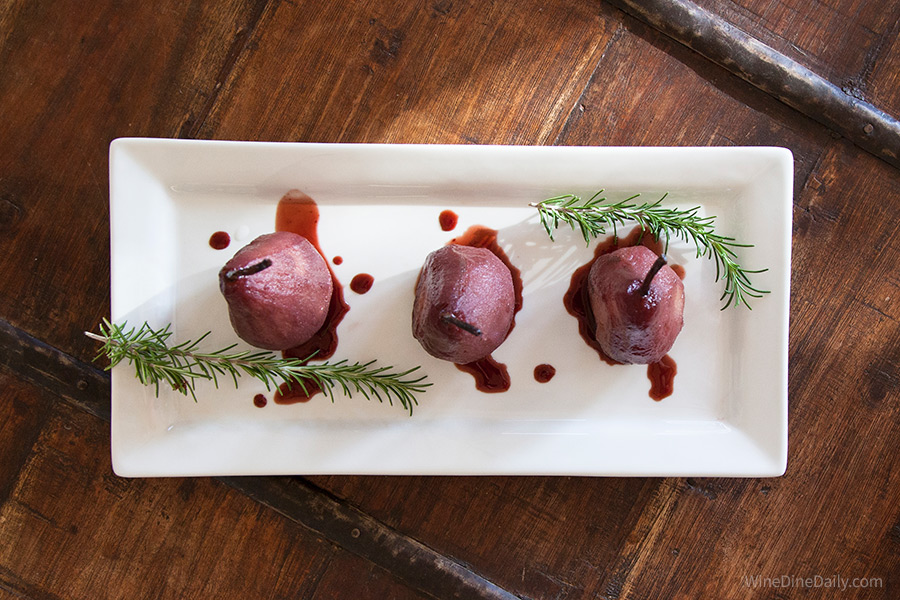 In the past we often served these tasty wine soaked pears just ala natural by simply placing the pears into a soup bowl drizzled with a few spoonfuls of the wine syrup. You can serve this dessert warm or cold and with a dollop of sweet cream on the side. On a cold winter evening the wine infused bites give you warm comfort and casual elegance. This is how we mostly enjoy it because we are just to impatient to wait and they look really beautiful and elegant. How about making these Red Wine Paoched Pears for your next date night?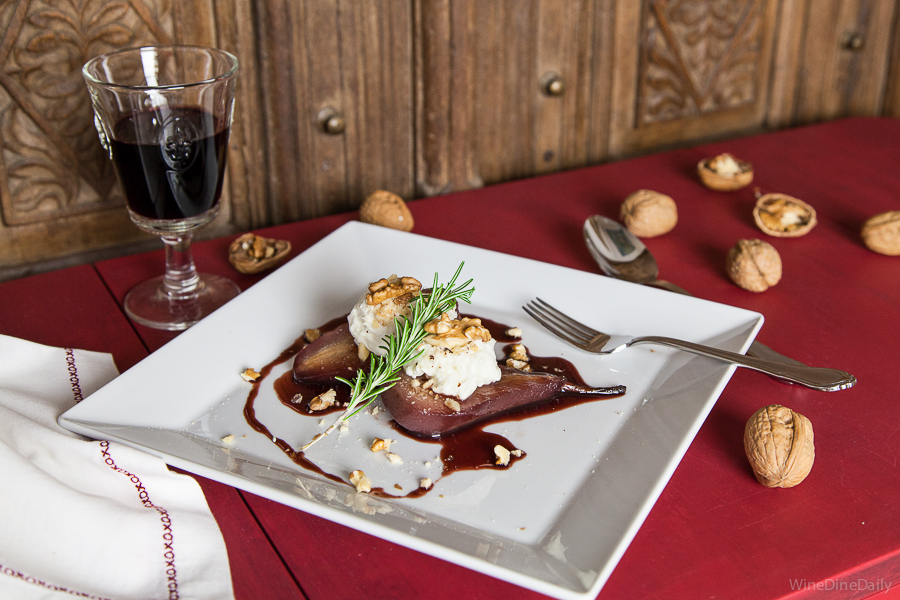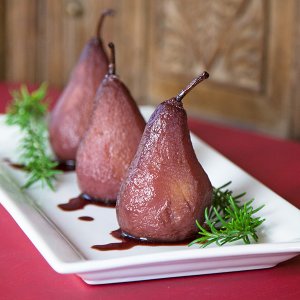 Red Wine Poached Pears
Ingredients
FOR THE PEARS
1

Bottle of Syrah or other fruity red wine

1/4

cup

Honey

2

Cinnamon Sticks

1

Orange - peeled and juiced

2

fresh Rosemary Sprig

6

Bosc Pears - peeled
FOR THE TOPPING
3/4

cup

Mascarpone Cheese

20

Walnut Halves - toasted - Keep 12 whole and roughly chop the rest
Instructions
In a deep pot combine red wine, honey, cinnamon sticks, orange juice and peel and the rosemary sprigs.

Cover the pot and bring to a boil and over medium low heat simmer for about 10 minutes. Stir well.

In the meantime peel the pears but leave the stalks on. Cut a little off the bottom from each so that the pear can stand upright straight. With a teaspoon remove the core from bottom.

Gently place the pears upright in the pot, cover and simmer over medium low heat for 25 to 30 minutes.

Time to time spoon the wine syrup over the pears to cook even. With a knife test the pears to make sure they are tender but still firm.

With a slotted spoon remove the pears and set aside.

Continue to simmer the spicy wine syrup for about 15 minutes or until the liquid is reduced by half.

To serve place pears in individual bowls and spoon some of the wine syrup over.

For an extra special treat we cut the pears in half place them over the wine syrup and spoon a dollop of Mascarpone cheese on top. Decorate with walnuts halves and sprinkle the chopped nuts.
Nutrition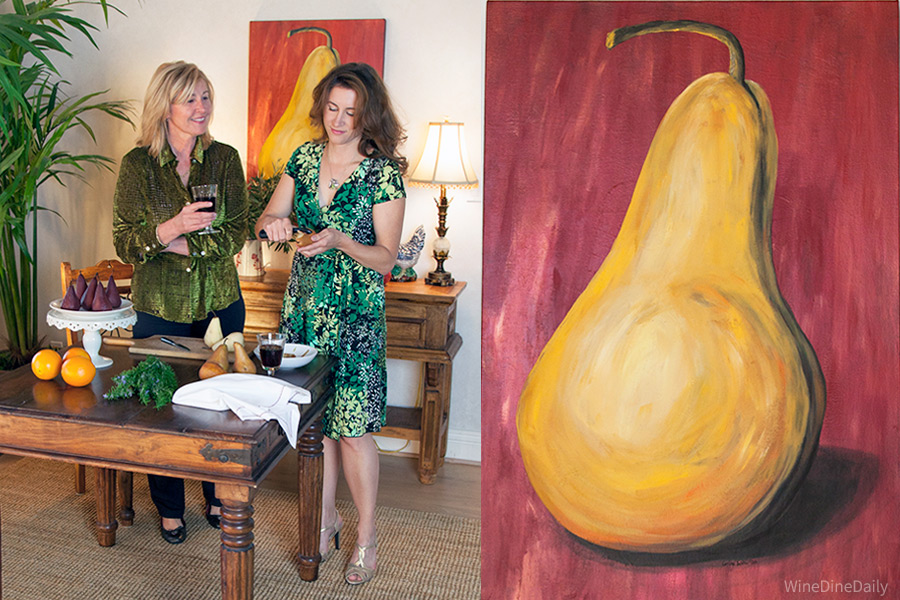 The Silhouette of a pear is so inspirational that artists have long painted stills of pears. Corina painted this vibrant pear behind us.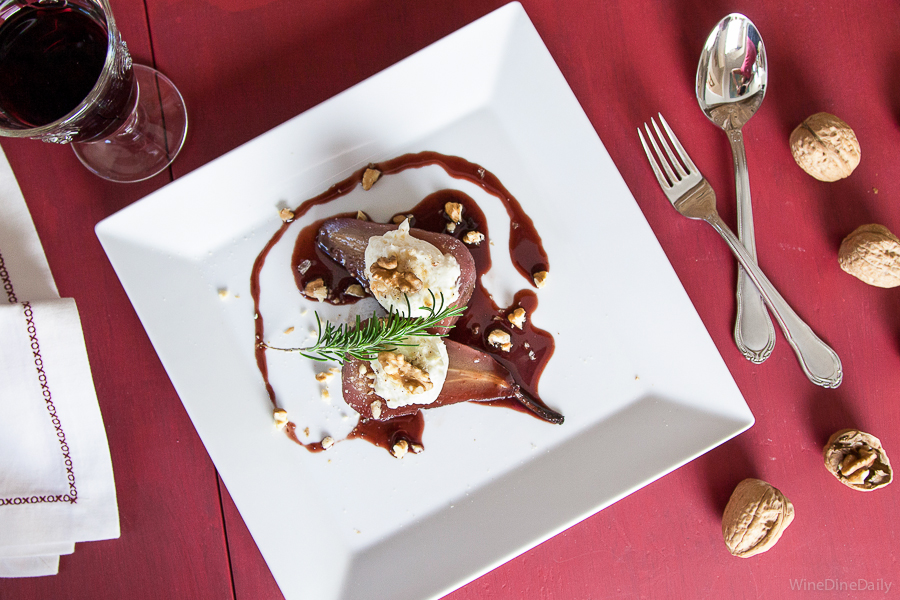 As the evening progressed, we made so many poached pears that we ended up creating a red wine poached pear tart meringue topping the very next day that was too tasty. We will share that recipe soon too. Bon appetit!