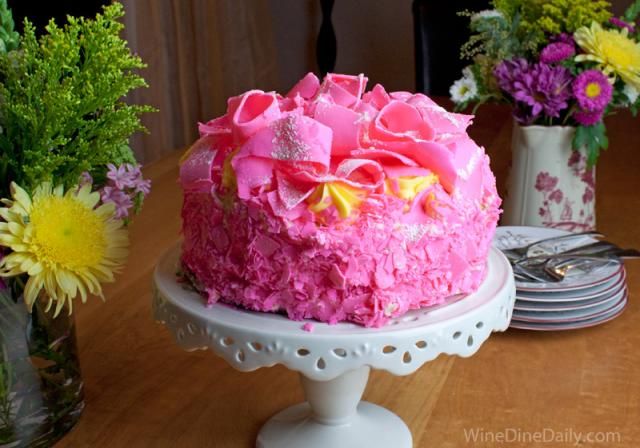 Madonna Inn Pink Champagne Cake
Because the flowers are in bloom and the air is perfumed with the sweet smell of spring, our minds drifted to world of fantasy desserts. As we kept talking about oh how we wished we would have a piece of creamy fluffiness the phone rang and our good friends called from their trip to San Luis Obispo, which is about two hours north of Santa Barbara. We talked about dessert of course and they said they will bring a surprise! Later that day they stopped by with this incredible hot pink fairytale fantasy cake from their trip up to the Madonna Inn in San Luis Obispo.
Artfully wrought pink chocolate curls top white cake with layers of Bavarian cream and whipped cream. Look at all of these fluffy pink curls just asking to be eaten. This is every girl (and mom's) dream birthday cake. The cake survived the trip down in the back seat of the car with only minor chocolate breakage on the curls and it is quite durable despite it's fragile appearance.
We kept looking with awe at this cake and have to tell you we are spoiled because in town we have some of the best cakes on this side of the continent and have celebrated many holidays with something special, but we were so excited to try this because we know the Madonna Inn is famous for their cakes. The cakes are made fresh daily in their on-site bakery and you can order all kind of special occasion cakes and incredible elaborate wedding cakes. This "Pink Beauty did get a lot of oh's and ah's… Due to the bright pink hue we expected a very sweet cake and were pleasantly surprised to find it not as sweet.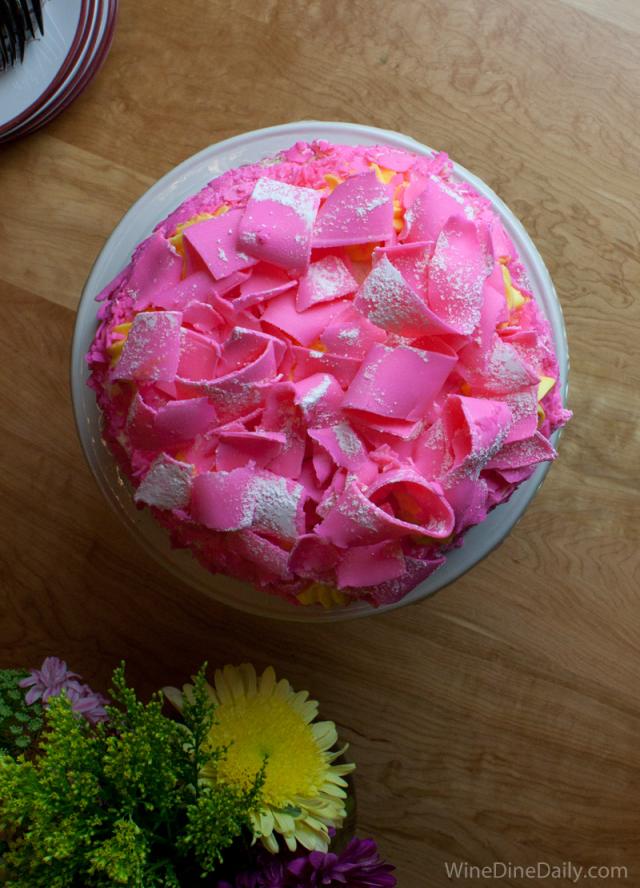 Top view of the chocolate curls. Don't they look like a giant bow on a present?
The Madonna Inn is enrobed in a multitude of hues from evening lights and as you know everything looks prettier in pink. It is a perfect location on the Central Coast to visit for an afternoon coffee and cake or if you are in the mood for a fairytale wedding.
A few years ago we visited this Inn, which is famous for it's over the top vibrant colorful decor and grotto men's room…and yes we did peek in there too. We were in awe from all the decor and it is quite an experience so hopefully when you are near San Luis Obispo you can stop by.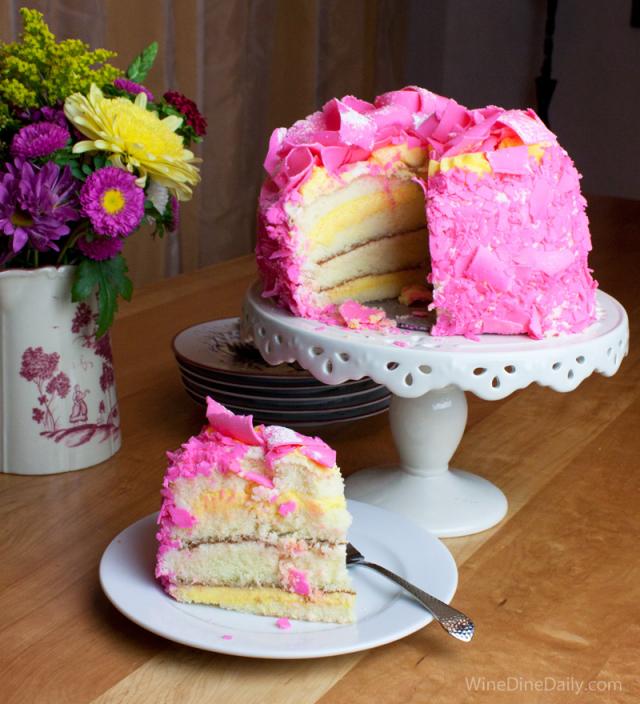 Inside soft layers of melt-in-your-mouth light yellow velvety sponge, rich Bavarian cream and sweet cream.
We enjoyed this pink wonder with a Chandon Rose, but you can choose a nice citrusy sparkling wine as well and because this cake is not overly sweet you can have many choices for wine pairings.
Now we just have to figure out who is going up next to the Madonna Inn to bring more cake!