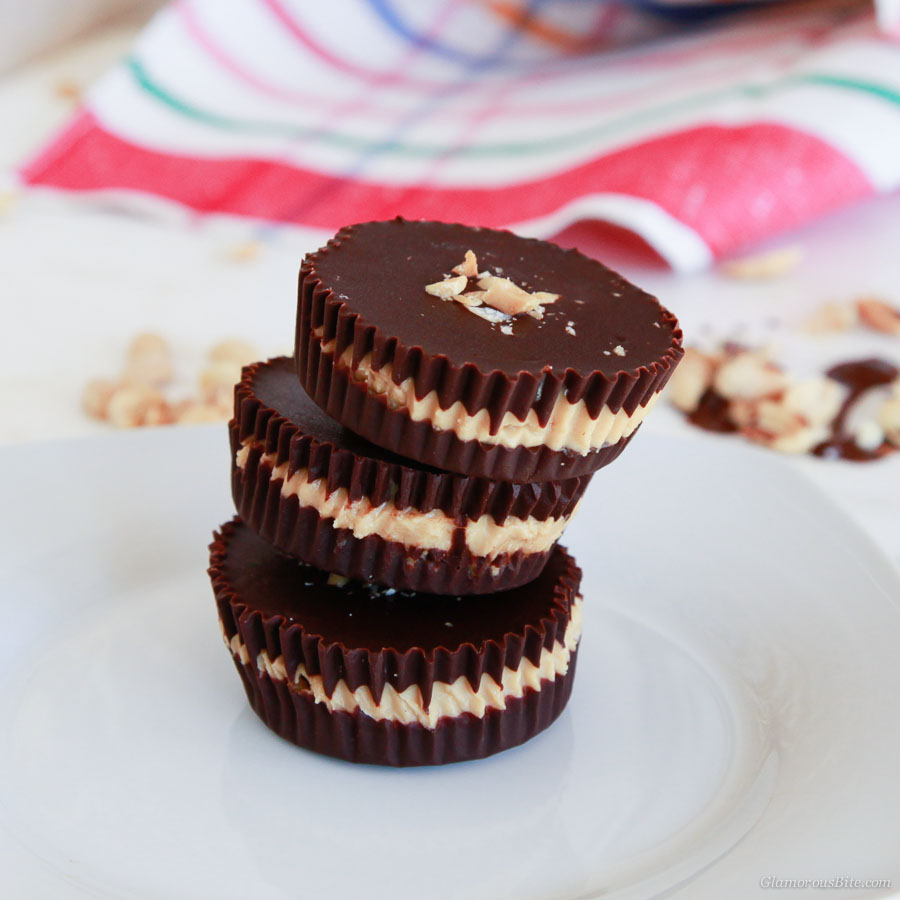 Homemade Peanut Butter Cups are one of the most simple pleasures of life, especially if you know the ingredients are good for you and your family. You can't go wrong with this classic combination of dark chocolate and creamy peanut butter. In our version we use natural peanut butter, which is simply ground peanut butter without any additives and no refined sugar. The only thing we added to it was a little coconut oil and a pinch of Himalayan salt, then whipped up the peanut butter to make it fluffier and less dense. The dark chocolate gets gently melted on low heat with coconut oil instead of butter, however you may use butter if you prefer.

To eat and live healthy does not mean to deprive yourself of sweet treats, or honestly we would not survive. Is there anything more sublime than the marriage of chocolate with peanut butter? We are giddy with joy to have found another treat to indulge in that is made with honestly good for you ingredients. We tested these homemade peanut butter cups on our diabetic family member and his sugar didn't spike. Thank you Paul for being the guinea pig.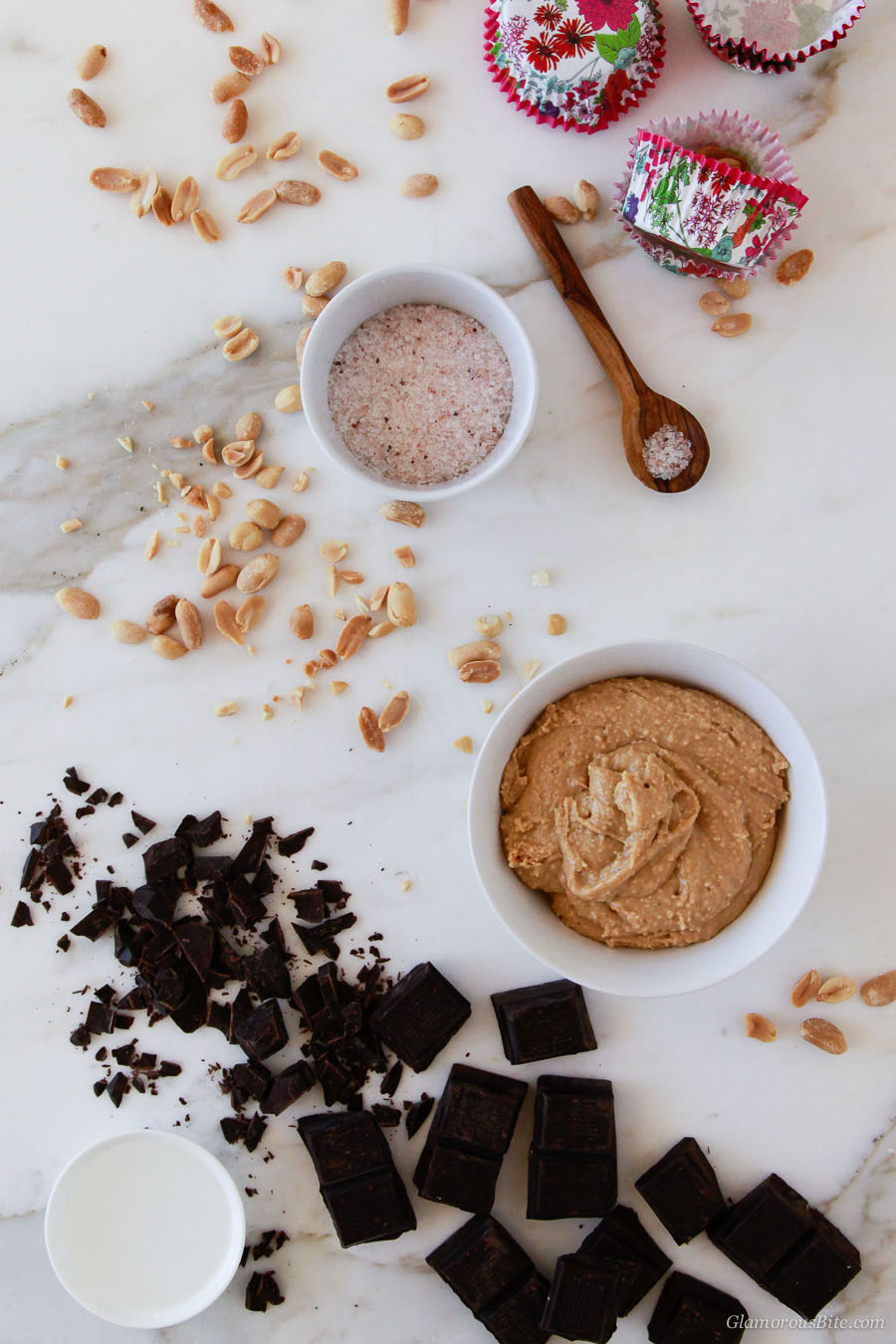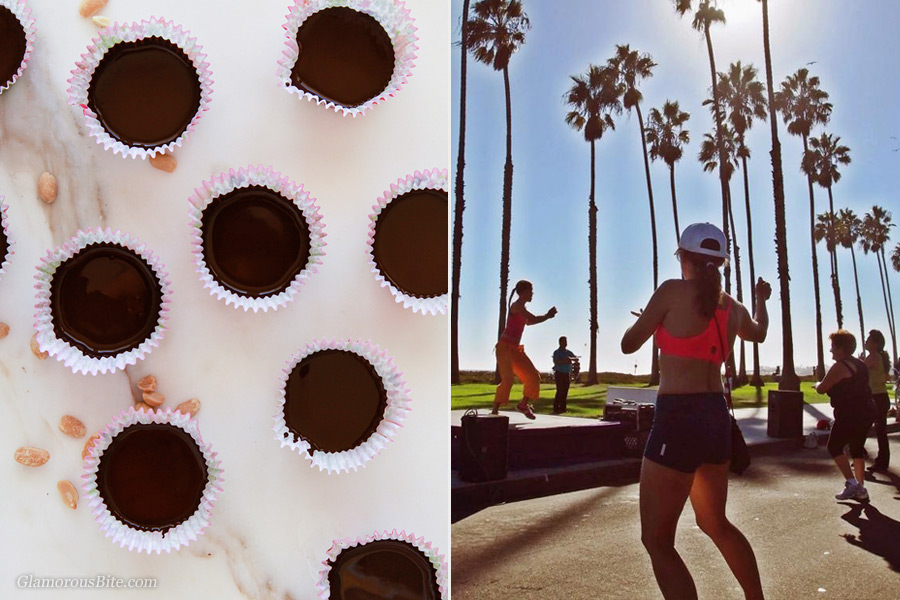 We definitely made a double batch for this Halloween, and have to admit it was so good we were happy that there were not too many trick-or-treaters. More for us! Until Corina wrapped up a few in cute foil and gave them as little gifts to friends, who loved them and are waiting for the recipe…. Be careful, these homemade peanut butter cups are so dangerously addictive that we have to keep the refrigerator stocked with a few cups to satisfy sweet cravings. They are the also just right for a little energy boost before dancing.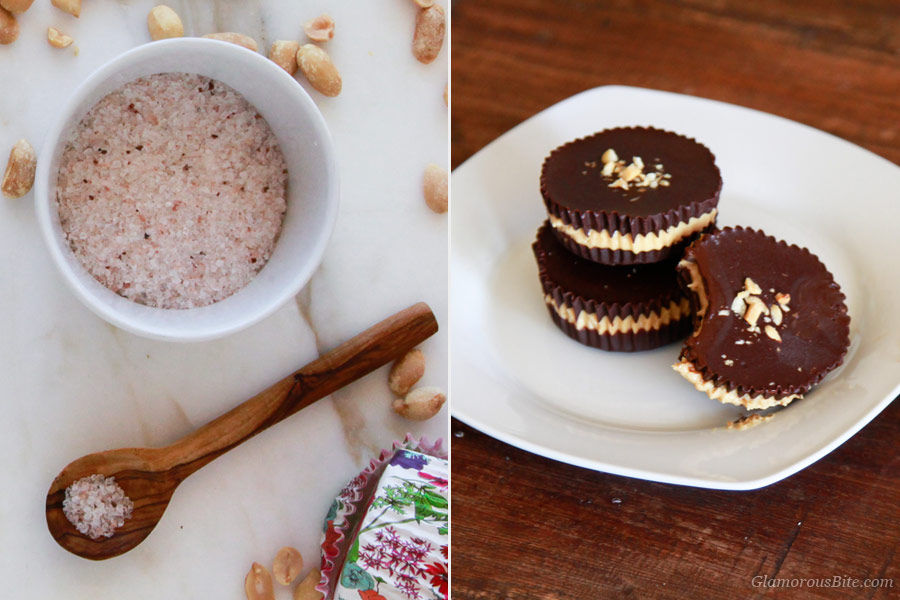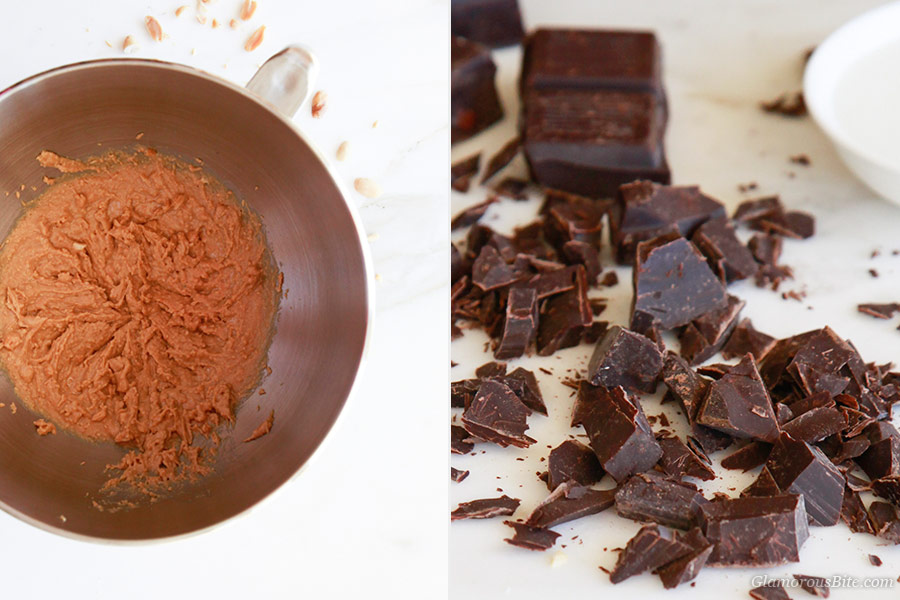 We can't believe we waited so long to share this recipe with you because Peanut Butter Cups are one of the most popular sweet bites in America. The first peanut buttery cup we ever had was a Reese's and those were made with milk chocolate. Like every great creation, this one was a story. In 1928 a dairy farmer named H.B. Reese, who worked for the founder of the Hershey Chocolate company, invented the peanut butter cup and left farming to go into the candy business.
The ingredients of a Reese Peanut Butter Cup are: MILK CHOCOLATE (SUGAR; COCOA BUTTER; CHOCOLATE; NONFAT MILK; MILK FAT; LACTOSE; SOY LECITHIN; PGPR, EMULSIFIER); PEANUTS; SUGAR; DEXTROSE; SALT; TBHQ (PRESERVATIVE). According to Natural News TBHQ is Tertiary Butylhydroquinone, which is a preservative that can be dangers in high doses. Our homemade cups have dark chocolate, coconut oil, natural peanut butter, Himalayan salt and lots of love. We didn't add any preservatives or refined sugar. Top that Reeses!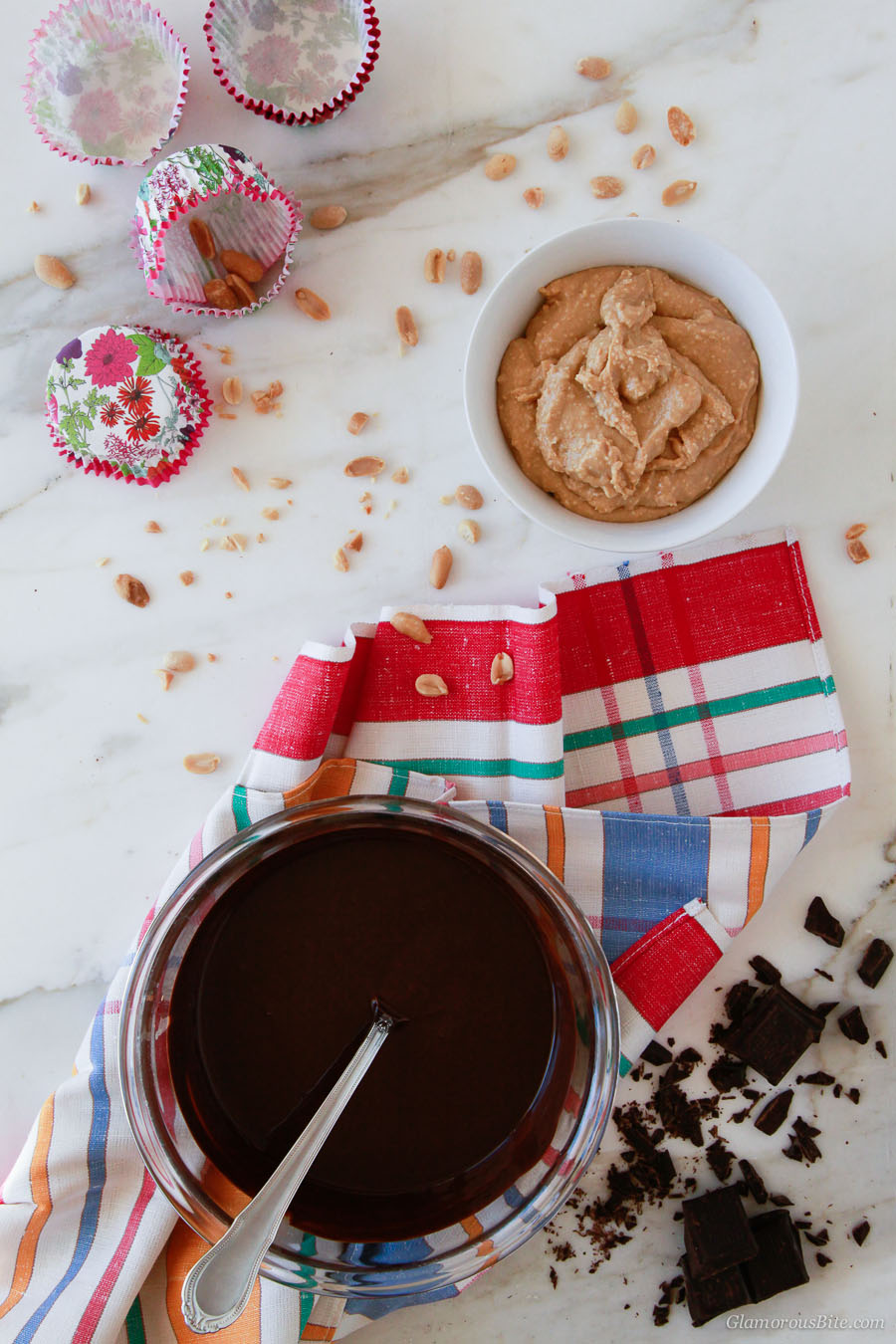 Judit: I do not know how I survive without peanut butter cups because in Europe we did not have this delightful and popular treat. When I was growing up you did not really get peanut butter in many places. My memories of weet treets come pretty close though. We had hazelnuts and chocolate, like in a Ferrero Rocher, or nougat filling instead.
Corina; Chocolate Peanut Butter cups make me think of Halloween since they were among my favorites from the candy selection. I can have them all year around though and like our less sweet version. This is terrible…just thinking to make a few more homemade peanut butter cups right now….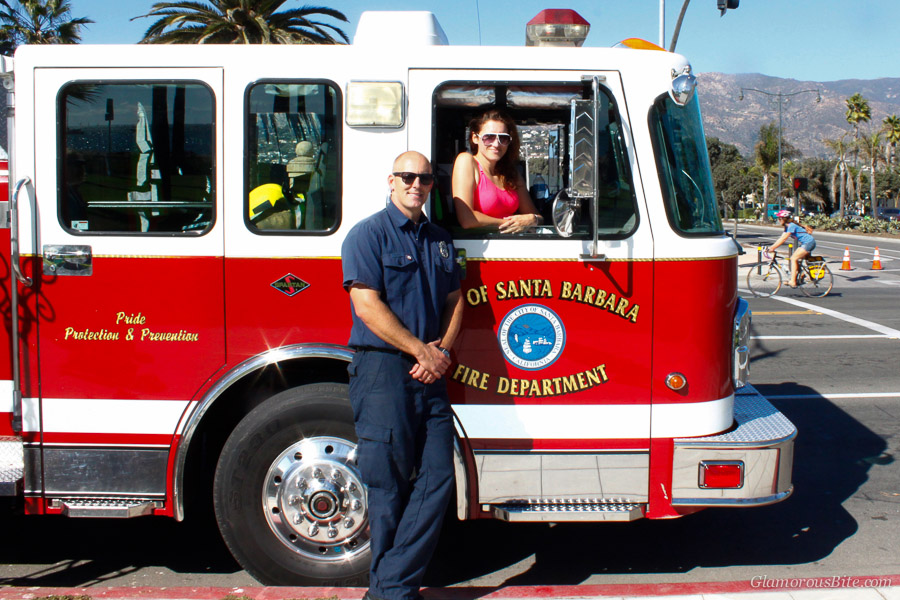 These healthy homemade peanut butter cups are just the treat you need after a day of Salsa and Zumba dancing at the Santa Barbara Open Streets ¡Calles Vivas! festival. The SB Open Streets festival was held in Santa Barbara this October 25th and Corina joined in the fun to support health and fitness. Business set up information booths to do demonstrations throughout the day. Cabrillo Boulevard was closed to cars for 2.2 miles along the waterfront and became a large public park for people to walk and bike through. Yoga, wellness, sports challenges, music, art, skate boarding, kids zones, climbing walls, martial arts, food and games await locals and visitors.
This event has been going on for only two years in town and was coordinated with COAST, The Coalition for Sustainable Transportation, a non-profit organization that promotes alternative transportation, such as biking, walking, rail and more. The day was beautifully warm and Corina checked out the booths and of course talked to our brave Firefighters and sat in a Fire Truck. You can also dance along with Salsa instructor Hector Sanchez from Santa Barbara Dance Center or Zumba in the street with Alison from Spectrum Athletic Club. Thanks Dennis for taking the photo of Corina happily dancing in the street. As of today there are over 200 Open Street events around the world with a mission to reduce carbon footprints and global obesity, with an emphasis on making our world more sustainable.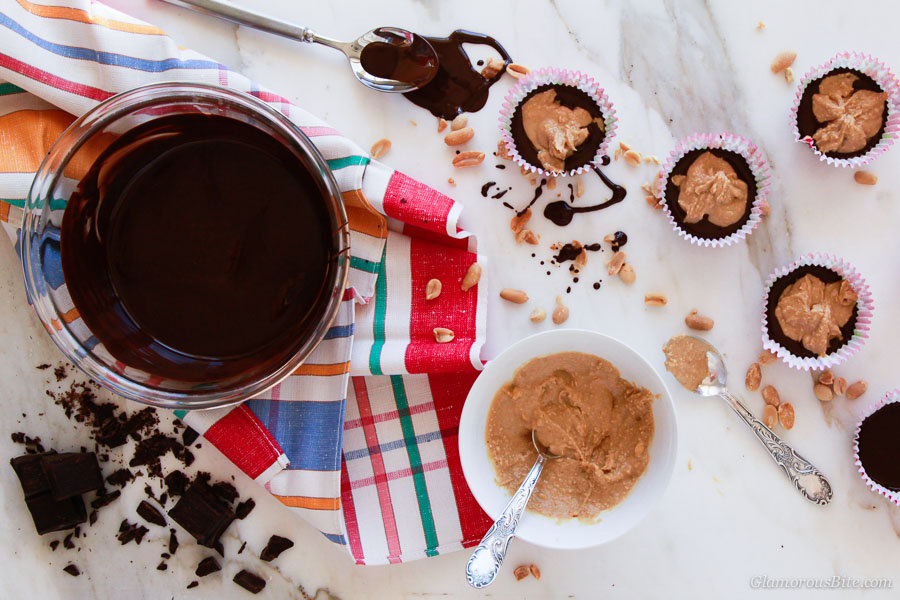 Glamorous Healthy Facts:
Dark Chocolate
Rich in Antioxidants which help you get rid of free radicals
Makes you happy with phenylethylamine which releases endorphins
A study showed that it may help control insulin sensitivity
Contains Vitamins like Iron, Potassium Magnesium
May lower blood pressure
Yay it is a Superfood
Coconut Oil
Strengthens the immune system from
Beneficial to the heart, may help with high blood pressure
Antiviral and antibacterial properties and is an abundant source of lauric acid
Moisturizes skin and hair
Helps with weight loss by increasing the body's metabolic rate
Peanuts
Lowers the risk of weight gain
High in Biotin which helps balance blood sugar
Helps reduce risk of cardiovascular disease.
Protect against Alzheimer's
Contains resveratrol which improves blood flow to the brain
Our homemade peanut butter cups recipe was inspired by PureElla and SparkPeople. They both had a clean and simple approach to making these sweet little cups. To make this a raw recipe, then keep the water below the boiling level and just gently warm the chocolate to melt. Chocolate can melt at about 90 to 96 degrees. You can make it in silicone cups or in pretty paper cups if you wish to take it along to share with friends.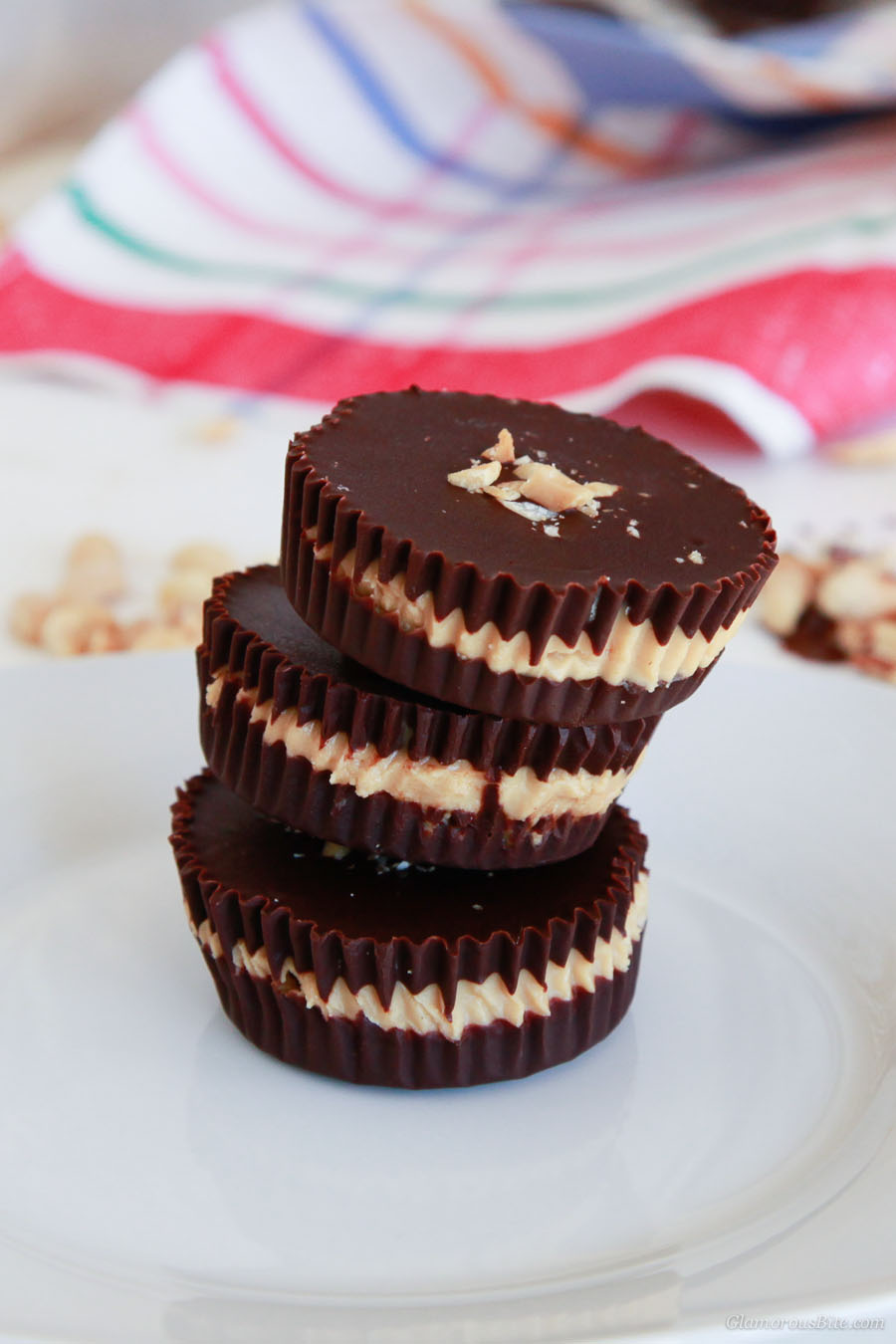 These darling little edible enticements are covered in rich dark chocolate layers hiding the sweet creamy peanut butter filling. Sweet creamy morsels are the simplest to make and please do not blame us if you become not so warm hearted in sharing and hide a few for yourself…we did! You can decorate them with a few or a lot of slivered nuts if you like. The little added crunch brings your taste buds to more exciting stage. see how easy it is to live a healthy low carb no processed food life and munch on darling little ridiculously addictive bites filled with antioxidants.
Homemade Peanut Butter Cups
makes about 14 medium size cups
12 to 14 medium paper cupcakes cups
8 oz (226g) Organic Dark Chocolate 72%
3/4 cup Natural Organic Peanut Butter – plain with no additives
2 Tsp plus 1 Tbsp Organic Coconut Oil – divided
Pinch of Himalayan Salt
1 Tbsp Organic Peanuts – crushed for topping
Chop chocolate into small pieces. If you do not have a double boiler, heat over medium high heat a little water in a sauce pan. Place a glass bowl, larger then the pan on top. Just make sure that the water is not touching your bowl and keep it on a low heat at about 100 degrees to make this a raw recipe. Add the chocolate pieces and the 2 teaspoon of coconut oil to the bowl and let the chocolate melt for a few minutes. Stir gently until chocolate becomes smooth. Turn the heat off and keep the pot on the stove.
In a mixing bowl, add the peanut butter and the remaining 1 tablespoon melted coconut oil. Sprinkle in the Himalayan salt and beat the mixture on medium high for 2 – 3 minutes. Don't skip this step it will give you a creamier filling.
Arrange your paper cups on a large plate. With a sauce spoon drizzle melted chocolate into the cups until the bottom is evenly covered.
Freeze the cups for a few minutes. Spoon a dollop of whipped peanut butter mixture into the cup. Gently spread out evenly.
Finally drizzle more of the melted chocolate on top, to hide all that gorgeous peanut butter. To decorate sprinkle a pinch of crushed peanuts on top.
Transfer the finished cups to the refrigerator for one hour, or if you are in the hurry to sample your handiwork, then freeze them for about 10 minutes. Remove paper cups before serving or keeping it in the refrigerator for a later serving. They can keep in the refrigerator for longer time but by us they do disappear quickly.
Homemade Peanut Butter Cup Nutrition Facts: Servings 14, Serving size 1 cup:
Calories 186 • Fat 15.6 g • Saturated Fat 6.5 g • Carbs 8.8 g • Fiber 6 g • Net Carbs 6 g •
Sugars 4.6 g • Protein 5.25 g
Diet: Low-Carb, Diabetic Diet, Raw, Gluten-Free, Vegan, Refined Sugar Free, Dairy Free