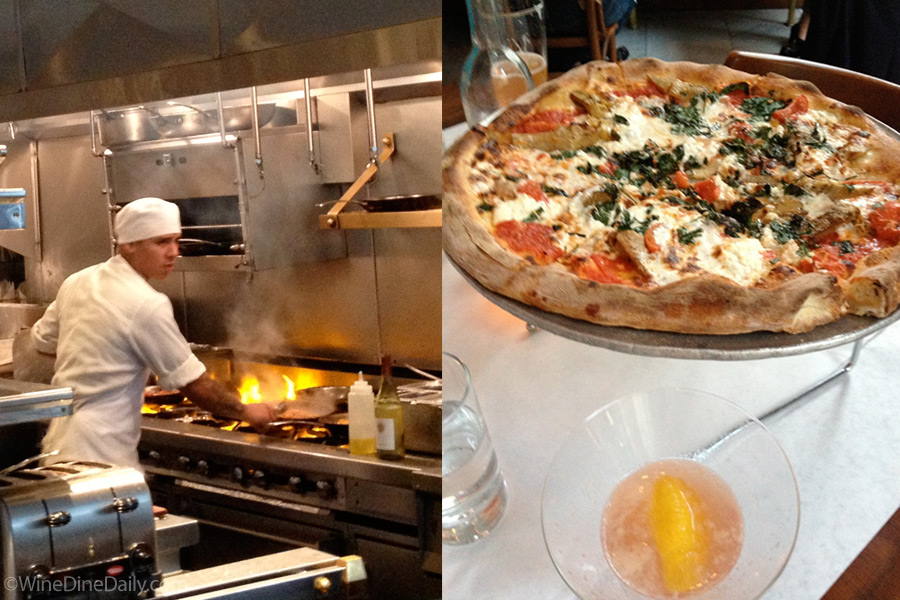 If you have been to Downtown Los Angeles lately, you notice that every block has several restaurants. Many new places have sprung up with chic decor and hip people offering exciting and exotic cuisine.It is such a temptation to go out to eat every night with delicious smells wafting through the city. One fancy restaurant that caught our attention was Bottega Louie on the corner of Grand Avenue and 7th Street. At first we dismissed it as a touristy place since it was so bustling with people picking up desserts, having cocktails, or dinner by the large windows.
We felt like Audrey Hepburn looking through the store window in Breakfast at Tiffany's. The vibrant hues of French desserts beckoned us to enter and take a few home to try. After the first bite it was obvious we needed to come back for dinner.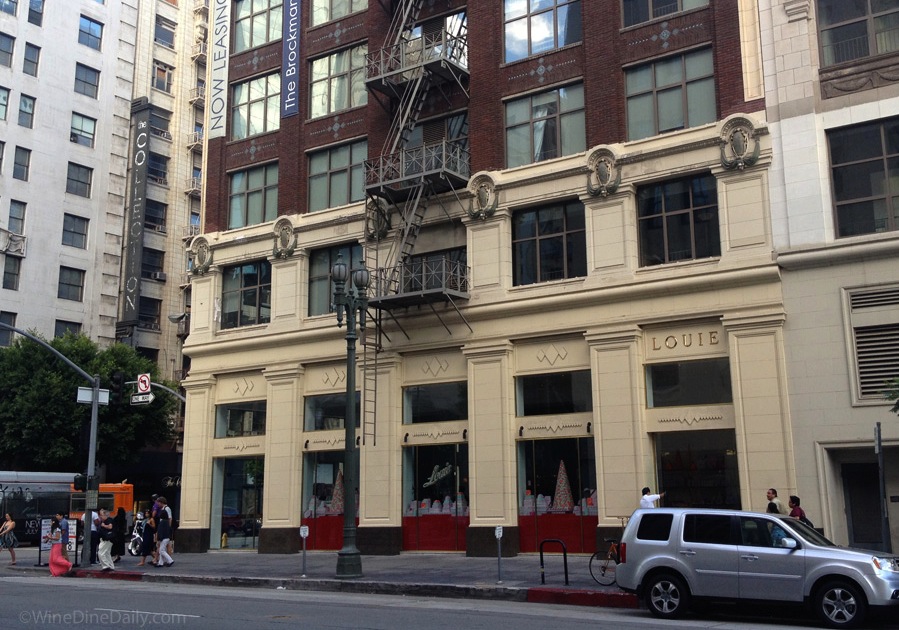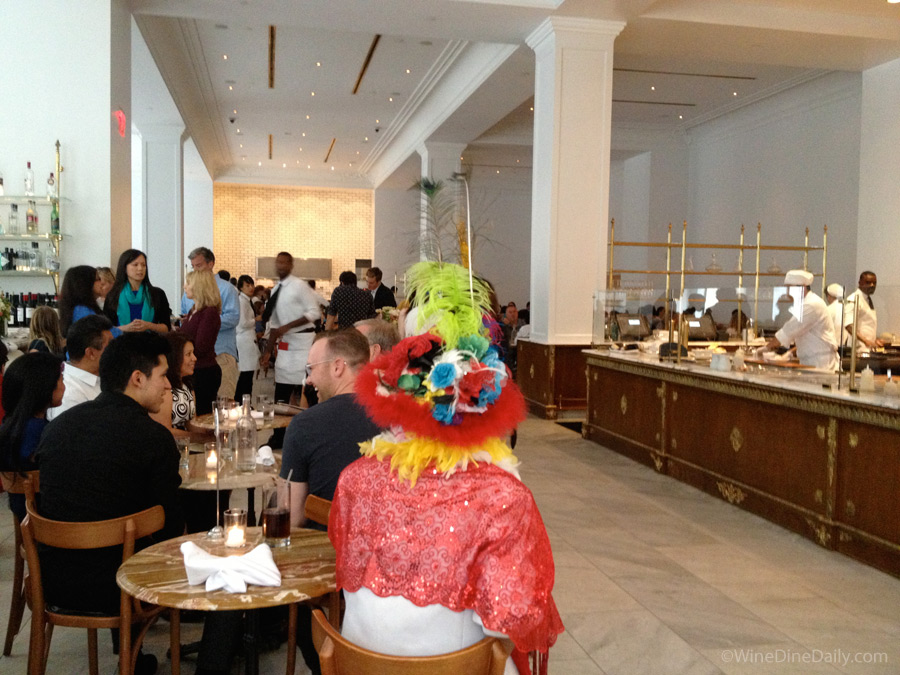 Bottega Louie in Los Angeles has a pristine elegance that is tempered with the aromas of cozy French/Italian/American food. The restaurant atmosphere is grand with shiny white marble floors, 20 foot high ceilings that give you a feeling like you walked in to the perfume section of the La Fayette in Paris, and tasteful decor with Rococo hints, yet it is still comfortable and the place to be see and be seen. The building itself is a work of art. It is the historic Brockman Building from 1912 and there are condos available just above Bottega Louie. Now wouldn't you want to live there?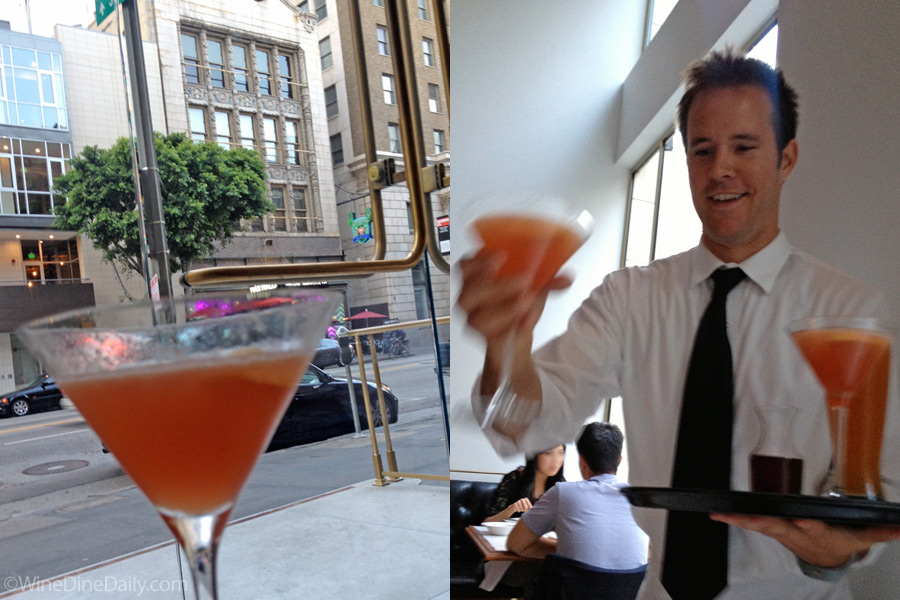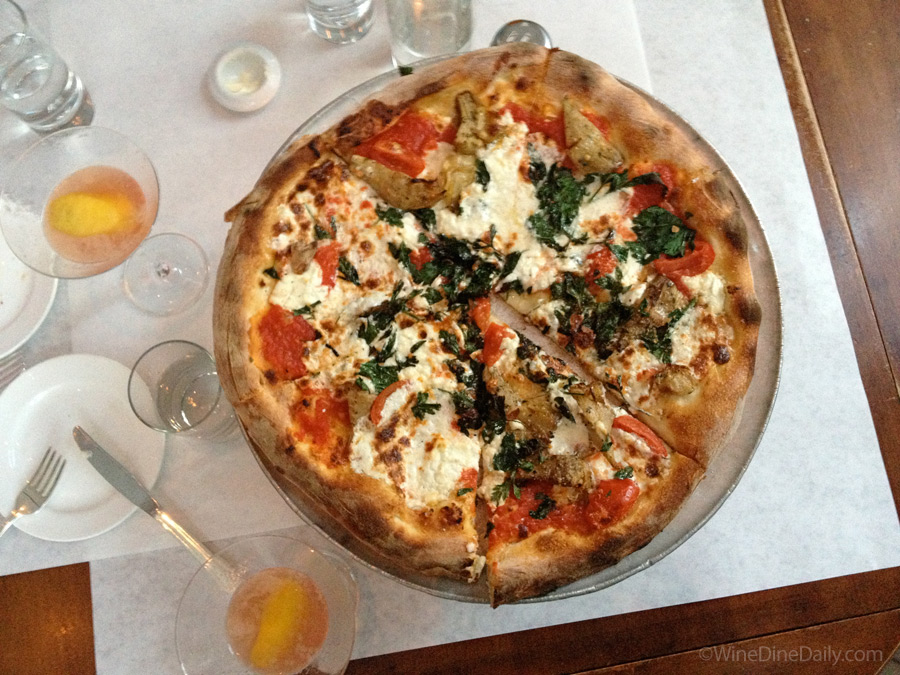 It can get a little noisy with the chatter of so many dinners. After a short wait by a golden hostess table we were seated near the window and greeted by our waiter, who resembled the handsome actor Ryan Reynolds. What looked good on the menu? Almost everything! After spying the large pizza oven in the back, we decided on the Artichoke Pizza topped with roasted artichokes, tomato sauce and cherry tomatoes, Italian parsley, both chèvre and mozzarella, fleur de sell, extra virgin olive oil. The pizza is a pretty good size for one person, and just right to share with a friend so you can enjoy other tasty bites from this great restaurant. This time we strayed from wine and indulged in a ROUX BIJOU cocktail with Cointreau and Courvoisier, some fresh lemon juice, a little simple syrup and pomegranate with a bit of Prosecco.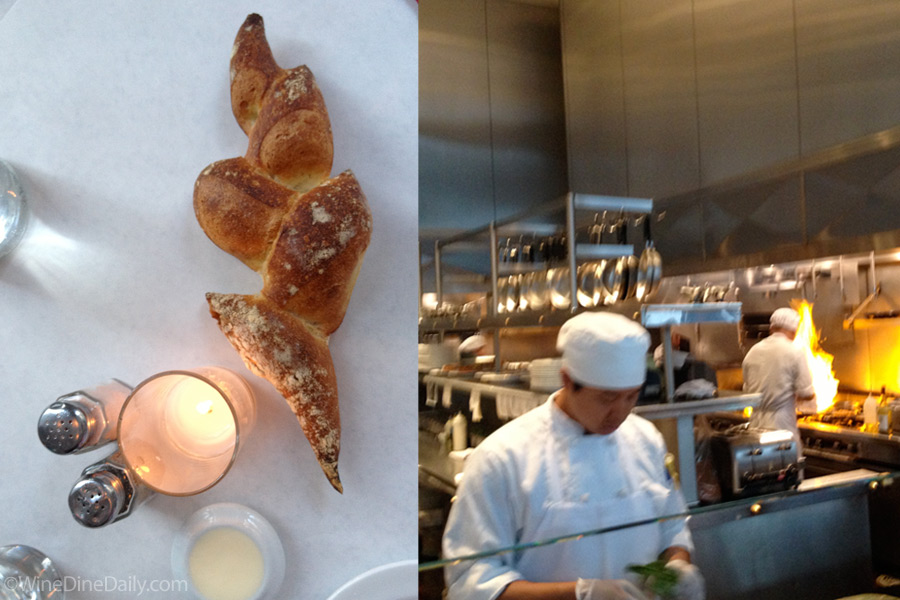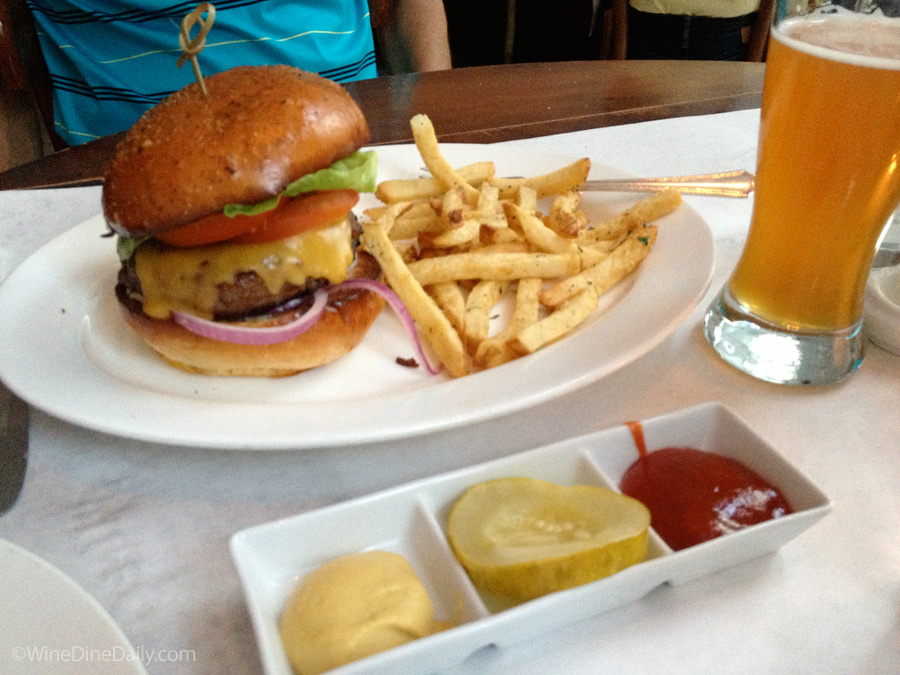 Paul went for the standard burger made with Kobe beef, bib lettuce, Brandywine tomato, red onion and house made aioli served with crisp Kennebec French fries paired with a fresh Paulaner Hefe-Weizen beer. The burger was tasty and so were the fries, which we coulnd't help but try as well. We were really lucky with our waiter if you can believe Yelp reviews about sluggish service here, since our waiter was not only pleasing to the eyes, he was very efficient and enthusiastic and knowledgable about the menu. He sure knew his cocktails. Even the manager made the rounds to the tables and asked how our meal was.
Lunch and dinner menus are the same so you can enjoy all the specialties at the same price. There is even a take-out menu, which we made use of with taking out pizza and a Frisée Salad with watercress, shallots, chives, and topped with a poached egg, lardons, toasted ciabatta croutons and warm red wine vinaigrette. Now that is healthy and delicious.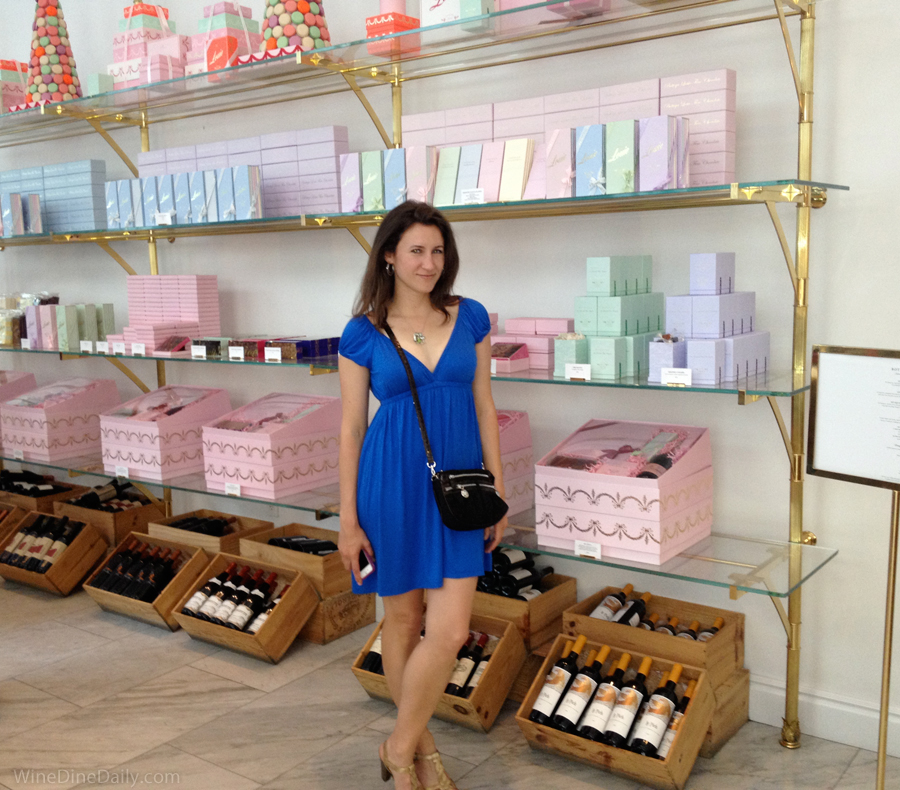 The Artichoke Pizza was so addictive that it turned into our take-out staple during our visit. Located just a block away it became quite an irresistibly dangerous place since it compelled Corina to pick up desserts and bread at random times while meaning to just go on a brisk walk.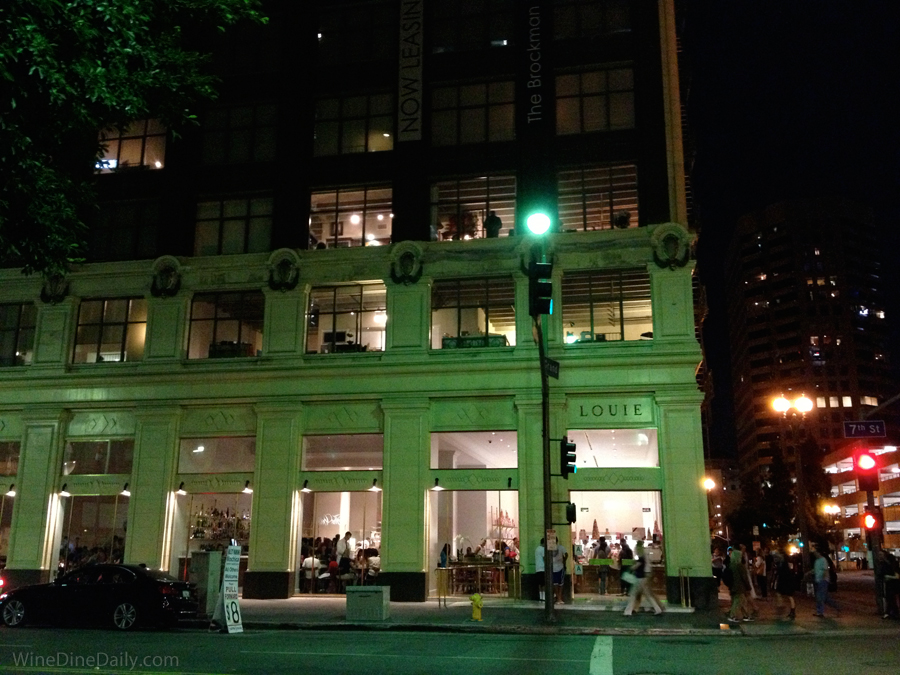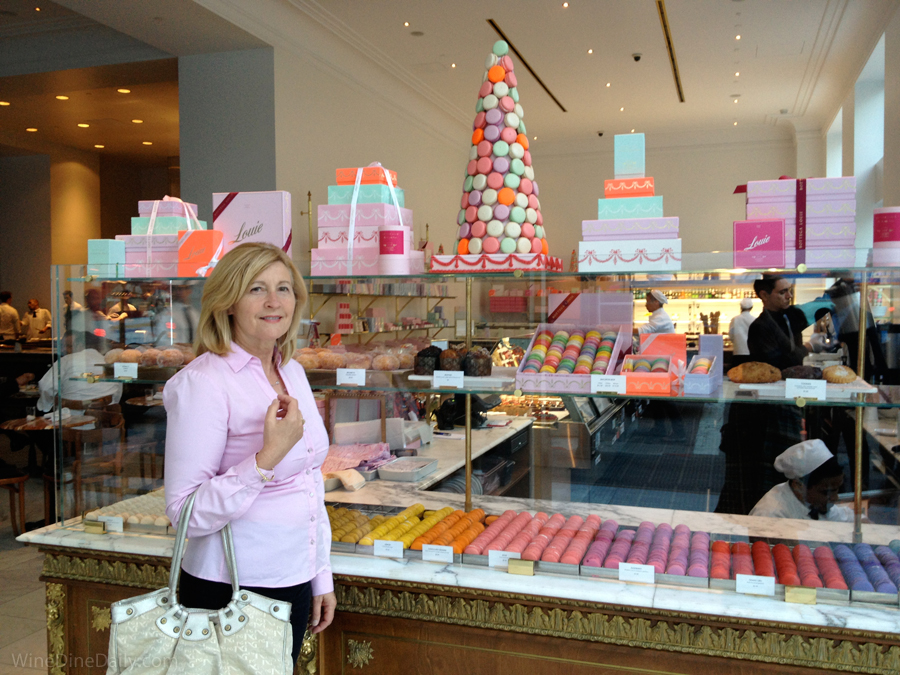 Judit is trying to decide which Macarons to try. What a difficult decision.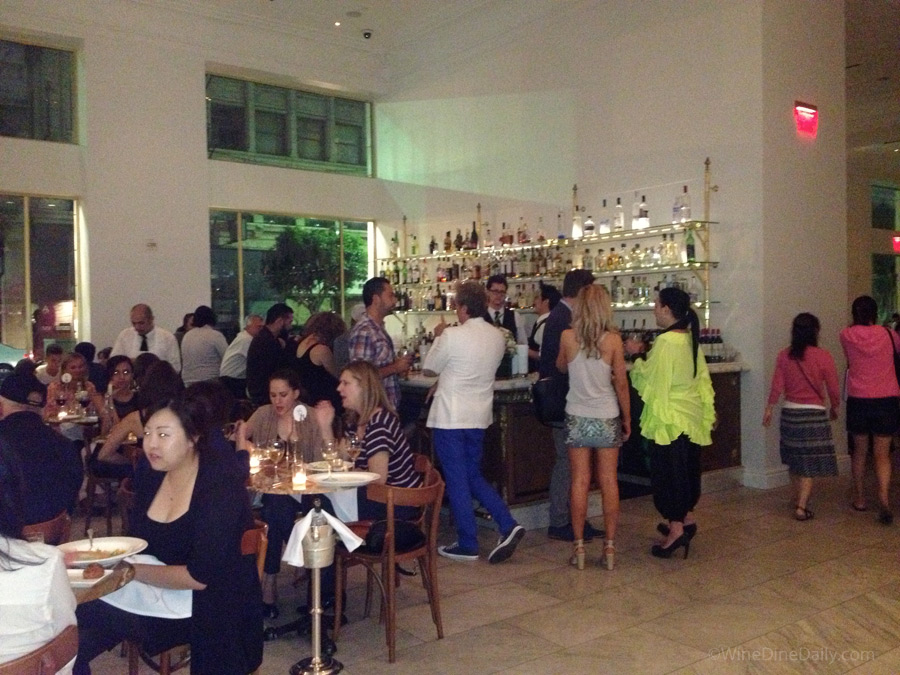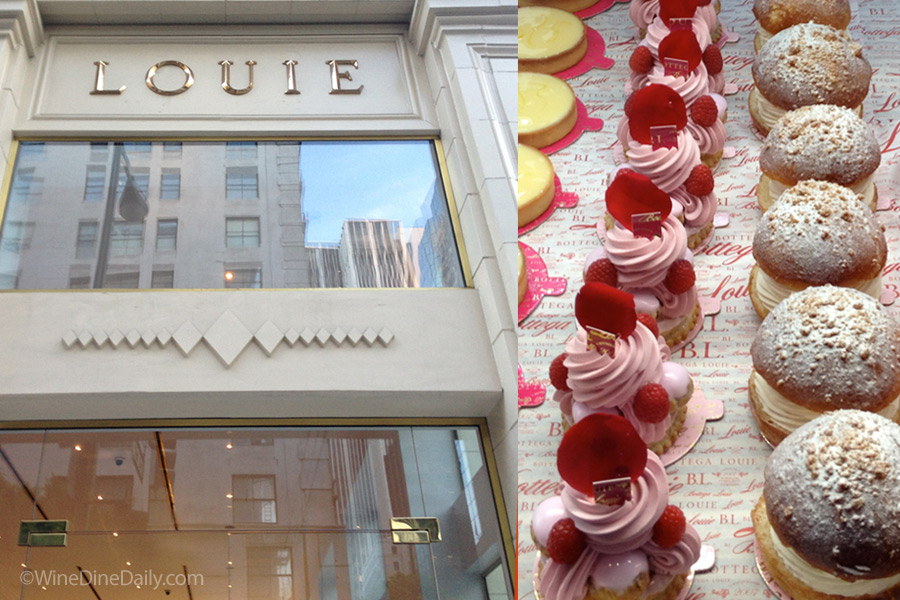 We can't wait to go back and try the Portobello Fries that are so raved about and the Fettuccine Belmondo with cherry tomatoes or the Lobster Nage with cauliflower panna cotta. Let's not forget the desserts! A variety of Macarons, Fruit Tarts, Chocolate Orange Sorbet… Based on the amount of pastries we wished to try it would be more economical just to rent a condo upstairs.
So the next time you come to Downtown L.A., make sure to visit Bottega Louie, even if it is just for a cocktail and some fabulous sweets. Believe us it is worth the wait.