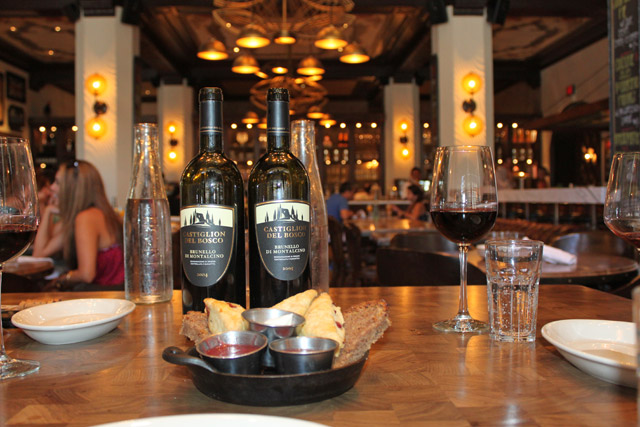 What a delicious way to spend a Saturday! We were invited to Hollywood's Roosevelt Hotel Public Kitchen & Bar (which has replaced their Dakota eatery) for lunch and a Brunello tasting.
After a slower then snail pace on the freeway – welcome to Los Angeles' 101 Freeway on a sunny Saturday – and you would think that during the workweek is terrible, we finally arrived in the heart of the star studded Sunset Boulevard.
Recently, the iconic Roosevelt Hotel received a refreshing facelift worthy of any starlet and attracts locals and travelers alike with its three new hip scene and eateries: Public Kitchen & Bar, The Spare Room and Beacher's Madhouse. Tim Goodell's Domaine Restaurant Group newest establishment, Public Kitchen & Bar offers classic eclectic American menu with a healthy dose of glitz and glamour seasoning. And lets not forget the Star power.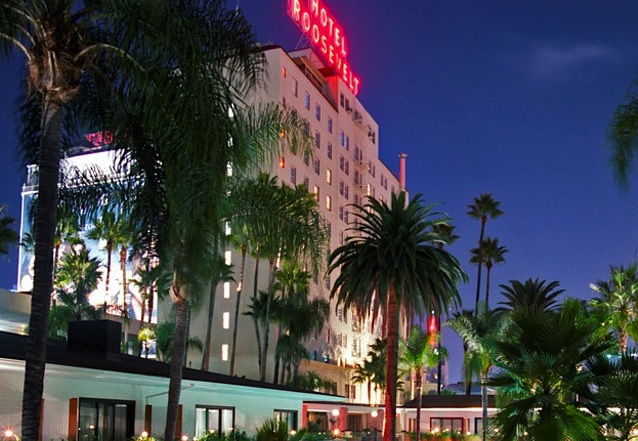 Hollywood Roosevelt Hotel has been a favorite celebrity haunt (and is even said to be haunted!) by Marilyn Monroe, who lived there for two years, Clark Gable and Carole Lombard all the way back to 1927. It is also the birthplace of the Academy Awards. During our visit Vince Vaughn and John Legend were spotted relaxing at the pool.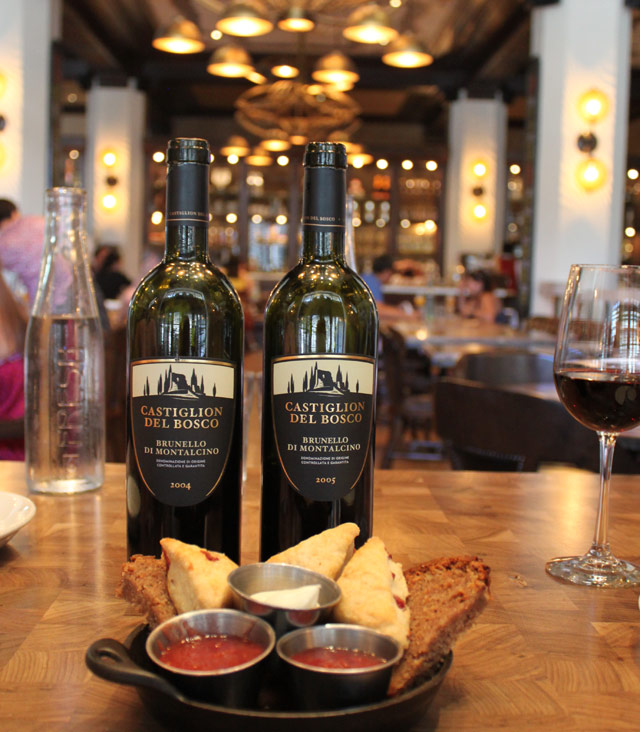 Ready for a sip? The first tasting: 2004 Castiglion del Bosco Brunello di Montalcino. It was pure silk from the first sip to the last. On the nose dark cherry, cassis. On the palate more deep juicy cherry notes and luxurious dark fruit. Beautifully balanced acidity and tannins make this wine extremely food friendly.
The next was the 2005 Brunello, which had a strong berry burst, but a little less staying power than the 04. Instead of lunch, we all opted for the brunch after reading the delectable menu (and after finally finding the menu, which was a small folded square that Corina was using as a coaster)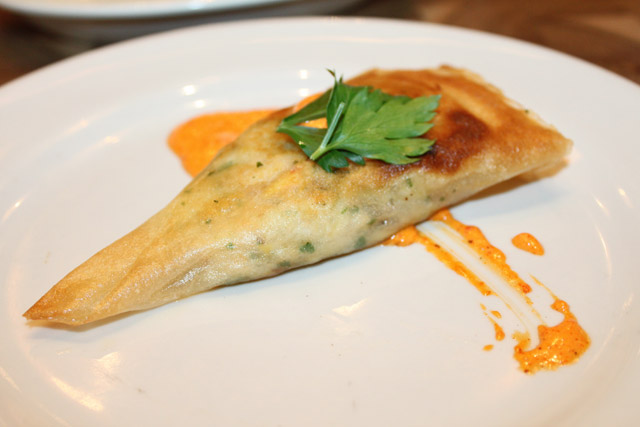 Brunch started with a choice of appetizers. Crab Cakes wrapped in a crispy mantel.. Hmmmmm.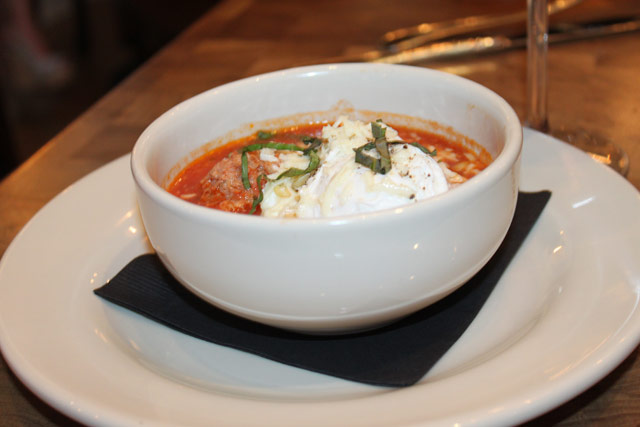 Succulent Neapolitan Meatballs were also an appetizer choice. The Meatballs were a perfect pairing since the tomato sauce balanced well with the wines' acidity.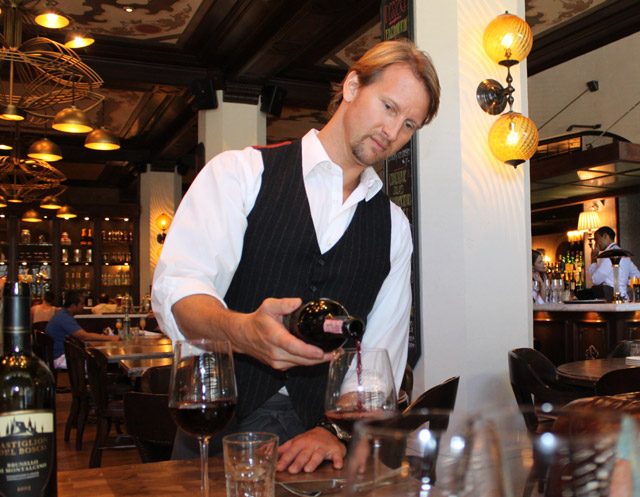 Our waiter was charming and efficient. Have you perhaps seen him in a movie or does he just remind us of this actor…?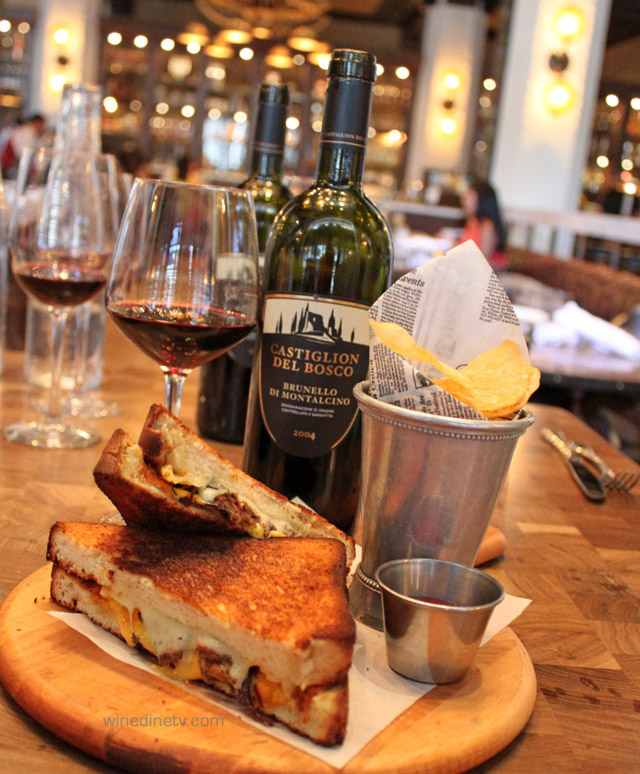 For the Main course, Corina opted for the GRILLED THREE CHEESE & SHORTRIB SANDWICH (who can resist a giant more gourmet version of grilled cheese?) This melted cheesy goodness combined with the tasty meat and the tangy caramelized onion.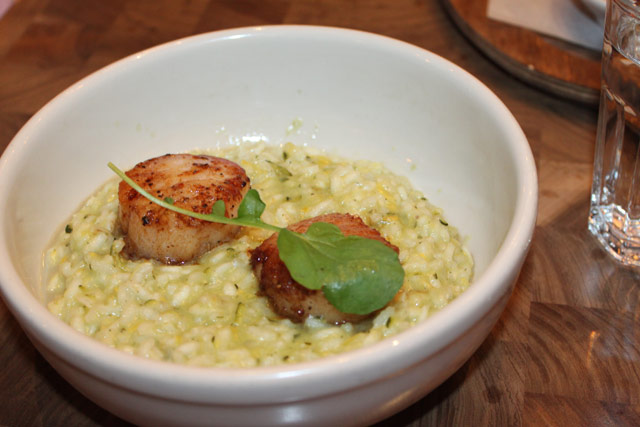 Another wining pairing was the DIVER SCALLOPS ZUCCHINI RISOTTO with mint mascarpone. Two plump sea scallops were lightly bronzed and nestled in a bowl filled with addictively delicious zucchini risotto. Our host David had this dish the day before and was excited to pair it a second time with the Brunello.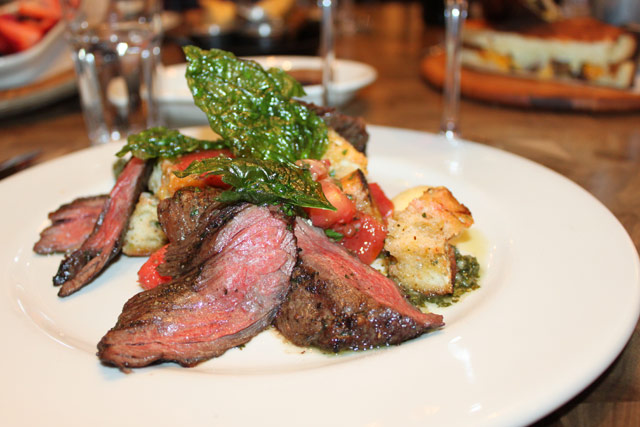 Judit had the FILET MIGNON slices with PANZANELLA SALAD heirloom tomatoes. Tender medium rare beef, slightly smoky flavor with not too much spice – just right. Panzanella salad is a Florentine bread and tomato olive oil and vinegar salad with a dab of garlic (luckily just a small dab so that it did not overpower the wines).
Both the wines were structured enough to stand up to grilled meats and steak house fare. Even seafood did not feel left out with these wines. The 04 Brunello amicably related to the scallops and risotto while the steak definitely danced with it. The 05 cozied up to the grilled cheese sandwich and was sublimely elated with the stake.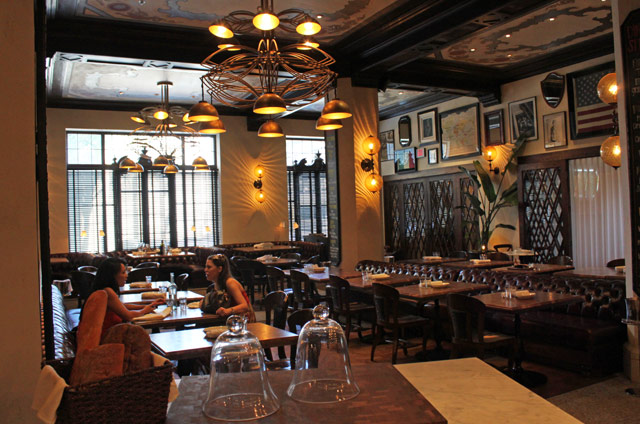 We marveled at the combination of old world elegance meets modern as we slid into plush leather booths that hugged polished wooden table tops.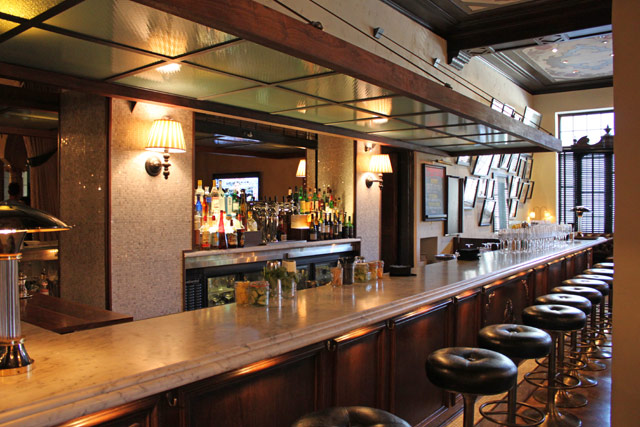 The Bar looks quite empty at the moment since everyone had already gone to the pool.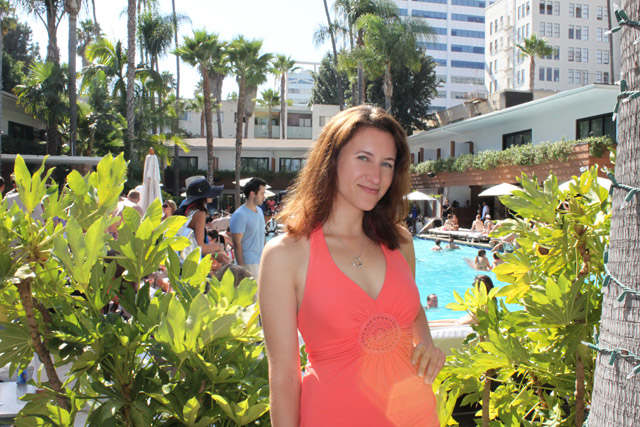 Outside, the pool was in party mode under the warm California sun. Wouldn't you like to be at the pool right now?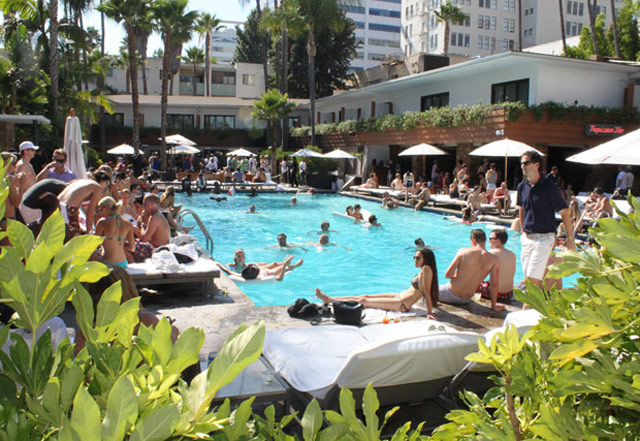 What can be better than spending a Saturday in Hollywood eating delicious food, drinking divine wine, and soaking up the stars!
Now where did Vince Vaughn (who was supposed to be in that chair) and John Legend go…?
This place is definitely worth a visit for the ambiance and dining experience and don't forget to try the Brunello!