We know that Christmas may now be just a sweet memory for you as January is well on it's way, but we just want to share this restaurant experience with you and it would be a great place for a Valentine's Day dinner too. Each year we are both looking forward to our visit during winter time to Beverly Hills where the palm tree studded Rodeo Drive glitters with lights brighter than the Hollywood stars and luxurious shop windows come alive with opulent window displays and a fabulous Christmas tree greets visitors on Via Rodeo. On top of all these festivities Corina's birthday is in late December and she decided that we should celebrate with a lovely meal in festive setting so of course Beverly Hills was the perfect choice. We had just been in LA the day before visiting friends, but felt like returning for the holiday lights, even though the drive takes us on an average day (if you are lucky) about 2 1/2 hours each way, but we didn't really mind and took the scenic route through Malibu.
After taking the obligatory Holiday photos on Via Rodeo center and along Beverly and Rodeo Drive it was time for dinner and as we made our rounds for the perfect dinner spot, with the mind of trying something new. The multitude of restaurants in the area were decked out with thousands and thousands of lights around cozy window seats filled with happy diners beaconing you to come in for dinner and join in the merry atmosphere. Feeling like Julia Roberts in "Pretty Woman" strolling into shops, oohing and ahhing over designer clothes, and admiring hot sports cars, we kept circulating back to the fabulous corner of Il Fornaio. Over the years, we have been there several times and what can we tell you we "loved every bite". Corina decided, because it was her Birthday after all, "lets have dinner here at least we know it will be good".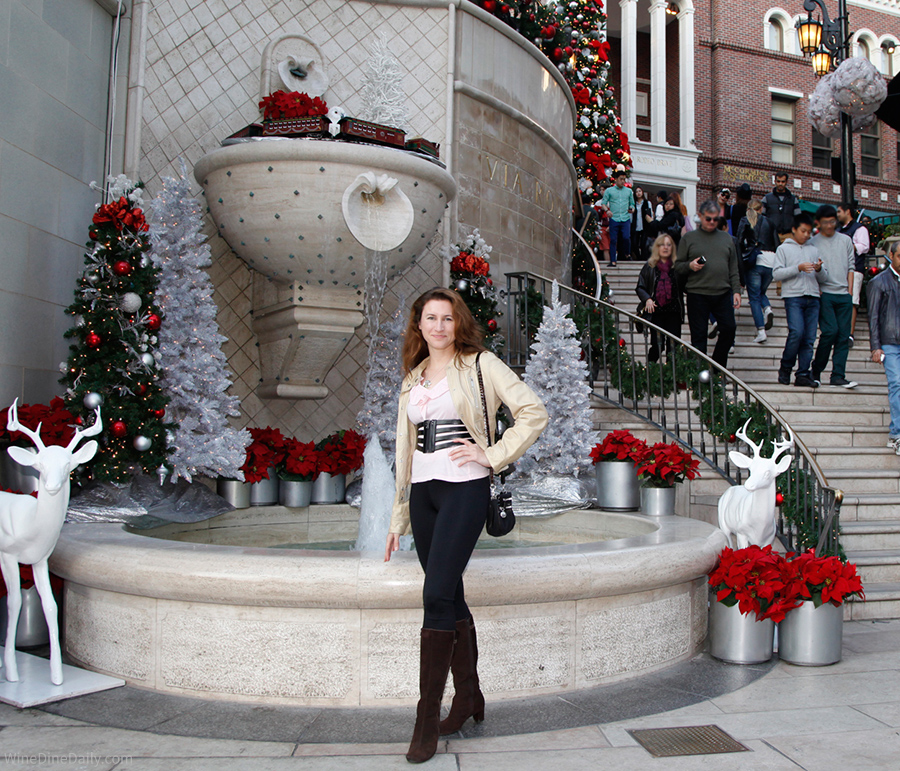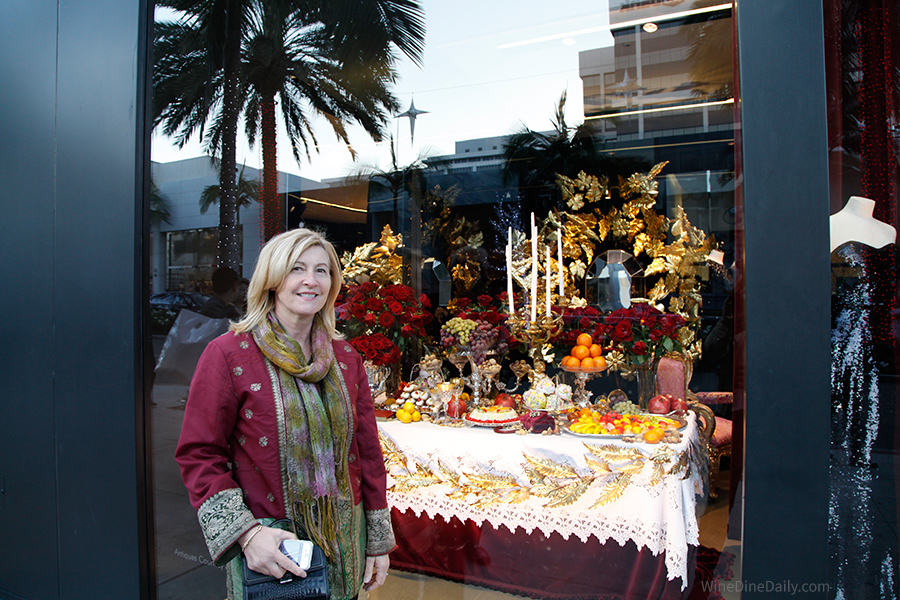 Doesn't this look luxurious? This Dolce Gabbana table setting in the window display made us really hungry.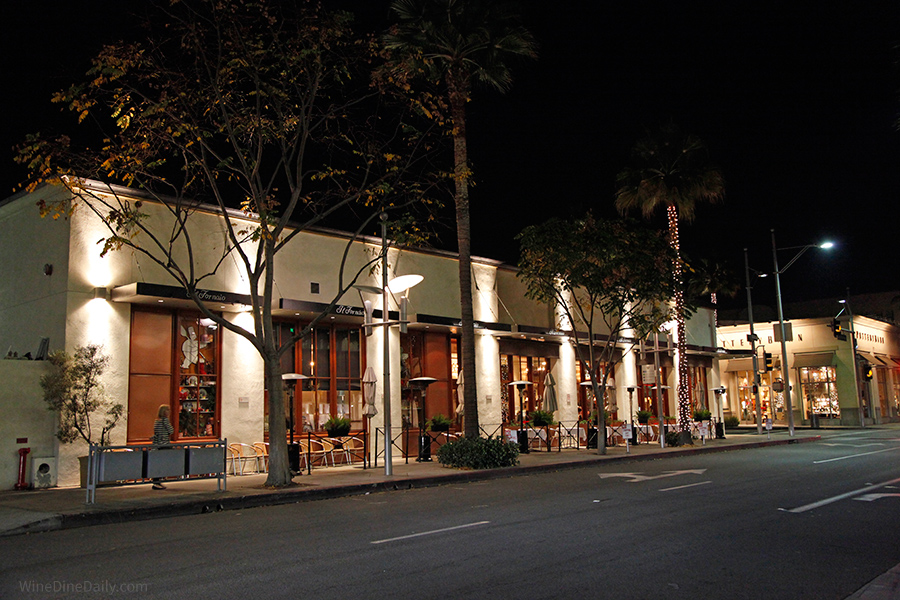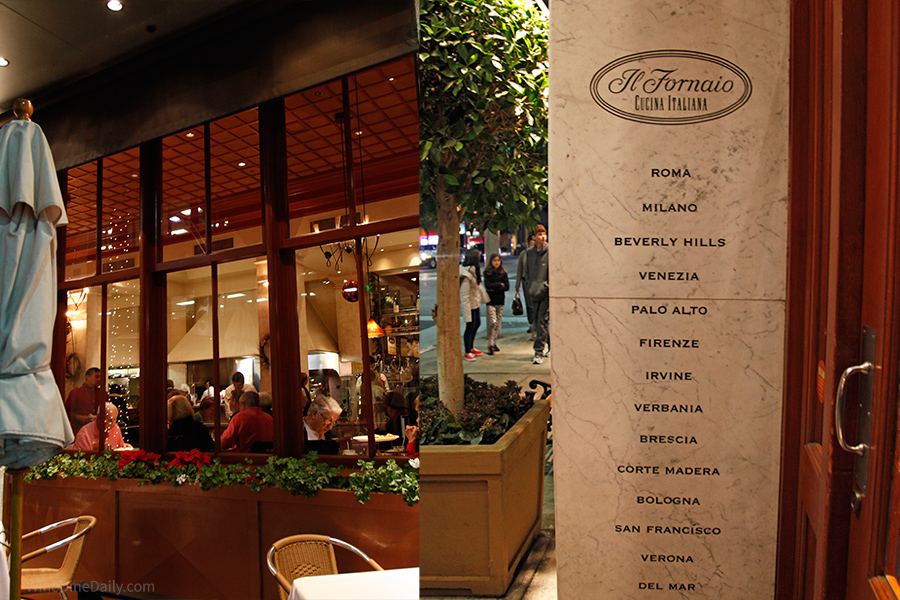 Il Fornaio is on a fabulous corner with charming outdoor seating perfect for people and celebrity watching. It was a little bit too cold on this day to sit outside.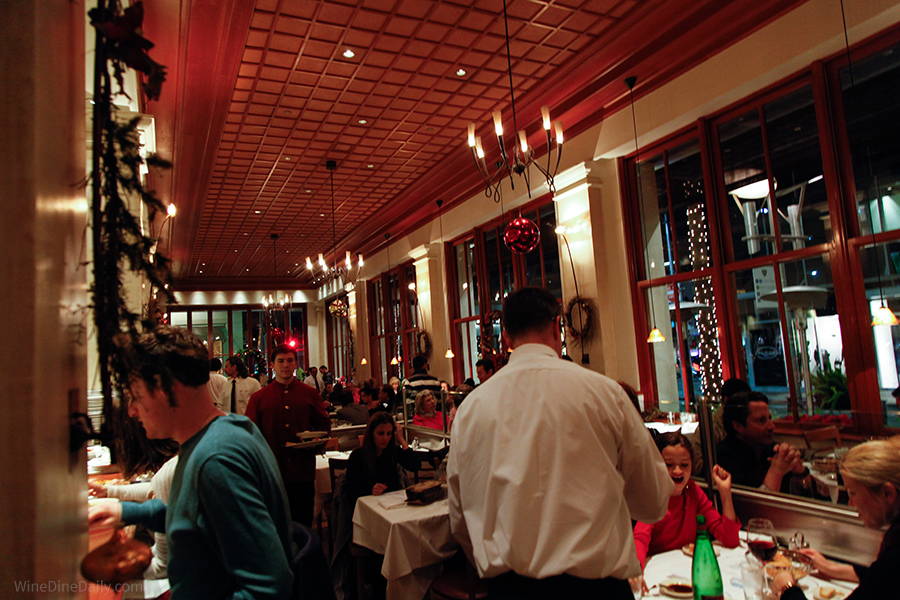 The spacious main dining room with beautiful wood paneled ceilings and tall windows is very stylish, yet the tables are set very cozy in the Il Fornaio Restaurant Beverly Hills.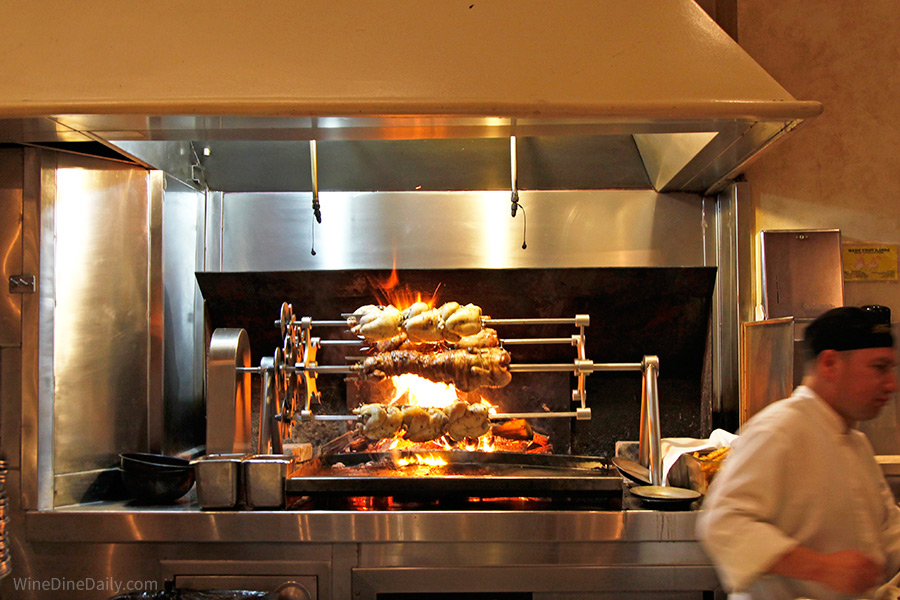 As we strolled by the second time we noticed an empty window seat and we all got excited that perhaps we do not have to wait long like last time when we were there, which was close to an hour and we were so hungry by the time the waiter guided us to our table that we really did not wish to waste anymore time to peruse the menu and quickly ordered pizza then counted the minutes until arrived. This time it was perfect timing, the hostess told us that seat is available and voila within minutes we settled into the cozy window seat. The restaurant was quite full and with a lively semi-private event in the end of the large room the whole atmosphere transported us back to our many dinners in Italy. The open bar was humming with life as the pizza oven and the rotisserie danced with cheerful flames to ignite your senses.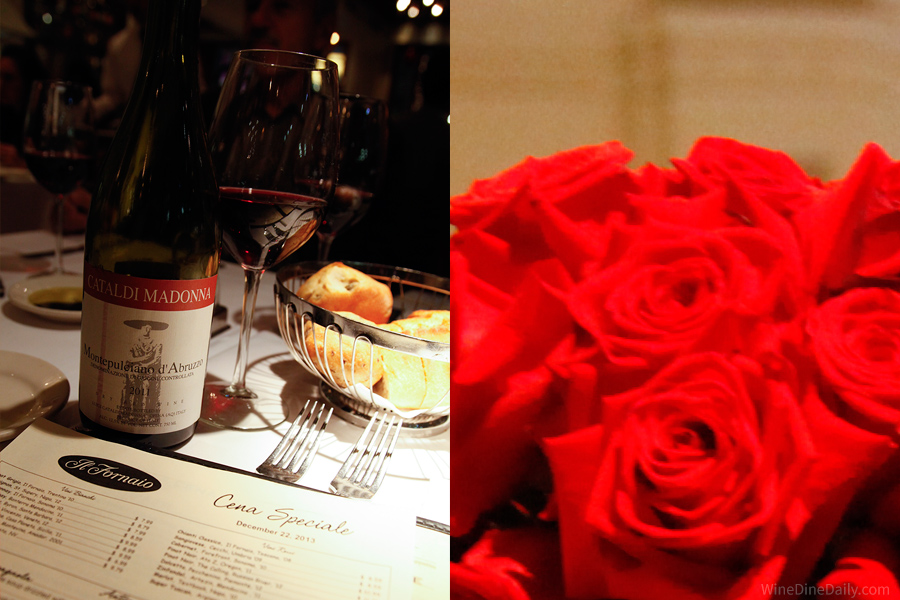 Tempting authentic Italian dishes waiting to be explored filled the menu and the warm hospitality made us feel welcome.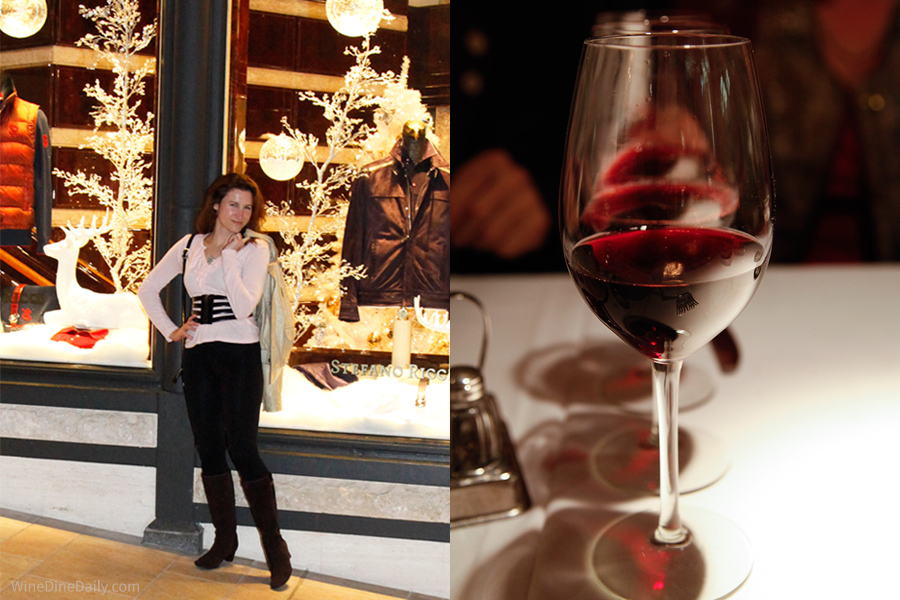 The wine list was fairly short mostly Italian with a few exception and chosen well to marry most dishes. We were in the mood for red wine and ordered a bottle of Italian 2011 Cataldi Madonna Montepulciano d'Abruzzo, Italy. This medium bodied ruby red wine is made from Montepulciano grapes with vibrant black cherry on the nose, a hint of rose and violets, and blueberry, which also carried to the tongue. Let it breathe, have a sweet conversation and the tannins transform into a Hermes scarf. Juicy berry, currant, exotic sandalwood and a touch of English leather and plum also played with the cherry. Agreeable tannins and good acidity with a light tobacco finish. It had notes reminiscent of a Pinot Noir and pairs nicely with pasta and meat dishes. We found it happily accompanied all the dishes we had.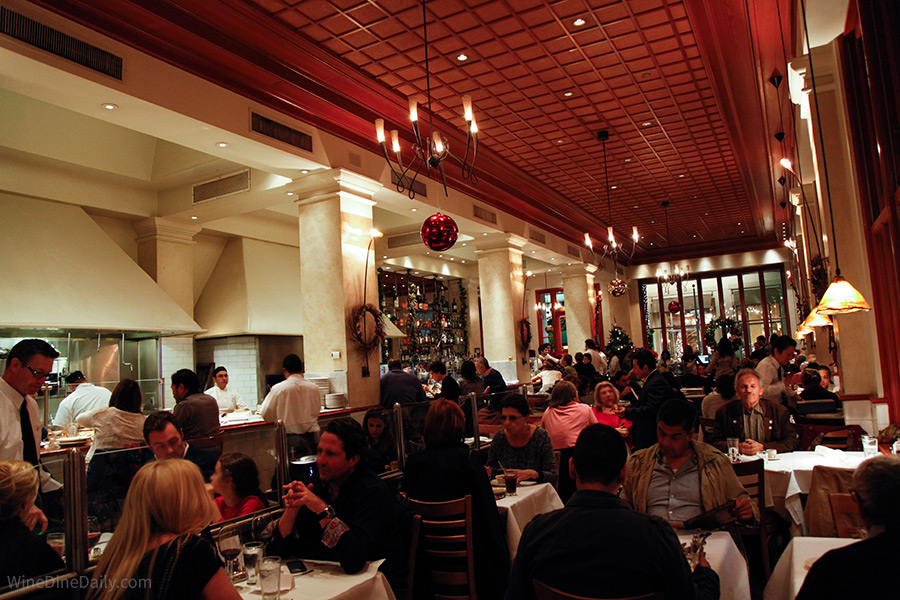 Even with full house it had a comfortable ambiance with efficient service.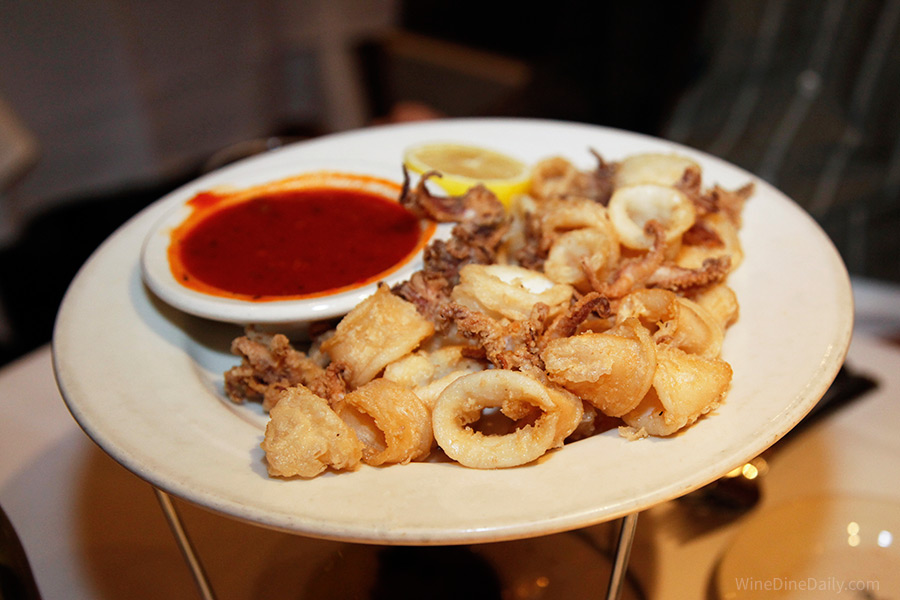 As it happens to any celebrations the wine flow freely perhaps a little too freely and some of the gorgeous ruby red drops ended up on Corina's gold Italian leather jacket that she had gotten in Florence. Talk about fatal attractions – red Italian wine and light colored Italian jacket. Right away Rudy, the brilliant manager, came and tried to help and came back with a whole list of ideas of what could be done to remove the wine stains which he acquired from Google. Most of the spots came out after several applications of mineral water. Even the waiter from the next table, Marco who was originally from Italy, was also very helpful. After the whole excitement of the wine spill, we opted to start with an appetizer of Calamaretti Fritti with baby squid and a spicy marinara sauce for around $14 so we can start enjoying the wine. In case you are counting, the calories were right on the menu and this appetizer that was plenty for three had 830 calories, but who is counting today.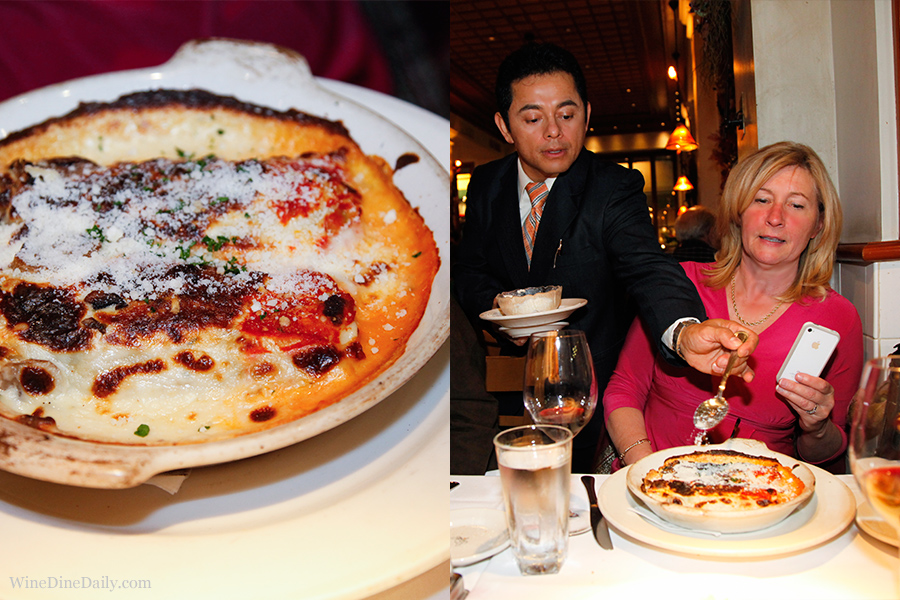 For the main course, Judit had the House Special, Specialita' Della Casa of Cannelloni al Forno – baked in the oven, delightfully creamy and tender yet delicate. The cheese turned into a glorious cheesy crust. Il Fornaio is famous for their freshly made pasta and this dish was a luxurious indulgence. Fresh pasta tubes filled with free-range rotisserie chicken, sun-dried tomatoes, ricotta, pecorino, smoked mozzarella and organic spinach; topped with béchamel, marinara and mushrooms and is $19 for a mere 940 calories. She was debating between this delicious pasta dish and the Linguine Mare Chiaro, a seafood pasta with clams, scallops, mussels, and prawns. The Cannelloni won and you will be delighted to know it was not a disappointment tasting these pasta submarines immersed in a creamy sea of béchamel, it is definitely worth an encore.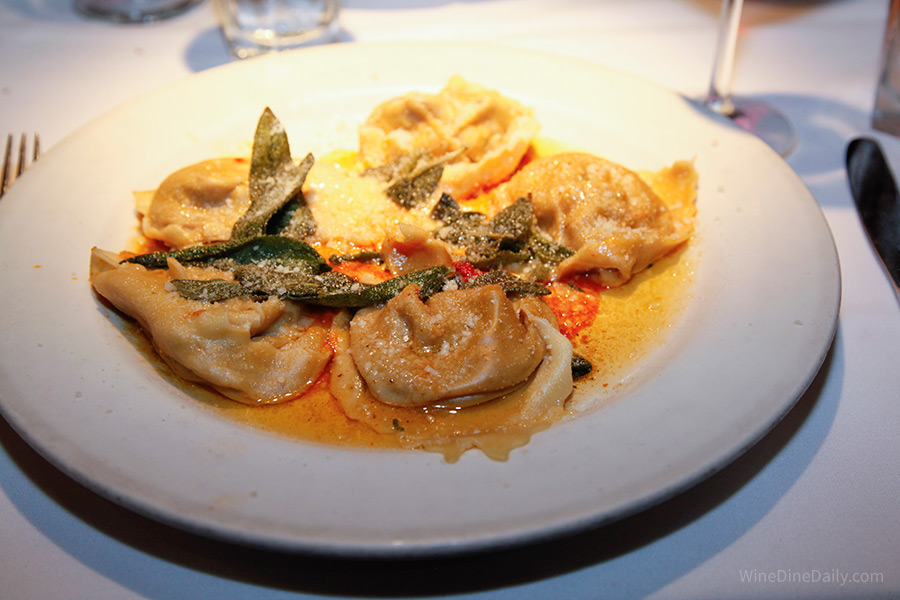 The little pillows of joy that will make your mouth sing are called Cappellacci di Zucca and for $19 is it quite a good serving size.
Corina devoured the sumptuous Cappellacci di Zucca. Butternut squash ravioli with browned butter, crispy sage, a hint of tomato sauce and Grana Padano cheese. This is one of her favorite ravioli dishes and she really enjoyed the addition of tomato with this ravioli since this type of dish often comes without just the browned butter. The flavors of the ravioli sang an opera with the wine. It came in at 1350 calories, but we don't really count those.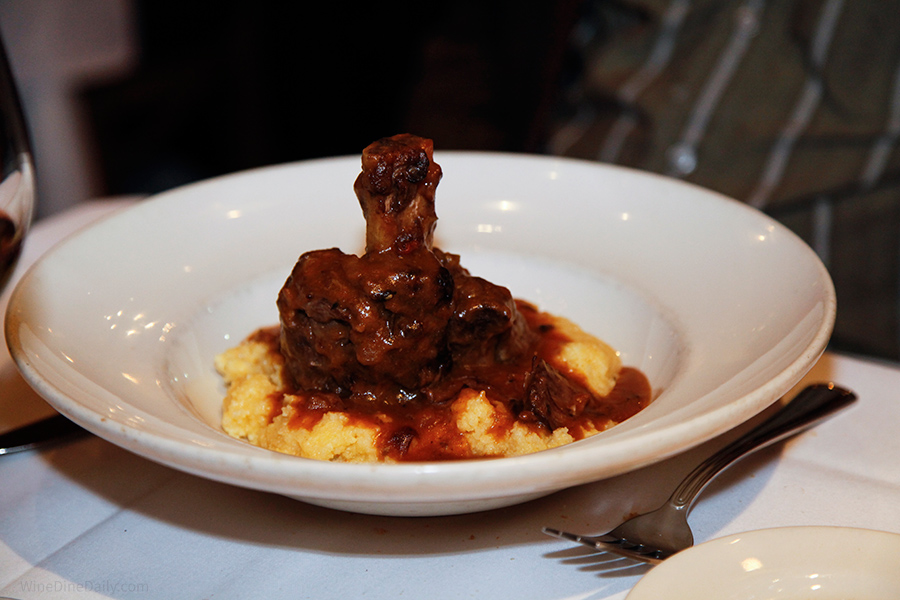 Paul eagerly waited for his Brasato al Valpolicella, braised beef shortribs that were so tender they fell off the bone and the soft, creamy polenta made an excellent base, it could had a little more taste. Before ordering we saw this enormous plate resembling Mount Vesuvius heading to several tables so we figured this must be a popular choice. This succulent dish was around $25 and 1330 calories, but who cares when you are in such culinary heaven calories really don't count.
Even though our waitress had mentioned that Judit's Cannelloni al Forno is a heavier selection (who cares!) Corina ended up winning the calorie game with Butternut squash ravioli and her consuming most of the crepe and chocolate mousse. We know what we are going to try next time. Rudy thoughtfully brought us each a glass of Super Tuscan wine and a lovely dessert trio that topped off Corina's birthday dinner. The wine was more robust than our first selection and kept us firmly grounded in Tuscany. The super Tuscan was rich violet red and had open bold spicy cherry notes.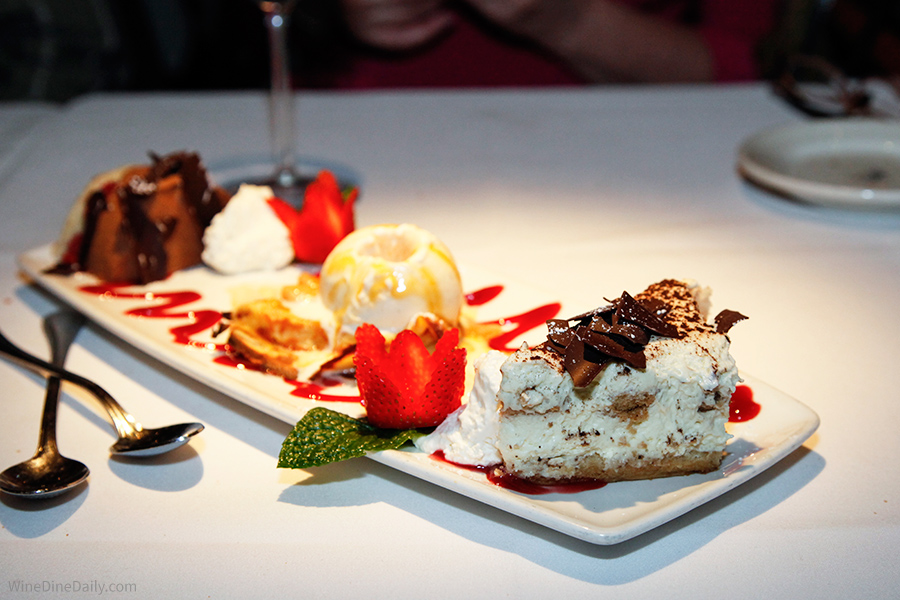 As usual, for dessert Corina could not make up her mind between something chocoalty or traditional Italian. Rudy brought this indulgent Dolce Trio, which you absolutely must try – tiramisu, chocolate mousse, and crepes ooh la la. This dessert sampler consisted of half of a Rosina al Cioccolato, one delectable Crespelle with vanilla gelato, and half of a Tiramisu. Corina adores chocolate mousse and crepes. Judit coveted the tiramisu. We of course promptly ignored the 950 calories. Rosina al Cioccolato is a chocolate mousse on a triple sec bathed sponge cake with raspberries. Apples and grapa-infused cream fill the crepe for the Crespelle and a scoop of vanilla gelato graces the top. The Triamisu is traditional with rum and espresso soaked lady fingers layered with mascarpone and drizzled with cocoa powder. This dessert for $14.59 was just right to share with two to three people, however Corina was not in a sharing mood so we lamentably let her indulge.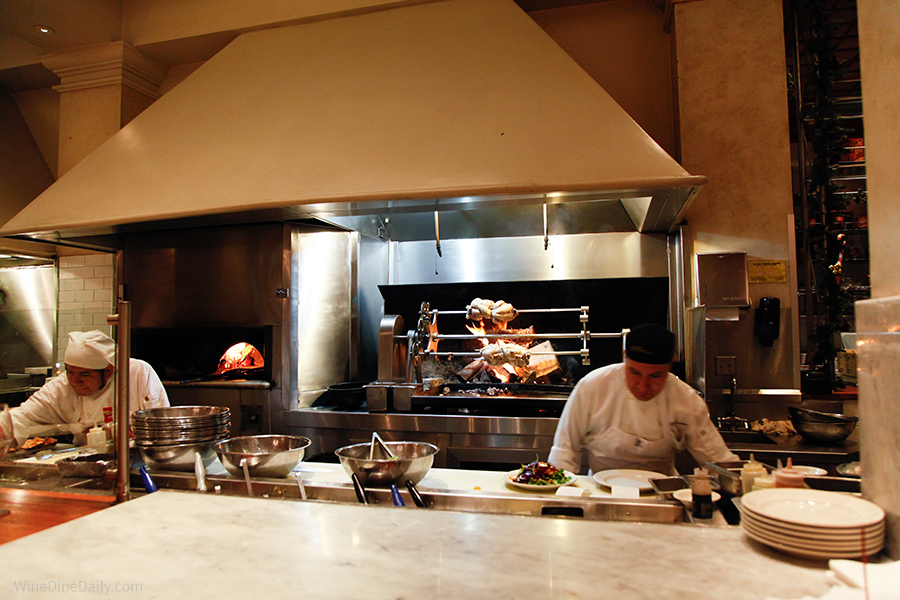 Il Fornaio
301 N Beverly Dr, Beverly Hills, CA 90210
(310) 550-0303  www.ilfornaio.com
Open daily: Monday – Thursday 7am to 10pm, Friday 7am – 11pm, Saturday 7:30am – 11pm, and Sunday 7:30am – 10pm.
Here you can enjoy breakfast, lunch, and dinner and also arrange for private or semi-private special events from small to large in the events room. If you are in the mood for taking home a little baked goods, the restaurant is also a bakery and offers a selection of breads and pastries.
It is truly amazing to know that today there are 21 locations, from California to Las Vegas to Virginia, because the whole setting doesn't feel like a restaurant chain, it feels more like a family owned traditional Italian restaurant. We can all thank to Williams – Sonoma, who in 1981 brought the Il Fornaio bakery concept to the United States and by 1983 there were four bakeries open in California. And for all the food lovers and makers delight Chronicle Books published the Il Fornaio Baking Book and the 'Pasta" Book.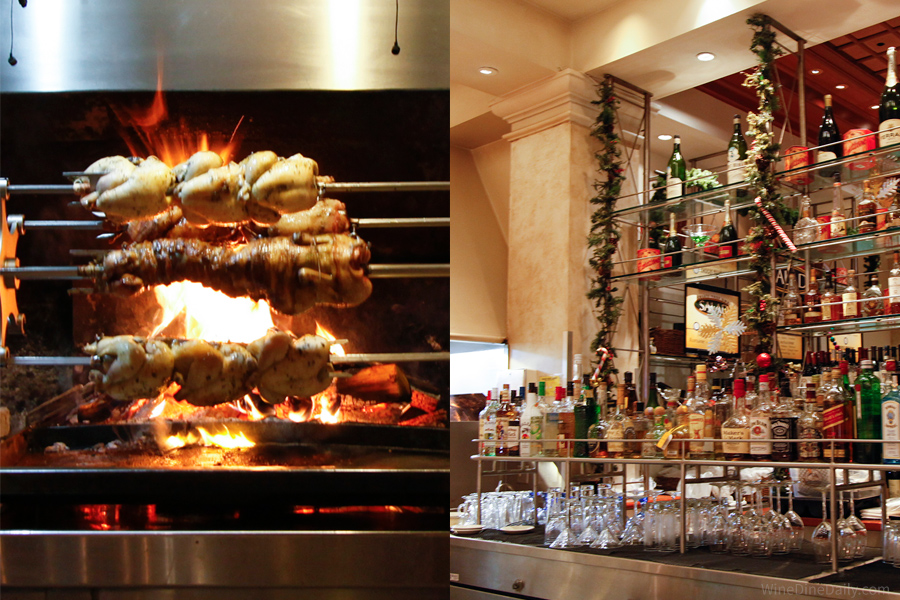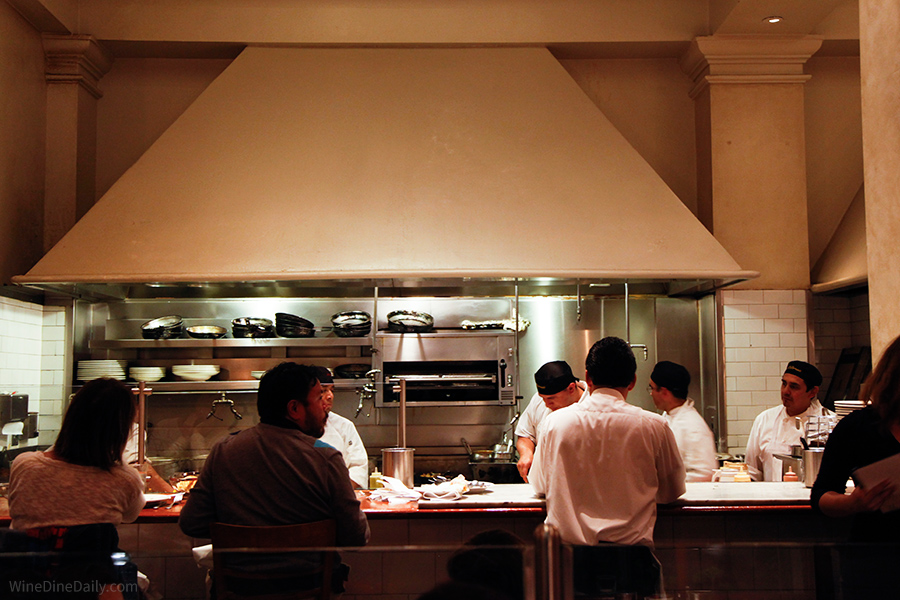 Look at this bar! Next time we will try sitting at the bar since it looks so much fun to watch all the culinary action up close and personal. Perhaps we can learn some secrets about their famous house made pasta or tasty pizza.
 Thank you to Rudy and Marco for making Corina's birthday dinner so special and making all the diners feel so welcome in the heart of Beverly Hills. Dinner was a delightful experience and we all agreed that the last time our taste buds were treated to such a feast it was a few years back in Florence Italy.
What is your favorite Italian dish?