Pumpkin Chili and Pumpkin Crostini
Even though most days the sun is shining brightly with mild balmy temperatures the evenings do get crisp and chili and we tend to stay more indoors and enjoy the warmth of the fireplace.  The city is still lush with verdant green trees, brushes and vibrant flowering plants and to our delight we found a few trees and bushes changed into lovely orange and dark reddish brown fall colors, so it is official now that  Autumn has arrived here in Southern California. Where the summer and fall seasons seem to carry on longer with abundance of treasures and endless inspirations from the land and of course from the Pacific Ocean.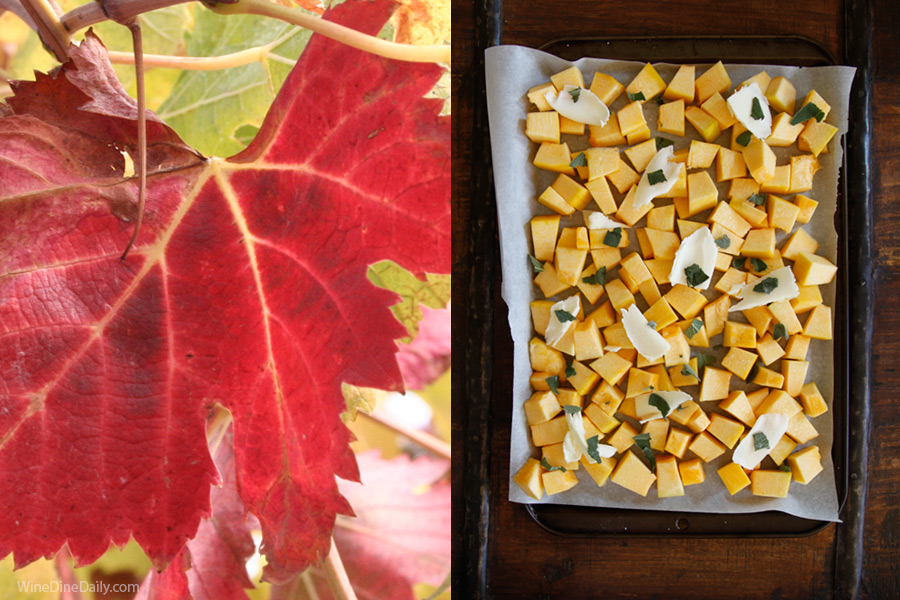 In Europe our favorite "edible"  month seemed to be December because of the Holidays and of course Corina's Birthday, which meant we indulged ourselves even more with delightful meals of roast meats, creamed vegetables and the most chocolaty of chocolate cakes (made by Corina's grandmother) in the circle of our families and friends in Hungary and Germany. Since we moved to United States, we noticed that  here November is the king of the culinary month, perhaps because of Thanksgiving, so we gladly added another delicious custom to our food filled calendar.
The last week Corina went to Trader Joe's for 1 or 2 pumpkins and she texted "No Pumpkins" so just when she was paying for the groceries the cashier mentioned "there are free pumpkins outside take as many as you like" so of course she came home with a lucky number 13! Just enough to start a pumpkin revelry. Please don't think that we are pumpkin glutens, but this means we are going to be eating pumpkin for a very long time.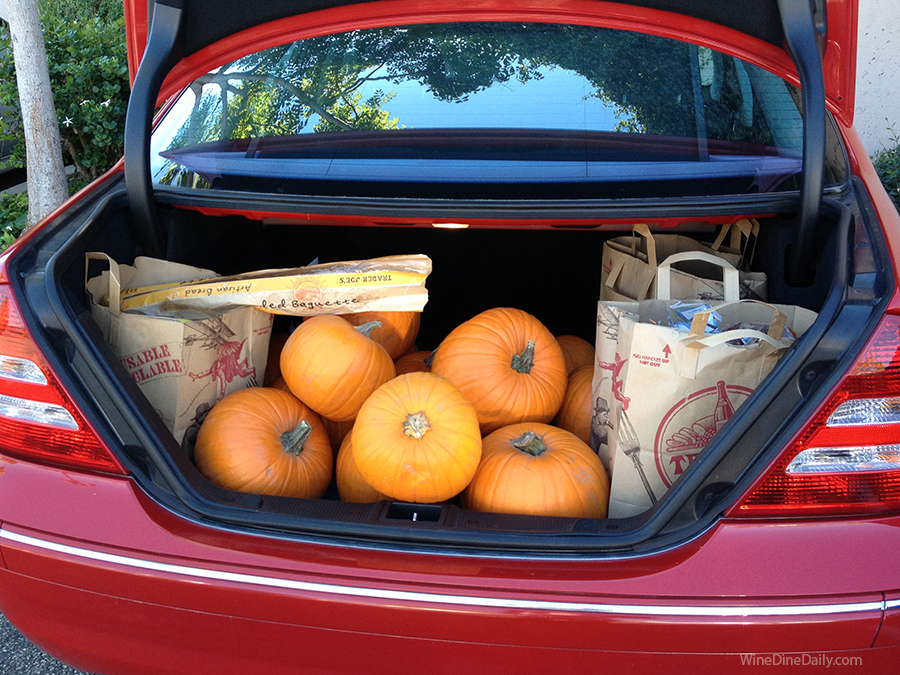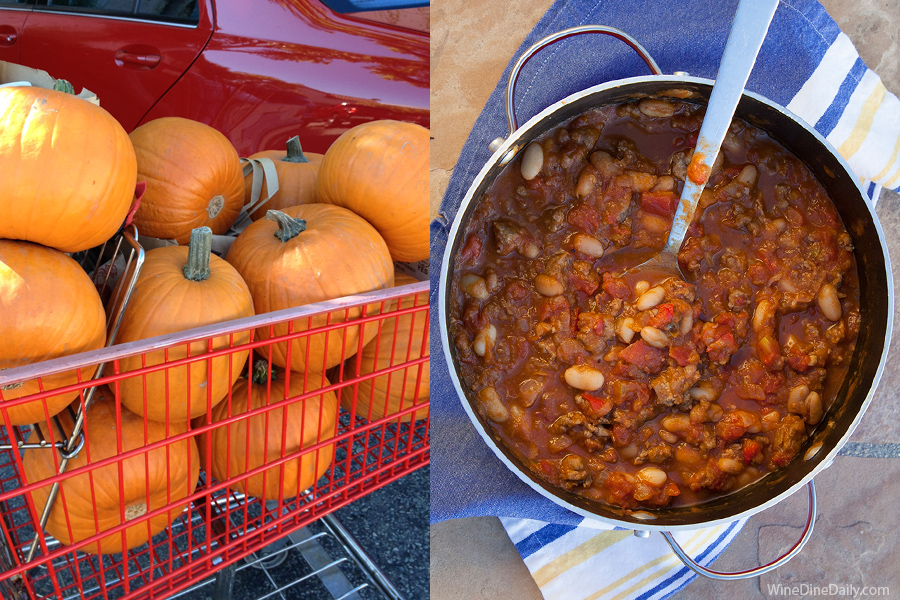 As we laughingly carried the pumpkins into the kitchen, we gave some serious thoughts about what to do with all these glorious orange globes. Should we roast them for something sweet or savory? Nothing says more hello November then the sweet welcoming aromas of roasted vegetables, and we could not resist to start immediately like madwomen roasting them into the dark evening hours.
We had pumpkins on the counter, on the floor, on the table…all that was missing was a black cat and broom for the look to be complete. Instead of broom and cat we opened a bottle of delicious fruity Firestone Merlot that was spicy with a touch of sweetness and inhaled the sweet aromas of the roasted pumpkins – just like holidays in Europe – and contemplated different recipes. Any medium bodied red wine with a little sweetness could pair nicely or even beer. By the next day as we got together to work on our cookbook we both came up with so many recipes that included this healthy autumn delight that we could eat different dishes for a whole month and would enjoy each only once. Until know we did not realized how much we do like pumpkins!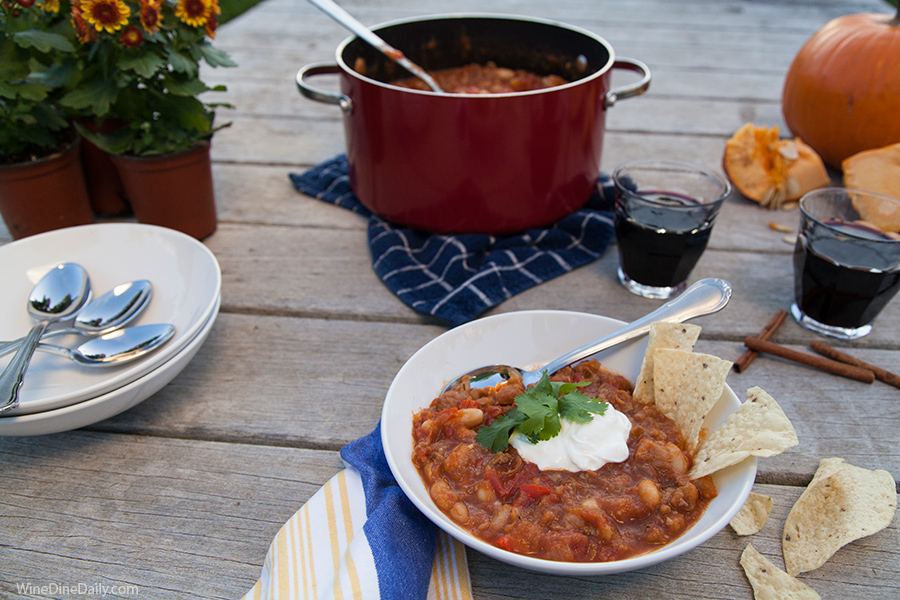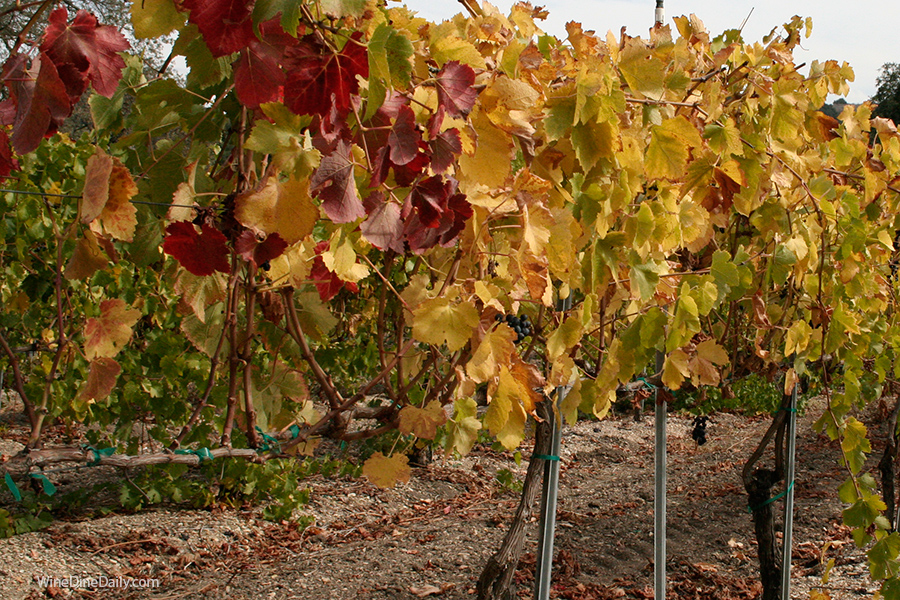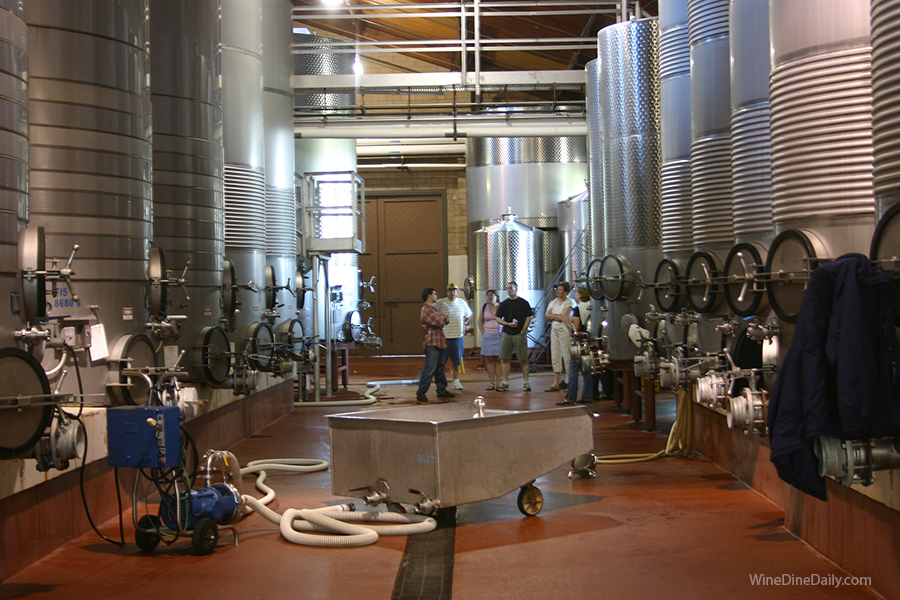 Autumn is caressing the vineyards as well with the leaves changing vibrant hues and some barren vines making an appearance reaching for winter. It is still a perfect time to go on a winery tour because the bustle of harvest has come to an end and the winemakers are focusing on the infant wines resting in steel tanks and barrels.
Because Thanksgiving is just a week away we thought a yummy Pumpkin Crostini would be brilliant appetizer for the holidays, and there is nothing more rewarding then watching your guests happily devouring your creations. The wine reduction sauce brings the pumpkin to a new level and we always make a little more reduction sauce to keep in a glass jar in the refrigerator since you can even use it as a salad dressing. And that is why we are always looking for simple but fancy bites that also pair well with wine and besides that you will welcome that fact that it can be made ahead.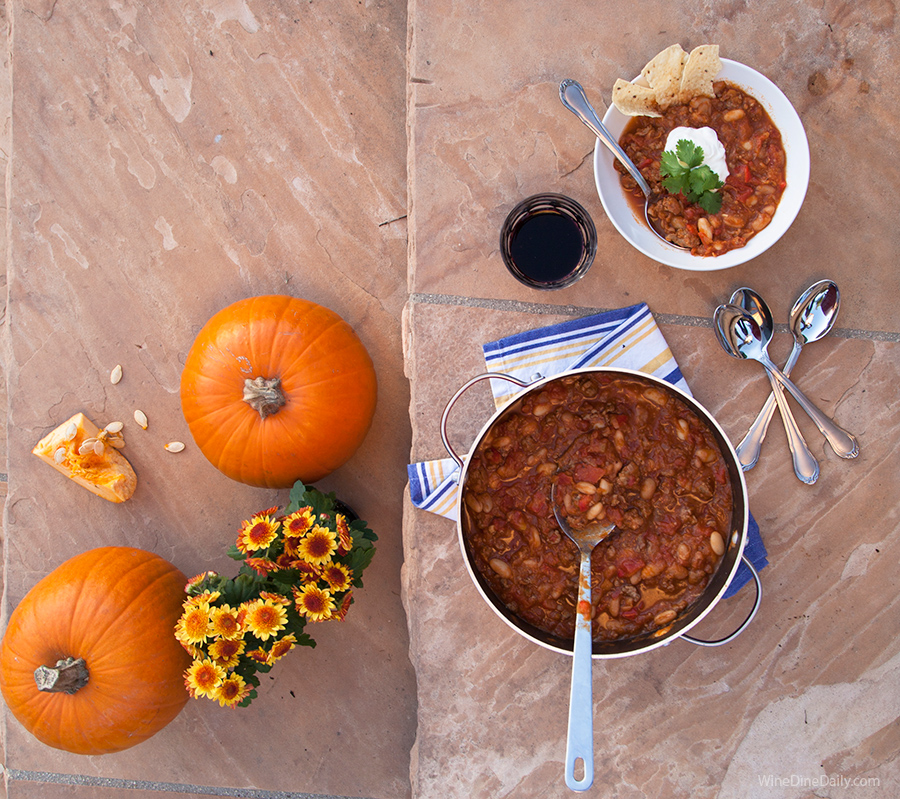 After compiling at least five sweet dishes, Judit wanted to make a savory dish and remembered there was ground turkey meat in the fridge and thought it would make an excellent pumpkin chili. So we thought why not make a pumpkin turkey chili and pair it with Merlot! We have to admit this was our first pumpkin chili. In the past we made many varities of this comforting dish, especially while living in Arizona out in the country we often had beef chili after a day of horsebackriding. We felt the pumpkin and turkey would make it a lighter healthier version fitting to the Santa Barbara lifestyle. What can be better to follow this whimsical crostini appetizer than a hearty chili and we are already planning to have this chili again for the holidays. It is so easy to make and we added plenty of spice to counteract the sweetness of the pumpkin. As we blissfully enjoyed our dinner, we already contemplted making pumpkin gnocchi and cupcakes for the next day to continue our pumpkin revelry.
"I would rather sit on a pumpkin, and have it all to myself, than be crowded on a velvet cushion." 
~ Henry David Thoreau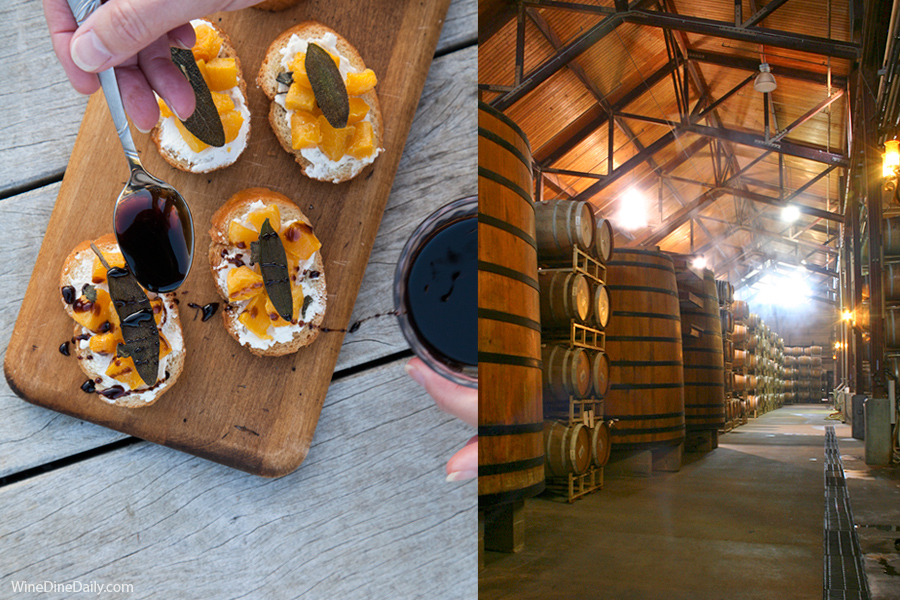 Roasted Pumpkin Cubes
For the Crostini and Chili
1 Small Pumpkin
2 TBsp Butter
Salt
Pepper
A few Sage Leaves – chopped
Preheat oven to 400F. Cut pumpkin in half with a large knife. With a metal spoon scoop out the pulp and seeds. You can save the seeds for roasting later. Pell the pumpkin segments. Cut slices of pumpkin 1-inch thick moon shaped slices then into small cubes. Place pumpkin pieces on parchment lined baking sheet. Distribute butter pieces on top and sprinkle with salt and pepper. Place the sage leaves on a few pieces that are for the crostini. Roast for 20-25 minutes or until the pumpkin slices are soft.
Pumpkin Crostini recipe just click here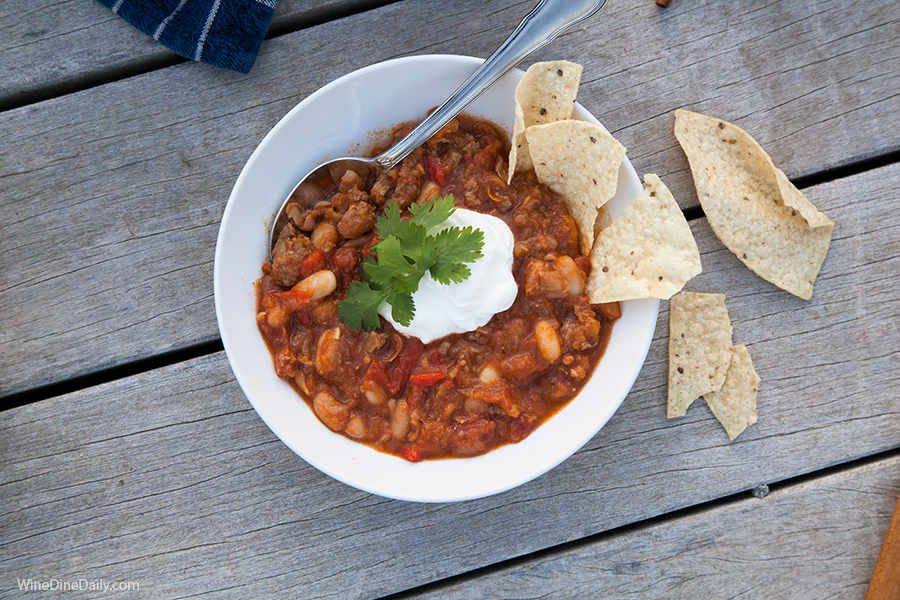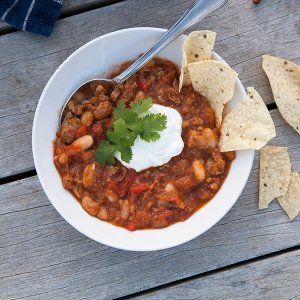 Pumpkin Turkey Chili
Ingredients
2

Tbsp

Grapeseed Oil

2

slices

of Bacon - diced

2

Yellow Onion - finely hopped

4

Cloves

Garlic - minced

1

Red Bell Pepper - chopped

2

lbs

Ground Organic Turkey

1

cup

Red Wine

we used Merlot

1/2

cup

Vegetable Broth

2

cups

Pumpkin Puree homemade

see recipe above or if in a hurry a 16oz can

2 8

oz

cans Diced Tomatoes

2 8

oz

cans White Kidney Beans - drained and rinsed

1

Tsp

Cinnamon Powder

1

Tsp

Cumin Powder

2

Tsp

Chipotle Chili Powder

1

Tbsp

Cilantro - finely chopped

Salt and Pepper to taste
Instructions
Heat oil in a large heavy pot over medium high heat. Add the diced bacon and cook for 5 - 6 minutes or until brown and nice crispy. If you like to remove some of the fat, take it out with a large spoon. Add the onions and sauté until translucent, then add the minced garlic and bell pepper and continue to sauté for a few more minutes.

Stir in the ground meat and cook until slightly browned. Carefully pour in the wine and vegetable broth. Add the pumpkin puree, tomatoes and kidney beens. Sprinkle in the seasonings and salt and pepper to taste. Cover the pot and simmer for about 30 minutes, stirring occasionally to make sure it will not burn to the bottom of the pot.

Serve hot and garnish with Crème Fraîche and cilantro. You can also serve it with tortilla chips or try our simple and delicious Pumpkin Crostini.
Notes
The total time is for cooking the Chili only, if you have to roast the pumpkin first then add an additional 30 minutes!
Nutrition
You can also make  a vegetarian version by leaving omitting the bacon and ground turkey and just adding more of the veggies.
Bon Appétit!