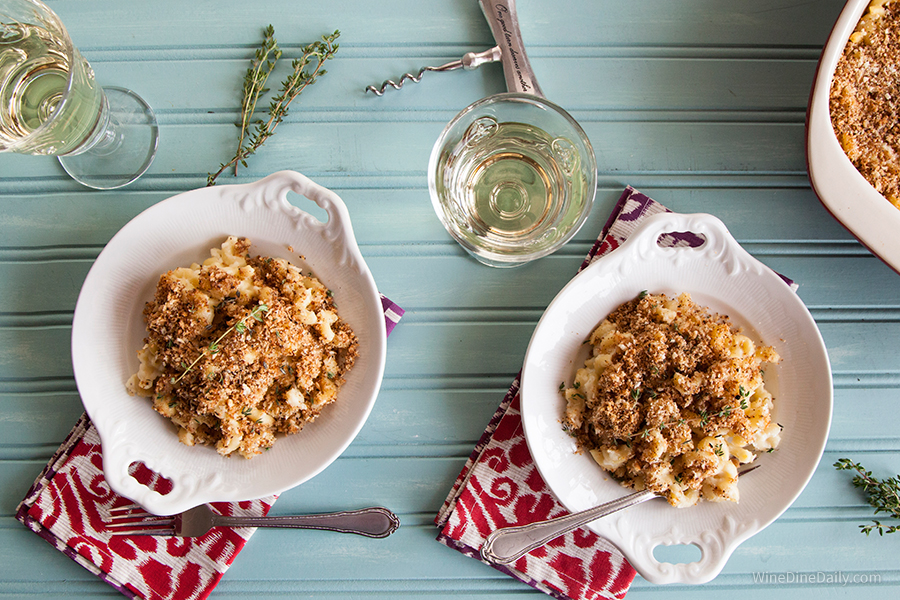 A few days ago as we sorted our food and winery photos we found our easy best Macaroni & Cheese recipe and it made us really hungry and we both envisioned the warm, gooey and cheese taste.

And now we have to admit to our weakness for rich creamy and over the top cheese delicious goodness and macaroni & cheese gives you a free rain to use all that in abundance. We really needed a comforting dish at this point since for several weeks now we have been working on our new website, moving all the pretty and interesting recipes and deleting the not so interesting or pretty ones so you do not have to see them anymore. Looking at all those food photos really made us hungry, but since we were short on time and very hungry we decided to make something rather quick and easy. There is something so wonderfully satisfying about cooking a really simple dish that you know will turn out well.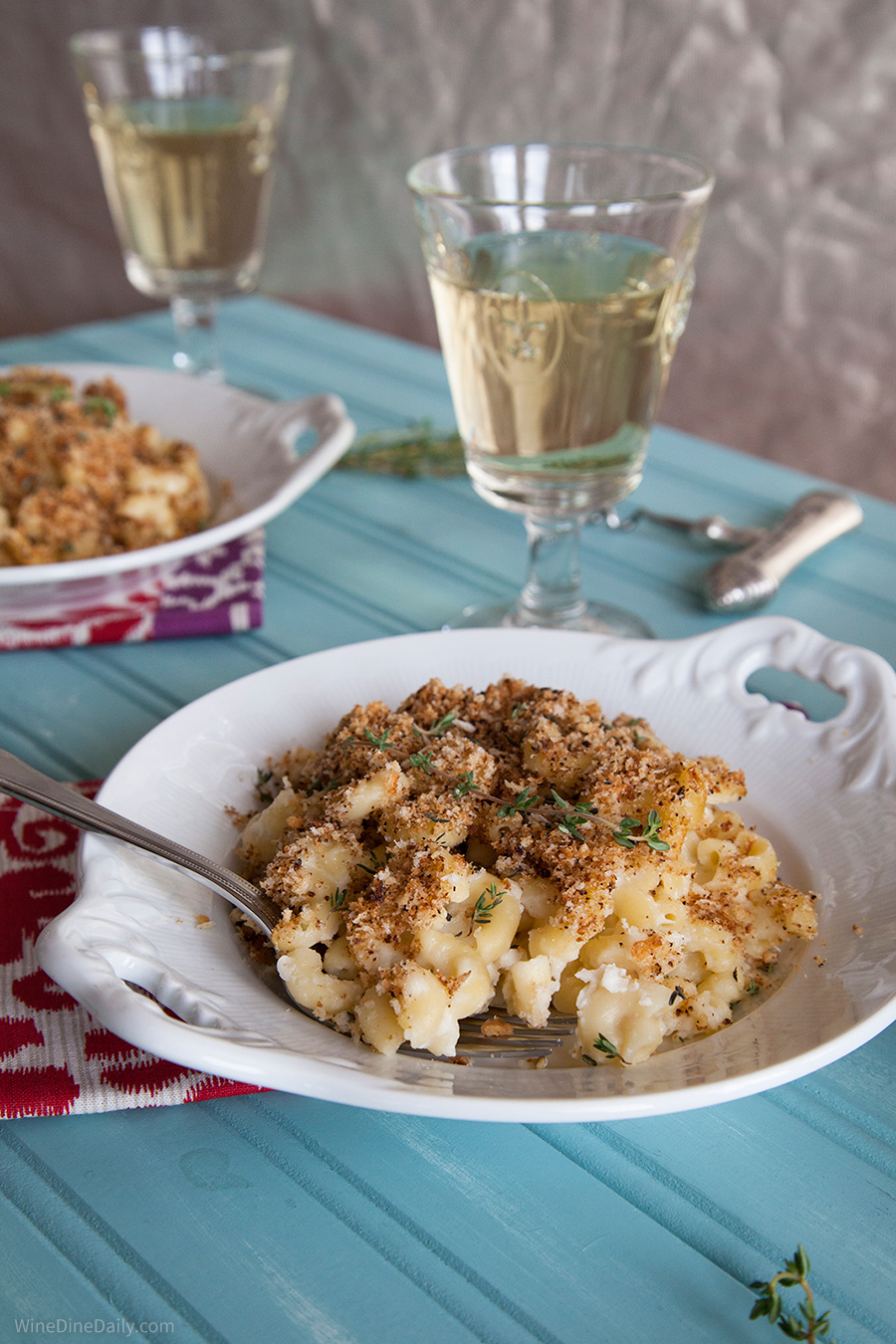 There are many Mac & Cheese recipes that excite us, not just because of the comforting delicious feeling you get when you take a bite of it. A simple mac & cheese brings you back to those carefree childhood days. Of course we have to add a splash of wine to this not so childish recipe to keep in theme with Wine Dine Daily! In this lighter version we do not use flour and the wine adds a little zippy, unique flavor.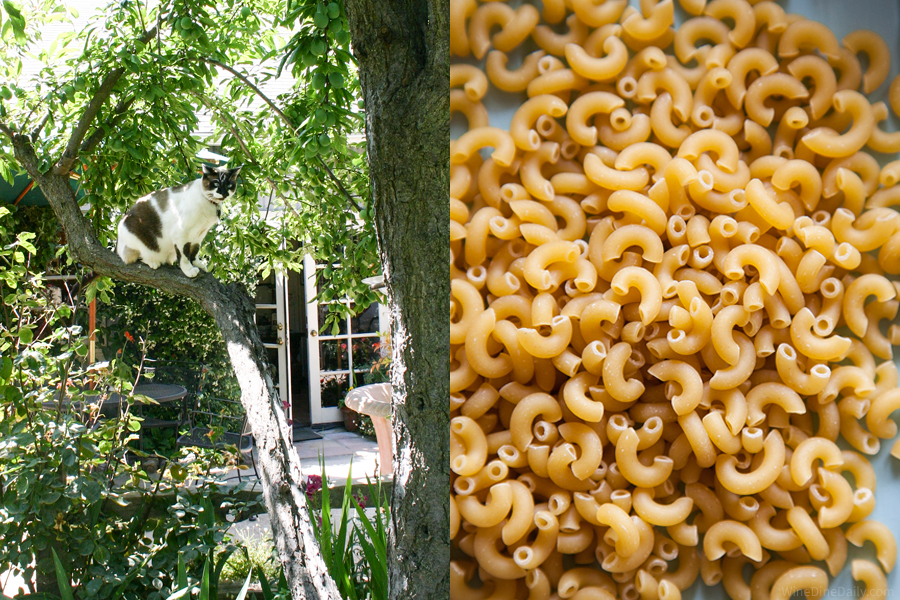 When we found a bottle of Longoria Chardonnay we knew it would be a treat to pair it with our dinner. The good acidity and lovely flavors of pears, apples, and brown sugar would be very satisfying with any creamy pasta dish.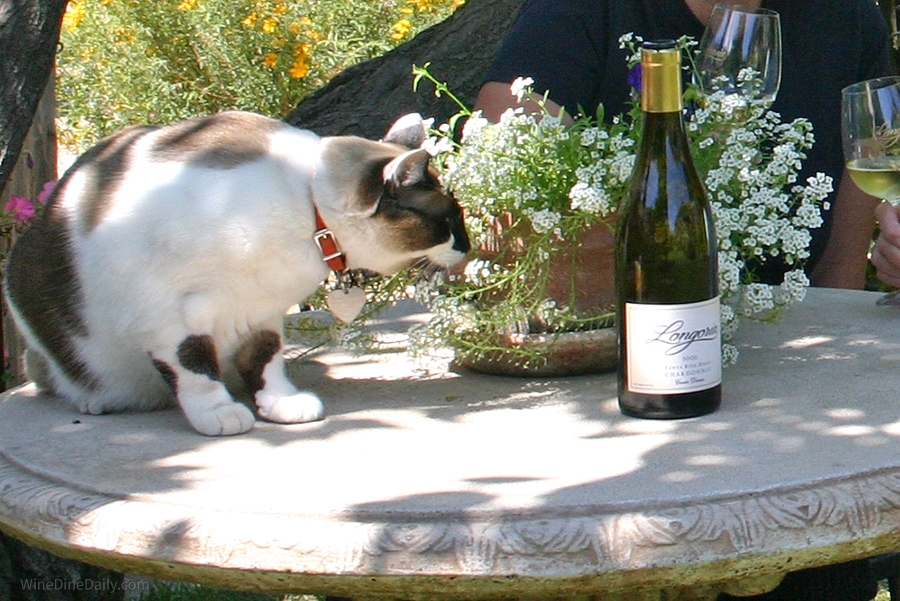 The bottle made us think back on a visit we had made some time ago to the Richard Longoria Wines tasting room in the picturesque town of Los Olivos, California. We sipped Chardonnay with Richard's wife Diana in the garden next to the tasting room while a neighboring cat climbed the tree behind us and even jumped on the table to explore the scent of the wine bottle.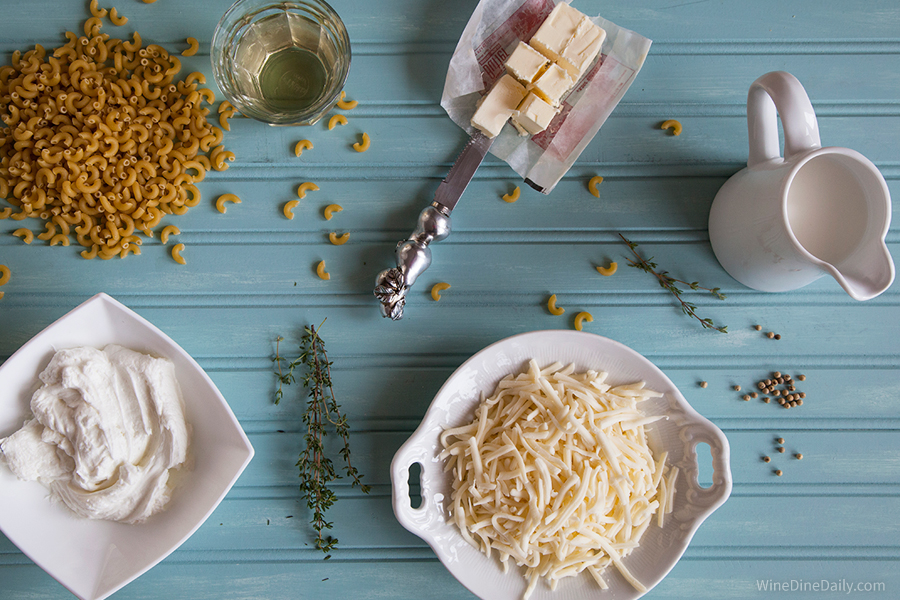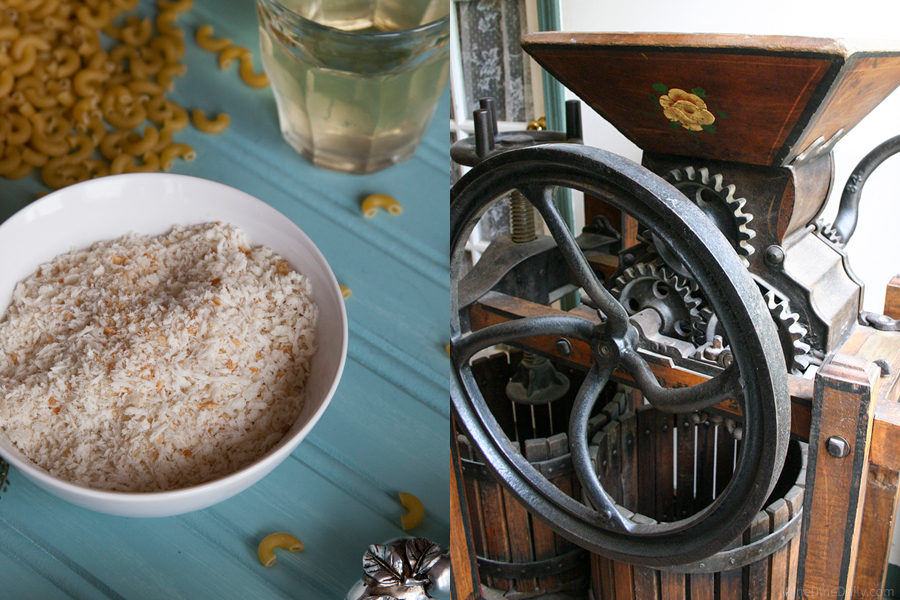 To make our  Mac & Cheese  more interesting we skipped the Béchamel sauce all together and added a little buttery Chardonnay. On top we just had to sprinkle our home made bread crumbs toasted with butter. Panko is good too but nothing else would have bee so satisfying.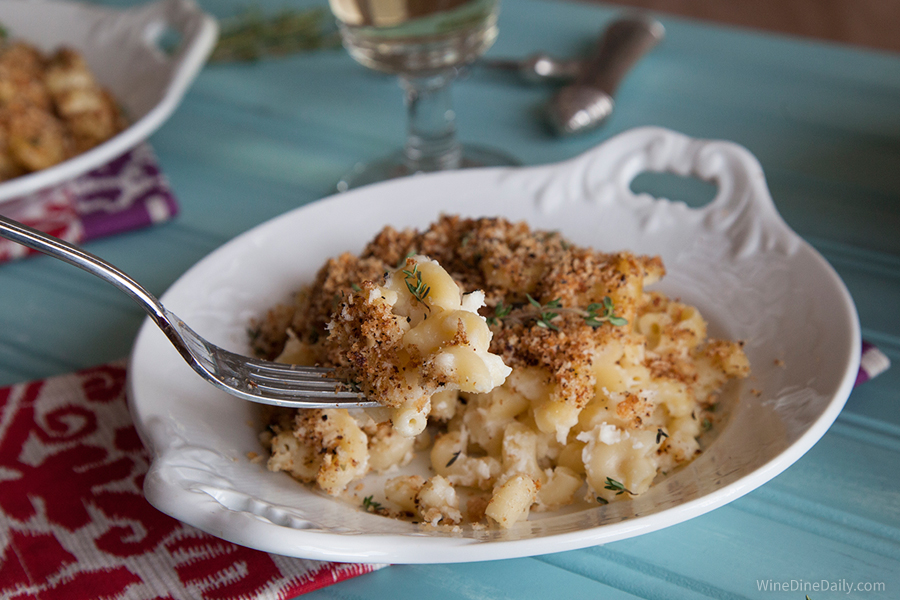 We like to use Gruyère cheese because its mild flavor does not overpower the dish and melts fabulously. If you don't like Gruyère, then a mild cheddar would be delicious too. A buttery Chardonnay with some acidity to cut the creaminess is just right for this dish or you can have a glass of Sauvignon Blanc.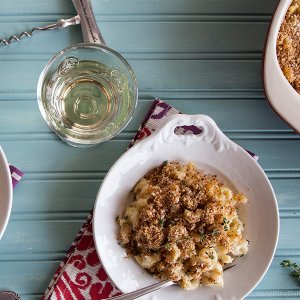 Best Macaroni & Cheese
Ingredients
For the Pasta
1

LB

Whole Wheat Elbow Macaroni

cooked and drained

Sea Salt

use generously for the water

2

cups

Almond Milk

12

oz

4 cups Gruyère Cheese

shredded

1/2

cup

White Wine

we used a buttery Chardonnay

8

oz

Sour Cream

Sea Salt and  White Pepper

to taste
For the Breadcrumb Topping
4

tbsp

Butter

1

cup

dry Whole Wheat Bread Crumbs

finely ground

4-5

Thyme Sprigs -leaves removed

keep a few fresh leaves for decoration
Instructions
Preheating to 350 degrees.

Lightly butter a large baking dish and set aside

Cook the macaroni in plenty of salted boiling water until becomes al dente. Drain pasta

In the meantime heat  milk in a large sauce pan or pot over low heat. Add the Gruyère cheese and continue to stir until melted. Remove from heat stir in  the cheddar the white wine and sour cream. Season with salt and freshly ground white pepper.

Fold in pasta and gently stir until completely mixed. Pour mixture into the baking dish.

Melt butter in a small sauce pan and stir in breadcrumbs and toast until light golden in color. Add the Parmesan cheese, thyme leaves and  sprinkle over the top of your macaroni.

Bake for about 25 to 30 minutes or until nice deep golden and crisp on top.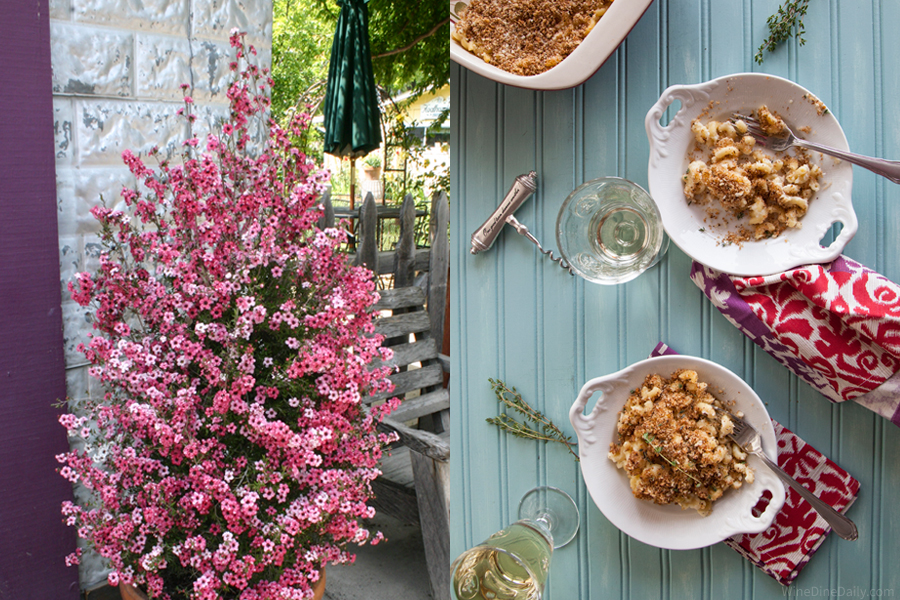 Food & Wine Pairing: Longoria Chardonnay from the Santa Barbara County with buttery acidity and a hint of lemon.