We just adore blueberries! So you can imagine our joy when we discovered a small organic fruit stand in our Farmer's Market, filled with local sun kissed juicy blueberries. At that moment we knew that we found another delicious prospect for our homemade Limoncello. After a little debate ( Corina was voting for berries with chocolate something…) we opted for this easy mouth-watering Blueberry Limoncello Clafouti dessert with a French-American accent, since it is easy to make and has a charmingly chic presentation. This is one of the simplest recipes you ever will make!This makes it a perfect choice for a wine country dinner party…or forget the party and just make it strictly for your own indulgence. (we won't tell on you, we do this all the time)
The original classic "Clafoutis" recipe comes from the Limousin region of France, where only black cherries were used traditionally. If you use any other fruit variation, then technically it's called a "Flaugnarde" but here we thought clafoutis sounds more romantic, unless you prefer Corina's version of "Flaugnoutis". If you've got a bowl, a wire whisk and a baking dish, this is the simplest FANCY recipe you will ever make. You can serve it warm or cold and directly out of the baking pan. We love the fact that you can also adjust the sweetness to pair it perfectly with your favorite red wines. Perhaps that is why so many wine country chef's love to make fruity desserts.
Our recipe is medium sweet and as long your choice of wine is a little sweeter then your dessert, you will have a fantastic pairing. Here are a few wines we did sip along with this dish in the past – Cinzano Rosé, Zinfandel, and Cabernet Franc.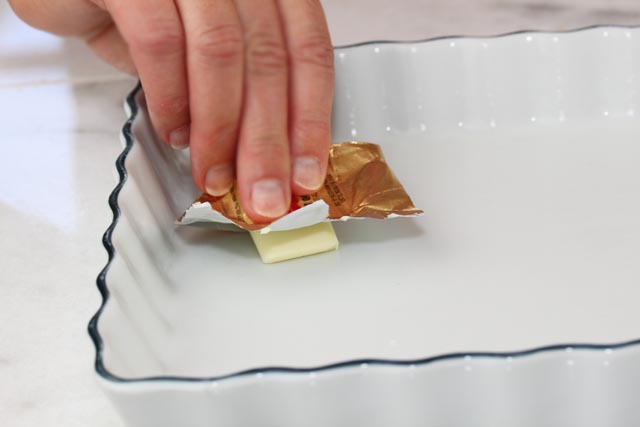 Very simple and not too many ingredients. To start: Preheat the oven to 350°. Butter a glass baking dish (8″ x 10″ or a 9″ round pan)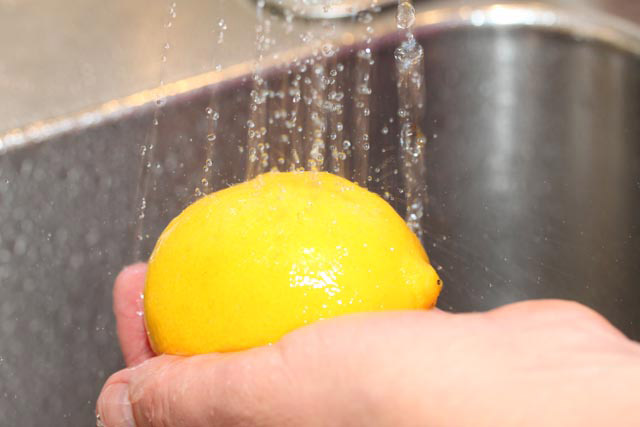 Now wash a pretty lemon.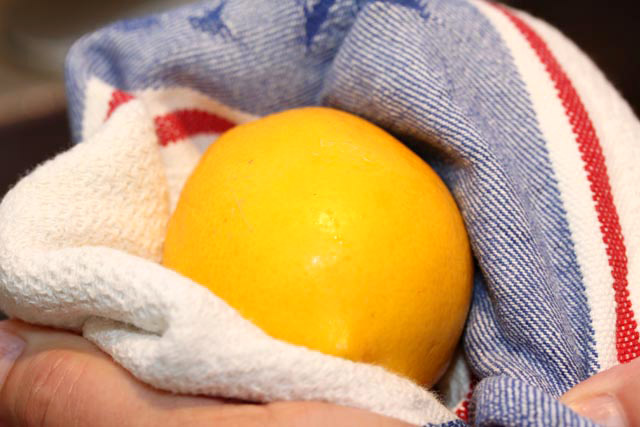 Dry the lemon like a prized gem.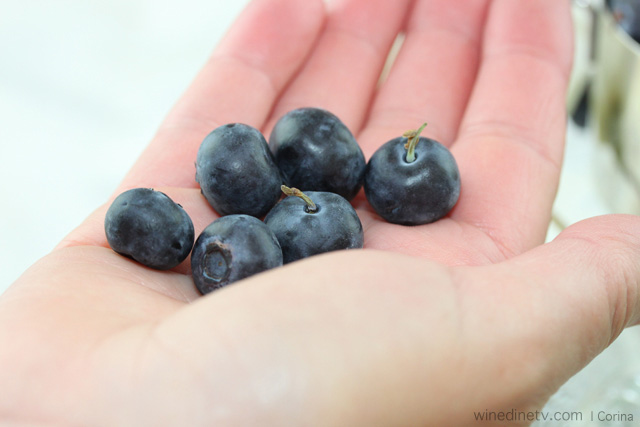 Remove any unwanted stems if your Blueberries happen to have them.. like ours did.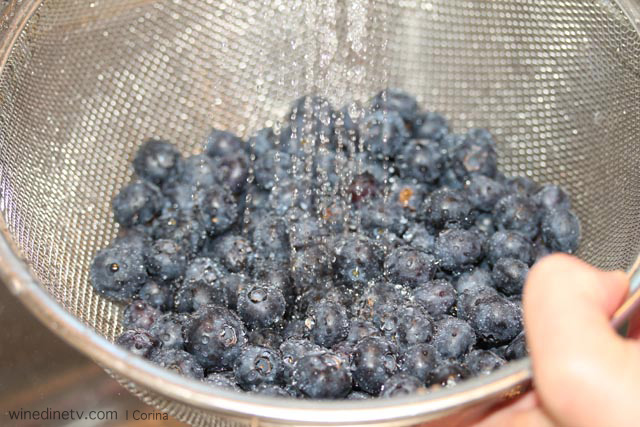 These are the sweetest and prettiest berries from Chuy's Sustainable Hydronic Farm in Nipomo, California. In a colander rinse the Blueberries. Don't drop any!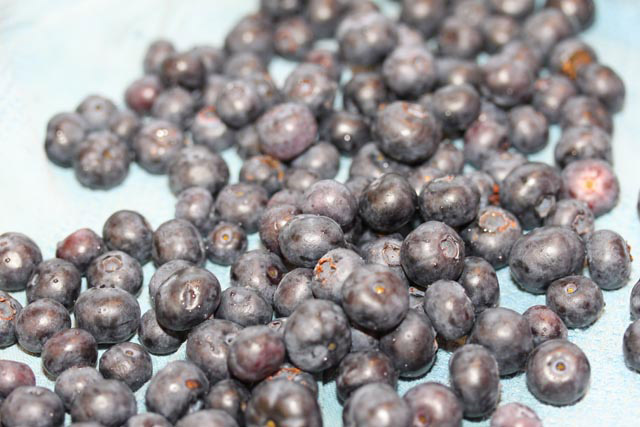 Dry them on a towel. They could be having a day at the Spa with this royal treatment..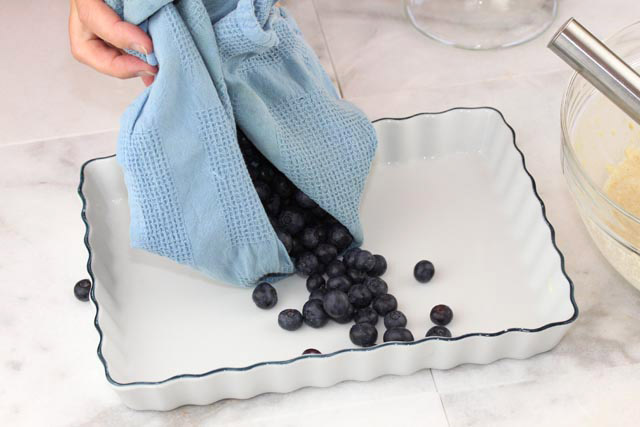 Arrange the blueberries evenly in the bottom of a glass baking dish (8″ x 10″ or a 9″ round),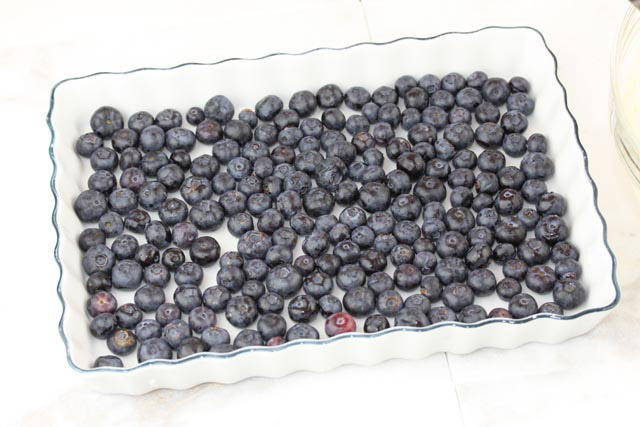 They don't have to cover the entire bottom. Judit got a bit enthusiastic with the berries.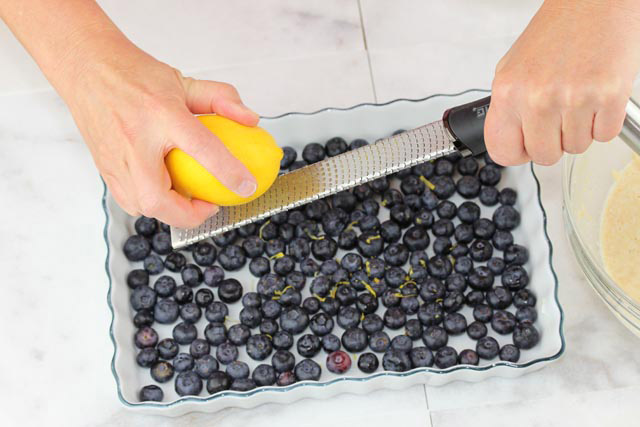 Zest 1 lemon over the berries.
Zest the most of 1 lemon evenly over the berries. Reserve some of the lemon zest for later.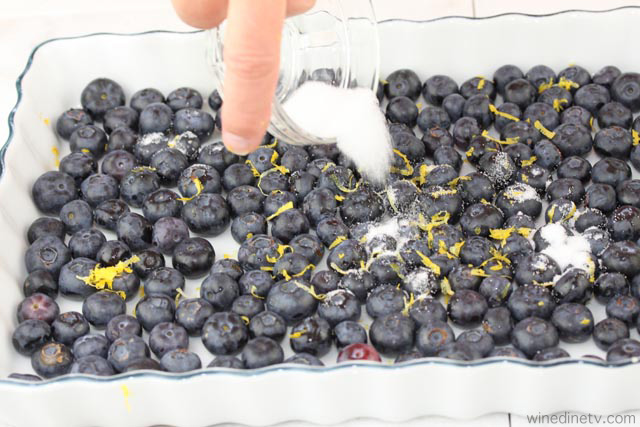 Sprinkle a little sugar over for more sweetness and just because we like to.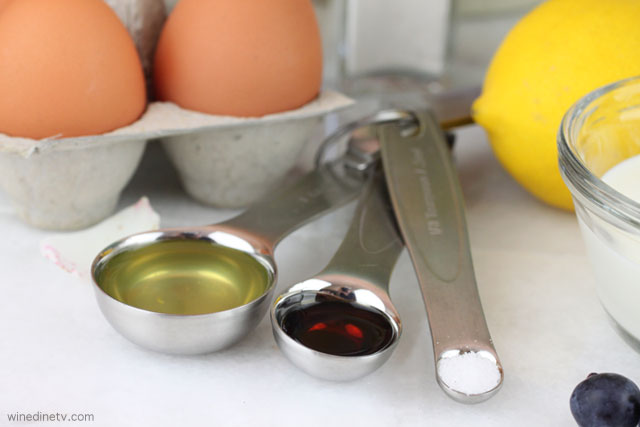 Now lets get to the batter. We like to use organic brown eggs. Any egg will do, white or brown, just make sure they are at room temperature.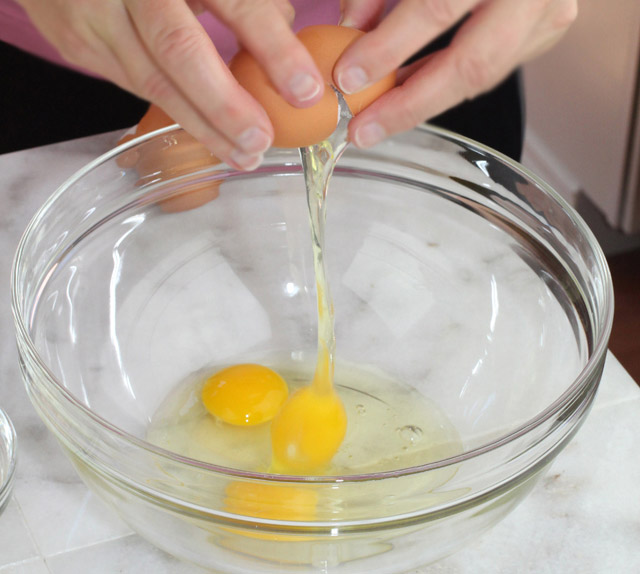 Into a large mixing bowl, crack open 3 large eggs.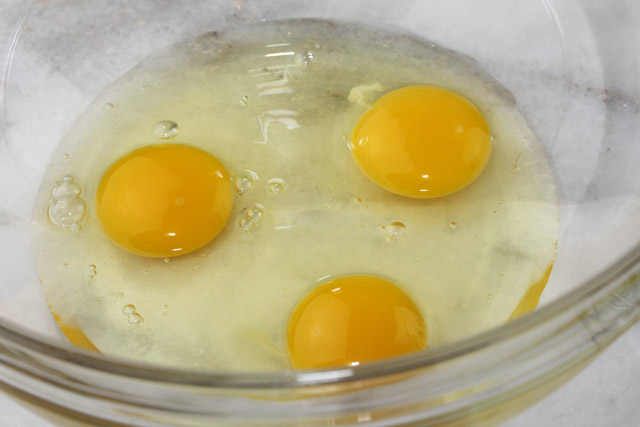 The eggs are awaiting the action.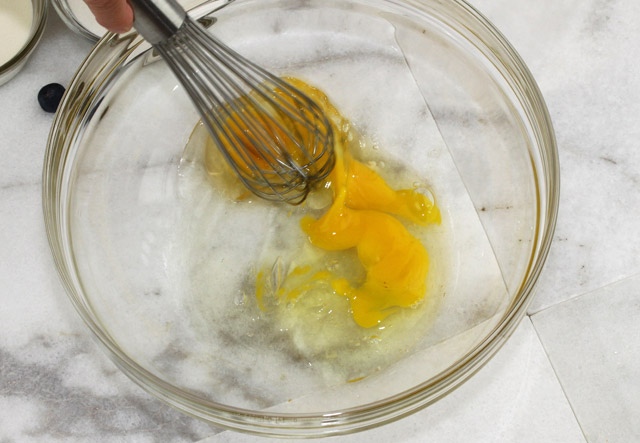 Gently whisk the eggs.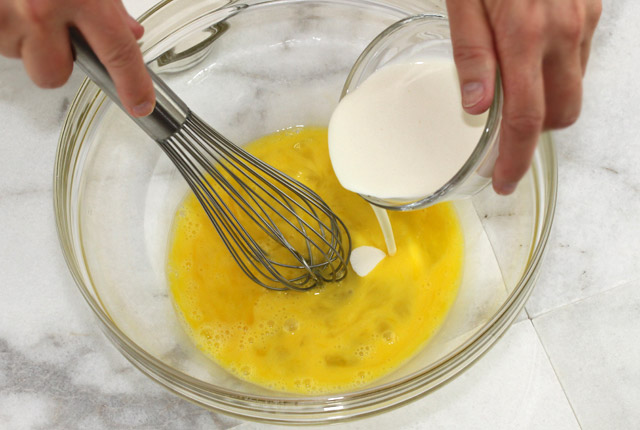 Pour in the cream.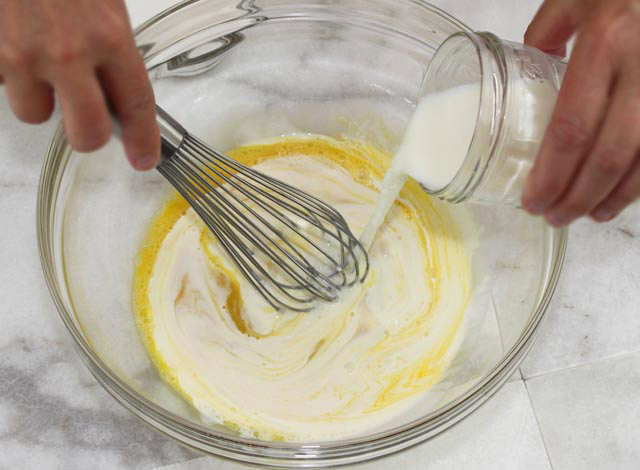 And the milk goes in too.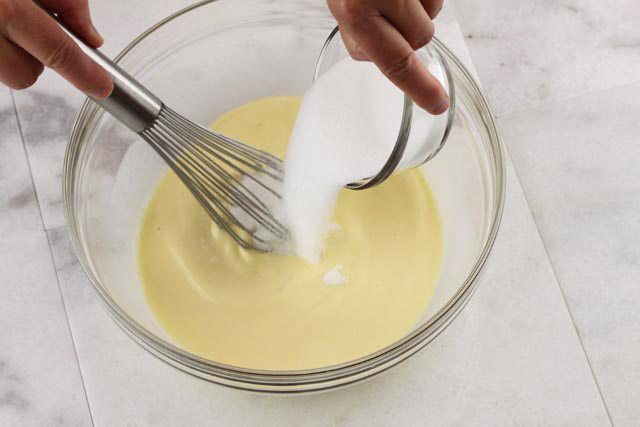 Cascade the sugar into the mixture..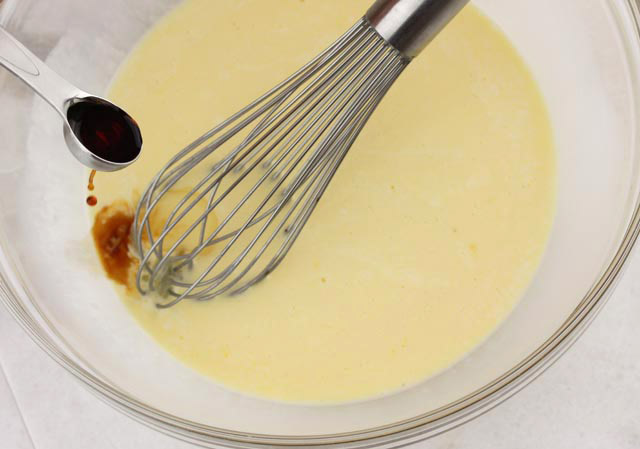 A little vanilla. Mix gently.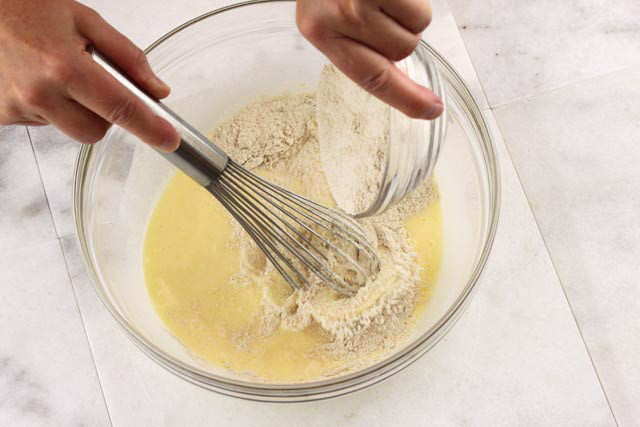 Then add flour. We used whole wheat flour, but you can use bleached or unbleached flour.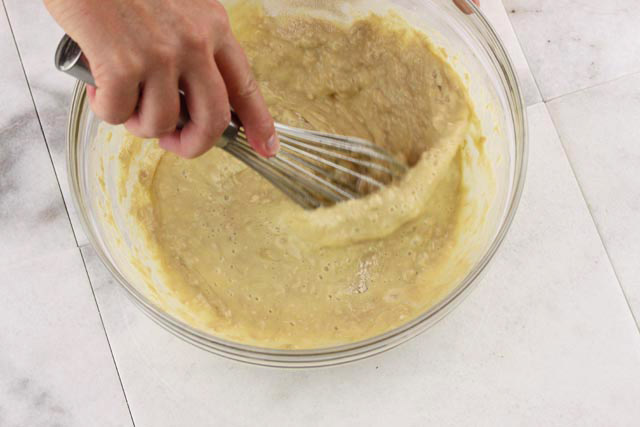 Fold in the flour.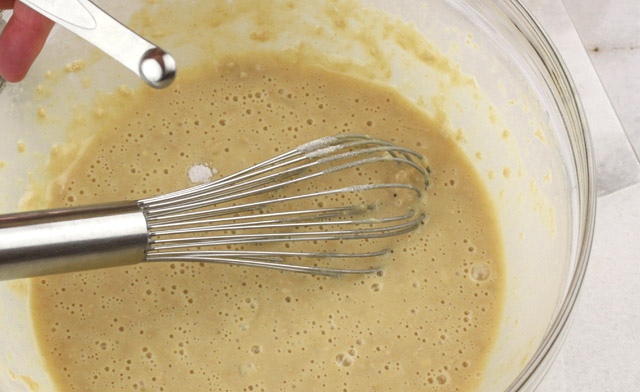 A pinch of salt.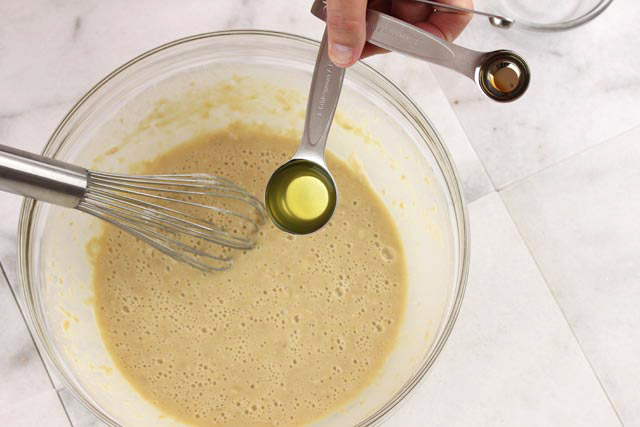 And something special we made in our very own kitchen.. Limoncello!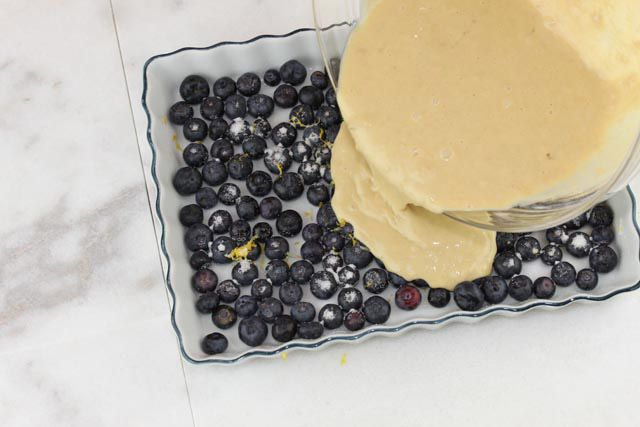 Pour the mixture evenly over the blueberries. Or if you want to deviate then make pancakes with the mix instead.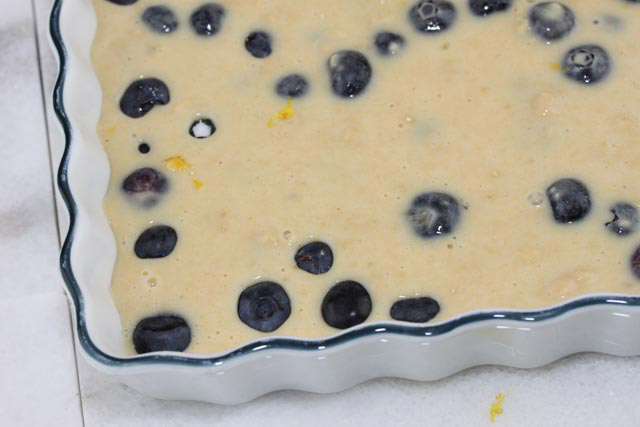 You don't have to cover the berries completely with the batter.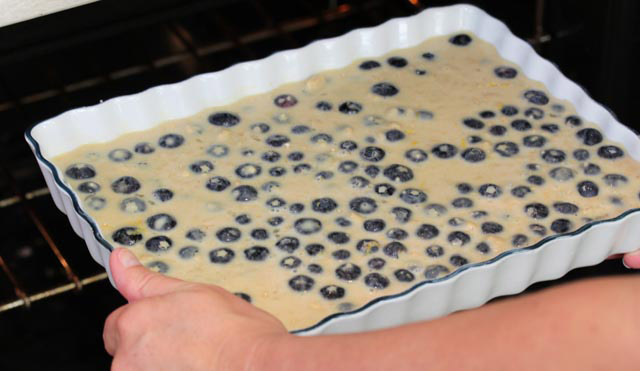 Place in the center of the oven rack of a preheated 350°F oven.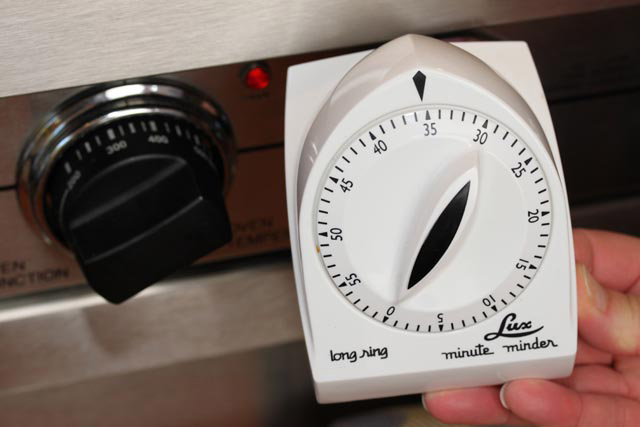 Bake about 30-45 minutes or until the edges turn golden or someplace has puffed up lightly.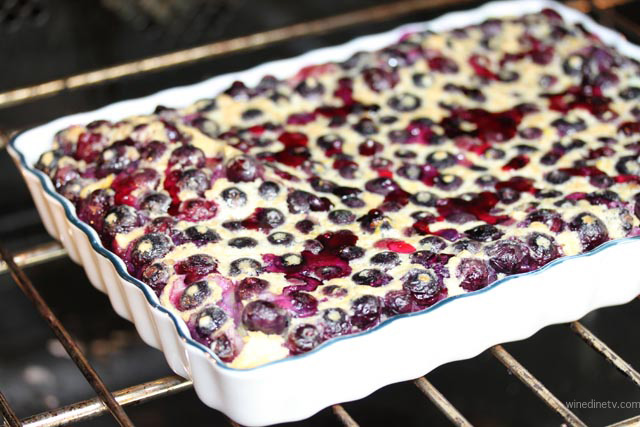 Do not be alarmed if the cake puffs up a little since clafoutis tend to have a mind of their own.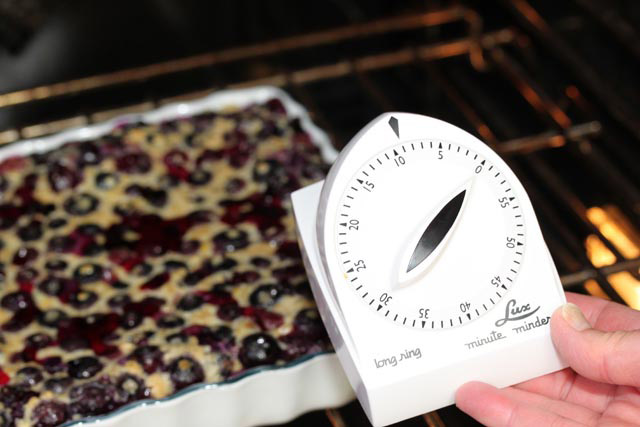 Countdown: 9 more minutes to go. The cozy smell of warm fruit and cake are making it unbearable.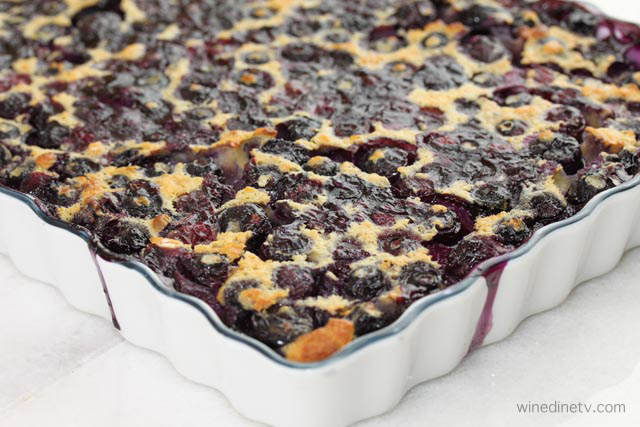 It is finally the sought after golden hue. Remove from the oven and allow the clafouti to cool for about 10 minutes.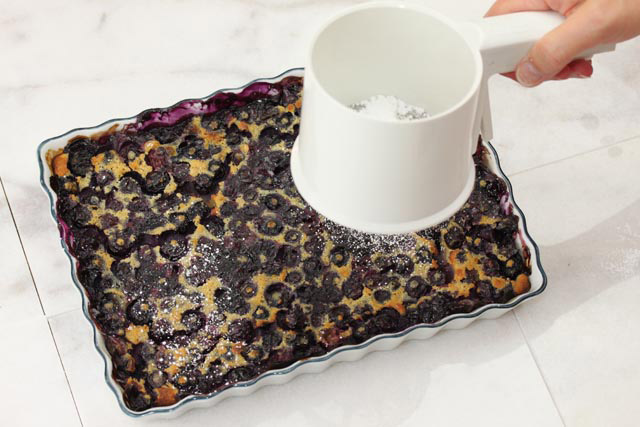 Lightly dust with powdered sugar.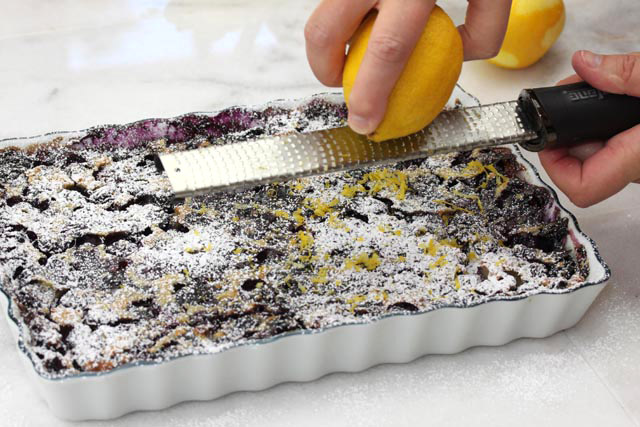 Garnish with more lemon zest.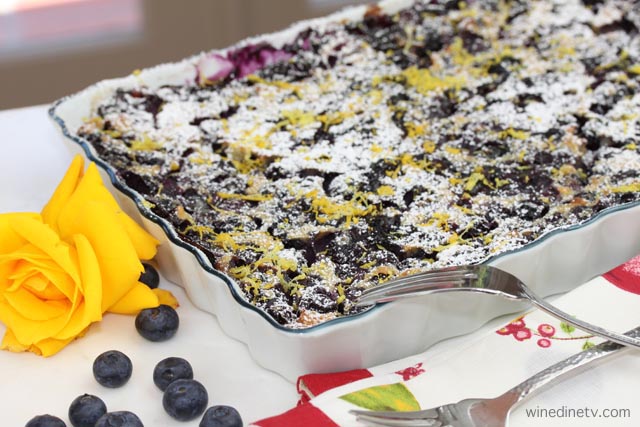 You can top it with a few fresh blueberries if you like.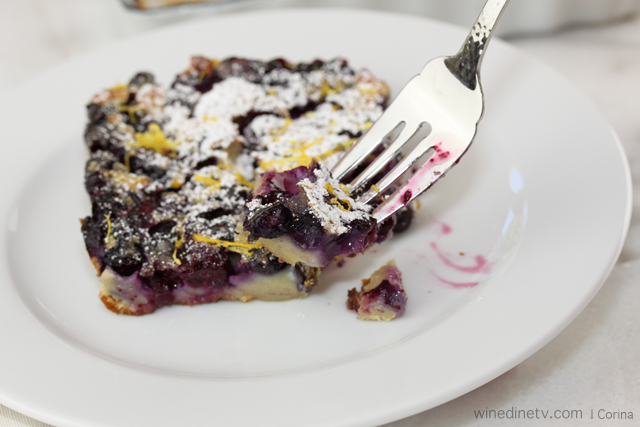 Got to try it.. quality control…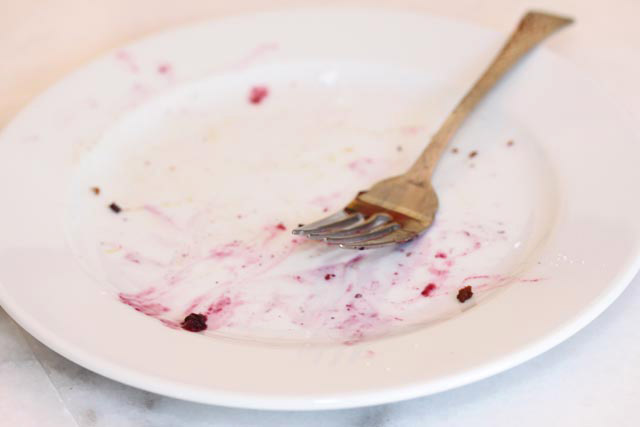 Would you like another piece of Blueberry Limoncello Clafouti?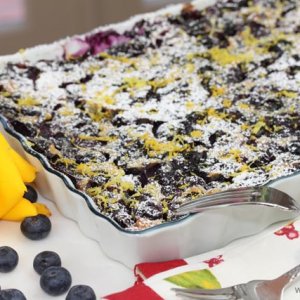 Blueberry Limoncello Clafouti
by Judit + Corina
Ingredients
3

cups

Blueberries - washed

Little Butter for the Baking Pan

3

eggs – slightly beaten

½

cup

Cream

3/4

cup

Milk

½

cup

plus 1 Tbsp Sugar

1

tsp

Vanilla

2/3

cup

all-purpose Flour

1/8

tsp

Salt

1

Tbsp

Limoncello

1

Lemon – washed & zested

Powdered sugar

for garnish
Instructions
Preheat the oven to 350° Butter a glass baking pan (8" x 10" or 9" round pan) and arrange the blueberries evenly in pan.

Zest ½ of the lemon over the berries and dust with the 1 tablespoon of sugar.

In a medium mixing bowl add the eggs and whisk lightly. Pour in the milk and cream and continue to whisk until the mixture becomes pale yellow. Continue to whisk as you add sugar and vanilla followed by the flour and pinch of salt. Finally, add the Limoncello and whisk some more until completely combined.

Pour the mixture evenly over the blueberries and place in the center of the oven rack.

Bake about 30-45 minutes or until the edges turns golden or someplace has puffed up lightly.

Remove from the oven and allow the clafoutis to cool for about 10 minutes. Dust lightly with powdered sugar and garnish with lemon zest. You can top it with a few fresh blueberries if you like.

Enjoy!
Nutrition
WINE PAIRING
Balletine Zinfandel Old Vines – with big fruity notes and wild sweet berry character
Gioia Zinfandel – a sweeter Zin with fragrant rose petal scent, berry and figs aromas and with silky smooth mouthfeel.
Merriam Vineyards Cabernet Franc from the Russian River – with sweet dark plum, violets, raspberry, and summer cherry notes. Flavors of cassis, spice and berries give a way to a lasting finish of currant.