Zinfandel
Today we will talk about ZIN…. not that kind of zin (sin)…. Zinfandel is a red wine grape, genetically traced back to Croatia as Crljenak kaštelanski and to Italy and also known as Primitivo. It is as versatile as a Chardonnay and has aromas of berries and jammy fruit and cinnamon. If is oak aged it brings out the toastiness, the vanilla. And if it is aged longer in the bottle then you get mushrooms, earth and musk. Since 1980 gained popularity in the US and specially in California where 10% of total vineyard production is Zinfandel.
Zinfandel is very food friendly wine pairs really well with foods like burgers, BBQ meats and Corina's favorite the chocolate. If you enjoy raspberry, plum and jammy flavors with a touch of smoke then you have to try a great ZIN.
Over the years we enjoyed several really great full bodied Zinfandels from Northern California. If you would like to learn more about California Zin, the watch our Wine Review video from Fanucchi Old Vine Zinfandel made from 100+ year old vines.
As to food pairing you can't go wrong with BBQ beef, chicken or lamb. We all love a good gourmet burger and one of our favorite wine is Zin.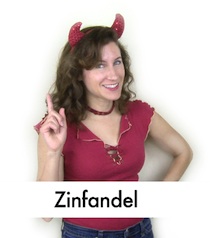 Can you imagine a slice of BBQ chicken pizza with a deep rich fruity wine…
Here are a few of our recipes for you to enjoy :
Chocolate Mousse
Cheers,
J+C