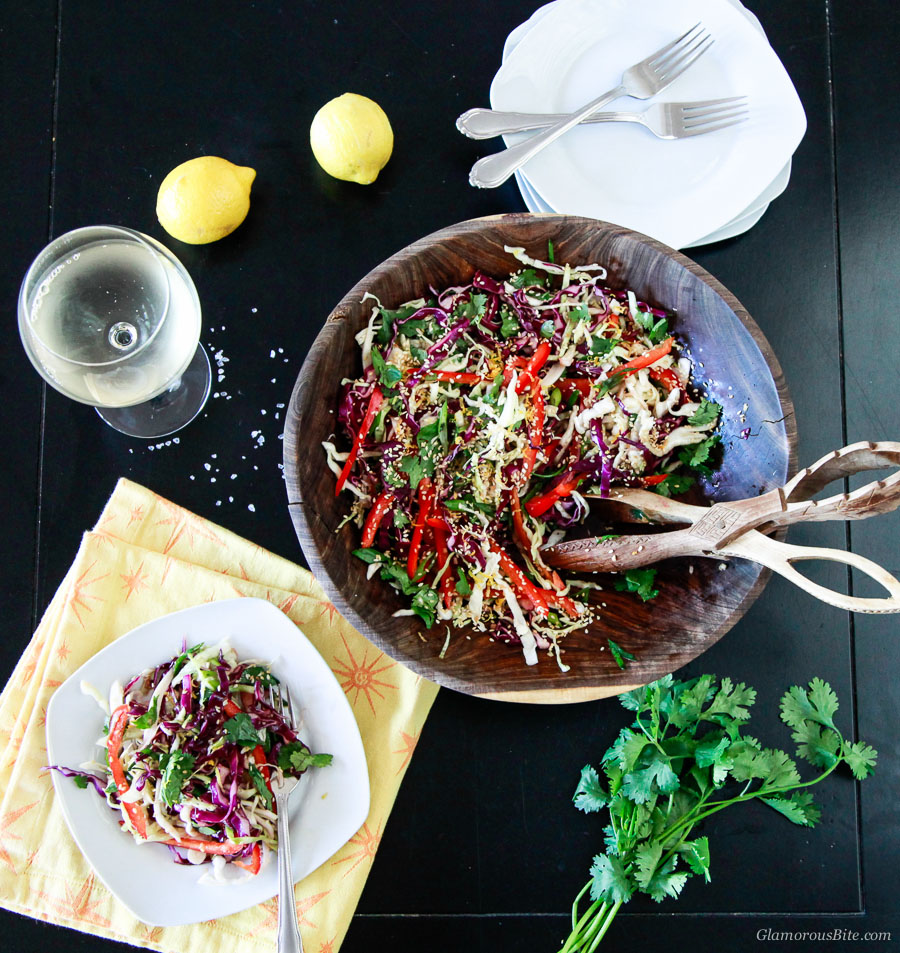 You are probably already planning your Labor Day BBQ and looking for side dishes to serve along with grilled meats, so why not try our Asian Style Coleslaw with fresh crisp cabbage and light zesty dressing. We can't believe how time flies this year. Do you feel the same that summer just arrived and now it is time to say adieu to the marvelously long days and balmy nights? For a few more months we can still enjoy summer-like weather in Southern California, but with each passing day, the evening arrives sooner and sooner and the air seems to chill with the setting sun.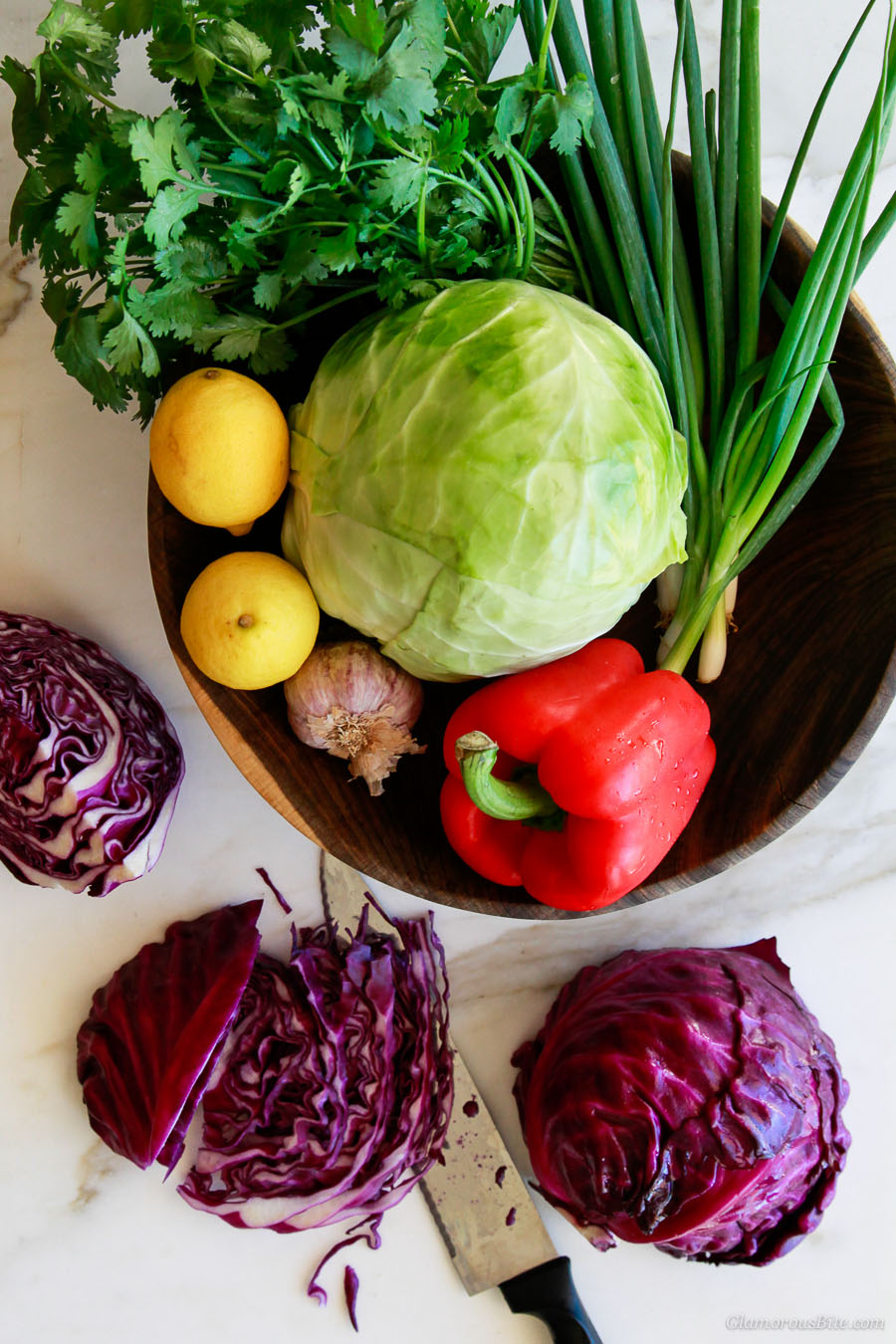 Coleslaw has a fresh crunchy texture that makes a tasty side dish and with an incredible low glycemic index plus being rich in fiber, it is super healthy too. There are endless variations to this recipe and we always preferred a vegan style slaw without the mayonnaise or sour cream. In Germany you can enjoy many different sweet-sour and creamy versions of the "Krautsalat," especially in the summer alongside a juicy steak, grilled chicken or fish. One aunt made such a sour Krautsalat that is puckered your lips, but it was still delicious next to meat.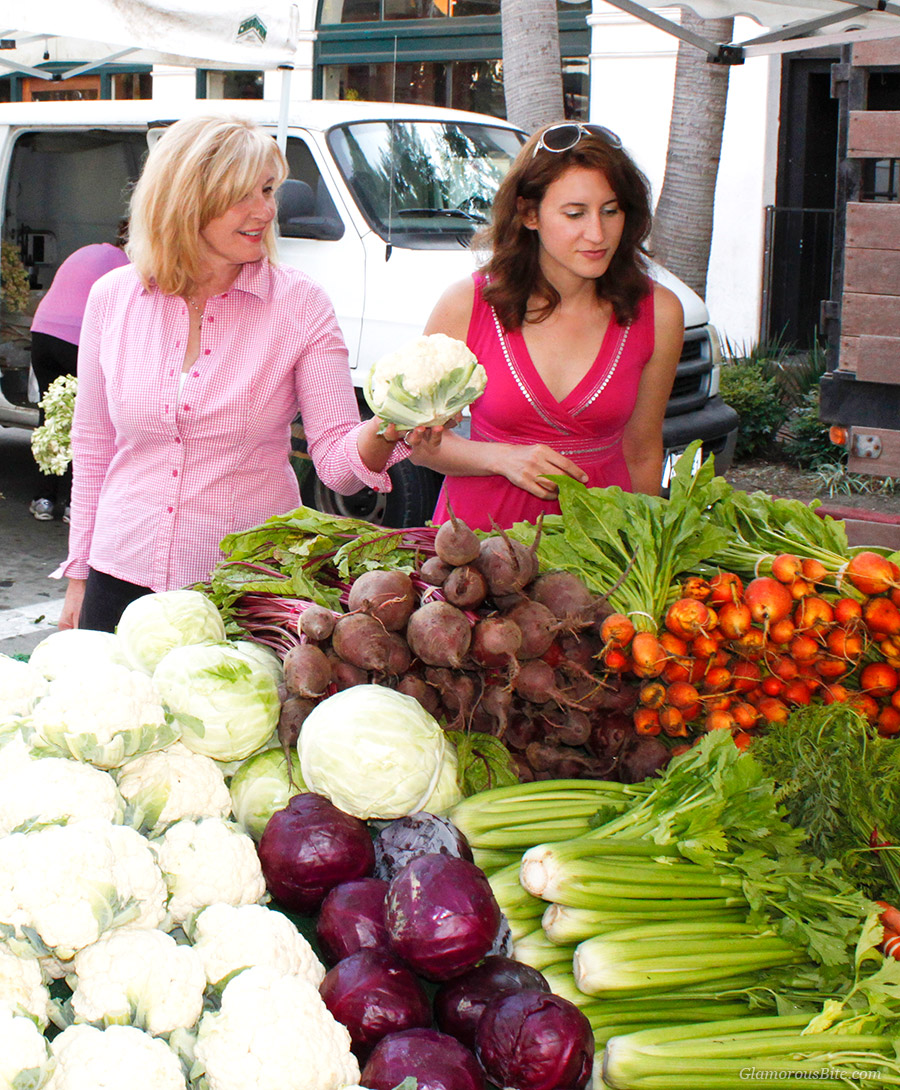 You can easily make the Asian Style Coleslaw recipe a day ahead of your holiday rush and keep it in the fridge. Just reserve the dressing until about an hour before serving to the flavors can mingle and the dressing can infuse the crisp cabbage. It's best to use organic ingredients if you can because the coleslaw is consumed raw. We were excited to find lovely red and green cabbage at the Santa Barbara Farmers Market.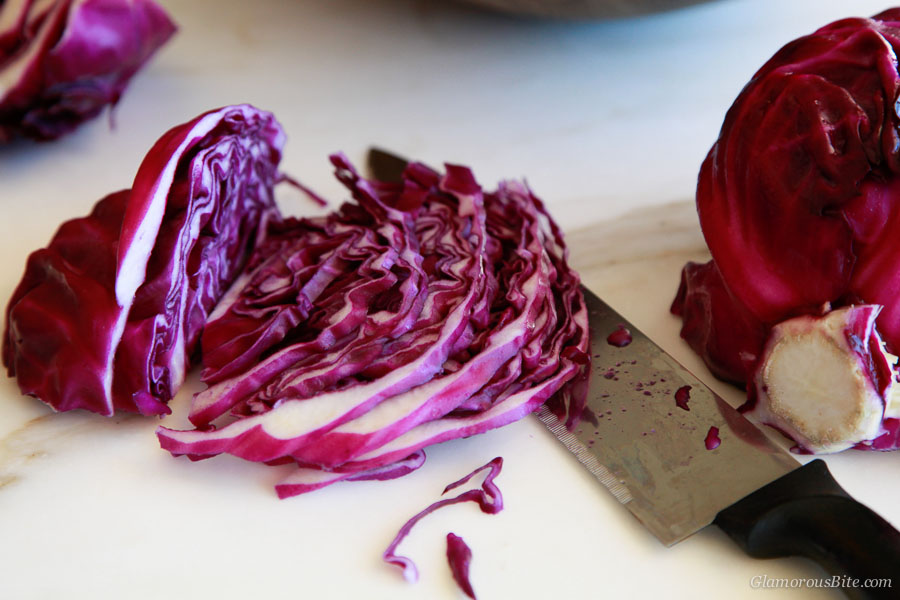 Cabbage is thought of as a Superfood and is high Vitamin C, Vitamin E and other protective vitamins. It is said to be cholesterol lowering and cancer preventive. It is low in calories and high in fiber so is very filling. Ginger comes from Southeast Asia Ginger and has so many health benefits. It can help you fight a cold by generating sweat and is said to help with soothing the intestines and reducing gastrointestinal distress. Ginger has anti-inflammatory properties called ginerols. The ginerols are supposed to assist in reducing arthritis pain and perhaps even protect or fight against certain cancers.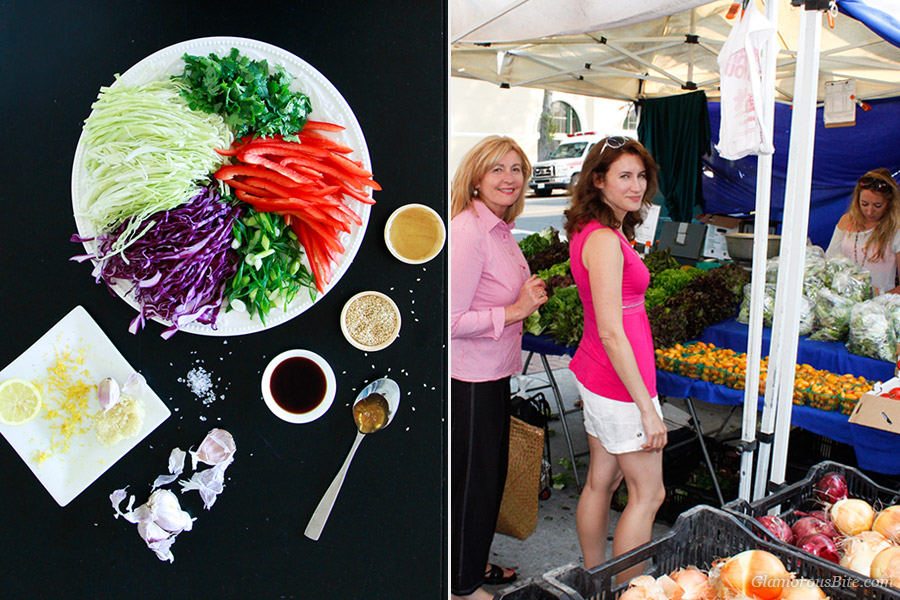 This gluten-free, low-carb, egg-free, raw, vegetarian, vegan Asian Style Coleslaw is on our list for the Labor Day BBQ weekend for sure since we are now living a more nutritionally conscious way of life and eating more Low Carb, which helped us to loose weight and feel more energetic. In about 2 months, including a 3-week Europe trip with lots of Gelato, Judit lost 14 pounds (hurray…) and Corina 9 pounds (finally her favorite jeans fit again…) without any deprivation from our favorite indulgences.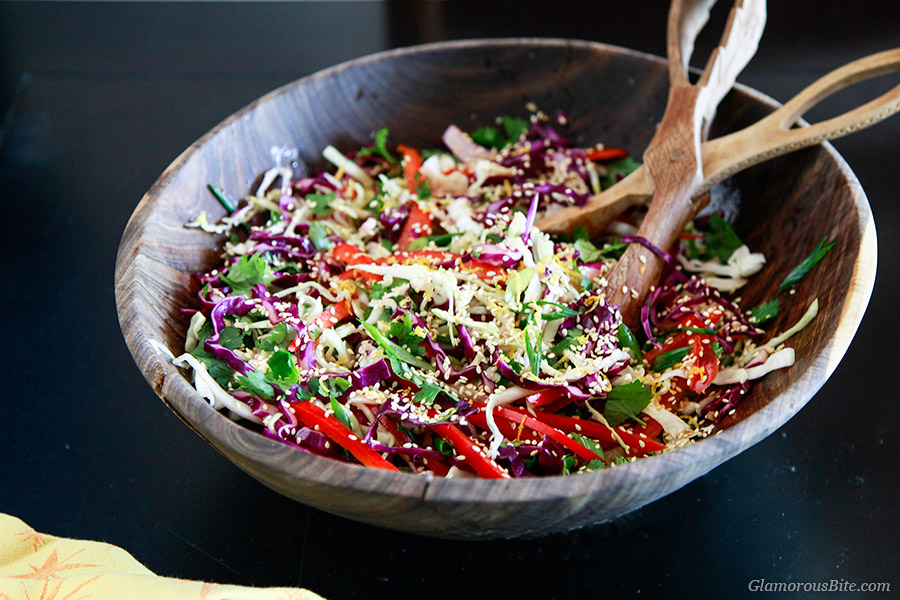 Asian Style Coleslaw is full of healthy ingredients and is low-carb so you can still be beach ready and it is much tastier than the Cabbage Soup Diet. Since it is so healthy, it will also leave room for some those delectable holiday desserts without feeling too guilty!
Perfect Glamorous Pairing: A Dr. Loosen Riesling from the Mosel-Saar-Ruwer region of Germany with stone fruit flavors or a Grooner Grüner Veltliner from Austria with citrus and apple notes. From California, a Lafond Vineyard Riesling Santa Barbara County with honey and floral tones.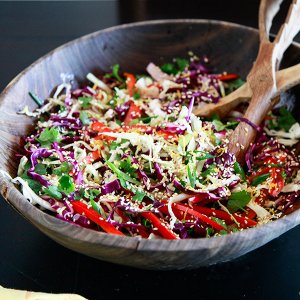 Asian Style Coleslaw (Vegan)
Ingredients
Dressing
2

Tbsp

Rice Wine Vinegar

1

Tbsp

Lemon Juice

1

Tbsp

Agave or Raw Honey

2

Tbsp

Soy Sauce

2

Tbsp

Sesame Seed Oil

Sea Salt & freshly ground Pepper

1

Large Garlic Clove - smashed and minced to a paste with the salt

1

Tbsp

Fresh Ginger - finely minced or grated
Coleslaw
2

Tbsp

Sesame Seeds - toasted

4

cups

Red and Green Cabbage 16oz. - thinly sliced or shredded

1

red Bell Pepper - thinly sliced

3

Green Onions - finely sliced on the bias

¼

cup

Fresh Cilantro - torn into larger pieces

1

Tbsp

Lemon Zest
Instructions
Prepare the dressing first by combining all of the dressing ingredients in a medium glass bowl. For a Vegan option use Agave instead of Honey. Stir until well combined and set aside.

In a sauté pan over medium high heat, gently toast the sesame seeds until golden brown. Set aside.

In a large bowl combine all of the fresh slaw ingredients, except the sesame seeds and lemon zest.

Pour the dressing over the vegetables and toss well. Let the mixture rest for at least 20 minutes so that the salad has a chance to absorb the dressing.

Just before serving, sprinkle with toasted sesame seeds and lemon zest. Enjoy!
Nutrition
Diet: Gluten-free, low-carb, dairy-free, vegetarian, vegan, raw, diabetic-friendly, egg-free.
Asian Style Coleslaw (Vegan) Nutrition Facts:
Servings 8, Serving Size 3/4 cup: Calories 80 • Fat 4.8 g • Sodium 246mg • Carb 9.7 g • Fiber 2.1 g • Sugars 3.1g • Protein 1.8 g
You can serve this Asian Style Coleslaw Vegan with:
Grilled Salmon Kebabs
Rustic Beef Brisket
Lemon Rosemary Chicken