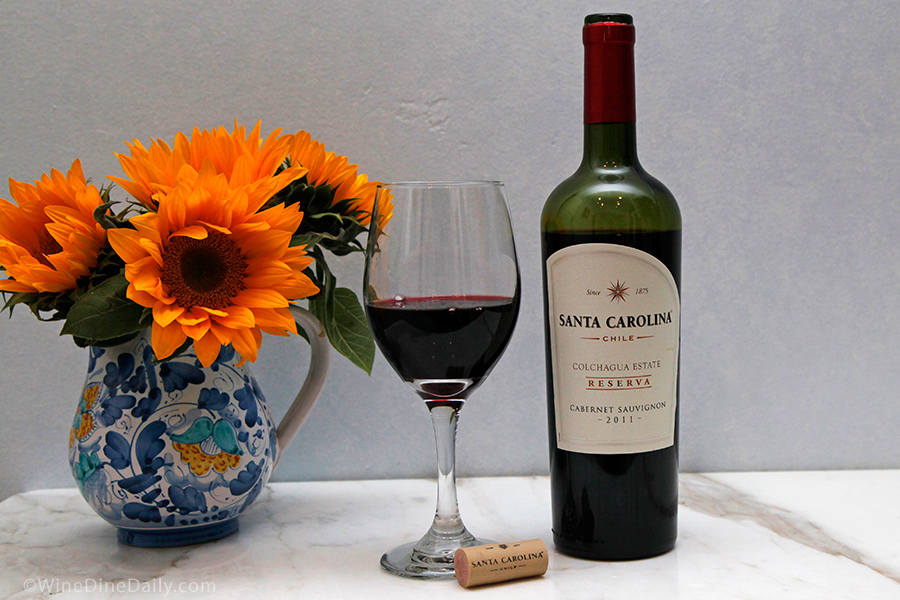 It is such a pleasure and joy to explore different wines, specially from countries and regions which we have not visited before. When we got asked if we wish to taste and review several Cabernet Sauvignons from Chile, you can guess that we could not refuse the opportunity (who would refuse to taste unique wines) and in fact were looking forward to it. Here in America, wines from Chile became very popular in the past few years, especially since you can find some good vintages for around $10 to $12.
The Santa Carolina Cabernet Sauvignon Reserva 2011 from Colchagua Valley, Chile is around this price point and we opened the bottle to give it a try with dinner last night. With the holidays approaching it is nice to have a selection of different wines for parties and to share with friends that wont put a big dent into your holiday shopping budget.
Upon pouring the ruby red liquid into the glass we noticed violet specks dancing about like ballerinas in the glass. I don't know about you, but for us it is so important to be enticed by the color. It is after all the first introduction you get from it in the bottle. In the past, if the color was not as expected you might question if something went wrong during production or storage.
Once in our glass, we swirled the Santa Carolina Cabernet Sauvignon about. On the nose we inhaled deep earthy forest berries, fragrant violets, ground fresh pepper, and even hints of green bell pepper. On the palate it was dark cherry, jammy blackberry, black currant, smoke, ripe fruit, with pepper and licorice. It even had very slight nuances reminiscent of Syrah and Chianti with that pepper and fruit. The pepper lingered and played with the fruit. Mid tongue it had a little tar and then we had a little purple tongue to go with the exit.
For some reason Judit picked up more smoke in comforting levels and Corina the fruit and pepper. It was nicely balanced with a little bit on the peppery side. This is an easy drinking wine preferably accompanied by tasty morsels instead of solo. Because of the earthy character, perhaps a nice piece of juicy steak with mushrooms would have been a more traditional match but alas we had our mind set on a BBQ Chicken Sausage Pizza and have the recipe below. Sometimes improvised pairings can turn out quite good. We thought it stood up well to the pizza and harmonizes with the chicken sausage flavors. Also a nice match would be our Herb Mushroom Crostini.
A little history to take you back in time. The Santa Carolina winery (or Viña Santa Carolina) dates back to 1875 when Luis Pereyra Cotapos founded the winery and named it after his wife Carolina. It is a national historic monument in Chile and in 1899 was awarded a gold Medal from the Universal Exposition in Paris, thus being the first Chilean wine to receive such an award. In 1974 the Larraín Family purchased the winery and in recent years the winery has been practicing sustainable wine growing. It was remodeled and reopened in 2012 after being rebuilt from damage caused by the 2010 earthquake. Lonely Planet called Viña Santa Carolina Santiago's most central winery and said that even though the vines have moved, the cellars and historical main residence are still there today.
Wine always reminds us how special it is to take a moment to share a good meal, have a meaningful conversation with family and friends, or in this case mother and daughter, and reflect on the joys of the day.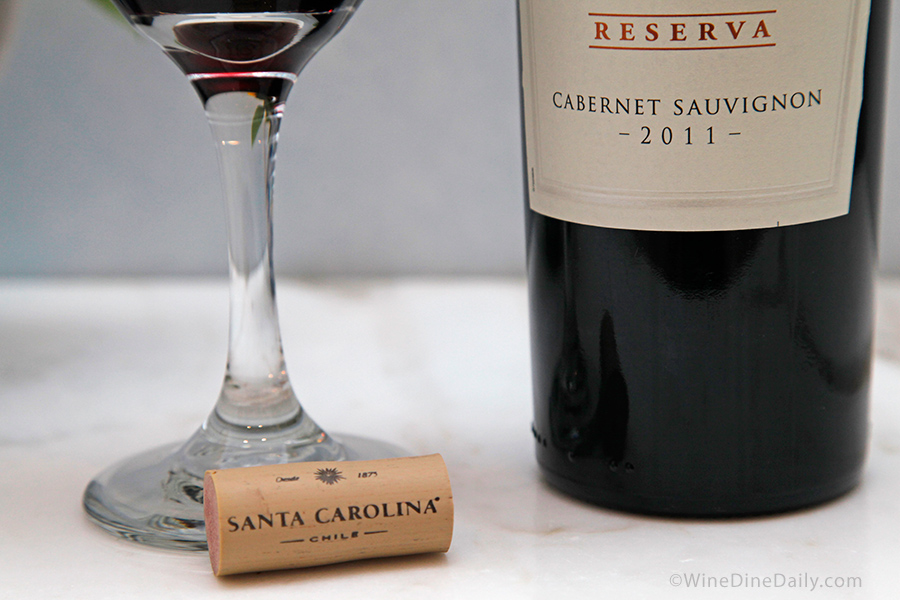 Wine: Santa Carolina Cabernet Sauvignon Reserva 2011
Region: Colchagua Valley, Chile.
Winery: Viña Santa Carolina
Varietal: Cabernet Sauvignon
Color: Ruby red and violet
Nose: Forest berries, violets, pepper, green bell pepper
Taste: Dark cherry, pepper, bell pepper, blackberry, smoke, tar, licorice.
Body: Medium
Pairing suggestions: Grilled meats such as a steak, steak with mushrooms, Herb Mushroom Crostini
Price: $10- $12
J & C Points: 4.3 of 5
The Wine Spectator notes for a previous vintage: Toasty vanilla and cocoa notes lead the way for medium-weight notes of plum, crushed cherry and fig bread. Smoky finish. Drink now. Score: 85. From James Molesworth, June 15, 2011.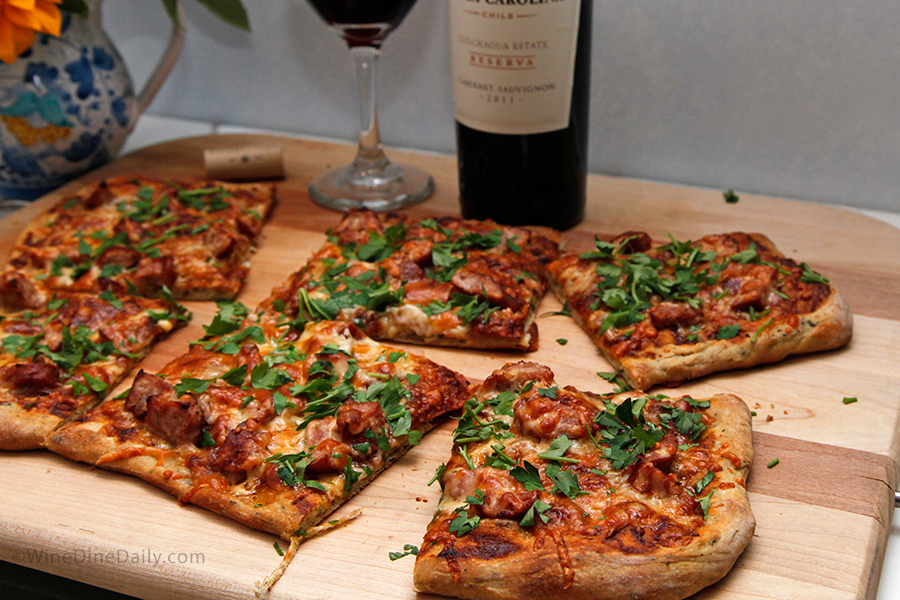 BBQ Chicken Sausage Pizza Recipe
1 fresh Herb Pizza Dough – store brought – room temperature
1Tbsp Olive Oil
1 Tbsp Corn Flour
3 Tbsp BBQ Sauce
2 Chicken Sausage – removed casing and sliced into 1/4″ pieces
3/4 cup Quatro Formaggio
3 Tbsp fresh Parsley – chopped
Preheat oven to 430 F or according to your homemade or packaged dough instructions.
Grease a baking sheet with olive oil and sprinkle with corn flour. Roll out the pizza dough and transfer to the baking sheet and with your hand spread out the dough evenly. Brush a little olive oil on the edges if you prefer. Spread the BBQ sauce evenly on the dough and then arrange the sausage pieces. Scatter the cheese on top. Place into oven and bake for about 18-20 minutes. After removing from oven sprinkle the parsley on top so that it remains fresh.
To best describe the wine culture in Chile, we thought to share this lovely poem celebrating wine with you from Chilean poet, diplomat, and politician Pablo Neruda called Ode to Wine. Hope you enjoy it. Neruda won the Nobel Prize for Literature in 1971. He was originally named Neftali Ricardo Reyes Basoalto, lived from July 12, 1904 to September 23, 1973, and changed his name to Pablo Nerudam.
Ode To Wine
Day-colored wine,
night-colored wine,
wine with purple feet
or wine with topaz blood,
wine,
starry child
of earth,
wine, smooth
as a golden sword,
soft
as lascivious velvet,
wine, spiral-seashelled
and full of wonder,
amorous,
marine;
never has one goblet contained you,
one song, one man,
you are choral, gregarious,
at the least, you must be shared.
At times
you feed on mortal
memories;
your wave carries us
from tomb to tomb,
stonecutter of icy sepulchers,
and we weep
transitory tears;
your
glorious
spring dress
is different,
blood rises through the shoots,
wind incites the day,
nothing is left
of your immutable soul.
Wine
stirs the spring, happiness
bursts through the earth like a plant,
walls crumble,
and rocky cliffs,
chasms close,
as song is born.
A jug of wine, and thou beside me
in the wilderness,
sang the ancient poet.
Let the wine pitcher
add to the kiss of love its own.
My darling, suddenly
the line of your hip
becomes the brimming curve
of the wine goblet,
your breast is the grape cluster,
your nipples are the grapes,
the gleam of spirits lights your hair,
and your navel is a chaste seal
stamped on the vessel of your belly,
your love an inexhaustible
cascade of wine,
light that illuminates my senses,
the earthly splendor of life.
But you are more than love,
the fiery kiss,
the heat of fire,
more than the wine of life;
you are
the community of man,
translucency,
chorus of discipline,
abundance of flowers.
I like on the table,
when we're speaking,
the light of a bottle
of intelligent wine.
Drink it,
and remember in every
drop of gold,
in every topaz glass,
in every purple ladle,
that autumn labored
to fill the vessel with wine;
and in the ritual of his office,
let the simple man remember
to think of the soil and of his duty,
to propagate the canticle of the wine.
by Pablo Neruda