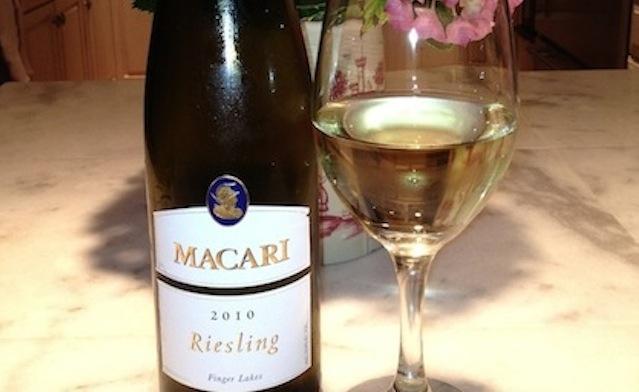 Growing up and traveling in Europe we had our fair share of Riesling in Germany, Austria, Alsace and Hungary, and are glad to see the huge increase of popularity among US wine & food lovers alike. Rieslings are known for refreshing crisp quality and for it's natural food partnering ability. Go for fried stewed, spicy – You can always count on a Riesling to cool you down when you have a spicy dinner or heavy fried foods.
This Macari Riesling is one of our favorite Rieslings and we both like to serve it for special dinners. The nice elegant, rounded flavors with lively citrus notes makes this wine is great match for many different appetizers, main dishes and even delicious with warm Apple Tart. The richness of this wine resembles chardonnay characteristics with mouthwatering acidity and spice, which makes it food friendly. The cost is around $27, but it is still a great choice for a special dinner.
Macari purchased the grapes from the Finger Lake area where many serious Rieslings are produced world-class wine producing region that specializes in aromatic white varieties like Riesling. Learn more about Riesling or visit the winery.
Now to our wine tasting.
Wine: 2010 Macari Riesling
Region: Finger Lakes
Winery: Macari Vineyards
Grape: Riesling
Color: Warm straw color
Nose: Sweet honeysuckle and orange aromas with a hint of spicy notes.
Taste: Fresh green apple and citrusy aromas dominate the first sip. Displaying zesty Grapefruit and touch of spicy notes with touch of petrol. This is a traditional German style Riesling with  voluptuous body and nice well balanced elegant, but lively finish.
Pairing suggestions: Fish, Shrimp & Chicken in creamy sauces or Fried Foods
J & C Pairing: Crab Cakes with Roasted Pepper Aioli
J & C Points: 4.6 of 5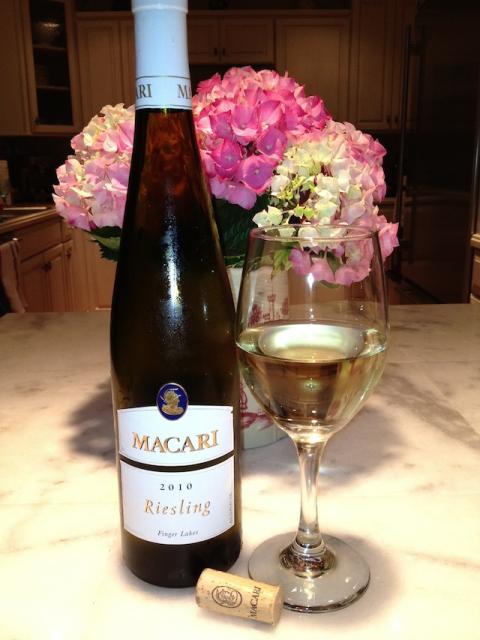 Let us know if you have tried this wine or any other great Riesling lately!