Because we appreciate you we want to make your New Year entertaining more fun by giving away a Cuisinart Mini-Prep Plus 4-cup Food Processor! It is Brushed Stainless Steel with touchpad controls and it is wonderful for making many great recipes.
The Winner of the Giveaway
#78 Cheryl W.  "Bourbon balls! My father in law's new girlfriend made us this incredible Christmas goody tray, this year. On that tray was these wonderful Bourbon balls. I have never tried them before, but they were delicious. I asked how she made them and she gave me the recipe, but it required a food processor, which I don't have. I am dying to make these, so I would be so grateful to win this Cuisinart food processor. Thanks for the opportunity to enter."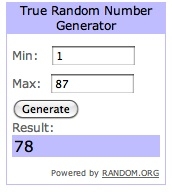 Congratulations to the winner and please email us to claim your prize at winedinetv [@] yahoo.com .
This Giveaway is closed. Check back for our new Giveaways.
The Prize
A Cuisinart Mini-Prep Plus 4-cup Food Processor in Brushed Stainless Steel with touchpad controls and 4-cup capacity work bowl.
We love this food processor since it makes life in the kitchen easier. Its value is about $55.
How to Win
To enter the giveaway just leave a comment below telling us:
"What recipe do you wish to make with the food processor?"
Do you plan to make a fresh pesto or mix up a simple salad dressing? Just let us know what you like to do in the comments section below. You can enter multiple ideas to increase your chance to win.
Terms & Conditions
We will select 1 winner from those entered to this contest. You must be over 18 years of age and a US resident to win. Contest ends Monday, January 9, 2012 at 11:59pm Pacific Time. The winner will be chosen randomly and announced Tuesday at 10am so you can get this mixer soon!
This prize is sponsored by WineDineDaily and was not sponsored or donated to us.
Happy New Year! For a recipe idea on what you can do with your new processor check out our video