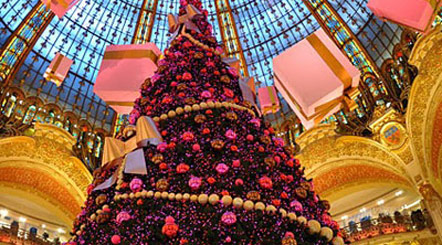 The season would not be the same without the symbol of the decorated Christmas Tree and so we thought we will show you our favorite trees. Here are the Top Three Trees & Happy Holidays!
WISHING YOU ALL VERY HAPPY & JOYOUS HOLIDAYS!
The FRENCH COUTURE TREE
Since 1893 the Galeries Lafayette in Paris has enchanted shoppers and visitors alike over the Holidays. Every year the store transforms into a bejeweled "Fabergé" egg encompassing one monumental pine tree at its heart.
We were in this spot several years ago admiring the wondrous tree, which at the time was more golden hued with giant gold snow flakes suspended from the branches. Each year brings a unique theme to the decoration. Over the years it seems to have become progressively pinker with parcels reminiscent of oversized petit fours hanging from the ceiling. You feel like Alice in Wonderland gazing up at the immense tree and waiting to bite into one of those tasty petit fours suspended too high above.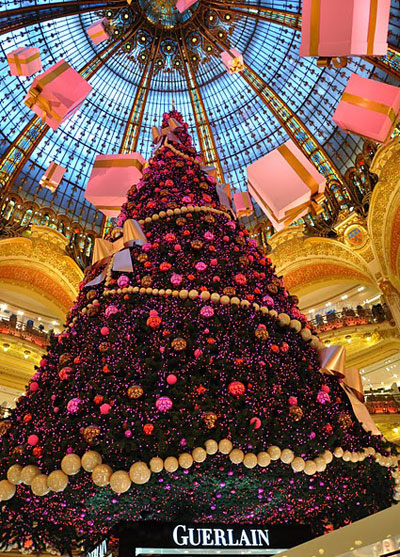 THE 11 MILLION DOLLAR TREE
When they deck the halls in Abu Dhabi, United Arab Emirates then they do it with grand style – gold ornaments and gem-studded bows on a towering Christmas tree. The $11 million symbol of the season has become the latest extravagance at the Emirates Palace Hotel, which boasts its own marina, heliport and a vending machine that pops out small gold bars. The 43-foot faux fir has 131 ornaments that include gold and precious stones such as diamonds and sapphires. Olbertz told Dubai's Gulf News that he worked with one of the jewelers in the hotel to create a "unique tree and experience for our guests this year." The hotel may later contact Guinness World Records for a possible bid as the world's most expensive Christmas tree.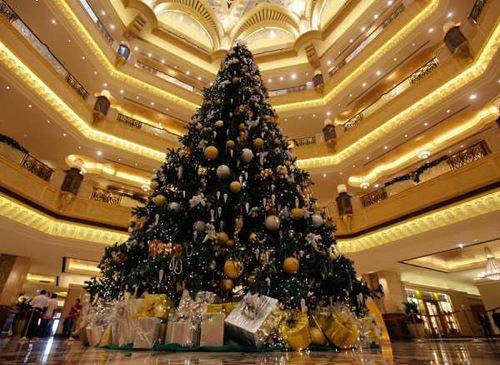 OUR HUMBLE TREE
This tree may not carry 11 million in jewels, but it will be surrounded by the priceless laughter of family and friends. Just shy of the ceiling, our tree is a Noble Fir with cranberry, magenta, and gold hued ornaments. Lovingly selected from the lot and dragged home where a Champagne toast commenced to celebrate. One more addition to the decor is a rather old train that will be set up tomorrow.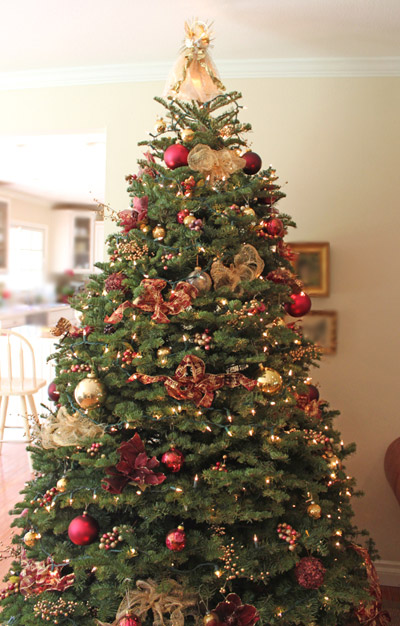 Wishing everyone a happy and healthy holiday season! May they be filled with love, laughter, and delicious food & wine!
Hope you enjoyed the Top Three Trees & Happy Holidays!