Join us for our Ancient Peaks Winery Sauvignon Blanc Review at the Ancien Peak tasting room in Santa Margarita. This charming little town is only twenty minutes south of Paso Robles. We meet with winemaker Mike Sinor and with Amanda Wittstrom-Higgins
who works with her family in this wonderful venture.
After just finishing the Zip Line tour through the vineyard, a truly exhilarating adventure you can do in this vineyard, we are ready for wine tasting back in the tasting room. Yes we really need a refreshing wine for all that hard work of zipping! The Ancient Peaks Winery Sauvignon Blanc hits the spot with fresh minerality and vibrant citrus notes while the charming rustically elegant tasting room is the perfect place for a relaxing wine tasting.
Mike the wine maker also proudly explains: that Ancient Peaks is Sip Certified, which means "sustainability in practice". The Sip program has rules for habitat conservation and encompasses the whole farm system, even including the workers and wildlife. The first wine to archive this certification is the 2010 Sauvignon Blanc from the Margarita Vineyard (which is located by San Luis Obispo, California near Paso Robles wine country). The Sip Certificate is given by a third party who is monitoring the vineyards and make sure that the grapes are grown after the rules. It is a really great way to live and produce wines when you know it is good for the environment and for you.
Judit: Well let's sip this sip certified Sauvignon Blanc!
Corina: I get citrus right away and fresh minerality,
Mike: Santa Margarita Ranch is the most Southern vineyard of the appellation. It is a little cooler there so the wine has more acidity. The key to farm Sauvignon Blanc is to maintain the vitality of the grape and pick it a little earlier.
J: It has a beautiful mouth feel and also I pick up caramel or toffee apple on the end. Is it right?
Mike: Certainly! I mean this is the best part of wine, it is subjective and the vocabulary to me is exiting.
C: Amanda what does it mean to you to be with a family from winemaking.
Amanda: It is truly a blessing. I went away to school and came back and found my way to agriculture and family winemaking. It is amazing to see something grown from the land and share this with other people.
J: (still thinking about the wine) This wine is really playing with your tongue, know I taste lemon meringue pie.
C: Apple strudel for me
Mike: It is all tank fermented and still has a little toastiness to it. In the last two vintages this wine really took of and we are exited about it.
We did enjoy this refreshing Sauvignon Blanc and we were planning to pair it with some delicious seafood and apple pie at home. Here is a recap from our tasting notes for you: after the refreshing citrusy first sip we tasted lemon meringue pie and baked apple strudel with layers of caramel toffee apple.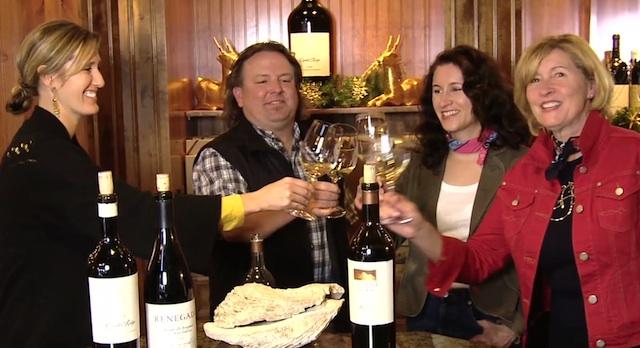 Wine Tasting Notes:
This crisp Ancient Peaks Sauvignon Blanc has Tropical fruit notes. Fresh minerality and cistrus. It is acidic and vital, a food friendly wine.
We also taste lemon merringue pie and baked apple strudel layers with caramel toffee apple at the end.
Ancient Peaks is Sip Certified, which means sustainabilty in practice. The Sip program has rules for habitat conservation and encompasses the whole farm system, even including the workers and wildlife.
Address
Street: 22720 El Camino Real
City: Santa Margarita
State,Zip: CA 93453
Country: United States
Contact
Telephone: (805) 365-7045
Website: ancientpeaks.com
Tasting Room Hours
Thursday through Monday 11 a.m. to 5:30 p.m.
Or by appointment on Tuesday and Wednesday
$5 Tasting Fee