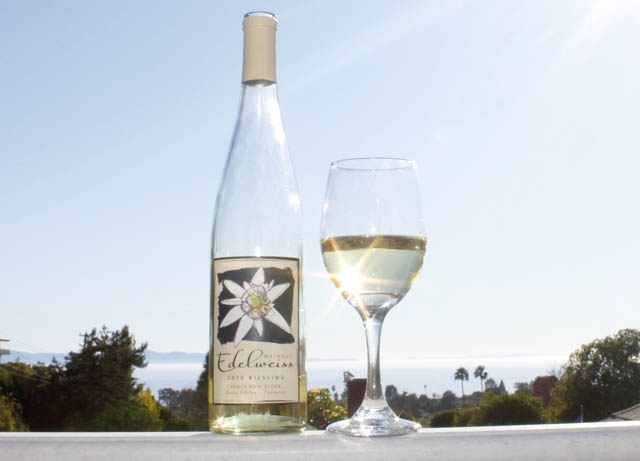 Edelweiss 2010 Riesling
You are lucky because we are both big fans of Riesling  (Judit grew up with it in Europe and Corina likes to pair it with Spicy Orange Peel Chicken) so you can imagine our joy when we received a wine shipment from "Weingut Edelweiss". Looking the charming label of Edelweiss, we first thought it is from Austria or Germany. Surprise – it was from Napa! From the cooler Carneros region and as you may know, Riesling was born in Germany's Rhine valley and is most commonly grown in colder climate and as a variety it is extremely Terroir expressive.
In the last decade the wine makers of California produced many excellent Rieslings in the traditional German or Alsatian bone-dry style, but with slightly higher alcohol levels and thankfully with crisp acidity to pair with Global cuisine. Any good restaurant will have a few on its wine list.
Now to our wine tasting.
Wine: Edelweiss 2010 Riesling – Fence Row Block

Region: from the heart of Napa Carneros.
Vintners: Alison Crary and Domingo (Mingo) Rodriguez
Color: pale yellow with touch of green hues
Nose: First shy but after a short time in the glass it opened to a lovely aromatic summer bouquet with orange, stone fruit and honey notes.
Taste: Refreshingly crisp with lighter body. Prominent stone fruit like juicy ripe white summer peaches, pear and Corina noticed green apples and Judit had more of an orang zesty notes and a hint of herbacious quality. Overall this Riesling is very pleasing and we liked the smooth well balanced long finish.
Points: 4.6 of 5
Pairing: Spicy shrimp tacos or Orange Peel Chicken among many others perfect pairings
The conditions were just right for the Edelweiss 2010 Riesling vintage since it was so cold in California according to Alison and Domingo.
This wine reaffirmed to us why we like Riesling. Can you believe this wine was the very first vintage from Alison and we are certainly looking forward to many more. Currently you can find this Riesling in several exclusive Napa restaurants like Marimoto, Brix Restaurant, The Carneros Inn Farm and at San Francisco's Quince. You can also order the Edelweiss Riesling at shops like the Oxbow Wine Merchant or the Calistoga Wine Stop.