Have you ever had a bottle that was too pretty to open? We have, and we really appreciate the aesthetic of a beautiful hand-dipped wax seal on a wine bottle, even though it is another barrier between us and the tantalizing liquid inside of that bottle. Wax on a bottle gives it a traditional distinct look and we really enjoy giving and receiving wines with hand-dipped colorful wax seals. In our wine collection we have several of these lovely bottles waiting for special occasions. Don't these bottles from Artiste Tasting Studio look very stylish.
Saturday evening we had friends over and opened our last Gainey Pinot Noir Magnum, which by the way was in need of drinking due to its age (and yes this part is true, we just had to drink this wine, because many wine varietals can get very unpleasant when they go beyond certain age) Luckily ours was still perfect, but a few more months and the freshness would have been overtaken by more jammy, pungent notes. Who loves an over ripe Pinot… nobody does. So if you would like to know how to open and serve wine from a hand-dipped wax seal bottle read on.
Most of the wineries will tell you that: "Our hand-dipped wax bottles are easy to open. Just Do NOT try to cut off the wax. Warming the wax under running hot water for a 30 seconds prior to opening is also helpful" recommends Bion Rice, the winemaker from Artiste Tasting Studio.
  You can open the bottle by pushing your Waiter's Corkscrew in an angle through the middle… see how easy it is to break through the seal.
The wax will break off cleanly as you extract the cork."  (photo via internet)
And yes this method works almost all the time, however, we had a few Magnum bottles with thicker wax, which just did not want to cooperate with our so called "Waiter's Corkscrew"  opener. It was time to bring out the big shot – the "Rabbit" opener (an no this is not named after Jessica Rabbit), which lets you apply extra preassure on the rabbit ear to punch through the thick wax seal easily.
This is the famous "Rabbit Corkscrew" wine opener. It cost about $40 and the handel looks like flobby rabbit ear. If you open a regual bottle make sure that you cut off the foil capsule with the foil cutter.  It works really well and we like this opener, and use it all the time, as you can see in our tasting videos.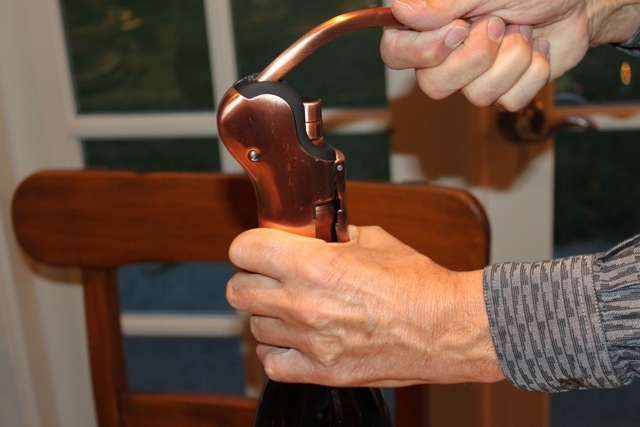 To start place the opener around the neck of the bottle, lift the lever to upright position and rest the "worm" (screw) on top of the bottle and with one hand squeeze tight and with the other hand lift handle to an upright position. (Disclaimer – these dainty hands belong to Paul and not Judit or Corina). Corina did buy this Rabbit Corkscrew for her parents as a gift though a couple years ago and it has been tryed upon many a wine bottle.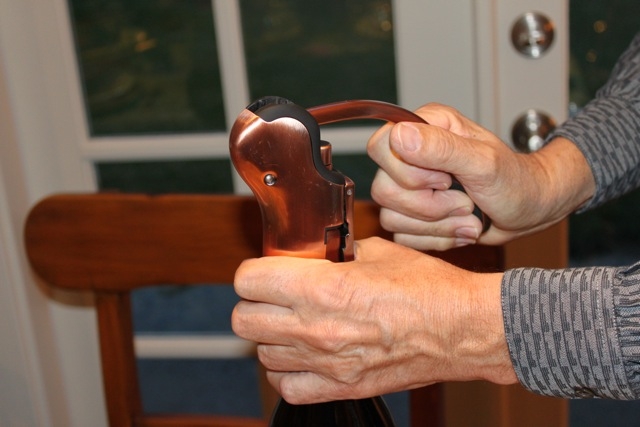 Then push the lever (or "rabbit ears") all the way down, and make sure that you hold onto the opener real good.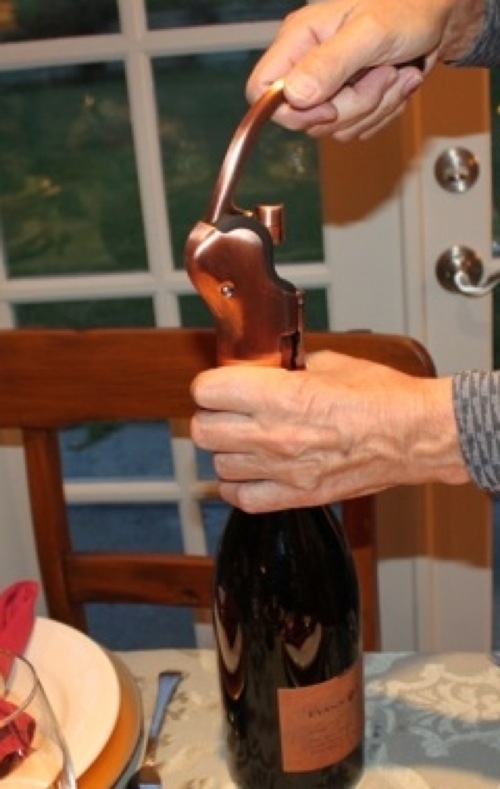 Then with a swift motion lift the handle and pull the cork up and all the way out.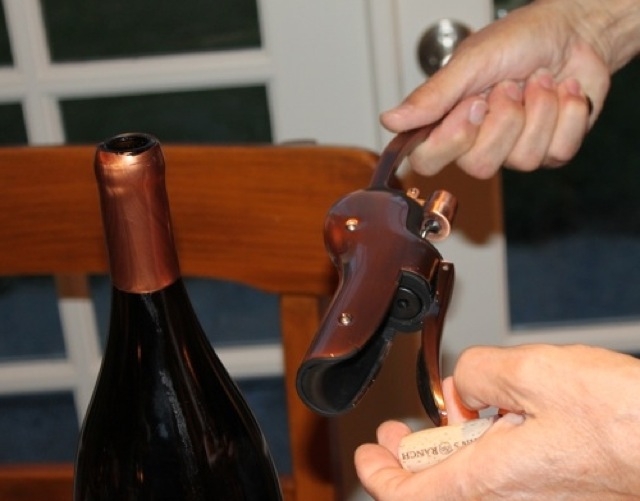 To release the cork, push down the handle, then squeeze again and pull the lever back up and your cork should pop out. The cork came out pretty clean and did not leave any shreds around the bottle neck.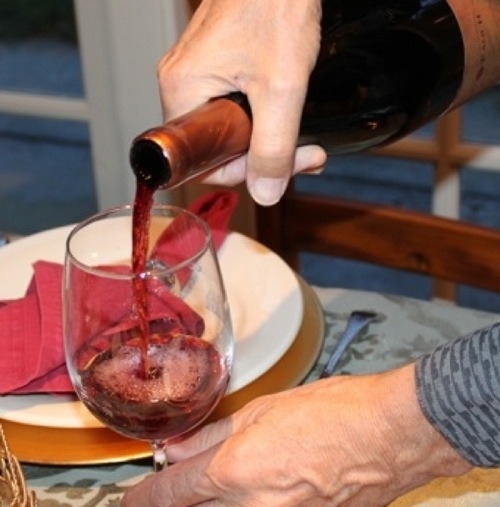 And voila now it is time to enjoy the fruit of our (Paul's) labor! Cheers 🙂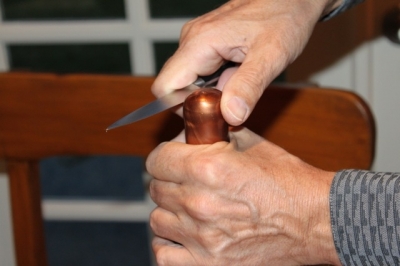 Just to make sure you payed attention – this is what you should NOT do with the wax!
"It's actually very easy to pull a cork from a bottle with a traditional wax seal. The only caveat is that a wax seal "calls for…a tolerance of a certain amount of mess" as Master of Wine Jancis Robinson points out.