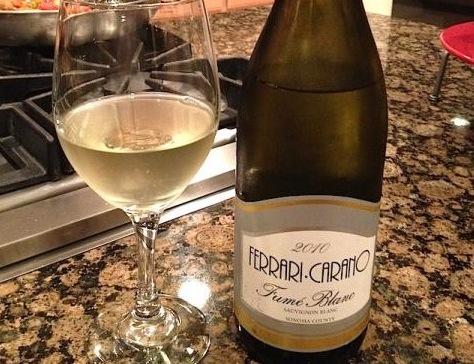 Ferrari-Carano 2009 Fumé Blanc
We are always looking for a "good wine deal" and are so glad to found this awesome Fumé Blanc from Ferrari-Carano. Well this was a so called "great bargain" because we purchased it in spring as a Bevmo's Special – where you buy 1 bottle for the full price and the second bottle is only 5c. Love to find good wines under $15 and with 92 Points this was like the Saks Fifth Avenue annual sale. 
Thanks to Robert Mondavi who created the Fumé Blanc in 1968 by aging Sauvignon Blanc in oak barrels. Usually Sauvignon Blanc's are aged in stainless steel.

Now to our wine tasting.
Wine: 2009 Fumé Blanc
Region: from Sonoma County
Winery: Ferrari-Carano Vineyards & Winery
Grape: 100% Sauvignon Blanc
Color: pale yellow with a touch of gold
Nose: Right after the pour the lovely flower and tropical fruit aromas with a hint of green grass notes emerget from the glass.
Taste: This medium bodied, creamy Fumé Blanc with citrus, melon, honey and a touch of smoky aromas was exceptionaly well balanced and we loved the crisp slightly mineraly finish with lingering aromas which definiteve called for more sips.  The wine had time to mature a little and develope more deeper aromas so if you have tasted it last year you may had a more crisper and less creamy, honey notes.
After drinking Judit felt extremely excotic, she got the visions of a lush tropical island, and Corina had the same vision plus it included cute surfers.
Wine Makers Note: Citrus, mango, kiwi, and lime aromas are complemented by flavors of vanilla, guava and grapefruit in Ferrari Carano's 2009 Fume Blanc. Cool, stainless steel tank fermentation gives this wine a crisp freshness while the subtle oak character from barrel aging adds great complexity and depth.
Rohnda's notes:  with simple seafood and poultry dishes, and also holds up nicely with white meats such as veal and pork. The wine has lively flavors that go well with spicy and ethnic cuisines such as Japanese, Vietnamese, Thai, Chinese, Korean, Mexican and Southwestern dishes
J & C Pairing: We enjoyed this food friendly wine with Spaghetti topped with Tomatoes- Green Peas and Mozzarella. This recipe just evolved as we started cooking. First we sauted the green peas and diced carrots in pancetta fett. After a few minutes we added the sliced tomatoes and cooked for a minute only. To finish we poured a splash of Fume Blanc to the pan and topped the pasta  with this vegi mixture. A few Mozzarella pieces and Basil did do a nice finish for this easy dinner. We will get you the full recipe soon !!!
J & C Points: 4.8 of 5
Price: $15
The next time you are looking for a special bottle of wine do look for a Fume Blanc from California. For sure it will make a delicious addition to any family get-together or to a romantic dinner for two.
Let us know if you found any great bargain wines lately!