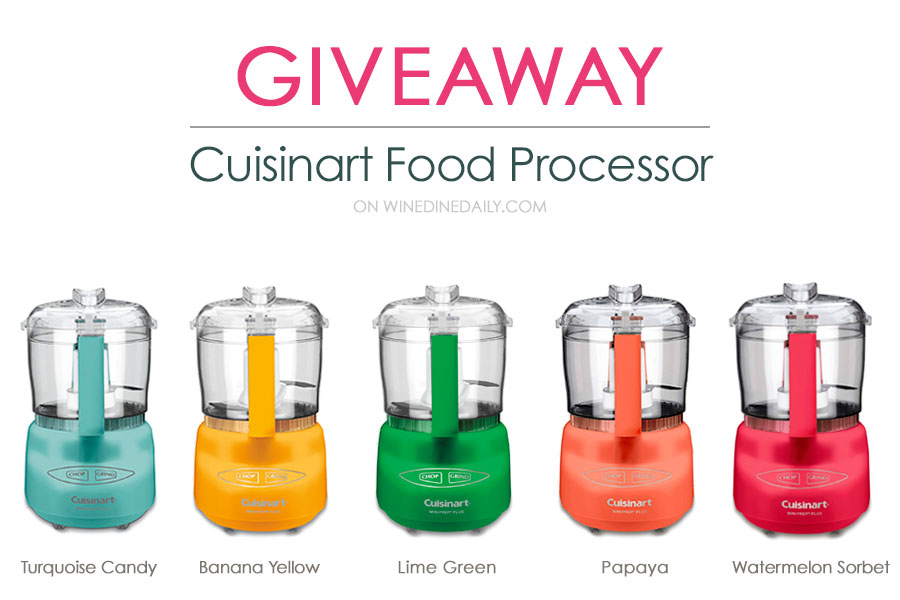 Spring is fully here and we thought to have a special Cuisinart Mini Food Processor Giveaway in vibrant Spring colors to make this season more fun for you in the kitchen. We are constantly mixing it up with our Mini Cuisinart Food Processor in the kitchen and there are just so many things you can make so we thought you may need one too!
The Winner of the Cuisinart Mini Food Processor Giveaway is:
#38 Alessandra "I would take the Banana Yellow Cuisinart mini food processor to make many spring and summer dishes. The first I would try is mint chutney then a fruit chutney. I have a food processor that is in bad shape and I would really like to win a new one!"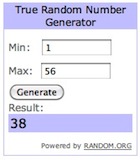 Congratulations to the winner and please email us to claim your prize within 24 hours at winedinetv@ymail.com. This Giveaway is closed. A new Giveaway will be posted soon!
You can just toss in a few ingredients for making appetizer spreads, dips, healthy pesto, tasty sauces, or salad dressings. Use it to chop onions, garlic, or fresh herbs and not to mention you can also chop nuts or peppers. We can always use a quality kitchen gadget to make cooking easier, especially if it comes in fun colors! It makes chopping vegetables much faster and it is easy to clean up. This Cuisinart mini food processor can also make bread crumbs and grind cheese. So tell us, are you a Papaya, fan or Lime Green lover? Judit adores the Turquise Candy and Corina the Watermelon Sorbet.
How to Win
To enter the Cuisinart Mini Food Processor Giveaway just leave a comment below telling us:
1. "What food would you mix in this cute mini food processor?"
and "Which color would you choose?"
2. Subscribe to our newsletter here. You can unsubscribe anytime.
*Bonus: Get bonus entries by telling us different foods you would use this processor for. Even more bonus entries if you pin this on Pinterest.
The Prize
Cuisinart DLC2 Mini Prep Plus 3-Cup Food Processor
This 250-watt food processor has a durable 3-cup plastic work bowl and sleek push button control panel for easy use. It chops and grinds with a stainless-steel blade. Measures about 8 inches by 5 inches by 9 inches. Dishwasher-safe lid and bowl. We had a little fun with the colors. Select one of the Spring colors shown: Turquoise Candy, Banana Yellow, Lime Green, Papaya, or Watermelon Sorbet.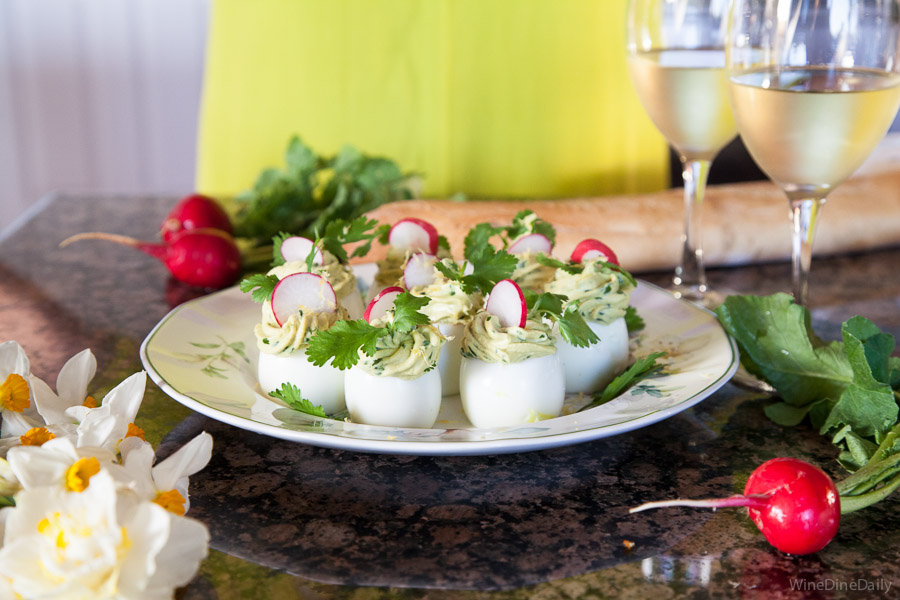 We used our food processor to create the filling for these bite size Avocado Deviled Eggs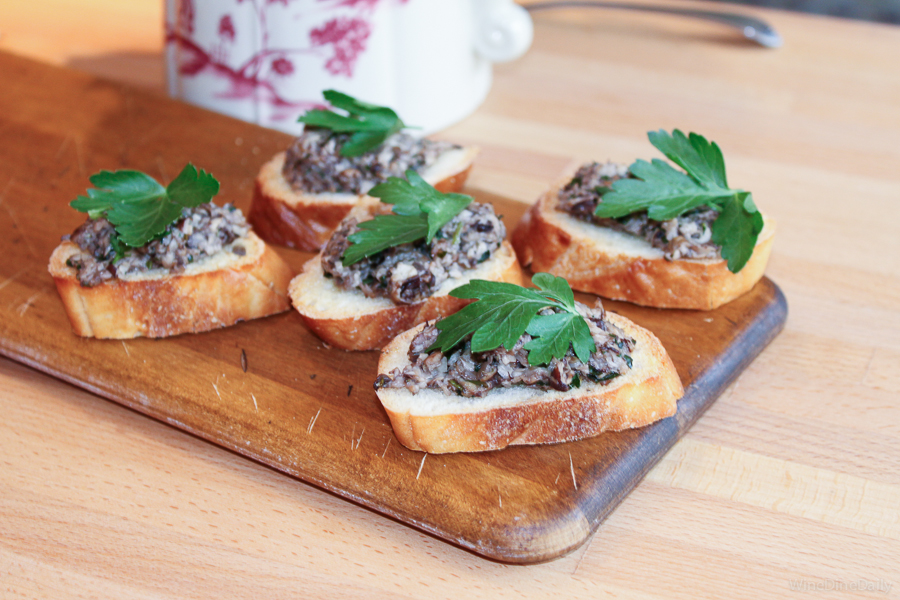 and to mix up the topping for these Herb Mushroom Crostini appetizers.
Terms & Conditions
We will select 1 winner from those comments entered to this contest. You must be over 18 years of age and it will be shipped to a U.S. address only. Contest ends May 1, 2014 at 10pm PDT. The winner will be chosen randomly and announced on May 2,2014 by 10am.
Please email us here within 24 hours. If you do not then a second winner will be randomly selected. This prize is sponsored by Judit & Corina of WineDineDaily and was not donated to us.
Good Luck!