Herb Mushroom Crostini Recipe with Pinot Noir
When the four wine bottles arrived from Bouchaine Winery in the Carneros District, of course we first eagerly opened the Pinot Noir. After we tasted the beautiful earthy aromas with the slightly sweet berry notes just knew we had to find a recipe to match the sensual and lovely forest notes. Don't mushrooms make you think of forest? The Pinot Noir was quiet beguiling and as we were sipping it we each gave our two cents and this recipe quickly came to life in form of an Herb Mushroom Crostini. Read the Full Recipe Here.And as you may know by know we love to sip and taste the wine country, and our recipes are revolving around delicious wine country inspirations.
We used about half a pound of Shitake mushrooms and half a pound of Grimini mushrooms. Then we added one clove of garlic and as for the herbs we used a little thyme , rosemary and lets not forget the fresh parsley.
You also need a French baguette a dab of butter, olive oil and salt and pepper. This is really a simple recipe very European style.
First slice the baguette into thin slices, brush one side with olive oil and bake in the 400 degrees F preheated oven for about 5 to 8 minutes.
Then slice the mushrooms and roughly chop the herbs.
In a large saute pan sauté the mushrooms in the butter and olive oil for about twenty minutes.
Add the garlic and herbs and now our secret ingredient a splash of Bouchaine Pinot Noir.
With a wooden spoon stir well and scrape up all the flavorful bits from the bottom of the pan. Continue to sauté for a few more minutes.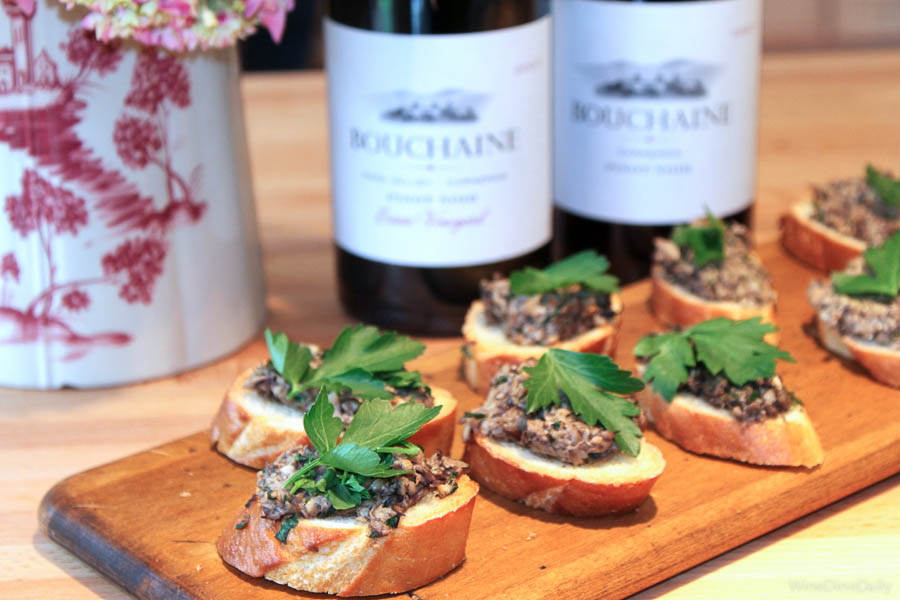 Remove from the heat and transfer herb mushroom mixture to a small (or a standard size if you do not have a small one) food processor. Zap it a few times until the mixture is well combined and holds together.
Rub the crostini on one site with a garlic clove. Spoon onto each crostini some of the herb mushroom topping and decorate them with fresh green parsley leaves.
Mmm, it tastes so heavenly with the luscious California Bouchaine Pinot Noir, please do take our word for it, we did have all the lovely fragrant aromas of the forest in just one little bite.
Bon Appetit!