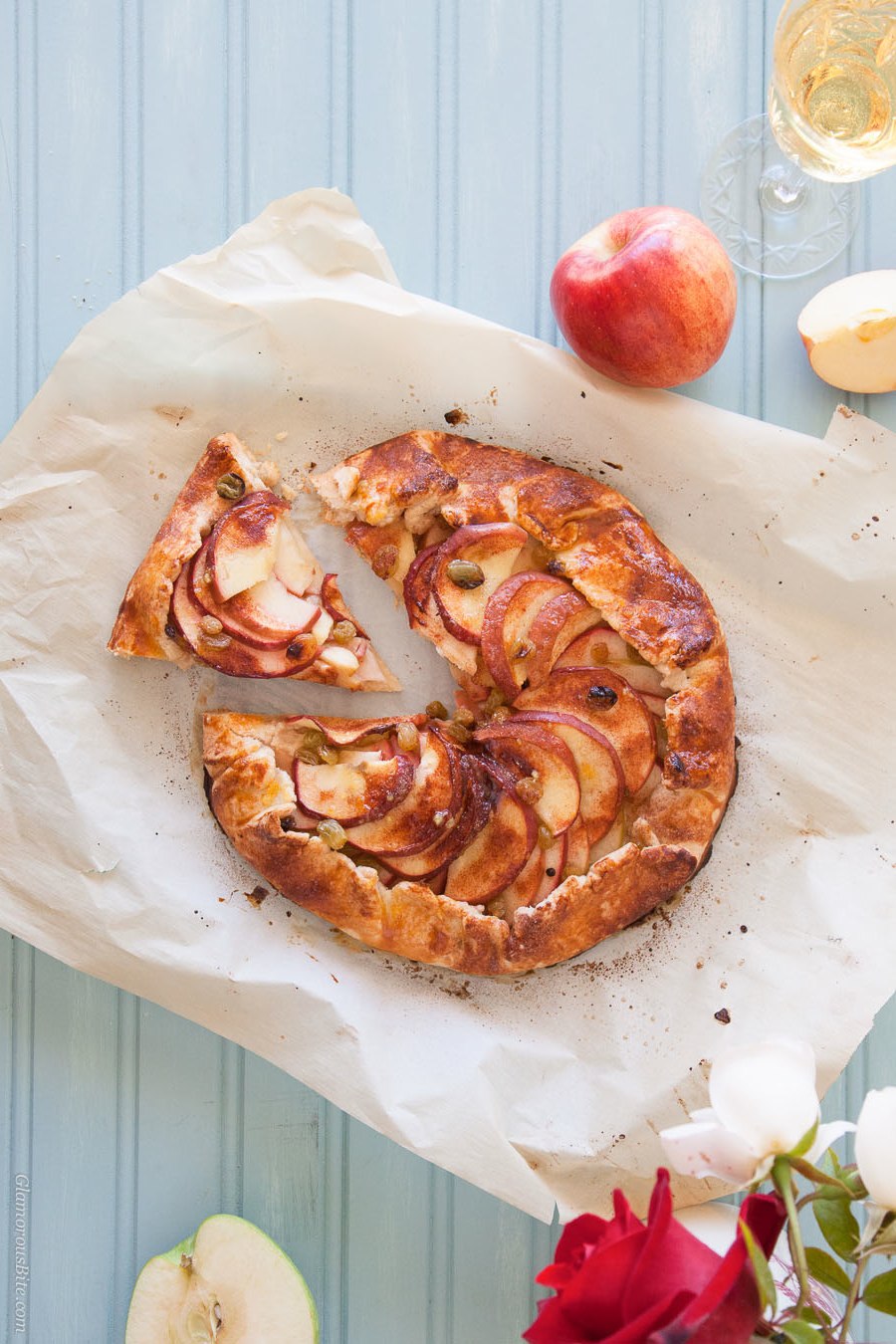 Autumn is in the air with the scent of apples and aromatic spice filling the house with comfort, especially when you have an Apple Galette baking to perfection in the oven, like your favorite warm fuzzy blanket. Also, we can't forget to mention that it is Oktoberfest and it brings back memories of apples (not just beer and sausage) since the fall is harvest season and we recall having apple strudels at this time of the year from Corina's German grandma "Oma". Oh how we wish Oma Lena would make her famous apple strudel for us!
You know the feeling, when you almost can taste the food you are craving for and can't wait to eat it again. To make an old fashioned strudel was quite a feat and time consuming. Oma would stretch the splendid dough across her crisp linen covered kitchen table so thin that we thought it will rip at any moment. But you know what, it almost never did. She then artfully drizzled the filling in just the right places, rolled it up, and baked it to crisp perfection.
With all of our busy schedules these days, we can't even imagine attempting to bake the way she used to. Well thanks to the French, we have a quicker remedy for our apple craving. We made a healthier and easier French treat with a low-carb Apple Galette. As you may have noticed we are making healthier versions of some of our traditional favorites and this Apple Galette is made with no refined white sugar and no white flour.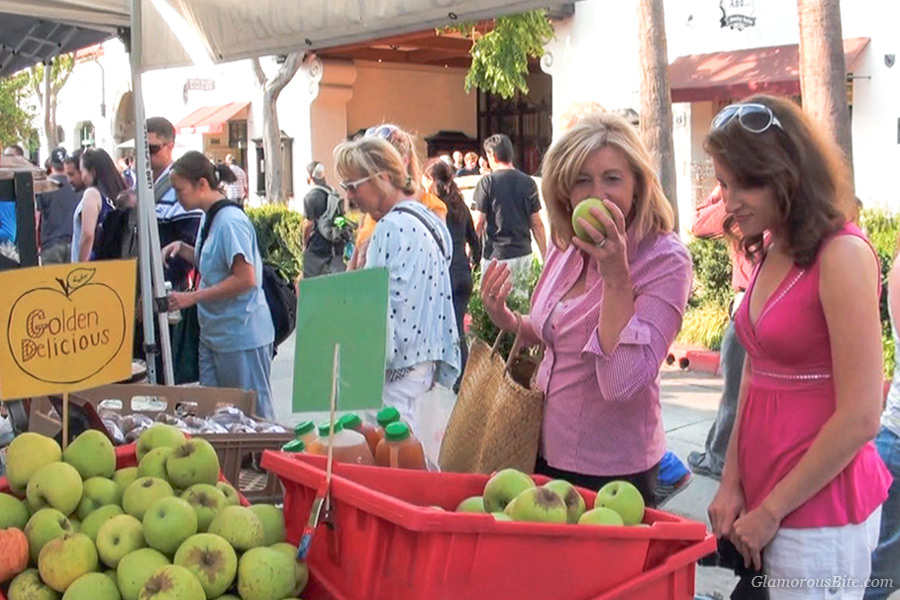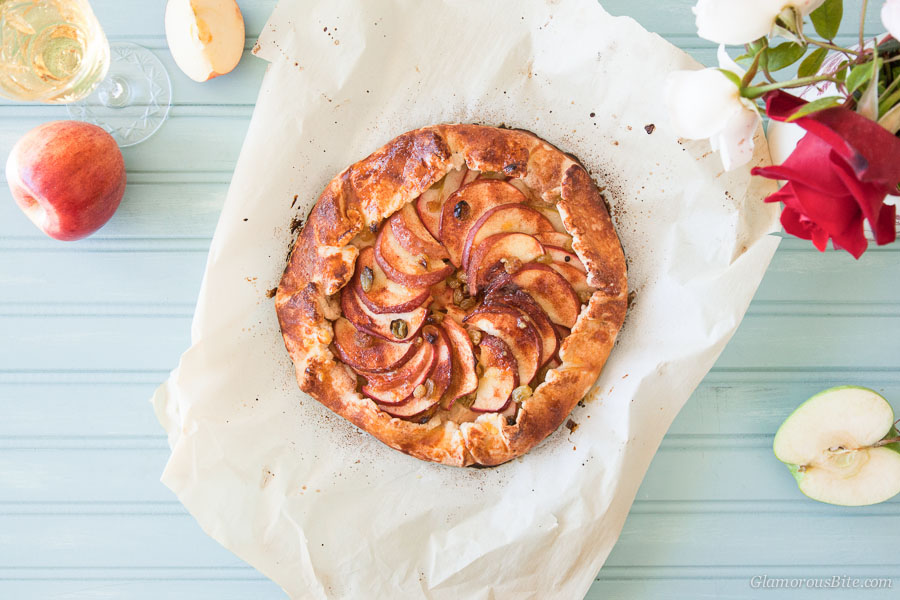 The best part about this truly scrumptious Apple Galette Low-Carb version is that you don't need any special pie shell just a plain cookie sheet. The aroma of warm apple and cinnamon is so tantalizing that every time we wish we would have baked two galettes instead of one. This rustic galette is really simple to make and we made a low-carb version by substituting Low Carb Bake Mix instead of regular flour, and used coconut sugar instead of refined sugar to make it a little bit more healthy.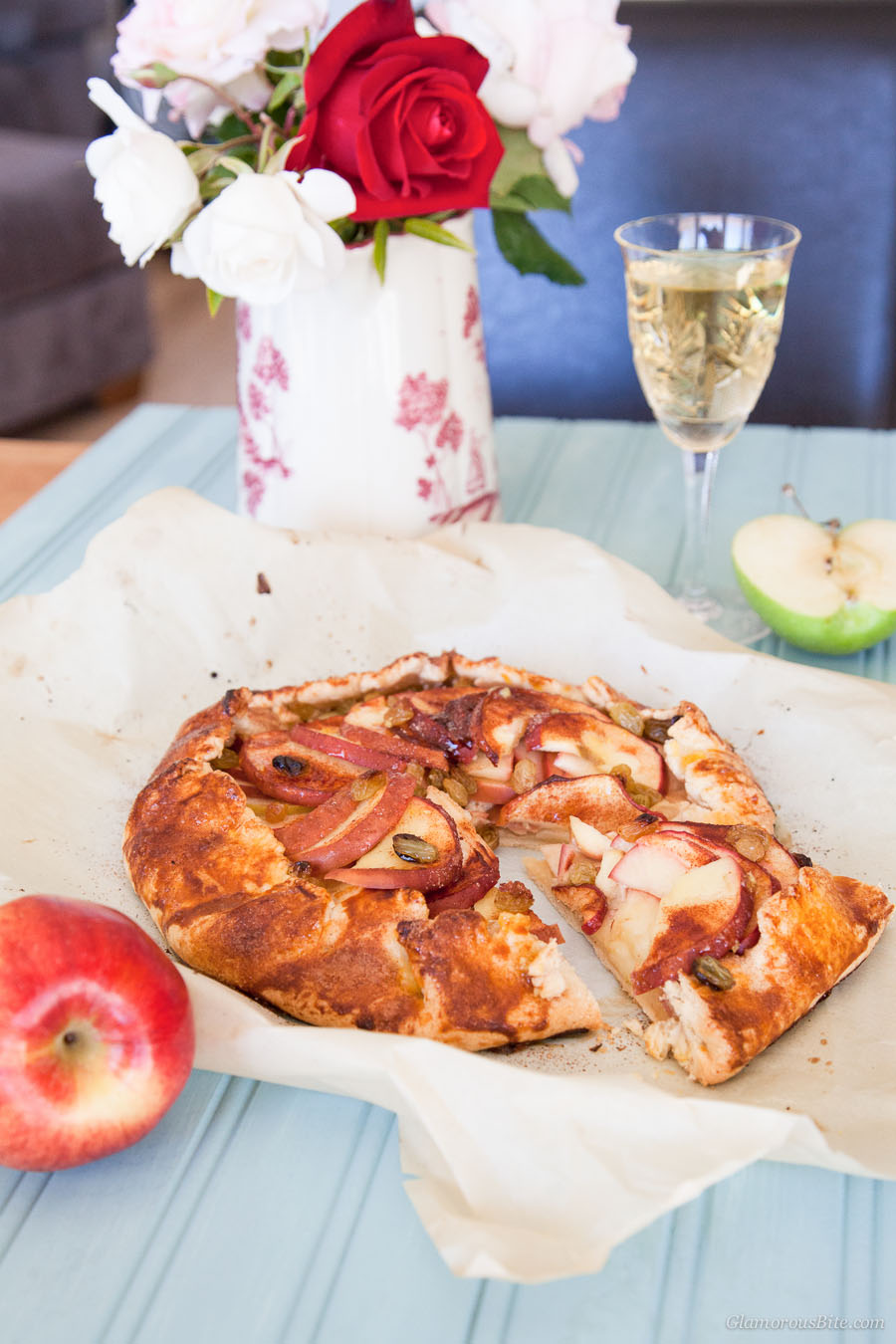 In the past we never considered the negative effects of too much refined sugar and white flour. When Paul (Judit's husband, Corina's dad) in end of May got diagnosed with Diabetes you can imagine our shock because he was not over weight, and within a year he lost over 35 pounds and was already a slim and active person. Sometimes life gives you changes and first you think how difficult it will be until you realize it is actually a blessing. As we decided to live and cook in more healthful ways, we are excited daily to find small changes with big benefits. Judit lost 15 pounds without dieting and Corina 7 pounds and by the way Paul gained 16 pounds back and his blood sugar levels are much lower. Still not perfect but he will slowly get there!
It's a daily change, but you still can splurge and enjoy our favorite foods in moderation. So we are more conscious of the ingredients and did you know that cinnamon is so good for you and as some studies say it helps with controlling blood sugar levels and fighting bacteria. Apples are high in soluble fiber and Vitamin C with pectin and antioxidants. They may even help your endurance when you exercise. Maybe we can run to the table faster now for another piece of Apple Galette!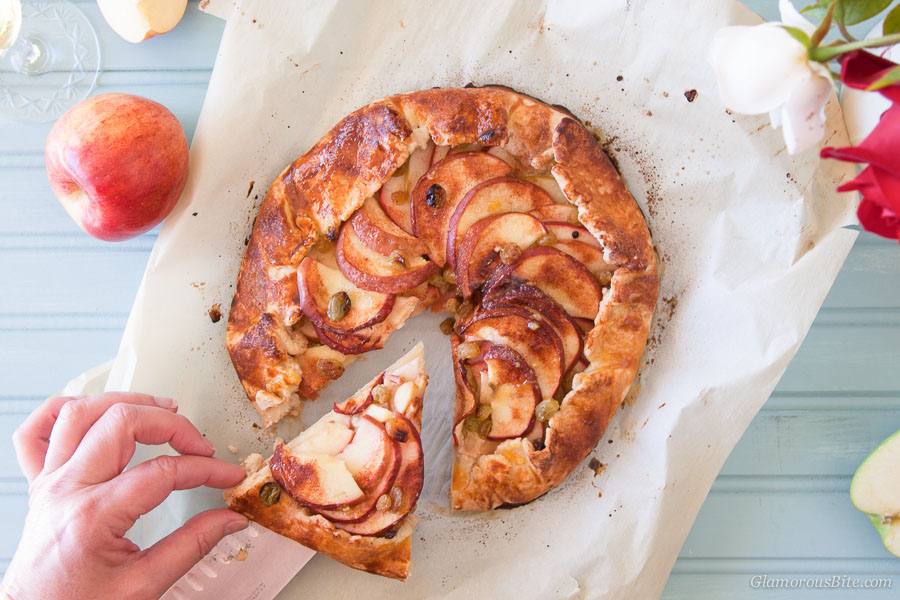 When you take a bite (a Glamorous Bite) of this Apple Galette, you taste crunchy bits of buttery crust enveloped by warm tender apple and spiked with spicy nuances from the cinnamon coconut sugar with a jolt of sweetness from the raisins. You can't stop at just once bite, you have to go for another and another…. It is the simplest of autumn indulgences and really is a celebration of the ripening of the fruits of the earth and the beginning of harvest.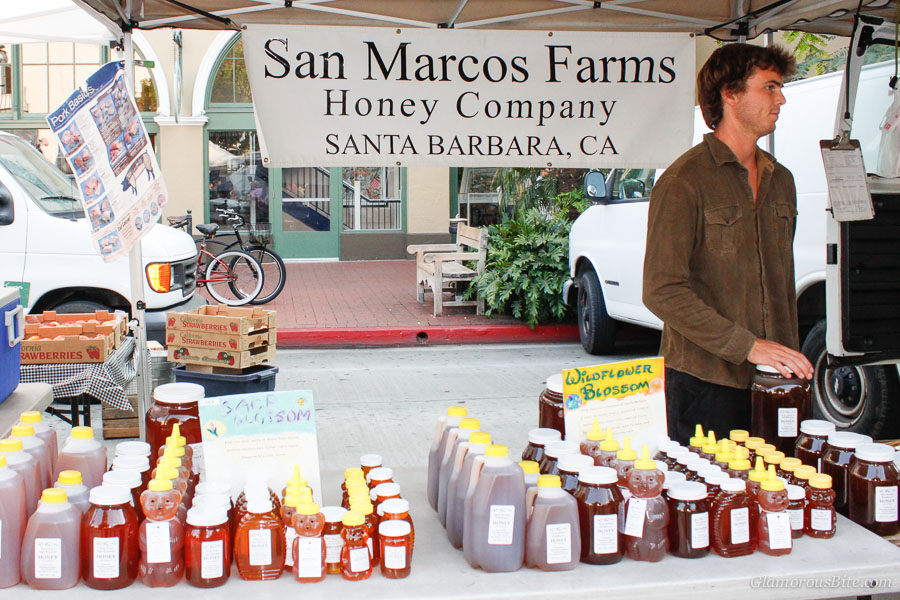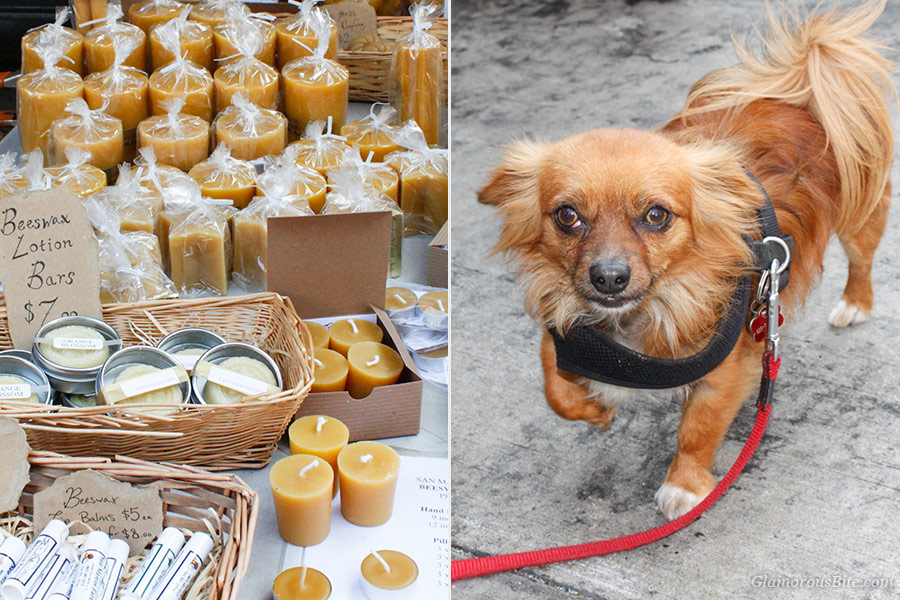 September seems to be very moody lately, one day brilliant summery warmth of over 80F and the next few days are overcast and chilly. We do not mind the cooler evenings, especially now that the Holiday season is soon starting, because it is more inviting to stay indoors and get busy in the kitchen and we all enjoy freshly baked goodies with a cup of coffee in the afternoon. And it is Oktoberfest, a German festivity that started in the 1800's in Munich with the wedding of Prince Ludwig to Princess Therese of Saxe-Hildburghausen and today is celebrated in other parts of the world with the main attractions being beer, sausages, sauerkraut, and apple strudel. Thinking of Oktoberfest we were craving something with lovely apples, not too sweet and without too much fuss.
To find the most sublime apples we went to the 'Tuesday' Farmers Market in Santa Barbara. Almost every day is a Market day in some part of the town and on Tuesdays it is in the heart of downtown on State Street. A section of the road gets closed for the afternoon so that the booths can be set up and market goers can wander the street in search of locally grown produce.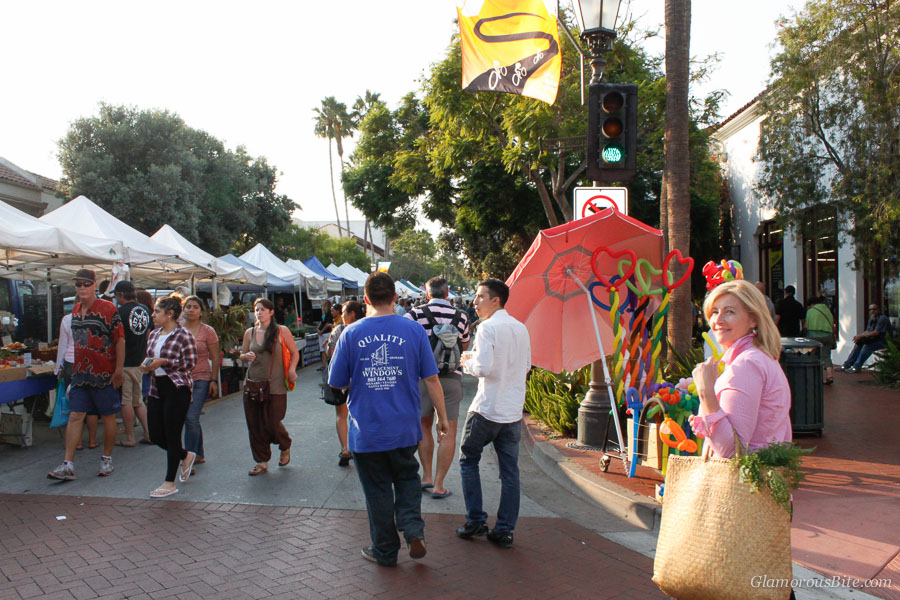 Back home we examined our market treasures and as always perused through our bounty of shiny jewel colored eggplants, seedless red grapes, crisp round apples, local honey, salad and onions and bunches upon bunches delicate leaves of fresh herbs. First Judit put the herbs in vases (mason jars) filled with water so they retain their freshness longer and they do make nice decorations in fridge and on the kitchen counter. Corina quickly washed an apple and perched on the kitchen bar stool so we started to decide as to what shall be cooked first and when.
The gorgeous eggplants will become something next week…perhaps a delectable vegetable tartan or if we really want to splurge we might add cheese and breadcrumbs on top and make, as you may have already guessed, a lush vegetable gratin, well we will see. The red Gala apples looked especially good and crispy and we did end up with a lot of them which will be good for eating and of course for baking.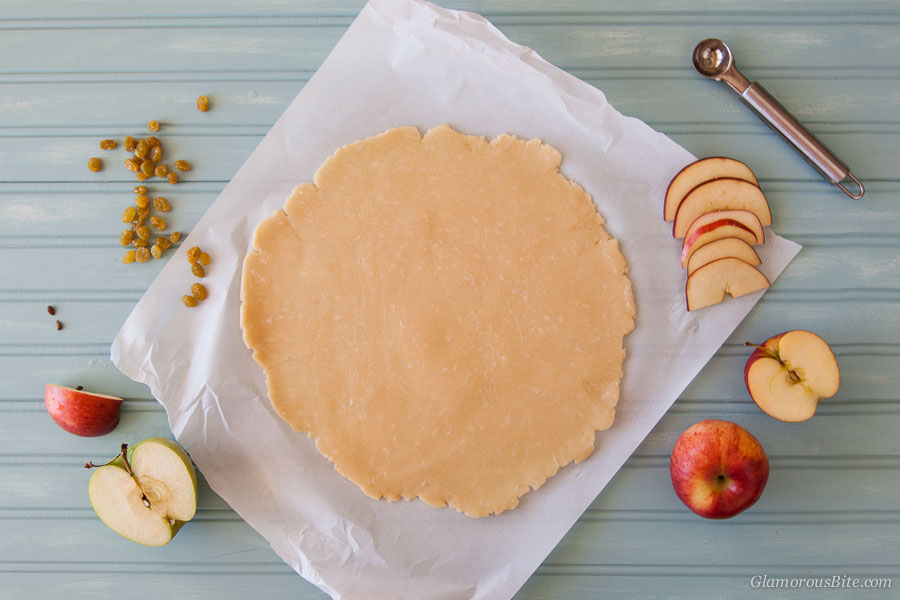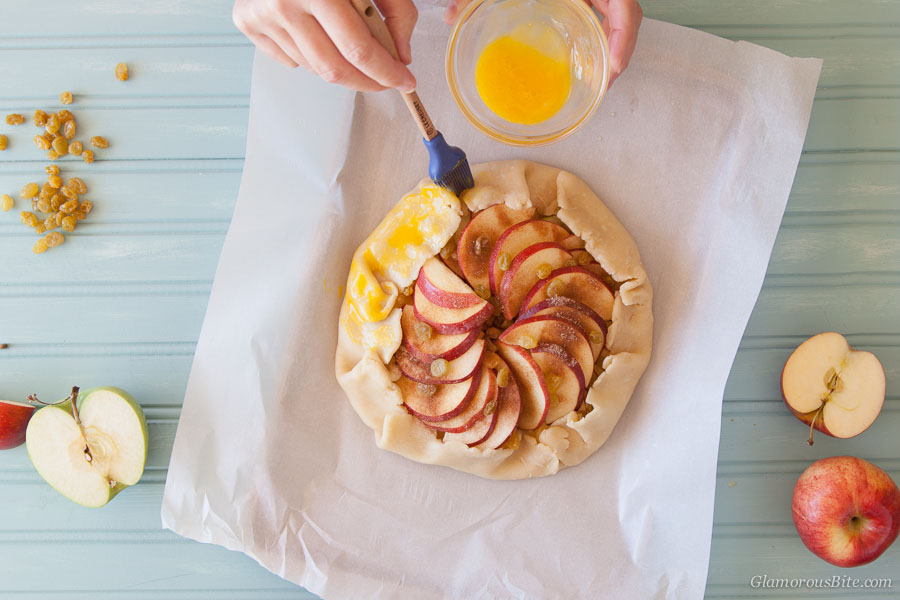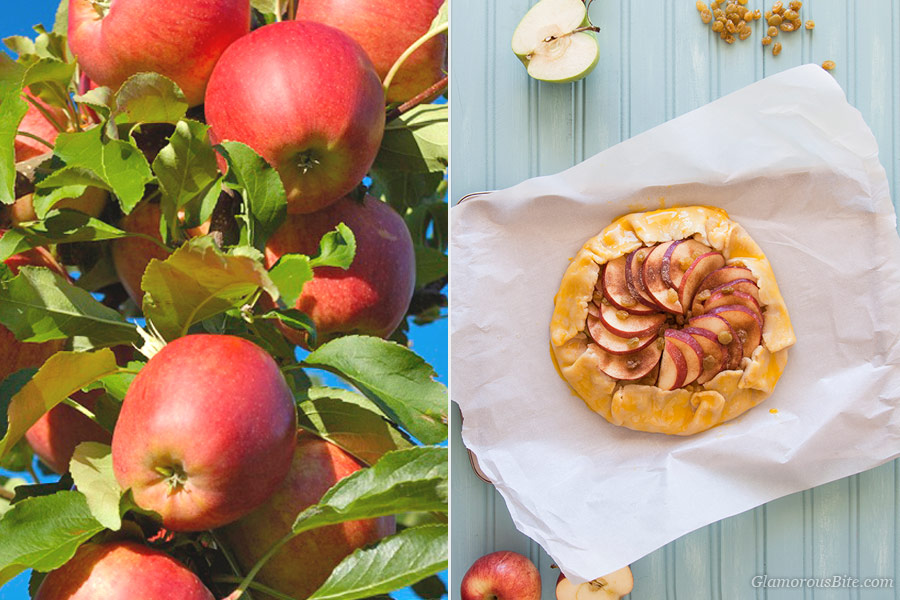 Corina took a bite of the scrumptious apple and thought it could have a higher purpose as a delicious apple tart or something more rustic like an Apple Galette. First grandma's apple strudel came to mind but then we thought lets make something faster we can't wait that long to have dessert. We both smiled over the idea, just look how agreeable we can be when it involves dessert and quickly started preparing the apples for the filling and rolled out the dough, which we had already made the day before and kept in the refrigerator. If you have not tried a galette before, be prepared, it is a simple dessert, but oh so decadent in status and is very addictive, at least it is in our kitchen it is.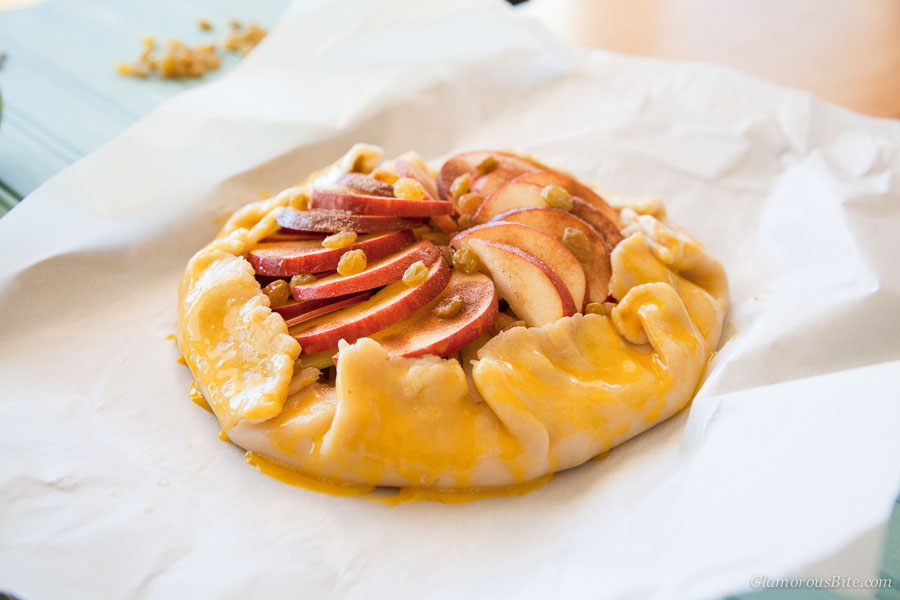 The word "Galette" is originally adapted from French Cuisine and best described as a round flat crusty cake. We love the simple but elegant rustic look of this delectable tart (or pie or cake or just call whatever you like) but most of all we adore that is very quickly assembled in a freeform style. You can whip up the dough the day before as we did. This apple galette (or if you prefer apple tart or crostata) is so tasty it is hard to have just one piece. The slight sprinkling of cinnamon wafts in the air as the galette bakes in the oven.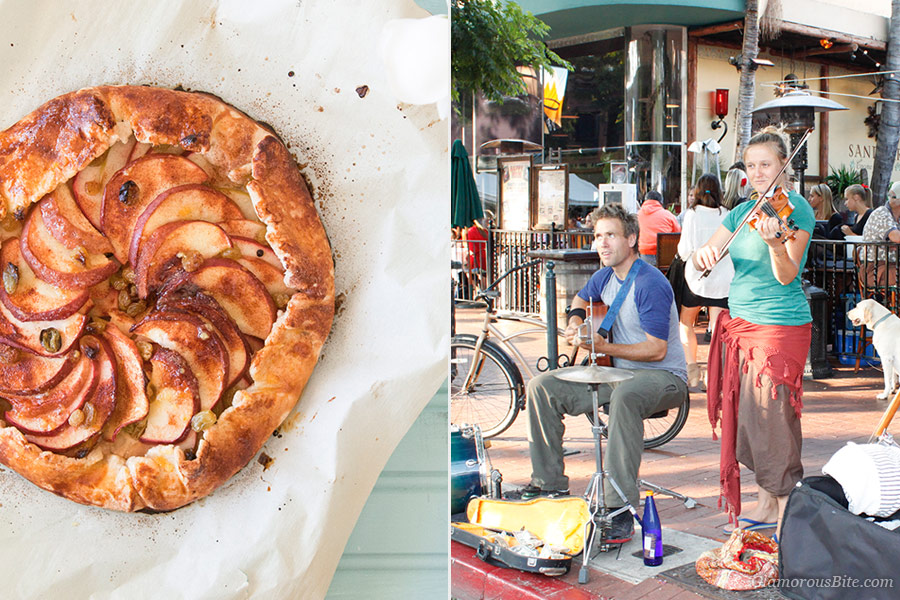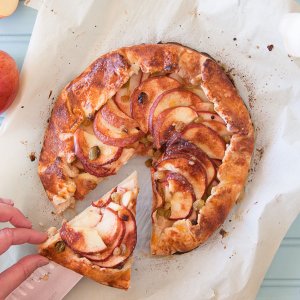 Apple Galette Low-Carb
Ingredients
Crust
1

cup

Low-Carb Baking Mix from Bob's Red Mill

1/4

Tsp

Sea Salt

6

Tbsp

Unsalted Butter - chilled and cut into 1/2" cubes

3 to 4

Tbsp

Ice Water or more if you need it
Filling
3 -4

Red Apples - cored and thinly sliced

Juice of 1/2 Lemon

1

Tbsp

Coconut Sugar

1

Tsp

Stevia - or other natural sweetener

1/2

Tsp

Cinnamon

1

Tbsp

Organic Raw Honey

2

Tbsp

Golden Raisins

1

Egg Yolk - whisked with a little water

1

Tbsp 

Unsalted Butter
Instructions
For the Crust
In a food processor combine the Low Carb baking mix, sea salt and the butter pieces. Pulse a few times until it becomes crumbly.

Add the ice water one tablespoon at the time, until the dough comes together. Don't overwork your pastry dough!

Transfer the dough to a large piece of plastic wrap. Gather the pastry dough and flatten with the palm of your hand into a 1 inch thick disk. Wrap it up tightly. Refrigerate at least 30 minutes. Or you can also prepare the dough a day in advance and leave it in the refrigerator.

Preheat the oven to 400ºF.
For the Filling
Halve and core the apples and thinly slice them.

Take the pastry out from the refrigerator and roll it out on a lightly floured surface to 12 - 13 inches in diameter. Gently transfer to a parchment lined baking sheet.

Arrange two thirds of the apple slices over the pastry dough, letting them slightly overlap, starting at about 1 inch from the edge of the dough.

In a small bowl, combine the sugar, Stevia and cinnamon.

Squeeze the lemon juice, drizzle the honey and half of the cinnamon sugar mixture over the apples.

Layer the rest of the apples decoratively on top.

Lay the fruit out in overlapping circles or rows. Then fold the outer edges of the pastry over the apples. Remember it is a rustic tart so don't worry about perfection.

Brush pastry border with beaten egg. Sprinkle with golden raisins, and the rest of the cinnamon sugar. Finally dot with butter pieces.

Bake for about 50 minutes to 1 hour, or until the crust turns golden brown. Cool to room temperature before serving.
You can make this recipe gluten-free by replacing the Low-Carb Baking Mix with a Gluten-Free flour. We are partial to MacIntosh or Gala apples for baking because both have crisp tender flesh and lovely flavors. This time we choose the red Gala because it has thinner skin so no need to peel them (unless you really wish to) and we wanted something more aromatic to bring the kitchen in the baking mode.
Apple Galette Low Carb Nutrition Facts: Servings 8, Serving size 1 slice: Calories 207 • Fat 9.8 g • Cholesterol 23g • Sodium 106 mg • Carbs 21.6 g • Fiber 4.3 g • Sugars 13.7 g • Protein 5.6 g
Traditional Apple Galette Nutrition Facts: Servings 8, Serving size 1 slice: Calories 398 • Fat 16.5 g • Cholesterol 44g • Sodium 200 mg • Carbs 38.8 g • Fiber 4.4 g • Sugars 17.9 g • Protein 2.4 g
Glamorous Pairing: To keep our German themed menu we paired our scrumptious not too sweet Apple galette Dessert with a Late Harvest Riesling from Santa Barbara Winery. Riesling is really popular as a late harvest dessert wine and for our delight the Santa Rita Hills in Santa Barbara county offers the perfect growing condition for this decadent liquid treat. We love the balanced aromas of honey, orange blossom, apple and caramelized sugar. Just like the flavors of harvest captured in a bottle. Serve only slightly chilled and let the beautiful aromas tickle your mouth at every tiny sip. You can also enjoy this dessert with sweeter Sparkling Wines or Muscat.
We would love to know what your favorite apple dish is!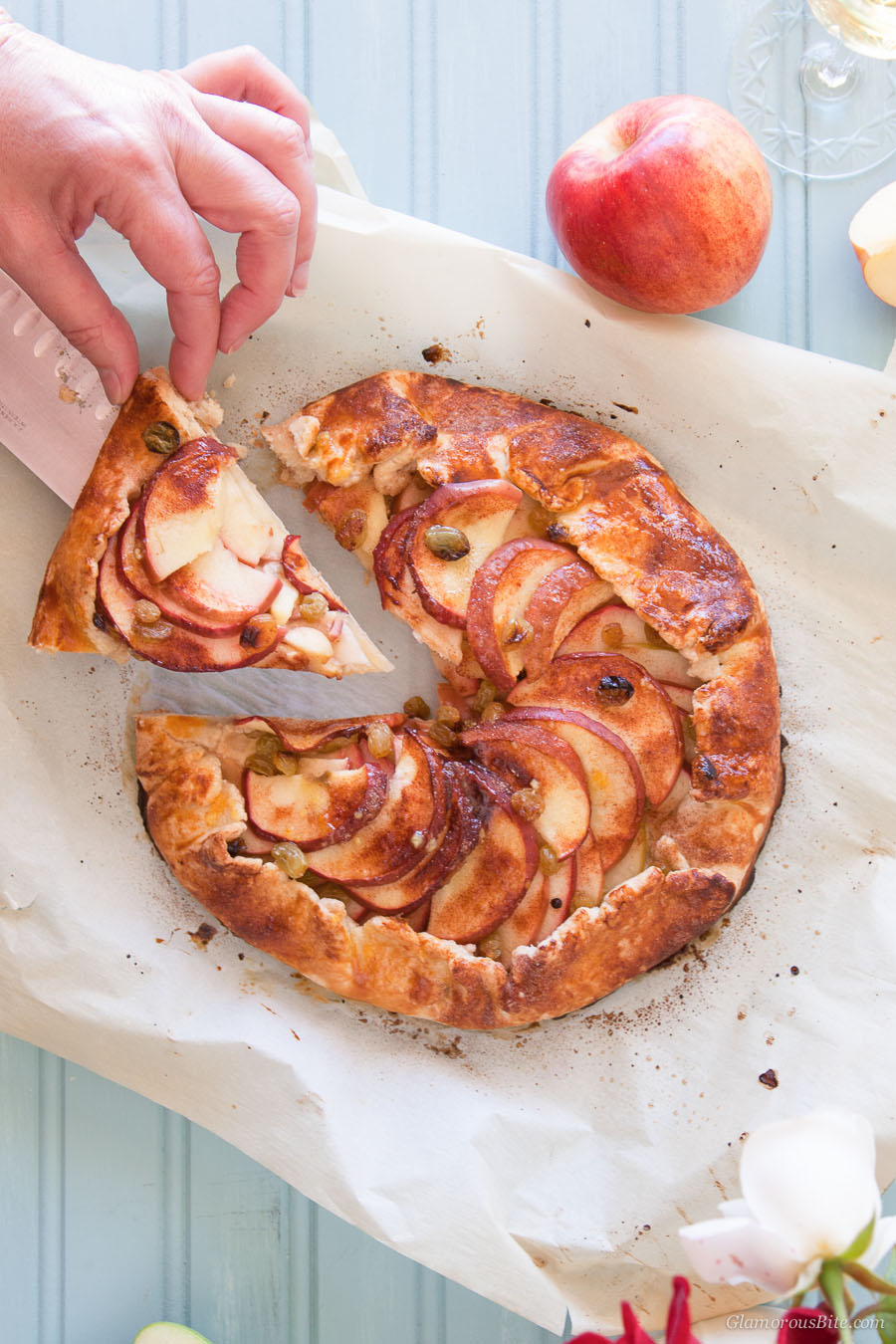 Bon Appetit!