Zahel Gemischter Satz Sekt – Vienna Wines
What does Heuriger, Buschel, Riesling,Traminer and Gemischter Satz have in common?
Come Behind The Label with us to find out to find out. We are going to Vienna a premium wine region of Austria. We are tasting wines from the Capital City of Austria. Vienna's wine region is very unique because it is the only Capital City where the Appellation and vineyards are located within the city limits. We will be starting with something light refreshing and bubbly the Zahel Gemischter Satz Sekt from Vienna.
In case you are not familiar with Gemischter Satz wines, they are made from a blend of white grapes that are grown together. Some of the grape varietals were more ripe then others however they all were fermented together and the resulting wine is called Gemischter Sat. This unique wine blending is dating back to the hard times after the First World War. The farmers were worried which varietal would survive perhaps the Riesling or the Traminer well nobody knew so they decided to harvest all the grapes at one time even if some varietals were not fully ripened and ferment together.
This method resulted in a refreshing zippy wine. Over the years the vintners focused more on single varietal wines and only in the last 10 years this technic experienced a revival for the joy of many.
Today the new Generation of Viennese wine makers creating exceptional wines and we are excited about what Vienna has to offer.
WINE: Zahel Gemischter Sazt Sekt is a Sparkling Wine
Zahel is the first winery to make a Sparkling wine or "Sekt" as we call it in German. The wine was made à la Méthode Traditionnelle which means the second fermentation took place in the bottle.
Varietals: There 4 varietals in this mix – Pinot Blanc, Pinot Grie, Chardonnay and Traminer.
Wine Maker: Richard Zahel
Appellation: Vienna – Vineyards in Mauer and Nussberg
Oh how we loved the tiny bubbles.
Color: straw blond with yellow highlights
On the Nose:
Judit : Pear, honey suckle and touch of mineral.
Corina: stone fruit, apricot
C: A very aromatic experience.
J: Beautiful aromas greeting your nose
C: It has a quiet of sparkliness to it.
J: It is like an orchestra is in your mouth
C: I'm getting a little golden apples and orchard flavors
J: Yes on the mid palette
C: It is buttery also and not shy at all
J: medium body almost full body and experiencing the merit of the flavors
It was a wonderful experience and we had to keep sipping more and more
If you are in Vienna make sure to visit a Wine Garden or as the locals call it "Heuriger"
We are very pleasantly surprised by this unique bubbly and were generous with our rating.
Corina: 4.7 points
Judit: 4.8 points
And as wine characters goes this sensual exotic bubbly with bursting flavors would go well with Samantha from the Sex in the City television show. Just wondering how would she pronounce Zahel Gemischter Satz Sekt?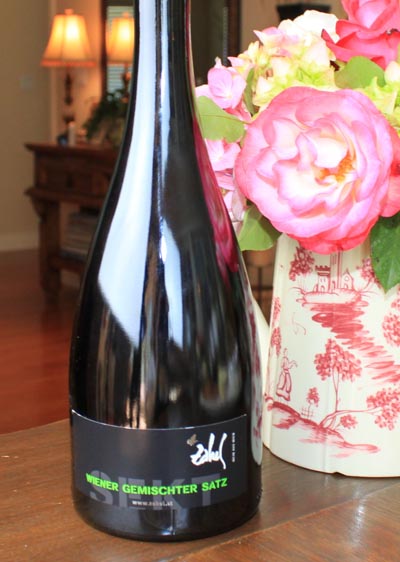 CHEERS
Judit + Corina