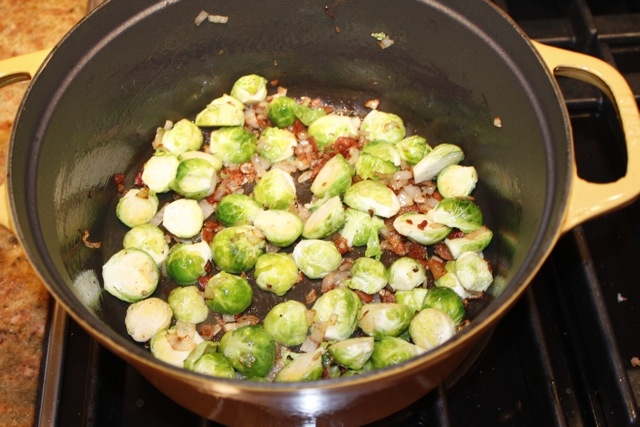 These Brussels Sprouts with Pancetta & Chardonnay are tasty and good for you and the pancetta makes them even more scrumptious. This hearty side dish goes well with grilled meats and a glass of buttery Chardonnay, which helps to counteract the bitterness. This is a really easy to-do recipe with few ingredients.
Judit: The flavors reminds me of my childhood. My grandmother made a sweet/sour variation with onions, sugar and with a touch of vinegar. The taste was nice if you did not focus on the mushiness. She loved to over cook all her veggies. Sorry grandma… we all loved your food except the to soft vegetables, and you made me sit there until I finished my plate. And my mom in Budapest used to make her Brussel Sprouts with bacon, onions, garlic and caraway seeds but without the wine, and I loved the crunchy textures of it. So luckily for my family I do not like to over cook my greens and this dish taste and looks better with a firmer texture. Still Corina did not wanted to eat her Brussel Sprouts without cajoling and huge threats ( like no chocolate for dessert) until she went to college.
Corina: I like the bright green hues and that it resembles mini salads. The taste can be a little bitter for me, but with the right cooking technique they are quite good. Brussel Sprouts are rich in Vitamins (such as C and K) and nutrients, which makes them more appealing and of course a Splash of Wine makes them even better.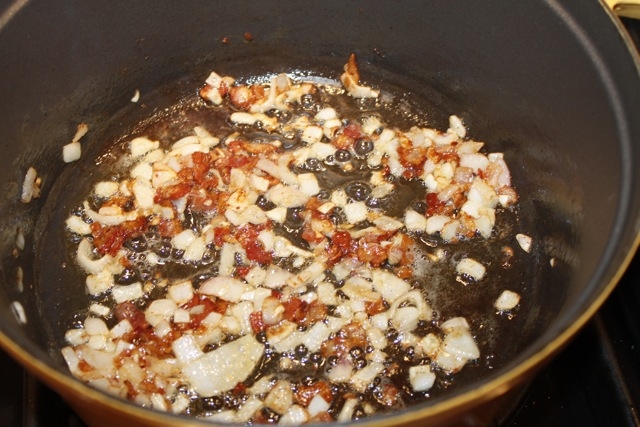 Heat pan on medium-high heat and add a little bit of grapeseed oil. Add pancetta first and then the onions and let them sizzle in the pan.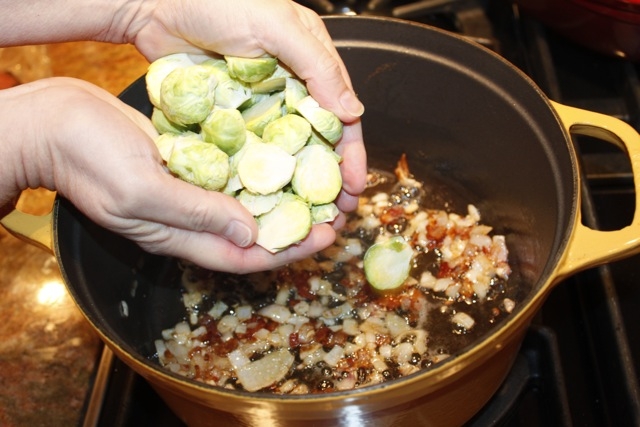 Add brussel sprouts to the pan. We cut these lovely green globes in half so they can cook more evenly.
This already smells so good!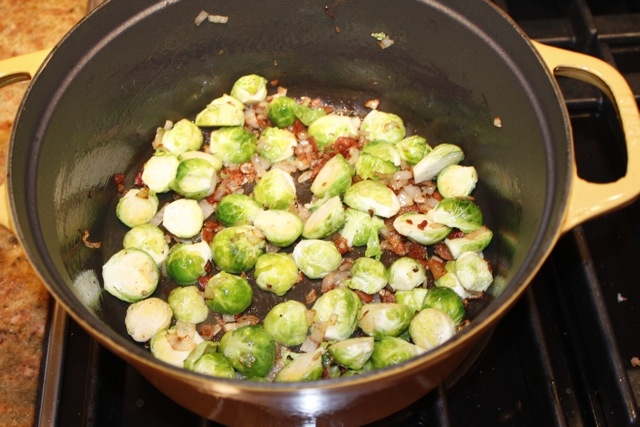 Stir the pancetta mixture and brussel sprouts together.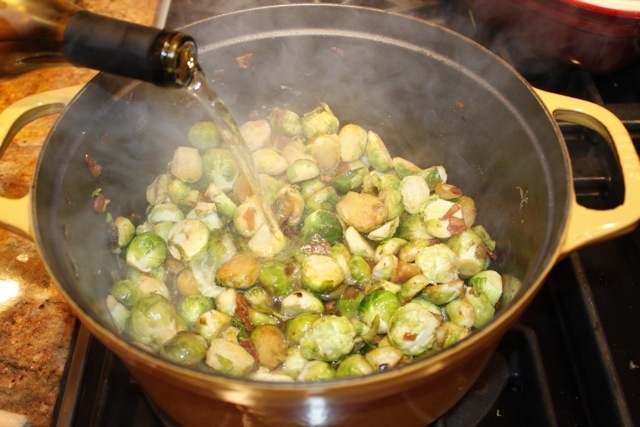 Add a splash of wine or two. We used 1/4 cup of Chardonnay.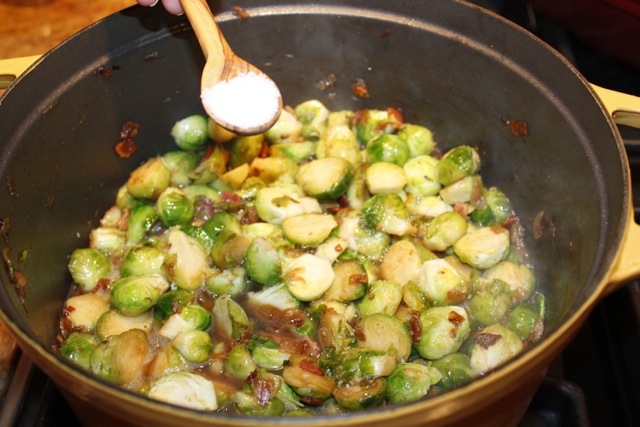 A little salt to taste.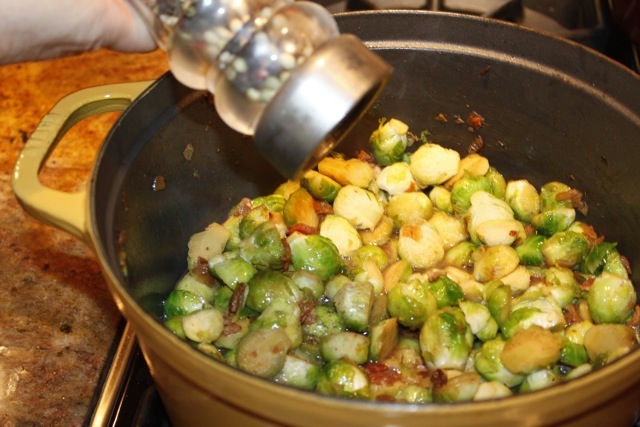 A dash of pepper.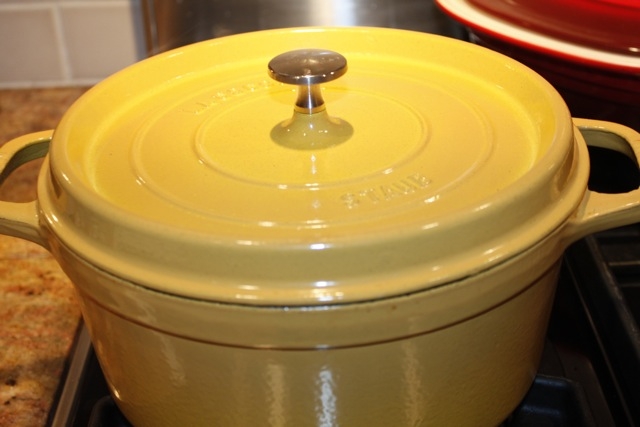 Cover the pot and cook for about 15-20 minutes, or until softened.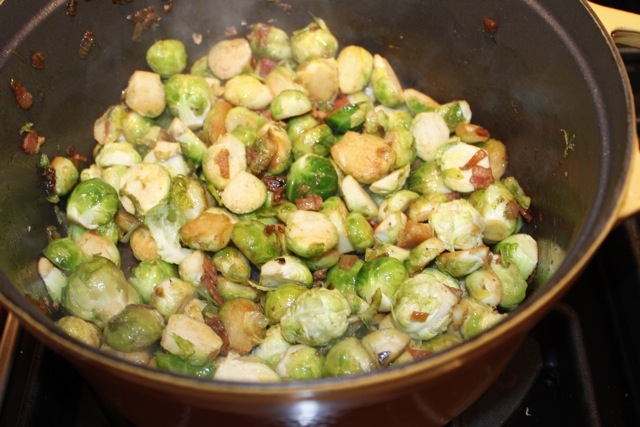 Serve these Brussels Sprouts with Pancetta & Chardonnay next to roasted meats and with a buttery Chardonnay.
Here is what you need:
1 Tbsp Grapeseed Oil
3 slices Pancetta – cut into small pieces
1 Red Onion – finely chopped
1 lb brussels sprouts – washed and cut in half
1/4 cup Buttery Chardonnay
1 Tbsp Sea Salt or more for taste
1/8 tsp Black Pepper freshly ground
1. Heat the grape seed oil in a non-stick pan or Dutch Oven, and then add pancetta.
2. Fry until the pancetta gets crispy, about 5-10 minutes. (If you would like a few cripsy pieces for the granish then set aside a small amount aside.
3. Add onions and stir well into the pancetta and fry them together until the onions become translucent and soft.
4. Add brussels sprouts to the pan and stir well.
5. Add the wine and season with salt and pepper. Stir together.
6. Cover the pan, turn heat to low, and allow to braise slowly for 10-15 minutes, or until the brussels sprouts are softened.
Remove from heat and let cool a few minutes. Serve and enjoy with roasted meats and a buttery Chardonnay! If you like to know more about Chardonnay here is the Chardonnay Wine Word.