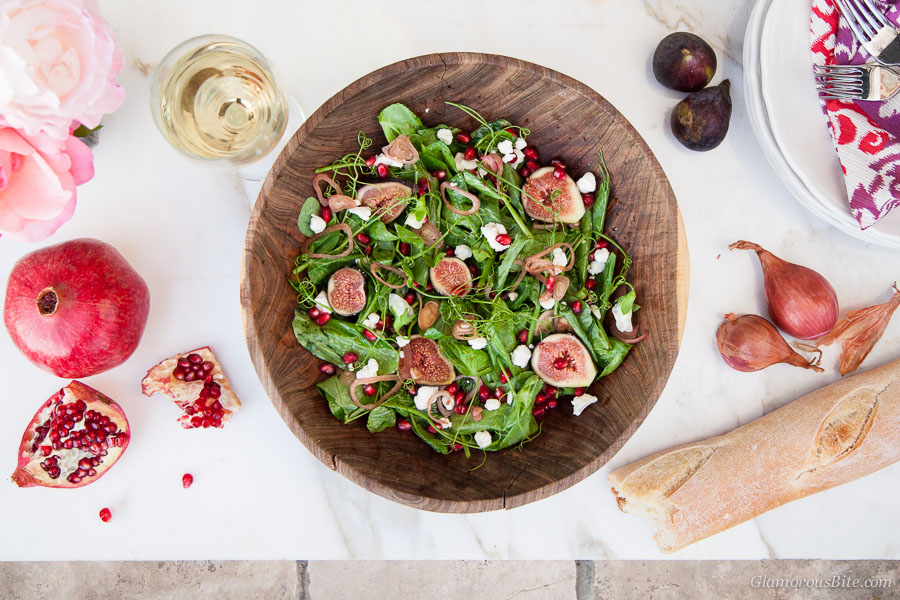 This simple and healthy Farmers Market Pea Tendril Salad with Figs and Pomegranate is pure magic!
If we could describe our life in winter here in Souther California you would think we are living in a fairy tale where the air is filled with sweet fragrance, glorious trees and flowers are in bloom and the mild salty ocean breeze tickles your face. Well most of the time is pretty much like that except when the welcoming winter storms blow through the coast with much needed rain. A few weeks ago we were greeted with a day just as beautiful as we told you about above and were looking forward to our Saturday market visit. After a quick breakfast and a lengthy beach walk we were off to the market to see what bounty we will find.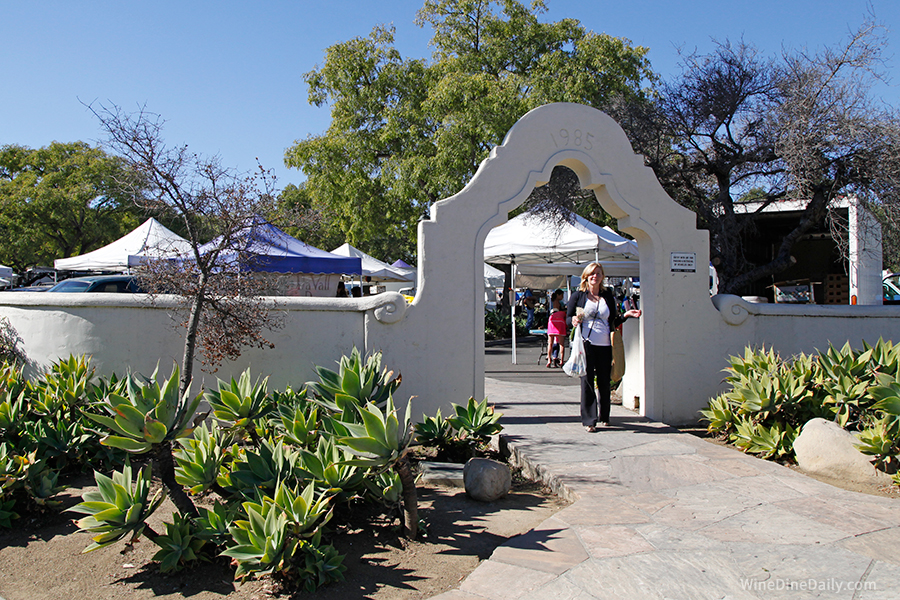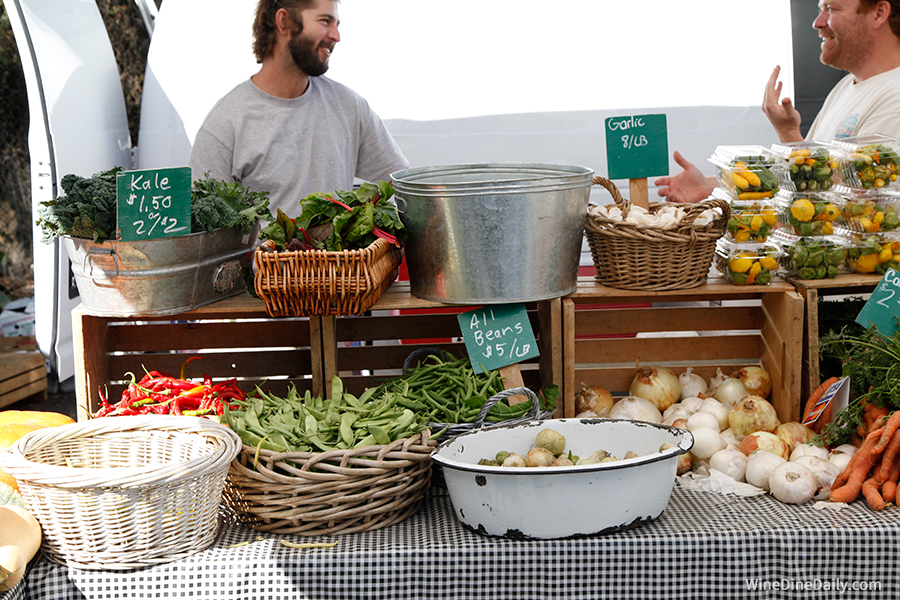 Living and cooking in Santa Barbara we are deliciously reminded that we are not only right at the ocean but surrounded with rich farmland. Since 1983 the Santa Barbara Certified Farmers Market provides chefs and home cooks with abundance of fresh fruit, vegetables nuts and honey. If cooking is not your thing then you can splurge on the freshly baked pies, breads, local olive oils, nuts and cheeses and the most vibrant flowers you can imagine. This entertaining way of shopping is open for a few hours every day of the week and at different locations in and around Santa Barbara.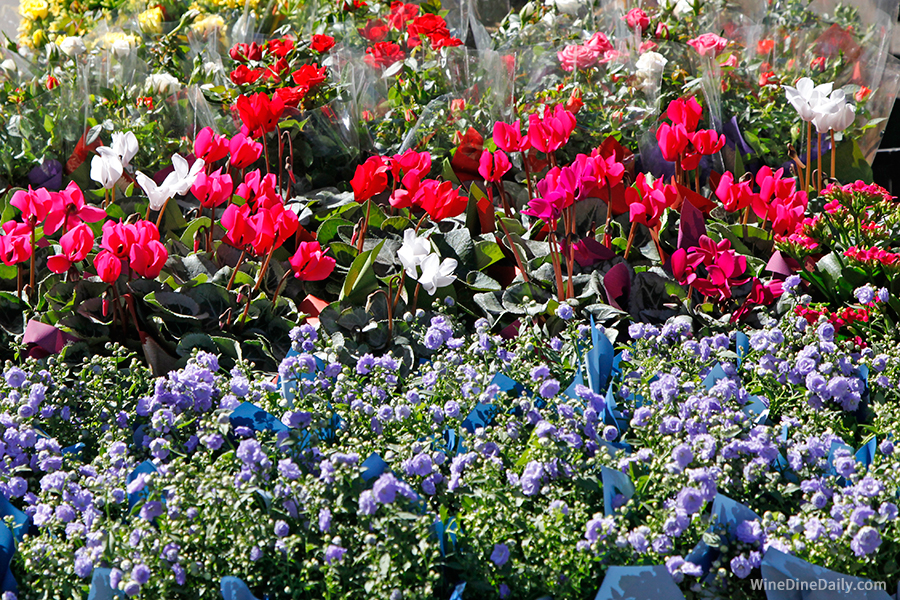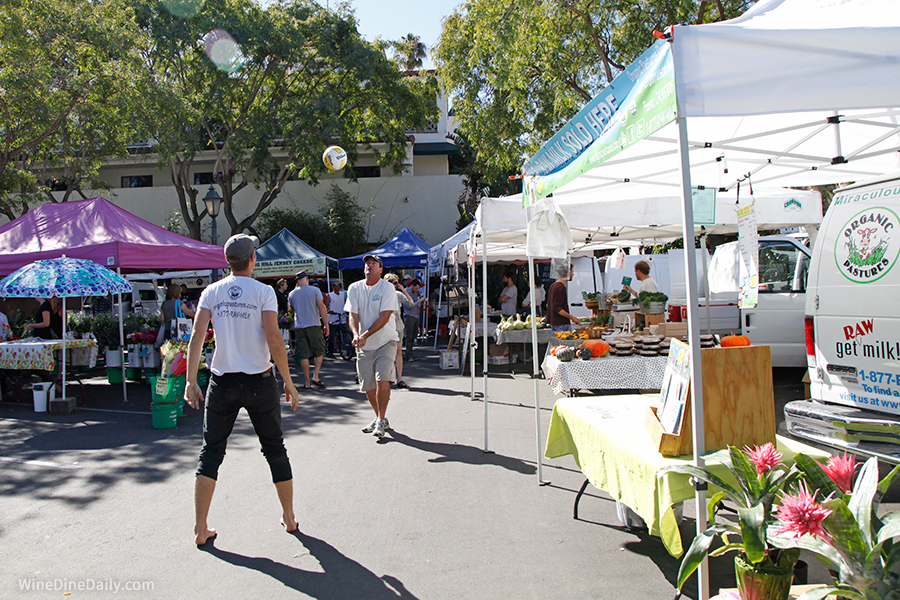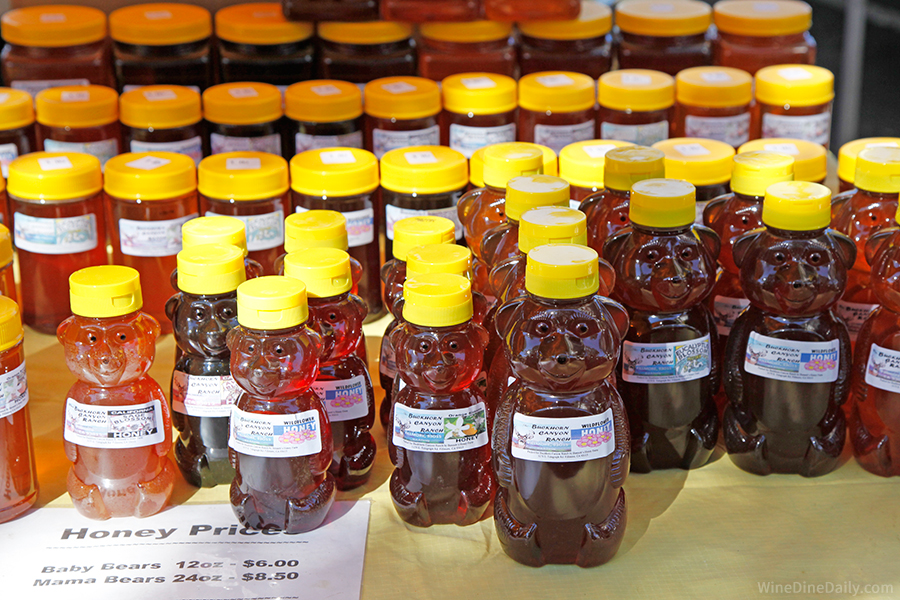 As we were strolling through the forest of white tents visiting our usual farmers for vegetables, fruits and our "Honey Bear Man" (he has the sweetest local honey), we saw several people eagerly sorting through bunches of greens with white flowers. Of course we had to go there too and as soon as we saw the fresh tender snow pea tendrils we were as giddy as the rest of them.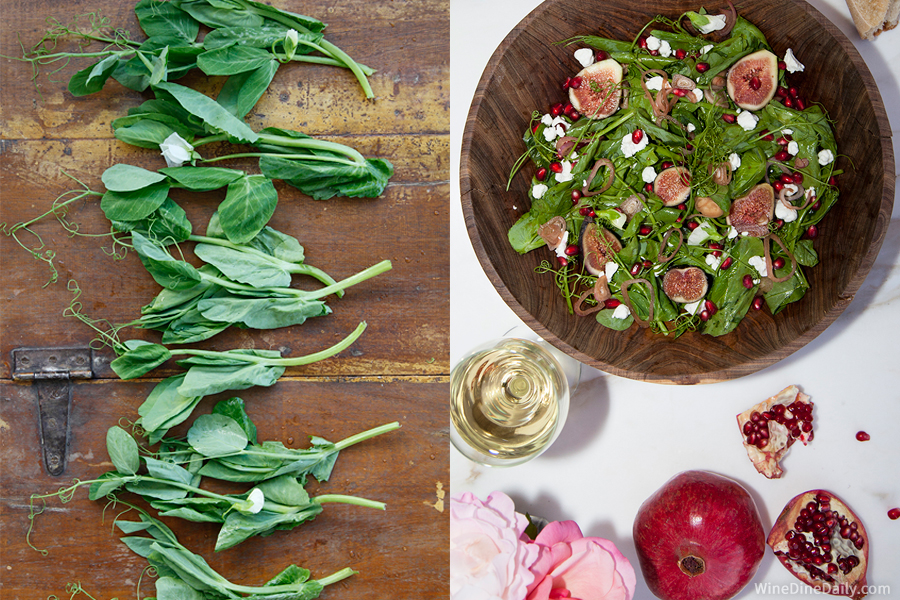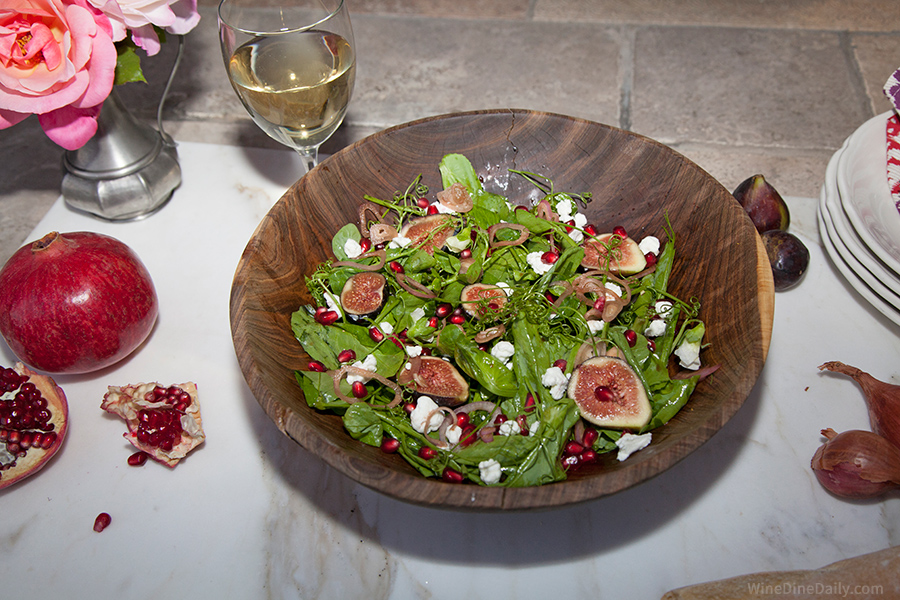 Have you ever tried pea tendrils before, perhaps in an Asian restaurant? Do you know how special and rare these little green leaves with delicate curly frills and white as snow flowers are? Immediately we painted a picture of a vivid colorful salad in our minds, filled with fresh green leaves, dollops of white cheese, slices of fresh figs, a few ruby red pomegranate seeds and topped with more delicate tendrils. If you can't find fresh figs you may use dried ones and slice them and rehydrate them with a little bit of wine or you can just omit them. It will still be a beautiful salad.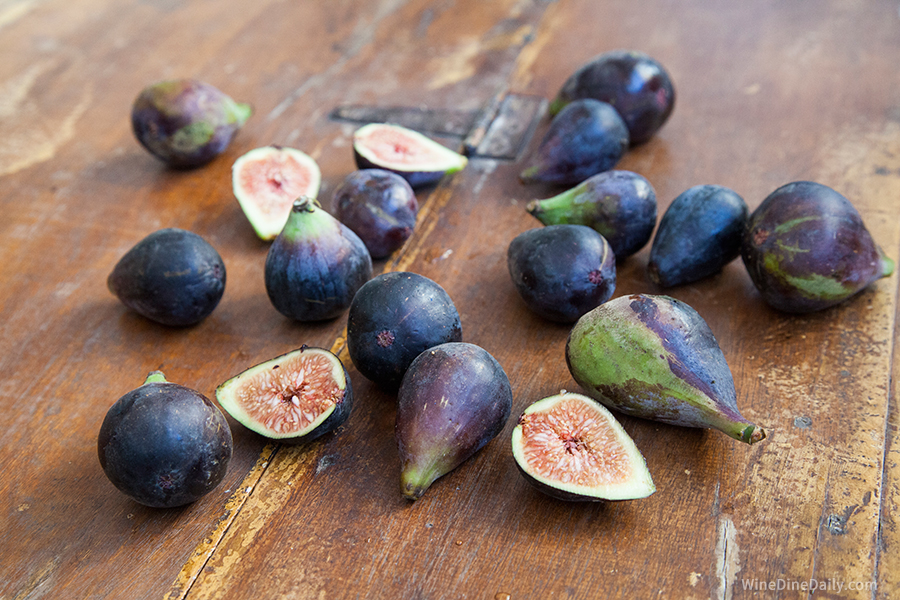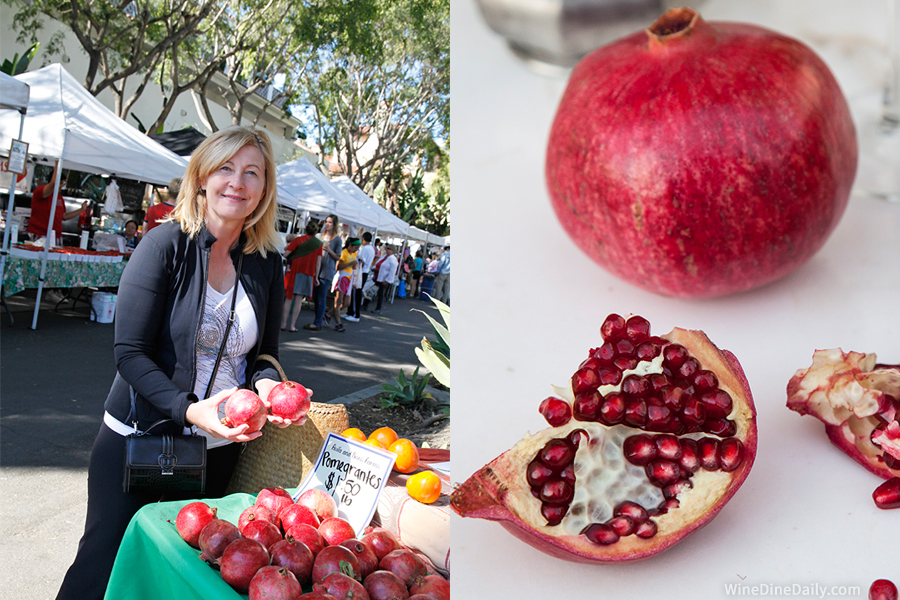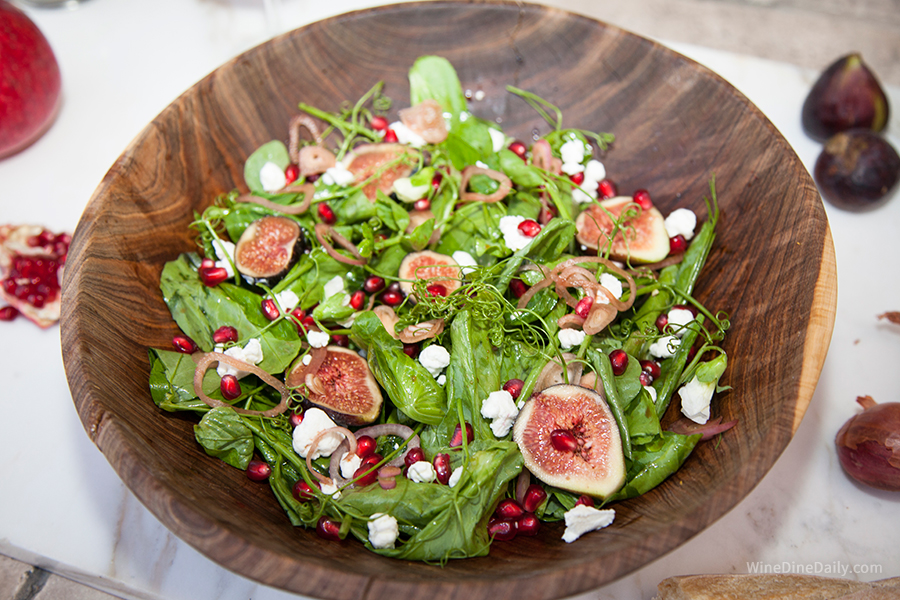 What shall we make in the fall, perhaps simply sautée the pea tendrils in lemon olive oil and serve them along side steamed chicken or fish? Well lets think about that later….Right now we are looking forward to make our magic Pea Tendril Salad with Figs and Pomegranate and decide what wine we shall choose to compliment our little feast. We can thank the warm summer-like weather in the month of January and early February so these young shoots could make their delightful appearance. We have not even had winter storms yet and the spring showing itself already.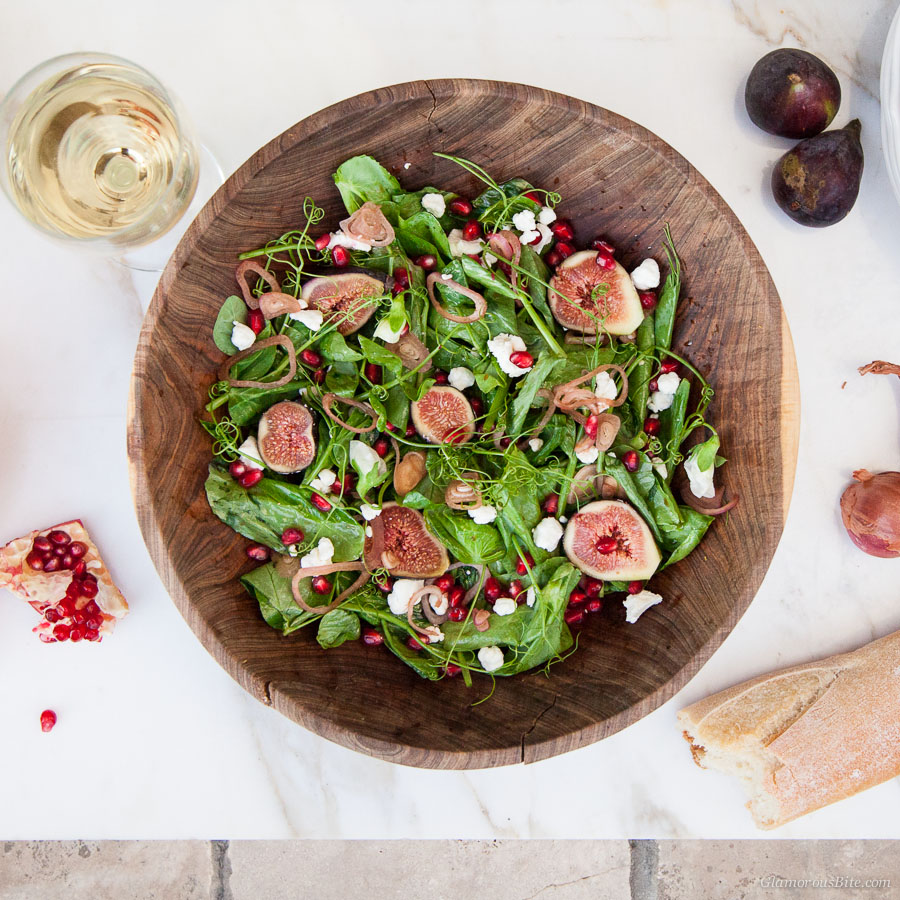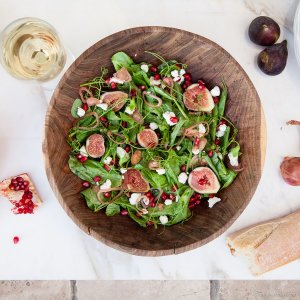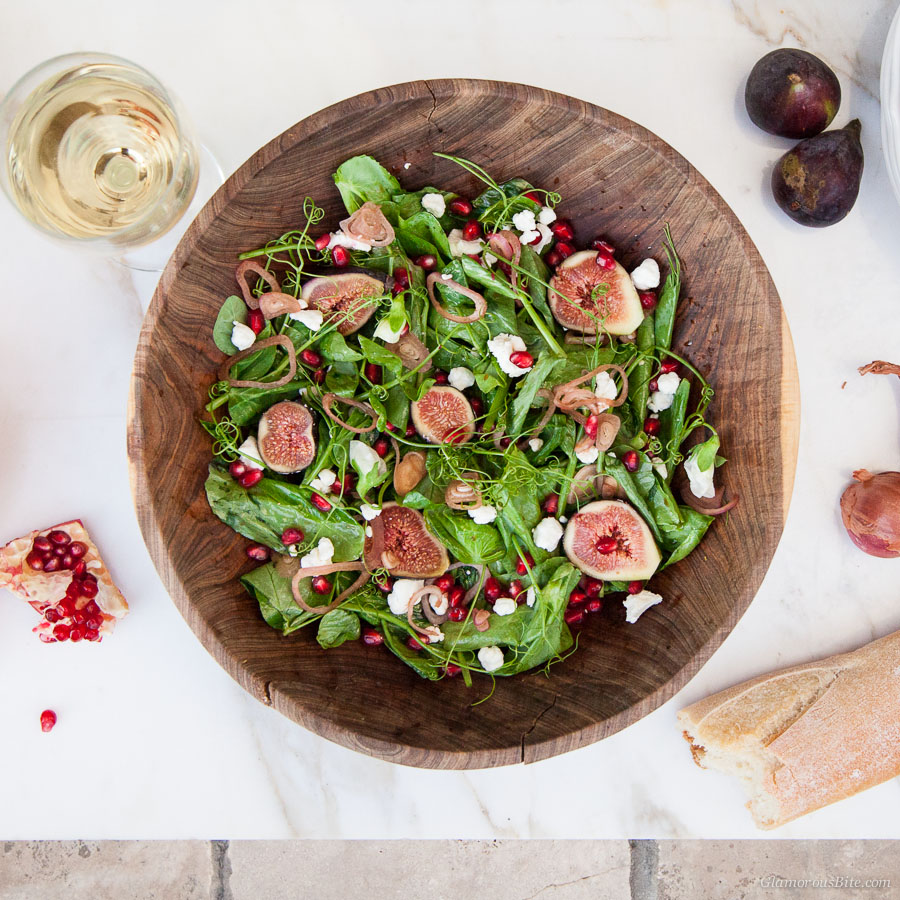 Pea Tendril Salad with Figs and Pomegranate
Ingredients
For the Salad
1

Shallot - thinly sliced and soaked in

2

Tbsp

Red Wine

5

Tbsp

Pinot Noir Balsamic Dressing

1

Bunch Pea Tendrils or Baby Spinach leaves

4

oz

Goat Cheese - crumbled

3

Fresh Figs quartered or dried Figs soaked in wine and thinly sliced

2

Tbsp

Pomegranate Seeds
For the Dressing
2

Tbsp

Pinot Noir Balsamic Reduction

2

Tbsp

Olive Oil

1

Tbsp

Lavender Honey

Sea Salt and Fresh Pepper to taste
For Pinot Noir Balsamic Reduction
1/2

cup

Pinot Noir or other fruity red wine

1/2

cup

Balsamic Vinegar

1

Tbsp

Honey
Instructions
For the Pinot Noir Balsamic Reduction: Combine the wine, balsamic vinegar, and honey in a small saucepan and stir well. Simmer for about 15 to 20 minutes over medium-high heat or until it gets a syrupy consistency. You should have about 1/3 cup. Let it cool.

In a small glass bowl combine the thinly sliced shallot and the fruity red wine and set aside.

Whisk the dressing together in a large salad bowl.

Add pea tendril leaves and some of the tender curly tendrils to the bowl. Then add the shallot slices and toss well.

Scatter the goat cheese, fig slices and a few pea tendril curls on top. Gently toss and finally decorate with pomegranate seeds.
Notes
J+C Cooking Notes: you can make the Pinot Noir Balsamic reduction a few days ahead it keeps in the refrigerator for 4 - 5 days.
Nutrition
We love to serve this vibrant and healthy Pea Tendril Salad with Figs and Pomegranate with a slice of crusty French Baguette to soak up all that goodness. As to the wine we choose a lovely fruity white wine with just a nice acidity like a Chardonnay. We still had a bottle of Gioia Chardonnay (see our video review) and if you are looking for this wine it is no longer in production. Another of Terry Love's wines that would pair nicely is the Gioia Wine Biacia Bianca Santa Barbara County that is 71% Chardonnay, 14% Muscat of Alexandria, and 15% Pino Gris. This particular Chardonnay had citrus and tropical notes on the nose, light strawberry flavor, crisp and clean with warm mellowness. If you prefer a red wine then a Pinot Noir would pair nicely as well.