Quest for Liquid Gold
Join us on our "Quest for Liquid Gold" as we explore the wineries of Tokaj in Hungary. A few years ago we visited this scenic area and documented our journey. One of the oldest and historic wine regions of Europe, the Tokaj region is only allowed to produce white wines. The natural beauty and the unique wine making history earned this small region the honor to be a World Heritage site. Can't wait to taste it… Aszú was first mentioned in 1571…we have been waiting for a long time!
Our first stop was at "Kikelet Pince" in Tarcal and we visited with the owners Stephanie and Zsolt Berecz. She is a well-respected wine maker and he is the "vine whisperer," a very talented and passionate vineyard manager.
Judit: Welcome to Tokaj, the premium Wine region of Hungary.
Corina: Where two rivers converge and liquid Gold can be found. We are here today with Stephanie and Zsolt in their beautiful vineyard.
J: Yes and this is a Romance to be written about, Stephanie is from France and she studied in Bordeaux and Zsolt is from Tarcal, Tokaj. (Stephanie, hailing from the Loire Valley, earned her oenology degree in Bordeaux)
Stephanie: From the Aszú berries (the "botrytis" or " nobly rotten" grapes are individually picked by hand) we are making the Aszú wine (the world famous wine with the dark honey color.) For the fermentation we gently press the Aszú berries.
J: I just want to offer you our help, if you need stomping, we come and help you….
Stephanie: Ha ha…No.
C: You can see the American Root Stock and the Tokaj vines.
J: We where talking with George about his vineyards, he loves them and he works so hard, day in, day out with his two hands and with very limited tools. He does not want to use machinery and he puts his Heart and Soul in.
So we continued our "Quest for Liquid Gold" in the charming cellar and tasted several beautiful Aszú wines with honeysuckle and orange zest aromas and peach, honey and nutty taste. The elegant Lónyai Hárslevelű was direct from the wooden cask and Zsolt was dramatically filling our glasses with an antique wine thief. The aromas of white peach, apple and stone fruit were perfectly balanced.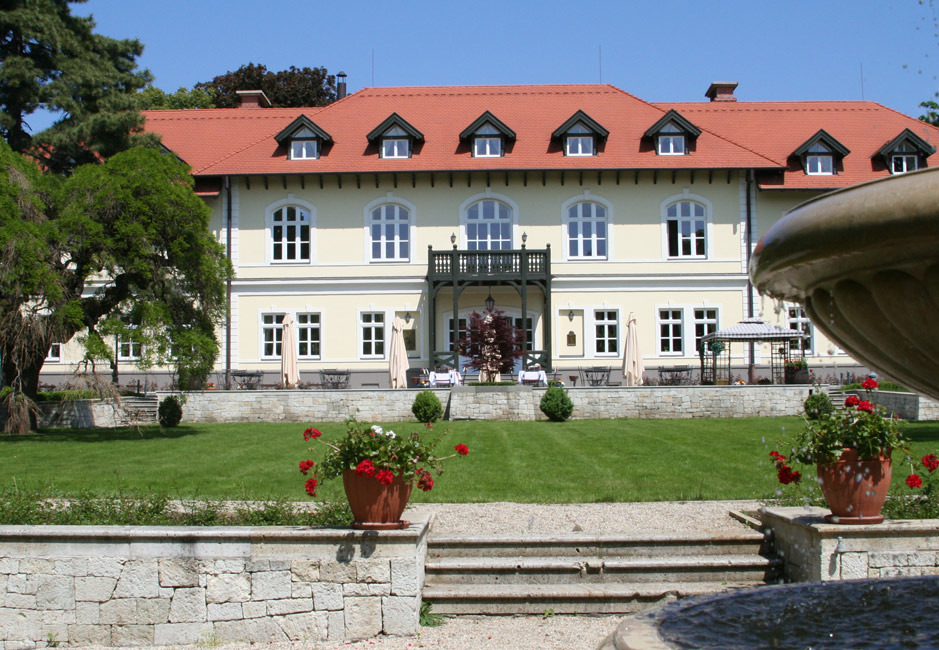 We continued on our journey and as we were driving through the winding roads of Tarcal we saw a glimpse of a lovely castle nestled among magnificent trees. And of course we just had to drive in. Such a picturesque setting greeted us in a beautifully remodeled historic hotel.
After a warm welcome at the Gróf Degenfeld Castle Hotel and Winery our guide Zoltan took us to the cellar and explained what is really happening in the process of the Aszú wine making. Tokaji Aszú mostly a blend of Furmint and Hárslevelű grapes.
Zoltan: The workers have to pick the Aszú Berries one by one by hand. Here we age the wine in old Barrels, witch are made from Hungarian Oak, in Hungary and if we age the wine in this Barrels, the wine can make contact with the Oxygen and create this special Mold on the wall.
The mold – Cladosporium cellare – maintains the humidity!
C: That is new Mold and it turns gray as it ages, until it becomes black.
C: We have a 5 puttonyos Aszú here, and it means that there are 5 baskets or pails containing approx. 25 kilograms / 55.1 Lb of Aszú grapes in one 136 liters / 29.92 Gallons cask. The wines of Tokaj ranges between 3 to 6 puttonyos.
J: Look at the color – its gorgeous.
C: I say its like Honey – Gold.
The Aszú wines tasted like pure symphony with beautiful balance, elegance and focused aromas of peaches, honey, citrus and baked almonds.
Our Quest for Liquid Gold takes us deeper into more caves of Chateau Dereszla. This exceptional winery has one of the longest cave systems and you could get lost with so many twists and turns. The young and dynamic wine maker Edit guided us deeper and deeper as we admired the numerous rows filled with topaz colored wine bottles. Some even dating back to early 1900.
Edit: About a half million Bottles, I do not know exactly.
J: Oh my!
D: Here you can see the wine. 2000 in Tokaj was a very good year for Botrytis or noble rot.
C: Did you notice that I was missing?
J: No – show me how many bottles do you have here? I do love Chateau Dereszla wines, and this young pretty lady is the winemaker and she is watching over a half million of bottles. We drink to your health and thank you for having us.
And we have found our Liquid Gold!
J: Egészségedre
The grand finale of our tour was the unforgettable gourmet lunch on a hilltop with spectacular views of Tarcal and the vineyards of Tokaj. We were feasting on Hungarian delicacies along with superb Gróf Degenfeld Aszú wines.
Hedvig: Delicious!
C: Liquid Gold.
J: Intoxicating Aroma.
J: Hungarian Hospitality has no comparison.
C:You better take a spare pair of pants.
Special Thanks to the generous hospitality of Gróf Degenfeld Castle Hotel and Winery, Chateau Dereszla, Kikelet Pince – Stephanie and Zsolt and Hedvig Petrocky.