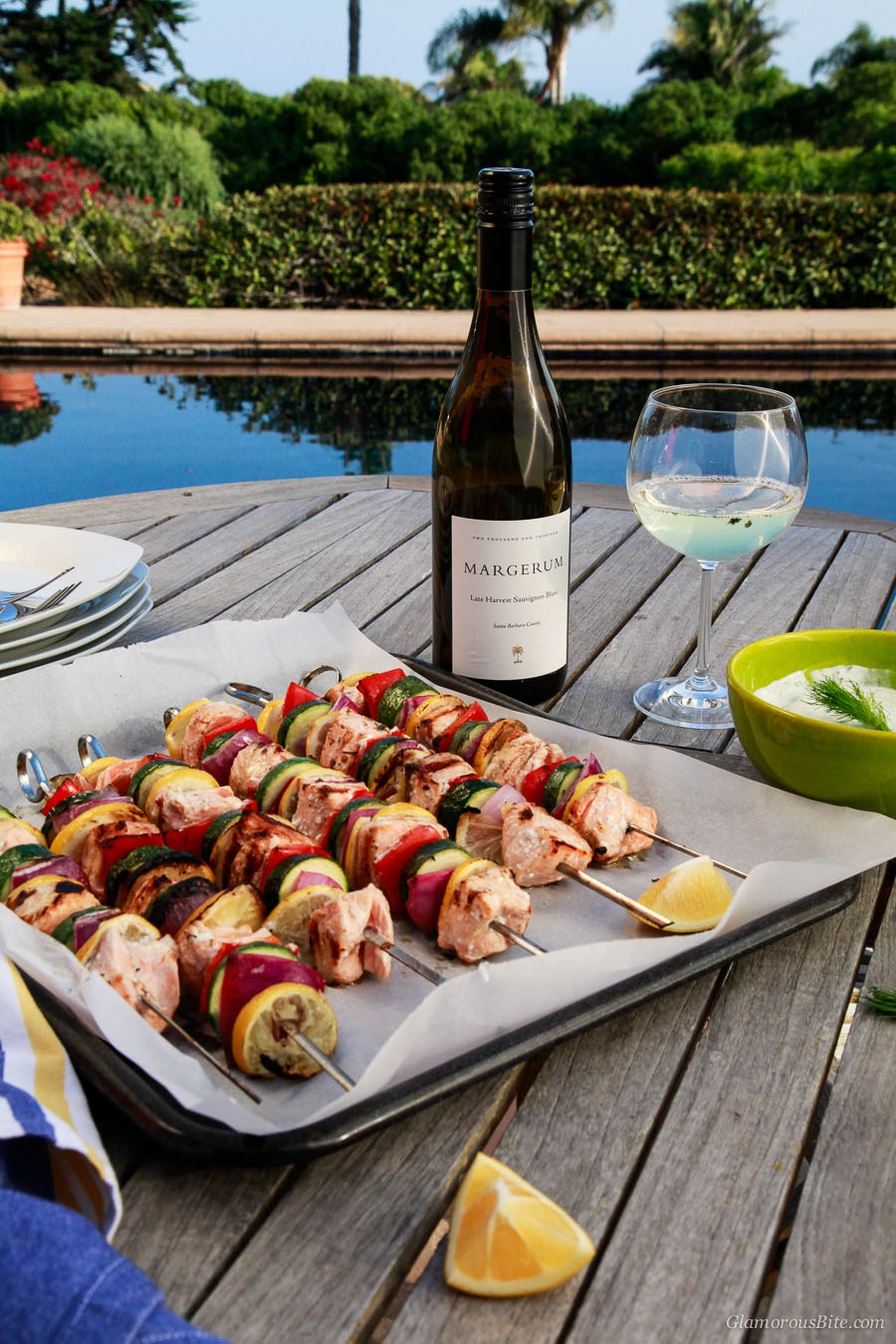 Sweet summer, do not leave us yet…. Last Saturday was one of those perfect summer days, you know when the sun is shining and the air is warm but not too hot and the breeze from the ocean is gently tickling your face and you just wish you could stop time for a little while. A day like this will be wistfully remembered in the middle of winter. Does anything say summer more than beaches, pools, brightly painted toenails, bikinis, straw hats, seafood and BBQs? How about Grilled Salmon Kebabs with Dill Yogurt Sauce and a delightful Sauvignon Blanc to sip on by a pool near the beach!
It was a lovely warm summer day and we wanted to enjoy the outdoors as much as possible so we had a little fun swimming in the pool and splashing around. The beaches get quite crowded here on weekends when it is nice out so we opted for poolside fun instead and a healthy, yet very easy to prepare, dinner.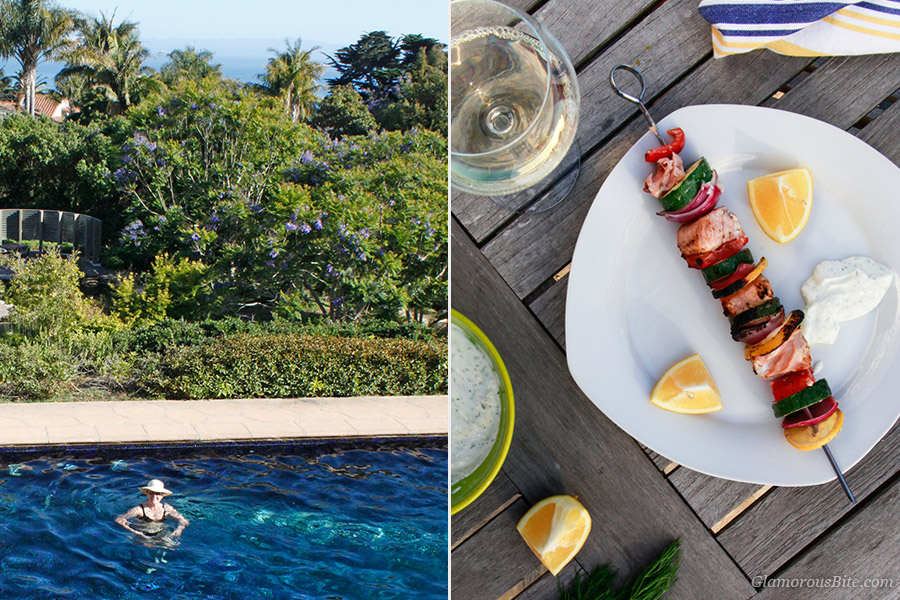 We are always looking for healthy and simple recipes and as you may know we have just returned from our European trip (we will post more soon about what we did and what we ate there….). The memory of superbly prepared Norwegian salmon with tender greens still remains in our minds from our time spent in Norway and we just had to recall the experience by making salmon at home.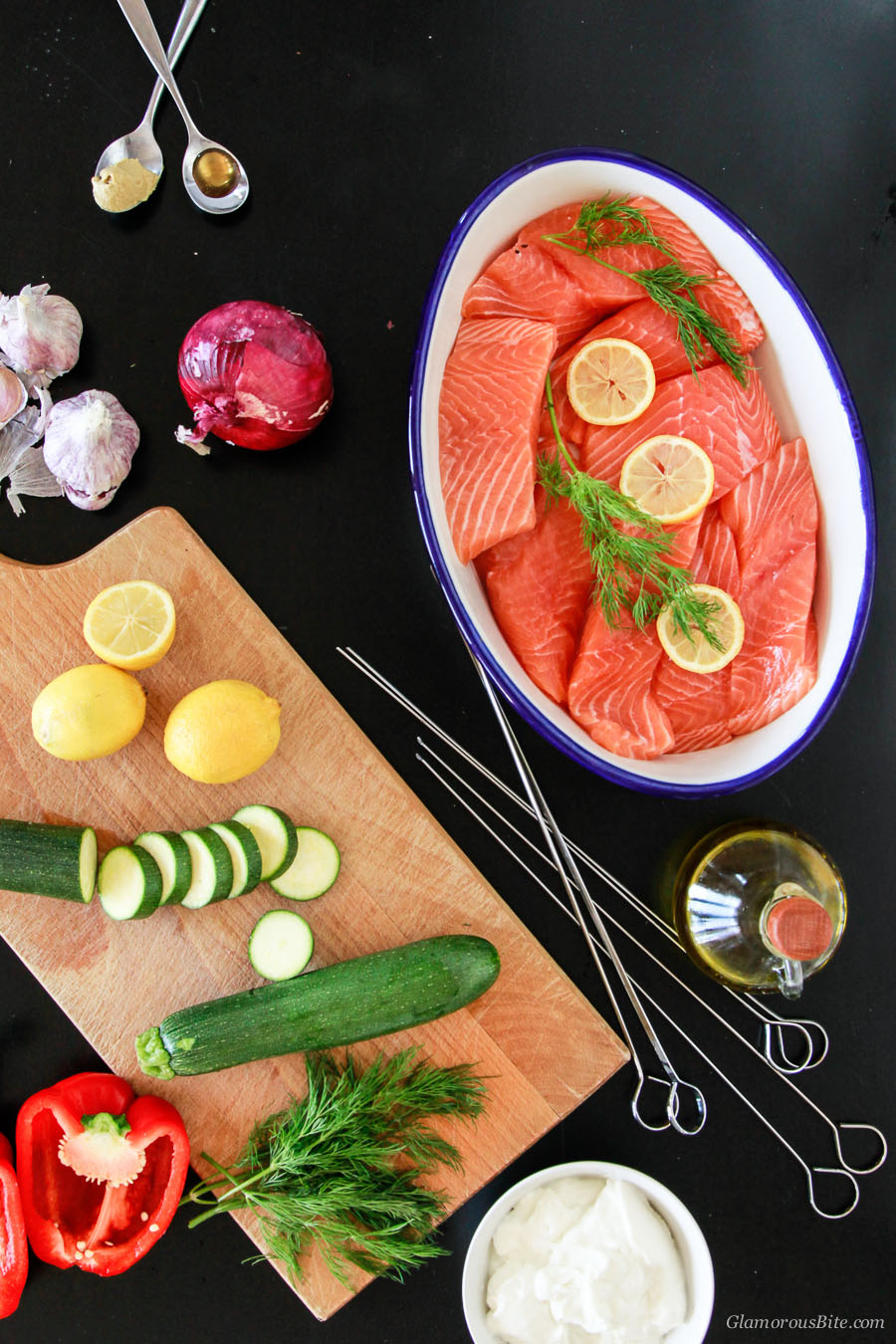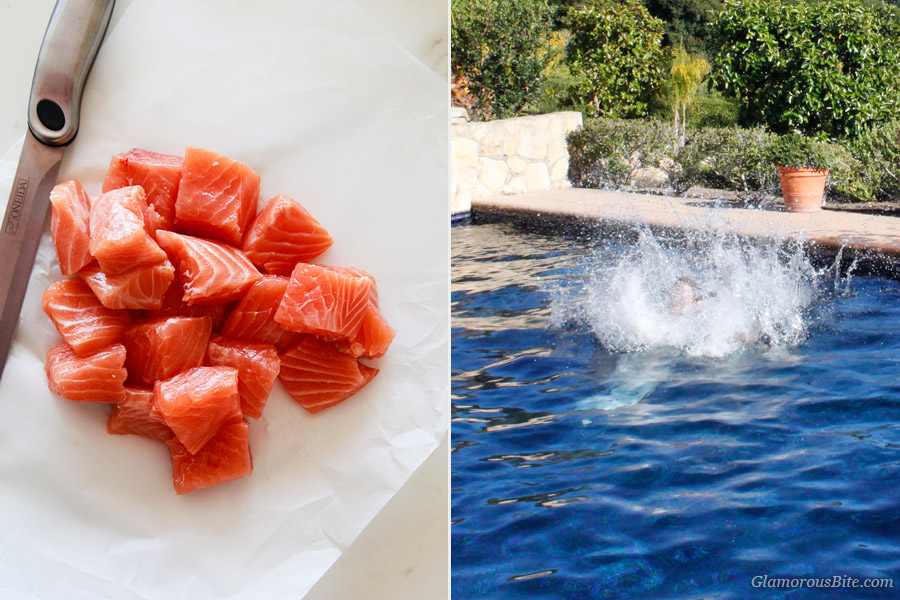 The vibrant vegetables and fresh salmon make this is an oh so good for you summer meal. Grilling fish kebabs can be tricky but if you generously oil your BBQ's grill and heat it up high, then turn a little lower so the flames do not touch and char the fish and as Corina says: lets not dissolve the potency of the Omega-3. Salmon is an amazing food, it contains Omega-3 fatty acids that according to the Mayo Clinic are good for your heart. They are also said to reduce unhealthy fats, lower the risk of Alzheimer's and calm mood disorders. Just make sure the salmon you get is not contaminated and is preferably organic or wild-caught. These healthy low-carb gluten-free salmon skewers will keep you beach ready.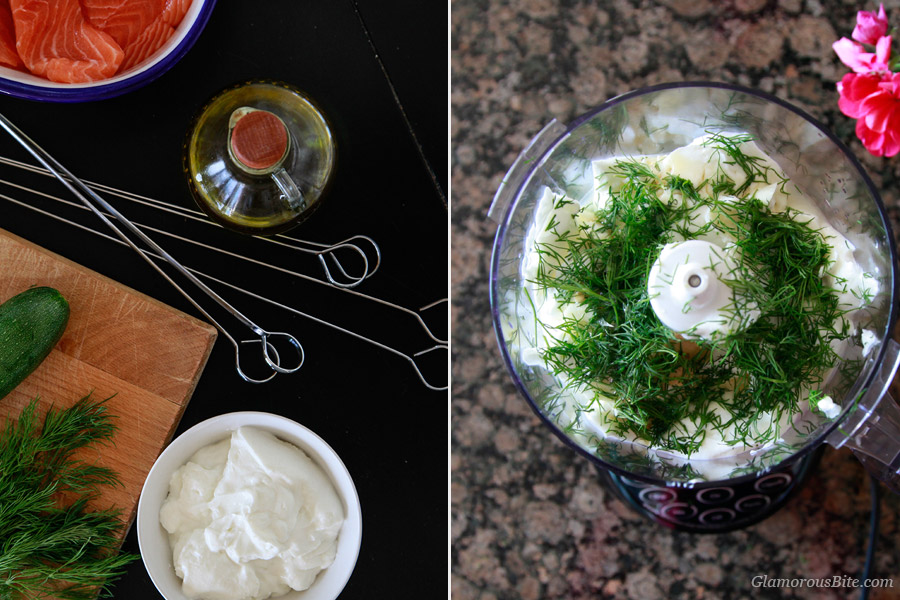 For an ultra delicious glamorous bite, we dipped the gluten-free Grilled Salmon Kebabs into our homemade yogurt dill sauce with an abundance of fresh fragrant dill, which we could have eaten with a spoon by itself. It was that good! This tangy creamy sauce is also wonderful as a dip for fresh or grilled veggies or you can put on grilled chicken, lamb or even drizzle it on a burger.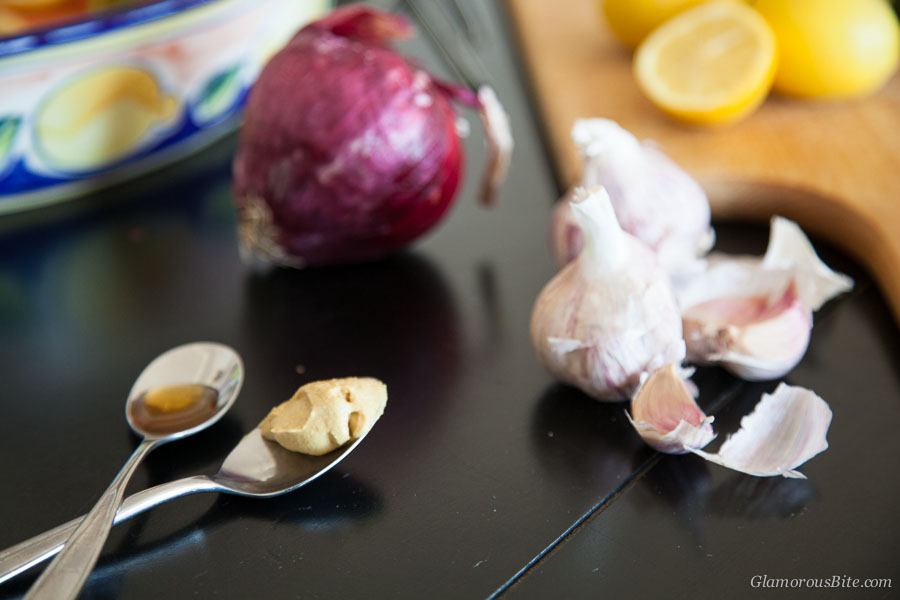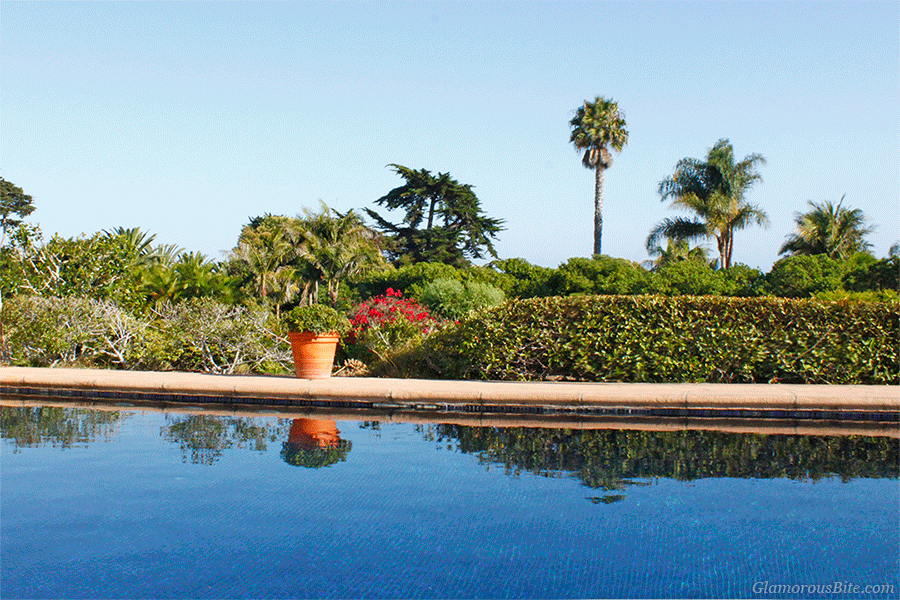 What Corina says about this Salmon Kebab recipe:
These Salmon Kebabs are so easy to make you will have time to jump up and down with joy or just relax and put your feet up! I did! You simply layer squares of the fish with thin slices of lemon, squares of red bell pepper, zucchini and red onion on skewers. We used metal skewers that can be reused, but if you have wooden ones you can soak the wood in water so it doesn't burn. If you don't have one of the veggies at hand don't worry, this is a casual kebab and no one is counting how many pieces of peppers or fish you put on it…well perhaps Judit might if you short her by one.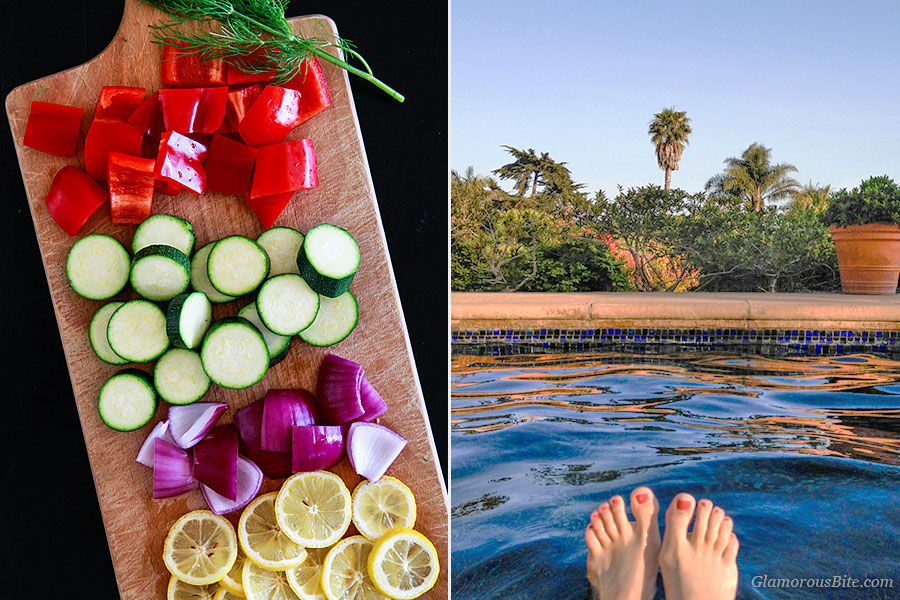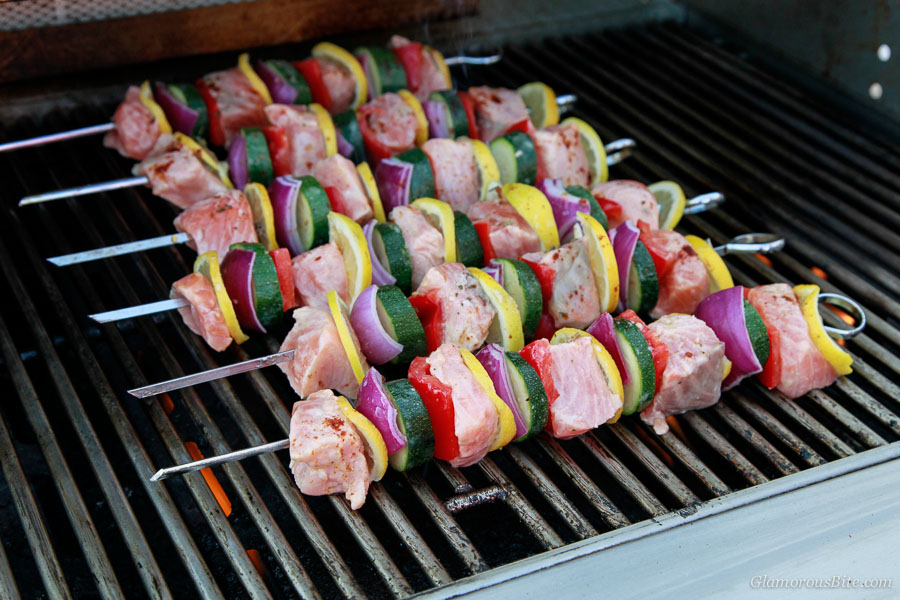 What Judit says about this Salmon Kebab recipe:
Oh yes, don't covet my kebabs. I'm counting them! These scrumptious little skewers would be ideal for a very temptingly inviting morsel for a casual date night. You could easily prepare it ahead and show off your grilling skills at dinnertime. Who could resist a woman or man who serves you tender juicy pieces of fish with slightly crisp bell peppers and melt in your mouth zucchini bites smothered with delicate dill yogurt sauce? Hmmm tough question I know…. By the way I love to have leftovers since it makes a super lunch for the next day.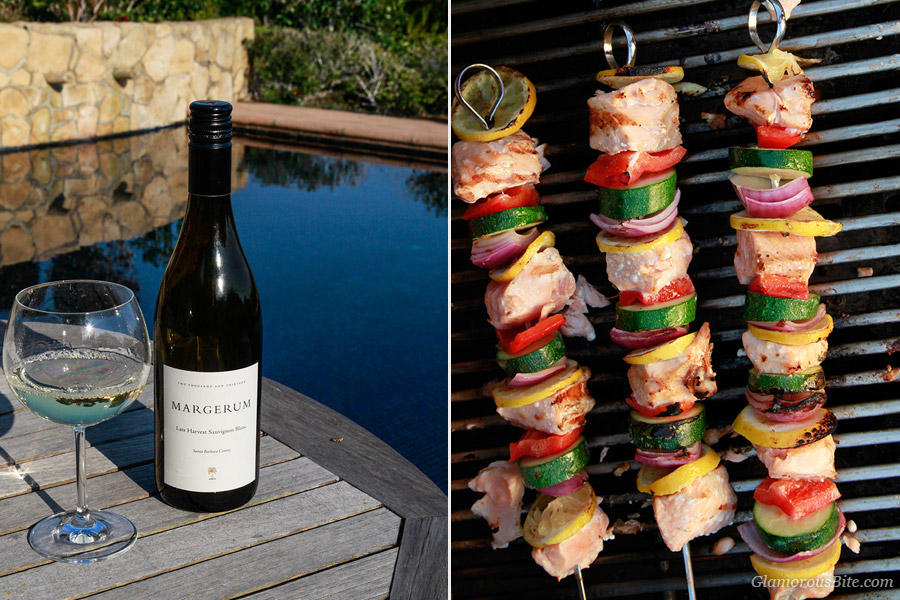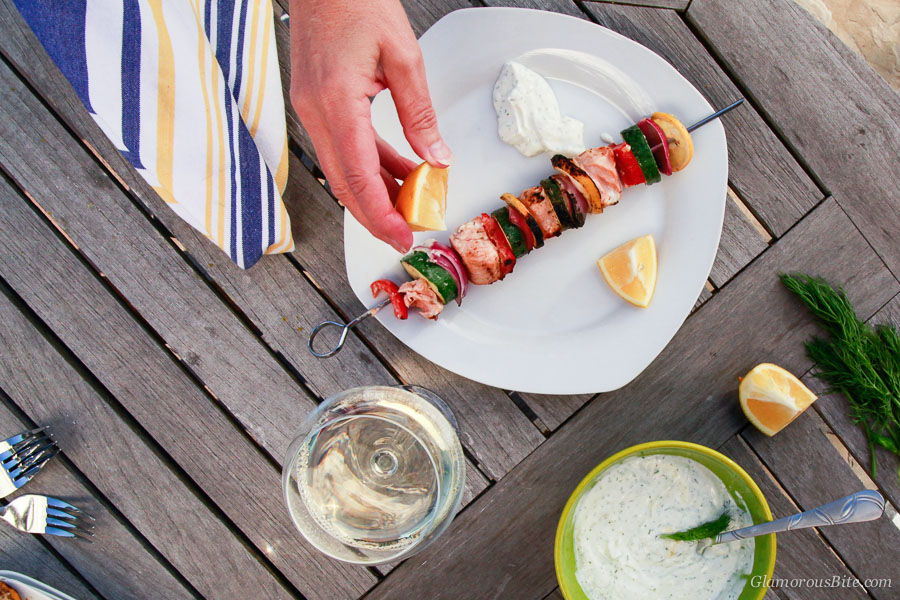 The perfect glamorous pairing: We had a Margerum Late Harvest Sauvignon Blanc Santa Barbara County with notes of honey and citrus. You can enjoy the salmon skewers with any fuller bodied Sauvinon Blan or even a Chardonnay, but the sweetness of the Margerum Late Harvest Sauvignon Blanc paired happily with this dish, especially for a date night.
You can serve these Grilled Salmon Kebabs with:
Tomato Basil Orzo Salad
Pea Tendril Salad
Cherry Tomatoes and Broccoli Couscous Salad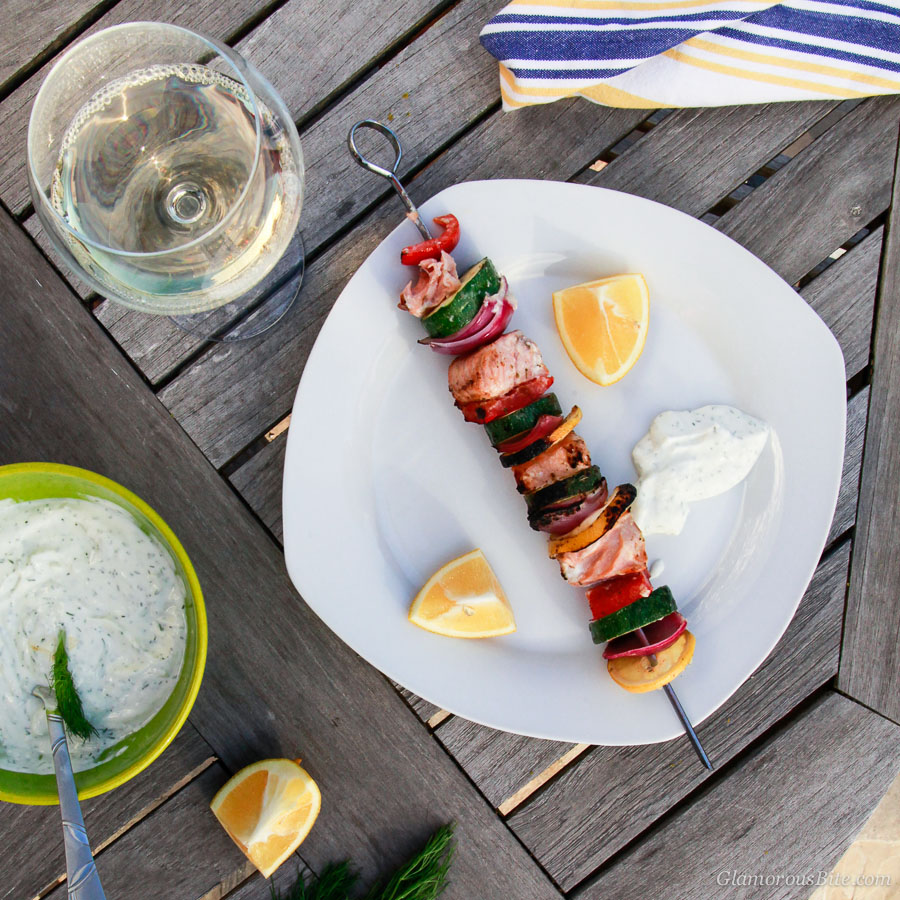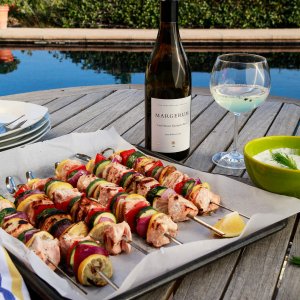 Grilled Salmon Kabobs with Dill Yogurt Sauce
Ingredients
MARINADE
3

Tbsp

Olive oil

1

Tbsp

Honey

2

Tbsp

Lemon Juice

2

Tbsp

Dried Herb Mix of Oregano and Basil

Pinch

of crushed Red Pepper Flakes

Salt and Pepper
SALMON KEBABS
2

Lb

Fresh Salmon Filet - cut into 1 inch cubes

preferably organic

1

Zucchini - sliced into 1/2 inch rounds

1

Red Bell Pepper - chop into 1inch cubes

1/2

Red Onion - peel and the slices cut into 1 inch cubes

2

Lemons - seed it

thinly sliced
SAUCE
1

cup

Greek Yogurt - or any plain yogurt

2

garlic Cloves

2

Tbsp

Lemon Juice

1

Tsp

Dijon Mustard

1

Tsp

Raw Honey

Fresh Dill
Instructions
In a small bowl mix together olive oil, honey, lemons, dried herbs, crushed pepper flakes and salt and pepper. Set aside

Slide alternately salmon cubes and vegetables on the skewers. Lay the prepared kebabs on parchment paper lined baking tray and brush all sides with the marinade. Let the spices infuse at least 30 minutes.

Prepare BBQ for medium heat.

Grill for about 6 to 8 minutes or until fish becomes opaque. Start with 3 minutes on one side and gently turn over using stainless steel tongs (not plastic, because it can melt).
Nutrition
Grilled Salmon Kebabs Nutrition Facts: Servings 6, Serving size 1 Kebab: Calories 366 • Fat 19.4 g • Cholesterol 107 mg • Sodium 88 mg • Potassium 1103 mg • Carbs 7.6 g • Fiber 1.4 g • Sugars 5.6 g • Protein 39.2 g
Dill Yogurt Sauce Nutrition Facts: Servings 6, Serving size 1: Calories 45 • Fat 1.8 g • Cholesterol 5 mg • Sodium 34 mg • Potassium 4 mg • Carbs 3.2 g • Fiber 0 g • Sugars 3 g • Protein 3.4 g
Kitchen Tip:
We used 6 metal skewers, but you can use 12 bamboo skewers just make sure you soak them in water for at least 1 hour.