Zip Line Tour at Ancient Peaks
Take a Zipline adventure high above gorgeous vineyard landscapes and enjoy a taste of Ancient Peaks wine after in the tasting room. Ancient Peaks Winery Zip Line Tour with Margarita Adventures takes you across the spectacular vineyards via the best zipline in California. There are five Zips and the first is 150 feet high above the the vineyards. That first step is the most exciting since you make your way through the beautiful vineyard in a van to the mountain top. You see deer along the way and rows of grape vines surrounded by hills as well as historic landmarks.
You also get a tour of the history of the area and the wine growing practices. The current tour has a combined 4,500 feet of ziplines with the first being 1,200 feet and the last being 1,800 feet. The entire tour is about 2 1/2 hours and requires reservations in advance. This includes the guided tour and transportation to the zipline from the winery.
J: Cheers! Welcome to Winedinetv.
C: Great way to enjoy Ancient Peaks Wine
J: You see we have to work today for our wine.
C: We are here with the Margarita Adventures and we are be going to be going down into the Cannon. Have you ever herd of a Zip Line in the vineyard? Well we went try this.
M: We have you walk down to the bottom step. OK? At that point you can yourself just flay of, jump of, whatever you want to do. The whole time, went we are going you need eider to hold on to the bar right here.
J: Yes.
M: You can just your hands hang out in the air, do not grab the Cable. OK?
J: I wont, OK!
M: That is the only thing, you should not do, other then that, enjoy the view, enjoy the ride.
J: OK!
M: And at the end, they take care of you.
J: OK and there is wine on the end of the Zip Line.
C: She is going first!
J: OK what do I going to do, I just hang on?
M: Ja, walk down to the bottom.
J: I love you guys, good-bye – Cheers!
M: Hands on the bottom.
C: OK, I can ring of the speed jump here, one, two, three, and…
C: We are here today with Margarita Adventures, and your name is?
M: I am Jay Roths, Matt Burghes.
C: And what are you doing here with us today?
M: Well, we have Zip Lines out here, we have four of them and we are taking you trough our pride and joy out here.
J: Incredible Nature, you can come out with family and friends and really enjoy what the Ancient Peak has to offer. There are vineyards around, so you can Zip Line, they done a good job, do put everything professional on, you can have a little dog running after you and try to catch you. What you expect will happen here, what is your future view?
M: The future of Margarita is, we like to see it continuing to grow and grow and have more people come out to the Ranch and experience our historic Area.
C: And how many feet of Zip Line you have here?
M: We have a little over three thousand, our tallest one is probably hundred fifty to two hundred feet of the ground.
C: We have done this, I think, right?
M: That is the big one.
C: The first one.
M: I am ready to go, Bye!
J: That is absolute awesome, when you think you can do this in the middle of a winery.
J: We are here today with Carl Wittstrom, one of the owners of Ancient Peak Winery
What kind of feeling gives you to have all these…. the one of the oldest continuously operated ranch in California? You have such a great history here Sir.
Carl: For California we do but not from where you come from Europe… we are just the young kids on the block. The one of the things about this ranch it makes you realize that you can't really own it, you can just touch it for a while. We are very blessed and it is a special place for us and we are so glad we can share it with people through Margarita Ventures and hope when you enjoy Ancient Peak wines you think about this beautiful place.
J: Oh we will and Cheers to you!
Carl: Isaiah Horowitz is the founder of Margarita Ventures and owner of All Out Events. He and his guides with great experience guide you to many adventures. Mountaineering and hiking and even high altitude rescue – we hope we will not need it today.
C: Don't Drink and Zip
Thank you Carl Wittstrom and Isaiah Horowitz for the fabulous Adventure here in Paso Robles!
margarita-adventures.com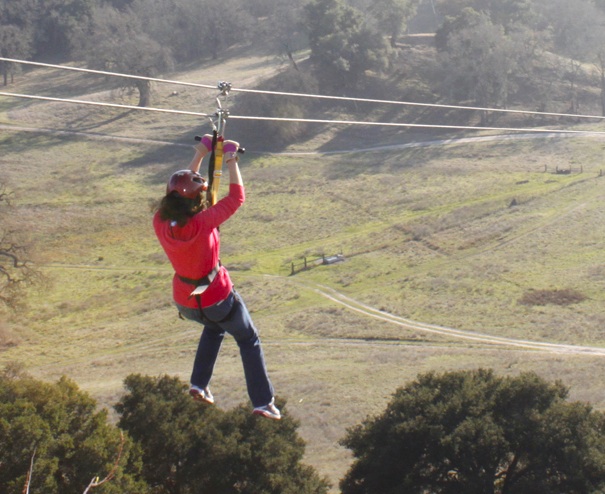 After the ziplining adventure you can enjoy Ancient Peaks wines from the Santa Margarita Vineyard near Paso Robles California.
We had a fun filled day at a most beautiful location of Paso Robles.